Protein, carbohydrates, and fat all chip in along the way to massive muscle gain. While protein often occupies the spotlight (and for good reason, as it is literally the building blocks of muscle), carbohydrates are extremely important as well.
In order to have success in your bodybuilding endeavors, you're going to need the energy to smash workout after workout. You're also going to need a sustained caloric surplus to build muscle mass long term. As such, if you're on the quest for stage-worthy size, eventually you'll find yourself digging through heaps of carbohydrates.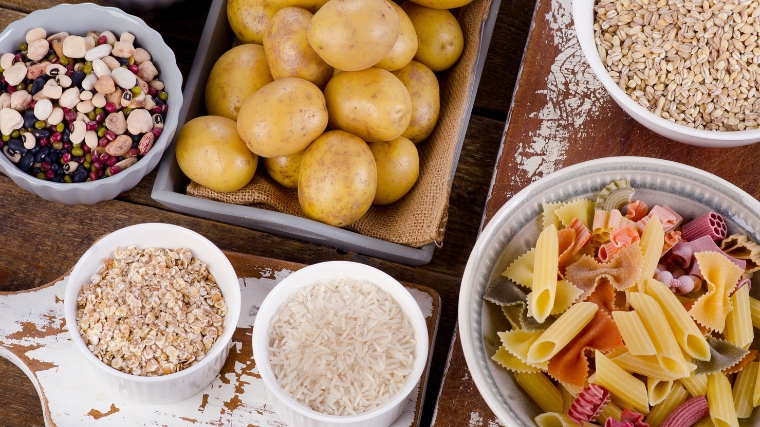 The days of carbohydrate avoidance are long gone, but not all carbs are created equally. There are some unique pros and cons between carbohydrate sources that can help you construct a diet specific to your preferences. So, here are the 10 best carbs to eat for bodybuilding.
Best Carbs for Bodybuilding
Editor's Note: The content on BarBend is meant to be informative in nature, but it should not be taken as medical advice. When starting a new training regimen and/or diet, it is always a good idea to consult with a trusted medical professional. We are not a medical resource. The opinions and articles on this site are not intended for use as diagnosis, prevention, and/or treatment of health problems. They are not substitutes for consulting a qualified medical professional.
Rice
The ol' chicken-and-rice combo; a bodybuilding staple as old as time. Rice is a great source of carbohydrates that mixes well with most meals and is extremely easy to prepare. Most rice cookers can produce cups of cooked rice within a half hour or so, or you can go for microwavable packets. Rice is one of the easiest carbohydrate sources to mass-produce if you're a fan of meal preparation as well.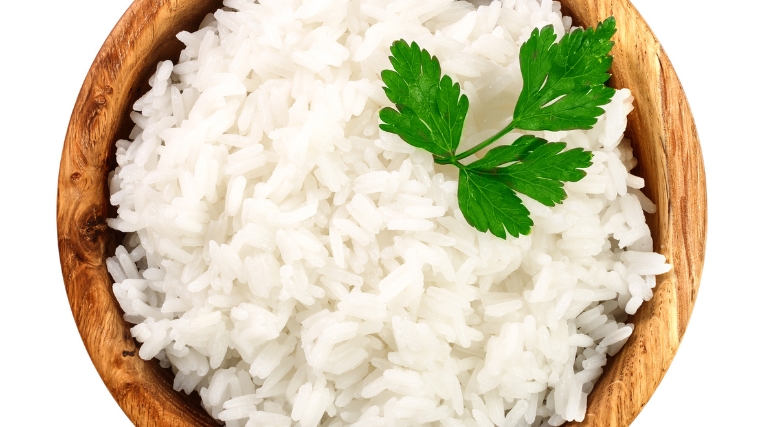 From a nutritional perspective, rice is a quick way to get your carbohydrates and calories where you need them to be. An average serving of white rice will land you about 28 grams of carbohydrates with two to three grams of protein and negligible fat.
Choosing white, wild, or brown varieties may give a bit of flavor to your meals, but nutritionally they are quite similar. You might get a touch more fiber or protein with one type over another, but all types of rice can serve as a calorie-dense carbohydrate cornerstone of your diet.
Pasta
Pasta is another high-carbohydrate food choice that can help you stock up on much-needed calories. Pasta also comes with one of the highest varieties of choice on this list, with a diverse array of preparatory options depending on your palate.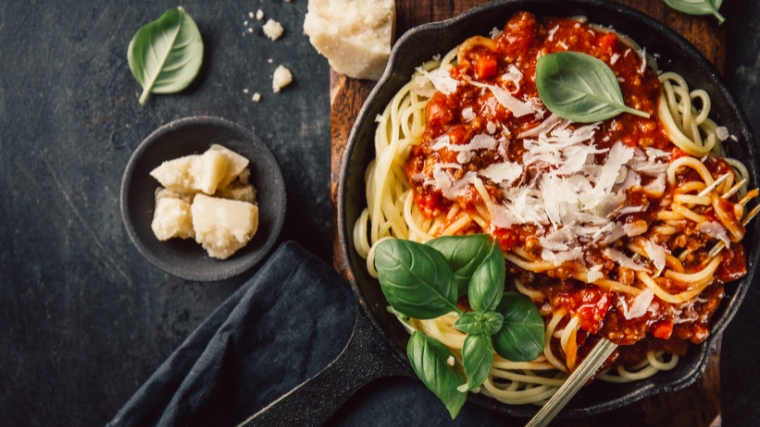 Pasta packs a ton of great carbohydrate-sourced calories but also is a great centerpiece for a sit-down meal. For example, a generic 100-gram serving of cooked pasta breaks down into roughly 25 grams of carbohydrates, one gram of fat, and about 5 grams of protein.
Weaving pasta into your diet is therefore a great way to maintain your bodybuilding nutritional goals without feeling so repetitious all the time. From spaghetti to fettuccine and linguine, you can get creative in the kitchen and enjoy your growth in the process.
Bread
Bread is a workhorse of a carbohydrate source. While it offers a variety of flavors and textures, you can also use breads as a sort of edible packaging for other bodybuilding staples. From sandwiches to subs and even wraps — if you "fold" them into the category of bread, there are endless possibilities.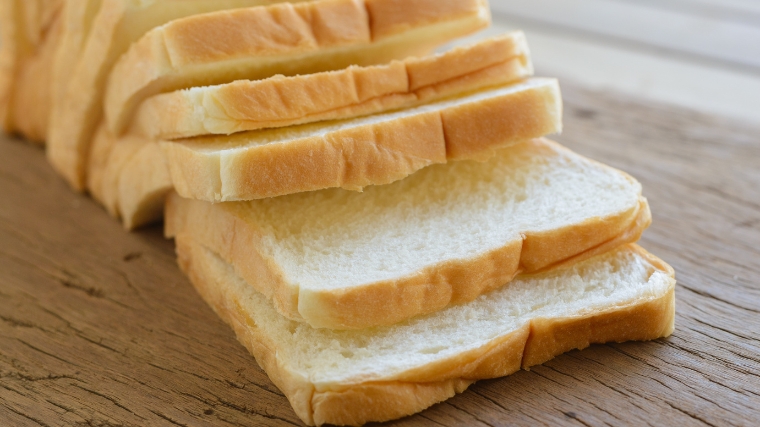 Like many other carbohydrate sources, breads provide a good source of macronutrients but are often lacking in the micronutrient department. A two-slice serving of standard white bread will have about 24 grams of carbohydrates, two grams of fat, and around five grams of protein.
This only further encourages you to fill your bread with complimentary items such as meats and veggies for the best experience and nutritional bang for your buck possible.
Ezekiel Bread
While still primarily a carbohydrate source, this specific type of bread does pack a touch more protein per serving for bodybuilders. If you're someone who struggles with balancing all of your macronutrient demands, choosing Ezekiel bread might be helpful. Two pieces should snag you about 28 grams of carbs, no fat, about 10 grams of protein (and eight grams of fiber).
Oats
Oats are a staple carbohydrate source. This potent little carbohydrate packs a wallop with a solid contribution of protein but, more importantly, heaps of hearty fiber.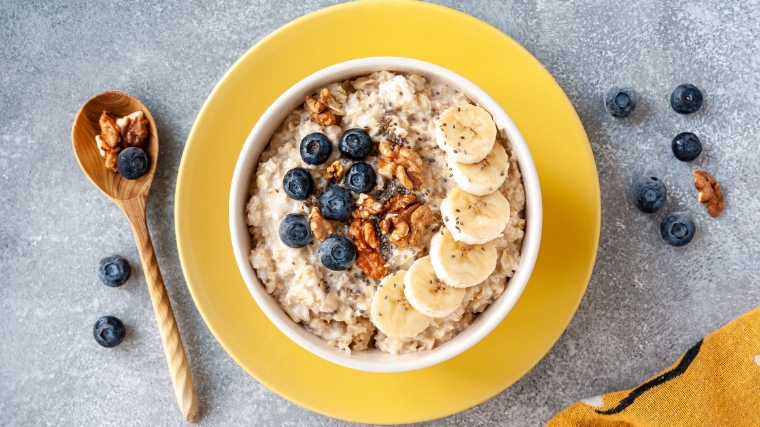 While other carbohydrate sources may be high in calories or micronutrients, foods with high fiber content keep your digestive system running smoothly and contribute to other health benefits as well.
A cup of oatmeal hits the mark with around 27 grams of carbs (with four grams of fiber, netting you around 23 grams of real-world carbs), three grams of fat, and six grams of protein. With a wild variety of flavors on the market — not to mention oats being easily mixable with your favorite protein powder — oats are one of the best carbohydrate sources for bodybuilding.
Cereal
Cereal is one of the most fun carbohydrate sources you can have. Cereals have evolved from a basic bland breakfast-time formality to a hugely robust industry. As such, you can pick up just about any box off the shelf that suits your tastes and get the carbs you need along the way.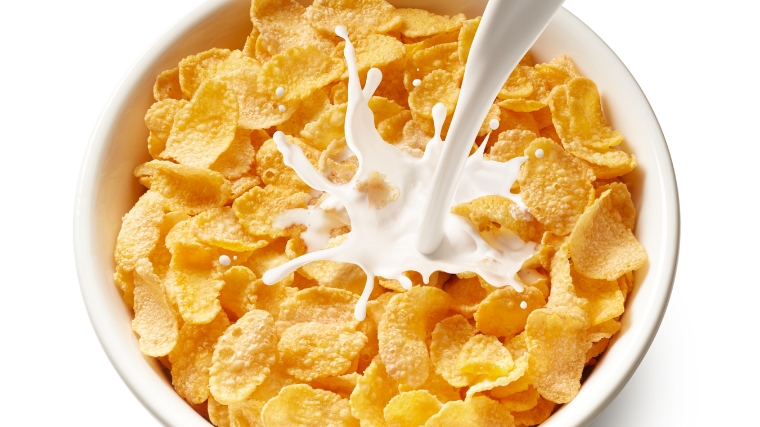 Cereals are often fortified with essential micronutrients, and may contain a solid amount of calories per serving, but can be light on dietary fiber. This means you can choose some quicker-digesting brands and scarf them down as pre-workout fuel, or go for more fibrous cereals like wheat-based products or granola for more consistent energy and higher satiety. For example, one serving of cornflake-style cereal will pack about 24 grams of carbs, no fat, and one to two grams of protein.
Milk
If you're getting carbs from cereal, you're probably also consuming milk. These two inseparable partners complement your bodybuilding goals quite well, as milk also acts as a protein source.
Milk is also a well-balanced macronutrient source on its own, and can help round out a few servings of your favorite cereal from a nutritional perspective. One cup of two-percent milk will contribute 12 grams of carbs, three to five grams of fat, and eight grams of protein.
Quinoa
Quinoa is a hidden gem of a carbohydrate source. While it provides a great source of calories and can be a delicious addition to many meals, quinoa is particularly valuable from a physique-minded perspective.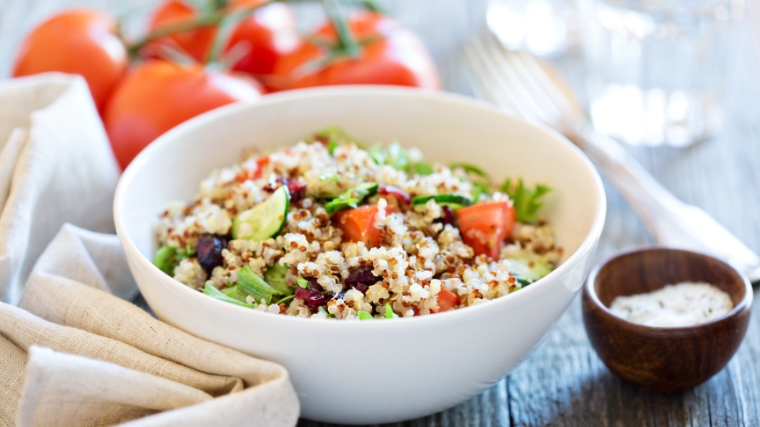 Many carbohydrate sources offer additional protein, but they're mostly just along for the ride. This is because they are incomplete sources of protein that lack the complete profile of amino acids necessary for you to truly build muscle. Quinoa, on the other hand, has a complete amino acid profile.
Within this carbohydrate source are "complete" proteins in addition to the energy-providing carbs. 100 grams of quinoa will add about 21 grams of carbohydrates, two grams of fat, and 4.5 grams of high-value protein.
Chickpeas
Chickpeas are part of the legumes category of carbohydrates. This means they'll bring with them a bit more of a distinct flavor, texture, and nutritional profile than some of the more common carbohydrate sources.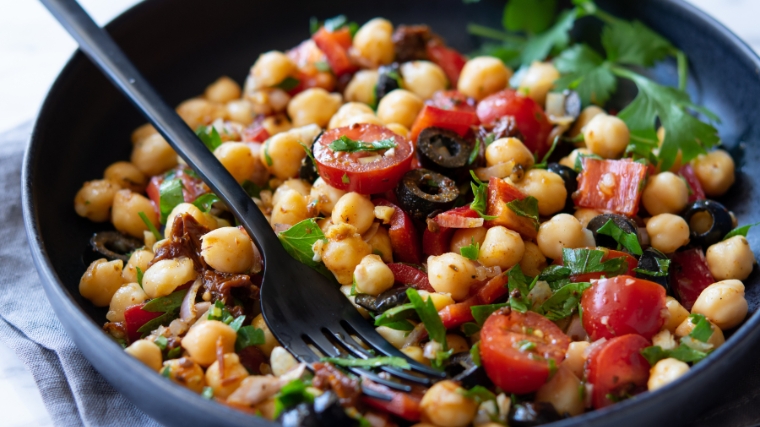 Chickpeas are fairly high in protein for a carbohydrate source as well. They're chock-full of great vitamins and minerals to help with your overall health while you grow. A single-cup serving of chickpeas will provide you with 35 grams of carbs (10 of which are fiber), 11 grams of protein, four grams of fat, and about 200 calories.
Lentils
Like chickpeas, lentils are in the same boat and are often overlooked as a carbohydrate source. Although they are certainly less calorically dense, lentils also offer up plenty of carbohydrates, protein, and fiber per serving. They're also easy to incorporate into other dishes; you definitely don't have to put down bowls of plain lentils to make gains.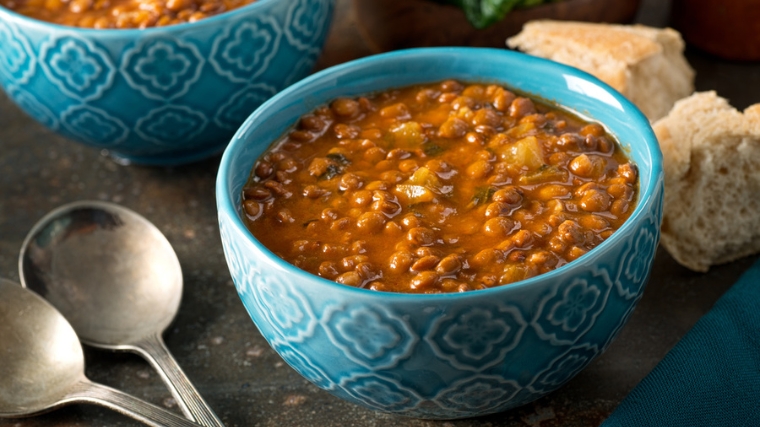 In combination with other more staple carbohydrate sources such as rice, you can whip up a high-protein, high-carb dish that's easy to eat. Lentils help you empower your regular diet with additional complete-protein sources. They're a bit docile on the carb side of things, granting you 20 grams of carbs (eight from fiber), almost no fat, and nine grams of protein in a 100-gram serving.
Fruits
For both health and performance, you should weave various fruits into your diet on a regular basis. Your "default" carbohydrate sources such as rice and pasta are not without their own vitamin and mineral contents, but fruits provide a much greater micronutrient density per serving. Expect to see plenty of vitamins A, C, E, and various minerals in your fruit selections.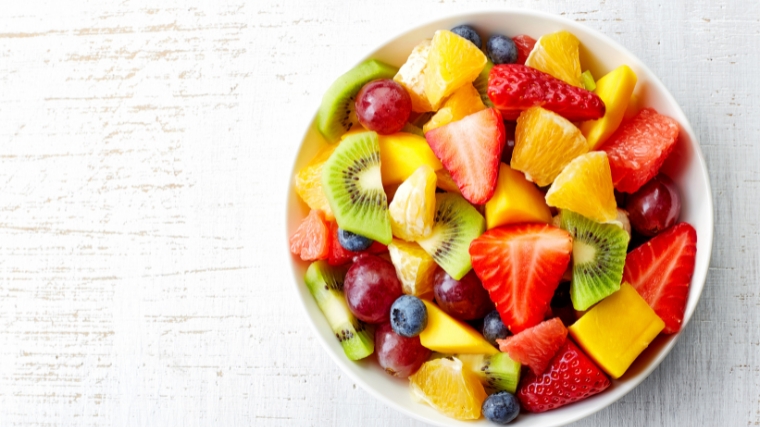 While fruits of all varieties are good for your bodybuilding diet, diversifying regularly will help you ensure that you're putting down a solid intake of vitamins and minerals. For example, one medium banana comes with 27 grams of carbs (three grams of fiber), half a gram of fat, and a smidge over a gram of protein, in addition to heaps of potassium and vitamin C.
Vegetables
Eat your vegetables. Not just because you "should," (according to your parents since, probably, the dawn of time) but because they are an essential part of maintaining your health while you pursue pounds of muscle growth. As a bodybuilder, you need a high volume of carbohydrates, true enough. The other prong of sustainable muscle growth is maintaining your micronutrient, fiber, and phytochemical intake.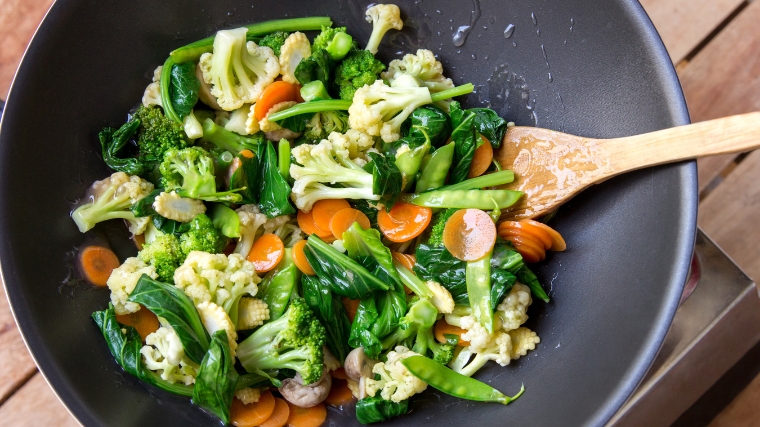 Vegetables deliver on this front, providing a rich source of vitamins, minerals, fiber, and phytochemicals in low-calorie food sources. This means you can plug and play your veggies whether you're bulking up or cutting down.
100 grams of broccoli provides seven grams of carbohydrates (2.6 from fiber), under a gram of fat, and 2.8 grams of protein. However, expect to gain plenty of vitamin C, vitamin B6, iron, magnesium, and calcium. As your calorie requirements ebb and flow, keeping these important nutrient sources present can pay dividends for your overall health.
Carb Timing for Bodybuilding
Carbohydrates offer performance benefits for bodybuilding, plain and simple. This is especially true if you're in a caloric restriction phase and carbs aren't as abundant as when you're bulking up.
In any case, exactly when you opt to consume your carbs can make one heck of a difference. Planning your carb intake properly can make all the difference in the weight room. Here's how carbs affect you pre, intra, and post-workout.
Pre-Workout Carbs for Bodybuilding
Carbohydrates are the fuel that power your bodybuilding workouts. It's been shown that muscle glycogen (the stored form of carbohydrates within muscle) significantly decreases as you carry out resistance training. (1)
While there doesn't seem to be much benefit to specifically carbohydrate loading pre-workout (as long as you eat well on a regular basis), (1) making sure you're topped up and recovered from any previous training is a good strategy.
If you train in the mornings, you should be mostly set on muscle glycogen if you put down a hearty amount of carbs the evening prior. If you prefer to lift later in the day, smash a quick-digesting source of carbs such as fruit or cereal at least a few hours before your session.
Intra-Workout Carbs for Bodybuilding
Unfortunately, consuming fast-acting or easily-digestible carbohydrates do not seem like they will outright improve your performance during bodybuilding, but doing so may beef up your gas tank.
Consuming simple (think sugary, low-fiber foods) carbohydrates during a resistance training session has been shown to minimize the loss of muscle glycogen in some cases. (2) If you find yourself struggling to complete your session, some intra-workout carbs may help you out.
Your best bet for in-the-gym carbohydrate intake would be a sports drink or cereal bar. Anything that fits easily into your gym bag and doesn't require any sort of preparation.
Post-Workout
The post-workout period is when you should be thinking about restocking your carbohydrate supplies before the next session. Some research suggests that consuming one gram of carbs, per kilogram of body weight, per hour, might help you maximize the rate at which you recover your muscle glycogen. (1)
However, unless you're prepping for a specific athletic event or competition, you probably don't need to be that precise. Putting some carbs into every post-gym meal for the remainder of the day should be more than adequate to top you up. Go for the heavy hitters like quinoa, rice, pasta, and veggies after the gym.
Tips for Eating Carbohydrates for Bodybuilding
Carbohydrates are undeniably delicious and are one of the best parts of a well-balanced meal. However, it's not all that uncommon for bodybuilders to have carbohydrate intake goals in the 3 to 400 range each day.
If you fall into that camp, getting all your carbs in can be borderline stressful. Here are some tips and tricks to make it easier on yourself once you're staring down the barrel of more carbohydrates than you know what to do with.
Manage Your Fiber
Carbohydrates are one of your primary sources of dietary fiber. Dietary fiber comes in one of two types; soluble or insoluble. Soluble fiber is more gelatinous — think oatmeal. Insoluble fibers are your vegetables and roughage, things that don't mix well at all.
Both sources of fiber help to keep your gastrointestinal tract moving smoothly and provide health benefits such as a reduced risk of heart disease and numerous cancers with the potential to assist in obesity and diabetes management. (3)
That said, too much fiber at once can be unpleasant. Fiber also creates feelings of fullness and satiety, which may impede you from finishing a meal. If you find yourself dealing with bloating, cramping, or any other unfortunate side effect, think about spreading out, or even limiting, your high-fiber carb sources.
Exploit Portion Sizing and Timing
Portion sizing is an ever-important part of a bodybuilder's nutrition plan. The size and composition of your meals are just as important as their nutritional content, particularly when you're on a cutting diet and overall calories are scarce.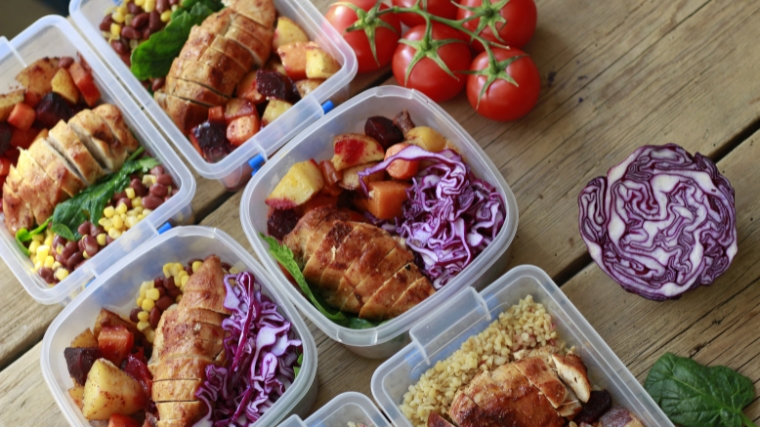 Think about portioning your carbohydrates in such a way that helps with performance in the gym and satisfying hunger pangs throughout the day. Consuming fast-acting carbohydrates (think fruits or simple sugars) closer to your workout and saving more hearty, fibrous sources for after the gym may be a wise strategy.
This way you'll have an easier time staying properly fueled during training without feeling too weighed down from a large meal in your stomach.
Introduce Variety
Variety is the spice of life. Whether you're bulking, cutting, or anything in between, monotony can kill progress, especially if you're struggling to adhere to your diet. Particularly when dieting for fat loss, tailoring your diet to your preferences has been shown to be a beneficial strategy to avoid falling off the wagon. (4)
Beyond that, flexible dieting strategies have also been shown to be as effective for bodybuilding-focused lifestyles and achieving body composition goals when compared to rigid or restrictive dietary plans. (5)
Embracing variety and personal preferences can be a great way to help with dietary adherence and keep a diverse nutritional profile within your bodybuilding diet.
Drink Your Carbs
If you consider yourself a "hard-gainer" who, despite all your might, struggles to put on weight due to a low appetite, you might want to head to the blender rather than the plate. It's simply easier to drink something in most cases than to eat it. Liquids don't create as many feelings of satiety as whole foods.
As such, if you need to load up on carbs to hit your caloric target, you can go for a fruit or vegetable smoothie, grab a mass gainer product instead of standard whey protein, or even indulge in the occasional soft drink or sugary beverage. All of these options contain more than enough carbohydrates per serving and are very easy to consume.
Time to Carb Up
Carbohydrates are a bodybuilder's best friend. They are the fuel that drives your workouts and provide many of the calories that help build muscle. Being a bit more flexible in your sourcing can be of great benefit as well, helping you grow while not giving up any of the precious micronutrients your body needs to thrive both in and out of the weight room.
The "ideal" diet takes trial and error, but between these phenomenal carb sources, you have more than enough choices and plenty of time to smash your goals both in the gym and on the scale.
References
Campbell, B., Wilborn, C., La Bounty, P. M., Wilson, J. M. (2012).Nutrient Timing for Resistance Exercise. Strength and Conditioning Journal 34(4):p 2-10. DOI: 10.1519/SSC.0b013e3182558e16
Kerksick, C. M., Arent, S., Schoenfeld, B. J., Stout, J. R., Campbell, B., Wilborn, C. D., Taylor, L., Kalman, D., Smith-Ryan, A. E., Kreider, R. B., Willoughby, D., Arciero, P. J., VanDusseldorp, T. A., Ormsbee, M. J., Wildman, R., Greenwood, M., Ziegenfuss, T. N., Aragon, A. A., & Antonio, J. (2017). International society of sports nutrition position stand: nutrient timing. Journal of the International Society of Sports Nutrition, 14, 33.
Lattimer, J. M., & Haub, M. D. (2010). Effects of dietary fiber and its components on metabolic health. Nutrients, 2(12), 1266–1289.
Gibson, A. A., & Sainsbury, A. (2017). Strategies to Improve Adherence to Dietary Weight Loss Interventions in Research and Real-World Settings. Behavioral sciences (Basel, Switzerland), 7(3), 44.
Conlin, L. A., Aguilar, D. T., Rogers, G. E., & Campbell, B. I. (2021). Flexible vs. rigid dieting in resistance-trained individuals seeking to optimize their physiques: A randomized controlled trial. Journal of the International Society of Sports Nutrition, 18(1), 52. Featured Image: Tatjana Baibakova / Shutterstock
Featured Image: Tatjana Baibakova / Shutterstock