Used everywhere from physical therapy offices to pro sports facilities, massage guns have been linked to increases in muscle strength and flexibility, as well as decreased musculoskeletal pain. (1) Generally used to help athletes warm up or recover from intense workouts, the theory behind massage guns is that they mimic a traditional massage, promoting blood flow to specific areas of the body, helping to move nutrient-rich fluids to the point of application.
Given its prevalence in gyms and physical therapy offices, it's no wonder there's a wide variety of massage guns and mini massage guns on the market. But not all are created equal, and choosing the right one for your needs can be difficult. So we did the legwork (and armwork and chestwork) for you to test and find the best massage guns for various needs. Here's what we found.
Best Massage Guns
Best Massage Gun Overall: Theragun Prime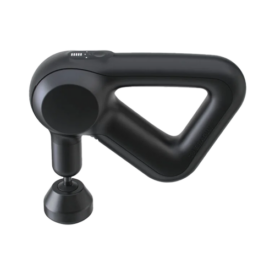 The Theragun Prime features four attachment heads that are more forgiving than hard plastic, five different percussive speeds, and a battery that lasts for two hours. 
Product Specs
Top Speed: 2,400 Percussions Per Minute (PPMs)
Stall Force: 30 pounds
Amplitude: 16mm
Attachments: 4
Price: $299
Pros
It comes with five preset speeds, but you can customize the speed with the Therabody app.
The 16mm amplitude is longer than most massage guns, meaning the massage head extends farther out from the gun to drive deeper into muscles.
All attachments are fairly soft, which is great if you accidentally hit a bone.
Cons
There are quieter models on the market. This one tops out at 69 decibels, which is about the same amount of noise a washing machine makes.
$299 might put off athletes who are on a tight budget.
While it's not Therabody's top-tier model, the Theragun Prime may be the most accessible. It offers speeds from 1,750 to 2,400 percussions per minute (PPM), and a deep amplitude of 16mm, so you can get deep into sore muscle tissue. Theragun's signature triangular handle offers three different gripping angles that make it easier to hit hard-to-reach spots like your rhomboids or lower back. Plus, this comes at a price of about half of Therabody's flagship Theragun Pro.
The four attachments (thumb, ball, cone, and dampener) are firm enough to pack a punch, but soft enough to not make you jump out of your chair if you run the gun over a kneecap. Also, the Therabody app is an excellent companion app, allowing you to customize the speed beyond the gun's five presets, and providing massage instructions for specific routines. There are guns with more features, and there are some excellent budget picks, but the Theragun Prime offers the best features and power for the price.
Best Budget Massage Gun: Toloco Massage Gun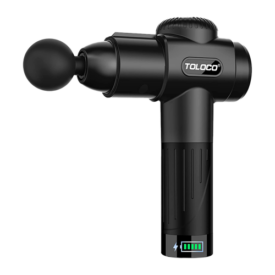 One of the most powerful guns you'll find for under $100, the Toloco Massage Gun offers 3,200 PPMs, a 12mm amplitude, and 10 different attachment heads. 
Product Specs
Top Speed: 3,200 PPMs
Stall Force: 35 pounds
Amplitude: 12mm
Attachments: 10
Price: $49.99
Pros
You're going to have a hard time finding a more powerful massage gun for under $50.
The 3,200 PPM top speed is one of the highest we've seen.
There are 10 different massage heads to choose from.
Cons
The amplitude isn't the deepest you'll find on this list.
You can't customize the speed on this gun, you'll have to stick to the seven preset speeds.
The attachments can be too firm for some people.
If you're looking for the most bang for your buck, the Toloco Massage Gun offers more PPMs than most massage guns, but it will cost you less than $50. It comes with seven preset speeds that top out at 3,200 PPMs, and it comes with 10 attachments, so you can dial in the type of massage you want. Controlling the speed is simple, thanks to the touch LED display on the back of the gun. Plus, it's one of the quieter guns we've seen, topping out at 50 decibels. This is very impressive, especially considering how much power it puts out.
You will make a few sacrifices going with the budget option — the attachments are pretty hard (even the foam ball), so you'd better have a light touch if you're sensitive or just really sore. Plus, some user reviews have noted that even the lowest speed setting feels too rough, so if you're not looking for an aggressive massage, you may want to look elsewhere.
Best Massage Gun for Athletes: Theragun Prime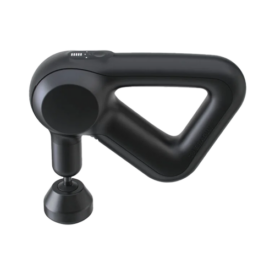 The Theragun Prime features four attachment heads that are more forgiving than hard plastic, five different percussive speeds, and a battery that lasts for two hours. 
Product Specs
Top Speed: 2,400 PPMs
Stall Force: 30 pounds
Amplitude: 16mm
Attachments: 4
Price: $299
Pros
This gun's triangular handle makes it easy for athletes to massage hard-to-reach places.
The companion app can provide massage instructions for specific sports.
At 69 decibels, it won't be obnoxiously loud if used at the gym.
Cons
It's not the biggest massage gun, but it'll take up a good chunk of space in a gym bag.
At $299, you may be reluctant to let your gym pals borrow it.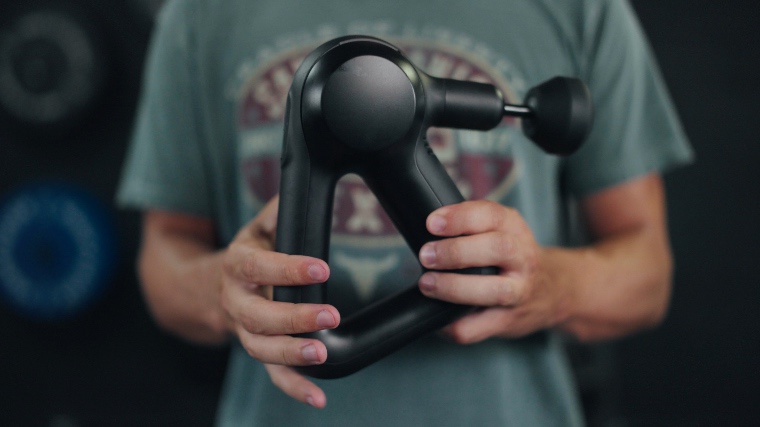 There's a reason that you see top athletes hammering at their bodies with massage guns all the time. Percussive therapy can increase muscle flexibility and help warm up muscles before your workouts as well as decrease muscle soreness post-workout. (1)(2) The Theragun Prime is an excellent choice for athletes in part because it offers deep amplitude to help you drive deeper into muscles, the triangular handle is perfect for getting those hard-to-reach back muscles, and you can customize the speed anywhere from 1,750 PMMs to 2,400 PPMs.
But what really makes it ideal for athletes is the instruction that comes with the Therabody app. This app pairs with the Prime to allow you to dial in the speed, and it also offers massage directions for anything from weight lifting to just about any type of fitness activity you can think of. There are even instructions for specific issues from shin splints to poor sleep.
Read our full Theragun Prime review.
Best Mini Massage Gun: Renpho Mini Massage Gun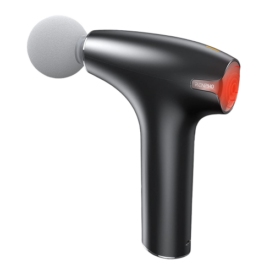 This lightweight massage gun is extremely quiet at just 40 decibels. Plus, in addition to three massage speed settings, it also offers a heat therapy element that warms up to 115 degrees F. 
Product Specs
Top Speed: 2,800 PPMs
Stall Force: Not Listed
Amplitude: 6mm
Attachments: 4
Price: $59.99
Pros
Weighing just over half a pound, this is one of the lightest massage guns you'll find.
Unlike most massage guns, this features a heating element.
At under 40 decibels, this massage gun is quiet enough to use just about anywhere.
Cons
There's no battery indicator, so you don't know how much charge you have left.
The amplitude is lower than you'll find on most massage guns.
At 11 ounces, the Renpho Mini Massage Gun is made to go anywhere with you. It has three speed settings that top out at 2,800 PPMs, a four hour battery life, and four different attachments (thumb, ball, u-shaped, and bullet). Also, it's only six inches long by six inches long, so it'll fit in a travel or gym bag without issue.
But what makes this massage gun really unique is that it comes with a heating element, which is something that you don't usually see on massage guns. The heater sits at the opposite end of the massage head and is designed to provide heat therapy, which can increase blood flow to an area to help release buildups of lactic acid after hard workouts. (3) The heat plate has three settings — 100, 107, and 114 degrees F, so you can start light and work your way up to the higher heat.
Best High-End Massage Gun: Theragun Pro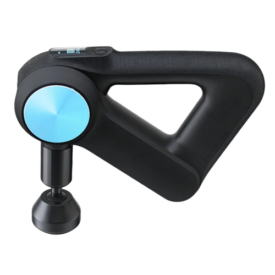 Therabody's flagship massage gun, the Theragun Pro offers up to 2,400 PPMs with 60 pounds of stall force and a 16mm amplitude. Plus, it works with Therabody's comprehensive companion app, which offers routines for specific sports and injuries. 
Product Specs
Top Speed: 2,400 PPMs
Stall Force: 60 pounds
Amplitude: 16mm
Attachments: 6
Price: $599
Pros
The on-board screen walks you through specific routines without having to look at your phone.
At 60 pounds, it has a higher stall force than most massage guns.
The soft foam head attachment is perfect for massaging sensitive areas or muscles close to bones.
It's quieter than its predecessors.
Cons
It's $599 price tag puts it at the top of the price range for massage guns.
It doesn't have replaceable batteries, as earlier iterations did.
If you're willing to spend some serious money, the Theragun Pro might be your best bet. Therabody's premier massage gun offers fully customizable speed settings ranging from 1,750 PPM to 2,400 PPM, a whopping 60 pounds of stall force (how much pressure you can apply before the gun stops), and a 16mm amplitude, the longest amplitude on the market. All of these statistics add up to a machine that can deliver intense deep-tissue massages with ease.
In addition to the Theragun-standard triangular handle, the Theragun Pro is the only Theragun that has a head with an adjustable arm to make it even easier to reach every part of your body. This one also comes with six different heads, including the standard ball, dampener, thumb and wedge. The two more unique heads are the micropoint, with its soft rubber points, and the supersoft, which is a large, soft foam head that's designed for use on particularly sensitive areas like joints or muscles close to bones.
The Theragun Pro also has some great technological features, including one you won't find on other guns. It pairs with the excellent Therabody app, which allows you to customize speeds and choose from a library of routines based on activity, injuries, and ailments. Other Thera guns do this as well, but the Pro also can display routines directly on the gun's OLED screen, so you can follow a routine without looking at your phone. Bottom line, this is a top-tier massage gun in just about every way. If you can swing the cost, this is the one to get.
Best Massage Gun for Runners: Hyperice Hypervolt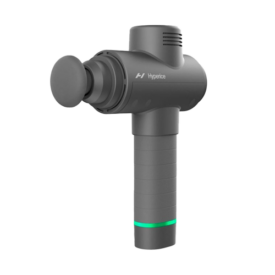 This massage gun comes equipped with five different attachments, and three different speed settings. The battery is meant to last for three hours, and it can be paired up with the companion app via Bluetooth. 
Product Specs
Top Speed: 2,700 PPMs
Stall Force: 35 pounds
Amplitude: 12mm
Attachments: 5
Price: $199
Pros
The fork attachment is ideal for massaging runners' calves and Achilles areas.
It's smaller than other full-size guns, which makes it easy to fit in a running back and tack to the track or trailhead.
The $199 price point is lower than other guns of similar quality.
Cons
There are only three speed settings.
This doesn't come with a carrying case, so you'll have to find a way to keep the attachments organized.
The stall force is only around 25 pounds, which is lower than similar guns.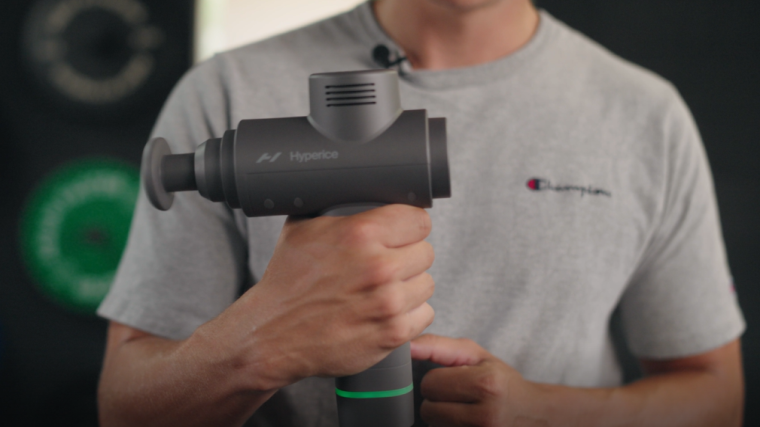 A massage gun is a must-have for runners who want to speed up their recovery between workouts, and the Hyperice Hypervolt 2 is a solid option. The 2,700 PPM top speed and 12mm amplitude are near the top of the class for full-size massage guns, allowing runners to get deep into sore muscles to loosen them up. Plus, the five attachments are ideal for working different parts of the leg — the flat head is good for covering larger muscles like the quads, the fork is ideal for calf and Achilles work, and the thumb is perfect for digging into smaller areas like the psoas and the tibialis anterior.
The three speed settings allow you to adjust the intensity somewhat, but more variance in the speeds would have been nice. That said, the handle has been redesigned in more of an oval shape, which, combined with the rubberized grip, provides a solid, comfortable hold during massages.
Read our full Hyperice Hypervolt 2 review.
Best Handheld Massage Gun: Theragun Mini 2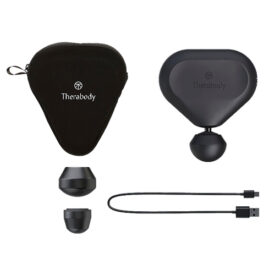 This travel-sized massage gun features three attachment heads and three powerful percussive speed settings. Plus, it connects with Therabody's app to provide you with easy-to-follow step-by-step massage routines. 
Product Specs
Top Speed: 2,400 PPMs
Stall Force: 20 pounds
Amplitude: 12mm
Attachments: 3
Price: $199
Pros
At 5.5 inches long by 4,92 inches tall, it's one of the smallest guns on the market.
Despite its small size, it has a stroke length of 12mm, which is competitive with full-sized massage guns.
Its unique shape is designed to fit in the palm of your hand.
Cons
The lack of a traditional handle means you'll need a buddy to get your back for you.
Its $199 price tag is high for a mini massage gun.
The very definition of a handheld massage gun, the Theragun Mini 2 is designed to literally fit in the palm of your hand. The unique triangular shape of this gun helps keep it small enough to fit in a workout bag (or even a cargo pocket), and the 1.1-pound weight means you won't experience any wrist fatigue while using it. Despite its small size, it packs plenty of "oomph" with its 2,400 PPM top speed and 12mm amplitude, but the 20 pounds of stall force will limit how hard you can press into your sore spots.
Also, since this is a Therabody gun, it works with the Therabody app, which provides an entire library of massage routines designed for specific sports, injuries, or ailments. The only real issue we had with this is that since this doesn't have a handle, there's really no way to hit areas on your back by yourself. So unless you have a buddy who's willing to do it for you, you're out of luck.
Read our full Theragun Mini 2 review.
Best Massage Gun for Travel: Hyperice Hypervolt Go 2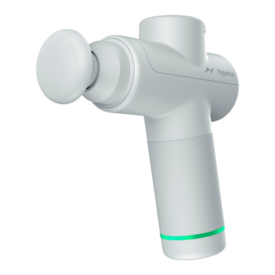 This massage gun features two attachments to go along with three different speed settings. The battery lasts three hours, and it only weighs 1.5 pounds, so you can easily take it on the road with you. 
Product Specs
Top Speed: 3,200 PPMs
Stall Force: 15 pounds
Amplitude: 10mm
Attachments: 2
Price: $199
Pros
At just 1.5 pounds, it won't weigh down a carry-on bag.
The Hyperice app provides guided massages and instructions for specific muscles.
The 10mm amplitude puts it on the higher end of mini massage guns.
Cons
There are only two attachment heads included.
Its roughly seven-inch length and height makes it larger than most travel massage guns.
The low stall force of 10 to 15 pounds means you can't press very hard with it.
A more compact version of the Hypervolt, the Hypervolt Go 2 offers a higher top speed than many full-size massage guns with an impressive 3,200 PPMs. Pair that with the 10mm amplitude, and you've got a travel massage gun that can strike deep into muscle tissue. Also, it weighs about a pound and a half, so it won't weigh down your backpack as you go through security at the airport.
The handle is placed at an angle from the gun's body, which makes it more comfortable on the wrist, but Hyperice stuck with the cylindrical handle with the Go 2, instead of the oval handle that they put on the full-size Hypervolt 2, which we found more comfortable. While it's larger than competitors like the diminutive Theragun Mini, having an actual handle made it possible to reach your back and trapezius muscles, something we couldn't manage with the Mini.
Read our full Hyperice Hypervolt Go 2 review.
Best Massage Gun on Amazon: Toloco Massage Gun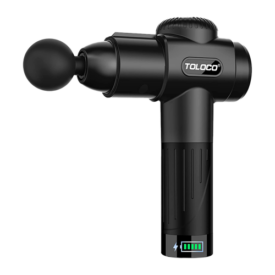 One of the most powerful guns you'll find for under $100, the Toloco Massage Gun offers 3,200 PPMs, a 12mm amplitude, and 10 different attachment heads. 
Product Specs
Top Speed: 3,200 PPMs
Stall Force: 35 pounds
Amplitude: 12mm
Attachments: 10
Price: $49.99
Pros
The top speed of 3.200 PPMs is higher than some premium massage guns.
Its low price point makes it a fairly risk-free purchase.
You can get it on Amazon, which means two-day shipping for Prime members.
Cons
There are no soft or cushioned attachment heads.
User reviews noted that even the slowest speeds felt too intense.
If you stall it, you have to turn it back on again.
You can't beat Amazon when it comes to speedy delivery. And if you want a massage gun ASAP, Amazon can speed the Toloco Massage Gun to you in a day or two. The $50 price tag is hard to argue with, especially considering that Toloco lists it as having a 3,200 PPM top speed and a 12mm amplitude, which is on the higher end of the range, even for a premium massage gun. It also comes with 10 attachment heads, although they are all hard plastic — you're not going to find any softer options here.
While its specs are impressive for a massage gun in this price range, it's not without its flaws, however — users have reported that the gun gets significantly louder over time, and if you press down too hard, the gun will actually shut down and need to be restarted (as opposed to other guns that will just start going again once you let up on the pressure).
How We Chose the Best Massage Guns
With so many massage guns on the market, it can be tough to separate the contenders from the pretenders. We took several factors into consideration, including factors like power, attachments, noise output, battery life, and a host of other factors when we made our list.
Motor Power
Having enough power is critical for massage guns, since it's the primary factor in how effective a massage will be. All of our picks for this list are able to reach at least 2,000 PPMs and most operate with an amplitude of around 10mm. We gave special consideration to massage guns that use brushless motors as well, since those tend to last longer.
Battery Life
A massage gun won't do you any good if it's dead, so we tried to find ones that either charge quickly or last for multiple sessions before needing a recharge. Ones that have clear battery life indicators got special preference, so you won't be surprised by a massage gun dying mid-session. All the guns on this list have at least a two-hour battery life, which should give you 10-15 uses between charges.
Attachments
Most massage guns come with different attachment heads that are either designed to hit specific areas or to provide a different massage experience. We looked for massagers that had at least four different attachment heads to provide users with some variety. If a massage gun had fewer, we made sure that it stood out in some other way.
Noise
At best a massage gun that's too loud will draw angry stares from other people in the gym. At worst, the loud, constant noise will drive you to leaving it in the closet and never using it. Full-size massage guns can put out anywhere from 50 decibels (the sound of a quiet refrigerator) to over 100 decibels (the sound of a hair dryer).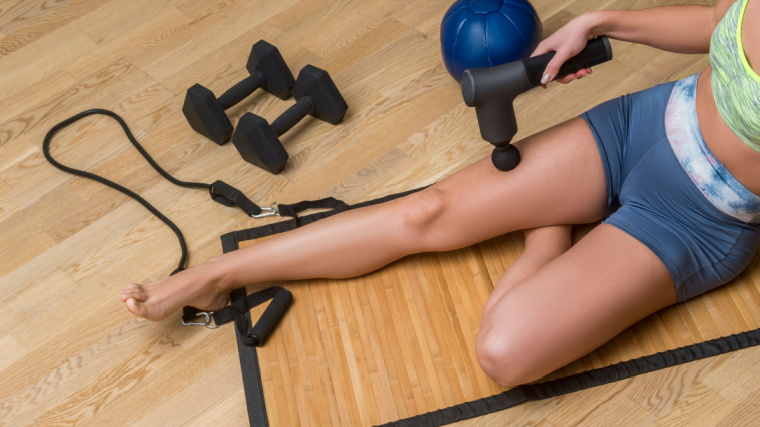 We tried to split the difference and choose massage guns that stayed under 60 decibels, which is about the noise level of a normal conversation.
Design
Handle shape, grip materials, and weight all come into play when it comes to how easy and comfortable it is to hold and use a massage gun. We looked for picks that had features that made it easier to maintain a solid grip, minimized wrist fatigue, and made it possible to hit all areas of your body with the gun. In cases where a gun didn't excel in this criteria, we included it because it stood out in other ways.
The Benefits of Massage Guns
In addition to significant anecdotal evidence, there have been studies whose results suggest that massage guns can have benefits before, during and after your workouts.
Increasing Flexibility
Studies have shown that percussive therapy can help increase blood flow to muscles and increase muscle flexibility prior to working out. (1) This can decrease the chance of injury as well as help improve performance.
Better Performance During Workouts
Using a massage gun during your rest period may actually help you bang out more reps on your next chest day. A 2021 study published in the International Journal of Environmental Research and Public Health showed that using a massage gun during rest periods between sets increased the number of bench press reps test subjects could perform before slowing down. (2)
Decreasing Soreness
Massage guns don't just feel good after a workout, they also might help reduce delayed-onset muscle soreness after a rough workout. A study performed in 2014 found that athletes who used vibration therapy experienced significantly less pain in the three days after exercise compared to those who didn't. (4)
How Much Do Massage Guns Cost?
Massage guns vary quite a bit in both price and quality. You can find massage guns that cost less than $50, while the higher-end guns can creep into the $600 range.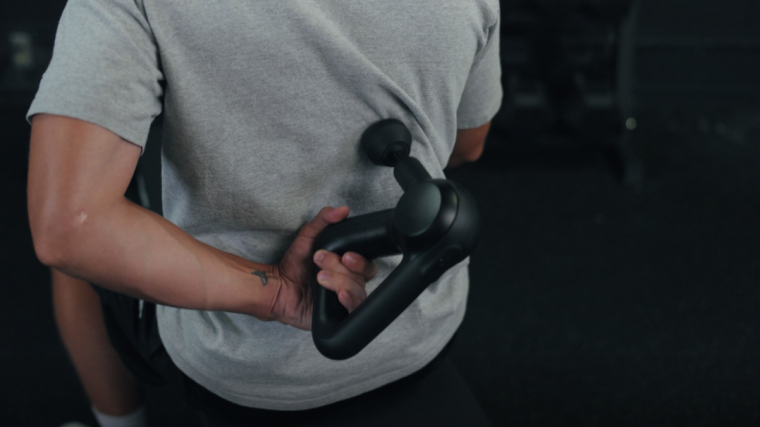 The big price differences tend to be due to both build quality and extra features like connectivity. You'll often find user reviews that lament a cheaper massage gun not lasting very long or that the sound it puts out increases significantly over time (our testers corroborated this). And while the ability to connect to an app isn't required to use a massage gun, many include sport-specific and relaxation routines to help users out.
What to Consider Before Buying A Massage Gun
Massage guns usually have the same basic form, but the details can vary a lot between models. If you're in the market for a massage gun, there are quite a few things to consider before dropping your hard-earned cash, including what attachments it has, how long the battery lasts, and how deep a massage it'll provide.
Attachments
The most basic attachment you'll find on a massage gun is the standard ball attachment, but most fully-featured ones also come with a flat attachment for working larger muscles like the quads, as well as a smaller thumb- or bullet-shaped attachment that can zero in on sore spots.
Other attachments, like forked attachments, are great for hitting areas like the sides of the spine. You also may want some softer attachments, like a damper or foam attachment, for those extra sore spots or areas near joints or bones. The Theragun Pro has an excellent foam attachment designed for those areas.
Battery Life
You'll want a massage gun that has a minimum battery life of two hours. That should get you 10-15 massages per charge. This is fairly standard in both full-size and mini massage guns, so this shouldn't be too hard to find.
Also, keep in mind that a massage gun's battery life will vary based on the level of intensity you use. So if you go full-bore every time, you may have to charge it more often.
Pulsations Per Minute (PPM)
One of the standard measurements of a massage gun's power is pulsations per minute (PPM). This refers to how many times the massager's head will strike a muscle as it pulses in and out of the gun. The PPM range for most guns tends to be anywhere between 1,700 to 3,200 PPM, with the higher PPM providing a more intense massage.
Amplitude
Amplitude, or stroke length, refers to how far the massage head extends from the gun. In other words, if you hold the gun steady against your arm, how far will it push into your muscle? For most guns, this range is around 10mm, give or take. If you want the option to have a deep-tissue massage, look for a massage gun with a higher amplitude, like 12-16mm.
Stall Force
Basically, stall force is the measure of how hard you can push a massage gun into your body before the gun's head stops moving. This number can vary greatly between massage guns, but if you really want to dig in to your muscles, look for a gun that has a stall force of 30 pounds or higher.
Final Word
As massage guns' popularity keeps growing in the athletic world, the available options on the market keep increasing. And while there are enough options out there for every athlete to find the right massage gun, the sheer volume of options can make it hard to narrow down the right choice.
If you're in the market for a massage gun, consider how you plan to use it. Are you looking to ramp up your workouts, speed up your recovery, or just relax after a long day? Do you need something to take to the gym, or do you plan to use it at home? Also, think about how intense you like your massages and how much you're willing or able to spend. When you have your needs dialed in, you can use this list to direct you to the perfect one for you.
FAQs
What's the best massage gun?
The best massage gun will vary from person to person, depending on their needs, but right now, we love the Theragun Prime. While its power and battery life are similar to other models, the durability, innovative triangular handle, and excellent companion app make it stand out from the crowd.
How much do massage guns cost?
You can find quality entry-level massage guns for as little as $50. If you're in the market for something with more features or power, you can spend anywhere from $200-$600 for a higher-end model.
How long should you use a massage gun?
General recommendations are anywhere from 30 seconds for muscle activation to two minutes for recovery and usually no more than ten minutes per session. Many massage guns have an automatic shutoff that kicks in after 10-15 minutes to prevent overuse as well as minimizing the risk of the gun overheating.
Resources
Sams, L., Langdown, B. L., Simons, J., & Vseteckova, J. (2023). The Effect Of Percussive Therapy On Musculoskeletal Performance And Experiences Of Pain: A Systematic Literature Review. International Journal of Sports Physical Therapy, 18(2), 309-327. https://doi.org/10.26603/001c.73795
Garcia-Silero, M., Jurado-Castro, J. M., et al. (2021). Acute Effects of a Percussive Massage Treatment on Movement Velocity during Resistance Training. Int J Environ Res Public Health, 18 (15):7726.
https://www.hopkinsmedicine.org/health/treatment-tests-and-therapies/ice-packs-vs-warm-compresses-for-pain
Imtiyaz, S., Vegar, Z., & Shareef, M. Y. (2014). To Compare the Effect of Vibration Therapy and Massage in the Prevention of Delayed Onset Muscle Soreness (DOMS). J Clin Diagn Res. 8(1): 133–136.