Percussive massage guns deliver vibrational therapy for a quick and convenient massage, relieving any soreness you may have from a tough workout, a nagging knot in your muscles, or even just a long day at the office. Most of the models available on the market, however, are a touch too bulky to lug with you everywhere you go. For a massage you can take with you, we like the ultra-portable Theragun Mini 2.
With three attachments and three speed settings, this mini massager provokes blood flow to the target area — perfect for warming up a muscle pre-lift or for facilitating recovery post-training. This travel-sized massage gun only weighs one pound, fits perfectly in your palm, and has a 120-minute battery life. Thanks to its handheld design, and multiple speed settings and attachment heads, the Theragun Mini 2 is currently one of our favorite travel massage guns — and we think it may end up being one of yours, too.
Main Takeaways
The Theragun Mini 2 features three attachment heads and three speed settings.
The ergonomic triangle shape fits perfectly in your palm.
The Therabody app is an excellent tool to use with this massage gun as it has routines tailored to working out your specific needs.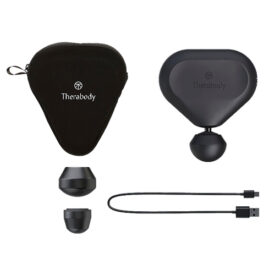 This travel-sized massage gun features three attachment heads and three powerful percussive speed settings. Plus, it connects with Therabody's app to provide you with easy-to-follow step-by-step massage routines. 
Theragun Mini 2 Highlights
Whatever your sport of choice, the Theragun Mini 2 comes with a routine for you — from stiff muscles to helping get better sleep and even relieving the effects of carpal tunnel.
The "For You" tab is one of our favorite app features. After you download the app, just select all of the activities you participate in and any ailments you deal with, and you'll be presented with multiple routines based on your specific lifestyle. Plus, you can pair the app with your Theragun Mini 2, and it'll indicate the amount of pressure you're applying to your body and whether or not you need to ease off or add more pressure.
The attachment heads are made from firm foam rather than hard plastic, which we like since you can use them on sensitive areas like your hands and neck. That said, the three attachments still serve specific purposes. The Dampener is a rounded all-around attachment; the Standard Ball is a firmer version of the Dampener; the Thumb is designed to mimic a human thumb and pairs nicely with trigger points and your lower back. While the speed settings are effective, other models offer more settings, and the $200 price tag may be too steep for some people.
Pros
The small design is ideal for those who are always traveling.
The three attachments are versatile enough to be used all across your body.
The companion app teaches you how to properly use the massage gun with guided routines.
Cons
You can always purchase more attachments, but the Theragun Mini 2 only comes with three.
The $200 price tag isn't far off from other massage guns that include more attachment heads and speed settings.
With a small motor, some users may find the massage to be underwhelming or on the lighter side.
Price
The Theragun Mini 2 will run you around $200 (including shipping). Some folks may consider this spendy, since other market models come with more attachments and massage speeds. However, we mostly like the Theragun Mini 2 at this price. You get enough for an effective warm-up and cool-down massage, and it's one of the most portable massage guns available. Therabody also offers financing options through Klarna if you'd rather pay for the Mini 2 over time.
Overall Build and Quality
The Theragun Mini is made from a hard plastic build and is shaped like a triangle. This small design allows you to easily grip it and reach around your back, plus it's as light as a feather so you won't tire out from holding it. We're a big fan of Therabody's attachments and view them as some of our favorites, thanks to that softer foam material. Harder attachments are painful on sensitive areas. While these attachments massage rather than pound, but still dig into some serious knots when needed.
This portable massage gun only weighs one pound. It's a tick over 5.5 inches long, just under five inches wide, and almost two inches thick. While the motor might not be suited for public spaces, it's not the most annoying sound in the world — that title still goes to Lloyd Christmas's shriek in Dumb and Dumber.
Features
The attachment heads that come with your purchase are a huge highlight with the Mini 2. They're more forgiving than ones made from hard plastic, but they're still firm enough to work out those serious knots you may be dealing with. The three speed settings are effective, and it's easy to cycle through them by tapping the power button.
There are three LED lights positioned next to the power button that signal what speed setting you're on, and there are three colors to indicate the battery life. Green means it's fully charged, Blue means the battery is at 50 percent, and Red indicates it's starting to die. Each full charge takes about 90 minutes, and a full battery offers 120 minutes of use.
The companion app is also extremely helpful, as it's full of guided routines for you to use. Once you pair your Mini 2 to the app, your speed setting will be automatically set to the optimal speed for each routine, and a force meter will indicate how much force you should apply.
Color Options
The Theragun Mini 2 comes in two colors: Black and Desert Rose.
Attachments
The Theragun Mini 2 features three stellar attachment heads that provide a high level of versatility. The Dampener is a jack-of-all-trades attachment that can be used across your whole body and pairs well with sensitive areas like your hands.
The Standard Ball attachment is a smaller version of the Dampener and is great for large and small muscle groups. The Thumb attachment mimics a human thumb, your best bet for trigger point therapy and your lower back.
Speed Settings
Although the Mini 2 only has three speed settings, they're still highly effective. In fact, the lowest and highest settings are the same as the full-sized Theragun Pro, so you're only missing out on some in-between options. To adjust the speed, just tap on the power button, and the LED lights will indicate which setting you're on. If you pair the Mini 2 with the Therabody app, you can control the speed that way.
Companion App
We've grown to love the Therabody app and are confident you'll find it extremely useful. This tool is beneficial to everyone as it's full of guided routines and diagrams showing you which direction to move the massage gun. After you download the app, you'll be asked to select any activities you participate in, ranging from lifting weights to virtually any sport. You'll also be asked to add any physical ailments, such as sciatica, tech neck, carpal tunnel, and even wellness challenges like jetlag and poor sleep.
You can always add more, but once you have this information filled out, the "For You" tab will have various routines based on your selections. Once you select a routine, you'll notice a diagram that showcases where to position the massage gun for each specific muscle, the direction you need to move it in, and the duration of the massage.
You'll also be able to adjust the speed setting within the app, and you'll notice a force meter that indicates how much pressure you're applying. You may not realize it, but you can further injure yourself by using the massage gun for longer than two minutes, and by applying too much force, so we think this is a huge bonus.
To pair the app to your Mini 2, just make sure your Bluetooth is enabled on your phone, open the app, turn on the massage gun, and click on the Bluetooth button at the bottom of the app. From there, you'll see the full list of products, simply select your model, and you're all set.
Force Meter
While the force meter might be a little tricky to fully understand on your first try, you'll get the hang of it. Once again, we find this extremely useful since you can cause yourself harm if you aren't careful with a massage gun. As long as you stay within the force meter, you shouldn't cause any damage.
Product Specs
Due to its compact design and easy portability, the Theragun Mini 2 is one of our favorite massage guns. The handle is easy to hold, the durable plastic build has a rubbery texture, and the attachments are firm yet forgiving. Since it only weighs about one pound, you won't experience any fatigue while using it, it's super easy to toss in your bag, and it has an impressive battery life.
Ergonomic Handle
The Theragun Mini 2 features an ergonomic triangular design that fills your palm perfectly. It's easy to hold, it has a rubbery feel that allows you to maintain a solid grip, and you can grip the sides to reach around and hit your back.
Materials
Despite its small stature, the Mini 2 feels pretty durable thanks to the hard plastic build. The attachments are made from high-quality foam that is firm and forgiving, allowing you to use it on sensitive areas while still providing a deep tissue massage.
Battery
The battery on the Mini 2 has a shelf life of two hours, but that can be shortened if you apply a copious amount of pressure and force the motor to work harder. The power button features a single LED light in the middle, showcasing the battery life.
If it's Green, you have a full battery, Blue indicates that it's at 50 percent, and Red means it's starting to die. Once it eventually does die, you can expect it to take around an hour and a half to charge fully.
Dimensions and Weight
As the great Ronnie Coleman would say, the Theragun Mini 2 is the definition of "light weight baby." Because it only weighs one pound, you won't experience much (if any) fatigue while using it, and since it measures 5.5 inches long, 4.9 inches wide, and only 1.9 inches thick, you can easily toss it in your bag and hit the road.
Warranties
Therabody offers a one-year manufacturer warranty on the actual massage gun and a 90-day warranty on the battery and attachments.
Places to Buy
You can purchase the Theragun Mini 2 directly through the Therabody website or from other fitness websites, such as Rogue.
Company Information
Since 2009, Theragun has been on a mission to provide the best possible solutions for recovery with a wide range of products. To speak to a team member, you can call them at 866-480-3526, or you can live chat with someone on their 'Contact Us' page.
Final Word
Recovery is a vital aspect of fitness, and percussive massage guns like the Theragun Mini 2 are an easy way to speed up this process by increasing the blood flow to a specific area of your body. This compact massage gun is perfect for stashing in your gym bag for your warm-up and is an ideal solution for those constantly traveling. The three attachment heads provide a solid amount of pressure to massage your entire body from the neck down, and the three speed settings are highly effective.
The companion app is a handy tool as it provides guided routines based on your personal life and teaches you how to use the massage gun properly. While it might be a little pricey for some folks, this handheld product will save you money in the long run instead of seeing a massage therapist, plus it's more convenient. There are many benefits to owning a percussive massage gun like the Theragun Mini 2, and if you're looking for one of the best handheld options on the market, you might've found your match here.
FAQs
How much does the Theragun Mini 2 cost?
Including shipping, this handheld massage gun will run you right around $200. While that might seem like a steep price, it'll save you money instead of seeing a massage therapist, and it's the definition of convenience.
How many attachment heads does the Theragun Mini 2 have?
With your purchase, you'll receive three attachment heads to use. They're made of firm foam-like material and are highly versatile as they can be used for deep tissue massages and near sensitive areas.
How long does the battery last on the Theragun Mini 2?
The battery on this massage gun is designed to last you for two hours, but that may be shortened if you apply a lot of force during your massage. Since you shouldn't be using a percussive massage gun for more than a couple of minutes at a time, this will suit you perfectly. Once the battery dies, you can expect it to take about 90 minutes to fully charge.