We receive free products and receive commissions through our links. See
disclosures page
.
If only massages weren't so expensive is likely a thought that has crossed the mind of many a trainee the day after a heavy lifting session. Thankfully, self-myofascial release, the scientific term for self-massage, has become an excellent option with the recent innovations in foam rollers. You can now proactively deal with your muscle soreness at home without needing a wad of cash. Foam rollers allow you to perform self-massage and potentially alleviate muscle soreness, knots, and tightness all on your own by pressing into the muscle fascia, much like a person's hands would during a massage.
While we may not be able to do anything to drop massage parlor prices, we can help guide you toward the best foam rollers on the market. There are now a large array of rollers with different sizes, firmness, and nubs for pinpoint pressure, as well as even vibrating rollers. Each fulfills a different niche with wide-ranging price points, and we're positive there is an option that fits your needs. We've rounded up a few of our personal favorites for you to consider.
Best Foam Rollers
Editor's note: The content on BarBend is meant to be informative in nature, but it should not be taken as medical advice. The opinions and articles on this site are not intended for use as diagnosis, prevention, and/or treatment of health problems. It's always a good idea to talk to your doctor before beginning a new fitness, nutritional, and/or supplement routine.
Best Foam Roller Overall
Our pick for best overall roller goes to the GRID. It provides a great balance between hardness and softness, with a solid, hollow core covered by EVA foam. This construction gives it great versatility among novice users and the experienced athlete alike.
Trigger Point GRID Foam Roller
Aside from the basic features, we love the smartly designed zones of the GRID roller that are designed to mimic the hands of a masseuse. There are flat portions that act similarly to a palm and channeled portions that work more like fingers. The roller is sturdy enough to be integrated into workouts, and there are whole workout programs designed round this roller alone.
Trigger Point GRID Foam Roller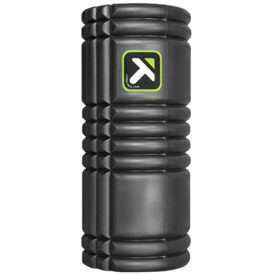 Trigger Point GRID Foam Roller
Trigger Point GRID foam rollers are popular for many reasons. They're affordable, effective, and have a design that works well for loosening up stiff muscles and aiding recovery. 
Who Should Buy the Trigger Point GRID Foam Roller
People who want a versatile foam roller for all kinds of massage.
Buyers looking for a roller that can also be integrated into workouts.
Consumers looking for some different color options for their roller.
Who Shouldn't Buy the Trigger Point GRID Foam Roller
Trainees who want more targeted muscle rolling.
Athletes who want a more advanced roller, like a vibrating roller to help them recover.
The Trigger Point GRID has something for everyone and is a great purchase if you need to cover all the bases and relieve your muscles.
Best Foam Roller For Beginners
The simplest of the rollers on this list, the Rogue Foam Rollers are a classic design updated for use with improved materials. The EPP molded foam is easy to keep clean and ensures that they retain their shape well with use. You can choose a shorter 18 inch version if you need something more portable and affordable, or a longer 36 inch if you don't.
Rogue Foam Roller
One of the workhorses of the gym, these foam rollers are affordable, durable and very versatile. You'll be able to massage basically any muscle group you want and there are two different density options available: standard with a 1.5lb per cubic foot and ultra firm at 2.8lb per cubic foot.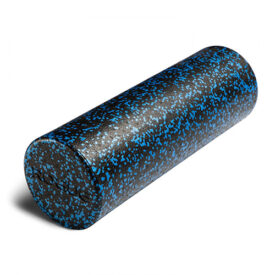 With a simple design and upgraded construction materials, the Rogue Foam Roller is a no frills, basic roller that will help ease muscles after a hard training day. It's also lightweight and comes in multiple lengths and firmnesses. 
Who Should Buy the Rogue Foam Roller
Lifters who want a well priced roller.
Athletes who don't want a super firm roller (go with the standard).
Consumers looking for a reliable roller that is easy to clean.
Who Shouldn't Buy the Rogue Foam Roller
Athletes looking for smaller, more easily portable foam rollers.
Trainees who need more pinpoint foam rolling.
Buyers who prefer rollers with a less regular surface.
An upgraded version of the early foam rollers, these are incredibly versatile at home or in the gym and are much more durable than the older generation — well worth a look.
Best Foam Roller for Back Relief
Having muscle pain in your back in your 20s or 30s is a good way to tell us you compete in strength sports without telling us you compete in strength sports. Even if you're not in that age range, anyone experiencing back pain from muscle tightness can potentially benefit from a targeted foam roller, and the Chirp Wheel is designed specifically for back pain relief.
Chirp Wheel
This foam roller pack comes with three different-sized rollers — 10 inches, six inches, and four inches. All three of these serve different purposes with the 10-inch roller helping to deliver pressure along the length of your back; the six-inch roller is intended to reach deep tissue and target tough knots; and the four-inch roller is small enough to help target problem areas along your neck.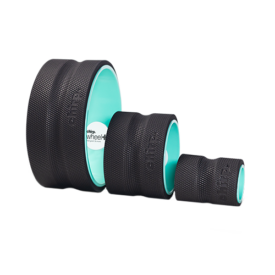 This three-pack of rollers is designed to give complete back relief with three different-sized rollers — 10 inches for overall back relief, six inches for pinpoint accuracy, and four inches for neck rolling. All feature 11mm of foam padding and can support up to 500 pounds.
All three rollers are designed to glide along the muscles on either side of the spine. To achieve this, Chirp Wheel has a groove where the bony parts of your spine are and higher edges to target only the muscles. Each wheel features 11mm of foam padding and can support up to 500 pounds. The three-pack costs about $99 before tax and possible shipping charges.
Who Should Buy the Chirp Wheel
Those who want potential relief from back pain and tightness. The Chirp Wheel is designed specifically for backs.
Anyone who wants a variety of sizes to roll out with. You'll have three to choose from here.
Athletes who are experienced with foam rolling. The more rigid, less padded nature of these rollers provides more pinpointed pressure than traditional foam rollers.
Who Shouldn't Buy the Chirp Wheel
Anyone new to foam rolling may find these a bit too firm.
Those who simply want a general foam roller to help roll out all areas of the body.
People who are looking for cost-effective options. You do receive a lot of value for your money here, but there are cheaper options on this list.
Chirp Wheel's three-step solution for back relief is a great option for those searching for a foam roller that's specifically made for the back. The ergonomic design with a groove in the middle allows you to have maximum potential contact on the muscles without putting as much pressure on the spinous processes (the bony parts of the spine that stick out) — this means possibly better pinpoint pressure.
Best Collapsible Foam Roller
There are more gyms and workout destinations for us to travel to than ever before. Now it's a breeze to find a powerlifting gym, CrossFit gym, or even just a well-equipped major gym chain virtually anywhere in the world. That's why having a collapsible foam roller like the Brazyn Morph could be something to look into.
Brazyn Morph
Handbuilt in Germany, this roller is made from top-quality aluminum and bamboo. It has even been tested with loads to over 350 pounds, so all but the largest athletes can use this with peace of mind. The Morph folds flat to a height of just two inches, making it TSA-friendly and portable.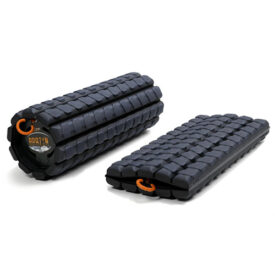 The Brazyn Morph foam roller is an excellent choice for road warriors and athletes on the go. It collapses flat and takes up less space than your conventional foam roller. 
When in use, the roller measures 14.5 inches long with a diameter of 5.5 inches — which is basically a normal-sized roller. The nub-shaped surface acts similarly to thumbs for an intense, deep pressure to help massage trigger points and knots. The Brazyn Morph Alpha can be purchased for around $68 before tax and shipping.
Who Should Buy the Brazyn Morph
Anyone who needs a super portable foam roller. This folds down to two inches tall for easy portability.
Consumers who want an easy to assemble, but durable roller. This only takes seconds to fold or set up.
Athletes that want a versatile, general-purpose roller. Though general purpose, it does provide an intense rolling session thanks to the thumb-like nubs.
Who Shouldn't Buy the Brazyn Morph
Buyers who have a tighter budget. This specialty foam roller isn't the cheapest on this list.
Trainees who prefer not to have to set up their foam roller. It only takes a few seconds, but many just want to get rolling without any setup.
Lifters who need a more pinpoint foam roller. This is designed to provide intense and deep pressure over a wider area.
The Morph is the ideal option for those who have minimal space in their gym bag but want to make sure they can loosen up before training, even if they're on the road. Brazyn boasts that the roller is TSA-friendly too for those who fly often. Airplanes don't usually help in the muscle stiffness department.
Best Vibrating Foam Roller
The Hyperice Vyper is now in its third and best iteration yet. We can't deny that vibration feels great on our muscles — there's a reason vibrating massage chairs sell so well. Many people use vibrating equipment to loosen up sore and tight muscles, so Hyperice combined high-intensity vibration with a foam roller to power through problem areas and blast away knots with the Hyperice Vyper 3.
Hyperice Vyper 3
This foam roller is more a piece of technology than anything and is powered by a 34-watt motor to deliver high torque while still being optimized for comfort. The lithium-ion batteries deliver two hours of use per charge and are TSA-approved for carry-on. Choose from three vibration speeds depending on your needs or connect to the Hyperice App for automated speed control based on the recovery program you choose in the app.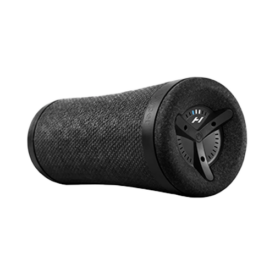 The Hyperice Vyper 3 takes foam rolling to the next level with its vibrating technology. Set three different speeds to hit sore spots and fatigued muscles exactly where you need for up to two hours on a single charge or let the Hyperice App automate the speed control for you.
This unique roller fits easily in your backpack or gym bag with dimensions of 13 inches long by 5.4 inches in diameter, and only weighs a little under three pounds. The price can be a sticking point for some people here coming in around $199 before tax and shipping. If you're someone who deals with soreness and tightness all the time, this might be worth the investment though.
Who Should Buy the Hyperice Vyper 3
Athletes who want to take their rolling to the next level. Combining vibration with a firm roller is a solid one-two punch for stubborn knots.
Trainees who aren't getting enough oomph from their regular foam rollers may want to try this combo approach.
Lifters who deal with soreness and tightness more often than not may finally find relief with this roller because of the combination of foam rolling and vibration.
Who Shouldn't Buy the Hyperice Vyper 3
Consumers with a tighter budget. This roller isn't cheap because of the technology included.
Athletes who want more targeted rolling. The width of this roller is 13 inches, which makes it more of a generalized than specific trigger point roller.
Lifters looking for a smaller, more portable roller. Though the dimensions aren't as large as some rollers, this one doesn't fold like some other options on this list.
Two hours of use per charge and three different vibration speeds offer a new world of recovery for athletes with perpetual DOMS. The Vyper 3 is the priciest roller on this list, but the vibration may be a game changer. If you find it helpful and have the cash, this product won't let you down after an active day.
Best Foam Roller For Deep Tissue Massage
Sometimes, a large surface area just won't do. If you need to penetrate into the deeper layers of muscle, you need a more aggressive foam roller like the RumbleRoller. With its specially designed surface that mimics thumb pressure, this roller is very effective at getting into the deeper tissues that can be hard to reach otherwise.
RumbleRoller
Breaking out the RumbleRoller is like calling in the artillery. It's covered with firm, yet flexible bumps to mimic thumbs, and achieve deep and concentrated pressure. Much more aggressive than a conventional foam roller, the RumbleRoller is able to dig deep into the fascia and break up tight knots, working through trigger points. There are two different levels of firmness and three lengths available for each. The original is firm, to begin with, but the XFirm is 36 percent firmer for experienced users.
The RumbleRoller is meant for targeting pesky muscles and getting deep into the tissue for maximum massage. The pressure from these rollers is intense and they're capable of working on stubborn knots where other rollers can't reach. 
The Compact roller measures 13 inches long with a diameter of five inches and costs around $49.95. Opt for the Mid-Size roller, and you'll have 22.5 inches by 5.5 inches to work with costing about $59.95. Finally, the Full-Size is the largest of the bunch at 31 inches long by six inches in diameter, and has a price tag of around $75. The only variable that impacts the price is size, not firmness.
Who Should Buy the RumbleRoller
Athletes who need more intense pressure for muscle recovery. The RumbleRollers are meant to dig deep.
Trainees who have hard-to-reach knots. The thumb-like projections can potentially help reach them.
Buyers who want an easy-to-clean foam roller. Simply spray the roller with a cleaning solution and wipe it down when finished to clean off your sweat and tears.
Who Shouldn't Buy the RumbleRoller
Trainees with sensitive skin may find the RumbleRoller's texture too abrasive.
Lifters who want a softer foam roller may want to opt for a more beginner choice on our list.
Consumers who need a more portable roller. There's a different pick on this list for that niche.
If your current foam roller feels a bit wimpy, or if you just have a really high pain tolerance, then the RumbleRoller is definitely the foam roller to consider on this list. You can even opt for the XFirm one for a truly deep rolling session.
Best Handheld Foam Roller
Unlike all the other rollers on this list, the Grid STK roller is a handheld roller. If you train alone, this roller probably won't be the best purchase as the design means that it is very difficult to roll out large parts of your body due to its smaller size and more targeted nature. But if you have a training partner (or loving partner) willing and able, this roller can really work some magic using the partner's added pressure and maneuverability. This roller is also great if you're consistently walking (waddling) around with tight or sore quads.
Grid STK Foam Roller
The Grid STK is a stick-like roller with handles on either end and three foam rolling segments in the center. It is constructed with the same EVA foam used in many weightlifting shoes because of its rigid and somewhat flexible nature, the STK is well constructed and will not suffer from durability issues.
Grid STK Handheld Foam Roller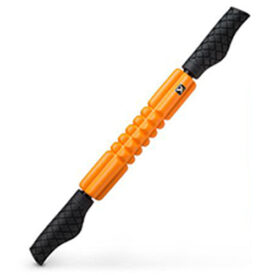 Grid STK Handheld Foam Roller
The Grid STK foam roller takes all the benefits of the original GRID roller and places them in the palms of your hand. It's perfect for rolling out quads or calves, and ideal for those who want to control the pressure they put on their muscles. 
We love this roller for use on the quads after a squat day or hamstrings after stiff-legged deadlifts. It's convenient, and the fact you can manually control pressure because the roller is in your hands is important when your delayed onset muscle soreness is intense. Start off light and ease your way into it as you're able to, rather than at the will of another person or gravity on a traditional roller. This roller measures 21 inches long with a smaller diameter of two and a half inches. Pick yours up for around $41.99 before tax and possible shipping charges.
Who Should Buy the Grid STK Foam Roller
People who can call on a training partner to help with rolling. Their ability to add extra pressure with their hands and bodyweight, as well as maneuver this roller around your body can help a lot.
Lifters who like to control pressure manually. Use your own body's feedback to increase or pull back on the pressure with this roller.
Anyone who needs extra work on their thighs and calves. Yes, it can be tiring on the arms, but in the end, it is usually worth it.
Who Shouldn't Buy the Grid STK Foam Roller
Athletes who train alone and need a more general-purpose roller. There are other options on this list more suited for those instances.
Trainees who prefer a less dense foam roller.
Consumers who dislike the variability of manual pressure. When you foam roll on the ground, the pressure from gravity is constantly compared to a handheld foam roller where you (or a partner) control the pressure.
The STK roller is a solid hand roller for nailing spots you can reach. With a willing partner or some creative positioning, you can really dig into areas that are hard to access with other products, thanks to the smaller size and stick-like shape of this roller. You can even use this roller sitting down while at the office or on the bus.
Best Pinpoint Foam Roller
While technically not a foam roller, lacrosse balls are actually excellent tools for self-massage. You could really use any type of ball, but most people find tennis balls too soft and golf balls too hard. Lacrosse balls are right in the middle.
Lacrosse Balls
There are a host of reasons why you should consider lacrosse balls, but for us, there are three main ones. First, lacrosse balls are cheap and ubiquitous. You can find them at most sporting goods stores in the US, and even outside the US, they're easy enough to find. Second, they are the most portable tool on this list. Everyone has space for one, and they'll never be confiscated on a flight — though if you have a home gym, your dog may want to use it to play fetch.
Lacrosse Ball Pinpoint Roller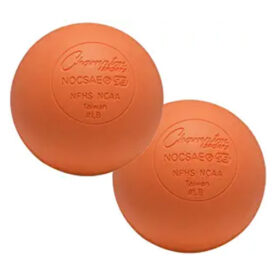 Lacrosse Ball Pinpoint Roller
It's hard to beat a lacrosse ball when it comes to pinpointing hard to reach muscle areas. Softer than a golf ball, but more firm than a tennis ball, they're the perfect balance to help loosen up deep, pesky knots. 
Finally, they are really great at pinpointing muscles that are often hard to reach with other rollers. Lacrosse balls can be used pretty much anywhere you've got a hard surface too. Lean up against a wall to target knots in your back, place it under your glute on a wooden or metal chair, roll the soles of your feet while sitting watching BarBend Youtube videos, the list goes on.
Who Should Buy Lacrosse Balls
Consumers who need a super portable option.
Lifters who want to dig into smaller, harder-to-reach muscles, like the scapula.
Buyers with a smaller budget. These are less than $10 per two-pack.
Who Shouldn't Buy Lacrosse Balls
Trainees with a lower tolerance for pain. Lacrosse ball rolling is not for the beginner.
Athletes who want a less pinpoint approach to foam rolling.
Anyone who easily loses smaller objects. These have a tendency to get lost at the bottom of gym bags if not used often.
Lacrosse balls are an incredible option for self-massage, especially if you travel regularly. The only caveat is that the pain can ratchet up quickly if you can't fully control the pressure you're applying. For their price and versatility, they're worth picking up for pretty much anyone who might use them.
Benefits of Foam Rollers
Foam rollers are a relatively new product, so they have not been studied as extensively as some of the other equipment out there. That being said, there does seem to be a consensus emerging as to what they are and aren't useful for. A recent meta-analysis in Frontiers of Physiology on the effects of Foam Rollers offers a great overview of the current science. In this research, the authors looked at 21 separate studies and compared the results. (1) From the analysis, researchers suggest that foam rolling before a workout can be useful for short-term flexibility and also, surprisingly, seems to lead to a very small increase in sprint performance.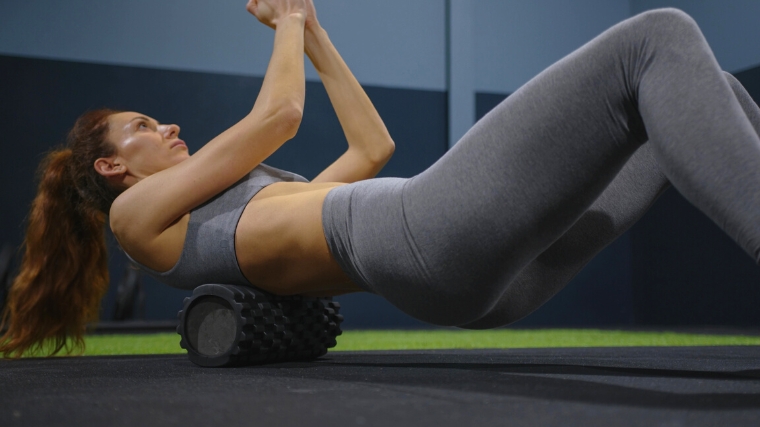 There also seems to be a benefit of reduced muscle soreness from rolling after training. The authors are however keen to point out that the mechanisms for these results are still unclear and that it could be partly psychological, and that there is still no consensus as to the best practice when using a roller. However, as foam rolling is incredibly safe and doesn't seem to negatively impact performance, there seems to be little risk to including it in your routine, and many athletes do.
Research Takeaways
We're still in the early stages of research on foam rolling. With the wide array of products now out there, it is clear that there are benefits to be had from using foam rollers. However, our aim isn't to tell you conclusively which style of roller is unequivocally best, or how long you should be spending and on which parts of your body. Rather, this list is a starting point to help you identify your preferences.
How We Chose the Best Foam Rollers
Much like what you should consider before making a purchase, we had to take some key points into account while making our picks. To make the list, an item had to be priced well for what it provides. These items are used for recovery, which happens all over the place, so they had to be portable too. Most people will purchase one or two rollers for their recovery, so an item's versatility ranked highly in our choices, as well.
Price
Considering the price of foam rollers is more about the value the product provides than anything. More straightforward rollers should be cost-effective because they're fairly basic. Once foam rollers start becoming niche and incorporating technology, the price expectedly increases, but if the roller does what it is intended to very well and performs exceptionally, then the price is justified due to the value of the product.
Portability
Due to the fact that recovery is an ongoing process that can occur anywhere once you leave the gym, these devices that can potentially assist in recovery need to be portable too. Devices with metal or battery components that are not explicitly cleared or approved by the TSA to fly will rank lower because of the question mark on the item's portability.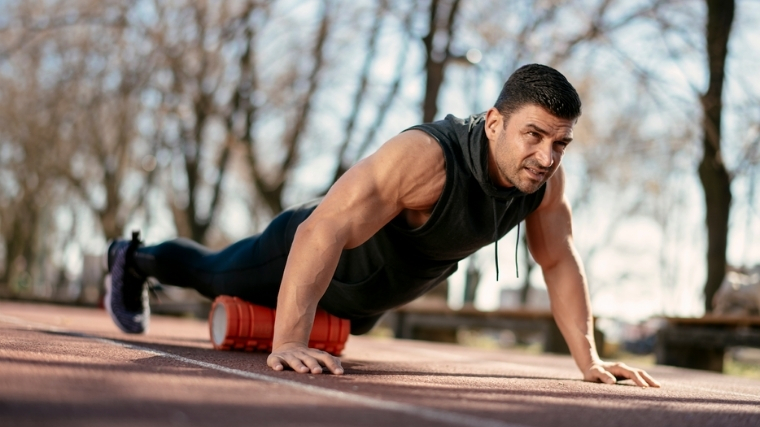 Simpler foam rollers need to be portable too, and those with different size options will often rank better than those with just one large size option (unless that larger one stands out in other ways).
Versatility
In our experience, most people will purchase one or two recovery devices like foam rollers — a general and a pinpoint device. Because of the limited number of items a person will have and the large number of body parts the device needs to help recover, versatility is at a premium. Options designed for just one body part or those unable to be used on many body parts without the aid of others may not rank as highly overall as those with more ubiquitous use.
How Much Do Foam Rollers Cost?
Foam rollers are pretty inexpensive on the surface. Essentially basic ones are a piece of round plastic with some foam around them, but if you fall down the rabbit hole of soft tissue massage, then you may find yourself realizing that some massagers are pretty pricey. If you don't want to spend that much money, you can use some rather common items like lacrosse balls to potentially tease out knots in muscles.
| | | |
| --- | --- | --- |
| Best Foam Roller Overall | Trigger Point GRID Foam Roller | $32 |
| Best Foam Roller for Beginners | Rogue Foam Roller | $20 |
| Best Foam Roller for Back Relief | Chirp Wheel | $99.00 for the three pack |
| Best Collapsible Foam Roller | Brazyn Morph | $68.00 |
| Best Vibrating Foam Roller | Hyperice Vyper 3 | $199.00 |
| Best Foam Roller for Deep Tissue Massage | RumbleRoller | $49.95 to $75.00 depending on the size |
| Best Handheld Foam Roller | Grid STK Foam Roller | $41.99 |
| Best Pinpoint Foam Roller | Lacrosse Ball | $6.99 for a two-pack |
The cheap (albeit quite painful) option is a lacrosse ball, and you can pick up a two-pack for under $10. Typical foam rollers can vary in price (depending on their size and the material they're made of) from around $25 to $100. Machines like massage guns can be rather pricey and cost upwards of around $200, but they may offer the most potential respite from muscle pain and soreness.
What to Consider Before Buying A Foam Roller
Foam rollers aren't hugely expensive, but they can be sizable. Before you fill your gym bag with an item that doesn't match your needs, here are a few things to consider prior to purchasing.
Your Pain Tolerance
Foam rollers might feel a little uncomfortable as you tackle some tight spots, but they shouldn't be painful. The goal is to help release the muscles, not to make you tense up again. Your pain tolerance will play a big part in this. If you have relatively low pain tolerance, sticking to foam rollers with larger surface areas is the way to go. On the other hand, if you are a bit of a masochist (we're kidding of course), a smaller surface area will offer greater pressure. Some even use golf balls as rollers when they need something next level.
Materials
The materials used in a massage roller are going to have a large impact on the comfort of the foam roller. EPP foam (expanded polypropylene) and EVA foam (Ethylene-vinyl acetate) tend to be the softest options, then comes rubber, and finally, after that, you have hard plastics or even metal in some cases. The material used will obviously also affect durability.
Your Training
Make sure you choose a roller that is suited for the job. If you're a powerlifter, for instance, there's a good chance your pecs and your quads might take a beating after heavy squat and bench training days. If that's the case, you're probably going to spend a decent amount of time rolling those muscles. Some muscle groups are harder to hit than others, and you want to make sure that whatever you purchase is going to help you reach the areas that are under the greatest stress.
Portability
Gym bags sadly don't have endless space. The reality is, that with your shoes, shake, towel, and change of clothes, there probably isn't much extra real estate to spare. Some of the rollers on this list will be able to squeeze in there. If rolling regularly is key for you, then consider how portable the rollers are that you're interested in.
Your Budget
Budget is always a factor. With foam rolling, you want to pay attention to the price of the roller versus the versatility it offers. Some of the options out there are expensive, but extremely versatile and convenient to use. Others are cheap, but less convenient. At the end of the day, you're better off paying for whatever you will use regularly.
Versatility
Some of the foam rollers we have reviewed are incredibly versatile — able to conveniently massage almost every muscle on your body. Others are more niche and focus on a smaller group of muscles. Are you looking for a specific or a general solution? This is going to tie in with your budget.
Final Word
Foam rollers have found their home in the mainstream because generally, they just help you feel better. Despite not having a ton of research on their effectiveness, anecdotal evidence lets us know that they at least feel like they're doing something, and oftentimes, that means just as much as research. We're looking for results, right people? So if it helps you feel better and may provide an edge, it might be worth the investment since most foam rollers, except those that integrate technology, are generally on the cheaper side.
Due to the increase in popularity over time, the market has become quite saturated with tons of different foam rollers in varying lengths, firmness, and materials — there are even folding and vibrating rollers now. We brought you what we deem to be the best for each type of situation based on criteria many customers may be seeking. Use foam rollers if you feel like they help you, but be sure to get off the floor and work on building your muscles too.
FAQs
What makes a good foam roller?
That depends on what you're using it for, but there are some general guidelines to keep in mind. First, a good foam roller will do what it's intended to do. Longer rollers are used for covering larger areas of the body, such as the entire back or leg. Smaller rollers act more as pinpoint or trigger point rollers to target specific problem areas. A good foam roller will address your needs and we usually recommend having a more general, larger roller and a second more precise item for targeting knots and pressure points.
How much do foam rollers cost?
Foam rollers can be pretty cost-effective with lacrosse balls and some smaller foam rollers costing under $10 to around $45. Larger foam rollers can range up to $100 while battery-operated ones can cost $200 or more.
What is the best foam roller available?
There are so many options for foam rollers and tons of different ways to approach rolling out. We're fans of the Trigger Point GRID Foam Roller. This foam roller is price-friendly and gives targeted pressure.
Should foam rolling be painful?
There is going to be a certain level of discomfort yes. Note that this means that the pain shouldn't be unbearable. If you find that there is pain and it is unusually intense, then we'd recommend talking to a coach or a physiotherapist to find out more about what is going on. In normal circumstances, foam rolling will be uncomfortable but should start to become less so as you and your muscles acclimate to it.
If I foam roll for longer will the effects be better?
If you find that long time duration rolling is really beneficial for you, then more power to you. Everyone has an individualized response to different exercises. For more on this, see our guide to muscle recovery.