Resistance bands are versatile pieces of equipment that can benefit those working out at home and can be equally beneficial at the gym as well. These stretchy bands, usually made of latex, are typically incrementally increased in how much resistance they provide the user. This makes them ideal for low-intensity practices like stretching, mobility, and joint distraction. The higher-level resistance bands can be used for upper and lower body strength training, speed and agility training. They are also used to add resistance to common exercises like squats, pull-ups, lunges, and push-ups. With so many different uses, resistance bands are produced in various sizes and resistance levels. Here are our evaluations of some popular products: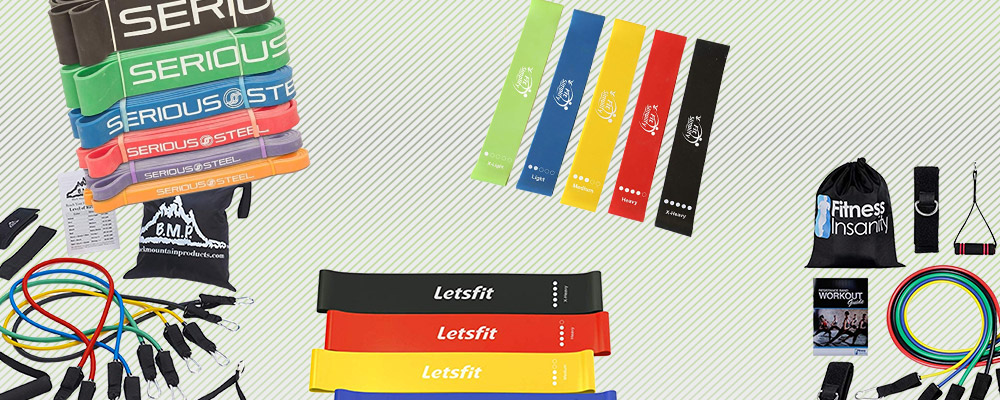 Editor's Choice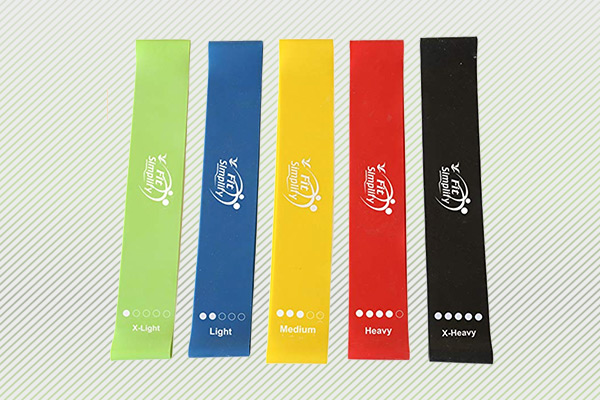 Sturdy and good for prehab.
Pros: 
Color coded. Each of the five different resistance levels from Fit Simplify's Resistance Loop set not only is color-coded, but clearly states the level of resistance on the band. This can help quickly identify the appropriate band, especially in shared environments like a physical therapy office.

Printed exercise guide. This set of resistance bands includes a printed exercise guide with every purchase. This can be helpful for novices who have never tried resistance bands in the past as it walks through various muscle groups that can be aided by this type of exercise.

Lifetime money-back guarantee. In case of any problems with degradation or other malfunction, there is a lifetime guarantee from the manufacturer. Any faulty bands can be sent back to the company for a full refund.
Cons: 
Only 12" long. These bands are twelve inches long, which, while probably being adequate for most types of exercise, may be too short for some users. Customers may need to tie bands together for some workout routines.

Lighter resistant bands may roll up. Users may notice that the resistance bands will roll up if the muscle being engaged is being stretched at a certain angle. This is likely to happen with lower-resistance bands (from any manufacturer).
The Contender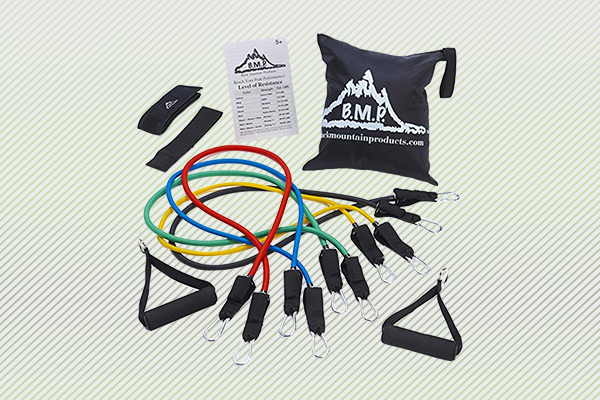 Akin to a traveling gym.
Pros:
Metal grips. The Black Mountain resistance bands have metal grips on either side of the band. These can be clipped to the included soft-grip handles or ankle straps to engage different muscle groups in varying ways.

Handles. This set of resistance bands comes with soft-grip handles which are similar to those found in a gym. These allow users to do exercises focusing on biceps, triceps, chest, and shoulders.

Carrying case. A bonus gift from the manufacturer, the carrying case that is included with every purchase makes traveling with these resistance bands very convenient. Resistance bands are a great tool for exercising while traveling due to their effectiveness and small size. This carrying case makes it that much easier.
Cons:
Metal can snap back. Users should be careful when using the metal grips without anything attached. If the band is to snap back after tension is released, the band could fly back at the user with the metal grip leading the way.

Only one ankle strap. It is unfortunate that there is only one ankle strap that comes with this set. They are useful and it would be great if users could use two at the same time.
Also Consider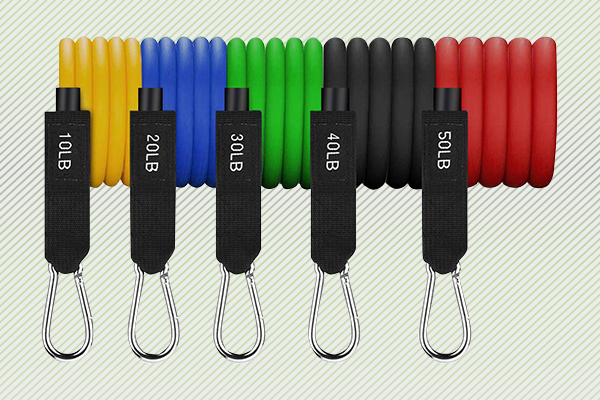 Color coded and practical.
Pros:
Removable handle allows for the buckle to be hooked onto various attachments.
Color coded set can be a great addition to a home gym.
On the more affordable end of the market.
Cons:
May endure stretch marks over time.
Elasticity may reduce unevenly from inconsistent use.
Potential danger of hard snaps if under stress for extended time.
Best Bargain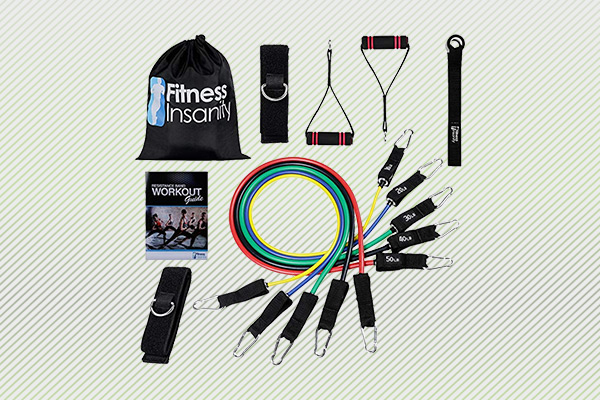 Heavy resistance for assisted lifting.
Pros: 
150 pounds of resistance. The combined resistance of all five bands equals 150 total pounds. That is double the weight resistance of some of the nearest competitors. 

Ankle straps. Included with this set two ankle straps. These can be attached to the metal clips at the end of each resistance band. Ankle straps are great for lower body and balance exercises.

Cost. Considering the haul the customer receives by purchasing this set (ankle straps, door anchor, handles, exercise guide, carrying case) and the durability of the high-resistance bands, this is a great deal. Several competitors sell just the set of bands for a similar cost.
Cons: 
Length doesn't include hand grips. Those hoping for an exact 48" resistance band might be disappointed when pairing with the grip handles, which add on a few inches on either side. Users who have a shorter wingspan may not get the resistance they are looking for.

Exercise guide hard to read. The included exercise guide has several effective workouts to try, but unfortunately the font-type is quite small. It can be hard to read, especially in low lighting.
Best Colors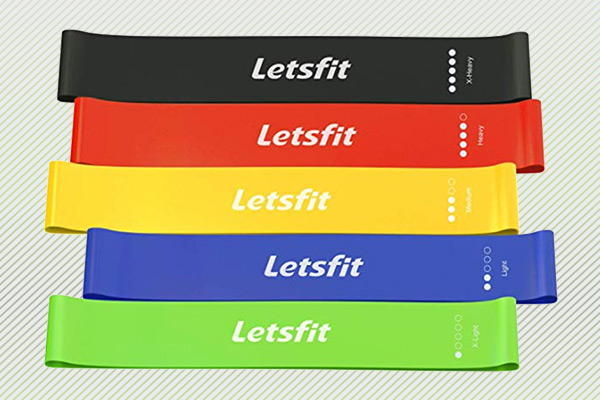 Great for pilates and yoga.
Pros: 
Two-level variety packs. One thing that is relatively unique about this brand of resistance bands is that they can be purchased in variety-packs that include multiple iterations of the two different resistance levels. Some exercises require two resistance bands of the same level in order to have a balanced workout.

Anti-slip option. Letsfit offers an anti-slip version of their standard resistance bands for just a few dollars more per set. These have treading on one side meant to maintain contact with the surface of the skin. This prevents the band from rolling up. 

Color varieties.

This brand doesn't just have five set colors for each resistance level. Shoppers can find sets with different color pallets, such as pink, peach, and blue.
Cons: 
Resistance increases are large. The jump in difficulty between each band level may inhibit users from moving up to a harder resistance. For example, the resistance of level to is 15-20 pounds and level three is 25-30 pounds.

Strong smell

. As this product is latex, it has that trademark scent that most latex products carry. Users should air out if the smell is too noticeable.
Most Resistance
For the advanced athlete.
Pros: 
Can buy individually. Shoppers can purchase individual Serious Steel fitness bands per their preferred weight resistance. Since these bands have such wide ranges of resistance each, users may find that one specific band provides the requisite assistance needed on assisted pull-ups or chin-ups.

Up to 150 pounds per band. These bands provide more resistance than many of the other most popular bands on the market. The ranges are: 2-15 pounds, 5-35 pounds, 10-50 pounds, 25-80 pounds, 50-120 pounds, and 60-150 pounds.

41" long. These flat latex bands are 41 inches long. Many bands that share this same flat design max out around 12 inches. This allows for more versatility. Exercises like assisted pull-ups, assisted chin-ups, and banded deadlift, bench press, squats, and rack pulls are possible with this brand.
Cons:
Expensive. These bands offer a great deal of resistance and their length allows lots of versatility. However, it will cost you sizable more than most other resistance bands. A way to save money is to buy them individually and not as a pack.

Could be longer for certain exercises. Though these bands are longer than many other leading offerings, certain fitness routines might necessitate a band that is a bit longer, especially for taller people. Users may need to tie some bands together to perform the desired workout.
How We Picked
Resistance bands are a popular fitness tool as they can be used to work on a wide range of muscle groups. These bands have a wide range of resistance that they offer and different shapes that are appropriate for specific exercises. With all the different options available, there are a few factors that can help sort out what may be best for different consumers. Here are the aspects we evaluated:
Exercise guides
First time users of fitness resistance bands may have questions as to how to properly use these pieces of equipment. While some users may have a specific need, such as rehabbing from an injury or to aid in a specific exercise, like assisted pull-ups, others may need some guidance in how to maximize the effectiveness of their new resistance bands.
Many of the leading brands will provide a printed instruction guide which spells out several manners in which these bands can be used. Others even provide digital guides and ebooks that give more detailed instructions.
Level of resistance
A critical decision to make when purchasing these resistance bands is how much resistance will be needed. Some exercises, like for rehabbing an injury or for stretching, may require less resistance. Those hoping to use the resistance bands for heavy lifting or for strength training may find the lower resistance bands not only inadequate but not durable enough, as they may start to splinter if too much stress is put on them.
Some brands sell individual resistance bands while others sell variety packs. Those looking to use the resistance bands for multiple types of exercises may need to find a variety pack that has the appropriate ranges.
Accoutrements
Some sets of resistance bands come with additional tools that might enhance the experience. Commonly included are door anchors (which provide a static point from which the resistance bands can be pulled), ankle straps (which allow the legs to be engaged without having to tie the bands around the ankle), and soft-grip handles (which allow pulling and pushing exercises). Resistance bands that are in loops or are flat typically will serve different types of exercises and won't utilize these sort of add-ons.
The resistance bands that come with the preceding pieces of equipment usually have a metal clip at either end to attach with. While these are helpful, those hoping to use just the bands may not find the metal clips comfortable and might prefer a plain latex offering. It can also be uncomfortable to loop the bands with the metal clips, so a resistance band arriving already in that shape might be preferable to those hoping to use the bands for yoga and banded walks.
Colors
Though not necessarily critical for the actual physical gains of using a resistance band, the color varieties do provide some level of organizational and aesthetic benefit. Color coded bands can help in environments where multiple users may be needing bands at various times, such as in a physical therapy office or a gymnasium. Several brands will even demarcate the specific level of each band directly on the latex in text or symbols.
Color coding does not always work however – some brands have colors that don't always correspond with a level of resistance. Brands tend to have a wide spectrum of colors, but some provide variety packs that cater to a certain aesthetic, such as blue or pink. These might be popular for certain environments.
Tips
Not sure which resistance band is right for you? We've compiled some tips that may help you in making your decision:
What exercises will you be doing? If you have a specific exercise or type of exercise that you are hoping to use the resistance bands for, you will probably have an easier time deciding which brand to get. The offerings that include ankle straps and soft-grip handles provide utility for a wide range of exercises, but may not fit the needs of all. The metal clips at the end can be uncomfortable for use if they aren't attached to anything. If you are wanting to do heavier-resistance training or exercises such as assisted pull-ups, then you should opt for the highest resistance level possible. The resistance bands shaped in a loop are ideal for banded walks, lunges, yoga, and pilates-style exercises, as no additional tying or attachments should be necessary.

What is your budget? These exercise resistance bands typically won't set customers back that much in terms of price on their own, but those looking for added tools and gear will probably need to spend a bit more. Resistance bands that include ankle straps and handles typically will cost about double the amount of the flat sort of resistance bands. The higher-end offerings that provide much more weight resistance will reflect that increased durability with its price. These can cost as much for a single band as whole sets of other brands do. If you are only looking to do some light resistance training, then a lower-cost and lower-resistance set is probably appropriate.

Are these for personal use or for a group? If these are for personal use, it may not matter much if the resistance bands are color coded. However, if these are to be used in a group setting such as a physical therapy office, studio, or gym, then it may be beneficial to buy bands from the same company. Some brands have strict color coding that matches color to resistance level throughout all of their products. This is not true of all brands unfortunately. When buying for a group of people, it may be beneficial to purchase variety sets that are clearly color coded and that even have the resistance level labeled on the latex itself. This may help avoid confusion when multiple users are needing resistance bands.