Professional athletes, avid gym-goers, and probably even your grandmother are using fitness trackers: these wrist-worn pieces of tech track different health metrics to optimize performance and even general wellness. Fitness wearables are so popular that the entire industry is estimated to be worth $12.4 billion by 2022.
These devices can track steps, heart rate, sleep quality, and/or heart rate variability. Some can receive calls, send texts, and stream music. That said, not all fitness trackers are made equal. Some are designed with workouts in mind, while others are a bit more practical. Below, we walk you through our list of the five best fitness trackers on the market today.
The Best Fitness Trackers
Editor's note: The content on BarBend is meant to be informative in nature, but it should not be taken as medical advice. None of these fitness trackers are meant to diagnose or monitor any disease or condition. If you have or feel as though you may have any condition — such as a heart problem — please seek out a medical professional.
Best Fitness Tracker Overall
The best fitness tracker is the one that offers up not just a slew of complete data, but in a digestible way that lets the user understand their metrics.
WHOOP Strap 3.0
WHOOP grades how strenuous your workout was, your workout preparedness, and sleep quality. There's also the new WHOOP Live, which allows the user to embed their real-time workout metrics onto videos and to share and save. As a bonus: WHOOP offers five-day battery life, a nice touch, and the option to build teams and compete with other members of the WHOOP community. What's not to like? Well, the $30 per month membership fee can add up and this is purely a fitness tracker.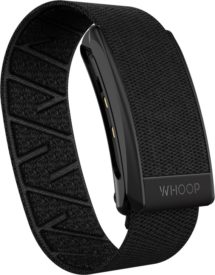 The WHOOP Strap 3.0 is the perfect tracker for the active individual that loves analyzing daily performance and recovery metrics. Use code "BarBend" at checkout to save $30.00!
Who Should Buy WHOOP Strap 3.0
Extremely active people who want access to in-depth health metrics.

People who may need a reminder to take it easy (or to turn it up a notch).

Restless sleepers who may benefit from WHOOP's sleep coaching.
Who Shouldn't Buy WHOOP Strap 3.0
Folks who don't want to pay a monthly membership fee.

People who want more than fitness metrics from their tracker.
Best Fitbit Fitness Tracker
One of the OGs of fitness trackers, Fitbit is known for producing an array of quality, useful products. Their best tracker is also one of their most utilitarian.
Fitbit Charge 4
The Charge 4 has a bit of something for everybody. This tracker can lead you through guided breathing sessions, set real-time paces and map your runs, track your sleep, and, for women, track menstrual cycles. It also has more general features such as the ability to download apps, make payments with, and stream music with.
Best Fitbit Fitness Tracker
Fitbit Charge 4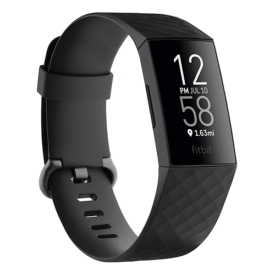 The Fitbit Charge 4 is great for those who want in-depth fitness and workout metrics. It offers sleep tracking, running routes and pacing, guided breathing sessions, and the ability to stream music.
Who Should Buy Fitbit Charge 4
Fitness fanatics who want sleep and breathing metrics, but also with more in-depth cardio and running functions.

People who also want general functionality from a watch.
Who Shouldn't Buy Fitbit Charge 4
People who don't necessarily need or want in-depth running metrics.

Athletes and fitness enthusiasts who want more of a pure fitness tracker.
Best Fitness Tracker for Any Workout
Whether you want to try bodybuilding, increase your one-rep max, or just count your macros and lose a little weight — you want a wearable that can track all of your efforts.
Garmin Vivoactive 3
What makes Garmin's smartwatch stand out is that it comes with 15 pre-downloaded sports apps so you can track the pacing, distance, and location of your activity of choice. You can also track your Vo2 max, stress levels, and calorie burn. This tracker also comes with the standard accouterments of a smartwatch — apps, contactless pay, customizable watch faces, and it's waterproof. The downsides are the battery life is less than other models — 13 hours when using the GPS — and you can't stream music.
Best Fitness Tracker for Any Workout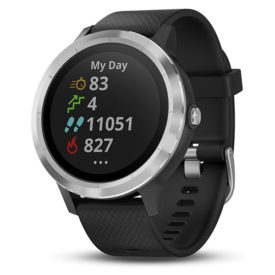 This tracker comes with over a dozen different activities programmed into it, and you can even upload your own custom workouts.
Who Should Buy Garmin Vivoactive 3
People who like to stay active through multiple sports.

Those want the options to access apps and pay through their watch.
Who Shouldn't Buy Garmin Vivoactive 3
People who want to stream music on their fitness tracker.

Folka who want longer battery life.
Best Smartwatch Fitness Tracker
Smartwatches, generally, offer far more functionality compared to a general fitness tracker. Sometimes, this can be at the cost of worthwhile fitness information, but we found a well-rounded smartwatch worth your money.
Apple Watch Series 6
Apple revolutionized the computer, the phone, and now the smartwatch. The health functions alone are tremendous. The sleek Apple Watch Series 6 can take an ECG (electrocardiogram), measure your blood oxygen levels, help you establish a better bedtime routine, and track basic workout metrics. With those functions also come the typical array of Apple apps — maps, texts, Siri, and Apple Pay. Of course, all of this comes at a hefty cost of $500.
Best Smartwatch Fitness Tracker
Apple Watch Series 6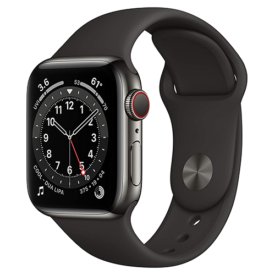 Advanced health metrics — such as ECGs and blood oxygen level — paired with the usual Apple apps (maps, Apple Pay, and  Siri), make this smartwatch one of the most complete devices on the market. 
Who Should Buy Apple Watch Series 6
People who want new health features such as access to an ECG or their blood oxygen levels.

Apple fans who are familiar and happy with the brand's current host of essential apps (maps, Apple Pay, text, Siri).

Folks who want a stylish watch.
Who Shouldn't Buy Apple Watch Series 6
Penny pinchers, as this watch is $500.

People who want more robust workout-specific applications and metrics such as recovery and HRV.
Best Budget Fitness Tracker
A good fitness tracker doesn't need to be an expensive one. Hone in on your needs, and look for a device that meets them — it won't be the fanciest piece of tech, but it gets the job done.
Fitbit Charge 3
For just a little more than $100, the Charge 3 tracks your calories burned, resting heart rate, and has a battery life of seven days. It's waterproof, and you can receive calls, texts, and weather updates on it (though the screen is narrow and small). While this is a great device for the money, you will miss out on in-depth metrics, and actionable advice (which Apple and WHOOP both provide). Also, this tracker looks a little cheap compared to the others (if that matters to you).
Best Budget Fitness Tracker

For the money, you won't do much better than the Charge 3. This device tracks the essentials — calories burned, your resting heart rate, and it can hold a charge for seven days. 
Who Should Buy Fitbit Charge 3
People on a budget.

Those who require very basic fitness and health info.
Who Shouldn't Buy Fitbit Charge 3
Folks who want more apps and metrics from their fitness tracker.

People who care to own a more aesthetically pleasing watch.

People who want to text and make calls on the device.
How we Picked the Best Fitness Trackers
Fitness bands are inherently personal devices. They can track individual movements, measure calories burned, record heart rates, and monitor sleep patterns. They're also worn around one's wrist all day, every day. As a result, you want a device that looks as good as it performs, and that can keep up with your activity level. Here's what we considered when cultivating the picks above.
Style
Fitness trackers sit on your wrist 24/7. They're no longer a novelty item worn by the wealthy or fitness-crazed. Like a traditional watch, these bands are a statement piece that will be seen by the people you meet for dates, for job interviews, and fellow gymgoers who watch you rep out pull-ups. For that reason alone, the style and design of each fitness tracker may be one of the key determining factors for many users.
The devices themselves typically have a small "face" and a standard band. The faces of these devices can have different visual screen options, but the main aspect of the tracker that will stand out is the band. The more prominent brands have loads of options, from leather to woven and even metal bands. This is where customers can find a way to make their fitness bands match their aesthetic.
App compatibility
The functionality of these fitness trackers is mostly determined by the different applications that they are compatible with. Some manufacturers also design proprietary apps that track, graph, and map fitness data — such as step counts, calories burned over time, and routes of favorite running paths. In other words, apps enhance your fitness tracker experience.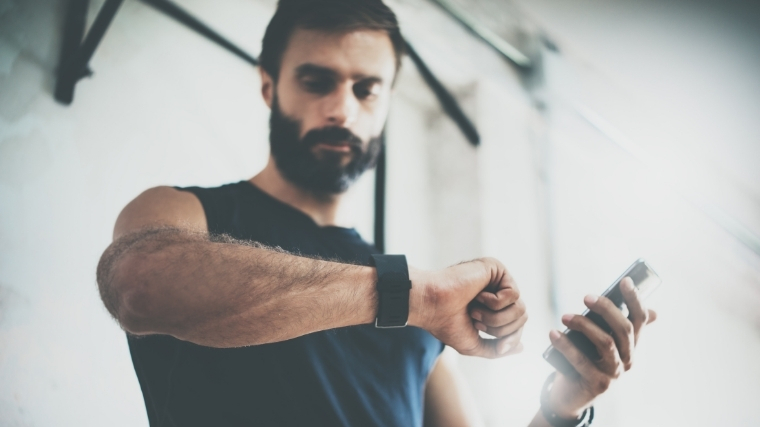 Other apps include streamed workouts, such as Apple's new Fitness+, and communities, like the one offered by WHOOP, where users can challenge and motivate friends while trying to climb to the top of individual leaderboards. There are also fitness trackers that aren't beholden to one app and can be synced to several different options. If you already have favorite fitness or sleep tracking apps, make sure they are compatible with any potential purchase.
Cost
Depending on the brand, fitness trackers can cost anywhere from around $100 up to half a grand. Those who want the basics can safely opt for the more affordable options, as these have functionality that should satisfy most users. The more expensive devices possess extra features such as more robust metrics, an extensive selection of apps, and the ability to text, call, and make contactless payments.
Durability
To indeed be considered a dependable fitness tracker, the device will need to withstand everyday use. If it fails to do so, it will be losing critical data that the athlete (casual or professional) may help track specific fitness goals.
You want a tracker that is waterproof or, at the very least, water-resistant. This way, you can use it while swimming or running in the rain. And if you forget to remove your tracker before taking a shower, it's not an issue. Another critical aspect of durability is the device's battery life. You don't want to charge your tracker every day, as you may forget and then neglect your device overall.
Choosing the Right Tracker for You
Not sure which fitness tracker is right for you? Here are some questions to ask yourself that may help guide your purchase:
What type of exercise do you do?
If you are a swimmer, then obviously, there needs to be some level of water resistance to your fitness tracker — this also applies to those who run, rain or shine, and forgetful folks who may take a shower with their band on. Or, if you're a lifter who is constantly grinding through tough training splits, make sure the fitness tracker and the corresponding app can track that specific type of exercise. Certain activities like golf and weightlifting are noticeably absent from some fitness trackers' capabilities.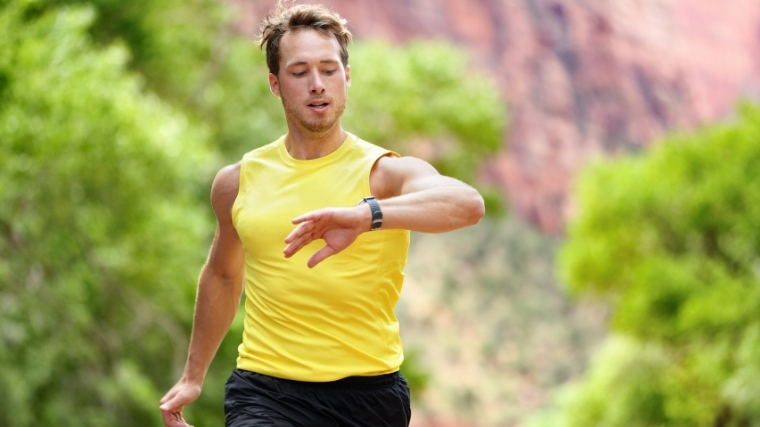 Which metrics are most important to you?
Some customers may be shopping for a fitness tracker to monitor their heart rate while working out. Others may want an in-depth review of their sleep patterns, workout performance, and recovery ability. But remember, the more data analyzing tools and social compatibility desired, the more expensive the fitness tracker will be.
Are you comfortable with watches?
You're going to be wearing this device a lot, like probably all of the time. That said, you need to assess if you're more comfortable with a smartwatch, which is generally a bit snugger, or a fitness tracker, which have softer, silicone bands. It's a small detail, but one that will determine how often you use your tracker.
Feature image courtesy of SFIO CRACHO/Shutterstock