While it may seem like a recent wellness trend, inversion therapy dates back to over 2,000 years ago when Hippocrates used pulleys, ropes, and ladders to treat patients. Fortunately, those seeking relief from chronic back pain or sciatica no longer need to resort to such extreme measures. Easy-to-use inversion tables are designed to offer relief by using gravity and body weight to stretch and elongate the spine. Users secure their ankles with locks or rollers, rotate backward, and hang upside down or at an angle of their choosing. Ideally, this helps take pressure off spinal discs, thereby relieving unwanted tension.
While most inversion tables have the same basic functionality, they vary in terms of materials used, padding, ankle support design, and foldability. Some even offer different add-ons, such as massage and heating pad capabilities. With so many inversion table options available, we sifted down the options to determine which model is likely to work best for you.
Best Inversion Tables
Editor's note: The content on BarBend is meant to be informative in nature, but it should not be taken as medical advice. The opinions and articles on this site are not intended to diagnose, prevent, and/or treat health problems. Speak with your physician if you are experiencing chronic pain or suspect you may have an injury.
Best Inversion Table
This inversion table is an FDA-registered 510(k) medical device equipped with traction handles, an easy-to-reach ankle lock system, and acupuncture nodes for tension release. The built-in grips can offer the user the ability to perform rotational stretches in addition to basic inversion stretching. The lumbar bridge provides traction to the lower back and has three preset options to three different angles — 20, 40, and 60 degrees — to help beginners work their way up to full inversion. It can support up to 300 pounds and users up to six feet, six inches in height.
Who Should Buy

Teeter FitSpine X3 Inversion Table
Those who appreciate the preset angles to help them work up to full inversion.
Anyone who values the ankle lock system with traction handles for additional safety.
People who want rotational stretch support in addition to simple inversion.
Who Shouldn't Buy

Teeter FitSpine X3 Inversion Table
Anyone who would prefer a softer or flat surface without acupuncture nodes.
Folks who don't have much need for the angle presets.
[Related: The Lifter's Guide To Magnesium: What This Nutrient Does For Strength]
Best Inversion/Gravity Boots
These gravity boots each weigh three pounds and are made of contoured foam pads and steel buckles for added security. They have a weight capacity of up to 300 pounds when used together and can attach to most pull-up bars. As a great alternative to a full inversion table for those working with smaller spaces, these are more affordable and may even benefit those looking to change up their core training. The boots are secure enough to allow users to perform ab exercises while inverted.
Who Should Buy

Anti Gravity Inversion Boots
Those who are looking to add variety to their core training.
Anyone who doesn't have space for a full inversion table.
People who are looking to take it easy on their wallets.
Who Shouldn't Buy

Anti Gravity Inversion Boots
Those who need the back support when inverting.
Folks who are not used to inversion therapy and want angled presets to work their way up to full inversion.
[Related: The Real Pros And Cons Of The Bodybuilding Lifestyle]
Best Value Inversion Table
The adjustable pin system is a uniquely convenient system for folks just getting into inversion therapy. It is outfitted with an adjustable headrest for added comfort while inverting. It is competitively priced compared to some of the more deluxe models on the market, and the sleek and textured design of the backrest offers an appealing aesthetic.
Who Should Buy

Innova Inversion Table
Anyone who desires a more adjustable inversion table for added comfort.
Those looking for options on the more affordable end of the market.
Folks who value the aesthetic textured design of the backrest.
Who Shouldn't Buy

Innova Inversion Table
Anyone who needs additional padding on the ankle locks.

Those who don't have ample storage space. This table does fold for storage purposes but does not fold completely flat.
[Related: 3 Ways To Find Your 1-Rep Max (Beginner, Intermediate, and Advanced)]
Most Comfortable Inversion Table
This table offers optional acupressure nodes and a lumbar bridge to help support the lower back when angled but not fully inverted. The contoured cups can offer additional comfort to the ankles when inverted. The durable, breathable plastic back can allow for a fuller stretch, and the padding won't pull while inverted. It has a weight capacity of up to 300 pounds, is designed for an easy five-step assembly, and weighs just 59 pounds.
Who Should Buy

Teeter EP-560 Ltd. Inversion Table
Those who value equipment made in the USA.

Anyone who appreciates the eight acupuncture nodes for additional trigger-point release.
Folks who want an inversion table that is quick and easy to assemble.
Who Shouldn't Buy

Teeter EP-560 Ltd. Inversion Table
People who prefer having a handle for easier ankle release.
Those who are looking for more affordable options.
[Related: Nutrition For Bulking: 10 Tips For Intelligent Muscle Gain]
Best High Weight Capacity Inversion Table
Ironman's Inversion Table features ergonomically designed ankle clamps and a palm-activated release handle designed to reduce the need to bend over to exit the device. The extra-long handles on this model make it easy to return upright, providing peace of mind for those new to inversion therapy. The removable lumbar pillow may provide additional support while near inversion. It can support up to 350 pounds, folds well for storage, and utilizes a 2.5-inch thick memory-foam vinyl covered backrest. The non-skid floor stabilizers offer added stability while in use.
Who Should Buy

IRONMAN Gravity Inversion Table
Those who value the easy release handle when unlatching the ankle locks.

People who want the peace of mind of non-skid floor stabilizers.

Folks who appreciate the added support of the removable lumbar pillow.
Who Shouldn't Buy

IRONMAN Gravity Inversion Table
Folks who want a separate headrest on their inversion table.

Anyone who prefers acupuncture nodes to soft memory foam when in a full stretch.
[Related: Hypertrophy Training Sets And Reps]
How We Decided Our Picks
The theory behind inversion therapy is that hanging upside down can take pressure off the spine and allow the vertebrae to relax. While the mayo clinic notes that inversion therapy may not be a long-term relief for chronic back pain, the more immediate relief that gravity-induced stretching provides can help. While it's certainly not a cure-all, inversion therapy may help relieve lower back pain or sciatica.
The core principle of any inversion table is the same: allow the user to hang safely upside down so that gravity and bodyweight can naturally release compression on their spine. It's important to figure out what sets each product apart. When comparing options, we looked at the following features.
Ankle Locks
This is one of the primary design differences among inversion tables. Some brands, like Teeter and Ironman, secure the ankles with contoured holders that lock into place. These are designed to be more comfortable than the foam roller variety, but that is a bit more subjective. It may be easier to get in and out of the foam roller ankle locks, but there is concern that the foam versions are less durable and could wear over time. The result could be a need for added padding via a towel, additional socks, etc.
Limiting the Flip
Not everyone will want to jump on a table and fling straight back to a fully upside-down inversion right away. For this reason, most tables offer a system that allows the user to decide how far the table will invert. While the Innova offers a well-positioned pin right next to the handle, most other options include a strap that needs to be manually adjusted.
[Related: Could Baking Soda Be The Best Workout Supplement You've Never Tried?]
Materials
Folks may vary on what type of padding they prefer on their inversion table. Teeter offers a hard plastic to limit the friction between the user's body and the table, allowing for a complete stretch. Other brands prioritize comfort, adding memory foam to the table so that the time spent upside-down may be more pleasant.
Foldability
Inversion tables take up a pretty decent amount of space, around 11 square feet on average. Depending on the space available, you may want to seek a model that folds up tightly for easy storage. It is also worth considering how easy each table is to fold. Some require a wrench or tool, while others can be done by hand.
Extra Features
Some inversion tables have add-on features such as massage and heating pads. These add-ons may offer a more luxurious inversion experience for some, but they're not necessary to get the primary benefit of inversion therapy.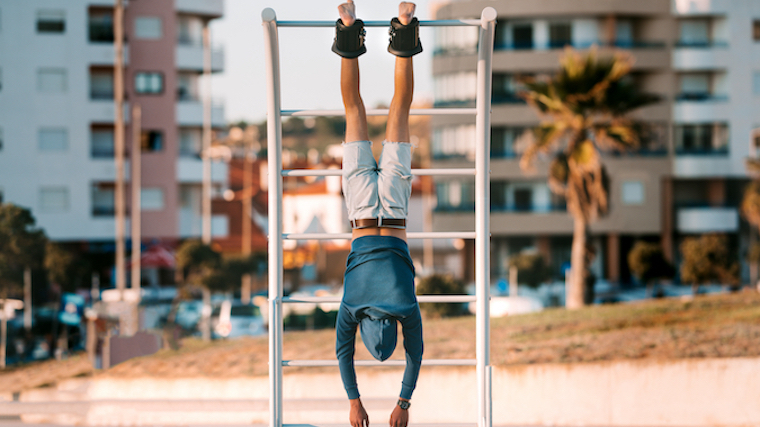 [Related: The 3 Most Common Types Of Training Periodization (And When To Use Them)]
What To Consider Before Buying
Think about how frequently you intend to use this table. If you've talked with your physician and inversion therapy is a routine part of your fitness regimen, you may consider investing in a more expensive brand that has the features you prefer. Pay attention to how much you slide on the backrest and how comfortable your feet are in the ankle locks.
Inversion therapy is not necessarily for everyone. Hanging upside down may not be the best option for some folks looking to relieve back tension. As with any treatment, consult a doctor before using an inversion table and certainly before investing in one.