While it may seem like a recent wellness trend, Inversion Therapy dates back to over 2,000 years ago when Hippocrates was using pulleys, ropes and ladders to treat patients. Fortunately, those seeking relief from chronic back pain or sciatica no longer need to resort to such extreme measures. Easy-to-use Inversion Tables are designed to offer relief by harnessing gravity and body weight to stretch and elongate the spine. Users secure their ankles with locks or rollers, rotate backwards, and hang upside down at an angle of their choosing, taking pressure off spinal discs and relieving tension.
While all Inversion Tables have the same basic functionality, they vary in terms of materials used, padding, ankle support design, and foldability. Some even offer different add-ons, such as massage and heating pad capabilities. With so many Inversion Tables available, what should you look for in determining which model will work best for you?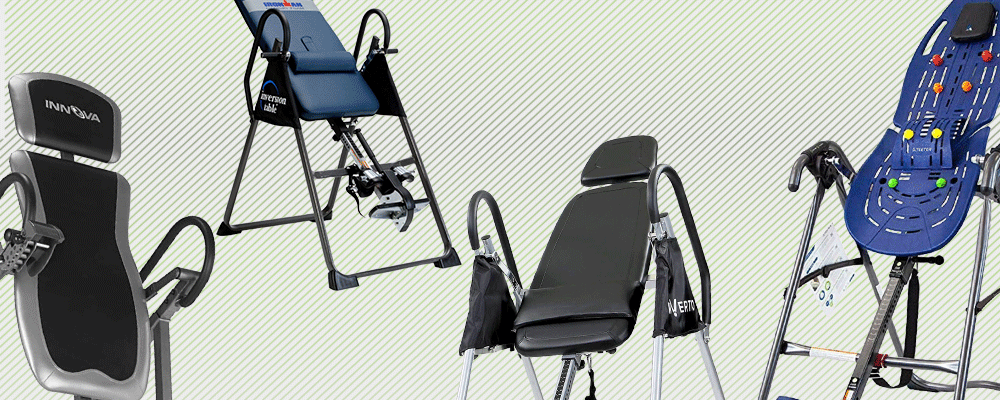 Editors Choice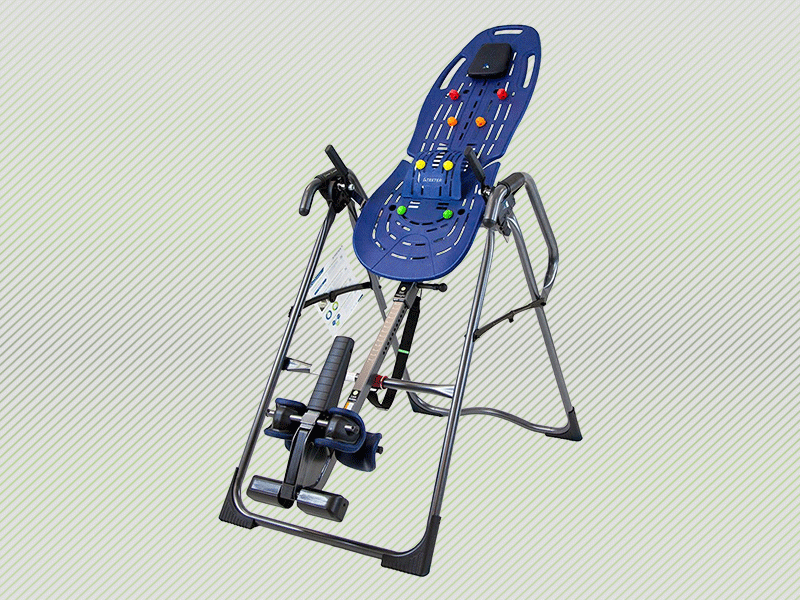 Teeter EP-960 Inversion Table
Teeter touts itself as having the only FDA-Registered Inversion Tables on the market. They also offer some unique customization options, including acupressure nodes and a lumbar bridge support, enabling self-massage during inversion. The EP-960 features an extended ankle lock handle intended to cut down on the strain of reaching down to exit the device, which may be attractive to folks suffering from acute back pain. These flourishes, in addition to Teeter's claim to being one of the original manufacturers of Inversion Tables, help make it among the most expensive models on the market.
Pros:
Ankles are held in place with contoured cups, which some users may find to be more comfortable and durable than the more commonplace foam rollers found on many models. 

Set up is designed to be only five steps. Teeter includes an instructional video to help with assembly.

The table's balance system is designed to allow inversion simply by raising your arms.

A tether strap allows the user to preset angles for inverting, an asset for beginners starting out with Inversion Therapy who may not want to hang upside down like a bat on day one.
Cons:
While this table does fold up, it doesn't do so in a particularly compact way. 

Teeter's third-party material testing and five-year warranty come with a price, as this is one of the most expensive Inversion Tables available. 
Highest Weight Capacity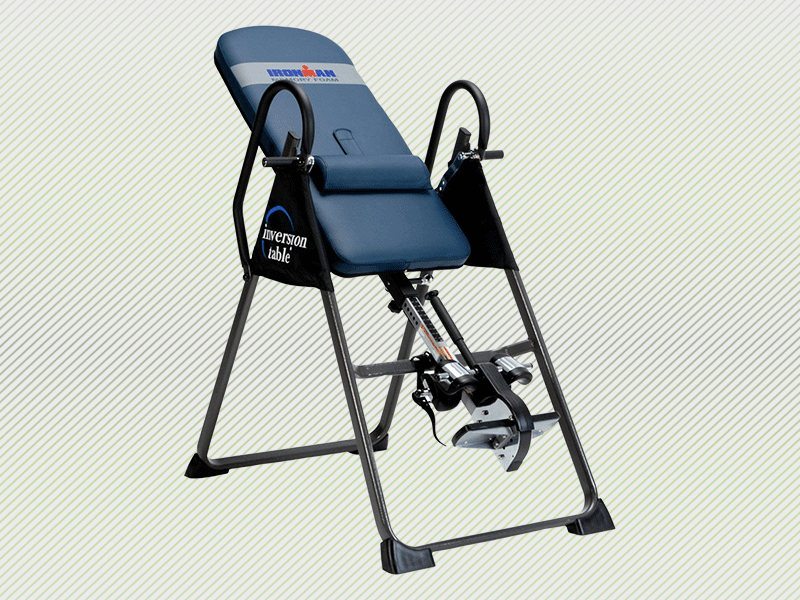 IRONMAN Gravity Highest Weight Capacity Inversion Table
Pros:
Ironman's Inversion Table features ergonomically designed ankle clamps, including a palm-activated release handle designed to cut down on the need to bend over to exit the device.

Similarly, extra long handles on this model make it easy to return upright; an added piece of mind for folks suffering from severe back pain or just starting out with Inversion Therapy.

A removable lumbar pillow may provide additional support while you're hanging around.
Cons:
This model does include tether straps that will prevent the table from going to maximum 180° inversion, but they are not marked at specific pre-set angles, which may make it harder for the user to keep track of inversion progress.

There's no separate headrest on this unit. 

The memory foam may be more comfortable, but could prevent users from experiencing a full stretch if they sink into the padding.
Best Value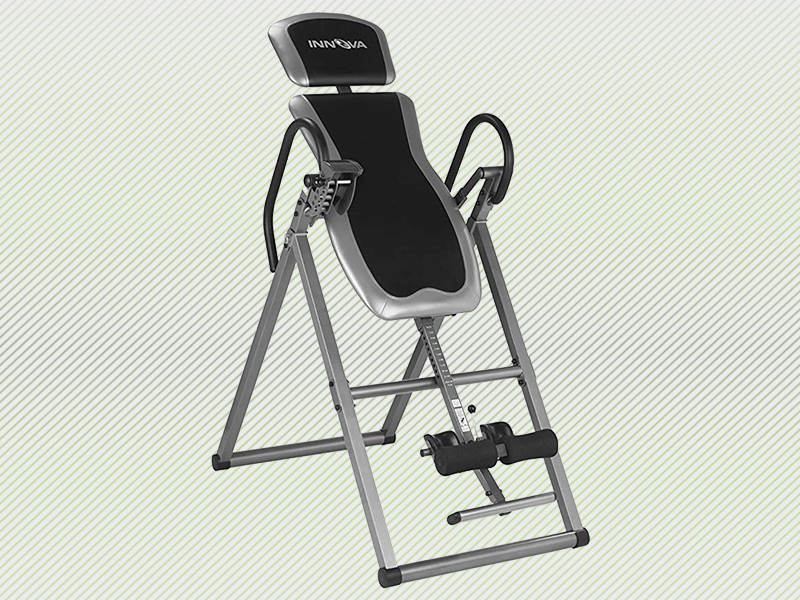 Innova ITX9600 Heavy Duty Inversion Table
Pros
The adjustable pin system is a uniquely convenient system for folks just getting into Inversion Therapy.

Three points of adjustment – headrest, height, and foot – help ensure a comfortable fit and safe, easy inverting.

At $119.99, it's very competitively priced compared to some of the more deluxe models. 

Sleek and textured design of the backrest is a bit more appealing than some of the other models on the market. 
Cons
The ankle lock system is pretty basic, as it's got cups for the bottom of your legs and a foam roller for the top. While still secure, the foam roller may wear down over extended use, resulting in a need for extra cushioning.

Folds for storage, but not completely flat.
Most Basic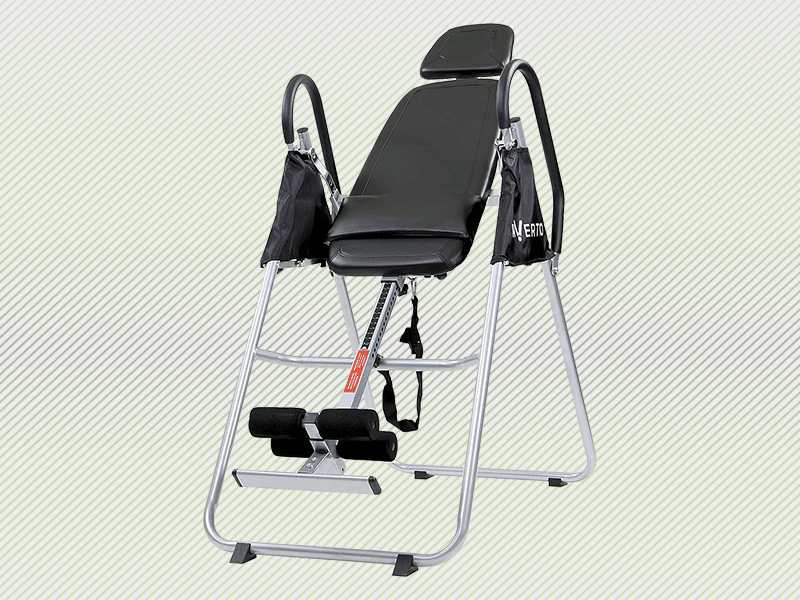 Invertio Inversion Table
Pros
Designed to be folded away a bit more compactly than most other options.

At just over 50 pounds, this table is on the lighter end of the models reviewed.
Cons
Multiple users complained that the assembly instructions were not very easy to follow. 

The ankle locking system is the most basic of all we looked at, with four foam rollers used to keep your feet in place. These foam rollers could deteriorate more quickly than some of the ankle cups seen in other models.
Best for Basic Features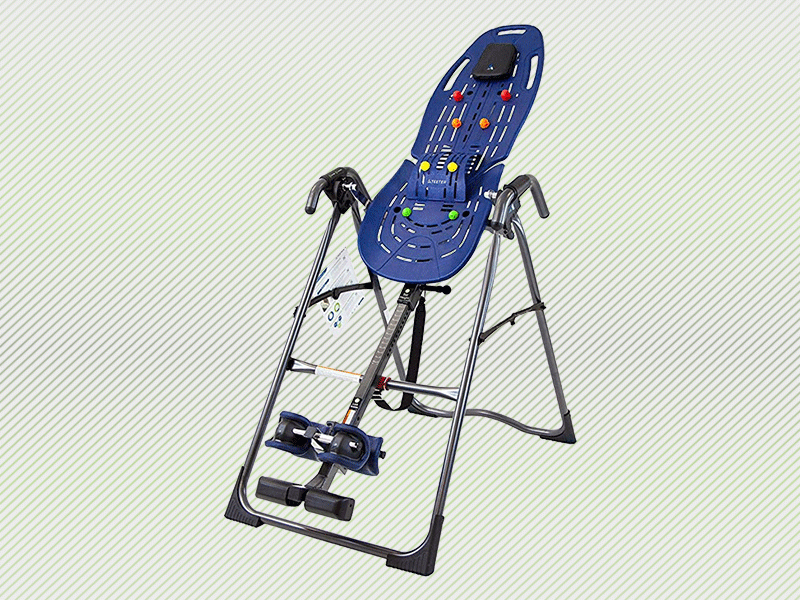 Teeter EP-560 Ltd. Inversion Table
While this table still offers optional acupressure nodes and lumbar bridge, you won't find the extended support handles or extended ankle lock handle designed to make it easier to get out of inversion and out of the device. Those embellishments may not be necessary, depending on your flexibility and experience with Inversion Therapy. If that's the case, this Inversion Table may meet your needs.
Pros:
As with all Teeter models, the contoured cups stand out as a potentially more comfortable ankle locking option than foam roller bars found in other brands.

Teeter's Five Year warranty and UL-third party testing provide piece of mind that this Inversion Table is built to last. 

The breathable plastic back allows for a fuller stretch, as you won't experience any drag or pull from padding.
Cons:
In reviews, some users complain about foot discomfort. However, with any Inversion Table there is going to be ankle and foot discomfort, particularly for beginners. After all, you are literally hanging upside down from your feet, an activity most of us are not at all accustomed to.

Once again the price point on the Teeter may place it out of range for folks just getting into Inversion Therapy.
Editor's note: The content on BarBend is meant to be informative in nature, but it should not be taken as medical advice. The opinions and articles on this site are not intended for use as diagnosis, prevention, and/or treatment of health problems. Speak with your physician if you are experiencing chronic pain or suspect you may have an injury.
Methodology
The theory behind Inversion Therapy is that hanging upside down will take pressure off the spine and allow the vertebrae to open up. While the Mayo Clinic notes that Inversion Therapy may not be a long term relief for chronic back pain, many adherents to Inversion Therapy swear by the immediate relief this gravity-induced stretching provides. While it's certainly not a cure all, a dose of Inversion Therapy may help provide relief from lower back pain or sciatica.
Since the core principle of each Inversion Table is the same – namely, it flips you upside down and lets you hang like Batman – it's important to figure out what sets each product apart. In comparing options, look at these distinguishing features.
Ankle locks
This is one of the primary design differences among Inversion Tables. Some brands, like Teeter and Ironman, lock in your ankles with contoured ankle holders that lock into place. These are designed to be more comfortable than the foam roller variety. It may be easier to get in and out of the foam roller ankle locks, but there is concern that the foam could wear out more quickly, resulting in a need for added padding via a towel, or additional socks.
Limiting the Flip
Not everyone will want to jump on a table and fling straight back to a fully upside down inversion. For this reason, most tables offer a system that allows the user to decide how far the table will invert. While the Innova offers a well-positioned pin right next to the handle, the other options all include a strap that needs to be manually adjusted.
Materials
Folks may vary on what type of padding they prefer in their Inversion Table. Teeter offers a hard plastic, believing that cutting down on friction between your body and the table allows for a more complete stretch. Other brands prioritize comfort, adding memory foam to the table so that your time in the upside down may be more pleasant.
Foldability
By nature of their function, Inversion Tables take up a pretty decent amount of space; around 11 sq. ft. on average. Depending on the amount of space you have available, you may want to seek out a model that folds up tightly for easy storage. You'll also want to take into consideration how easy each table is to fold – some require a wrench or tool, while others can be done by hand.
Extra Features
Some Inversion Tables offer add on features such as massage and heating mats. These add-ons may offer a more luxurious inversion experience for some. However, they're not necessary to get the primary benefit of Inversion Therapy.
BarBend Buying Tips
Think about how frequently you intend to use this table. If you know Inversion Therapy is a daily part of your fitness regimen, you may consider investing in a more expensive brand.
If you can, test these out at a local fitness store. Pay attention to how much you slide or don't slide on the backrest, and how comfortable your feet are in the ankle locks, bearing in mind that no one is designed to hang from their feet.
Inversion Therapy is not for everyone; hanging upside down may not be the best option for folks with high blood pressure or glaucoma, in particular. As with any treatment, you should consult a doctor before trying an Inversion Table, and certainly before investing in one.