Two of the most popular workouts for any athlete are the pull-up and the chin-up. These engage many of the muscles in the upper body, including the back and the core. Though some may find these exercises difficult, that only goes to show the effectiveness with which one's own bodyweight can be used to provide a great training exercise. While those who search for pull-up bars at the gym may find them usually occupied by other trainers, the home pull-up bar guarantees that you will be the only one in line to use it. These can come in different shapes with various options for gripping. The competing variations also have different assembly needs. To help make sense of all the options, we've assessed some of the leading brands to see how they stand out from each other.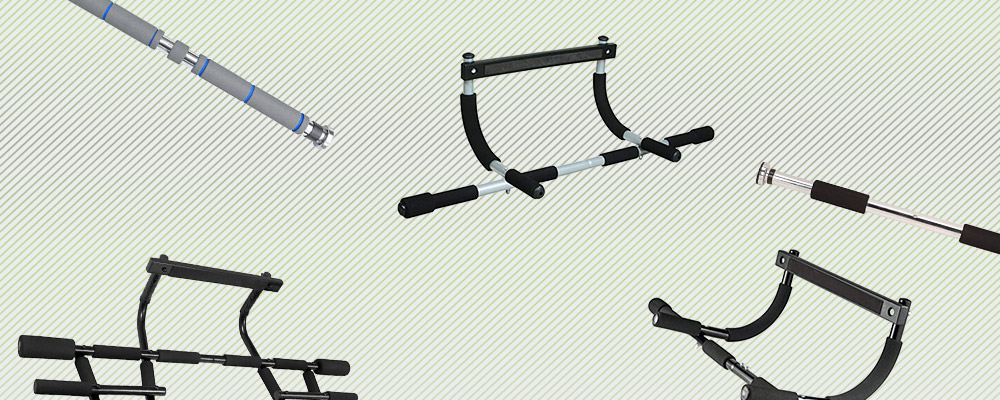 Editor's Choice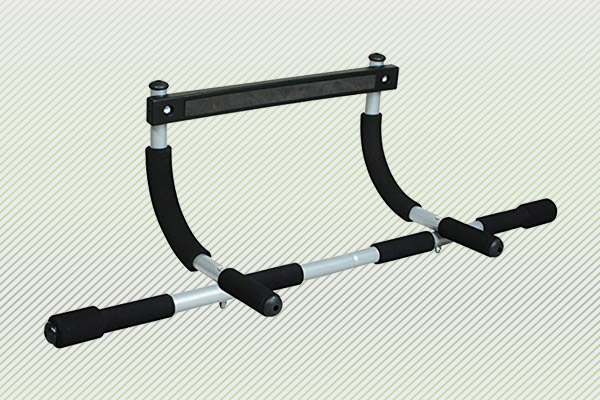 Iron Gym Total Upper Body Workout Bar
Pros: 
No tools required to assemble. This set takes only a few minutes to assemble. No additional tools will be necessary and it will only need to be assembled once.

Ab strap compatible. The ab straps sold by Iron Gym can clip onto the workout bar and let the user hang by their arms. This is great for those hoping to do leg lifts and knee ups varieties. 

Less pressure on wall. The way this piece of equipment is designed puts the pressure points of the device on the door frame, not on the wall above the door. This makes the equipment viable in many types of homes, regardless of the era of construction.
Cons: 
Exposed screws. There are two parts of the workout bar that have exposed screws when not doing a pull-up or other exercises that place the workout bar on the top door frame. These screws can be sharp, so users should be cautious when performing push-ups and dips.

Needs 3-4 inches above molding. Some users may not be able to use this workout bar if they have less than 3 or 4 inches of space between the door molding and the ceiling. Certain low-flung basements or old homes may not have that much space.
Iron Gym Total Upper Body Workout Bar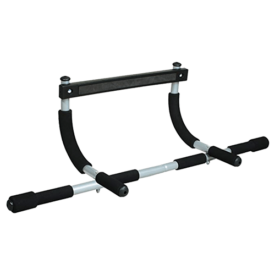 Iron Gym Total Upper Body Workout Bar
Iron Gym's Workout Bar is an easy-to-use and easy-to-assemble piece of durable steel exercise equipment that allows users to do several types of upper-body fitness routines from the comfort of home. Those hoping to train their abs can purchase the compatible ab straps that wrap around the elbows to allow the abdominal muscles to be the focal point of an exercise.
The Contender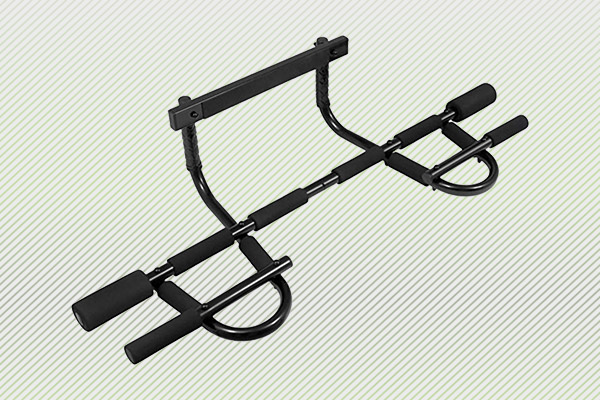 ProsourceFit Multi-Grip Chin-Up/Pull-Up Bar
Pros:
12 grips. This pull-up bar from ProsourceFit stands out by pure virtue of having twelve different grips and extra protruding handles. With the variety of grips and handles, users will be able to make tweaks to the angles from which they are using the workout bar. This is great for toning certain muscles and engaging different parts of the body.

41" wide. This is one of the wider workout bars available on the market. This allows users to do a very wide-breadth pull-up. This type of exercise requires muscles like the latissimus dorsi and other upper-body muscles to do more work to perform a pull-up.

Screw options. An option that might appeal to some users is that this pull-up bar has the optionality to be screwed into the door frame for more permanent placement. For those who plan on using the pull-up bar often or don't want the hassle of installing it everytime, this may put this product at the top of the list.
Cons:
Metal contact with door frame. The way this pull-up bar is designed, there is a chance that the door frame may come into contact with the metal part of the frame when performing exercises. This contact, along with the pressure of the user's body weight, has the potential to mark or damage the door frame.

Doesn't fit in narrow hallways. Because of the wide berth of this pull-up bar, it may be a tight squeeze in narrow hallways. Customers should measure their preferred exercise location before purchasing.
ProsourceFit Multi-Grip Chin-Up/Pull-Up Bar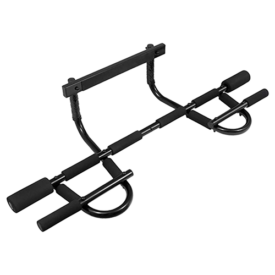 ProsourceFit Multi-Grip Chin-Up/Pull-Up Bar
This multi-grip pull-up bar from ProSourceFit allows a wide variety of different exercises to be performed on the same piece of equipment. Those opting for this offering can try out variations of pull-ups, chin-ups, and leg raises that activate a broader range of muscles than most. Additionally, the manufacturer claims it can support up to 300 pounds of weight.
Best Bargain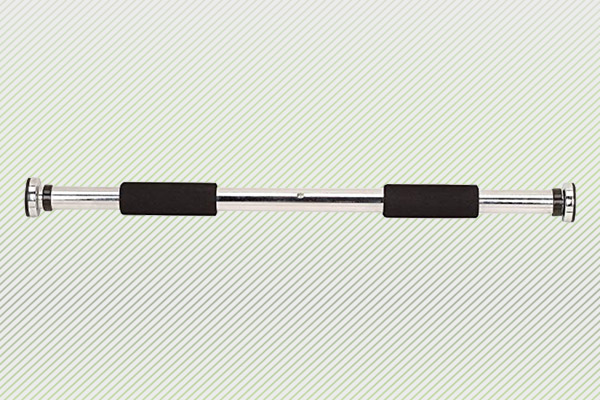 Sunny Health & Fitness Chin-Up and Pull-Up Bar
Pros: 
Steel chrome. This pull-up bar is made of durable steel and plated with chrome. In addition to sporting a slick and professional aesthetic, chrome tends to be resistant to corrosion and can be easier to clean than other metals.

Bracket options. Sunny Health & Fitness provides two different types of brackets to affix into door frames. The weight-bearing ones are optimal for load-bearing exercises like pull-ups and chin-ups, while the non-weight-earning ones are best for sit-ups and other exercises with less pressure being put on the bar.

Price. This pull-up bar can be purchased for less than the price of one month of most gym memberships. If used consistently, it is a small investment that could pay dividends.
Cons: 
Minimal padding. This pull-up bar only has pads in two locations, one for each hand. These are difficult to move without disrupting the foam themselves, leaving users with only one placement option for workouts.

220 pound limit. Those who are larger than 200 pounds or so may need to look for another option. The weight limit for this pull-up bar is 220 pounds.
Sunny Health & Fitness Chin-Up and Pull-Up Bar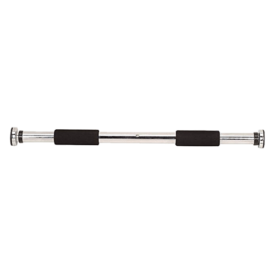 Sunny Health & Fitness Chin-Up and Pull-Up Bar
Sunny Health & Fitness has manufactured a simple and effective pull-up bar that goes right between two sides of a door frame. It has a professional-grade steel chrome design and small but expandable size, making it easy to store.
Best for Wide Door Frames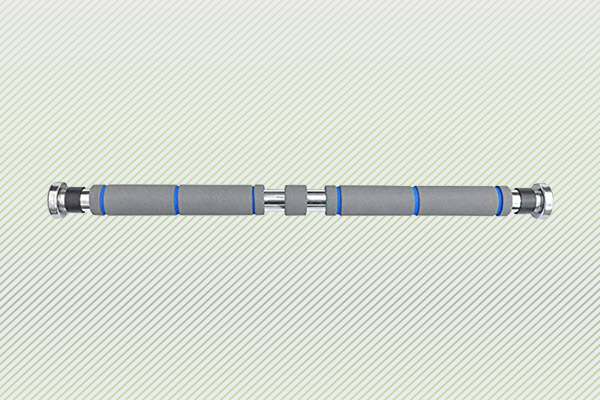 Garren Fitness Maximiza Pull-Up Bar
Pros: 
39" maximum width. For those with extra-wide door frames, this pull-up bar might be the best bet. This has one of the wider maximum berths of the leading pull-up bars.

2.2 pounds. This is one of the lighter pull-up bars available for customers. This is mainly due to its frugal design. This may be preferred for beginners who are fearful of damaging their floor or themselves in case of misuse.

Lots of padding.

This workout bar has padding lining most of its body. This allows users to have more options as to where they would like to place their hands while performing exercises. More options for hand placement means more muscle groups that can be targeted.
Cons: 
Need to screw into door. This product needs to be screwed into any door frame in order to be safely used. Those not wanting to install any hardware into their door frames, however temporary, should look for other options.

26" minimum width

. The minimum width of any door being used with this pull-up bar is 26".

Most pull-up bars can fit at least 24" doorways. Though these are not common widths for a door, users should measure beforehand to make sure this product will fit.
Garren Fitness Maximiza Pull-Up Bar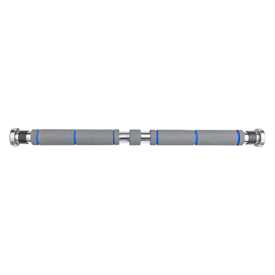 Garren Fitness Maximiza Pull-Up Bar
Garren Fitness's Maximiza Pull-Up Bar allows flexibility with hand placement and can fit some quite wide door frames. It is lightweight, easy to store, and has multiple brackets, allowing users to install in different areas of the door frame for added workout versatility.
Most Damage-Resistant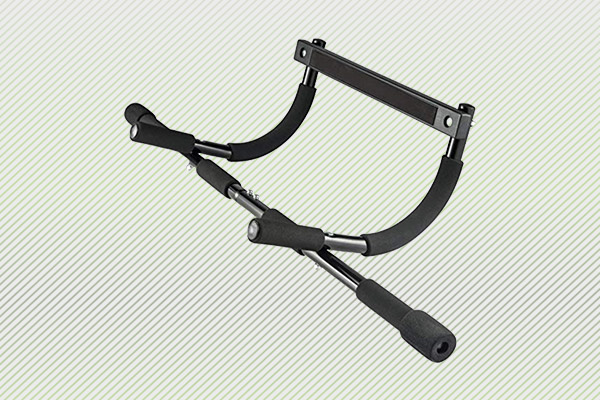 Sagler Doorway Pull-Up Bar
Pros: 
Value. This may not be the most inexpensive pull-up bar on the market, but it is one of the most affordable. Considering this type of design, with the dip station resting on the door molding and the weight of the user pressing against the door frame, this may be one of the most affordable offerings.

3 chin-up/pull-up grips. This pull-up bar from Sagler has three different grips for pull-ups and chin-ups. The padded no-slip grips are located wide, narrow, and perpendicular to the door frame. This provides users some options for different workout calibrations.

Door frame padding. Sagler's pull-up bar is designed to have minimal impact on the part of the door frames where it is in contact with. The pull-up bar has padding all the way to the end of the bar, rarely putting the door frame in contact with metal components.
Cons:
Can be crooked if assembled too tightly. The way this device is assembled, users may cause the pull-up bar to look crooked if it is tightened too tightly. This is an easy mistake to make.

Foam gets worn where it contacts door frame. Though it is a benefit of this product that it has foam padding where it comes into contact with the door frame, this also will cause more wear and tear on that part of the product. This degradation may happen more rapidly than other parts of the product.
Sagler Doorway Pull-Up Bar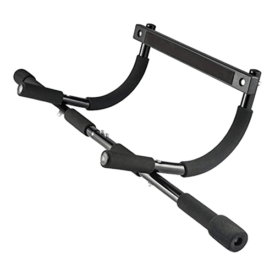 Sagler Doorway Pull-Up Bar
Sagler's Doorway Pull-Up Bar is one of the more affordable offerings in the style wherein the workout bar is slipped into the doorway. It is designed to be able to be used and then stored quickly and easily and to avoid damage to door frames. It's most narrow grip is more narrow than similarly designed products, allowing more challenging close-grip exercises.
How We Picked
Pull-ups and chin-ups are considered by some as a "building-block" exercise, meaning it engages a large number of muscles, especially the back, shoulders and core. Though these exercises can be difficult and not for everyone, it doesn't mean that pull-up bars are limited to pull-ups and chin-ups. Given the wide range of exercises possible using these pieces of equipment, it is important to investigate the differences between their design and manufacturing to determine how useful they might be to different users. Here are the aspects we looked at:
Design
There are two common designs most often used for pull-up bars. One design features a temporary placement of the bar along the molding of the top of one side of a door frame, while on the other side of the frame is used as leverage. This type of design uses bodyweight to maintain enough pressure to keep the equipment secured. An alternative type of design involves a simple bar that can extend to fill the width of most door frames. This type of pull-up bar usually needs to be screwed into the door frame to properly secure it.
A benefit of the design that temporarily slips into place is that it is not a permanent part of your doorway. No screwing is involved, so in cases where users would like to try their gear in different rooms or simply are dissatisfied with their equipment, then no harm is done to the structure of the frame. This design may be less sturdy, however, than the bar designs that are secured to the frames via screws and brackets. These may provide more support but will provide a permanent, though tiny, mark on door frames.
Weight bearing
A big distinction between competing pull-up bars is the amount of weight they are designed to support. Some claim to support up to 200 or 220 pounds, while others claim up to 300 pounds of support. While these truly may be the top ends of what each piece of equipment may support, users may want not want to test that top limit for safety reasons. Those who have bigger frames may want to opt for a pull-up bar with the highest maximum weight limit. Additionally, the pull-up bars that have extra support, such as screws and brackets, may make the support that much more secure.
Grips
One way pull-up bars can distinguish themselves is through the placement and number of grips available for customers to use. There can be as few as two grips on a pull-up bar and as many as twelve or more. The pull-up bars that are designed as a bar shape tend to have less options for grips. This may limit the number of variations of different exercises users can work on. Those hoping simply to do standard pull-ups or chin-ups won't notice too much of a difference, but people who want more variety may opt for a bar that has a wider berth than the door and has perpendicular grips. This allows different muscles to be engaged during workouts.
Tips
Not sure which pull-up bar is right for you? Take a look at the below tips to help guide your purchase:
Where will you be putting this? One of the first questions to ask oneself when purchasing a pull-up bar is where this piece of equipment will be used. If there is a perfect spot in the home or office that has sturdy construction, plenty of room, a standard-sized door frame, and won't get in the way of others, then this question won't give too much pause.
However, some door frames are too narrow or too wide for some of the most popular brands. Other homes may have low-flung ceilings or doors without door frames. Also critical in your decision making is whether you want to buy a unit that will slip into a doorway or one that you screw in semi-permanently.
Do you want it out all the time? Some users may have no problem having their workout equipment on display at all times. Maybe the pull-up bar is tucked away in a remote part of the home or if the user lives alone and isn't worried about a roommate thinking it is an eyesore.
The pull-up bars that have screws and brackets typically cost less (these are the straight bars) but are designed to have a more permanent home in a chosen doorway. These can be removed, but the screw holes and brackets may remain. Pull-up bars that slip into doorways are often bulkier and harder to store, but they can be removed with little effort. These may be ideal for those not wishing to have their home gym available for guests to see.
What kind of exercises will you be doing? If you are just looking to do standard pull-ups and chin-ups, the typical straight bar may suffice. Those hoping to vary their positioning or add different exercises may enjoy the increased number of grips that some brands provide. Look out for the offerings that have wider berths, as these will allow users to use a wide grip for pull-ups and chin-ups.
Additionally, there are straps that can be purchased that allow leg lifts and other abdominally-focused exercises. These can go on the straight bars and allow some more variety of routine.