We receive free products and receive commissions through our links. See
disclosures page
.
The humble pull-up bar. One of the best pieces of equipment out there. If you don't have some kind of pull-up apparatus available to you, we strongly encourage you to use this list and get one. Pull-ups are an upper body mainstay. There are very few exercises that can unite so many different training disciplines, but the pull-up is one of them.
Until recently, access to a pull-up bar mostly came through some sort of gym membership, or owning a home gym with some sort of rack. Thankfully, many companies have innovated and designed bars for virtually every living scenario. Whether you're training in a full-fledged garage-gym, traveling on the road, or living in a small apartment — even if you own no tools at all — we've put together a list of the best pull-up bars available for a variety of goals and training needs..
Best Pull-Up Bars
Best Pull-Up Bar Overall: Bells of Steel Adjustable Wall or Ceiling Mounted Pull-Up Bar
Bells of Steel Adjustable Wall or Ceiling Mounted Pull-Up Bar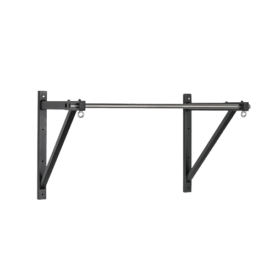 Bells of Steel Adjustable Wall or Ceiling Mounted Pull-Up Bar
This Bells of Steel pull-up bar is highly adjustable and can be mounted on your wall or ceiling and is capable of holding up to 330 pounds. Note: you can't move the bar once you've set it up, so pick your spot wisely.
Specs
Bar Weight: 41.65 pounds
Bar Finish: Bare Steel
Size: 33.5"L x 53"W x 31"H
Max Capacity: 330 pounds
Pros
This pull-up bar attaches safely to your wall or ceiling and won't budge.
The bare steel finish helps prevent calluses and tears.
You get two bar placement options to accommodate different spaces.
Cons
This requires permanent installation.
You only get one grip option.
Pull-up bars are awesome, but many of them are either too time-consuming to install or too confusing to understand. The reason why we placed the Bells of Steel pull-up bar at the top of this list is because it can be installed in just about any space. It's also straightforward and sturdy, so you can blast out your reps and get on with your day.
Aside from being great value for money, this bar is also one of the most customizable products on the market. You can choose between two different bar placement options to accommodate different spaces and preferences. But note that the installation is permanent. Once you've mounted the bar, you can't move it to a different place in your home.
For trainees who need a robust pull-up bar, the Bells of Steel Adjustable Wall or Ceiling Mounted Pull-Up Bar is super solid and can still be installed above just about any secure space in your home.
Best Pull-Up Bar for Doorways: ProFIT Pull-Up Bar For Your Doorway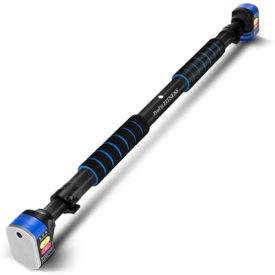 If drilling holes above your doorframe and into your wall doesn't sound appealing to you or your landlord, you might find this pull up bar from ProFIT to be a perfect solution, with no drilling required and a weight capacity of 440 lbs. 
Specs
Bar Weight: About four pounds
Bar Finish: N/A
Size: 28.5" to 37.5" adjustable width
Max Capacity: 440 pounds
Pros
Consumers who want an easily movable pull-up bar.
Athletes who need a pull-up bar that can be set up in seconds.
People who have tricky doorways or thick door frames that can't accommodate a wrap around pull-up bar.
Cons
Trainees who plan on performing kipping movements.
Buyers looking for a bar with multiple grip options.
Those who want a bar that is mounted with bolts or screws for added stability.
Many people who would like to install a bar are worried about the potential damage that could do to a wall. Thankfully there and now many different pull-up bars available that don't need any tools or DIY experience whatsoever. This option by ProFIT is an excellent pull-up bar for those who have standard or tricky doorways, and don't want to break out their toolbox.
Designed to wedge itself in so that it doesn't move, this bar is made from heavy duty steel and has specially designed non-slip pads on each end. When properly secured, it can support up to 440lbs of weight, which is more than enough load bearing to support weighted pull-ups. At this price point, it's a great deal too.
Set up in seconds in any doorway near you, this pull-up bar can support heavy weight and is extremely affordable.
Best Rack with Pull-Up Bar: Bells of Steel Squat Stands 3.0
Bells of Steel Squat Stands 3.0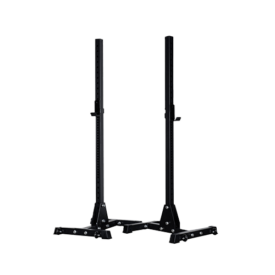 Bells of Steel Squat Stands 3.0
This squat stand is easy to move around and can be used with many of Bells of Steel's attachments. This stand is super light and has convenient wheels, so you can roll it around your home gym as needed. 
Specs
Bar Weight: 73 pounds, 83 pounds with the bar attachment
Bar Finish: Bare steel
Size: 29"L X 24"W x 72.5"H
Max Capacity: 600 pounds
Pros
This excellent squat rack can be purchased with a pull-up bar attachment.
Thanks to the wheels, this rack is pretty easy to move around.
This one has a larger weight capacity than other pull-up bars.
Cons
Athletes who have limited space for equipment.
Buyers with a tighter budget who just need a cheap pull-up bar.
Anyone who wants to avoid equipment that needs assembling.
Another option that doesn't require permanent installation is to get a weight rack that also includes a pull-up bar. Though you'd mostly use this piece of equipment to squat and bench, throwing pull-ups in as an added bonus to your training is great for you and your wallet.
There are an incredible array of squat racks out there these days, but the Bells of Steel Squat Stands 3.0 is a mainstay that's easy to put together, reliable, and very well priced. This product doesn't come with a ton of add-ons (you get j-cups included), but you can customize your squat stand with a pull-up bar right on the same webpage.
This rack is the ideal purchase for someone who wants a versatile piece of equipment that will last for years to come.
Best Ceiling Mounted Pull-Up Bar: Rogue P-5V Garage Pull-Up System
Rogue P-5V Garage Pull-up System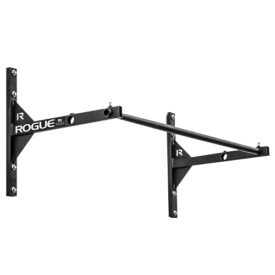 Rogue P-5V Garage Pull-up System
Able to be mounted on the wall or the ceiling, the Rogue P-5V bar is durable, super secure and expandable if your garage turns into the go-to neighborhood gym on the block.
Specs
Bar Weight: N/A
Bar Finish: Steel
Size: 52"L X 24"W x 23"H
Max Capacity: N/A
Pros
This bar mounts easily on the ceiling.
You can expand this pull-up bar system to lower the bar.
This mounting option is extremely secure.
Cons
You can't move this one around once it's installed.
This one requires several tools you may not have at home.
Consumers may prefer to get a more multifunctional pull-up option.
Wall and door mounts are convenient for installation, but you'll often find that they aren't as great once you start training. Scraping your knees against door frames isn't any fun, which is why a ceiling mount offers a perfect alternative. They're a little more involved to get set up, but once they're up, they're out of the way until you want to use them.
While not restricted purely to ceiling installations, the P-5V is our favorite option for this kind of mount. It can be anchored to any stable wood stud/ceiling joist you might find in your garage, or a concrete wall if that option is available to you. 11 gauge steel and 8 hard wearing bolts mean, when properly installed, this pull-up bar won't budge at all.
If you don't have a suitable wall, this bar can be fixed to the ceiling with zero drawbacks. Made with the renowned Rogue quality, it is still surprisingly affordable.
Best Pull-Up Bar with Multiple Handles: Northern Stone Total Body Workout Bar
Northern Stone Total Body Workout Bar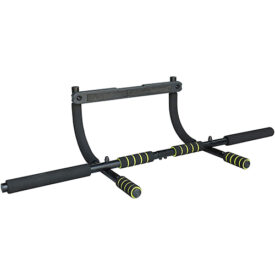 Northern Stone Total Body Workout Bar
No messy installation required, this total body workout bar from Northern Stone sports multiple grip options and can also be used on the floor to enhance push ups and other movements.
Specs
Bar Weight: About 5 pounds
Bar Finish: Alloy Steel
Size: N/A
Max Capacity: 250 pounds
Pros
This bar isn't fixed in one location.
You get several different grip options.
You can also work on your push-ups.
Cons
This one isn't sturdy enough for explosive, kipping motions.
Other mounting options are more secure.
The max capacity is much lower than other bars.
Pull-ups are great, but like any exercise, variations can open up a whole new list of training benefits. Even just changing your grip slightly to do neutral grip or supinated grip chin ups can make a huge impact when it comes to hitting different muscles. Not all bars have that many options, so you may want to find one that enables you to switch it up if you plan on doing a lot of pull-ups.
Another bar that requires nothing more than a door frame, we love how easy this is to set up and get going. Able to support up to 250lbs of weight and with six different grip options, it can also be used for push ups on the floor to give you even more variety.
Simple to use, this bar has multiple different grip options to help you hit a bunch of variations at a very reasonable price.
Best Pull-Up Bar for Kipping: Rogue P-3 Pull-Up System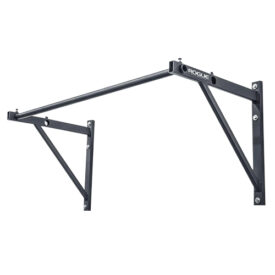 One of the most secure bars available on the market, you'll often find the Rogue P-3 Pull-Up System bolted into the wall of your local CrossFit gym. It's a great choice for anyone who plans on taking their push-ups to new heights.
Specs
Bar Weight: 31 pounds
Bar Finish: Steel
Size: 24"L X 23"H with a 14" or 22" depth
Max Capacity: 500+ pounds
Pros
This bar is secure enough for kipping motions.
This one has a high max capacity, so you can add loaded exercises.
This bar leaves plenty of space from the wall.
Cons
You can't move this one around once it is mounted
There's only one grip option.
Installation isn't as easy as other options.
Kipping is a technique that originated in competitive gymnastics, but recently has been popularized in CrossFit. Most notoriously with kipping pull-ups, but also with toes to bar, ring dips and a multitude of other exercises. It allows you to use your whole body for a movement, enabling you to complete more repetitions.
If you plan on kipping, you need a very secure bar and the P-3 system offers exactly that. Made from 11 gauge steel, it has 6 sturdy bolts that keep it firmly in place, and can be anchored to a wall or the ceiling as needed.
A simple but hugely effective design, this pull-up bar is one of the best choices out there if you need to practice your kipping movements.
What to Consider Before Buying a Pull-Up Bar
From New York City studio apartments to massive garage gyms, in our opinion, everyone should be doing some sort of pull-up. Location, training style, and ability to install are just a few of the things you should consider before buying a pull-up bar. But we think there's one thing beyond consideration: You should definitely have one in your training arsenal.
To Install or Not to Install
Some bars are going to require bolting or screwing into a wall. This is going to be an issue for many of you depending on factors like your landlord, construction of your home / apartment, and general desire to keep things simple. There are plenty of options either way. If you don't need a bar that has to be fixed into place. It does reduce your options somewhat, but that might not be a bad thing.
Your Budget
With the exception of a pull-up bar system that comes with a rack, pull-up bars are pretty affordable nowadays. There are price differences, mainly between bars that require installation and those that don't. These differences aren't going to break the bank however. Budget is definitely a concern, but none of these bars should break the bank.
Your Training
Training factors such as kipping, explosive pulling, using assist bands, and more should be top of mind when selecting a pull-up bar. If you plan on kipping, we have a pick for you in this list, but if you venture out beyond this list, be sure you have plenty of space to kip, and a bar that can support that rapid movement.
If you're simply doing controlled reps, any one of the bars that are instantly moveable or mounted in a doorway will work fine for you.
Those looking to build out their home gym and are just getting started may appreciate buying a squat rack that also comes with a pull-up bar so they can kill two birds with one purchase.
Available Space
With the exception of racks, pull-up bars don't require a huge amount of space, especially bars that are mounted in or on doorways. That being said, you do want to consider how your body will interact with your surroundings when performing pull-ups. Is there a wall that you'll scrape your knees on or a door handle that sticks out at an awkward position? This is where different mounting options will make the difference.
Materials
Make sure you're purchasing a bar that is manufactured using quality metal. Some variant of steel is going to be the most common choice, and you should be able to see from product reviews if there have been any serious issues with the products you're looking at. All of the pull-up bars on this list are solid and will hold up during training.
How We Picked
Pull-ups and chin-ups are considered by some as a "building-block" exercise, meaning it engages a large number of muscles, especially the back, shoulders and core. Though these exercises can be difficult and not for everyone, it doesn't mean that pull-up bars are limited to pull-ups and chin-ups. Given the wide range of exercises possible using these pieces of equipment, it is important to investigate the differences between their design and manufacturing to determine how useful they might be to different users. Here are the aspects we looked at:
Design
There are two common designs most often used for pull-up bars. One design features a temporary placement of the bar along the molding of the top of one side of a door frame, while on the other side of the frame is used as leverage. This type of design uses bodyweight to maintain enough pressure to keep the equipment secured. An alternative type of design involves a simple bar that can extend to fill the width of most door frames. This type of pull-up bar usually needs to be screwed into the door frame to properly secure it.
A benefit of the design that temporarily slips into place is that it is not a permanent part of your doorway. No screwing is involved, so in cases where users would like to try their gear in different rooms or simply are dissatisfied with their equipment, then no harm is done to the structure of the frame. This design may be less sturdy, however, than the bar designs that are secured to the frames via screws and brackets. These may provide more support but will provide a permanent, though tiny, mark on door frames.
Weight Bearing
A big distinction between competing pull-up bars is the amount of weight they are designed to support. Some claim to support up to 200 or 220 pounds, while others claim up to 300 pounds of support. While these truly may be the top ends of what each piece of equipment may support, users may want not want to test that top limit for safety reasons. Those who have bigger frames may want to opt for a pull-up bar with the highest maximum weight limit. Additionally, the pull-up bars that have extra support, such as screws and brackets, may make the support that much more secure.
Grips
One way pull-up bars can distinguish themselves is through the placement and number of grips available for customers to use. There can be as few as two grips on a pull-up bar and as many as twelve or more. The pull-up bars that are designed as a bar shape tend to have less options for grips. This may limit the number of variations of different exercises users can work on. Those hoping simply to do standard pull-ups or chin-ups won't notice too much of a difference, but people who want more variety may opt for a bar that has a wider berth than the door and has perpendicular grips. This allows different muscles to be engaged during workouts.
Additional Tips
Not sure which pull-up bar is right for you? Take a look at the below tips to help guide your purchase:
Where will you be putting it?
One of the first questions to ask oneself when purchasing a pull-up bar is where this piece of equipment will be used. If there is a perfect spot in the home or office that has sturdy construction, plenty of room, a standard-sized door frame, and won't get in the way of others, then this question won't give too much pause.
However, some door frames are too narrow or too wide for some of the most popular brands. Other homes may have low-flung ceilings or doors without door frames. Also critical in your decision making is whether you want to buy a unit that will slip into a doorway or one that you screw in semi-permanently.
Do you want to hide your pull-up bar?
Some users may have no problem having their workout equipment on display at all times. You might want your pull-up bar tucked away in a remote part of the home, or you might be setting it up in a garage and won't care about it always being out.
The pull-up bars that have screws and brackets typically cost less (these are the straight bars) but are designed to have a more permanent home in a chosen doorway. These can be removed, but the screw holes and brackets may remain. Pull-up bars that slip into doorways are often bulkier and harder to store, but they can be removed with little effort. These may be ideal for those not wishing to have their home gym available for guests to see.
What kind of exercises will you be doing?
If you are just looking to do standard pull-ups and chin-ups, the typical straight bar may suffice. Those hoping to vary their positioning or add different exercises may enjoy the increased number of grips that some brands provide. Look out for the offerings that have wider berths, as these will allow users to use a wide grip for pull-ups and chin-ups.
Additionally, there are straps that can be purchased that allow leg lifts and other abdominally-focused exercises. These can go on the straight bars and allow some more variety of routine.
Final Word
If you have a pull-up bar, a set of dumbbells, and a bench, you can train nearly every area of the body effectively. This collection of equipment is equal parts affordable and effective. We cannot overstate just how versatile such a simple piece of metal can be. If you don't have a pull-up bar, or something equivalent, available to you, it should be one of your highest priorities to get one. There are very few exercises that are so accessible and come with so few downsides. A pull-up bar can help you round out your training and keep you active, even if you're just passing through a doorway.
FAQs
Should I get a pull-up bar if I can't do pull-ups?
Anybody can train to do a pull-up and we've put together a great training plan for exactly that. However even if you can't do a pull-up, you can hang from a pull-up bar, set up a suspension trainer or rings and unlock a vast array of accessible exercises that are hugely effective.
Why is the pull-up such a good exercise?
Aside from being an incredible exercise for strengthening virtually your entire back and arms, pull-ups are great for grip strength, they can provide an excellent stretch for your shoulders, and they are surprisingly effective for working your core muscles.
What are some mistakes to avoid with pull-ups?
The major mistakes we think you should avoid with pull-ups are as follows:
Not controlling the descent after you've gotten your chin over the bar

Only doing partial range repetitions

Doing too many reps and not giving the shoulders or elbows a chance to recover
Note, these are not the only mistakes you can make, just some of the most common we encounter.