Wrist wraps are useful pieces of supportive strength gear for lifters that want additional wrist support when training. Traditionally, lifters wear wrist wraps to alleviate pressure on the wrists during longer workouts or when performing heavy lifts. On the bench press, wrist wraps support barbell security. When using a mixed grip for a deadlift, wrist wraps help prevent losing the barbell due to it spinning out.
We've tested and reviewed many different wrist wraps and found the best options for various activities. If you're a fitness enthusiast trying to improve your performance, but your wrist support is lacking, then it might be time to invest in a new pair of wrist wraps.
Best Wrist Wraps
Editor's note: The content on BarBend is meant to be informative in nature, but it should not be taken as medical advice. The opinions and articles on this site are not intended to diagnose, prevent, and/or treat health problems. It's always a good idea to talk to your doctor before beginning a new fitness, nutritional, and/or supplement routine. Individual needs for vitamins and minerals will vary.
Best Wrist Wraps
Strength athletes and enthusiasts who want a flexible, well-built wrist wrap across various workouts are likely to find Gymreapers offer a perfect fit. They are three inches wide and made of high-grade nylon (30 percent elastic and 70 percent polyester). At 18 inches long, these wraps are long enough to offer sufficient wrist support. Most wrist wraps should limit movement enough to ensure that wrists aren't exposed to injury. Gymreapers fall into that camp, but they don't limit the wrist so much that there isn't any flexibility.
These wrist wraps provide an excellent combination of durability and flexibility. No matter your strength sport, these wrist wraps can help protect your wrists without hindering your movement patterns. Even if squats are part of a training session, they can offer enough comfort in the movement to hold the barbell without limiting support.
Who Should Buy Gymreapers Wrist Wraps
Lifters who want a durable wrist wrap with reinforced stitching.
Athletes who want wrist support without hindering their flexibility.
Those who value a heavy-duty thumb loop.
Who Shouldn't Buy Gymreapers Wrist Wraps
Folks with sensitive skin who prefer their gear made with a softer material.
Those who want wrist wraps that are machine washable.
Although these wraps might feel a bit tougher on the skin than comparable options on the market, they will still allow for sufficient mobility in training. Again, beginners who are on the lookout for a pair of wrist wraps with a thumb loop may need to search elsewhere, but any advanced strength athlete could do worse than placing Gymreapers at the top of their buy list.
[Related: 5 Best Prehab Exercises For Strength Athletes (With Joe Yoon)]
Best Wrist Wraps for Powerlifting
No matter what is thrown at these wrist wraps, the quality and durability of Manimal's offering seem to hold up lift after lift, PR after PR. These are a solid pick for those who train the big three — heavy deadlifts, high-rep bench presses, squats — or frequently train accessory exercises (we also liked them for kettlebell work).
These wrist wraps are quite durable. Whether you're a recreational lifter or a competitive powerlifter, a pair of Manimal wrist wraps should keep your wrists stable and secure for a long time.
Who Should Buy Manimal Wrist Wraps
Lifters who want durable, heavy-duty wrist wraps.
Athletes who like a lot of wrist support during heavy lifts.
Who Shouldn't Buy Manimal Wrist Wraps
Athletes who prioritize movements that typically require wrist flexibility.
Gym-goers looking for a lighter level of wrist support.
The only real knock against these wrist wraps is that they might support the wrists too well for some athletes. If you're looking for wrist support to train the big three lifts specifically, we think these wraps check all of the boxes. However, if you need wrist wraps with less rigidity, another option on this list may be better for you.
[Related: The Lifter's Guide To Magnesium: What This Nutrient Does For Strength]
Best Wrist Wraps for Weightlifting
Training the snatch and clean & jerk often? These flexible wraps are long enough — 18 inches — to offer strong wrist support to better ensure that they aren't exposed to injury. The combination of durability and flexibility won't hinder movement patterns during either Olympic weightlifting movement.
Gymreapers' use of high-grade nylon and wide design (three inches) of their wraps should do a fine job at lessening the stress the wrists take when the barbell is positioned overhead. If you are training to up your competitive total, adding these wrist wraps to your gym bag will likely be a step in the right direction.
Who Should Buy Gymreapers Wrist Wraps
Athletes who seek extra wrist support with multiple length and color options.
Lifters who want a secure fit. They have quality thumb loops.
People who want security. They have thick material for additional support in heavy sessions.
Who Shouldn't Buy Gymreapers Wrist Wraps
Those who prefer softer material to wrap their wrists with.
Folks who need a thinner wrist wrap — these are three inches wide.
[Related: The Real Pros And Cons Of The Bodybuilding Lifestyle]
Best Wrist Wraps for Small Wrists
These wrist wraps are naturally better suited to athletes with smaller wrists because they have a width of just one inch. This is more narrow than many of the comparable options on the market. The thinner design isn't without benefits beyond potentially being a better fit. It also targets the scaphoid bone (a bone in the wrist on the side closer to the body) with more support and allows for enhanced flexibility. This flexibility can be valuable during a wide-grip snatch to ensure there isn't too much pressure on the thumb. Additionally, it can also allow for better comfort when performing hang snatches.
Who Should Buy IsoWrap Wrist Wraps
Lifters who prefer a less bulky wrist wrap.
Anyone who needs more support on their scaphoid bone (inner wrist).
People who appreciate having options between cotton or suede leather.
Who Shouldn't Buy IsoWrap Wrist Wraps
Anyone aiming to lift very heavy.
Those who need a wider wrist wrap.
[Related: Strength Athletes: Don't Overlook Your Wrists]
Best Leather Wrist Wraps
Rogue's leather wrist wraps are available in two design options: single-strap or double-strap. The single-strap sports a thicker section of the belt that wraps around the front of the lifter's wrist. The double-strap has two thinner straps that offer a bit more flexibility and may be more beneficial for athletes with thicker wrists. Each strap weighs about 2.5 ounces and measures just about 20 inches long.
Featuring vegetable tanned leather, each wrist wrap option is made in the USA and ensures the better durability of leather than other often used materials such as nylon or cotton. Each pair of wrist wraps are designed with nickel-plated brass rivets and roller buckle.
Who Should Buy Rogue Leather Wrist Wraps
Athletes who prioritize durability.
Lifters who need supportive wraps with a bit more flexibility for comfort.
People who prefer wrist wraps that fit snugly.
Who Shouldn't Buy Rogue Leather Wrist Wraps
Anyone who doesn't like the sensation of leather on skin.
Those who would prefer wrist wraps with velcro instead of a buckle.
[Related: 3 Ways To Find Your 1-Rep Max (Beginner, Intermediate, and Advanced)]
Best Wrist Wraps for Beginners
Some of the wrist wraps designed for serious athletes can be a little rigid and uncomfortable, so finding a supportive pair that are also comfortable is usually a good bet for beginners. These one-inch wide wraps are likely to fit that bill as they allow for more flexibility than most competitive options that have wider designs.
A useful addition these wrist wraps have versus options geared more for advanced athletes is the thumb loop, making it easier for new users to position the wraps properly. If you don't know how to wrap wraps properly, these can be tightened via velcro into a secure position.
Who Should Buy IsoWrap Wrist Wraps
Beginners who need support without conceding flexibility.
Those who value the thumb loop for better positioning.
Athletes who want additional support of the scaphoid bone; a potential weak point during wide-grip barbell movements.
Who Shouldn't Buy IsoWrap Wrist Wraps
Advanced lifters that need more rigidity for extremely heavy lifts.
Anyone who prefers a wider wrist wrap.
For all the reasons that our picks farther up on this list are better suited for advanced lifters, the opposite is true for beginning lifters. The elastic material, velcro fit, and thumb loops are useful for an athlete who needs to learn how to lift properly with wraps and who is finally lifting heavy enough that wraps are needed.
[Related: Nutrition For Bulking: 10 Tips For Intelligent Muscle Gain]
Best Neoprene/Foam Wrist Wraps
These wrist wrap supports are more akin to sleeves than to more traditional wraps. Each wrist sleeve is 3.5 inches wide, five millimeters thick, and has a foam construction that is 70 percent SBR and 30 percent neoprene. The cover and the lining are fully polyamide and can provide some compression and warmth to the wrists during training. They are available in black.
Who Should Buy Rehband RX Wrist Wrap Support
Those who need more comfortable wrist support during training.
Folks who value the compression these sleeves can offer.
Anyone who doesn't want to spend time wrapping their wrists and prefers a sleeve.
Who Shouldn't Buy Rehband RX Wrist Wrap Support
Lifters who need more agency over how tight or loose their wrist wraps are.
People who prefer wrist wraps more than wrist sleeves.
[Related: Hypertrophy Training Sets And Reps]
What to Consider Before Buying
When sifting through the many wrist wrap options on the market, we kept two key points in mind when making our choices. First, how are the wrist wraps constructed? Yes, they're simple in nature, but construction matters for support. Second, we assess their versatility and who they might be best for.
Construction
Wrist wraps are simplistic in nature, which makes the construction that goes into them important. When assessing construction we look at four critical parts of wrist wraps, including:
Main material
Velcro, buckles, or other tightening mechanisms
Thumb loop
Reinforced stitching
The main material is the most critical component because this is what largely provides additional wrist support. Ideally, you want a blend of materials that allow the wrist wraps to remain supportive and stretch to some degree. This allows you to dictate their tightness without the material limiting performance.
The velcro and thumb loop is also important construction characteristics to consider. The thumb loop needs to be strong because it often endures a lot of pressure. If it's poorly constructed, then it could fray and disconnect. In addition to the thumb loop, the velcro used is also important to consider. Ideally, lifters want a velcro that is wider and spans a few inches. This type of construction optimizes durability, security, and surface area.
Stitching, the final characteristic we assess, is somewhat self-explanatory as to why it's important for durability. Double and triple stitching can help prevent material from ripping due to stretching regularly.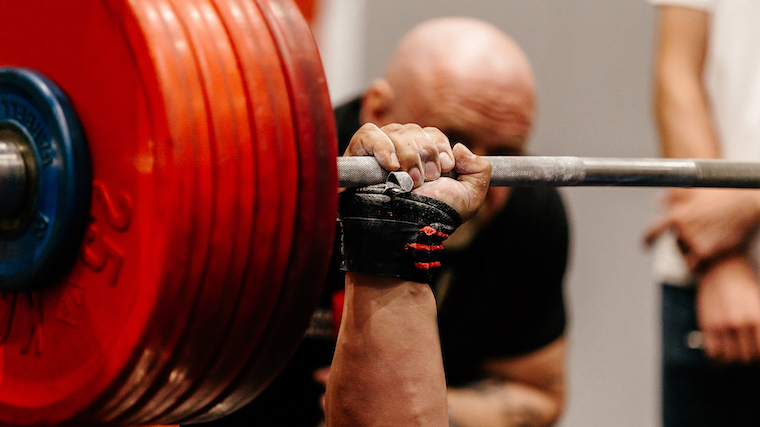 [Related: How To Do The Romanian Deadlift For Lower-Body Size And Strength]
Flexibility
The flexibility offered by a pair of wrist wraps likely decipherable via their length and the material they are made with. Are the wrist wraps designed for smaller wrists, more advanced athletes, or a specific activity like kettlebell snatches, thrusters, or Bulgarian ring dips? The flexibility a pair of wrist wraps allow without conceding support is critical to help prevent injury while providing the necessary support.
For routine gym-goers looking for some additional wrist support while circuit training on weight machines, nylon or some other elastic material will likely suffice. More advanced athletes who compete or lift much heavier are probably better suited with a pair of wrist wraps made of leather or some other tough material and/or have reinforced stitching of some kind.
[Related: Could Baking Soda Be The Best Workout Supplement You've Never Tried?]
Wrapping Up
Wrist wraps are useful for lifters that want an additional level of support around their wrists when working out. Some fitness enthusiasts like to use wrist wraps for maximal days, while others like the general support. When finding your perfect pair, consider the above to make the best choice.