We receive free products and receive commissions through our links. See
disclosures page
.
Whether you're a seasoned vet or a beginner, stability matters when it comes to lifting weights. For anyone who struggles with stabilizing their wrists on their own, you may want to strongly consider these wrist wraps from Gymreapers. The elastic band allows you to decide just how much extra support you need without taking away your mobility; the thumb loop creates a snug fit and keeps the wraps secured.
There are various types of wrist support you can purchase. Some wrist wraps are stiff to provide maximum stability, while some are thinner for more mobility — and for those who want to keep things basic, there's still good, old-fashioned athletic tape to help you out. But these wrist wraps from Gymreapers offer a lot of versatility with their polyester/elastic build. The 18-inch wrap offers max support, but the flexible material doesn't take away your wrist mobility. Plus, you'll actually save money in the long run if you purchase these in place of athletic tape (which you will need to consistently restock). When looking for a pair of wrist wraps that can be used across all lifting styles, we think these USPA-approved wraps from Gymreapers are the cream of the crop.
Main Takeaways
The thumb loop on these wraps allows you to achieve a secure fit for your lifts, while the velcro strap prevents the wraps from coming undone while lifting.
The combination of polyester and elastic in these wraps leads to a comfortable and supportive fit without too much stiffness.
These wraps are only about $20 per pair, which is significantly cheaper than continuously restocking on tape.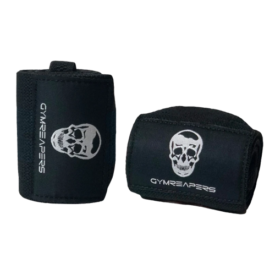 These wraps are three inches wide and made of high-grade nylon (30 percent elastic and 70 percent polyester). At 18 inches long, these wraps are long enough to offer solid wrist support.
Gymreapers Wrist Wraps Video Review
Our Reviews Writer, Jake, tested these wrist wraps out for himself. In this video review, he walks you through their pros and cons, pricing, features, and more.
Gymreapers Wrist Wraps Highlights
When we were testing out these Gymreapers Wrist Wraps, we enjoyed the amount of support they provided our wrists while benching without taking away any mobility for our Olympic lifts. The thumb loop is a nice touch since it helps you find a snug fit while also preventing the wraps from sliding down your arm. The 18-inch strap provides security as well, so anyone with an injury can rest assured that there won't be any issues with stability.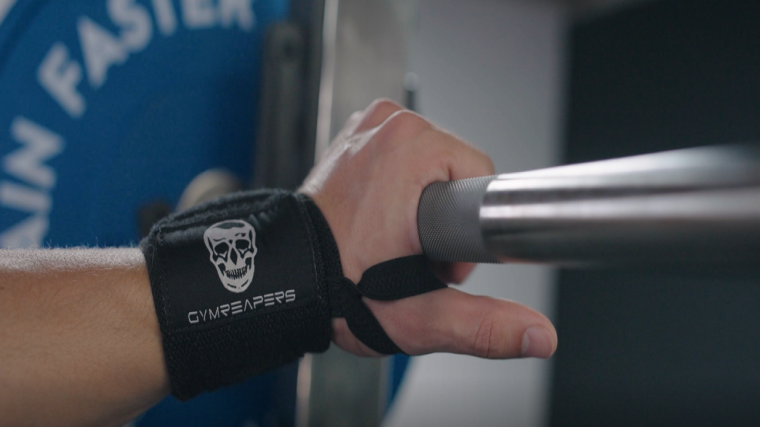 Nobody likes uncomfortable workout accessories, so thankfully, the combination of polyester and elastic eliminates that concern here. We didn't find the material to be itchy, and it also allowed our skin to breathe when lifting. Wrist tape is almost as classic as a good pair of dumbbells, but let's be honest — purchasing rolls of tape a couple of times a year can be both expensive and wasteful. Since these wraps are high-quality and are only going to run you about $20, you'll be saving money long-term. The three-inch wide profile may be too wide for some athletes, and dedicated powerlifters may want their wraps to be more stiff. However, we felt that these wraps didn't feel too bulky, and still provided ample support for a heavy lift.
Who Should Buy Gymreapers Wrist Wraps
Anyone who is looking for some added wrist support without sacrificing their flexibility will enjoy the polyester and elastic build of these wraps.
Athletes looking for wrist wraps that can be used for powerlifting and Olympic lifting will find success with these wraps. They're also USPA-approved, so competitors may want to consider these.
If you're looking to save money, this is a solid (and more sustainable) alternative to purchasing new rolls of tape every couple of months.
Who Shouldn't Buy Gymreapers Wrist Wraps
Anyone who is looking for wrist wraps that are going to prevent their wrists from bending will want to consider some stiff wrist wraps. Gymreapers has a pair you might be interested in.
If you're looking for a particularly thin pair of wrist wraps, you'll want to look elsewhere.
Athletes who are partial to the feel of wrist tape may not need a pair of wrist wraps.
Price
Gymreapers offers these wrist wraps for right around $20, which is about the median price when compared to the rest of the market. You can purchase them directly from the Gymreapers website, or even on Amazon if you choose. There are some cheaper ones you can find, but there are also some that are around $40. Just because those options are more expensive though, doesn't necessarily mean they're "better." We think these are a solid choice and will save you some money in the long run compared to athletic tape.
Overall Build and Quality
These 18-inch wrist wraps from Gymreapers are USPA approved, and are made from a combination of polyester and elastic. This is going to provide you with as much support as it does comfort. Because of the elasticity, you can easily customize the amount of support that your wrist needs for your workouts.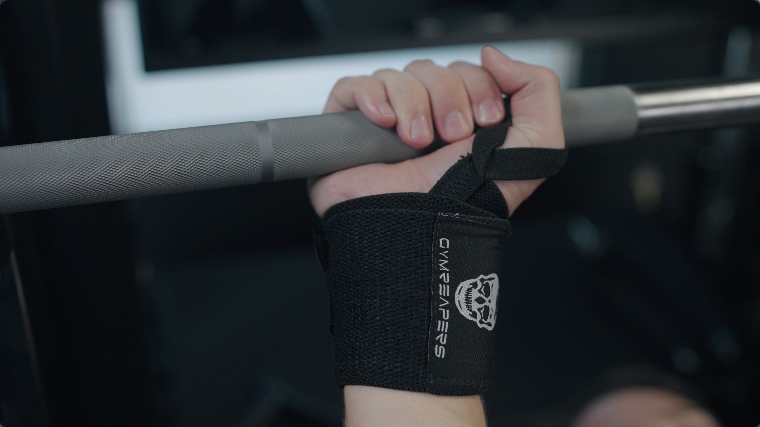 The three-inch wide profile looks bulky at first glance, but we honestly didn't have any issues with our mobility. These wraps are also available in nine different colors, and Gymreapers includes a lifetime warranty covering any manufacturing defects.
Features
There are a couple of features that we really enjoy with these wrist wraps. Since they're 18 inches long, you can stretch the elastic material as tight as you want in order to achieve the ideal amount of wrist support. The thumb loop provides a snug fit, and the velcro can prevent the wraps from coming undone while you're lifting. There are also nine different color options for you to choose from, so you can outfit your gym attire cohesively.
Thumb Loop and Velcro Strap
The thumb loop is a great addition to these wrist wraps. Not every wrap out there has this feature, and we really like it since it allows us to achieve a snug fit around our wrists. You may think it could get in the way while working out, but we didn't find that to be true.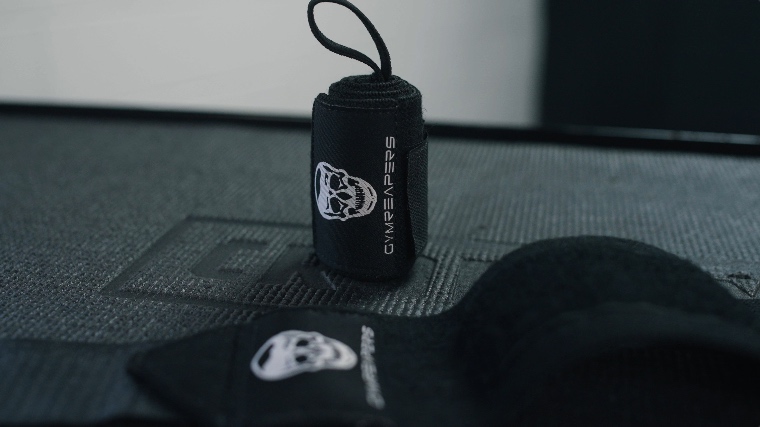 Paired with the velcro strap, these wraps aren't going to move once you're ready to hit your next set. They're really easy to put on, too — just secure the thumb loop, wrap the wraps around your wrists, attach the velcro, and you're good to go.
Color
We decided to go with all-black for our wrist wraps, but there are a lot of options to choose from. These include Black with Gray, Red, White, Pink or Green stripes, Red with White Stripes, Navy Blue, and even Camo — so you should be able to find an option that matches any existing gear you have (like some knee sleeves or a lifting belt).
Product Specs
These wrist wraps from Gymreapers are 18 inches long and three inches wide. They're made from 70 percent polyester and 30 percent elastic, which felt quite comfortable to us. They only weigh 3.84 ounces, so you won't feel like you're lugging extra weight around when working out.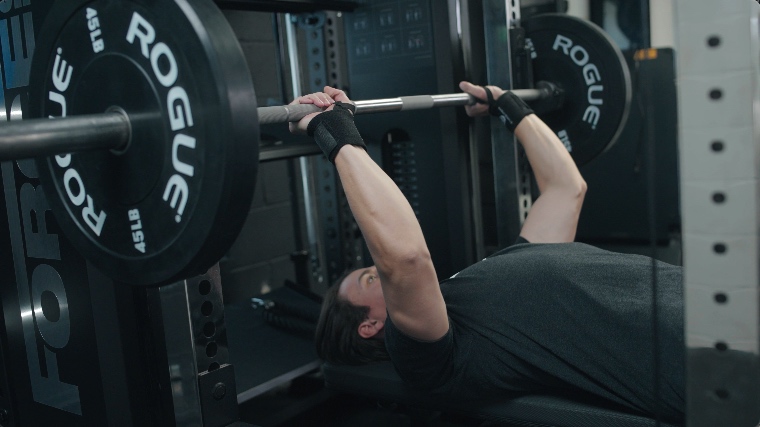 These wraps are USPA approved and feature a lifetime warranty, so if there are any manufacturing issues, just notify Gymreapers, and they'll send you a fresh new pair.
Materials
The combination of polyester and elastic leads to a comfortable feel here that also allows you to be pretty flexible — this means you can rep out your Olympic lifts with ease. Plus, this type of material allows your skin to breathe when working out. However, because of the material, you don't want to wash them with your laundry, or you'll run the risk of ruining the stitching. It's best to hand wash them in cold water and let them air dry.
Wrist Support Type
These are wrist wraps and not wrist straps. Wrist straps are used in order to assist your grip, as they wrap around your wrist and a barbell, allowing you to achieve a solid grip to lift heavy weight (like during a deadlift).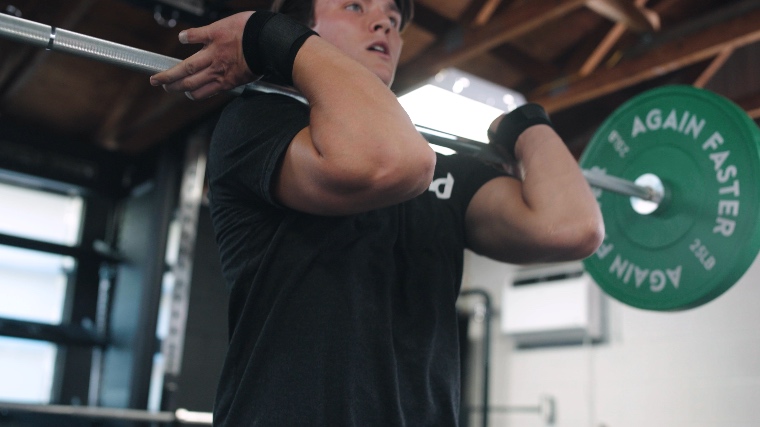 These wrist wraps are designed to support the wrist and keep it stable, so you can have more confidence in your lift. Since these don't cut down on your wrist flexion, you can use them for all of your lifts.
Sizing and Dimensions
These wrist wraps are one size fits all. They're 18 inches in length and feature a three-inch wide profile. While we have thoroughly enjoyed these and don't feel compromised in terms of wrist flexion, we understand that three inches may feel too bulky for some people. If that's the case, we suggest checking out some thinner options that are specifically designed for CrossFit.
Warranties
Gymreapers offers a lifetime warranty on these wraps that covers any and all manufacturing defects. If you notice any issues in the craftsmanship, just notify the company, and they'll replace them.
Places to Buy
You can buy these wrist wraps directly through the Gymreapers website or through Amazon.
Company Information
Gymreapers aim to assist athletes by providing additional support while lifting. To find out about their policies, you can reach their US support team at 1-208-203-7498, or their international team at 1-866-220-2684. You can also head over to their Contact Us page and fill out a request for a team member to email you.
Final Word
Supporting your joints when lifting weights can be extremely important, especially for those who are dealing with injuries. These wrist wraps from Gymreapers are a great way to achieve the proper support for a heavy bench press, but they also allow you to be flexible enough for any Olympic lift. Thanks to the elastic build, you can stretch these wraps pretty far for a tight feel and optimal support.
They may feel a little bulky on your wrist at first, but they're lightweight and offer enough mobility that you might not even notice them there once you're tossing some weight around. Since they're USPA-approved, any competitors looking for a new pair of wraps may want to snag themselves a pair for their next competition. They feature a lifetime warranty, and they're going to be a money-saver compared to buying new rolls of tape multiple times a year. Due to the sheer versatility of these wraps, we think these are one of the best options (if not the best) that you could toss in your gym bag.
FAQs
How much do the Gymreapers Wrist Wraps cost?
A pair of these wrist wraps will run you around $20, which is pretty average compared to the rest of the market. When you compare this price tag to purchasing athletic tape every few months though, you'll be saving some cash — making them well worth the price tag, in our opinion.
What workouts can I use the Gymreapers Wrist Wraps for?
Since these are a combo of polyester and elastic, you can essentially use them for any workout you choose to do. They will provide the necessary support for a heavy bench press, but they're also flexible enough to hit some power cleans.
Are these Gymreapers Wrist Wraps better than a pair of stiff wraps?
Whether or not a particular pair of wraps is "better" than the other depends on your lifting style. For someone who is only doing powerlifts, you may find that stiff wraps are better suited for you. On the other hand, if you're only doing Olympic and CrossFit style lifts, such as the clean & press, you will want your wrist to be flexible. These wraps allow you to do both, which might make them superior to those who plan on doing it all.