Whether you're an experienced athlete or someone looking to dust off an old pair of running sneakers, it's probably wise to have athletic tape handy. Used as both a preventative and therapeutic tool, athletic tape is meant to provide support during or after athletic activity. It's commonly used to wrap wrists, ankles, and other joints to help provide stability and ensure proper movement during exercise. Some use non-adhesive athletic tape as an alternative to a headband to help keep hair out of their eyes, while others turn to athletic tape to prevent calluses while weightlifting. Before you rush out and click on the first athletic tape option, take a look at our review to see which type of tape is best for you.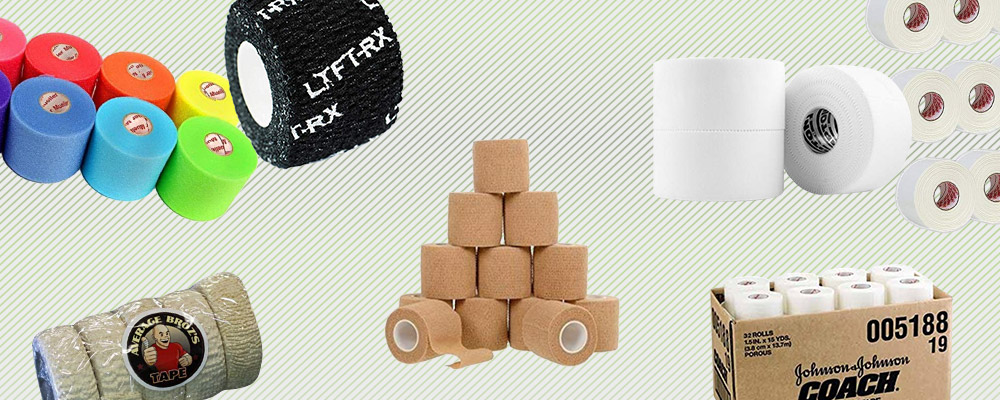 Editors' Choice: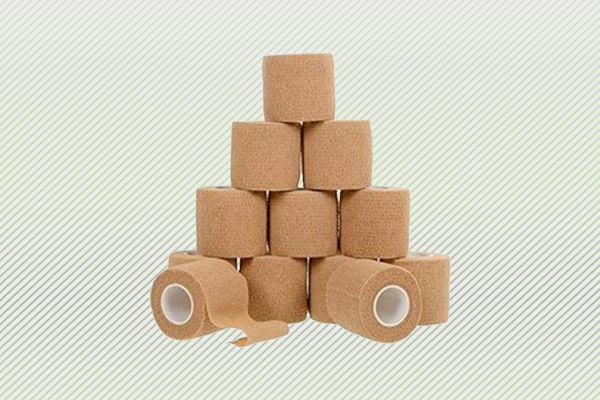 California Basics Self Adherent Bandages
Pros:
This bundle comes with 12 rolls of self adherent cohesive wrap bandages at a very reasonable price point. 

As opposed to some other athletic tape, this is designed to stick to itself, relieving the need for pins or clips. 

This non-woven, porous bandage is also designed to be water resistant, meaning it can be used while exercising. 

Manufacturer claims these premium grade stretch wraps are designed to be self-adhesive without pulling out hair or leaving residue behind.

Each roll is 5 yards long and 2" wide.
Cons:
Self adherent tape may not stay as secure as other, sturdier types of tape during strenuous activity

Only available in tan color. 
California Basics Self Adherent Bandages
California Basics Self Adherent Bandages
For those looking for a simple wrap that's designed to stick to itself, it's worth checking out these self adherent wraps. This brown, basic tape is made of a soft and breathable material, and is designed not to pull out hair or leave residue behind. 
Most Stylish: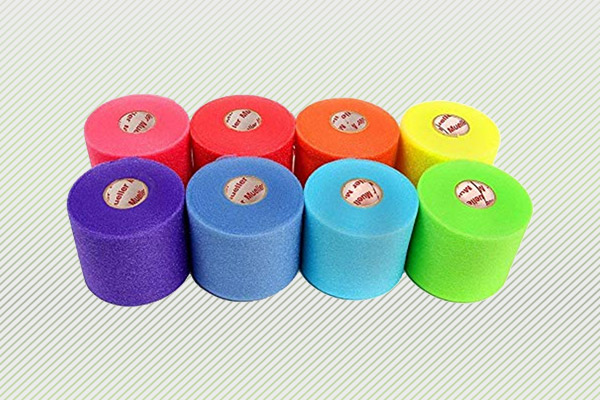 Mueller Rainbow Pack of Sports Pre-Wrap
Pros:
Mueller's rainbow pack comes with 8 colorful rolls, each one measuring 2 ¾" by 30 yards.

This latex free wrap is often used as a headband, to hold pads and socks in place, and as a protective wrap inside footwear. 

Very stretchy, flexible, and soft. 

Since this is designed not to irritate the skin, it's often used as a layer of pre-tape before sturdier tape is applied. 

Compared to some of the other athletic tapes on our list, this is one of the most affordably priced out there. 
Cons:
Since this tape is not inherently adhesive, it has a somewhat limited usefulness. 

This tape is not very supportive on its own; it's typically used as a base layer before adding a layer of sturdier adhesive tape.
Mueller Rainbow Pack of Sports Pre-Wrap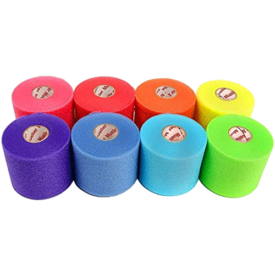 Mueller Rainbow Pack of Sports Pre-Wrap
If you're looking to jazz up your workout outfit with some colorful athletic tape, check out Mueller's rainbow pack of sports pre-wrap. Commonly used as a headband to keep stray hairs in place, this pre-wrap comes in 8 colors.
Contender: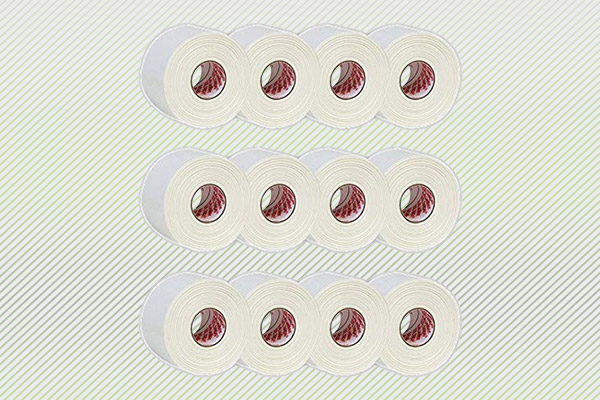 Mueller White Athletic Tape
Pros:
Each roll of tape measures 1.5" by 15 yards. 

Many folks commented that this tape was both easy to tear off the roll and easy to remove from the skin. 

Made from 100% cotton backcloth, this athletic tape is marketed toward athletic trainers as well as athletes.

On a price per yard basis, this is a very reasonably priced item.
Cons:
Mueller White Athletic Tape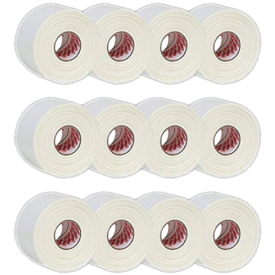 Mueller White Athletic Tape
Those looking to stock up on athletic tape may check our Mueller's 12 pack of 15 yard rolls. This 100% cotton backcloth is intended to be easy to handle while still being high strength. 
Also Consider: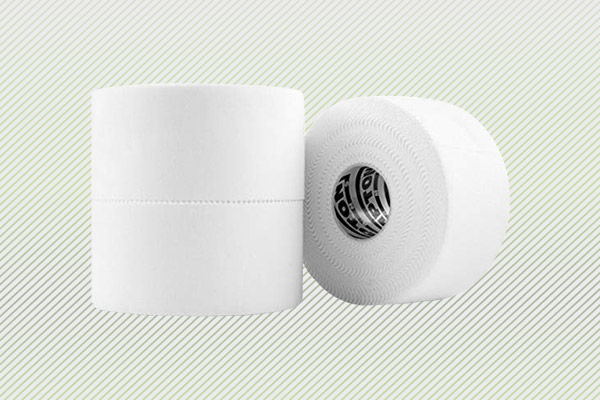 Hampton Athletic Sports Tape
Pros:
Hampton's athletic tape is designed to be torn off the roll without needing scissors, making it a convenient sports tape.

In addition to being used to support joints or body parts, Hampton sports tape can also be used on equipment – such as lacrosse or hockey sticks, or baseball bats. 

Also available in black, this 100% cotton, non-elastic athletic tape can provide adequate compression when applied properly. 

Each order comes with three rolls, and each roll measures 1.5" by 15 yards.
Cons:
Though this tape technically can be used without pre-wrap, it will likely pull on body hair.
Hampton Athletic Sports Tape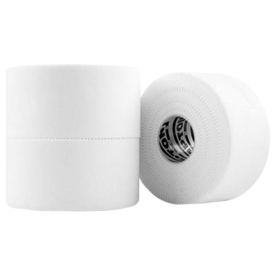 Hampton Athletic Sports Tape
Hampton Athletic Sports Tape is designed to be durable enough to use during rigorous activities, and yet easy to tear off pieces with just your fingers. Marketed toward athletes and trainers, this non-elastic tape provides firm support without leaving a sticky residue.
Best Bulk Option: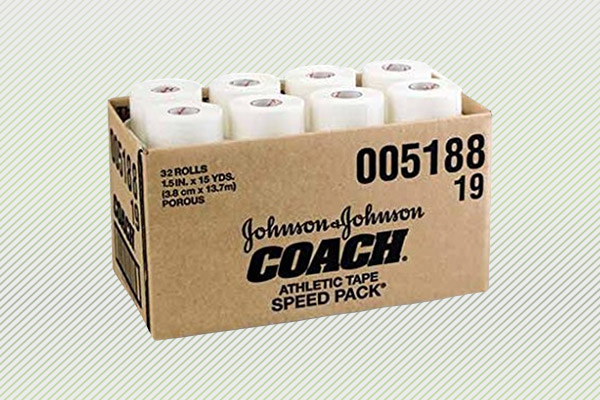 Johnson & Johnson Coach Athletic Tape
Pros:
Each roll of Johnson & Johnson athletic tape measures 1.5" by 15 yards.

For those looking to buy in bulk, this may be a great option, as each case comes with 32 rolls. 

Designed to provide sturdy support, making it good for wrapping ankles and joints. 
Cons:
Those low on storage space may not want to order this much tape at once.
Johnson & Johnson Coach Athletic Tape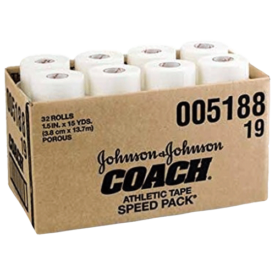 Johnson & Johnson Coach Athletic Tape
Johnson & Johnson offers a strong, straightforward athletic tape. With 100% cotton backcloth, this tape is designed to allow sweat to escape while maintaining its integrity and supportiveness.
Designed for Thumb Wrapping: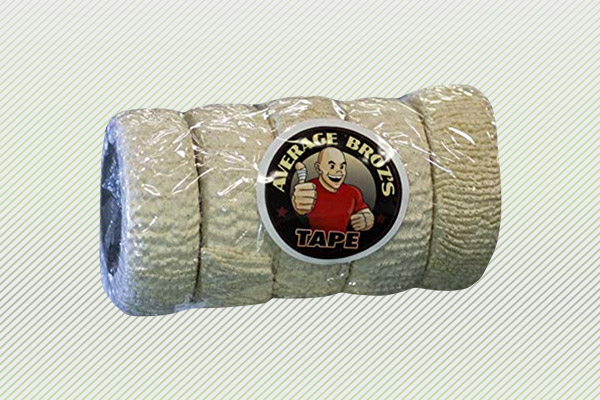 Average Broz's Tape
Pros:
Measuring 1" in width, this tape is designed for wrapping the thumb to improve the "hook grip" during weightlifting. 

This is an adhesive tape, designed to stick to your skin, and not just to itself.

Compared to competing weightlifting tape, this is available at a pretty good value on a cost per roll basis. 

Manufacturer asserts that it's easy to tear off from the roll while still being durable once it's in use. 
Cons:
Some reviewers mentioned that it leaves a bit of a sticky residue behind after removal.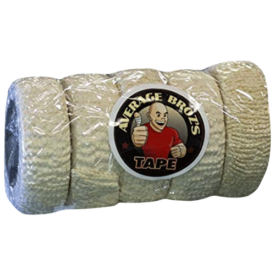 Average Broz's Tape is designed specifically for weightlifters to help improve grip and prevent torn calluses while working out. Cut to a 1" width, it's a bit narrower than most other tapes, making it ideal to wrap around thumbs. 
Best Weightlifting Tape: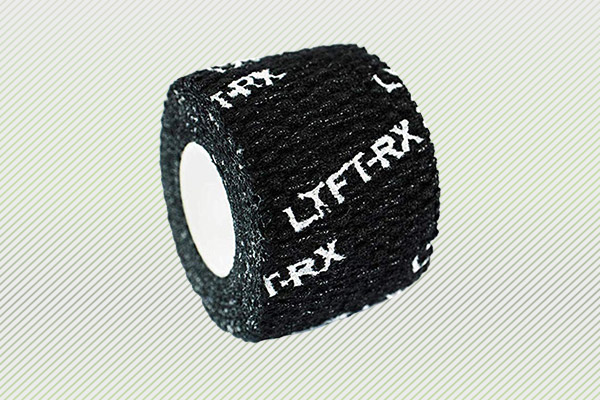 LYFT-RX Weightlifting Tape
Pros:
Each roll measures 1.5" by 5 yards, making it suitable to wrap your thumbs during workouts.

LYFT-RX uses a non-slip material with a unique weave that's intended to last through heavy lifts while absorbing sweat and chalk without losing its structure. 

Offers strength of stiff, adhesive tape while providing elasticity.
Cons:
On a cost per roll basis, this weightlifting tape is a bit pricier than some of the other options on the market.
LYFT-RX Weightlifting Tape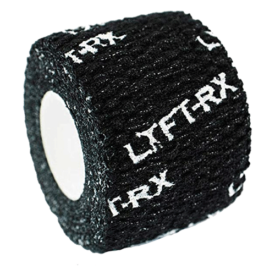 LYFT-RX Weightlifting Tape
For weightlifters looking to tape their hands during workouts, LYFT-RX has an adhesive tape designed to improve grip and prevent cuts. Designed to wrap around your thumb and help provide support for the hookgrip, each roll of LYFT-RX measures 1.5" by 5 yards.
Methodology
Athletic tape is an important tool for professional athletes and weekend warriors alike. Whether you regularly roll your ankle playing hoops or are looking to improve your rock climbing grip, you may benefit from the right type of athletic tape. Before selecting a particular type of tape, take into account a few key features.
Elasticity
Depending on what you're using tape for, you may or may not want a tape that offers a good amount of elasticity. Folks looking to secure the area around a compromised muscle would probably benefit from an elastic tape.
Adhesiveness
Not all tape has adhesive properties. While some tapes are designed to stick to themselves, others are meant to stick directly to your skin. Again, your choice here really depends on what you need.
Rigidity
Those looking to sure up a balky ankle or reinforce wrists may opt for a sturdier, glue-based tape. This is the type of tape that is typically very sticky, but does not offer a ton of give.
Style
If you believe in the healing powers of style, you may want to opt for a more vibrant style of athletic tape.
Cost
Depending on how much of the stuff you intend to use or how serious of an athlete you are, you may want to invest in a great deal of athletic tape at once. Divide the cost by the total amount of yardage you're getting to compare cost effectiveness.
BarBend Tips
If you suffer from chronic pain during physical activity, you should consult a medical professional.
If possible, try to work with an experienced physical therapist when trying out tape for the first time. Amateur tape jobs can either be so tight that they cut off circulation or so loose that they make no discernible difference.
Preventative care is almost always cheaper than injury care!
Athletic tape is an essential tool for a wide variety of folks who regularly exercise or suffer from chronic injuries. Consult a physical therapist and figure out which type of tape will best suit your needs.