Weighted vests are popular training tools for a variety of fitness enthusiasts. They can be great for conditioning, general strength training, and adding additional difficulty to many different workouts. You can transport them nearly anywhere, strap them on, and add more depth to your workouts, whether they're focused on the upper body, lower body, full-body, or even just an extension of bodyweight. The concept of a weighted vest may seem simple enough, but there are a variety of options on the market varying in function, design, and price.
You'll find plate-loaded, sandbag-loaded, backpack-style, and other unique designs to choose from. Without the proper consideration, you may end up selecting the wrong weight vest to suit your goals. For those who are fresh on the market for a weighted vest but don't know where to start, we've got you covered. We assessed some of the market's top options to figure out which weighted vests could best suit your needs — and we have some tips on choosing one to boot. Here are the vests that rose above the rest, and all the information you may need to make the right decision for you.
Best Weighted Vests
Editor's note: The content on BarBend is meant to be informative in nature, but it should not be taken as medical advice. The opinions and articles on this site are not intended to diagnose, prevent, and/or treat health problems. It's always a good idea to talk to your doctor before beginning a new fitness, nutritional, and/or supplement routine. Individual needs for vitamins and minerals will vary.
Best Weighted Vest
Our top pick is a high-quality weighted vest that's ready to wear, and adds a challenge to even your toughest workouts with its flexible and thin design.
Hyper Vest Pro
This vest is made from a breathable wicking fabric, and is only a half inch thick. Because it's so lightweight, you'll be able to know with precision how much weight you're loading up with at any given time. Plus, it comes in small to extra large sizes that can hold max weights ranging from 22 pounds to 48 pounds.
The vest is designed with pockets to hold the vest's steel weight bars. It comes loaded with ten pounds of weight, but if you want more, you can purchase additional weight for around $40 per five pounds. The vest is meant to be breathable and ergonomic, with side panels for ventilation whether you're lifting overhead or jogging. However, if you're looking for a weighted vest that's compatible with weight plates you already own, this vest may not be for you.
Who Should Buy Hyper Vest Pro
If you want a weighted vest that's breathable, this fabric is only 1/2-inch thick, and has side panels for ventilation.
Folks who want a vest with pockets that fit their weights snugly will like this design.
Athletes who want a variety of sizes to choose from that cater to different body weights.
Who Shouldn't Buy Hyper Vest Pro
Athletes looking for a back-loaded vest might want to look elsewhere.
Anyone who doesn't want to have to purchase specific weights to use their vest should look for a vest that accommodates weight plates you may already own.
When you're shopping for weighted vests and looking for something that's both breathable and durable, look no further than the Hyper Vest Pro.
[Related: The Lifter's Guide To Magnesium: What This Nutrient Does For Strength]
Best Back-Loaded Weighted Vest
One advantage of many weighted vests is the even distribution of weight across your torso. But sometimes, you want a back-loaded vest to make your training even more specific — and make it easier to breathe. Enter the GORUCK Ruck Plate Carrier.
GORUCK Ruck Plate Carrier
This weighted vest is designed to be worn high and tight on the torso and can support a 20 or 30 pound Ruck Plate® — which are sold separately. Due to the back-loading design, it puts less pressure on the chest when fully loaded and, therefore, may allow for easier breathing. The backpack design may also provide more accessibility for athletes with a broader variety of body types.
This vest, available in two color options — black or coyote brown — is made from 1000D Cordura with an EVA foam padding for added lower-back support. With no added mesh, zippers, or straps, it is potentially easier to spray clean (with a hose) and hang dry.
Who Should Buy GORUCK Ruck Plate Carrier
Athletes who prefer not to load weight on the fronts of their bodies will love that this vest is back-loaded.
If you're looking for a weighted vest that can accommodate a broader variety of body types, you'll love the backpack-style design of this product.
Athletes looking to up their style game will appreciate that this vest comes in both black and coyote brown.
Who Shouldn't Buy GORUCK Ruck Plate Carrier
Folks who want a weighted vest made in the USA might want to look elsewhere.
People who don't want to spend the additional money on separately sold weight plates may opt for a vest that doesn't need specific plates to be effective.
It can be tough to find weighted vests that fit your body well, and are designed for both toughness and comfort. The GORUCK Ruck Plate Carrier accomplishes both.
[Related: The Real Pros And Cons Of The Bodybuilding Lifestyle]
Best Fitting Weighted Vest
When all you want in the world is a snug-fitting weighted vest to accompany you on everything from your runs to bodyweight WODs, the Hyper Vest Pro might just be the droid you're looking for.
Hyper Vest Pro
The Hyper Vest Pro isn't a backpack. It fits snugly around your entire upper torso, meaning that you'll be able to move more freely without restricting your range of motion. Because it's made of a breathable, wicking fabric, you won't have to worry about getting weighed down by sweat. After you choose the size right for your body (this vest comes in sizes small to extra large), the Hyper Vest Pro should be able to stay snugly on your body no matter which direction your movement is taking you.
You can add up to 48 pounds of weight to your workout (with the XL) without worrying about unevenly distributed weight bouncing — and chafing — on your back or torso, as the pockets should hold the steel weights in place. And if you do wind up wanting a looser or tighter fit, you can adjust the fit of the panels along the sides to give you more of what you need. Just note, you will have to purchase separate weights to use this vest — it's not compatible with your average weight plate.
Who Should Buy Hyper Vest Pro
Those who want a weighted vest with a snug fit all the way around your upper torso will like that this one wraps around you.
Folks who want a vest that is flexible on the horizontal plane will appreciate the paneling here. People who want multiple sizes to choose from — these vests range from small to extra large, and can accommodate 22 pounds on the small up to 48 pounds on the extra large.
Who Shouldn't Buy Hyper Vest Pro
If you want a weighted vest that you can use outdoors at night, you might want to opt for a product with reflective materials.
Athletes wanting to have a vest that can accommodate plates they already own may want to opt for a vest that doesn't require special weights to fit in the pockets.
For folks who want their weighted vests to have the snug, all-around-the-torso feel, the Hyper Vest Pro accommodates all kinds of movement while keeping the weights in place to avoid chafing your body.
[Related: 3 Ways To Find Your 1-Rep Max (Beginner, Intermediate, and Advanced)]
Most Adjustable Weighted Vest
Loading up 20 or more pounds at a time just isn't for everyone. If you're the type of athlete that wants more precision in their weighted vest training, the adjustable Box Weighted Vest has literally got your back.
BOX Weighted Vest
This USA-made vest features panels on both the front and back to support added weight. These weights are available in 2.5-pound increments from 2.8 pounds (unloaded) to a max capacity of 45 pounds. The body and shoulders are fully padded, making it possible to have an extremely intense training session without extra stress on your skin from the vest.
Weighted with boxes rather than plates, this vest may appeal more to athletes who appreciate a less bulky design — the shoulder straps are also reasonably narrow (each strap is 3.25 inches wide). The kipping-proof box-belt system can be quickly adjusted mid-workout, and the material is moisture resistant.
Who Should Buy BOX Weighted Vest
Folks who want a vest that won't wear down from kipping pull-ups will appreciate the tactical-style design of this vest.
Those who value adjusting the vest weight will enjoy the small 2.5-pound increments (up to 45 pounds).
Anyone who needs to preserve shoulder mobility for overhead movements will like the narrow straps available here.
Who Shouldn't Buy BOX Weighted Vest
Athletes who want a vest with a fixed weight might prefer a vest with fewer loading options.
People who don't want to carry as much equipment may not like that each weight increment is an additional box.
The BOX Weighted Vest can hold weight going up to 45 pounds — but that doesn't mean you're stuck with only heavy versions of this vest. With 2.5 pound increments available, you can work out both heavily and precisely with this vest.
[Related: Nutrition For Bulking: 10 Tips For Intelligent Muscle Gain]
Best Weighted Vest for Running
Weighted vests can be excellent running companions when you're ready to boost your work capacity and up the ante of your training. Enter the Aduro Sport Weighted Vest, which allows you to choose your weight level from four all the way up to 30 pounds.
Aduro Sport Weighted Vest
This back-loaded weighted vest is a great option for athletes focused on cardio-based workouts such as running. There is no weight placed on the front of the body, which allows for easier chest expansion (a valuable feature when breathing heavy). Instead, the weight that you choose — there are seven available options, ranging between four and 30 pounds — will be secured to your back like a backpack.
The adjustable straps allow you to secure the vest comfortably to prevent it from sliding or moving when jogging. It is made from soft neoprene material and has a mesh pocket to hold personal effects so you don't have to worry about loading up your hands while out on your run.
Who Should Buy Aduro Sport Weighted Vest
Athletes who want to add weight to their runs will love the versatility of this product.
The back-loaded nature of this vest will please athletes who want a vest that will make breathing as easy as possible (by not putting extra weight on their chest).
People who value a vest that doesn't slide during up-and-down movements (jumping rope, jogging, running, box jumps, etc.) will like this product's snug, adjustable straps.
Who Shouldn't Buy Aduro Sport Weighted Vest
Folks who want a vest that can load weight evenly on the front and the back might want to look elsewhere, as this vest is back-loaded.
If you're looking for a vest that can support barbell work, you might want to choose an option with more shoulder padding.
Athletes who want to manually load and adjust weights in their vest might not love that this product comes pre-loaded.
The Aduro Sport Weighted Vest comes already loaded and ready to go. When you're ready for your next weighted run, just slip it on like a backpack, adjust it so it's snug, and get going.
[Related: Hypertrophy Training Sets And Reps]
Best Short Weighted Vest
When you need a vest that's not going to overheat you by covering your entire torso, you might start looking for a shorter option. The Rogue Plate Carrier is designed to avoid fully covering your torso, which can leave you breathing easier.
Rogue Plate Carrier
This vest — which comes in sizes small, medium, and large — attaches around the front of your torso, but it won't drag all the way down your stomach. This gives you more room to take solid belly breaths during your workout — which could be restricted with vests that come all the way down.
Made of a synthetic fiber-based fabric with breathability in mind, the Rogue Plate Carrier is short enough to avoid restricting your breath, but it's also snug enough to be secure through all kinds of workouts thanks to its durable pockets that can hold up to 20 pounds of weight. However, the pockets are optimized to fit Rogue's vest plates, so you may not be able to use just any old weight plate you have lying around. But with this vest, even though you will be able to add a lot of intensity to your workout, you won't have to compromise the quality of your breathing — or risk overheating — to do it.
Who Should Buy Rogue Plate Carrier
Those seeking a vest with a focus on keeping the body cool during training will appreciate that this vest doesn't come all the way down your torso and is open on the sides.
Folks who want a vest that sits high on the torso will like that this vest attaches in the front but doesn't go down your stomach.
People who want a vest that secures their weight plates snugly in a pocket will like the design of this vest.
Who Shouldn't Buy Rogue Plate Carrier
Anyone who wants a vest that can load weight evenly throughout the entire torso might want to look elsewhere.
If you're looking for a vest that accommodates a wide range of body types, you might want to opt for a back-loaded option.
For those who want a vest that can accommodate any weight plate they already have, this vest may not be for you.
The Rogue Plate Carrier doesn't go all the way down your torso. This leaves you freer to breathe from your belly and stay a bit cooler during your weighted workout.
[Related: Could Baking Soda Be The Best Workout Supplement You've Never Tried?]
How We Chose Our Picks
No matter your reason for wanting a weighted vest — to scale up your cardio or to progress your bodyweight strength exercises — it's important to find the right one for you. We decided that the following are the most important factors when we were choosing our favorite vests.
Activity Needs
If you've ever trained with a weighted vest, then you know how frustrating it can be using a vest that isn't designed to take on the activity at hand. The uncomfortable chafing, sliding around, and moving up and down is pretty undesirable. That's why activity needs are our first assessment.
Every weighted vest in our line-up was selected based on what activities they benefit certain athletes best in. For example, lighter vests with less material are excellent for more cardio-based activities. In comparison, heavier vests with loading capacity may be better for strength and conditioning workouts. We've included multiple varieties of vests on this list to match the variety of needs out there.
Material and Design
Once we decided the activities each vest performs best in, we examined their material and design — specifically, their overall material structure, stitching, straps, and pockets. Vests made out of materials more accommodating on the skin (i.e., won't stick or pull when sweating) and double-stitched for durability purposes ranked higher.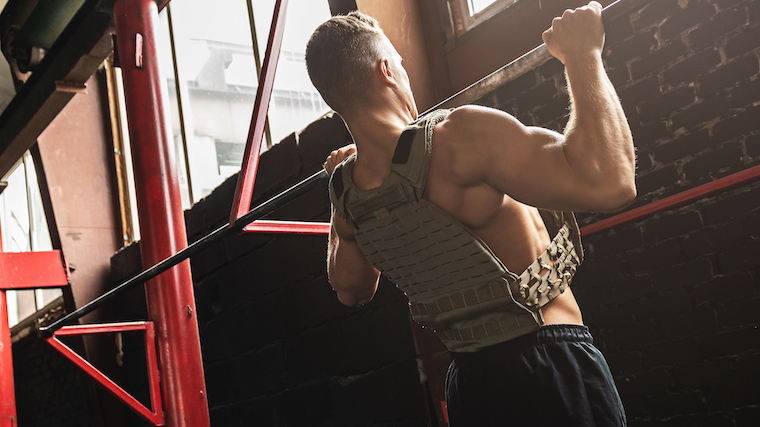 Construction aspects like straps and pockets were worth considering when it came to how a vest fits and what additional levels of functionality it provides. For example, if a vest has additional pockets, it is likely to be more useful for outdoor training as it may store water bottles, keys, and other effects more easily. Straps can be useful to pay attention to when it comes to security and ensuring the vest stays in place when changing directions quickly or working on multiple planes. We noted these aspects throughout our list to help you decide which material/design would best suit your needs.
[Related: The 3 Most Common Types Of Training Periodization (And When To Use Them)]
Loading
What's the difference between a weighted vest and a regular old backpack, you say? Well, for one thing, weighted vests are designed to meld to your body, so they don't jump up and down while you're moving intensely. For another, weighted vests give different loading options. With a backpack, the load will always be in the back — but with a weighted vest, there are also options to distribute the load evenly, or even front-load the vest. These can give you different points of emphasis during your workout, depending on your training needs.
Doing a lot of full-body movements with barbells? You might want an evenly-loaded vest to avoid causing imbalances while working with more external weight. On the other hand, if you want to give your core some extra challenge, you might prefer a vest that allows you to front-load the weight. You may also prefer a back-loaded vest to make sure your breathing isn't restricted and that you can accommodate your body as comfortably as possible. We've included different loading styles on this list to help fit different body types and customer needs.
Benefits of Weighted Vests
Not convinced that weighted vests can elevate your training? Read on for some of the most compelling benefits of training with a weighted vest.
Boost Cardiovascular Fitness
Even if you're primarily performing strength-based activities, wearing extra weight while you do so can help provide significant cardio benefits. You'll have to breathe harder and work harder overall, even — and sometimes especially — if you're moving slower than you do without wearing a vest.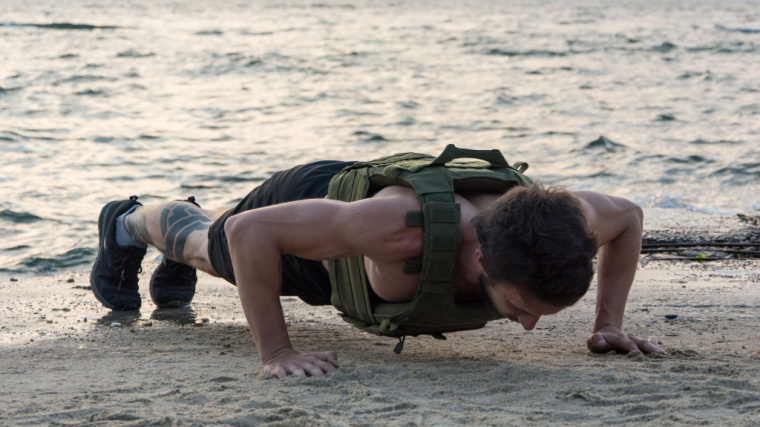 When it comes to wearing a weighted vest while running, a 2019 study found that when people running sprints wore a weighted vest, their times were slower and their power output decreased. However, upon going back to training without their vests, participants got faster results — indicating that if you want to get faster, weighted vests might be able to help. (1)
Get Stronger
Even if you're not wearing your weighted vest in the weight room itself, training with one can help you get stronger — yes, even on your barbell lifts. A 2017 study compared participants' one-rep max for their power clean. Some participants trained their power clean with a weighted vest for five weeks, while the other group followed the same protocol but did not wear a weighted vest. The group that trained while wearing a weighted vest improved their 1-RM significantly more than those who did not. (2) This suggests that even if you're doing barbell lifts, you might be able to up your 1-RM by completing a training block wearing a weighted vest.
Change Body Composition
While not everyone is aiming to change their body composition by lowering body fat, it might be a goal some athletes share. Research suggests that using weighted vests might be able to help athletes burn more calories in a given workout. A 2006 study found that four minute bouts of walking while wearing weighted vests ranging up to 20 percent of participants' body mass can increase energy expenditure. (3) In other words, it may cost your body more energy to walk with a weighted vest than without one, which can potentially help fuel changes in body composition.
What To Consider Before Buying
If you're a careful consumer, you want to know all the variables before you buy something. Here are a few more key features to pay attention to before adding a weight vest to your cart.
Pay Attention to Sizing
When it comes to finding the perfect weighted vest, you should prioritize sizing. A great vest is only great if it fits, so pay close attention to how a vest is sized. Measure your chest, torso, and shoulder dimensions beforehand and aim for a vest that sits snug on your torso without limiting mobility — particularly when it comes to limiting the shoulders from properly performing overhead movements.
Choose the Proper Weight
A beginner's mistake is buying a vest too heavy for your needs. If you invest in a vest with a set weight, be mindful of your abilities and the activities you plan to use the vest with. If you think you may want to change up the vest weight, some options allow you to increase or decrease the weight by adding and removing weight plates. Those are often more expensive but are a good bet if you expect to use them long term to level up your training.
[Related: The 3 Most Effective Workouts Splits For Strength Training]
Loading
When you're getting ready to buy a weighted vest, make sure you're also paying attention to the way it distributes the load. If you don't like tight material around your stomach, you probably want to go for a short vest or one that is completely back-loaded to provide the most accommodating fit. On the other hand, if you're looking to give your core an extra challenge, you might want the option of front-loading the weight. If you're looking for a vest to help you run the gamut of bodyweight and barbell exercises, even-loading might be best for you to help keep your balance when it counts.
Final Word
Weighted vests are great training tools for a wide variety of workout needs. These wearable weights can kick your training up a notch on the running trail, in the weight room, or in your living room. If you're looking to increase strength, boost your cardiovascular fitness, or change your body composition, weighted vests are designed to help you do just that — without actually changing the mechanics of your workout.
Before selecting a weighted vest of your own, think about what your goals are, what kinds of activities you want to perform with your vest, and what kind of fit you're looking for. Remember that you don't need the heaviest vest on the market to make a big difference in your training. But if you do intend to work up to intense loading capacities, keep that in mind when making your purchase. Whether you're looking to load your vest little by little, or slap a heavy plate in there and get going, know that your workout is about to get hefty.
FAQs
References
Macadam P, Cronin JB, Feser EH. Acute and longitudinal effects of weighted vest training on sprint-running performance: a systematic review. Sports Biomech. 2019 May 9:1-16. doi: 10.1080/14763141.2019.1607542. Epub ahead of print. PMID: 31070108.
Marriner CR, Cronin JB, Macadam P, Storey A. Redistributing load using wearable resistance during power clean training improves athletic performance. Eur J Sport Sci. 2017 Oct;17(9):1101-1109. doi: 10.1080/17461391.2017.1360396. Epub 2017 Aug 9. PMID: 28792857.
Puthoff ML, Darter BJ, Nielsen DH, Yack HJ. The effect of weighted vest walking on metabolic responses and ground reaction forces. Med Sci Sports Exerc. 2006 Apr;38(4):746-52. doi: 10.1249/01.mss.0000210198.79705.19. PMID: 16679992.