We receive free products and receive commissions through our links. See
disclosures page
.
The TRX® Home2 is a strap system that can be used to exercise most muscles throughout your body. These exercises include mountain climbers, chest flyes, explosive squat jumps, and a wide range of other cardio and strength moves. And as the level of resistance and difficulty are determined by the user, these workout straps can cater to both beginners and elite athletes alike.
This product takes up little space, is easy to transport, and quick to set up. You can affix the Home2 System straps to a door, to a tree limb, to an anchor point fixed in a wall or on a low ceiling, or really to any solid structure you can find. The TRX Home2 System's versatility and ease of use makes it a great option for those on a budget or anyone trying to build a home gym out of a small space.
Main Takeaways
The TRX Home2 System can be used by people of any fitness level as the user controls the difficulty of each exercise.
The straps can be set up just about anywhere, indoors or outdoors, and in less than a minute.
TRX straps can be used for strength building exercises, cardio workouts, and for stretching and flexibility training.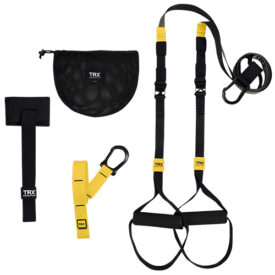 The TRX Home2 System provides a set of straps that you can incorporate into both strength and cardio training. The TRX system is based around seven classic exercises — the pull-up, push-up, lunge, plank, squat, rotation, and hinge — all of which can be modified to create varied workouts. 
TRX Strap System Highlights
TRX straps may be most well-known for their suitability for home use and travel, but there's a reason you find them in so many professional gyms: They are a versatile tool for building muscle and increasing endurance. You can use these straps with dozens of exercises built around seven workout staple movements — the pull-up (which is more like an inverted body row on the TRX, since you can't technically perform a traditional pull-up with this system), push-up, lunge, plank, squat, rotation, and hinge. Building off of these exercises, users can target every major muscle group and many minor muscles, as well. However, as with any fitness tool, the TRX Home2 System may not be for all — especially those who favor treadmill — or other cardio equipment-based workouts, and don't tend to do a lot of additional resistance training.
Who Should Buy the TRX Strap System
Anyone interested in setting up a home gym that will not take up a lot of space in their house when not being actively used.
Fitness enthusiasts who want to stay in shape when traveling without having to worry about finding a gym.
Households where people of different fitness levels want to be able to customize a workout to suit their individual needs.
Who Shouldn't Buy the TRX Strap System
Athletes who prefer free weights — like barbells, dumbbells, and kettlebells — may not want to invest in this product.
People who favor treadmills, exercise bikes, or other pieces of cardio equipment for all of their training, and don't incorporate a lot of resistance training into their regimen may not make the most use of this product.
Price
The TRX Home2 System sells for $179.95, which may seem expensive at first for what is effectively a pair of handles, some thick straps, and some anchoring hardware. But those straps allow for versatility of configuration, and the handles and foot loops enable users to do many different workouts — all this utility makes the product worth its price tag.
Overall Build and Quality
TRX straps are both sturdy and durable, which is why many nationwide fitness studios use these straps in their facilities. At these gyms, TRX straps support people of all different weights and strengths in class after class, day after day, year after year. If you think in this respect, then these straps should be more than capable of supporting your individual (or family) home use.
Features
The simplicity of these straps is probably one of their greatest features. The system comes with a pair of foam padded handles affixed to two long web-style straps that are then secured into a single band. That band can be affixed to a wall anchor, a door frame (using included hardware), an exposed beam, a tree limb, and so on, and while gripping the handles or using the foot loops, users can execute myriad exercises, ranging from mountain climbers and squat jumps to flyes and push-ups.
Functionality
The TRX Home2 System is compact and simple to use. You can adjust the straps to each user by lengthening or shortening the strap length, while increasing or decreasing the difficulty level of an exercise simply involves changing body positioning. For example, if you're doing a pull-up (or inverted body row), to make it more difficult, you can adjust your body to be lower to the ground, and if you want to make it easier, do the opposite — just take a few steps back to bring your body closer to a vertical position.
Adjustability
Within reason, TRX straps can be adjusted to fit a user of any size and height, from those standing well above six feet tall to those notably under five feet. The strap length can be shortened or lengthened incrementally to accommodate users, while further adjustment is made simply by stance width and position, and by where you keep your hands while grasping the handles.
Handle Grip and Comfort
The foam padded handles of the TRX system are comfortable to grip even when you are creating an immense amount of pressure, offering enough padding for reducing strain on the palms and fingers, but not so much padding that it becomes hard to get a firm grip. Plus, the foam handles remain easy to grasp even as you begin to sweat.
Strap Design
The straps of the TRX system can be length-adjusted using two different mechanisms, so you can set the system to the exact sizing you want for your body and any given exercise. Simply push down on the buckle, and pull the pull-tab to adjust the length of each strap to be shorter. To lengthen the straps, you can push down on both buckles and pull the straps out simultaneously.
Accessories
The TRX suspension system is bare bones by design: Your own bodyweight and positioning provides the resistance (well, that and gravity), so there are no included accessories to speak of beyond the door anchor and storage bag. That said, TRX offers a number of other pieces of hardware that can be added to your kit to offer you even more workout options, such as the TRX Bandit grips that slip over exercise bands, and can make tension-based workouts more comfortable and productive.
Included Workouts
As noted, the TRX system is based around seven classic exercises — the pull-up, push-up, lunge, plank, squat, rotation, and hinge. Within those workouts, a user can modify the specifics in various ways, executing push-up exercises that target the triceps, back muscles, pecs, and more, doing pull-up moves that hit the biceps and shoulders, and altering grip for stretching and flexibility practice. The system comes with a poster that displays a host of specific workouts, and more can be found via the TRX app and online.
Product Specs
The rugged nylon straps, and tough plastic and foam-padded handles are built to support users weighing up to 350 pounds, while the carabiner included for use in anchoring the straps is rated for 700 pounds. The TRX Home2 System also takes up very little space, making it a great addition to home gyms of all sizes.
Size and Dimensions
Packed down, the entire TRX Home2 System can be tucked into a bag that's smaller than a standard loaf of bread — and with a few slices removed at that. The entire system weighs less than two pounds, while the straps measure just under 55 inches at full deployment.
Portability
One of the most favorable traits of the TRX Home2 System kit is its portability. It can be packed down small enough to fit in any carry-on bag, thrown in a backpack, and stowed in a drawer. It comes with a small bag that you can use to store the system, or you can ditch the bag altogether and throw the straps directly in your suitcase to save space while traveling.
Strap Material
The straps of the TRX suspension trainer system are made from a durable nylon material dramatically reinforced by heavy stitching.
Handle Material
The handles of the TRX system are made of a solid but lightweight plastic wrapped in a layer of foam that is just thick enough to cushion a user's hands (even during strenuous exercise with lots of weight and pressure applied), but thin enough to allow a firm grasp on the solid core of the handle.
Anchor Build
The TRX system comes with a carabiner that is rated to support up to 700 pounds, so it can be used with any fixed hook or anchor on a wall or ceiling. The included door anchor can be used in almost any doorway except for the frame of external doors or fire doors where the fit of the door and frame is extremely snug.
Warranties
The TRX warranty, which extends to products bought directly from the company or by authorized sellers, is quite generous in offering replacements or refunds based on defects for up to one year, but if you damage the hardware yourself through improper use, you will have to replace it yourself.
Places to Buy
You can buy the TRX Home2 System through TRX, Rogue Fitness, or Amazon Marketplace.
Company Information
TRX systems are used in private homes, in gyms, and by all branches of the United States military. It was launched in 2005 by Randy Hetrick, a former Navy SEAL.
Final Word
Though the TRX system is not for all athletes, it can be a great complement to a workout regimen. It promotes a lot of stabilizing muscle engagement, which allows you to target multiple muscle groups at once. However, it's important to consult with a trainer before use if you have joint, strength, or mobility issues, as this product does require this solid engagement to avoid injury and provide an effective workout.
Overall, this is a compact, versatile, and effective workout platform that can be used pretty much anywhere to exercise multiple muscle groups. It's great for both strength and cardio training, and since it takes up so little space, it's hard to argue it being a solid addition to almost any home gym or travel fitness routine.
FAQs
Is the TRX strap system worth it?
A TRX kit is worth the investment as long as you will actually use it. This product is a great complement to an existing home gym setup, or it can provide an effective means of bodyweight resistance training for folks tight on space, limited on a budget, or constantly on the go.
Do the TRX door anchors actually work?
Most doors can handle the force exerted by using a TRX system, but do take care when exercising if your doors or frames are older or seem potentially weak. Use care when starting out and if you worry you may damage the door or frame, find another way to anchor the system.
How do you use the TRX system?
The TRX straps can be used for almost any standard workout maneuver by modifying the way in which you execute moves. Pull-ups are done at an incline instead of vertical, for example, while push-ups are done at any degree off the ground at which the user is comfortable. You need only adjust your body positioning and strap length to be able to use the straps properly.