The beauty of a kettlebell is its simplicity. Who would have thought that a ball of cast-iron with a single handle could provide so much benefit? You can swing and snatch a kettlebell for more power, raise and rotate a lighter bell for shoulder health, and use them instead of dumbbells for a new training stimulus. That's why over the past decade, kettlebells have become increasingly popular with weekend warriors to athletes and everyone in between.
This surge in popularity means that more manufacturers are producing kettlebells. So, more thought is required when choosing the right kettlebell for you. Don't worry. We've spent hundreds of hours testing multiple kettlebells in a variety of scenarios — and we found the best kettlebells for every type of kettlebell workout and athlete.
The Best Kettlebells
Best Kettlebells Video Review
For more info on how we tested the kettlebells on this list, watch the video below, featuring BarBend's former training editor Jake Boly.
Best Overall Kettlebell
The best overall kettlebell should be durable, have outstanding grip, and be built to last a lifetime.
Onnit Kettlebells
Well, we found it. The Onnit Kettlebell's chip resistant powder coating takes chalk very well and supports grip without it — meaning you can train your hardest with confidence that if your grip fails, it won't be the bell's fault. We're also fans of Onnit's gravity casting process — forged with a secure handle-to-bell connection — which gives Onnit kettlebells an extremely durable feeling. These kettlebells come in weights ranging from 6kg (13lbs) all the way up to 32kg (70lbs) and are color coded for easy picking when you're moving quickly from set to set.
The bell's casting means that even though kettlebells are designed to be off-balance (like any kettlebell, after all!), your bell won't be offset or inconsistent. Each bell features a flat base for easy storage and use between sets. At this point, we've seen Onnit Kettlebells undergo years of consistent use in the gym, and they've definitely stood the test of time, even when it comes to grip and feel in your hands.
Who Should Buy the Rogue Fitness Powder Coat Kettlebell
Athletes that want a kettlebell that lasts. This kettlebell is built to last, and we've seen them go for years in group gym settings.
Lifters who need a kettlebell that will perform well in every setting with a handle that works with and without chalk.
Users that want to work out at home and need a kettlebell with a nice flat bottom finish.
Who Shouldn't Buy the Rogue Fitness Powder Coat Kettlebell
Someone on a budget. This kettlebell is priced slightly higher than some others, but it delivers on quality.
Beginners who are just getting into kettlebell training and might use a kettlebell once in a blue moon.
Folks who want to buy multiple sets of kettlebells. The cost can add up quickly.
Onnit is a name you'll see time and time again when it comes to functional fitness, so it makes sense that their kettlebells are top-tier. We like the classic design with extra focus on performance, durability, and versatility. The benefits are high, and the cons are quite low when it comes to Onnit Kettlebells, which is why we've listed them as our best kettlebell overall.
Best Kettlebell for the Money
The best value kettlebell is one that delivers top quality for a price most can afford.
Rogue Kettlebell E Coat
Are there cheaper kettlebells available somewhere in the world? Sure. But Rogue's E Coat kettlebell made our list because it's the best value for what you get. And what you get is an American-made kettlebell, forged from a single piece of ductile iron and then finished with an electrically-applied E Coat. This special coating is extra resistant to corrosion, rust, and chips — so, considering that you probably won't ever have to replace it, your money will go even further.
If aesthetics matter to you (and let's be real, they probably do), this bell is also pretty. It's got the Rogue logo on one side of the bell's body and two weight indicators — in both pounds and kilos for your mathematical convenience — on the other side, making this bell super functional and super delightful to display in its off-hours.
Who Should Buy the Rogue Kettlebell E Coat
Those who are looking to buy kettlebells on a budget. These aren't the cheapest out there, but they're still below market price.
Folks who want a kettlebell that will last a long, long time. Rogue's E Coat kettlebell is made with a special, ultra-durable coating.
Who Shouldn't Buy the Rogue Kettlebell E Coat
People who want a more specialized kettlebell, such as a competition or powder coat kettlebell.
While the E Coat kettlebell isn't perfect for everyone, it's tough to beat the combination of value and quality Rogue is selling here.
Best Powder Coated Kettlebell
When you know your training session is going to make you sweat, you need a kettlebell that won't slip and slide everywhere. When that's the case, powder coating is the way to go — and Kettlebell Kings has you covered.
Kettlebell Kings Powder Coat Kettlebell
Let's be honest, if you're doing a kettlebell workout, you really shouldn't be planning to stay dry, and the Kettlebell Kings Powder Coat Kettlebell is a great way to ensure that your kettlebell won't slip when things get sweaty. Its powder coat holds chalk better than competitor bells that have rubber or E coats, so you won't have to stress about safety while you're trying to focus on form. And because these bells are made with single-cast construction, you also won't have the lingering fear in the back of your mind that the handle might separate from the body if you work it too hard.
Powder coated kettlebells are durable and can take a beating, which is exactly what you want when you're planning to train hard. Kettlebell Kings has also updated their production process for even more durability by making sure the original cast iron is chemically and safely cleaned before adding the powder coat. This helps paint layers adhere more securely to the metal to make sure your bell's powder coat will last as long as you're swinging.
These bells have also integrated a lot of style and function into their look. The Kettlebell Kings Powder Coat Kettlebell comes with colored bands on the sides of the horns so you don't have to fumble with the bell to figure out how much it weighs. Plus, because Kettlebell Kings paints these color coded labels after the black paint layer, you won't have to contend with sharp ridges on the curves of your handle.
Who Should Buy the Kettlebell Kings Powder Coat Kettlebell
If you tend to sweat a lot or use a bunch of chalk in your workouts — or both — you'll appreciate the sturdy powder coating of these bells.
People looking for an easy-to-use bell will like the color-coded handles that indicate a bell's weight without you having to roll it over.
Athletes interested in supporting black-owned businesses will love that Kettlebell Kings is a black-owned fitness company.
Who Shouldn't Buy the Kettlebell Kings Powder Coat Kettlebell
These bells are on the pricey side, so you might want to look elsewhere if cost is concerned.
If you'd rather have a competition-sized bell or a bell with a different type of coating, you may want to seek out a different option.
Kettlebell Kings Powder Coat Kettlebells can take a beating when you sweat, or chalk your way through tough workouts. They're designed to hold chalk well and support your grip while also letting you choose weights at a glance with their color-coded handles.
Best Kettlebell for Your Home
Kettlebells are absurdly versatile in terms of workout style — plus, as a bonus, they look pretty cool. So, they're a no-brainer for your home gym. Plus, you don't need a lot of space to store a bell or even take it out and do kettlebell swings or snatch a kettlebell. And for this pick, we prioritized a model that works well even without chalk.
Onnit Kettlebell
When choosing a kettlebell for your home, there are a few important factors to keep in mind: finish, shape, durability, and versatility. And we also think it's important to consider a bell that doesn't need chalk for a secure grip, since not everyone wants to break out a big bag of finely ground powder in their living room. Onnit's kettlebell — a hallmark of the brand for close to a decade — scores high marks in all these categories. It's made from gravity-cast iron and has a durable finish that works well with and without chalk. Its flat-bottom construction makes it easy to store. It has standard, desirable dimensions for a variety of movements, and it comes in weight increments from 8kg through to 32kg.
Who Should Buy the Onnit Kettlebell
Any lifter who wants a versatile kettlebell for a variety of movements.
Lifters who want a bell that works well with and without chalk.
Lifters who store their kettlebells on the floor and not a weight rack.
Anyone who wants a bell that's not more expensive than similar models on the market.
Who Shouldn't Buy the Onnit Kettlebell
Those who prefer a different coating.
Folks looking for a bell that is not cast iron.
Kettlebell athletes who want a competition bell to replicate their sport.
Onnit took the classic cast iron kettlebell refined it with a finish we love. It's a great addition to any home gym — or in some cases, a home gym in and of itself.
Best Rubber Coated Kettlebell
When wear and tear is a concern, coated kettlebells can be useful. They reduce potential dings, scratches, and marks on floors and other surfaces, and they can be more comfortable during movements like goblet squats or when there's significant skin contact with the bell.
Rogue Rubber Coated Kettlebell
Rogue's Rubber Coated Kettlebell takes their standard model and adds a black urethane coating. It's not a "soft" coating in that it won't compress easily when gripped or held, but it's a much more forgiving surface than standard iron or steel – especially when setting the bell down on floors. The bells still sit flat and perform great, and the size difference compared to a standard kettlebell is minimal. It's the feel we love without a bunch of unnecessary features apart from a durable-yet-protective coating.
It's worth noting Rogue's Rubber Coated Kettlebell comes in fewer weight increments than their standard bells, which is something to be aware of for potential buyers.
Who Should Buy the Rogue Rubber Coated Kettlebell
People who want a kettlebell that's less likely to leave scratches, dings, and other marks on surfaces, especially floors.
Folks who want a durable kettlebell. The urethane coating around these bells helps ward off rust and general wear on the body of the bell.
Who Shouldn't Buy the Rogue Rubber Coated Kettlebell
People who want a kettlebell where the body takes chalk well.
Buyers who want kettlebells in a large variety of weight increments.
Rogue's Rubber Coated Kettlebells took one of the best models the market and added a coating that makes this bell more suitable for some environments. If you're looking for a high-performance, coated bell, that's going to be tough to beat.
Best High-End Kettlebell
Looking for a bell that's got a luxe feel and is also a sturdy piece of equipment that can throw down with the toughest of workouts? Enter the Kettlebell Kings Powder Coat Kettlebell.
Kettlebell Kings Powder Coat Kettlebell
If you like your kettlebell training to feel luxurious and hard-core, look no further than the Kettlebell Kings Powder Coat Kettlebell. These bells are designed for both form and function. Their color-coded handles and powder coat give the bells an attractive, high-end look while also providing key functional elements that will come in handy during training. The color-coded handles indicate your bell's weight before you pick it up, so you won't have to fumble to see the body during a session. And the powder coat is grippy enough to support both chalked and bare-handed training.
You'll get that high-end feel from these kettlebells because their handles aren't painted, taped, and re-painted throughout the construction process — which can lead to sharp, pointy edges along the sides of the bell's horns. Instead, the colors are painted on after the rest of the bell is complete, leaving your handles smooth enough to support you through tough workouts without poking at your skin.
Kettlebell Kings also keeps innovating their construction process to improve the adherence of the powder coat to the original cast iron metal of the bell. By thoroughly cleaning the original metal, the powder coat sticks much cleaner to the bell, meaning the coat's integrity will last longer and survive even more workouts. Plus, the bells range in weight between four and 92kg, meaning you've got a load of training options.
Who Should Buy the Kettlebell Kings Powder Coat Kettlebell
Athletes looking for a high-end kettlebell will appreciate the single-cast construction and dedication to improving the durability of these powder coated and color-coded bells.
People who want to be able to choose from a wide variety of weight options will love that these come in weights from four all the way up to 92 kilos.
If you want to support Black-owned fitness companies, you'll be happy to know that Kettlebell Kings is a Black-owned and founded business.
Who Shouldn't Buy the Kettlebell Kings Powder Coat Kettlebell
If your budget is a big concern, you might want to turn to cheaper options.
Athletes looking for rubber or E coat bells may want to look at those options instead of powder coating.
When you want to feel luxurious even during your toughest workouts, the Kettlebell Kings Powder Coat Kettlebell is a great high-end option for you. With thoughtful construction and design — not to mention a wide range of weights (from four to 92 kilos) — these kettlebells have a lot to offer.
Best Kettlebell for CrossFit
Great kettlebells for functional fitness and CrossFit®-style workouts need one key trait — and that's versatility. These kettlebells are some of the most versatile on the market.
Again Faster Team Kettlebell
CrossFit workouts take multiple forms, and for that reason, a kettlebell that matches multiple needs deserves the title of best pick for CrossFit. Again Faster's Team Kettlebells have a textured, matte black powder coating that will take chalk well without shredding up your hands. That way, you can rest assured that you can roll through your high-volume workouts without fear of slippage (and anyway, as a CrossFitter, you're pretty much obligated to love your chalk).
The durable cast iron and seamless bottoms of these bells mean they'll stand up against both time and the beating that CrossFit workouts can give equipment. Plus, their wide, flat handles mean you can adjust your grip as needed to support everything from clean & presses to overhead lunges. And when you're rushing around during your WOD to switch weights, the color-coded handles will tell you quickly exactly what you're picking up.
Who Should Buy the Again Faster Team Kettlebell
CrossFit athletes who need to know their kettlebell won't slip because they are sweating during their workout will appreciate the powder coated surface of this kettlebell.
When you're putting your kettlebell down in a rush to move to your next exercise, you'll appreciate the seamless bottom of these bells.
Athletes who want to identify the weights they're using at a glance will appreciate the color-coded handles.
Who Shouldn't Buy the Again Faster Team Kettlebell
Athletes looking for a flat-faced kettlebell might want to look elsewhere, as these bells have rounded bodies.
Folks who don't like the feel of powder coated bells might prefer a rubber coated option.
People who would prefer a rounded handle might not appreciate the wide, flat handle that these bells offer.
These kettlebells were designed to hold chalk well with their textured powder coating, and that's exactly what you need as a CrossFitter. And because Again Faster Team Kettlebells have color-coded handles, you'll always know exactly what weight you're scooping up.
Best Kettlebell for Groups And Classes
If you like to workout in a group setting, then you'll need multiple sets of kettlebells. For that reason, they need to be durable and available in a wide range of weights.
Rep Fitness Kettlebell
We love Rep Fitness' kettlebell for groups for a variety of reasons. First, they offer a wide range of weights, from 4kg up to 48kg. They make it easy to purchase single bells or in larger sets (in one or two of specific weights), perfect for a home gym or small group class setting. From 4kg to 24kg, the bells are available in 2kg weight increments instead of just the standard 4kg. The color markings on the handles make it easy to differentiate from one weight to the next.
Finally, each bell features both kilogram and pound weight markings, which makes this one of the more accessible bells for group classes. The cast-iron construction is dependable, and the matte coating is great for a variety of movements and works well both with and without chalk.
Who Should Buy the Rep Fitness Kettlebell
People who want chip-resistant, cast-iron construction.
Lifters who train in a group or on the go and need bells that can take a bit of a beating.
Folks who want to identify a bell's weight at a glance with color-coded handle bases.
Trainers who host group fitness classes.
Who Shouldn't Buy the Rep Fitness Kettlebell
Kettlebell athletes or lifters who are looking for a rougher finish. American Barbell offers a textured finish.
Lifters who prefer a cast-iron or steel coating.
Folks who don't need multiple bells and can afford to buy one premium product.
If you're looking to outfit a facility or to purchase an array of kettlebells for a group, Rep Fitness makes a classic, reliable bell that won't break the bank when purchased in multiples.
Best Competition Kettlebell
A great competition kettlebell needs to be carefully crafted and specifically designed for competitions so kettlebell athletes can train accordingly. Rogue has developed a great competition-style kettlebell that most users will get a ton of benefit from.
Note that this isn't a traditional competition bell, so if you're looking for something specific to kettlebell sport (built to a certain dimension, though consult with your competition federation for approved specifics), we might recommend the Kettlebell Kings Competition Kettlebell. However, Rogue's bell has some features that make it a fantastic (and potentially market-defining) choice for working out with kettlebells for high reps and for some very common movements.
Rogue Fitness Competition Kettlebell
Rogue's Competition Kettlebells are frankly built a bit different — and that could be great. The weights range from 8kg all the way up to 48kg with a consistent design and 33MM handle and consistent height and width dimensions. The matte black powdercoat works well with and without chalk. And the real kicker is the specially contoured surface, containing four flat faces that minimize friction and remove "hotspots" that could create significant discomfort on cleans, snatches, presses, getups, and more. That's an important feature that will make these bells much, much more comfortable for many users; that means longer sets without as much concern for bruises and banging.
Each bell features color-coded bands to quickly identify the weight, and the entire thing is solid-piece cast iron. Again, we want to emphasize that this model is a bit different than most other competition bells. But that could mean longer, more focused sets — and more work done — for many users.
It's also worth noting the finish is not the smooth steel that many kettlebell sport bells utilize. For all but the most dedicated kettlebell sport athletes, that's likely a pro, not a con.
Who Should Buy the Rogue Fitness Competition Kettlebell
People who want a sport-style kettlebell.
Lifters who want consistency with each lift, no matter how heavy.
Those who want a kettlebell that isn't welded.
Lifters concerned about wrist discomfort when using a kettlebell.
Who Shouldn't Buy the Rogue Fitness Competition Kettlebell
Beginners who need a kettlebell for specific competitions in a federation that doesn't approve these bells for use.
People who prefer steel finished competition bells.
Even if you're training for Kettlebell Sport — be it long cycle, biathlon, or something else — this bell can be a great option because of the wear and tear it might save your wrists and forearms. Rogue's competition bells bring a level of durability, precision, and consistency that few can match.
Best Kettlebell for Small Hands
Handle diameters all vary slightly on kettlebells, which is why it's important to take note of widths for those with smaller hands.
Kettlebell Kings Powder Coat Kettlebell
Competition kettlebells have a handle diameter of 33 or 35 millimeters (generally). Kettlebell Kings Powder Coat diameter handle increases along with the bell's weight, going as low as 32mm and as high as 41mm for their 68-kilogram kettlebell. That's quite a range. So whether you've got tiny hands or large ones, you can find a comfortable kettlebell here. The grip on his bell is excellent, too, as the powder coat provides a texture that both non-chalked or chalked hands will have little issue gripping.
Who Should Buy Kettlebell Kings Powder Coat Kettlebell
Athletes with either large or small hands. This brand offers a range of different handle sizes that scale with weight.
Folks who need a bell with great grip. The powder coat is textured and allows for great handling.
Who Shouldn't Buy Kettlebell Kings Powder Coat Kettlebell
Kettlebell Kings has nailed the details here. The fact that their powder coat kettlebells scale handle size with weight is a nice touch that makes them a good choice for athletes with smaller hands — or anyone still working to build that grip strength.
Best Kettlebell for Cardio
Kettlebell cardio workouts usually involve more reps. For this reason, you want a kettlebell that is comfortable for long-term use.
Rogue Fitness Competition Kettlebell
The handle of this bell is 33mm, so it'll fit almost all hand sizes comfortably. Rogue's Competition Kettlebell edges are smoothed out, achieved with a specific casting process and the materials used. When you're swinging or cleaning this bell for a lot of reps, you can bet you won't cut up your skin much, if at all.
Like any competition bell, all weights will be the same size — but there's a distinct advantage with the Rogue competition kettlebells. Each bell has four edges that are smoothed flat on the body, making moves like snatches, presses, and cleans much more comfortable for some users. Hardcore and seasoned kettlebell sport athletes might prefer a more traditional shape, but folks who are just repping out many, many sets at home may enjoy Rogue's design tweak.
Who Should Buy the Rogue Fitness Competition Kettlebell
Athletes who take on long kettlebell workouts.
Lifters that need a kettlebell that accommodates for forearm slap during jerks and snatches.
Who Shouldn't Buy the Rogue Fitness Competition Kettlebell
The casual gym-goer user who doesn't use kettlebells often.
Beginners who are just getting into kettlebell training.
While these kettlebells might feature a different design than other competition editions, the inset groves mean athletes need to worry less about banging their forearms and wrists during long workouts.
Best Adjustable Kettlebell
Kettlebells are versatile, but adjustable kettlebells take things a step further. Our top pick for adjustable kettlebells is durable, comfortable, and comes with everything you need to adjust from 12kg up to 32kg in a single bell.
Titan Fitness Adjustable Kettlebell
Titan Fitness has built a remarkable adjustable kettlebell. It's a competition-style bell, with a 35mm steel handle and general competition dimensions. The shell itself weighs 12kg, and with the six weight plates (included), users can adjust the bell up to 32kg, including single kilogram increments between 14 and 30kg. That makes this bell extraordinarily versatile as lifters progress in movements and get stronger over time.
Who Should Buy the Titan Fitness Adjustable Kettlebell
Anyone who wants a single kettlebell that can be adjusted to a variety of weights.
Buyers who want a high-quality bell that can support strength gains over time.
Athletes who want to train and progress in weight increments both big and small.
Who Shouldn't Buy the Titan Fitness Adjustable Kettlebell
Users who don't want a competition-style bell shape or finish.
Athletes who prefer to have a set of bells so they don't need to adjust the weight between workouts or movements.
Titan Fitness' adjustable kettlebell is currently our favorite on the market, and with so many weight increments to choose from, it won't leave users bored anytime soon.
Best Kettlebell on Amazon
Rep Fitness makes a kettlebell that ranks among our top picks. Fortunately for online shoppers, it's also available on Amazon.
Rep Fitness Kettlebell
Rep Fitness is a pretty active vendor on Amazon, so even if you're set on buying from the e-commerce giant, you've got a great option when it comes to at-home fitness equipment. Rep's kettlebells come in a wide range of weights, are color coded based on handle markings, and feature both kilogram and pound weights right on the bell face. The coating is durable and works well both with and without chalk. It's a versatile bell that will last most users a long, long time.
Who Should Buy the Rep Fitness Kettlebell
Athletes who want a kettlebell shipped quickly and cheaply to their home or gym.
Lifters looking for a kettlebell that will work with a variety of movements, from jerks and snatches to swings and deadlifts.
Who Shouldn't Buy the Rep Fitness Kettlebell
Kettlebell users who don't want a cast-iron bell.
People who want a bell with a softer coating, which may be easier on surfaces like floors.
Rep Fitness makes a world-class kettlebell. The fact that it's available for purchase on Amazon makes it more accessible to a wider audience of fitness enthusiasts.
How We Decide The Best Kettlebells
When assessing the countless kettlebells we've reviewed, we looked at multiple performance characteristics. Then, to build this list, we broke every kettlebell into three main categories.
Durability
In terms of durability, we looked at multiple characteristics. For example, there are multiple ways to cast kettlebells, and often a bell's casting process will correlate to its long-term durability. (Pro-tip: when it's single-cast rather than welded, you won't have to worry about much sharpness or potential slippage where the handle meets the body of the bell.)
Additionally, we looked at a kettlebell's coating, as this, like the casting process, can be a signal for long-term durability. A great coating can provide a better grip and will be chip-resistant. Accounting for factors like this helped us assess the potential life of a kettlebell, so you can be ensured your money will go the distance.
Performance
On top of the durability tests, we looked at the performance of every kettlebell. These are versatile pieces of workout equipment, so they need to perform well in multiple settings with both chalk and non-chalk users. Every handle's coating and diameter can impact grip, so we spent extra time assessing their ability to support long-duration use.
Value
Lastly, we assessed a kettlebell's value. Let's not beat around the bush here: investing in your own home gym equipment is a pretty big deal, and you obviously want the most for your money. By taking the above two characteristics into account and comparing them with price, we tried to identify the benefits of each kettlebell for the money you'd be putting into them.
What to Consider Before Buying a Kettlebell
So, you're interested in a new kettlebell. Here are some personal considerations that should be acknowledged before investing.

Your Training Style
You need to consider how and why you train and your training frequency before purchasing a kettlebell. If you're a kettlebell athlete, for example, you'll need a specific kettlebell of high quality. Beginners can get away with a cheaper, more basic version, while a more experienced lifter may want to invest in a nicer construction kettlebell. Or, if you engage in CrossFit or cardio workouts, then you'll need a more comfortable bell with an outstanding grip for high-rep sets.
Assess your workouts honestly, and then look closer at a kettlebell's features before clicking "buy." Kettlebells are a great, versatile single piece of equipment when you can only get one or two new items for your home gym — but they aren't the cheapest items, so you want to get it right before you shell out for one.
Price
Most kettlebells are going to be priced closely. So, we've made sure that the more expensive options are worth the uptick in price while the cheaper options are still of a certain quality. We take factors like construction, warranty, customer reviews, and our personal testing process all into consideration when looking at a kettlebell's price tag.
The Best Kettlebell Exercises
It's tough to say exactly which kettlebell exercises best. Really, it depends on your training goals and experience levels. However, assuming you want to focus on compound movements that will bolster your strength, power, and conditioning, the five moves below are a great starting point. Separately, they target a lot of muscles and take your body through multiple plains of movement. These are also foundational kettlebell exercises that, once mastered, can be strewn together to create more dynamic and sweat-inducing flows (more on that below).
Upper Body Kettlebell Exercises
Once again, what you consider "best" will depend on your experience and goals. Are you trying to build upper body power, conditioning, or raw strength (or a combination of the three)? Are you new to kettlebell training, or have you long-since mastered the kettlebell snatch?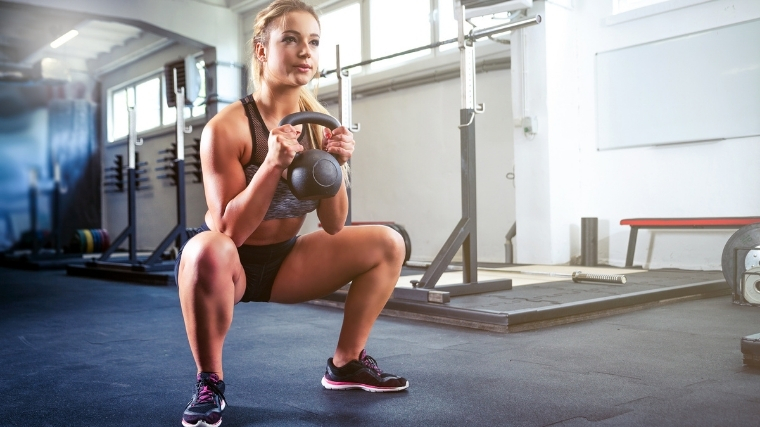 The good news is that lifting with kettlebells can fulfill a wide variety of your training goals with a relatively small repertoire of moves. Push-pressing kettlebells, for example, will develop raw strength, power, and cardiovascular conditioning all at once. For kettlebell snatches, you'll have to be strong, but the power and conditioning are going to win the day. Whichever moves you choose, you pretty much can't go wrong training your upper body with kettlebells — as long as you keep your form dialed in. In addition to the upper body-focused exercises above, try these six moves:
Kettlebell Row
Unilateral Kettlebell Bench/Floor Press
Kettlebell Upright Row
Lower body Kettlebell Exercises
Don't be afraid to stick with lifts that seem super basic — just because a kettlebell goblet squat doesn't look as flashy as a kettlebell snatch doesn't mean it's not going to help you make big gains. Add these four moves, in addition to the kettlebell moves above, into your training repertoire:
Kettlebell Core Exercises
Let's be clear — pretty much anything and everything you do with a kettlebell is going to challenge your core to some degree. The implement is pretty strangely shaped, and that imbalance alone will keep your core active the whole time. That said, there are a few moves that will specifically attack your core (while also working the rest of your body).
One-Arm Kettlebell Swings
Kettlebell Flows Explained
A kettlebell flow is like a kettlebell circuit — stringing together a bunch of different kettlebell movements. The key difference is that with a circuit, you will be putting the bell down between moves and even perhaps resting a bit in between exercises. With a kettlebell flow, your goal is to literally flow right from one move into the next without stopping or putting the bell down. So, you might perform a small set of push presses, use the last rep to start an overhead carry, and flow from that right into a small series of kettlebell snatches.
When you're looking to design your own kettlebell flow, don't be afraid to look a little silly for a hot second — before you even pick up the weight, simulate the movements to make sure that they can, in fact, flow seamlessly into each other. You'll need at least one clean programmed in there if you want to transition from a Romanian deadlift to a strict press, for example — so make sure you include all those elements.
Kettlebells Vs. Dumbbells
If you've got a limited budget — or only a small amount of space — you might have to make the sad choice of buying a kettlebell or a dumbbell. And while we never want to put two excellent pieces of gym equipment against each other (dumbbells are spectacular training tools), it's worth noting a couple of things about the versatility of kettlebells:
Due to their off-balance shape, kettlebells engage more of your stabilizer muscles during lifts.
Many kettlebell movements are ballistic in nature, meaning that they build power, strength, coordination, and conditioning all at once.
Kettlebells develop lifters' grip strength due to the constant pressure needed to stabilize an offset load while it's rapidly moving. Think about the work you have to do to keep a bell on a controlled path during swings, cleans, and snatches.
Kettlebells don't require a lot of space, and a single implement can be used for a vast diversity of moves and training goals.
Even the most cardio-heavy kettlebell lifts are low-impact, meaning that you can go heavy, hard, and ballistic without taxing your joints too much.
The Right Way to Hold a Kettlebell
For a lot of kettlebell lifts, you'll grip it in a similar way to gripping a dumbbell — in the middle of the handle. You'll want to keep your fingers light around it, though, even and especially when performing explosive moves like kettlebell swings. It might feel scary at first to not choke the darn thing, but it's much better for your wrist health — and the ultimate quality of your movement — to practice gentleness in your grip during moves like swings. To test this, you should be able to flutter your fingertips above the handle a little bit at the top of your swing.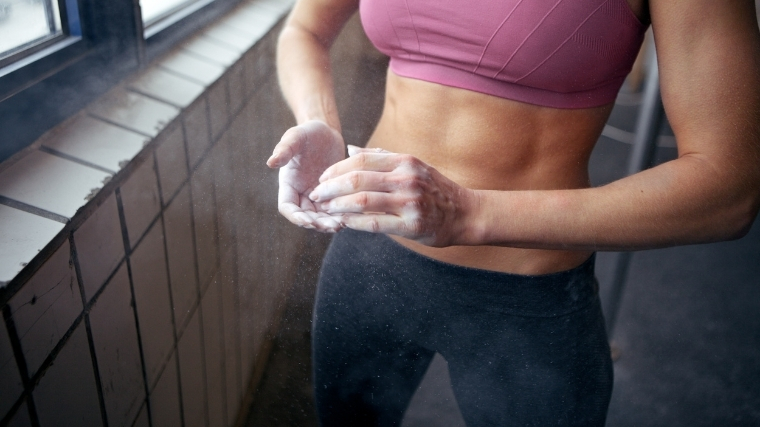 For more complex lifts like cleans, snatches, and Turkish get-ups, you'll want to implement an offset grip. To avoid the painful flopping of the kettlebell onto your wrist or forearm, don't grab it right in the center. Instead, tuck the pad between your index finger and your thumb against the curve of the handle. If you're using your right hand, you'll be snug against the left side of the handle; with your left hand, you'll be snug against the right side of the handle.
You can also get creative with how you hold a kettlebell if you're looking for even more versatile ways to train your grip and stabilizer muscles. A bottoms-up grip will challenge your forearms, wrists, fingers, and shoulders to maintain perfect form while also lifting a load tougher. Holding the bell around the body can help emphasize your shoulders a bit more when front-loading your goblet squat and can provide different angles for overhead and floor presses.
Frequently Asked Questions