We receive free products and receive commissions through our links. See
disclosures page
.
Eleiko is a company based in Sweden and is most often recognized for their barbells and plates. They also make supportive strength equipment, which includes belts, knee sleeves, knee wraps, and straps. When it comes to supportive gear, they're best known for their equipment that supports Olympic weightlifting.
The clean white Eleiko leather belt may be one of the most recognized belts on weightlifting platforms, so when we received ours there was a build up of excitement to give it a try. Since it's a belt made for weightlifters I tested it with the power clean, front squat, back squat, and deadlift. In addition, I also used it for low-bar squats to see if it could be used by strength athletes in other sports.
Click HERE to see the prices on the Eleiko Weightlifting Belt.
Stability
This belt is stiff and leather, which gave it a great feeling of stability. Compared to other leather belts, this belt felt a little more rigid. For a weightlifter, I really like the extra rigid feel this belt provided. A common reason for failing or missing lifts in weightlifting is excessive forward lean. The rigid nature of this belt helped resist forward feelings when I was lifting. I also like the two-pronged buckle, as it hugged my abdomen tightly and securely. The front is skinnier than the posterior portion of this belt, so the two-pronged buckle helped compensate for the lack of thickness.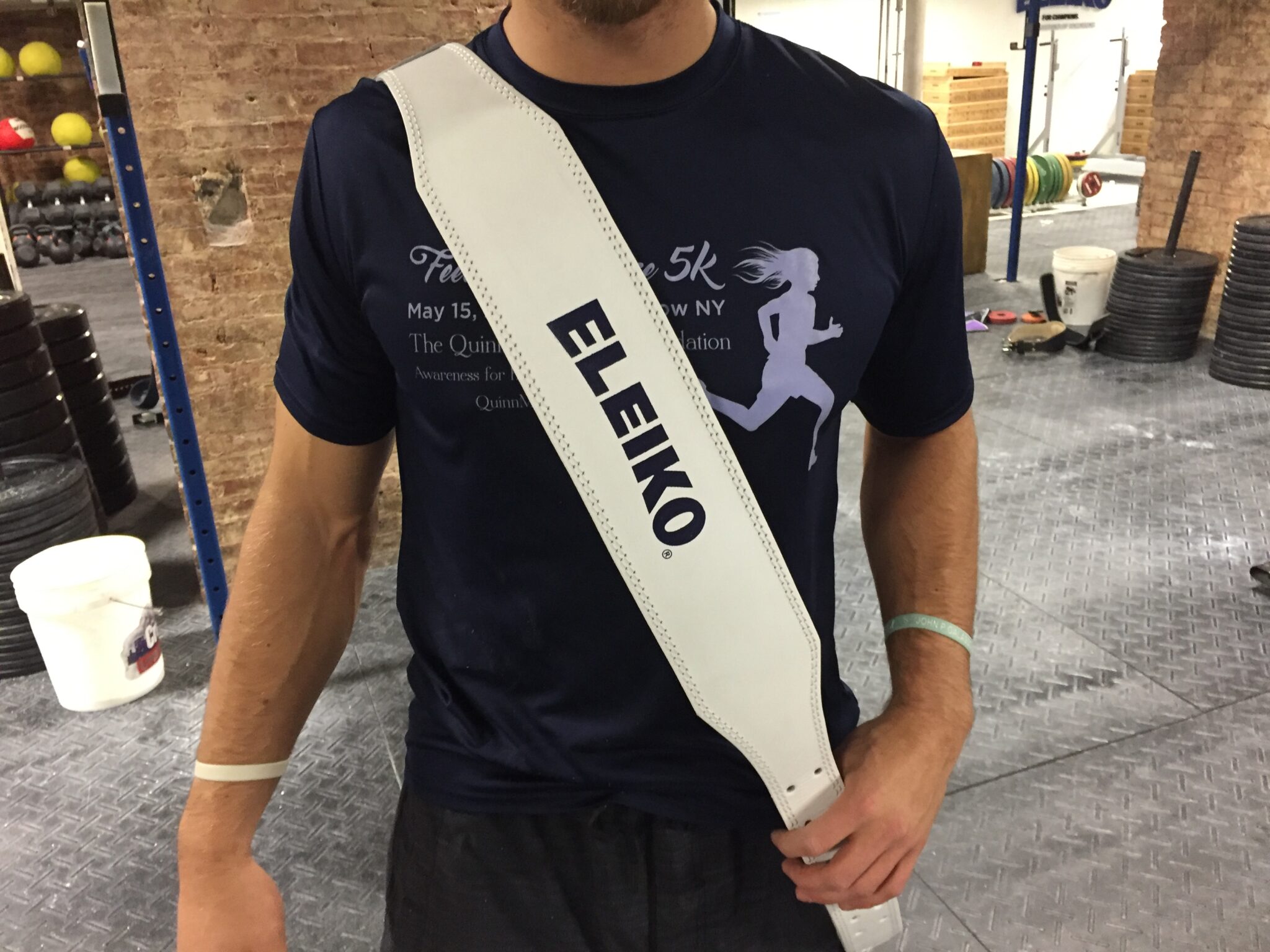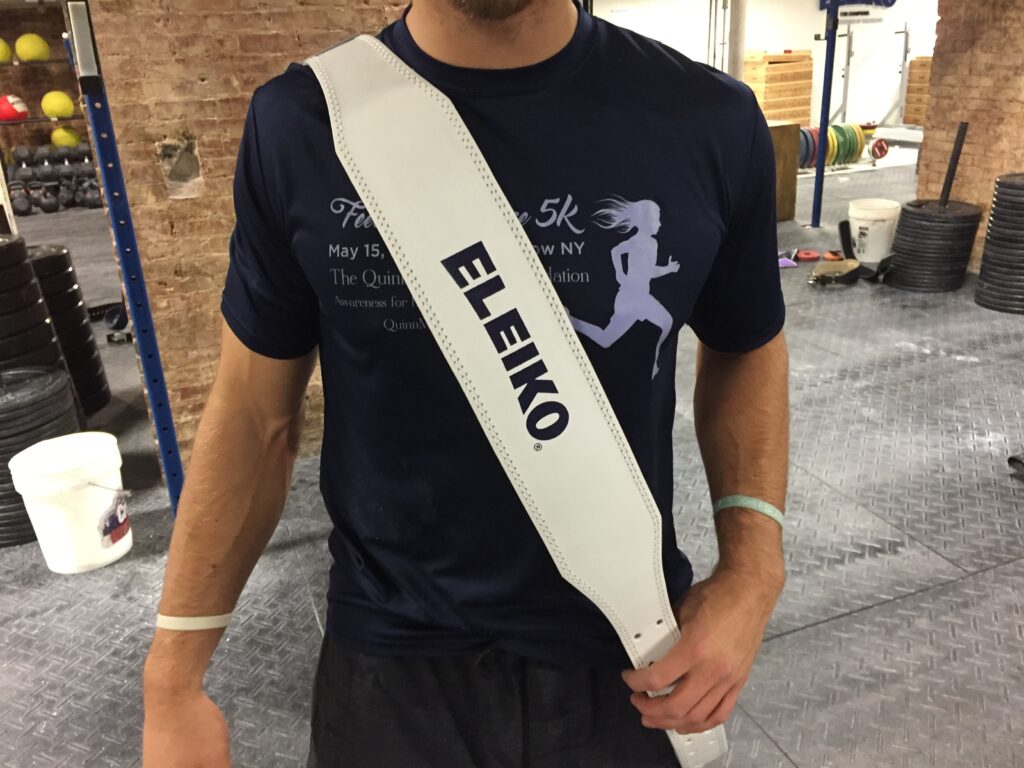 When I performed Olympic lifts with this belt it never felt limited in my range of motion. I could move freely without issue, while feeling stable with the stiffer leather. Both the clean and front squat felt great in this belt. The thicker back helped me avoid forward lean and helped keep my posture tall and long.
(Curious about the best lifting belt for you? Check out our full rundown of the best lifting belts here!)
Since this is a belt made for weightlifting, I also tried it with a low-bar squat to see if it could be used by other strength athletes. When low-bar squatting, I liked that this belt held me stable, even though it's less thick than typical powerlifting belts. I think this aspect was due to the rigid design this belt has. One thing that may turn off some lifters is how the leather feels on the body. It's stiffer, which means it takes longer to break in and may cause some discomfort on the ribs during the first uses.
Comfort
The comfort of this belt was hot and cold. I really liked the dimensions of the belt; it's 10cm in the back with an added pad. That's around four inches thick, with about a 2.5 inch pad across the posterior portion. This pad felt great on the back when pulling the belt extremely tight. I also really liked that I could move freely with the belt. There was never an issue with limited ranges of motion, which made this belt a comfortable fit in multiple lifts.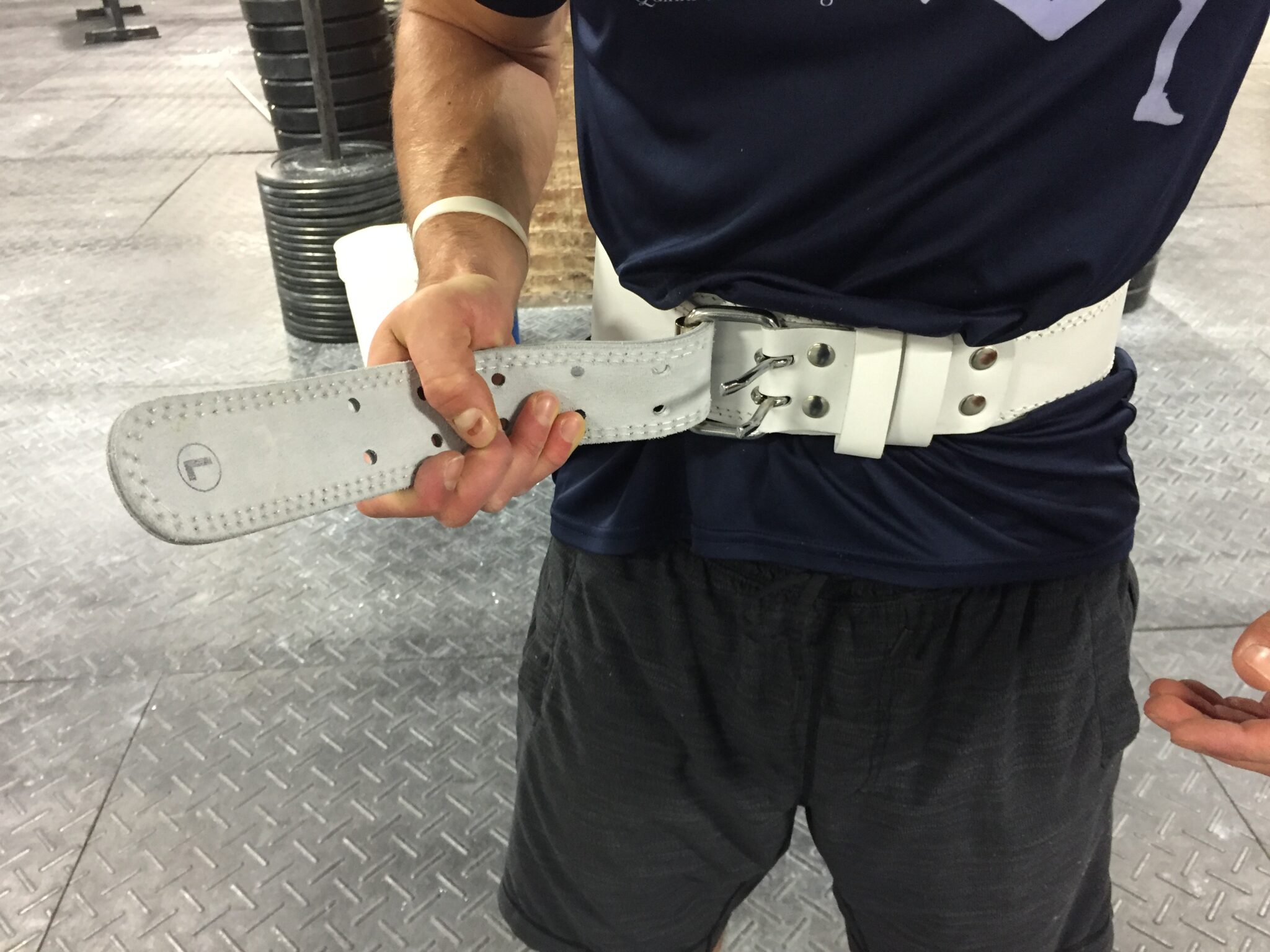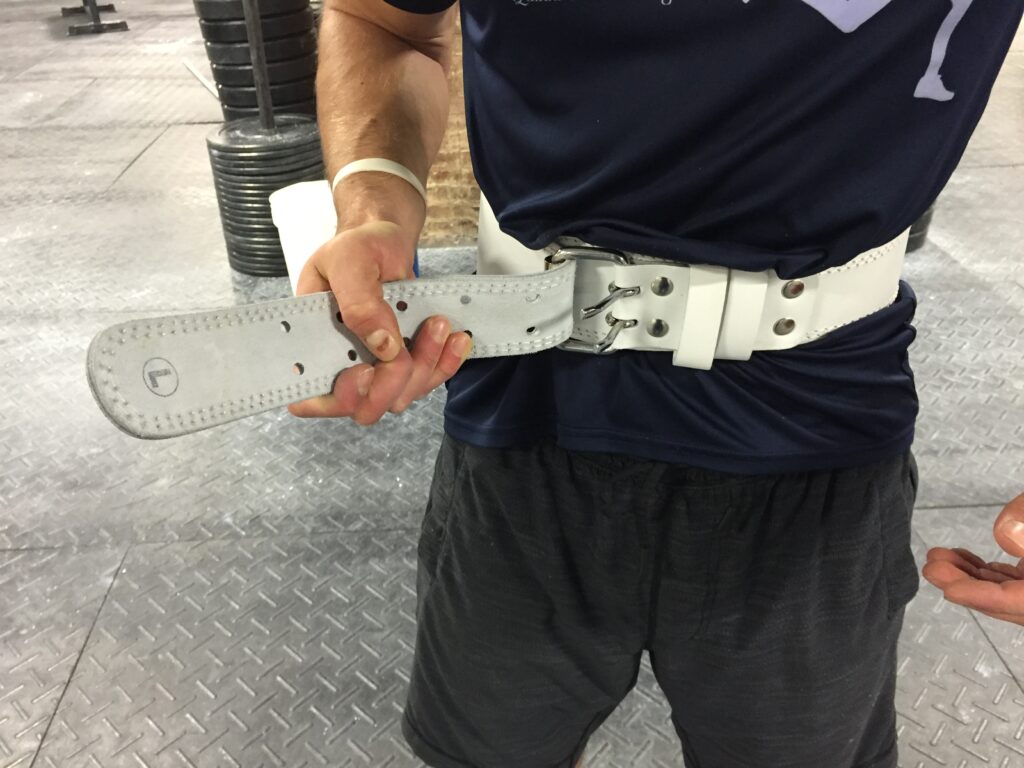 Another aspect I liked was the overlap of the leather strap under the two-pronged buckle. This created lack of pinching and feeling of metal on the skin. The soft inside portion of the leather helped avoid excessive rubbing friction too. The stiff leather on the top and bottom of the belt was a little uncomfortable at first and I did experience a pinching on my ribs.
Also, this belt might not be ideal for those who like to lift shirtless. They may experience some chafing and pinching from the newer leather until it's broken in.
Material
This belt is constructed with genuine leather and is a little stiffer than standard leather belts I've tried. There's not a lot of give when bent, which could be a good or bad thing depending on your belt preferences. I liked that the inside portion of the leather is a little softer than the exterior. This made it feel soft, but sturdy, which is an essence a lot of belts have a hard time doing. The white leather was also a cool feature, I thought it made the belt look very clean and recognizable.
While the white leather gave the belt a clean look, there was an issue that came with it. For your first few uses you may experience a little shedding of the belt. All leather belts tend to do this, but the white leather makes it a little more noticeable. The two-pronged metal buckle was definitely a positive. The metal is made well and isn't skinny, which can give buckles a cheap feeling.
Durability
From what I experienced this belt showed great signs of durability. I liked that it has thick double stitching around the outside. This made it feel compact, and will prevent early wear and tear from fraying outsides. The buckle has two-loops and four pretty heavy metal attachments. I don't see potential breaking of the buckle under strenuous loads, which some belts can have.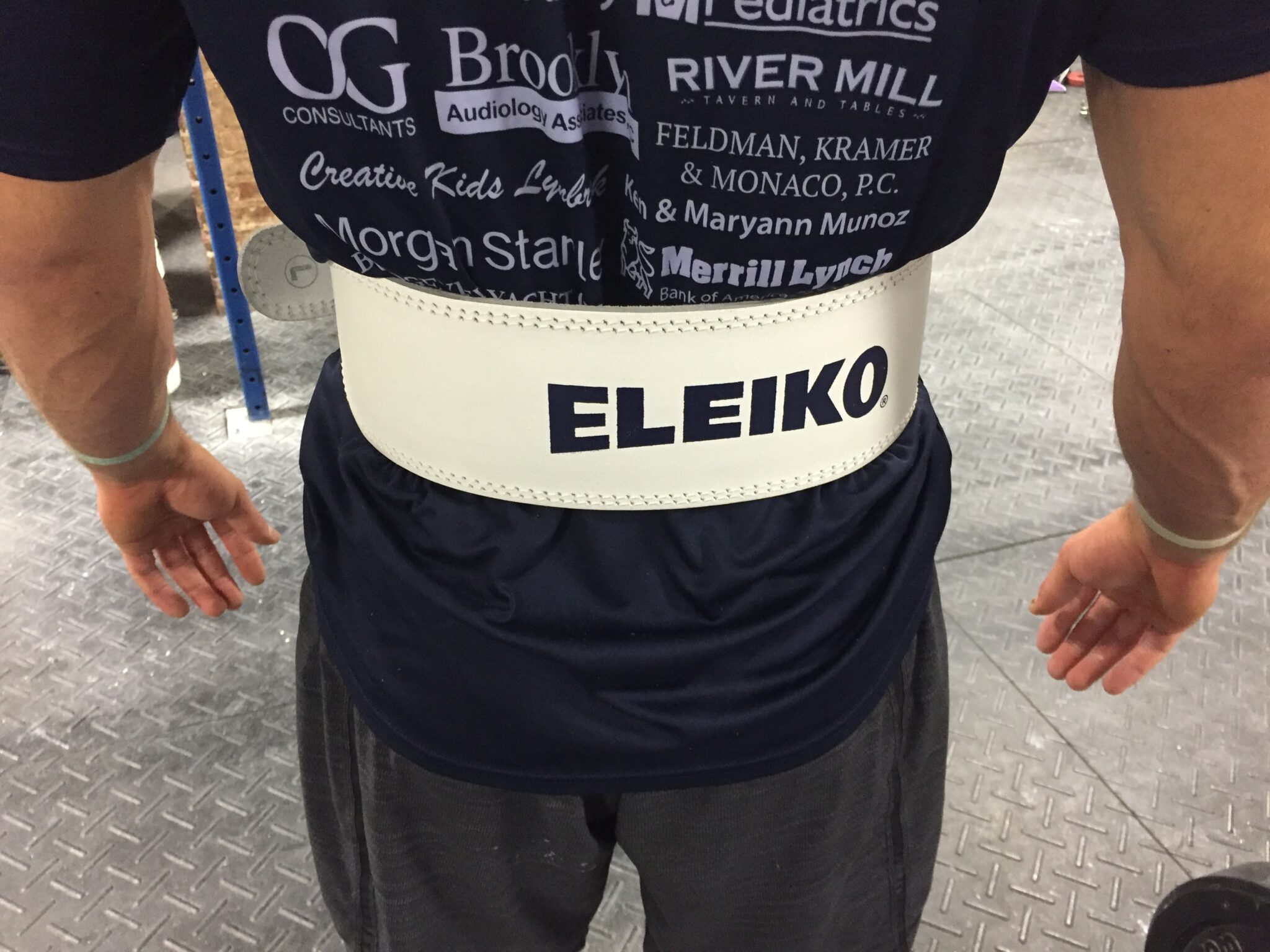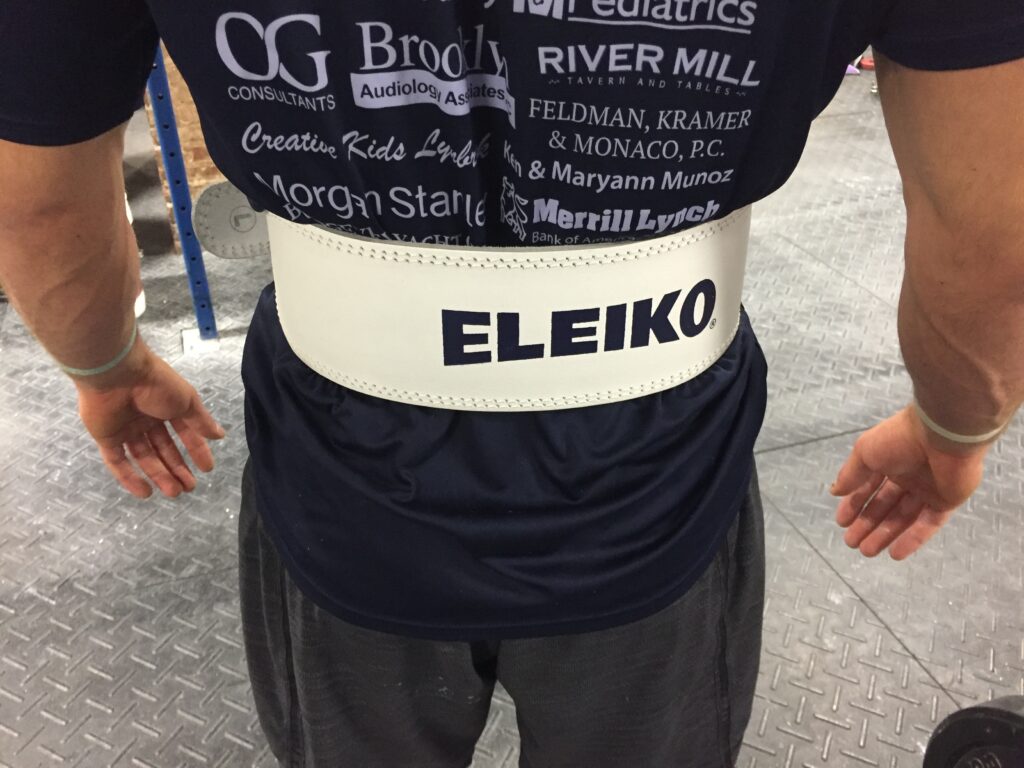 While this belt is durable, it can be a nuisance to break in. For someone who wants an extremely comfortable belt right off the bat, they may sway towards a different belt.
Price
The price of this belt starts around $49.00, which is a little on the higher end for this style of belt. Yes the price is higher, but this belt is made very well and constructed for Olympic lifting. For athletes who are looking for a belt that's designed to support weightlifting, then I feel as though the price is very fair. On the flip side, the recreational lifter who uses a belt for generic lifting purposes might find better options that cost less.
Final Word
I enjoyed using the Eleiko Olympic Weightlifting Belt for multiple types of exercises. Whether I was weightlifting or powerlifting, this belt held my torso tight and never limited my range of motion. In addition, the stiff leather and thick metal buckle gave the impression that this belt will last a while. For someone who needs a belt for generic lifting purposes, then this belt may not be the best choice as it's price is a little high. Also, lifters who exercise shirtless or hate the feeling of leather on the ribs might not prefer this belt style.
All in all I enjoyed the Eleiko Olympic Weightlifting Belt whether I was performing power or strength focused movements.