Knee sleeves are supportive pieces of strength equipment that come with a variety of options. Like most pieces of supportive equipment, their use comes with a time and place, so it's not a bad idea to keep yourself equipped with a pair for times you need them most. Strength athletes typically reach for knee sleeves for joint protection, warmth, and stability.
A sleeve's benefits will be dependent on your strength sport, preferences, and knee sleeve wants/needs. We've been on a mission to find the best knee sleeve for powerlifting, weightlifting, CrossFit®-style workouts, knee warmth, and even heavy squats. Below are our current favorites.
Best Knee Sleeves
Keep in mind, this list was built off of our judging criteria for each knee sleeve, and you may find that a different fit from our top choices works better for you. At the end of the day, our goal is to connect you with the best sleeves for your lifting preferences, or at least make a knee sleeve's presence known to you if you had never seen them.
Editor's note: The content on BarBend is meant to be informative in nature, but it should not be taken as medical advice. The opinions and articles on this site are not intended for use as diagnosis, prevention, and/or treatment of health problems. We are doing our best to keep this article updated based on what's currently in stock at various manufacturers.
Best Knee Sleeves
These premium, non-irritating neoprene knee sleeves measure six millimeters thick and are anatomically contoured for a better fit. They have reinforced stitching and are made to slip on easily. They are flexible enough to compliment a CrossFit WOD while remaining study enough for heavy barbell movements.
Element 26 6MM Knee Sleeves
Element 26 6MM Knee Sleeves
These competition-approved, anatomically-contoured knee sleeves are made of 100 percent non-irritating neoprene material. They are six millimeters thick and provide compression alongside their reinforced stitching.
Who Should Buy Element 26 6MM Knee Sleeves
Athletes looking for a solid all-around knee sleeve with support, comfort, and durability built into the design.
Folks who have sensitive skin and appreciate a non-irritating material.
Those who perform both aerobic and Olympic weightlifting movements who value reinforced stitching.
Who Shouldn't Buy Element 26 6MM Knee Sleeves
Those who would prefer a thicker knee sleeve primarily for heavy compression under super-heavy loads.
Athletes who would prefer a straight sleeve rather than a contoured sleeve.
The Element 26 6mm knee sleeves are both versatile and durable. If you're on the hunt for a knee sleeve that can adapt to different training modalities (whether it be strongman, CrossFit, powerlifting, or something in between), these knee sleeves should fit the bill for you.
Best Knee Sleeves for Squats
Knee sleeves being used for squats need to be supportive, comfortable, and durable, as they're going to be protecting the knee joint during heavy sessions. This is a great pick for the dedicated squatter. Exo Sleeve's 5mm neoprene knee sleeves provide stability and tend to fit well on a variety of lifters. One of the main reasons Exo Sleeve is one of our top picks is because their neoprene compression fit is built to withstand even the heaviest squats or pulls.
You can work out in Exo Sleeves both in the gym and on meet day, so you can build confidence in heavy squats with this sleeve in both training and competition. On top of that, this sleeve is durable and supports performance in both the high-bar and low-bar squat.
Exo Sleeve 5mm Knee Sleeves
Exo Sleeve 5mm Knee Sleeves
These sleeves are supportive, but not mobility limiting — they form to fit the knee really well with their durable 5mm antimicrobial neoprene.
Who Should Buy Exo Sleeve 5mm Knee Sleeves
Any lifter who wants additional knee support for heavier training sessions and squats.
Athletes who want a pair of knee sleeves that are reinforced and durable to stand the test of time. These are made of a 5mm anti-microbial neoprene.
Lifters who compete in the IPF, USPA, USAPL, and many more large federations (always check the rules).
Who Shouldn't Buy Exo Sleeve 5mm Knee Sleeves
The beginner who has not yet begun their strength training journey with a serious mindset. You may not need to invest in these just yet.
Lifters who want to be conscious about how much they're spending on gear as this product is on the pricier side.
With a thick five-millimeter neoprene and reinforced stitching, the Exo Sleeves are one of the best options on the market for supporting heavy squat sessions as well as accessory movements. The Exo Sleeves provide comprehensive, 360-degree protection for heavy barbell training.
[Related: Could Baking Soda Be The Best Workout Supplement You've Never Tried?]
Best CrossFit Knee Sleeves
These heavy-duty neoprene sleeves have reinforced stitching and provide compression to the knee to help with a range of functional fitness activities. Each sleeve is ten inches long to better ensure full coverage of both knees, and Gymreapers include a free gym bag with the sleeves. These sleeves come in black and either red, green, or white. Gymreapers suggests moving down a size from what a customer would normally use if they want a tighter, more secure fit.
Gymreapers 7mm Knee Sleeves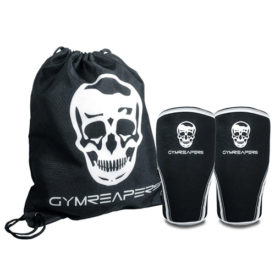 Gymreapers 7mm Knee Sleeves
These neoprene knee sleeves come in three different color combinations and a free gym bag. They are constructed with reinforced stitching and retain heat.
Who Should Buy Gymreapers 7mm Knee Sleeves
Athletes who focus primarily on functional fitness such as CrossFit® training.
People who want significant knee support when performing squat variations.
Those who could also use a new gym bag.
Who Shouldn't Buy Gymreapers 7mm Knee Sleeves
Those who want knee sleeves that don't provide as much compression.
These sleeves are very likely to provide all the added stability to the knee an athlete would like to have when performing difficult movements in a timely fashion, such as lunges. The further upside here is the price tag, which is on the less expensive end of the market for a more advanced sleeve.
[Related: The Lifter's Guide To Magnesium: What This Nutrient Does For Strength]
Best Powerlifting Knee Sleeves
Competitive and recreational powerlifters alike know that a good pair of knee sleeves can separate a successful squat session from a bad one. To perform well in the squat — and even the deadlift, if you prefer — you need a durable pair of sleeves that can handle heavy weights as well as your own body.
The SBD Knee Sleeves can go the distance and then some. Not only are they constructed with reinforced stitching and high-quality neoprene to endure thousands of reps of squats, they're also IPF and USAPL compliant, making them a reliable choice for meet day.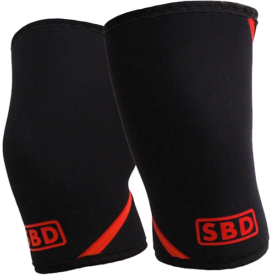 These knee sleeves are both IWF and IPF approved and offer a supportive 7mm neoprene construction. 
Who Should SBD Knee Sleeves
Lifters who compete or practice the sport of powerlifting will appreciate the durability of these sleeves.
Gymgoers who want significant knee support when performing various types of squats.
Athletes who need sleeves that are approved by the IPF.
Who Shouldn't SBD Knee Sleeves
Lifters who don't want any restriction in range of motion at the knee.
Buyers on a budget who want to get some workable knee compression for cheap.
SBD is one of the biggest names in powerlifting performance equipment, and their knee sleeves lead the charge in that regard. Attend any powerlifting meet and you'll definitely see why they're so popular. If you can handle the price point, the SBD sleeves should be a no-brainer pickup for your gym bag.
[Related: The Untold History of the Back Squat]
Best Weightlifting Knee Sleeves
The best knee sleeves for weightlifting need to provide support but not limit mobility in exercises like the snatch, clean & jerk, and squat. The Exo Sleeve 7mm Knee Sleeves are a prime option for weightlifting enthusiasts.
These sleeves are supportive, but not mobility limiting. This is key for weightlifting because you want to support without compromising mobility. They form to fit the knee really well with their durable 7mm antimicrobial neoprene. We never experienced air pockets or bunching in them. Plus, they're comfortable to wear for long workouts — any Olympic lifter knows that sessions can sometimes run quite long, so you need a sleeve that will go the distance.
ExoSleeve 7mm Knee Sleeves
ExoSleeve 7mm Knee Sleeves
The Exo Sleeve 7mm Knee Sleeves are built to withstand all kinds of squatting. They're the perfect thickness and come with the right compression to ensure you perform optimally under the bar.
Who Should Buy Exo Sleeve 7mm Knee Sleeves
Weightlifters who are looking to compete or train weightlifting with some level of seriousness will appreciate the high quality make of these sleeves.
Athletes who want a supportive knee sleeve that also doesn't hinder mobility or range of motion.
Lifters who want a pair of knee sleeves to last with reinforced stitching and a quality build — these are made of 7mm antimicrobial neoprene.
Who Shouldn't Buy Exo Sleeve 7mm Knee Sleeves
The beginner lifter who doesn't have a specific need for knee sleeves yet in their career.
Budget-conscious lifters who want to save money with a cost-efficient pair of knee sleeves.
For the avid weightlifter, it's tough to beat Exo's offering here. Although some weightlifters may prefer more minimal knee support, Exo's lean 7mm sleeves bring the ideal amount of joint stabilization without significantly hampering flexibility at the knee itself.
[Related: The Best Types Of Supplements For Performance, Weight Loss, And Health]
Best Knee Sleeves for Warmth
Exo's Light Knee Sleeves provide warmth to the knee joint and surrounding area, with minimal compression-based support — which is their biggest advantage over other competitors on the market. They provide some stability to the knee, offering just enough feedback to stay stable during higher-rep sessions, similar to a light wrap. However, they aren't designed to provide the stability and support potentially needed during more explosive movements like hang cleans or snatches.
Exo's Light sleeves come in a wide array of designs, colors, and patterns, and are constructed with a soft material blend that is uniquely tailored to enhance comfort and warmth in the joint without inhibiting flexibility whatsoever.
Exo Sleeve Light Knee Sleeves
Exo Sleeve Light Knee Sleeves
Exo Sleeve's Light Knee Sleeves can keep your joints warm and insulated so you can focus on what matters — performing well in the gym.
Who Should Buy Exo Sleeve Light Knee Sleeves
Lifters who are looking for added warmth around their knee joint will like this design.
Folks who want lightweight and flexible sleeves that allow for easy movement.
Anyone with a tighter budget — these are pretty affordable knee sleeves compared to many competitors.
Who Shouldn't Buy Exo Sleeve Light Knee Sleeves
Athletes who want knee sleeves that provide significant stability.
People who would prefer having sleeves with more compression.
If you need knee support, these are unlikely to be the best choice, but when it comes to a light compression sleeve that can keep the knee warm, they are a solid pick.
[Related: Intermittent Fasting 101: A Guide To Benefits, Muscle Gain, And More]
How We Decided Our Picks
Throughout our best knee sleeve search, we looked at multiple aspects that make up a great sleeve. First, we look at the knee sleeve's stability and material. Secondly, we look for the mobility or rigidness of the sleeve during a variety of movements.
Third, we assess the sleeve's ability to keep our joints warm during a workout. Lastly, we assess the construction and durability, or actual design of the sleeve, and how it will function for certain athletes.
What to Look for In a Knee Sleeve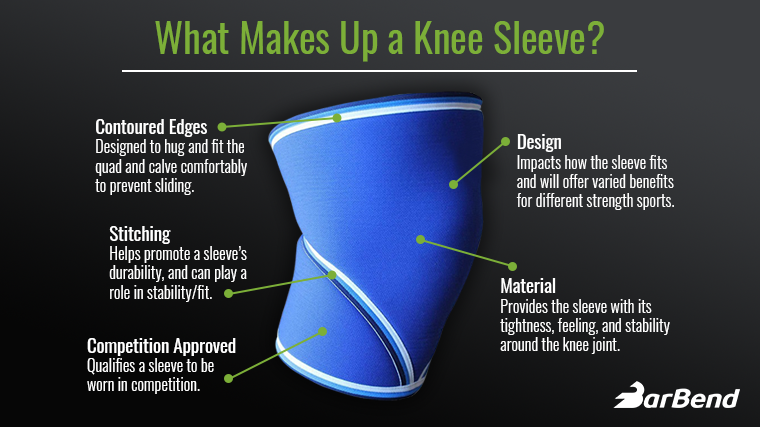 [Related: Pros And Cons Of The Safety Squat Bar For Front Squats]
Knee Sleeve Stability and Material
A knee sleeve's material will often influence how stable a sleeve is under the bar. The most common material used in knee sleeves is neoprene, which is composed of a family of synthetic rubbers. This material is used for a variety of applications but has gained popularity in lifting due to its ability to remain flexible and stable over time.
The thickness of neoprene will also add to a sleeve's stability. Common neoprene thicknesses range from three to seven millimeters, and the most common thicknesses used by strength athletes are five millimeters and seven millimeters. Other materials used in addition to neoprene are nylon, spandex, and various cotton blends. The mixture of these materials with neoprene is what gives sleeves their soft flexible nature.
Nylon and spandex are often used in lighter sleeves and tend to be more form-fitting to the joint. These materials stretch very well and allow a sleeve to hug the knee tightly without slippage. Cotton is also a common material you'll find in a sleeve and give them their soft texture on the skin. With our stability assessments, we analyzed a sleeve's actual make and the activity it was being applied to.
[Related: Best Macros Calculator For Tracking Muscle Gain And Fat Loss]
Mobility and Rigidity
This assessment shadows the above point and often comes down to a sleeve's thickness. A thicker sleeve will often limit mobility, and provide more support throughout movements. Conversely, thinner sleeves will work best with mobility-focused athletes like Olympic lifters and functional fitness athletes. Material plays a role in this assessment, but so does the actual knee sleeve design.
For this assessment, we analyze how a sleeve follows the joint in different movements. A more mobile sleeve won't hinder performance due to mobility issues. On the flip side, when we analyzed a sleeve's rigidity we looked for support in bottom lifting positions. For example, the pop coming out of the hole on a squat.
[Related: How To Choose The Perfect Knee Sleeve]
Joint Warmth
Before sleeves became popular for recreational lifting purposes, they were often used solely for joint warmth. In fact, some athletes use sleeves without even realizing that one of their main purposes is to keep the knee warm. Material, strength sport, and fit will all play a role in this factor, as the level of compression will also influence some of the joint's warmth under a sleeve.
In our warmth assessments, we look at multiple factors that influence a sleeve's ability to keep the joint warm. For example, we took into consideration how the sleeve fit and what type of material it was made of. The main factor we looked for was simple: how the actual sleeve worked to keep the joint warm.
Construction and Durability
A lot of athletes don't realize how many knee sleeve designs there are, so we tried to identify as many as we could. For example, different sleeve designs include four-panel, tapered, and cylinder. These different forms of construction will influence almost every other factor that will cater a sleeve's perfect fit to you.
The most common sleeve design is a tapered fit, which is your standard fitting sleeve. This sleeve is versatile and will work for multiple athletes in a variety of sports, an example of this would be the Rehband 7mm Knee Sleeve. The cylinder-esque design is most commonly used in more rigid sleeves like SBD and Slingshot Strong sleeves. The four-panel design is the least common of the three and has multiple pieces of material sewn together into one sleeve.
Different sleeve constructions will come with different rates of durability. For example, some sleeves have reinforced stitching, which can range from hooked stitching to quadruple stitching. In addition to a sleeve's stitching style, the placing of stitching also matters for durability. You don't want the stitching to be in a place that is making constant contact with knurling, as this will cause them to fray quicker.
Another method to predict a sleeve's durability is to look at its edges. Most sleeves have hemmed or enclosed edges that will prevent them from ripping or fraying prematurely. Also, the tighter a sleeve's edges are cared for, then the less chance you have of them stretching out over time.
Possibly the biggest factor of a sleeve's durability is the material used. A good sleeve will utilize a high-grade neoprene, spandex, nylon, or blend mixture that doesn't stretch out quickly under constant load.
[Related: Nutrition For Bulking: 10 Tips For Intelligent Muscle Gain]
What To Consider Before Buying
There are multiple reasons an athlete can utilize a knee sleeve. Below are a few examples of when different specific strength athletes will reach for a sleeve. Also, we've created our own knee sleeve that aims to match the criteria we assessed all of the knee sleeves in below and more on that below.
Why Athletes Use Knee Sleeves
Here are three primary reasons why athletes across a variety of strength sports take advantage of the benefits knee sleeves offer.
Powerlifters will typically use a sleeve to support their knee's stability in squats, quad, and hamstring training. Often times a stiffer, more rigid sleeve will be this athlete's go-to since they're training with heavier loads frequently. Sleeves can help an athlete build confidence in their heavy movements, and provide the knee with added compression. In addition, there are a few sleeves that are approved for competition, so they'll offer stability and joint warmth over extended rest periods.
Weightlifters will utilize a sleeve for light joint support and warmth. These athletes will need a sleeve that's mobile and follows the joint without inhibiting mobility. Since this athlete is often catching the weight in the bottom of a squat, a sleeve can't limit their ability to achieve depth, so thicker, more rigid options are usually not ideal. Also, this athlete will be taking longer rest periods, so a lighter sleeve can be useful for remaining comfortable and maintaining joint warmth in-between sets.
CrossFit, functional, and recreational athletes will utilize a sleeve that fits their specific needs best. This athlete performs a variety of movements throughout one workout, so a sleeve that's versatile is often their best fit. Support, mobility, and design will all play a role in how the sleeve impacts their performance. For example, someone starting CrossFit, or possibly more cardio-based movements, may reach for a lighter sleeve so they don't feel confined/limited by a stiffer neoprene sleeve.
[Related: The Best Foods And Supplements For Fighting Inflammation]
Wrapping Up
There are multiple models of knee sleeves in the supportive strength market. This list may seem daunting at first, but when you consider your sport and needs, then it can become increasingly easier to make your sleeve selection. Also, it's important to keep in mind that sleeves are great additions to training, but not the end all be all for knee joint health.
If you're having trouble making a decision on the right knee sleeve for you, then I'd recommend asking yourself three questions. First, what do you need the sleeve for most (sport, health, etc)? Second, how much stability do you want from a sleeve — this will be informed by whether or not you compete. Third, what sleeve fits comfortably into your budget? Confidently answer these three questions and you will be happy with your final sleeve decision.
Knee Sleeve FAQs
Are knee sleeves worth it?
Yes and no. The answer really depends on your goals, training style, and overall needs. Since knee sleeves vary so greatly in construction, then they can be used for benefit in a variety of settings.
If you want a sleeve for a lightly level of support, warmth, and mental reinsurance, then they can certainly be worth it. On the other hand, if you're brand new to training and are just familiarizing yourself with squats and other exercises, then you may want to wait on investing in knee sleeves until you have a more direct goal in mind.
What makes a quality knee sleeve?
A high quality knee sleeve is the combination of multiple attributes. For starters, great construction is the first sign of a quality knee sleeves. Ideally, you want a sleeve with neoprene that is void of excess stretching and you want reinforced stitching to prolong durability. Another sign of quality knee sleeves are a warranty, as this shows a company's confidence in their product.
What are the benefits of knee sleeves?
Knee sleeves offer multiple benefits for fitness enthusiasts and strength athletes. Their main benefit is providing a light level of support around the knee joint.
Another major benefit is that they provide warmth to the knee joint, which is beneficial for athletes working out in colder settings or want help warming-up. Lastly, they can be a tool for providing mental reassurance under heavy loads.