Thigh compression sleeves offer a wide array of benefits to athletes. The most significant benefit being improved blood flow (1) which can potentially lead to better injury prevention, improved athletic performance, and sometimes speedier recovery from training.
The market is flush with options ranging from thigh-only to full length compression sleeves and even some that function as a brace. Let's suit up and find out which is right for your needs.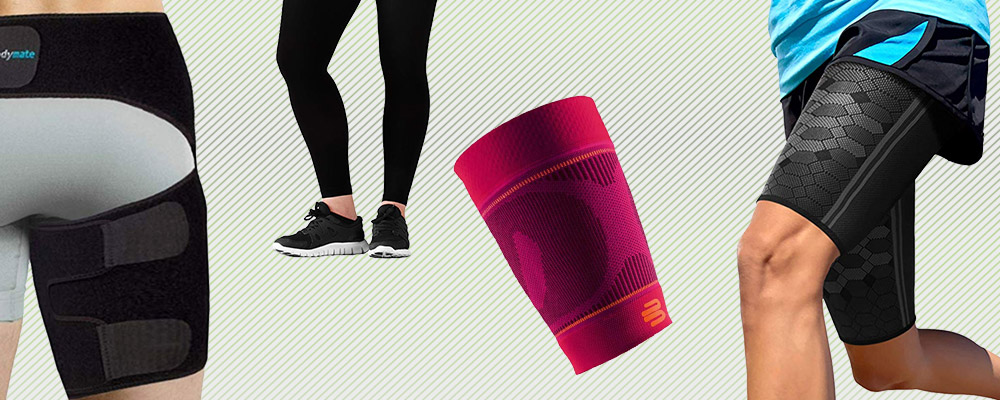 Editor's Pick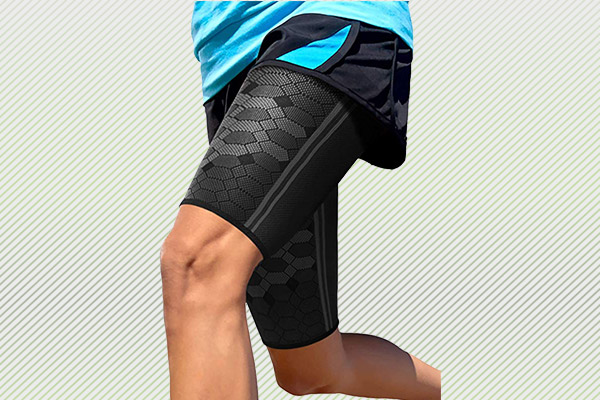 Sparthos Thigh Compression Sleeves
Pros:
Designed for everyday use as well as for intense training.

Enhanced with shock absorption to make high impact exercises like running more comfortable.

Breathable yarn prevents odor retention caused by sweat.
Cons:
May cause rashes or discomfort for athletes with hairier thighs.

The silicone non-slip strips at each end may pull at leg hair.
Contender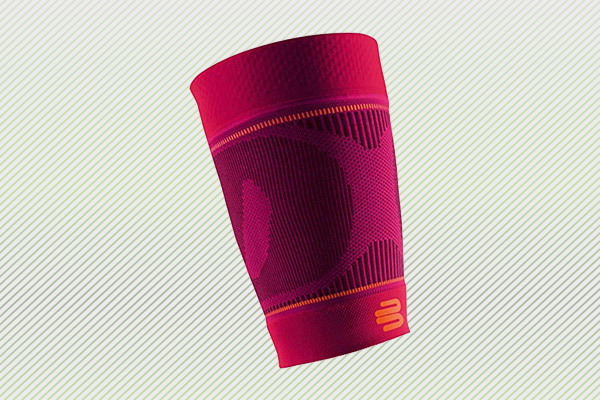 Bauerfeind Sports Compression Upper Leg Sleeves
Pros:
Silicone dotted band around the top of the sleeve prevents bunching and pulling while maintaining a firm fit.

May improve warm-up time by heating muscles through stimulated blood flow and breathable microfiber material.

Machine washable.
Cons:
Runs a bit tight which can cause a pinching feeling.

On the more expensive end of the market.
Best for Larger Athletes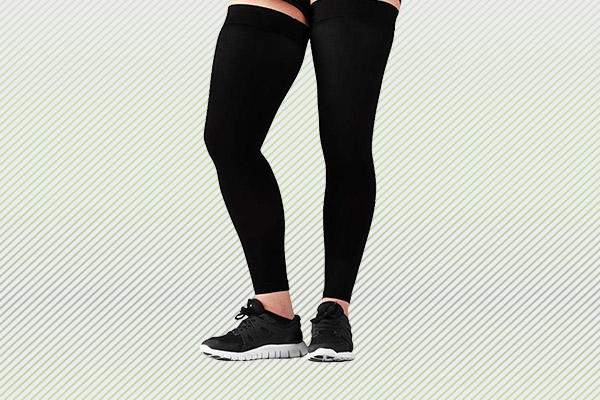 Mojo Compression Stockings Medical Thigh Leg Sleeve
Pros:
Tagless and seamless hypoallergenic breathable material ensure the sleeve does not pull, pinch, or cause similar discomfort or irritation.

Elasticity allows for the sleeve to be positioned comfortably without conceding compression level.

May reduce soft tissue damage incurred from high impact activity.
Cons:
May leave skin indentations if worn for extended periods of time.

Tends to feel tighter around the thigh than knee and calf.

Not compatible with athletes who have legs skinnier than 20 inches.
Best Thigh Compression Brace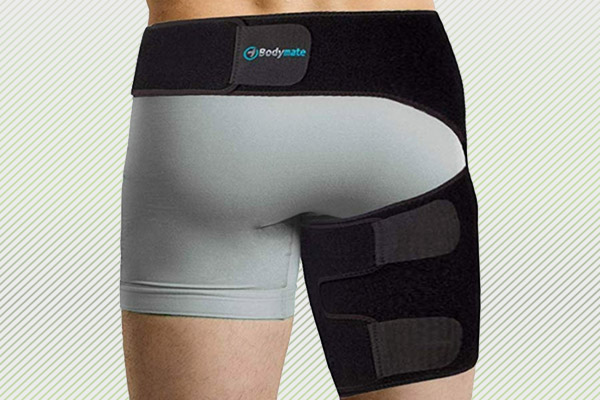 BODYMATE Compression Brace
Pros:
Universal sizing enables the brace to fit on either leg.

Can help relieve pressure on the sciatic nerve during exercise.

May be worn comfortably under or over clothing.
Cons:
Only covers one thigh.

May have to be removed to use the bathroom comfortably.
Methodology
Compression
The compression volume from any given thigh sleeve can vary so it is smart to always be on the lookout for it when shopping around. The most common compression volume we found was 20-30mmHg. The higher the mmHg the more compression the sleeve provides and the tighter it is likely to feel. It is always best to talk to your physician to determine if a particular compression volume is better suited for you than another.
There are several different types of compression, but when it comes to thigh sleeves, graduated compression is what you're most likely to come across. Graduated compression means that the sleeve applies the most compression at the bottom (furthest from your heart) and gradually lowers the amount of compression up the leg. This is to promote better circulation by improving the blood flow to the heart.
Slip Resistance
To put it matter of factly, all compression sleeves should have a design that takes into account that they will be used during physical activity. This means that they should have a means to resist bunching, slipping, or otherwise moving during training. This is usually done with silicone strips at the seams but not always.
The placement of a thigh compression sleeve is on potentially more sensitive skin and in a place on the body that may be more difficult to adjust amidst activity. So prioritize comfort when determining if the slip resistance measures implemented on a thigh sleeve are right for you.
Wrapping Up
The benefits of wearing compression sleeves during training has a lot of scientific support , so investing in them is a smart decision. However, the market offers so much variety that it can be overwhelming to figure out which is the right one to pick.
Remember to prioritize the aspects of a thigh compression sleeve that are most important to you and your training may be better off for it.
References
Proctor MC, et al. A clinical comparison of pneumatic compression devices: the basis for selection.

J Vasc Surg. 2001 Sep;34(3):459-63; discussion 463-4.