Strength, stamina, agility; plyometric boxes are a unique and effective way to target legs while engaging in a strenuous cardio workout. While the movements may be simple, whether it's escalating levels of jumps, or using a plyometric box for incline exercises like dips or push-ups, these seemingly basic additions to your routine can potentially yield major results.
The swath of plyometric boxes on the market is vast, from simply designed wood boxes, to escalating heights of durable steel plyometric platforms. Some options even feature adjustable heights to accommodate any skill level. The available options also cover multiple price points for those looking to get into plyometric workouts to experts making a major investment in their training. Here are some of our favorite plyometric boxes available today.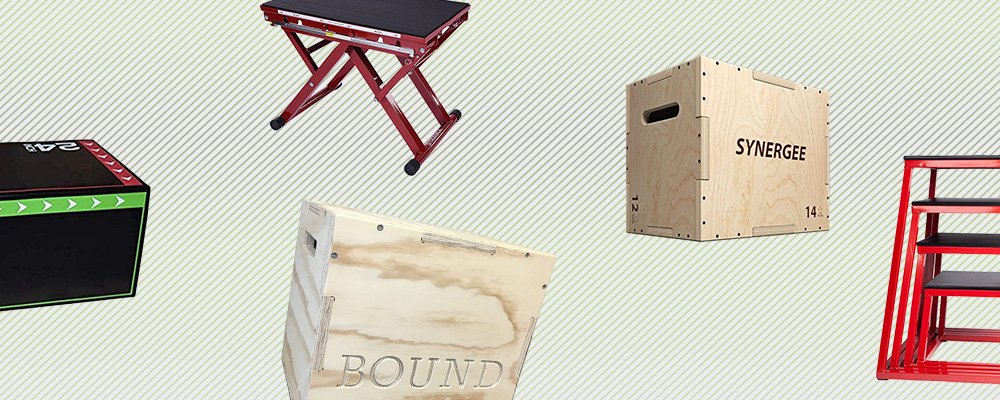 Editor's Choice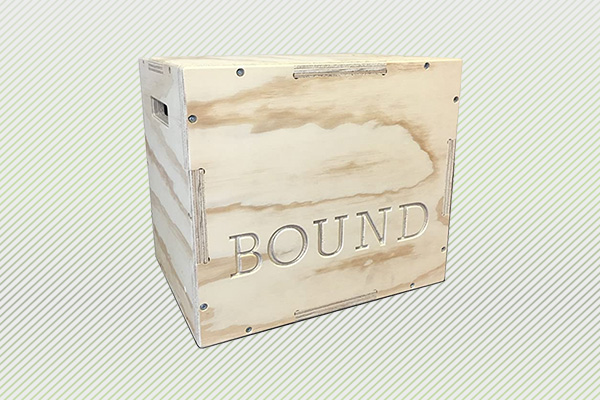 Bound 3-in-1 Wood Plyo Box
Pros:
The box is built of sturdy wood with internal braces suitable to accommodate up to 450 pounds, and it features three height options on its sides for different plyometric exercises.

Assemble the box yourself using a rubber mallet; by putting the box together yourself, it keeps costs down.

Choose from two height options, or choose to have the box delivered preassembled.

Sanded edges help ensure that the box won't cause any cuts or scraps on missed jumps.
Cons:
Because it's a wood box, if it's stored outside, especially in wet, warm, or otherwise harsh weather conditions it could warp over time.

The box assembly is simple, but it's still assembly; for someone looking for a preassembled box they can select a preassembled option or a different product entirely.
Contender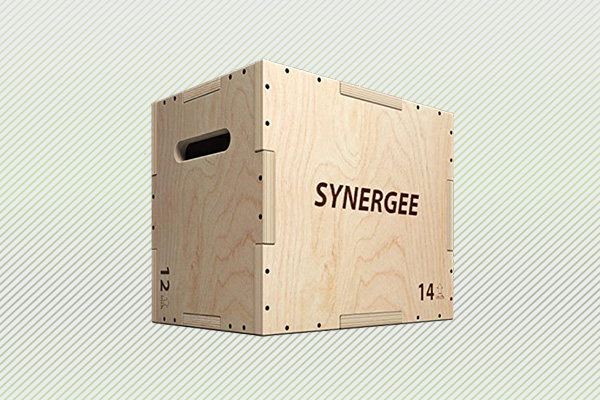 Synergee 3-in-1 Wood Plyometric Box
Pros:
The plyometric box comes in four sizes, and each box has three sides of varying heights for different exercise levels.

With a sturdy, puzzle-like assembly, the box can be put together in about 15 minutes.

The ¾" plywood build and internal brace structure is built to accommodate up to 450 pounds.

The boxes are lightweight and feature hand holes for easy transport.
Cons:
The box edges aren't sanded or treated in any way, which makes them a risk for cuts and scrapes on missed jumps.

The box also features screw holes and screws for assembly, but the included hardware isn't the highest quality.
Best Adjustable Option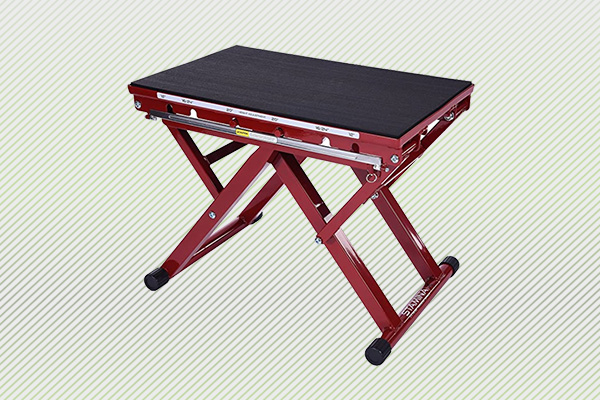 Stamina X Adjustable Height Plyo Box
Pros:
Unique adjustable height design includes four different height settings.

The box has a sturdy steel construction with a 300-pound weight limit.

No assembly required; the plyometric box comes completely ready to use.

The top of the box features a no-slip surface to help maintain safety as you train.
Cons:
Unfortunately, the box doesn't fold flat, which would be a nice feature to have for storage purposes (it does fold down to 12 inches, however).

The height-adjustment mechanism can be a little dangerous when adjusting; if it skips a peg or snaps closed it could potentially pinch a finger.
Best Steel Plyometric Boxes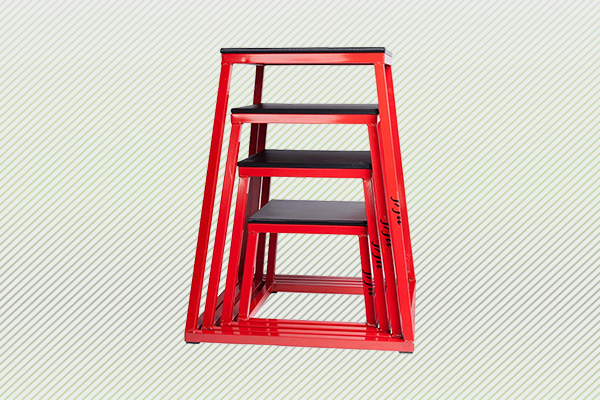 j/fit Steel Plyometric Box
Pros:
This rugged, heavy steel plyometric box can be bought individually in four sizes or as a set with three different size options.

The boxes feature rubber stoppers on their base to protect floors and hold the boxes in place; and the tapered top platform is safe and sturdy.

The boxes are sized to allow stacking for easy storage.

The best-in-class build quality can withstand as high as 800 pounds of pressure.
Cons:
The build quality is sturdy, but the boxes would be even stronger if they were individual steel pieces; being held together with screws invites wear and tear over time.
Best Lightweight Plyometric Box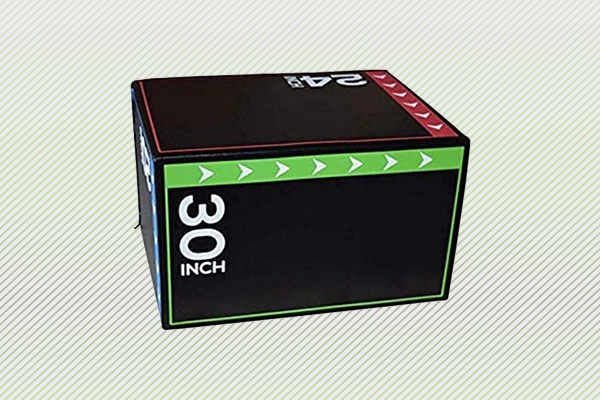 BalanceFrom 3-in-1 Foam Plyometric Box
Pros:
The high-density foam material is sturdy while only weighing 16 pounds.

The box features an anti-slip surface for safe landing and to prevent the box from sliding during use.

A single box contains three height options from its respective sides; 20, 24, and 30 inches.

The foam material is softer than comparable steel and wood designs, which is less likely to cause any injury.
Cons:
The lighter weight can affect the box's sturdiness; for those looking for a heavier-duty option the box also comes in a heavy-weight 60-pound option.

Over time, the non-slip cover can loosen, which can affect the box's overall usability.
Methodology
With such a varied product offering in the field of plyometric boxes, it can be difficult to differentiate which products offer the best results at their given price point. The right boxes can also depend on their intended usage; while some users may want lighter weight, lower height boxes for simple step exercises or rehab work, others may need a heavy-duty box system suited for intense circuit training. Generally speaking, here were some of the factors we considered to determine the best plyometric boxes on the market.
Weight Capacity
For many people, plyometric boxes are used for box jumping exercises (in addition to other workouts like step drills and decline pushups), and as a result take a heavy beating over time. Durability is important, especially for those using plyometric boxes for high-octane workouts. We found that boxes with a minimum weight capacity of 300 pounds was the baseline, but those that could accommodate more (up to 800 pounds) were sounder investments in the long term.
Height Options
Most standard plyometric boxes are simply that: boxes. They rely on the three heights of their length, height, and depth to determine the different heights. We tended to favor options that kept those heights manageable for the most amount of users. Some sets featured heights exceeding 30 inches, which can be good for more advanced users, but might be unusable for more casual plyometric exercisers. The box options that stayed closer to the middle, with a short option of about a foot and a high option nearing two feet were preferable for most everyday users.
Non-Slip
One of the biggest hazards of plyometric training is the risk that the box may slide out from underneath the user, or that the user will slip off of the top platform. It was important that box-style units had anti-slip coatings to ensure that both sides won't slide at inopportune times; and, with more step-style boxes, it was important that the bottoms have sturdy rubber pieces to not only hold the boxes in place, but also protect floors.
Assembly Required
When purchasing a standard wooden plyometric box, it can be beneficial to keep costs low to have the user assemble the box themselves. In these cases, it was crucial that the assembly not only be intuitive, but would yield a box that didn't sacrifice its sturdiness or quality. In this list we featured both ready-made plyometric boxes and those that required assembly to provide a mix for both types of users.
Transport and Storage
Because plyometric boxes need to be durable, oftentimes they can be cumbersome and difficult to transport. For box-style plyometric systems, it was essential that they contained some sort of hand holes and remained lightweight enough to be easily flipped and transported. For steel boxes, having some sort of stackable option for different box heights was a great benefit to help with storage. Generally speaking, however, the biggest factor was striking a balance between weight and durability.
BarBend Tips
Consider the height options of any box before committing to it. If the height range contained with a box is two that you may use immediately and one that might take months of training to achieve, it might be beneficial to start with a smaller box that enables use of all sides, and then upgrading later on as your abilities increase.

Make sure to take note of any potential assembly required for the boxes you commit to. Some plyometric boxes require simple assembly but may necessitate basic tools that you might not have on hand. If you're worried about assembly, opt for a plyometric box that comes preassembled to take any guesswork out of the process.
Plyometric training can be a great way to build strength and agility. The explosive movements required to do jump training has been a cornerstone of competitive training for decades, and it can be incorporated into most anyone's routine with one simple device: a box. And, with the wide array of plyometric boxes on the market, there is a solution available for all skill levels and budgets.