Plyometrics is an incredibly potent training modality that can get you ready for other movements, or can be useful for improving your explosiveness. They can also help develop longevity in your training. One of the most common tools to use when working on plyometric training is — as the name suggests — a plyometric box, which can be used for jumping onto or over as a way to develop power and agility. Plyometric boxes help users build strength through exercises like box jumps, burpee box jump-overs, elevated plyometric push-ups, and a lot more.
The best plyometric boxes come in all shapes, sizes, and materials, and each one has its place and purpose. They're commonly made from wood, metal, or foam and sometimes are able to be stacked. Most often, you'll find plyo boxes shaped like a square, but they also come in rectangular or tapered options that you'll see in many commercial gyms. The key is to know which option works best for you. In this list, you'll find a comprehensive selection of the best plyometric boxes on the market for different types of training preferences. Read and use this list to guide you toward the perfect box. Then hop off (pun intended) the laptop, and dive into your training session.
Best Plyometric Boxes
Best Plyometric Box Overall
Versatility is the name of the game for most consumers when it comes to selecting the right plyometric box. We'd all love to have a large selection of boxes with different heights, but not everyone has the room for that. That's why we love this product from REP Fitness — the 3-in-1 wood plyo box.
REP Fitness 3-in-1 Wood Plyo Box
These plyo boxes from REP are versatile and tough enough to withstand a wide variety of plyometric exercises. What sets them apart as the best is their ability to change height quickly and easily. Simply turn the box to the desired height side by looking at the easy-to-read height measurements, and you're ready to go. Each box features three height options with the boxes available in four different sizes. Small is 12x14x16 inches, in-between is 16x18x20 inches, medium is 16x20x24 inches, and finally, large is 20x24x30 inches.
These plyo boxes from REP are rated up to 400 pounds thanks to pre-drilled holes and interlocking joints, which make them much stronger than many competitors. They're also priced reasonably, starting at about $60 and going up to about $120 for the largest, both before taxes and possible shipping charges. The one possible downside is that these boxes do not come pre-assembled, so they require some work to set up. REP does include all the hardware necessary for assembly and says it should only take around 20 minutes to complete.
Who Should Buy the REP Fitness 3-in-1 Wood Plyo Box
Lifters who want to be able to do weighted plyometrics without the worry of exceeding the weight capacity.
Athletes looking for one box that has multiple height options.
Consumers who want a cost-effective option for plyometrics training.
Who Shouldn't Buy the REP Fitness 3-in-1 Wood Plyo Box
Trainees who don't want to have to do any assembly for their plyo boxes.
Gymgoers who are starting out with plyos and want a soft box that will hurt less in the event of a missed jump.
Anyone who wants metal or foam plyo boxes.
The REP Fitness 3-in-1 Wood Plyo Boxes are tough, versatile, and affordable. We like these boxes for a variety of training styles — both plyometric and traditional. You can switch easily from weighted step-ups to box jumps with a turn of the box, making these stand out over the rest.
Best Soft Plyometric Box
Jumping can be an intimidating movement for many people. There's a lot of fear associated with it, and understandably so. Nobody wants to miss the box, slip, or bang a limb on the way up or down. One of the ways to mitigate that fear is to use a soft box. This ensures that landings are cushioned and that any potential mishaps are going to be less problematic.
Rogue Foam Plyo Box
Aside from being more friendly for beginners, this box can give advanced athletes the confidence they need to push their limits, secure in the knowledge that they won't get hurt by a hard wooden box. These foam plyo boxes from Rogue are available in a variety of heights starting at six inches, then moving to 12 inches, 20 inches, and 24 inches. They can be stacked for maximum height with the large hook and loop straps on all four sides.
The ultra-dense foam core provides a solid foundation to perform plyometric movements, but the softer foam on the outside prevents damage to the athlete's shins. You can even use these plyo boxes for measuring depth during a squat for better tactile feedback. One consideration is that Rogue advises against using these boxes on smooth surfaces for a better grip and to prevent slipping, so make sure the plyo boxes are secure before getting after it.
Who Should Buy the Rogue Foam Plyo Box
People who are intimidated by hard boxes but still want to practice jumping.
Customers who are looking for a box that will have a comfortable landing. The dense foam core provides support, and the soft foam outer layer softens landings.
Trainees in need of a box that is easy to move around. These plyo boxes are between seven pounds and 27 pounds each.
Who Shouldn't Buy the Rogue Foam Plyo Box
Athletes looking for the stablest box possible may want to opt for a wooden or metal plyo box.
Buyers who want the most durable plyo box they can get. Rogue covers this box in tough vinyl, but wood or metal will be more durable still.
Athletes looking for a cheaper option. There are cheaper options available on this list.
The foam plyo boxes from Rogue are a great option for both beginners and advanced athletes alike. They can be a great teaching tool for beginners to learn confidence with box jumps and plyometric exercises. Advanced lifters can push themselves to new heights with less fear of injury.
Best Wood Plyometric Box
A winning compromise between price and reliability, wooden boxes have been used extensively in CrossFit gyms and athletic training centers the world over, and for good reason. Wooden boxes come in many shapes and sizes, but this one from REP makes it easy to choose our top pick for best wooden plyo box. Meet the REP Fitness 3-in-1 wood plyo box.
REP Fitness 3-in-1 Wood Plyo Box
These wood plyo boxes from REP are available in four different sizes, each of which comes with three different heights depending on the side the box is laying on. It's like getting three different plyo boxes in one. The small box is 12x14x16 inches, the in-between box is 16x18x20 inches, medium measures 16x20x24 inches, and large stands 20x24x30 inches. They range in price from around $59.99 to $119.99, making them reasonably priced compared to other foam or metal boxes. These boxes are lightweight and easy to move around, weighing between 16 and 50 pounds.
The REP 3-in-1 wood plyo boxes are quite sturdy as well with a 400-pound weight rating (despite their light weight). REP knows you'll be using these for some explosive movements that might not always hit the mark, so the edges are sanded to minimize scraping and improve comfort. You'll have to put these together when you get them so be mindful of that, but everything is included and the holes are pre-drilled — all you'll need is a screwdriver.
Who Should Buy the REP Fitness 3-in-1 Wood Plyo Box
Lifters who want a versatile box that can accommodate different heights will like the 3-in-1 design here.
Athletes looking for a box that has a high weight capacity. 400 pounds is enough for most to do loaded movements like step-ups or split squats.
Consumers who want a great quality box but are on a budget. These are priced well, especially for the quality.
Who Shouldn't Buy the REP Fitness 3-in-1 Wood Plyo Box
Buyers who need boxes that can be stacked for storage.
Those who prefer a softer box to remove some fear around jumping.
Anyone looking for a box made of something other than wood.
Wood boxes are the old, tough, and reliable classics that have been used in gyms all around the world for years, but REP found a way to improve on the concept. The 3-in-1 design works well in application and makes these stand above other wooden boxes as our best wooden plyo box on the market.
Best Resin Plyometric Box
Resin is a relatively new option for plyometric boxes. It has some undeniable benefits, being lightweight and durable while also being easy to mold into convenient shapes. We think these resin boxes from Rogue are the best option on the market currently.
Rogue Resin Plyo Box
Made from 100 percent recycled post-consumer plastic, these boxes are compression molded to create a really durable product. Rogue made these to be lightweight and with convenient handles on all four sides so we love how easy they are to use. Convenience helps us maintain motivation to train, even on days when we're not feeling our best.
These resin plyo boxes are available in different heights from the shortest at 12 inches to the tallest at 24 inches, with 18-inch and 20-inch options in between. The 19-inch landing area on the top provides a good amount of room for even larger athletes to land on. Though you'll have to put these together, they come pre-drilled and ship flat to save on shipping costs. They can even be stacked to store more easily.
Who Should Buy the Rogue Resin Plyo Box
Lifters looking for a lightweight, easily movable box. Even the largest box only weighs 31 pounds.
Customers who want to be environmentally conscious with recycled products. The resin material here is made from recycled plastic.
Those looking for boxes that are easily assembled. These boxes ship flat but only take about 15 minutes to put together and come with all the parts necessary to assemble.
Who Shouldn't Buy the Rogue Resin Plyo Box
Trainees who need a box that is less likely to slip. The plastic feet aren't rubberized and can slide on certain surfaces.
Buyers looking for a box that doesn't need assembly. These don't come assembled and ship flat to save on shipping costs.
Gymgoers who want a single box that has multiple height options may want to look at other picks on this list.
These resin boxes from Rogue made of recycled plastic are lightweight and cleverly designed for excellent portability. Choose between 12, 18, 20, and 24 inches, or decide to buy a full set. Either way, these boxes are a solid choice and offer great value.
Best Stackable Plyometric Box
For those looking to reach new heights in plyometric training, you'll want to be able to prove that you're progressing. Athletes often do this by increasing the height of their boxes, but once you're beyond a certain level, you'll need to stack them in order to challenge yourself.
Rogue Foam Plyo Box
These stackable foam boxes from Rogue are smartly designed to expand the heights you can challenge yourself to. You can buy them individually or in a set depending on your goals. The full foam plyo box set comes with a 24, 20, 12, and 6-inch box, making it stackable up to 62 inches, or just over 5 feet. They also come with hook and loop strips to secure the boxes to each other.
Though these foam boxes are more pricey than other options, they offer a few advantages. The soft foam outer layer is much more forgiving in the event of a miss than wooden or metal plyo boxes. Despite their soft outer layer, these boxes have a dense foam core to provide stability and structure, so these boxes don't collapse under an athlete's weight. Their heavy-duty vinyl coating means these foam boxes from Rogue will be a solid tool for years to work on your plyo training or even as a tool for determining squat depth.
Who Should Buy the Rogue Foam Plyo Box
Buyers who need boxes that are easily stacked and secured.
Anyone who wants boxes that are light and easy to set up.
Trainees looking for a set of boxes that can be easily mixed and matched to equal a variety of heights.
Who Shouldn't Buy the Rogue Foam Plyo Box
Lifters who need a box that is less likely to slip. Rogue recommends not using these on wood, smooth concrete, or tile.
People who prefer the feel of a wooden or metal box.
Anyone looking for a budget option will want to explore other options on this list.
Designed with stacking in mind, the Rogue Foam Plyo Boxes are lightweight, have securing strips, and are made with an ultra-dense foam that can hold up under rigorous training. These might be more expensive than many other plyo boxes on the list, but they're great for improving confidence and pushing your limits. Picking up a set of these if you have the extra cash is a great investment, and your shins will thank you.
Best Metal Plyometric Box
Durability is a key concern for many when purchasing equipment, especially so when the equipment in question is going to be pounced on over and over. Gym equipment isn't always cheap (though we have something to say about that), and you really want to maximize the lifespan you get out of each item. This is where metal boxes shine. They're long-lasting, and able to stand up to the forces and jumps that others may not.
REP Fitness Adjustable Plyo Box
Durability is the name of the game when it comes to metal plyo boxes, and REP designed this box to be a tank. With a weight capacity of 400 pounds and made from thick steel with solid steel spring pins that lock the legs in place, this box can take whatever you dish out. REP also thought about safety and designed this box to be functionally better than other options. It features a non-slip, rubber top surface and rubber feet to hold the box in place on the floor. There's minimal overhang at the top to catch your toes or feet on when jumping.
If you like to rearrange often, this study box weighs only 40 pounds, so it can be transported or moved around easily. It takes just thirty seconds to adjust between the three different height options of 16, 20 or 24 inches, and the landing area is 16×16 inches, so you've got some room for error. If you don't want to make a lot of noise, REP included lower, twist-lock handles to quiet the legs for an almost silent jump box.
Who Should Buy the American Barbell Steel Plyometric Box Set
Gymgoers who want a very durable metal plyo box that will survive whatever you can cook up in your plyo workout.
Athletes who prefer to vary their jump height during workouts will like that this can be changed on the fly in about 30 seconds.
Those looking for boxes that don't need to be assembled. This comes pre-assembled.
Who Shouldn't Buy the American Barbell Steel Plyometric Box Set
Trainees who prefer a softer box that is less intimidating. There are foam or even sanded wooden options that may be more inviting on this list.
Lifters who want a larger landing surface. 16×16 inches may be somewhat small for larger athletes.
Consumers with a tighter budget. Though reasonably priced (especially for a metal box), there are cheaper options on this list.
The whole point of a metal plyo box is the durability it provides over wood or foam, similar to how metal plates last longer than rubber bumper plates. REP made a tough box that's able to withstand daily use, and then made it adjustable too for a better value. Despite the somewhat smaller landing area, this plyo box is a great option for those who want a metal plyo box that they can use for years to come.
Benefits of Plyometric Boxes
It may seem obvious on the surface that plyometric training has a lot of benefits, but we also want to highlight the research on plyometrics to show that our enthusiasm for this type of training isn't misplaced.
As with many strength and conditioning concepts, plyometric research largely began in the Soviet Union in the 1950s and 60s under Dr. Yuri Verkhoshansky. It has been shown to improve a vast range of training areas, including strength, power output, and much more. (1)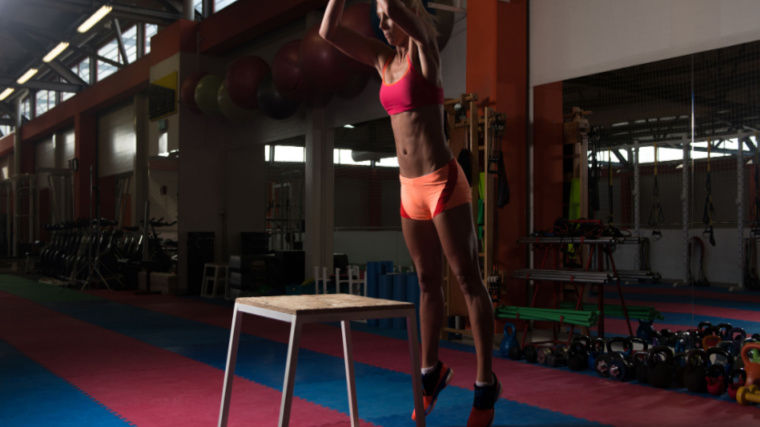 Since plyometrics was first formally studied, research has branched out to look at the effects on groups outside of elite athletes. For example a study by Vetrovsky looked at the safety and efficacy of plyometric training for the elderly and concluded that it can be very beneficial when programmed correctly. (2) At the other end of the age spectrum, a research review demonstrated that plyometrics can be equally well applied to young trainees. (3)
The caveat is that these programs need to be carefully monitored. Plyometrics are not something that any of the authors recommend casually jumping into (pun intended, again). There should be a careful calculation of volume to avoid a higher risk of injury, and technique should also be honed for the same reason.
Research Takeaways
Plyometric exercise is truly an effective form of training, no matter your age or training expertise. Plyometrics can help you develop a wide range of qualities that every athlete should prize. We should note, however, that all these studies were conducted by professionals who planned out and then carefully monitored the training. Plyometrics are not as complicated as many would have you believe, but they can be a commonly misapplied training tactic. If you do want to take advantage of this incredible modality, make sure you have a training plan in place to get the most benefit from plyometrics.
How We Chose the Best Plyometric Boxes
Just like any piece of gym equipment, deciding on the best plyometric boxes requires us to take a few key factors into account. Plyo boxes can be made from various materials — common ones are wood, foam, metal, and more recently, resin/plastic. The material will usually impact our next consideration, which is the price. Prices for plyo boxes can range from around $50 to hundreds of dollars. The height of the box can also impact the price but is an important thing to consider on its own. Many different heights can be used for different purposes and the height of a plyo box influences its placement in our picks. Read on for a more detailed explanation of each factor.
Material
The majority of plyometric boxes you'll see are made of wood, but metal boxes have become more popular in commercial gyms thanks to their durability and being able to stack them more easily. Wooden and metal boxes will rank highly in durability categories, but may not rank as well for beginners since they can be intimidating.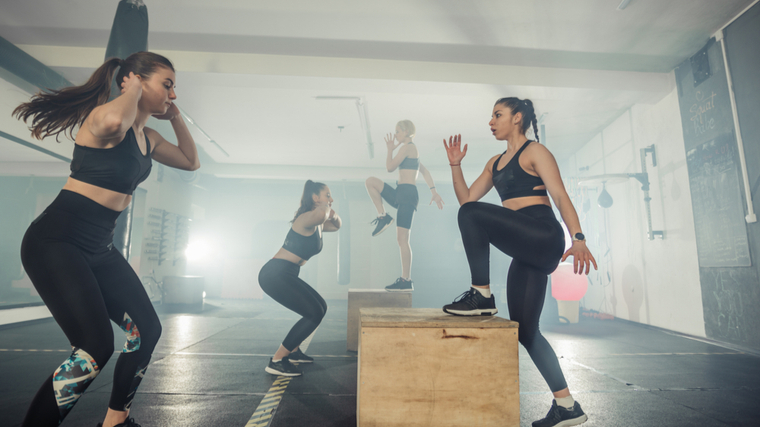 Foam is another material that plyo boxes are made from, and is generally the most stackable and will rank better for storing and versatility. They can be used for box jumps, but double as support for single-leg exercises like split squats much more comfortably than wooden or metal boxes. Resin or plastic material is somewhat new to the market and is generally cheaper than metal, but more durable and cheaper than wood options, making it rank higher for those metrics. Overall, the material is one of the biggest factors in picking the best plyo boxes.
Price
The price of plyo boxes can vary widely depending on what the box is made from, the height, if it's adjustable, and other factors. You can find some budget-friendly options that are still high-quality from around $50. For a complete set of stackable, top-tier plyo boxes, you can easily spend over a thousand dollars. How much the product costs in addition to the versatility, durability, and overall quality of the box will factor heavily in how well we rank said box.
Height
Plyo box heights can vary nearly as much as the price. At the low end, you can find beginner boxes that are six inches tall with some of the tallest boxes being over 30 inches in height. Some plyo boxes come in a set that can be stacked to vary the height and allow you to work up to a certain desired goal, providing more versatility, which will cause that product to rank higher. Yet other plyo boxes are adjustable, allowing you to vary the height easily and quickly.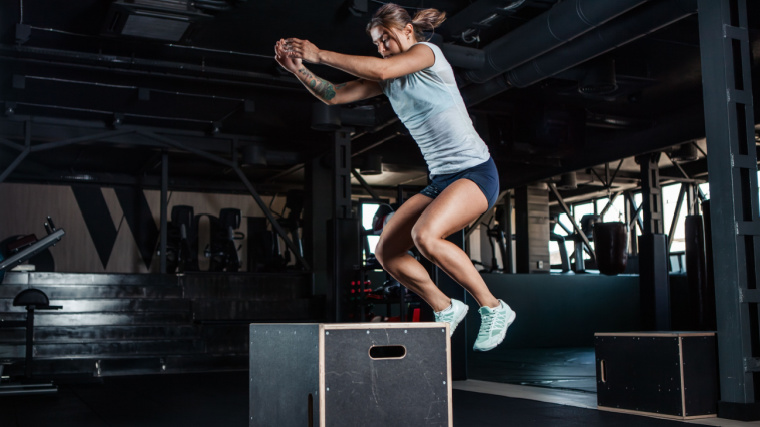 Though generally more expensive, adjustable height boxes will rank higher in categories that value versatility more. Of all the factors that go into our picks, height is difficult to rank since the boxes usually come in a variety of sizes, but boxes with a smaller amount of choices will often rank lower.
How Much Do Plyo Boxes Cost?
The price of plyo boxes can vary greatly from about $50 for a single, cost-effective box to over a thousand dollars for a full set of specialty boxes. Generally, wood plyo boxes are the most cost-effective, followed closely by plastic or resin boxes. The most expensive type of plyo boxes are those made of foam. There are good reasons for the price differences too, with wood and plastics being much cheaper to manufacture and easier to ship since they can be assembled when delivered. Foam is generally more expensive to manufacture, so foam boxes typically cost the most of any plyo boxes.
| | | |
| --- | --- | --- |
| Best Plyometric Box Overall | REP Fitness 3-in-1 Wood Plyo Box | From $59.99 to $119.99 |
| Best Soft Plyometric Box | Rogue Foam Plyo Box | From $190 to $350 or $1,100 for a full set |
| Best Wooden Plyometric Box | REP Fitness 3-in-1 Wood Plyo Box | From $59.99 to $119.99 |
| Best Resin Plyometric Box | Rogue Resin Plyo Box | From $90 to $115 or $370 for a full set |
| Best Stackable Plyometric Box | Rogue Foam Plyo Box | From $190 to $350 or $1,100 for a full set |
| Best Metal Plyometric Box | REP Fitness Adjustable Plyo Box | $149.99 |
Wooden plyo boxes will usually run you around $50 to $100 per box, depending on the height. Metal, another common material used to make plyo boxes, is usually more expensive than wood or plastic. Metal boxes sometimes come with adjustable heights using pins or springs, which can impact the price. Non-adjustable metal boxes usually range from $100 to $200 for shorter or taller heights, respectively. Foam plyo boxes are generally the most expensive, and even shorter foam boxes can cost over $100, with a full set easily costing well over a thousand dollars.
What to Consider Before Buying a Plyometric Box
Though you may have thought that a box to jump on would be one of the most straightforward purchases you could make, there are still things that we think you should consider before you buy. Get out your notepads.
Your Training Start Point
There's a very simple calculus behind this. If you haven't jumped in years (or have never trained jumping), it's probably not the best idea to go out and buy a 30-inch box. For most people, a box somewhere between 12 to 24 inches will be the most useful option, but exactly what height you should start with really depends on your training history and your comfort level.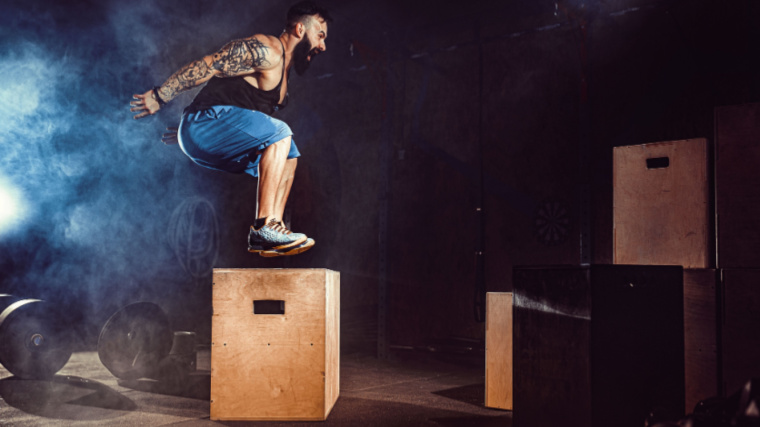 Break out the ruler, grab a friend, and hit the home gym to test your hops to see where you land before buying a box, or set of boxes.
Your Budget
A single box is usually quite affordable, so budget isn't as big of an issue as it can be with other home gym equipment. On the other hand, it is still well worth doing a bit of research to ensure that you don't waste your time and money returning and reordering the correct box.
Soft or Hard
Alongside the height of the box, opting for a hard or soft box is an important decision. Hard boxes are generally more durable and are less likely to topple over when you land or move. They have hard, clear edges which are nice if you're squeaking over the top on a jump and need them to hold your weight up to the very edge. They do however come with a psychological intimidation factor (and pain) if you miss your mark.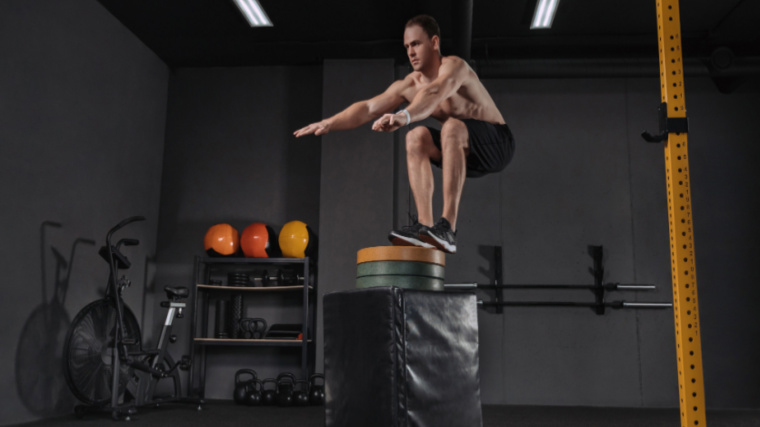 Soft boxes offer a much more comforting downside if you miss a jump or come down too hard on a landing. Catch yourself, compose yourself, and try again without tearing up your shins. However, softer boxes are a little less stable, so evaluate your skill and training needs, and you should be able to make an informed decision on what will work best for you.
Metal, Wood, Resin, or Foam?
There are 4 main materials that boxes are typically fabricated with. Here's a brief overview and some of the pros and cons of each of them.
Metal
Incredibly durable, metal is the way to go if you never want to have to buy again or are going to be putting the box through really heavy usage. The downsides are that it is quite heavy and it hurts if you mess up a jump.
Wood
The old school choice, wooden boxes have proven themselves in gyms worldwide. They are durable, but usually relatively heavy and can splinter. They are also very uncomfortable if you smack a shin into them, which is actually a very common injury associated with jumping.
Resin
Lightweight and durable, resin is a relatively new option for boxes. The downside here is that it is much more likely to slip than other boxes, so you'll want to make sure it is secure before you begin your workout.
Foam
The softest option available, these boxes are invariably the most beginner friendly. They are light and easy to move, which is a double-edged sword. Easy to get out and set up, yes, but it equally means that they may shift slightly while you're trying to land. They also can become deformed more easily than other options, so be careful how you store them.
Stackable or Not
We understand that, technically, all boxes are stackable, but our point here is that some are designed with storage in mind and others aren't. If space is an issue for you, but you want to have a variety of height options, then make sure you look for stackable boxes. If you only need one box and aren't too worried about space, then no need to worry.
Weight
This is usually not a huge concern, but for those of you who might be involved in coaching group classes and thus moving multiple boxes around each day, it is worth thinking about. Lifting unwieldy boxes is surprisingly strenuous if you have to move a bunch of them.
Getting Started With Plyometric Training
Start jumping and get strong concurrently. You probably don't need to work up to a double bodyweight squat to get started with jumping. Jumping concentrically onto a box that isn't intimidating and then lowering yourself down carefully is a great way to begin to work on this potent stimulus.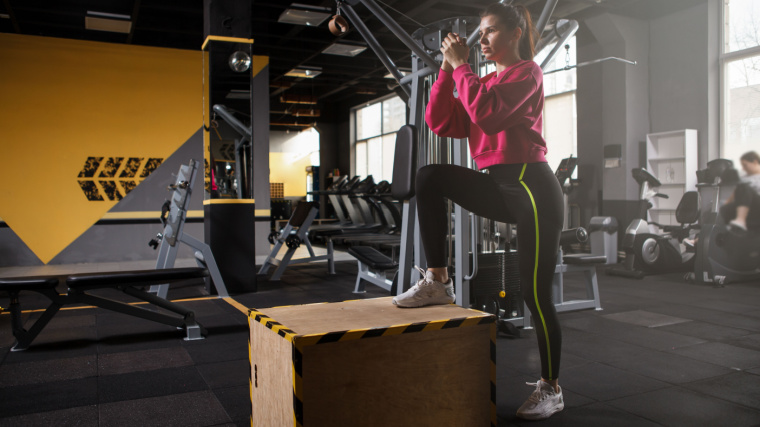 We'd highly recommend you train jumping, but it's ideal to do so with the help of a coach who knows how to design programs that give you all the benefits and none of the downsides. If you are determined to go it alone, we'd recommend proceeding cautiously instead of running before you can walk, or rather, jumping before you can land.
Final Word
One of the most common uses for plyometric boxes is jumping, and they're certainly designed with that in mind, but don't feel limited to just that exercise. Plyo boxes can be used for squatting, to help you learn to do a push-up, or to increase the difficulty of a movement that you've already mastered. Plyo boxes add an entirely new list of exercises you can do, like elevated split squats, Ukrainian deadlifts, and box squats.
There's a wide range of applications for plyo boxes that make them well worth it as a purchase for your gym. As far as gym equipment goes, they're cheap, easy to use, and durable. When you look at all of the benefits that come with training using plyo boxes, there's little reason to not add one to your gym and training regimen — and this list offers a lot of solid options.
FAQs
References
Johnson BA, Salzberg CL, Stevenson DA. A systematic review: plyometric training programs for young children. J Strength Cond Res. 2011 Sep;25(9):2623-33. doi: 10.1519/JSC.0b013e318204caa0.
Vetrovsky, T., Steffl, M., Stastny, P. et al. The Efficacy and Safety of Lower-Limb Plyometric Training in Older Adults: A Systematic Review. Sports Med 49, 113–131 (2019). https://doi.org/10.1007/s40279-018-1018-x
Ramírez-Campillo R, Andrade DC, Izquierdo M. Effects of plyometric training volume and training surface on explosive strength. J Strength Cond Res. 2013 Oct;27(10):2714-22. doi: 10.1519/JSC.0b013e318280c9e9.