With so many bags to choose from on the market, it can feel overwhelming when shopping for something as specific as a gym bag. Luckily, we've curated a list of some of the best gym bags on the web. A gym bag should be constructed with several compartments and pockets to help organize all of the essentials necessary for a workout. Typically this means proper space for sneakers, a change of clothes, and all the other go-to gym items.
We looked at bags that were designed with organization and preparation in mind. We tried out various styles, different fabrics, and strategic strapping. Now let's dive into five of the best gym bags on the web.
Editor's Pick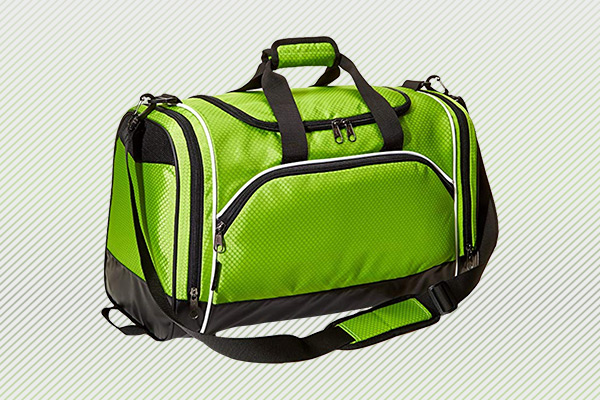 The AmazonBasics Lightweight Durable Sports Duffel
The AmazonBasics Lightweight Durable Sports Duffel has a simple design with multiple pockets in different sizes. It is lightweight and comes in a variety of colors. This bag is adjustable and comes with a padded strap which makes it easy and comfortable to carry on the go. 
Pros:
Size. This bag comes in two sizes, small and medium. This allows for the buyer to choose a gym bag based on what essentials and how many will be packed in the bag. 

Color. There are eight different colors to choose from, including black, grey, graphite, green, blue, pink, red, and navy.

Adjustable. A padded shoulder strap is included which means this bag can be carried by hand, or easily whipped over the shoulder for a different carrying option.
Cons:
Price. This bag does change its pricing depending on the size selected. 

Material. This bag is 100% polyester, so if this isn't a preferred fabric this is something to keep in mind.
Best Performance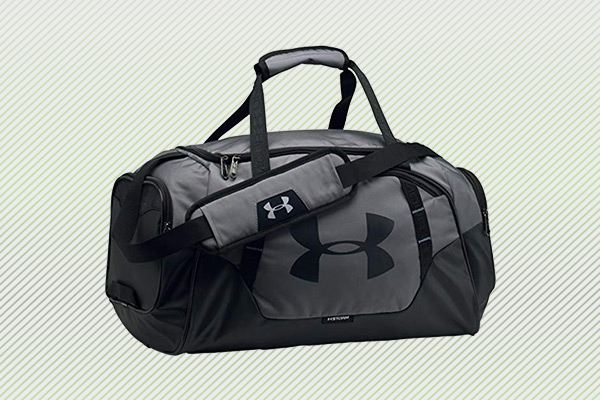 Under Armour Undeniable Duffle 3.0 Gym Bag
The Under Armour Undeniable Duffle 3.0 Gym Bag was designed with performance in mind. Its design is simple enough for the no-fuss athlete, and also tasteful in its unique color scheme and patterns offered. The colors range from simple blacks and greys, to funky block patterns and camouflage.
Pros:
Space. This bag is properly equipped with big pockets for different essentials. The main compartment is roomy and the hanging pocket is suitable for any small electronics or non-bulky items.

Fabric. This bag is designed primarily with polyester, however the pockets on the side have mesh on them which helps with ventilation. 

Design. The bag also has a webbing part on the side pockets which allows this bag to be easily hung up or stored.
Cons:
Price. The pricing of this bag significantly varies depending on design and pattern scheme. For the most affordable option, opt for a basic color and no pattern.

Size. This bag is designed for someone who has a lot of stuff. The pockets are big and deep, which means this could also work for a weekend trip or adventure. 
Best Design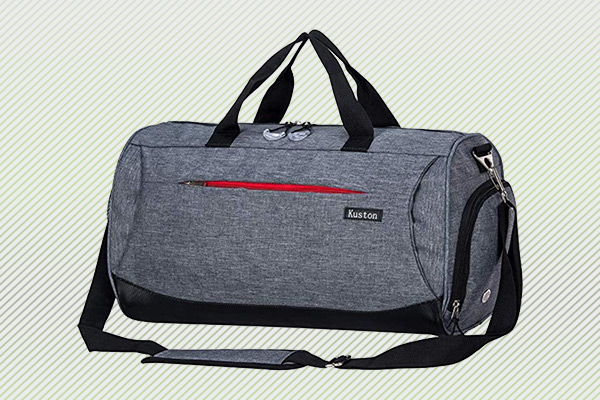 Kuston Sports Gym Bag
The Kuston Sports Gym Bag was designed for gym-goers and the organized travelers. The bag is lightweight, made with oxford fabric which not only looks chic but feels great, and is equipped with multiple pockets and storage space.
Pros:
Design. This bag includes pockets for various essentials. There's one main compartment, one inner zipper pocket, a side shoe compartment, and one pocket that is waterproof.

Detail. This specific waterproof pocket was a detail we didn't see on most gym bags, but it provides a smart option for separating any sweaty items or liquids. 

Adjustable. This bag can be held as a handbag or a crossbody bag. The large strap is adjustable which can even be completely detached. 
Cons:
Price. While this bag is affordable across the board, the price does vary depending on the color and design patterns. 

Material. This bag is different from a lot of the gym bags because it is made from primarily oxford fabric. 
Best Value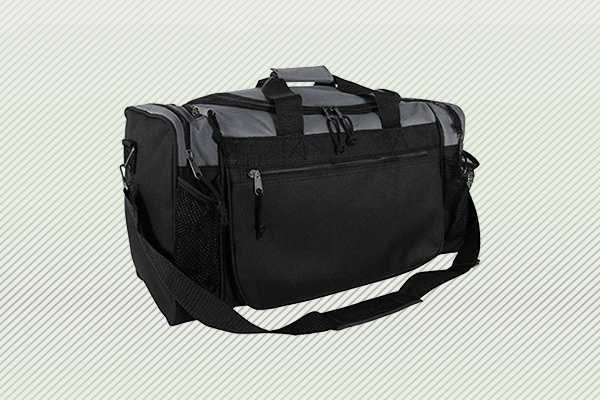 DALIX 20
If a bag comes with multiple pockets designed for different and specific valuables from water bottles to cell phones, it's easy to assume this product could be quite expensive. The DALIX 20″ Sports Duffle Bag, however, proves that there is an item on the market that is designed for optimal organization without breaking the bank.
Pros:
Value. For a bag that is equipped with various pocket sizes and is durable, this is a bargain compared to several of the other gym bags we've seen on the market.

Protection. The main pockets are designed with two zippers for easy access and maximum safety. 

Design. This bag has everything from one big compartment to several smaller pockets, mesh sides, and hidden inside pockets. 
Cons:
Material. This bag is 100% polyester, so if this isn't a preferred fabric this is something to keep in mind.

Appearance. This bag has a simple design and isn't offered in any funky patterns. While it does come in different color options, for the most part this is a no-fuss basic looking bag.
Best Travel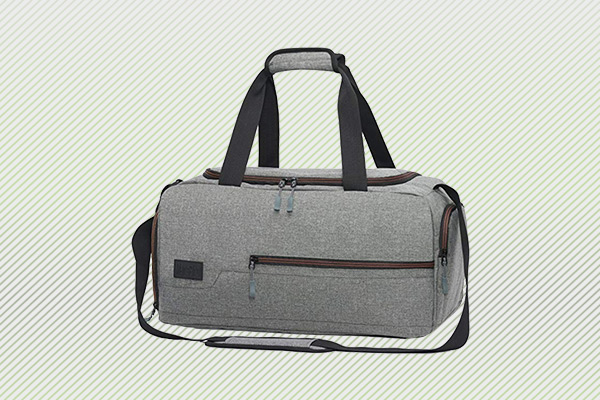 MarsBro Water Resistant Sports Gym Travel Weekender Duffel Bag with Shoe Compartment
The MarsBro designed a gym bag that is not only water resistant and equipped for all kinds of workouts, but this bag is also uniquely designed. It has compartments suitable for different sized objects, and also includes strategic pockets for all the smaller essential items. 
Pros:
Design. This bag includes one main compartment suitable for bigger items, and there is also one front zipped pocket, one inside pocket, and a snug side pocket for medium sized items. 

Detail. This bag comes with a special fluorescent light zippers. This stands out from a lot of the bags we've reviewed, and shows a special attention to detail and flare.

Adjustable. It comes with a shoulder strap that is adjustable and cushioned for maximum comfort. This bag can also be carried easily with its two handles.
Cons:
Price. This bag is offered in six different color options, and depending on what color is selected the price will vary. The more expensive colors include the pink and tiffany blue.

Color. Compared to other gym bags we've reviewed, the color options and design here is more limited. While there are six color options, all of the bags have a simple design to them so don't expect any funky patterns or unique stitching.
How We Picked
In order to feel ready to crush a workout or get the most out of a quick weekend trip, it's important to feel prepared and organized. We looked at gym bags that are designed with pockets and storage to fit all the essentials, are affordable, and also aren't going to tear or collapse after minimal use.
Storage.

We looked at bags that had a spacious main compartments for bigger items like clothes, towels, and shoes. We also chose bags that had several pockets and compartments for smaller items like a cellphone, toiletries, and more.

Functionality.

A gym bag has to function in a gym setting. This means it has to be waterproof, or at least have pockets that can withstand any water bottle spills or toiletries that may leak. We also paid attention to how bags were sealed. We looked at zipper functionality, or pockets with some elasticity to them making sure all items are kept safe and snug.

Appearance.

We found simplicity to be key here. Chances are the items in the bag itself are full of personal flare, so as long as the bag does the job of organizing everything it's doing its job. We looked at bags that come in different colors, had various pattern options, and also included accessories like straps or detachable pockets.

Durability.

Gym bags need to be able to withstand tough conditions. They should be designed to keep all the items inside safe and secure. The outside should withstand all different temperatures and an added bonus if it's waterproof. Gym bags often carry a lot inside of them, so the material should be durable and resistant to handle anything leaking or in anyway compromising.

Price.

We looked at bags that were made out of quality materials for an affordable price. Most of the bags we looked at were made out of polyester, but the inside materials would vary from mesh to an oxford fabric.
BarBend Tips
At BarBend we're always looking for a gym bag that can organize our gear and get us ready for whatever the day has in store. We want a bag that is well designed with compartments that vary in sizes, and also one that is comfortable to carry. We've thought of some crucial tips to consider when shopping for a gym bag.
Comfort.

If a bag isn't comfortable to hold that is almost an automatic no. Gym bags were created to help organize and ease up a trip to the gym. The bag should be something that isn't a pain to hold and is comfortable enough to throw over your shoulder. Look for bags with adjustable straps. Often gym bags will also come with detachable straps or one big extra strap for an over-the-shoulder option.

Sizing.

Typically gym bags run bigger than a typical backpack or drawstring bag. Gym bags should have different compartments designed for various gym essentials. Look for bags that come with one main compartment (for larger items) and then several smaller pockets for different items. Some gym bags will only have three sections, one in the middle and two smaller ones on the sides, so be on the lookout for bags that have more than three and are suitable for all kinds of must haves you're going to want at the gym.

Material.

Don't be afraid to play around with different types of material to see which one you prefer. Gym bags come in all types of materials and fabrics and some are designed for very specific temperatures and activities. A safe bet is looking for bags made out of polyester.
Wrapping Up
Now that we've gone over five of the best gym bags on the web, we hope that you are feeling ready to get more organized and prepared for your workouts and travel plans. With so many bags on the market, we understand how overwhelming it can be. But, hopefully by now you're excited to purchase one, pack it up, and hit the gym!