The Nike Savaleos are a premiere choice for your metcon and WOD needs. Designed to be stable and solid for weightlifting, but lightweight and flexible for plyometric and jumping movements, the Savaleos are a Jack of all trades men's shoe. These shoes hit the sweet spot for those who train with many different types of movements thanks to their versatility. They've got a raised heel, but it's only 15mm (0.59 inches) — lower than most specialized weightlifting shoes. They feature rigid support for stability, but only in the midfoot to allow more flexibility during other exercises.
We think the Savaleos are a great option for athletes who are looking for a versatile weightlifting shoe they can wear for their entire workout, as Nike put comfort at the forefront of their design here. There's no need to take up precious space in your gym bag by bringing multiple pairs of shoes. The flat, wide sole distributes pressure over a larger area, which improves comfort when handling big weights repeatedly.
The Savaleos also include a padded mesh in the heel for breathability and impact absorption, as well as a padded tongue and collar. The Nike Savaleos can match nearly any workout you're doing, and we break down this model for you below for a more in-depth look at what this shoe has to offer.
Main Takeaways
The Savaleos bridge the gap between a trainer and a weightlifting shoe. They offer great support for hitting the Olympic lifts, but are still flexible and light enough to do box jumps, burpees, or other plyometric work.

Nike designed these with a lower heel height of 0.59 inches, making them a great entry-level weightlifting shoe. A taller heel may feel too awkward, or pitch a newer lifter too far forward.

The outsole construction of these is a welcome aspect that adds extra traction thanks to the lateral and forefoot lips.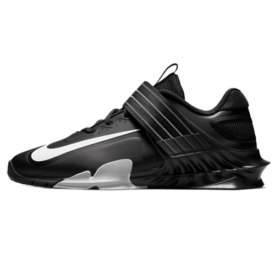 The Nike Savaleos bridge the gap between trainers and weightlifting shoes very well. They offer support and stability while still being flexible enough to support the rest of your workout. Nike made these shoes comfortable and functional for all your lifting needs. 
Nike Savaleos Highlights
Nike is well known in the weightlifting world for the high quality of their specialized weightlifting shoes. They are the makers of the world-renowned Romaleos series, which are used by weightlifters the world over. When you're successful, the next step is to branch out, and who doesn't love a good spin-off. Nike struck gold again with their hybrid lifting shoe, the Savaleos. Not only do they look good, but they can help improve comfort, performance, and stability when lifting across a wide range of exercises and training types.
The Nike Savaleos are meant to bridge the gap between workout shoes and weightlifting-specific shoes. They allow you to go right from exercise to exercise without feeling like your footwear needs to be changed. The Savaleos feature a more modest 0.59 inch heel that's better for general workouts, and doesn't pitch you too far forward, but is still adequate to help with positioning during weightlifting movements. The single, nylon strap helps to improve ankle and foot stability without being too rigid, like a two-strap design might feel.
Nike isn't trying to hide the hybrid nature of these shoes either. These shoes have a heel clip for handstand pushups to help guide you on the wall, which was taken from Nike's Metcon family of shoes. Nike took more inspiration from the Metcon and Romaleos shoes for the sole too. A rigid and wide sole on these shoes is great for weightlifting but doubles as extra traction when doing more dynamic movement-oriented exercises.
By removing the forefoot strap that can be found on the Romaleos 4, Nike decreased the weight of the Savaleos. These shoes are meant to be lightweight and feel unobtrusive when moving around with a perforated upper that makes for better breathability. Nike was also conscientious about comfort, knowing that you'll be wearing these shoes for entire workouts, and included a mesh padded inset and extra padding around the tongue and ankle areas to help with impact absorption.
The Savaleos also have a wider toe box area for a better foot feel during lifting and moving. You can see the increase in flexibility of these shoes when looking at them from the bottom with a clear break in the rubber traction material where the rigid midsole ends and the flexible forefoot area begins. Nike's Savaleos are available in men's sizes five through 15 in Black/White and White/Black colorways and men's sizes six through 14 for the Gray Fog/Emerald/Orange colorway.
Who Should Buy Nike Savaleos
Athletes that want a weightlifting shoe they can use for their entire workout instead of having to change them midway through. Nike designed these to support all forms of lifting.
Anyone who is looking for a solid weightlifting shoe, but doesn't want to break the bank. These are reasonably priced for the versatility you receive.
Lifters who want a shoe that's comfortable and offers some impact support around the heel and tongue area will like the extra cushioning included in those areas.
Who Shouldn't Buy Nike Savaleos
Athletes who want a shoe that is specifically made for weightlifting — these are made to be versatile, and "true" weightlifting shoes generally have a higher heel and more built-in stability.
Anyone who is looking for the maximum support they can get out of a weightlifting shoe. There are options with two lockdown straps and a full-length stability plate.
Advanced weightlifters who are handling very heavy weights, and looking for a connected feeling to the platform with an outsole that provides more traction.
Price
The Nike Savaleos are priced competitively at $120 through both Rogue Fitness and Nike. That's in line with comparable shoes that are designated as weightlifting shoes, but are really more of a hybrid trainer and weightlifting shoe. If you're looking for a pure weightlifting shoe, then maybe the Nike flagship Romaleos 4 would be a better option. It's hard to beat the Savaleos for the price though.
Overall Build and Quality
As far as overall build and quality are concerned, the Savaleos are right in line with what one can expect from Nike — a well-built shoe made from high-quality materials. Despite the lower price point, Nike doesn't seem to have cut any corners here. The velcro area on the lockdown strap is smaller than we'd like, especially for those with larger or wider feet, and the upper material doesn't feel quite as heavy-duty as their flagship Romaleos 4.
That said, these are significantly cheaper and generally either a cross-training or beginner weightlifter shoe, and those aren't dealbreakers for us. They do feel very solid, even under heavy weight and hard squat bracing. When replacing the feet on a clean or snatch, they move effortlessly and their light weight is noticeable and welcome.
Features
Nike brought out the best of both worlds when designing the inaugural version of the Savaleos. They took some great features from their Metcon lineup and their extremely popular Romaleos, and made a great hybrid performance shoe. The heel clip on the back of the shoe sticks out about an inch to help act as a guide during handstand pushups.
Nike included a wider sole for a more solid base under heavy weights, and a rigid midsole to achieve optimal power transfer during explosive movements. The flexible forefoot area allows you to use that power transfer for not only Olympic lifts, but box jumps, burpees, and other cross-training movements.
Effective Heel Height
The effective heel height of the Nike Savaleos is 15mm or about 0.59 inches, which is shorter than the standard 0.75 inch height of most weightlifting-specific shoes.
These are great for someone who's just starting out with weightlifting as they won't be able to rely as heavily on the shoes to compensate for lack of mobility — a common problem with those just starting out. Anthropometric differences may cause different lifters to seek different heel heights though generally, the 0.59 inch heel is a good middle ground between flat trainers, and a full-fledged heel to still help with better lifting positions, but not put you too far forward during other exercises.
Those with previous injuries that impede ankle mobility or prevent forward knee movement may want to opt for a higher heel to get in optimal upright positions for the squat, snatch, and clean & jerk.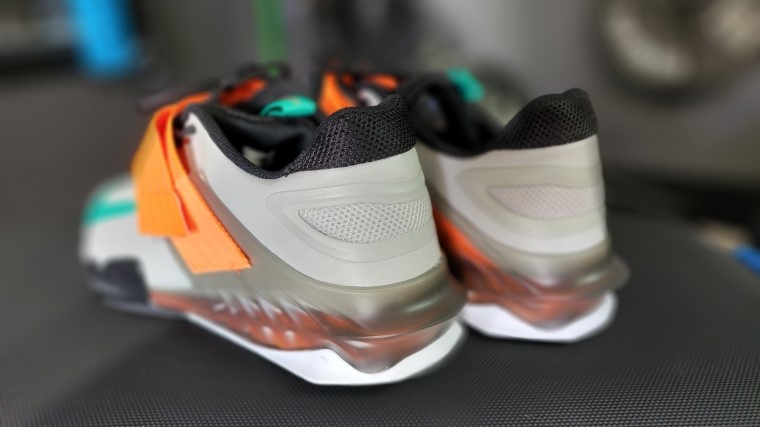 Another group of lifters that may enjoy the lower heel height are powerlifters — specifically powerlifters who use a low-bar squat style. That style of squatting can benefit from a lower heel, like that on the Savaleos, instead of the typical flat shoes, like Converse Chuck Taylors, that many powerlifters wear. A higher heel can pitch a powerlifter too far forward, whereas the lower heel of the Savaleos may help achieve better depth with a more upright torso. The sweet spot for most competitive weightlifters seems to be a heel height of around 0.75 inches, but anyone else may enjoy the slightly shorter heel on the Savaleos.
Heel Construction
The heel on the Nike Savaleos is constructed from a hard thermoplastic polyurethane (TPU) material, which is lightweight and non-compressible, and lauded for its sturdiness and resistance to damage.
Again, Nike drew upon multiple sources for the design of the heel for this shoe. The heel is made from the same material that most modern weightlifting shoes use — TPU — and is designed to help you feel grounded and secure under heavy loads, but Nike snuck in some cross-training features. They included about an inch of extra material off of the back of the shoe which acts as a guide for handstand pushups when your feet are up against a wall.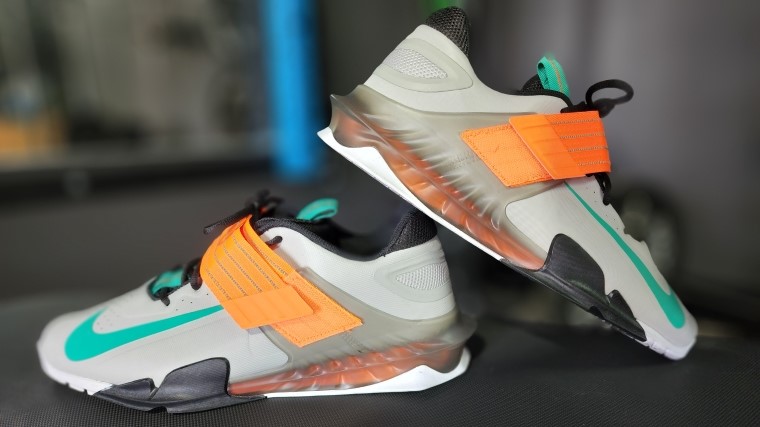 Nike also put in some extra padded mesh around the heel in the collar of the shoe to help improve comfort because these shoes are meant to be worn for your entire workout. A lot of old-school lifters may still prefer a wooden or stacked leather heel, but TPU seems to have replaced those options for the most part as a better and more reliable material.
Upper Shoe Material
The upper of the Savaleos is probably where most people will notice the biggest departure from pure weightlifting shoes. Though the upper of the Savaleos is still made from a perforated material, Nike chose to eliminate the metatarsal strap, keeping the midfoot strap. Instead of using the woven fabric of Flywire material that's on their Romaleos shoes, they went with a cheaper feeling leather material. We get that these shoes aren't as expensive as the Romaleos, but the upper material does feel less premium, and if you're someone who puts an emphasis on that, the Savaleos may not be the best choice for you.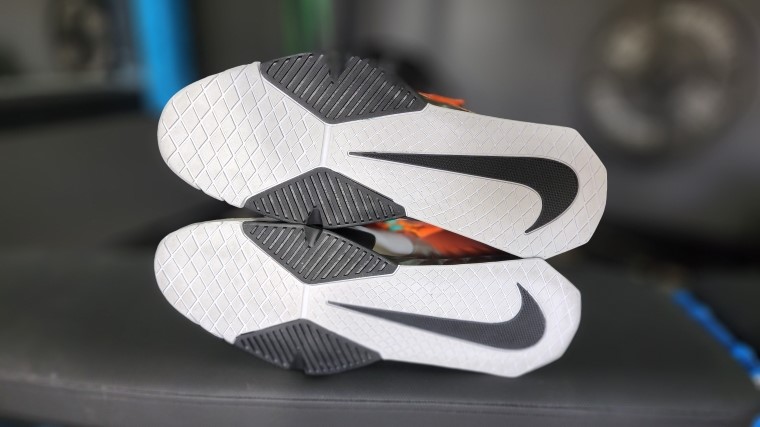 The cheaper feel of the upper material may cause some longevity issues down the road, but we'll have to wait and see about that. One big positive is that the shoes don't really need to be broken in over a long period of time like many leather shoes, so after one solid training session, your feet should feel pretty at home. Those with a slower foot turnover will be happy with the lightweight feel of these shoes, thanks to the weight savings from one less strap and the less dense TPU on the sole.
Foot Straps
Seeming to take inspiration from the Romaleos 3, the Nike Savaleos have just one foot strap located over the tongue of the shoe or midfoot area. The strap is quite lightweight as it's made from nylon instead of leather, though it still adds a layer of comfort and stability that a strapless design would be sorely lacking.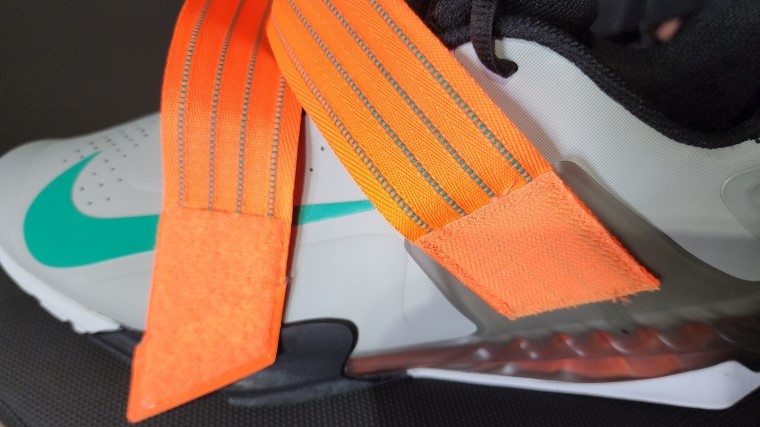 The single, wide strap only has a small section of velcro where it attaches to itself though, and the buckle is made from plastic. You won't be able to get quite as tight a squeeze out of these as you would a shoe that's buckle is metal and strap is leather, but the weight savings to make for a lighter shoe seems to be the logic behind this decision. For those of you who are worried these may not hold up under a heavy weight, they held up fine and felt great under a 600 pound deadlift, and a 455 pound squat, so most people should be good.
Product Specs
The Nike Savaleos are a hybrid weightlifting shoe that include features of both trainers and pure weightlifting shoes. A rigid TPU heel that extends to the midsole offers a solid foundation and helps to optimize power transfer, while a flexible forefoot allows better mobility in the feet while doing movement-based exercises.
Nike shaved some weight off of these shoes compared to their pure weightlifting shoe counterparts to make them better for full workouts that would be more difficult with heavier shoes. It's clear that Nike designed the specifications of this shoe around a hybrid athlete's needs.
Type of Weightlifting Shoe
Weightlifting shoes come in all shapes and sizes, similar to weightlifters themselves. Many weightlifting shoes will have a specified design to optimize functionality in the Olympic lifts and squats with little regard for other movements. A great example of this would be the Nike Romaleos 4 with a dual strap design, higher heel, and full foot TPU design. They're heavier and give greater stability and rigidity.
Other shoes, such as the Savaleos, are designed with a hybrid lifter in mind to accommodate the many different types of exercises that you do during the course of your typical workout. This hybrid lifting shoe is better for those who want to incorporate plyometric work into their weightlifting routine, as these shoes can accommodate all forms of lifting, which means there's no need to change shoes between sets.
Weight
The Nike Savaleos are a lightweight shoe, coming in at 15.4 ounces at size 10. Compare that to the pure weightlifting shoe of the Nike Romaleos 4, which weighs 20.1 ounces at size 10, and there's a clear difference. The Savaleos shed the weight by ditching the dual leather straps and replacing them with one nylon strap. Additionally, the Savaleos have a more flexible sole and drop some weight by having the rigid TPU material only extend to the midfoot rather than the entire sole of the shoe. They do sacrifice a bit of platform feedback for this though.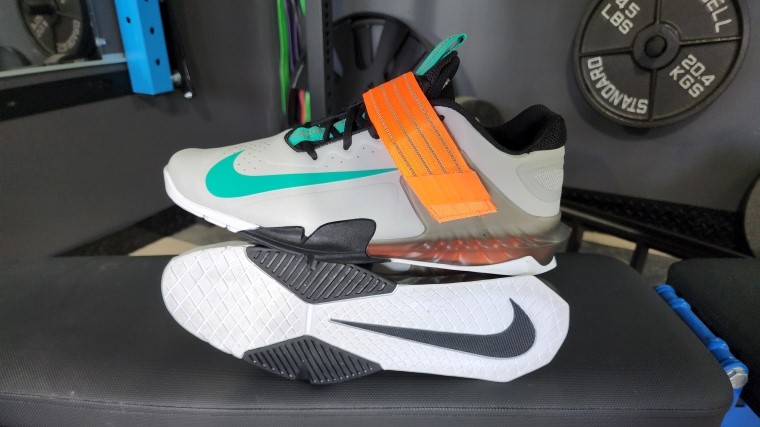 The lighter weight of these shoes is ideal for those who are just getting into weightlifting. They generally have a slower and less aggressive foot turnover speed. Cross trainers will also enjoy the lightweight nature of the Savaleos when doing movement-based exercises, like toes to bars, box jumps, and double-unders, which require you to move your feet quite a bit.
Colors and Sizes
The Nike Savaleos are available in three different colorways. They come in White/Black, and Black/White, available in men's sizes five through fifteen, and Gray Fog/Emerald/Orange, available in men's sizes six through 14.
The Savaleos run true to size if you want a more athletic or snug fit. We do recommend sizing up a half size from your normal trainers if you want a bit more toe box room.
Materials
Nike composed the Savaleos from a perforated leather upper to improve breathability during long workouts. The lockdown strap is made of tough-feeling nylon and attaches via velcro. The shoe heel and stability plate are made from rigid TPU to stand up to just about any amount of weight you'll be putting on these shoes. Nike gave the soles a wide rubber outsole for extra traction when moving or turning, and a great grip on the platform.
Warranties
Nike offers a 60-day refund policy where you can return the shoes within that time frame for a full refund. For purchases after 60 days, but before two years, Nike stands behind their products with a manufacturer's warranty against flaws. The return instructions are different depending on how the purchase was made, so refer to their return site for more information.
Places to Buy
You can purchase these shoes with the link above through Rogue, or directly through Nike's website.
Company Information
Founded in 1964 as Blue Ribbon Sports, the company changed their name to Nike in 1971, referring to the Greek goddess of victory. Nike is one of the most valuable brands among sports businesses and employs over 76,000 people worldwide.
To find out more information, you can contact their Products and Orders team at (800)-806-6453, or through chat on their website. Company info and queries can be directed to (800)-344-6453.
Final Word
The Nike Savaleos were created to be a hybrid performance shoe, and Nike hit the mark. They're lightweight, yet still feel dense and solid under heavy loads and give a good deal of platform feedback when replacing the feet in a snatch or jerk. Despite the leather not having as premium a feel as the woven fabric of the Romaleos 4, it can stand up to heavy weights and still feels secure. The one improvement Nike could make would be more velcro on the lockdown strap, but other than that, these are a great shoe not only for weightlifting, but for working out and cross-training in general.
The heel clip on the back is a nice touch that shows Nike's consideration for the needs of cross-training athletes that they took into account when designing the Savaleos. We think these are a great option for anyone looking for a new pair of workout shoes — especially those who do CrossFit or metcons as part of their training.
FAQs
Are the Nike Savaleos a good pair of workout shoes even if I don't do much weightlifting?
Absolutely. Even if you don't perform the Olympic lifts, you likely still do squats and deadlifts, as well as other exercises that require a solid base of support. The hybrid nature and flexibility of the Savaleos lend themselves to meeting the needs of not only beginner weightlifters and cross trainers, but average gymgoers. They'll allow you to press from a rigid foundation so less energy is lost, and put you on better footing for rowing movements so you can get into better positioning. The Nike Savaleos are a great pair of shoes for anyone who lifts weights.
What is the difference between the Nike Savaleos and more expensive weightlifting shoes?
Just as with any product, there are a variety of price points that weightlifting shoes can be purchased at. Generally, the more expensive weightlifting shoes have extra features, such as more straps, a longer TPU sole, and higher-grade materials. These differences ensure that the shoes can stand up to the repeated high-energy movements that they're subjected to daily, and offer the greatest amount of stability. The Nike Savaleos offer a more modest level of stability, but much greater flexibility to perform a wider range of exercises.
Who are the Nike Savaleos best for?
The Nike Savaleos are a hybrid shoe by design and great for those who are just getting started in weightlifting, or those who do weightlifting movements as part of their workout routine. Due to their versatility, the Savaleos are also great for anyone who likes to work out in general, as they provide a stable foundation to squat, deadlift, press, and row from. Really, anyone who lifts can use these, but they were specifically designed for CrossFitters, or people who do cross-training to move seamlessly from weightlifting movements to different exercises without changing their shoes, or feeling off because they have the wrong footwear on.