We receive free products and receive commissions through our links. See
disclosures page
.
If you've landed on this article, then more than likely you're newer to lifting shoes and need guidance before investing. Whether you're new to competing in strength sports or you're just a recreational lifter, weightlifting shoes can have multiple benefits. We'll briefly touch on them below, but for more benefits — check here.
This article's focal point will be entirely on guiding beginners to finding their ideal first pair of lifting shoes. We'll discuss how to search and some of the best options we've reviewed and lifted in. More than likely, a beginner will have a slightly longer grace period between getting used to and breaking in their new pair of weightlifting shoes, so knowing what to look for can help prepare and shorten this phase.
If you're already accustomed to weightlifting shoes, and you just want to know the best shoes on the market right now, then check out our full guide.
Best Lifting Shoes for Beginners
Best Overall

Adidas Powerlift 3.1

A lightweight versailte lifting shoe with .6" heel made of high density EVA foam.

Most Versatile

Nike Romaleos 3

A lightweight lifting shoe that utilizes Nike Flywire, a .75" TPU heel, and large single mid-foot strap to support performance.

Most Durable

Adidas Adipower

A consistent weightlifting shoe that offers the Adidas TORSION System through the mid-foot with a .75" TPU based heel.
Benefits of Weightlifting Shoes for Beginners
Before diving into the benefits of weightlifting shoes for beginners, let me first say, this article's purpose IS NOT to say you absolutely need a pair weightlifting shoes. Every athlete should have a solid base of muscle and understanding of movements before reaching for the latest gear. For those who match those criteria and are ready to commit to their first pair, then check out the benefits below.
1. Increased Stability
Potentially the biggest reason for investing in a new pair of weightlifting shoes is for the increase in stability they provide. Most of these shoes have a harder outsole and a heel that's composed of either wood, stacked leather, high density EVA, or most commonly, TPU. These construction attributes provide these shoes with a very firm platform to lift on, which is a key component of catching and moving weight.
One key to strong squat, clean & jerk, and snatches (among other lifts) is the ability to maintain stability in very low to the ground postures. Imagine the hole of the squat, catching a snatch at the bottom, and so forth. This increase in shoe firmness can often provide an athlete with a strong base to settle in to and hold weight.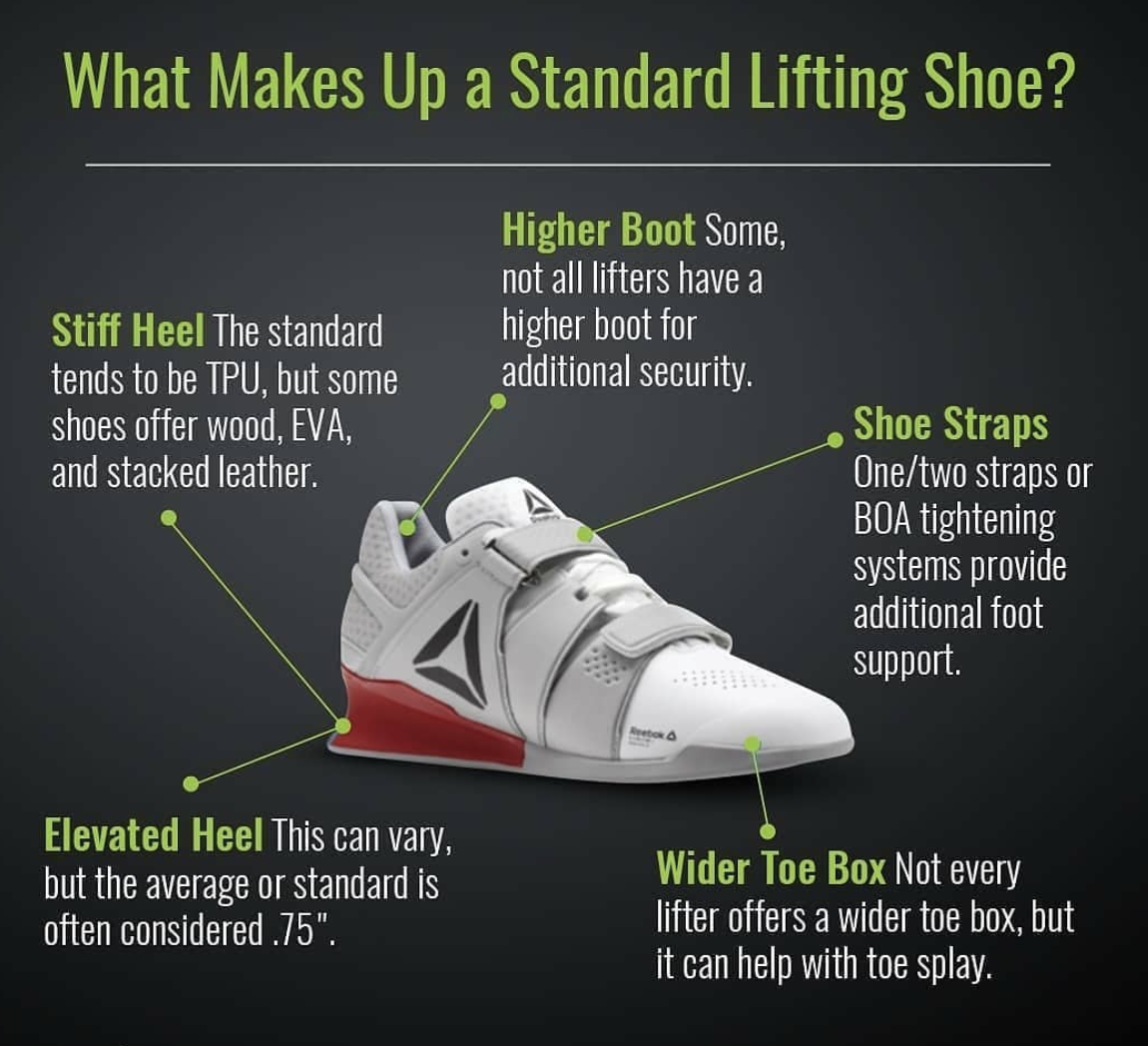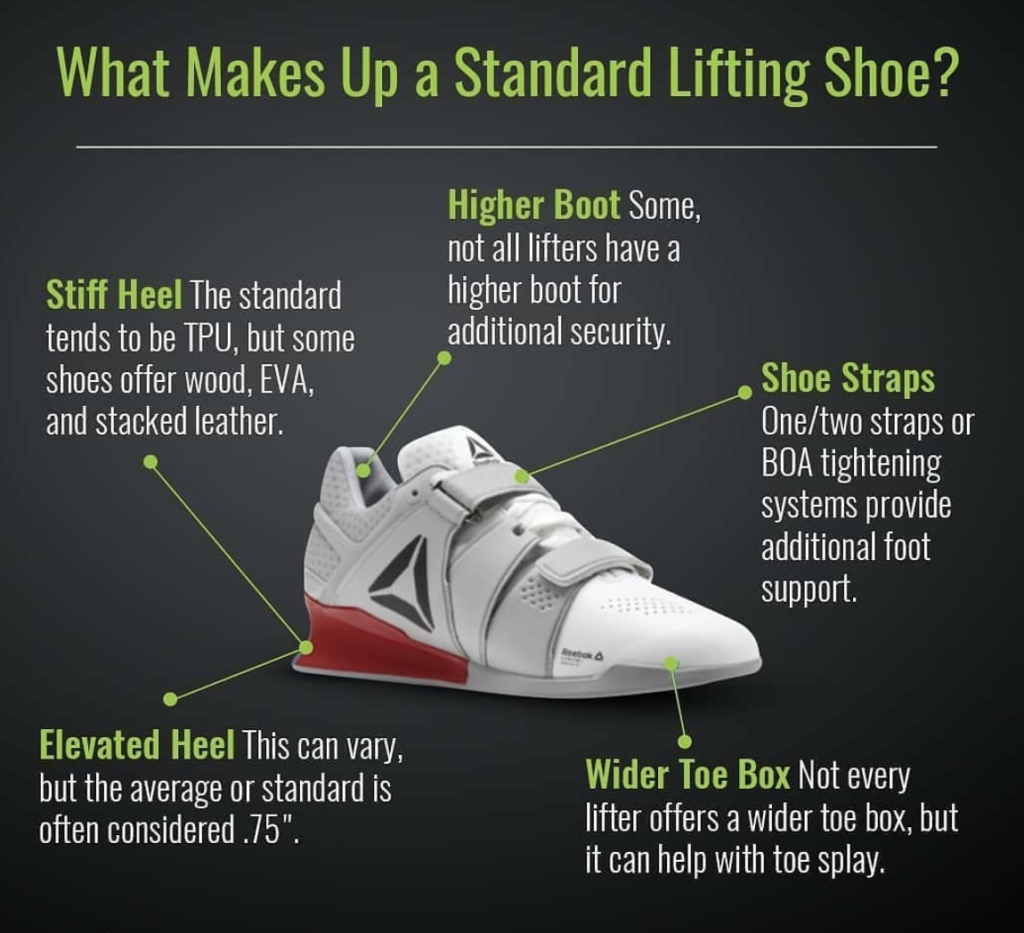 There are multiple construction characteristics that go into providing a weightlifting shoes its stability. Outside of the firmer outsole and hard heel, most shoes will also provide a strap, sometimes two, and even a BOA lacing system (seen in the Adidas Leistung IIs) to provide additional ankle and mid-foot stability.
[Want more weightlifting shoe facts? Read the ultimate guide to lifting shoes. Seriously…this guide has everything you'll ever need to know!]
2. Better Lifting Postures
The second major reason folks reach for lifting shoes is for the elevated heel and how it promotes better lifting postures. Heels can vary in height and will have different effects on an athlete's posture during various movements. Before explaining, it's important to understand what we mean we say posture.
A lifting posture can be any alignment the body takes form in to produce the best results possible. For example, think about the torso at the bottom of the squat. If it drops and becomes flexed forward, then your posture is compromised for optimizing the weight you can move, and also your increase of injury might increase. This could also be applied to things like the clean & jerk or snatch. When one's lifting posture suffers, so do lifts and potential long-term health under the bar.
In comes the weightlifting shoe and its ability to help athletes maintain an upright posture in squats, weightlifting movements, and other exercises. The heel provides a solid base to sit back on, which can help with both hip and ankle mobility.
Note, and this is a big note, do not let weightlifting shoes become a crutch for poor mobility and lifting mechanics, as this can lead to long-term issues that may not be seen/accounted for in the present.
Best Weightlifting Shoes for Beginners
The definition of beginner can take multiple forms in the gym and strength sports. For this article, we'll define beginner not necessarily by time spent under the bar, but by knowledge of lifting shoes and making the right first choice. Hopefully by now you have a pretty solid foundation of "why" lifting shoes, now let's talk "which" weightlifting shoes.
1. Adidas Powerlift 3.1
If you asked us what we think the best overall weightlifting shoe is for a beginner, whether they be a recreational lifter, powerlifter, or weightlifter, then we'd have to go with the Adidas Powerlift 3.1. Name aside, this shoe can be a great fit for a variety of strength athletes and for good reason.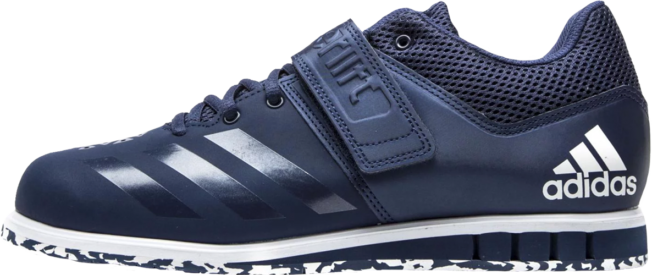 A lightweight versailte lifting shoe with .6" heel made of high density EVA foam.
Why We Like the Adidas Powerlifter 3.1 for Beginners
.6″ heel. This heel is slightly lower than the standard .75″ options. This makes it a great transition shoe from flat to heeled lifting.
Price: $70-90.00. This shoe is priced very well for its features and isn't the biggest investment, so it's a good jumping off point.
Single-strap, decent durability, and high density EVA heel. All of these construction aspects are a good starting point for adjusting to an increase in ankle stability and firm platform to lift on.
2. Nike Romaleos 3 (2s if you can find them)
The next shoe that comes in second for beginners is the Nike Romaleos 3 weightlifting shoe. Now, don't get us wrong, we love the Nike Romaleos 2, too, and that shoe would be in this spot if it was still in regular production. Yet, for the newer athlete, the Nike Romaleos 3 can be a decent option. Granted, this shoe is a little bit more pricey, but you can find discounted color schemes, which make it reasonable.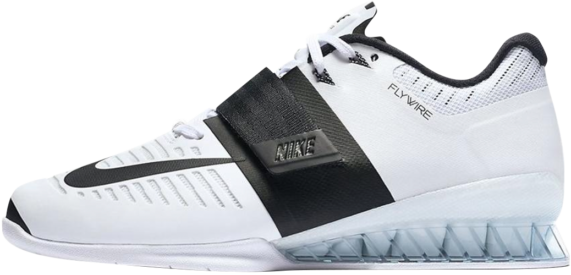 A lightweight lifting shoe that utilizes Nike Flywire, a .75" TPU heel, and large single mid-foot strap to support performance.
Why We Like the Nike Romaleos 3 for Beginners
13 or 15 oz. weight per shoe. These shoes are extremely light, so beginners who may not be used to the clunkier feeling a weightlifting can have might find these make the transition feel more seamless.
Reinforced leather + mesh and TPU heel. Both of these construction features are solid signs for durability, but be warned, the tongue need a little extra attentiveness to avoid premature ripping.
Dual insoles. This model comes with two insoles (firm and soft). These help ease the transition between a slightly softer shoe to something a bit more firm.
3. Adidas Adipower
Honestly, this shoe could very well make number two on this as well. The Adidas Adipower has been on the market for over five years and continues to thrive, which is a solid suggestion of what this shoe has to offer. When you think "weightlifting shoe" a lot of people imagine what the Adidas Adipower looks and feels like.

A consistent weightlifting shoe that offers the Adidas TORSION System through the mid-foot with a .75" TPU based heel.
Why We Like the Adidas Adipower for Beginners
Tried and true. This shoe continues to work well for lifters from all walks of life, so it will be a long-lasting first investment.
Standard heel height and build. The heel of this model is solid TPU and comes in at a height of .75″, so it's a good model to work with and stick to.
Decent price. One cool thing about the Adipower is that it's been on the market for longer, so it's often times on sale through various retailers.
Honorable Mentions
Reebok Legacy Lifter: Great for wider footed athletes who want a heavy double-strap model.
Do-Win: These shoes are relatively cost efficient, have two straps, and are designed with a wider toe box.
Wrapping Up
At the end of the day, weightlifting shoes are never a must to progress in the gym. Although, if you regularly practice weightlifting movements, or want additional stability in your lifts, then reaching for a pair can be a good idea. What's most important is that there never becomes over reliance on lifting shoes to promote gym progress and proper lifting postures.