We receive free products and receive commissions through our links. See
disclosures page
.
The Nike Romaleos 3s are the newest edition in Nike's weightlifting shoe line. They're an updated version from Nike's previous Romaleos 2 model, which have grown in popularity through a variety of strength sports.
The Nike Romaleos 3 were designed as a hybrid lifting shoe, which means they can be used for a variety of strength sports. There a few key differences in the Nike Romaleos 3s compared to the 2s. For starters, the Romaleos 3 model offers one strap in the middle of the shoe, as opposed to the Romaleos 2's two straps. Also, Nike added their signature Flywire material to enhance this shoe's flexibility and decrease their weight.
What We Like About the Nike Romaleos 3
Lightweight feeling and come with two different insoles, which give each shoe a weight of 13 oz. or 15 oz depending on the insole used.
Solid TPU heel with honeycomb design.
Outer leather + mesh material provide these shoes with comfort, durability, and breathability.
What We Don't Like About the Nike Romaleos 3
Potential tongue durability issues with early ripping.
Not the most cost efficient option on the market.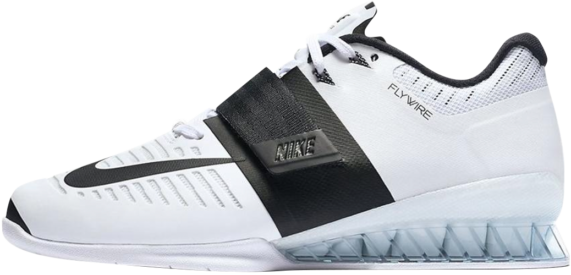 A lightweight lifting shoe that utilizes Nike Flywire, a .75" TPU heel, and large single mid-foot strap to support performance.
Weight
Similar to the Nike Romaleos 2 model, this lifter comes with two different soles, which influence the shoe's final weight. If you're using the soft sole, then the shoe will weigh around 13 oz, while the harder sole equates to about 15 oz.
These shoes are relatively light compared to shoes like the Reebok Legacy Lifters that weigh around 20 oz. A lighter shoe will be beneficial to lifters with slow foot turnover. In addition, a lighter shoe is more ideal for those going through functional style workouts, or workouts including multiple exercises (power and strength) at once. This lightweight feeling could be a key aspect for most lifters, as these shoes are designed with a hybrid mentality, so their feet won't feel clunky or slow.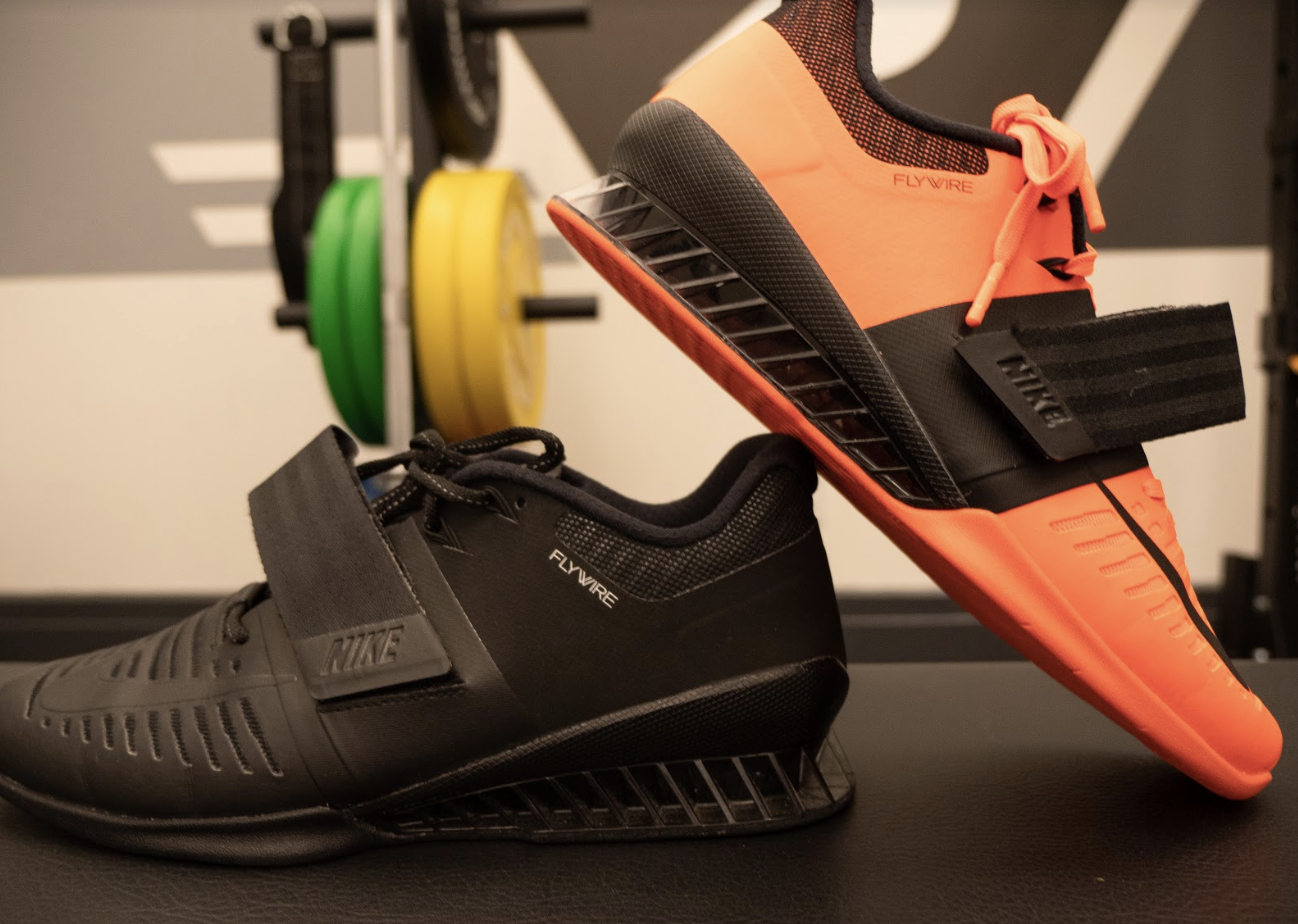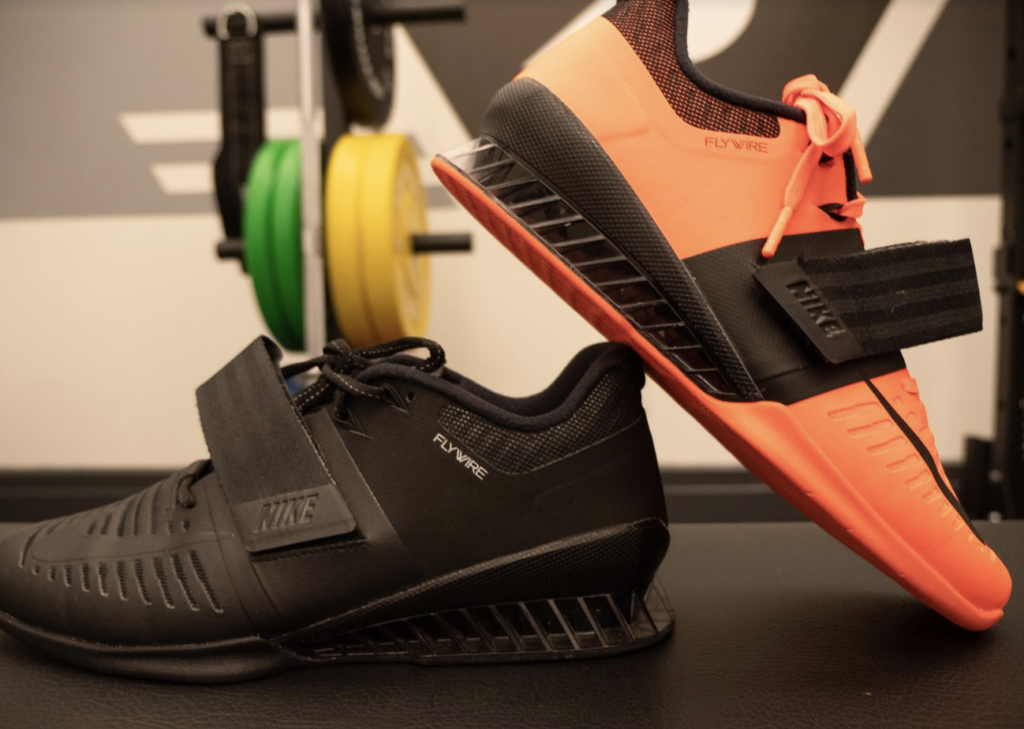 Another pro are the dual weight soles this model comes with. If you're a lifter that would like a slightly heavier shoe, then you have the option to add a few ounces by using the harder sole. One potential issue I can see a lifter running into with the Romaleos 3s is the ability to plant their feet firmly. Sometimes a heavier shoe can subconsciously cue a lifter to keep their foot firmly planted. A lighter shoe may make it a little tougher for a lifter who struggles at maintaining a planted foot.
[Want to find the best weightlifting shoe for you? Read our full rundown of the best lifting shoes!]
Effective Heel Height
The effective heel height of the Nike Romaleos 3s is .79 inches or 20 millimeters, which still qualifies this model to be considered in the .75″ category.
The standard heel height for lifting shoes has become around a .75″ lift. This seems to be the best height for a variety of lifters with multiple range of motion and anthropometric differences. An effective heel height of .79″ will benefit lifters who need help with range of motion, but also want to stay below the higher 1″ heel. An elevated heel can help a lifter remain stable and achieve quality range of motion in the squat, snatch, and clean & jerk.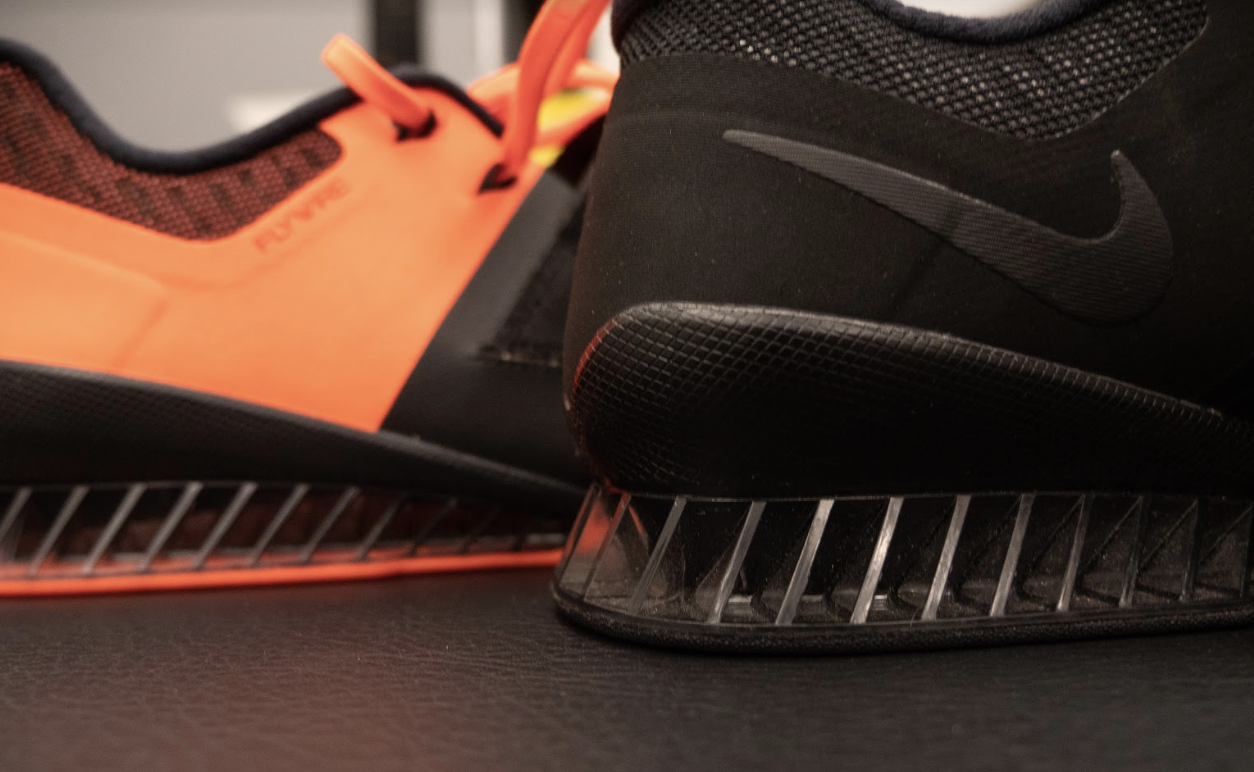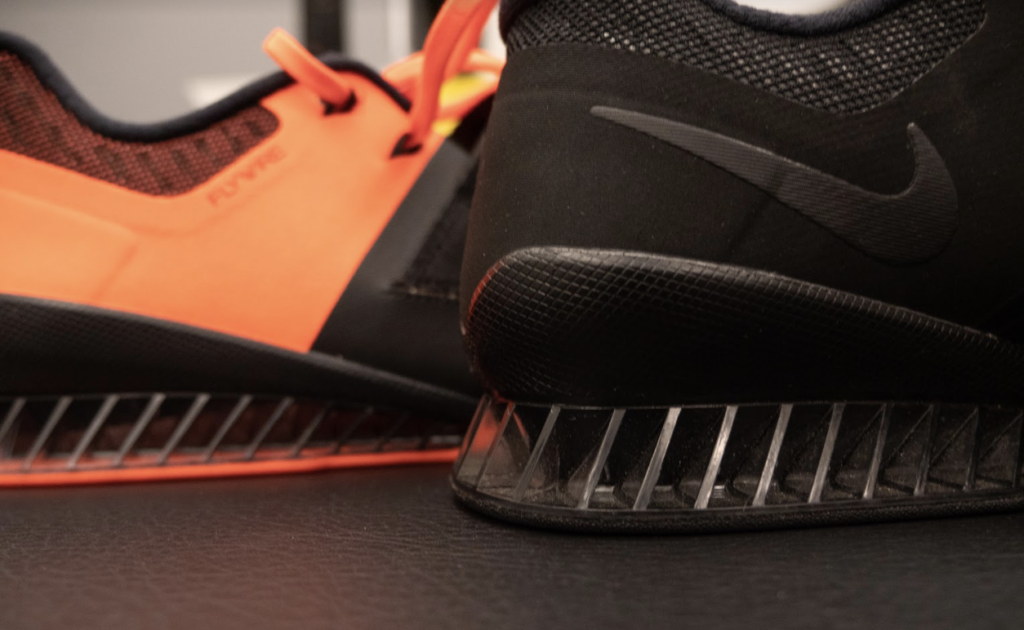 A potential issue I could see with the Romaleos 3's heel height would be for powerlifters who need a shoe specifically for low-bar squats. Some lifters may find that higher heeled lifting shoes actually hinder low-bar performance. On the contrary, if you need a higher heel than the Romaleos 3s offer for Olympic lifting specific purposes, then you may not get the height you desire from this shoe.
Heel Construction
The Nike Romaleos 3 have a hard thermoplastic polyurethane (TPU) heel, which is a lightweight non-compressible material often used for its sturdiness and resilience to abrasions.
The Romaleos 3s have a newly designed base, which has a honeycomb-esque structure. Nike created this to limit the amount of material used, while keeping the heel stable and strong. This in return has made the shoe lighter, but just as strong as the previous Romaleos 2 model. When you flip the shoe over you can see a cool aesthetic feature Nike added, which is the shoe's color scheme visibility through the honeycomb structure.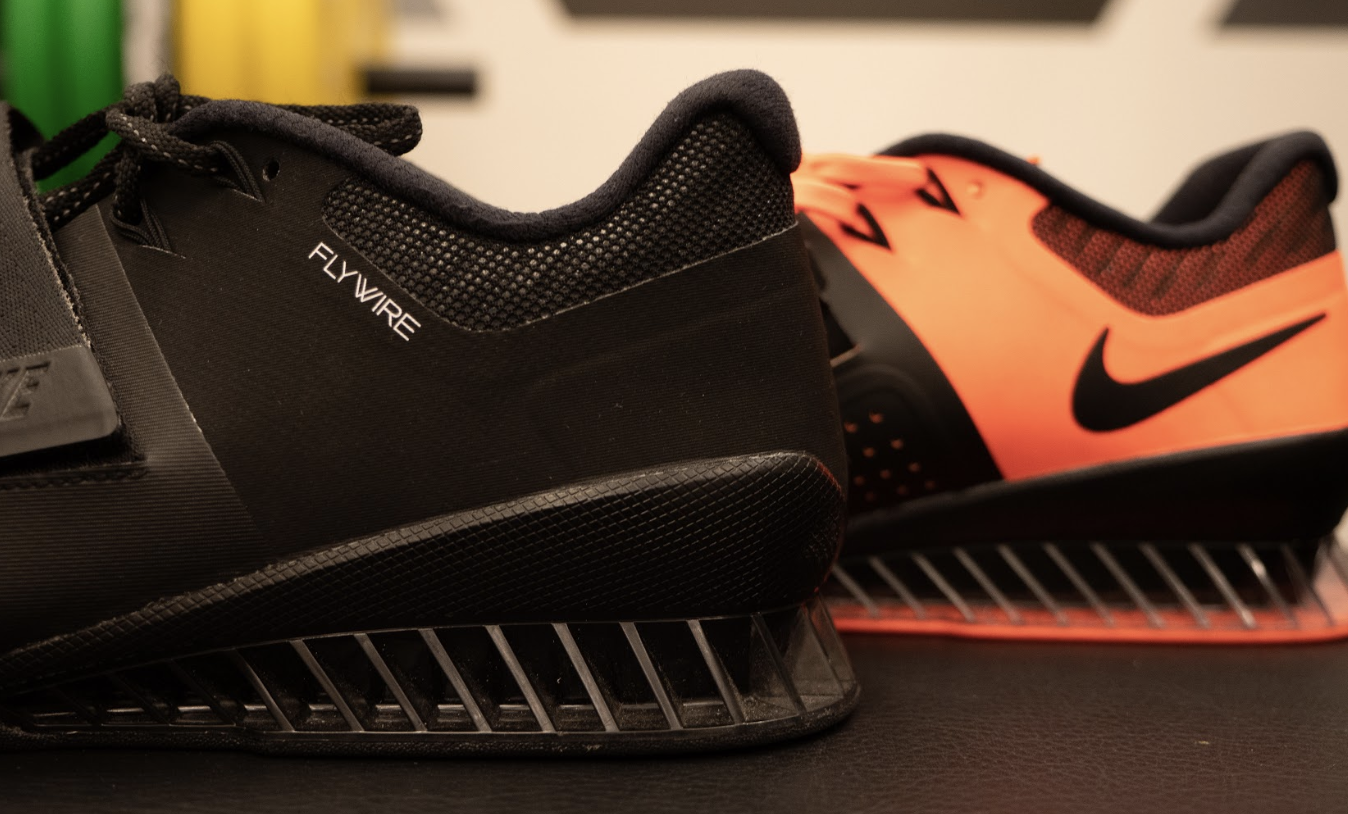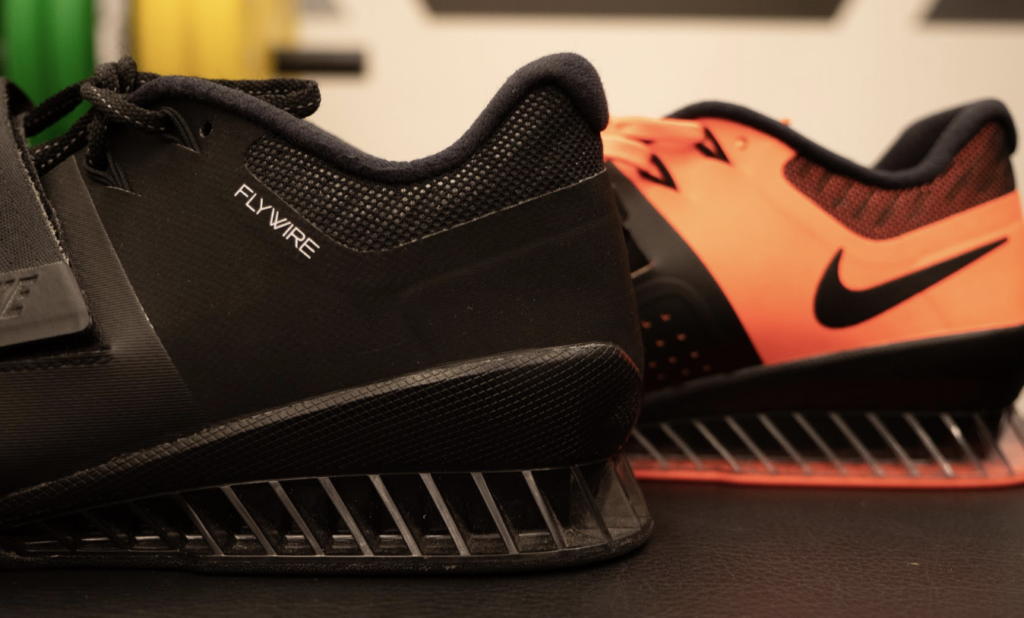 TPU heels have become somewhat of a standard for lifting shoes, as they're a sturdy and durable material. One potential issue lifters may run into with this heel is if they're not fans of the TPU material. For Olympic lifters who want an old school wood or stacked leather heel to feel the platform better, then this shoe won't be your best fit.
Upper Shoe Material
Possibly the most defining feature of the Nike Romaleos 3s is the upper shoe material. As mentioned above, this model features Nike's signature Flywire material. This material is known for it's ability to be lightweight and flexible, yet strong in nature. The Romaleos 3 are the first lifting shoe designed by Nike to offer this and you can feel the difference through the mid-foot and toe box. Unlike the previous Romaleos 2s, the 3s are relatively flexible upon their first use. This could be a plus for lifters who need a shoe to break in fast and feel comfortable right away.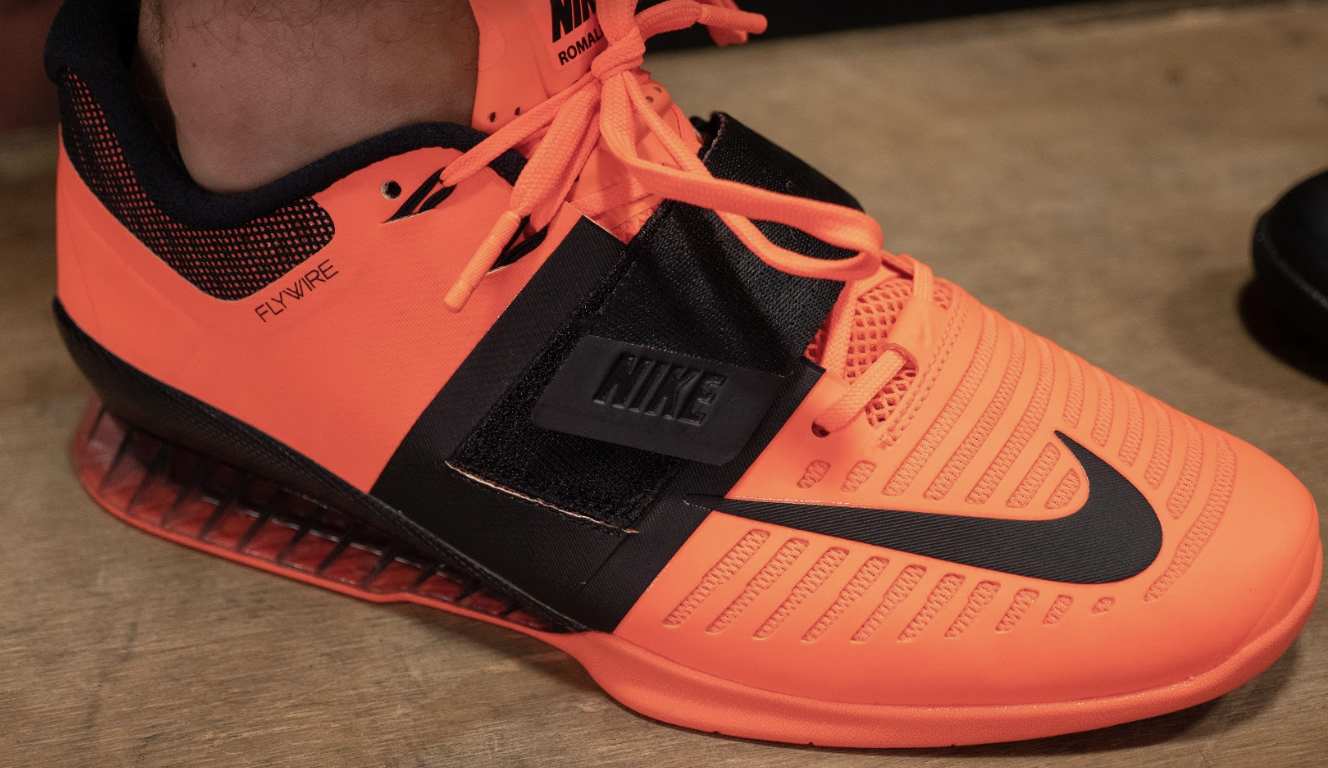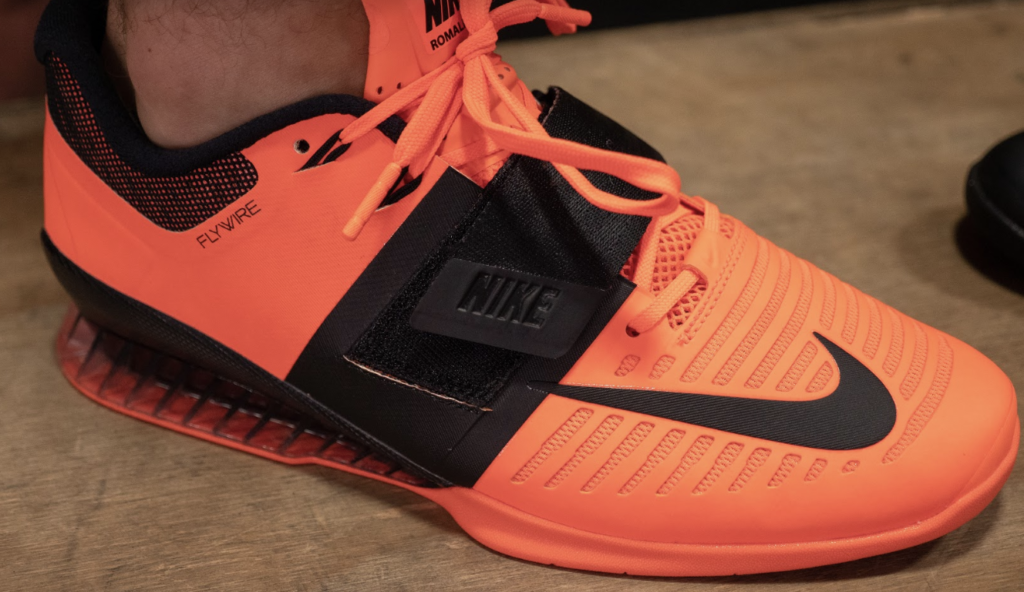 A few potential issues that can come with this style material is the lightweight feeling and durability. It was mentioned earlier, but for lifters who prefer a heavier stiffer shoe, then they'll have a hard time finding that in this model. Also, I could see the Flywire material having durability issues through prolonged use due to its flexibility and easily maneuverable nature.
Foot Straps
The Nike Romaleos 3s have one strap that sits around the mid-foot area. This is different compared to the previous Romaleos 2s that had two straps at the top and bottom of the tongue. My prediction is that the mid-foot strap was used to promote shoe and total foot stability, since this shoe has the flexible Flyknit material. The strap itself is made out of a polyester seatbelt webbing-like material.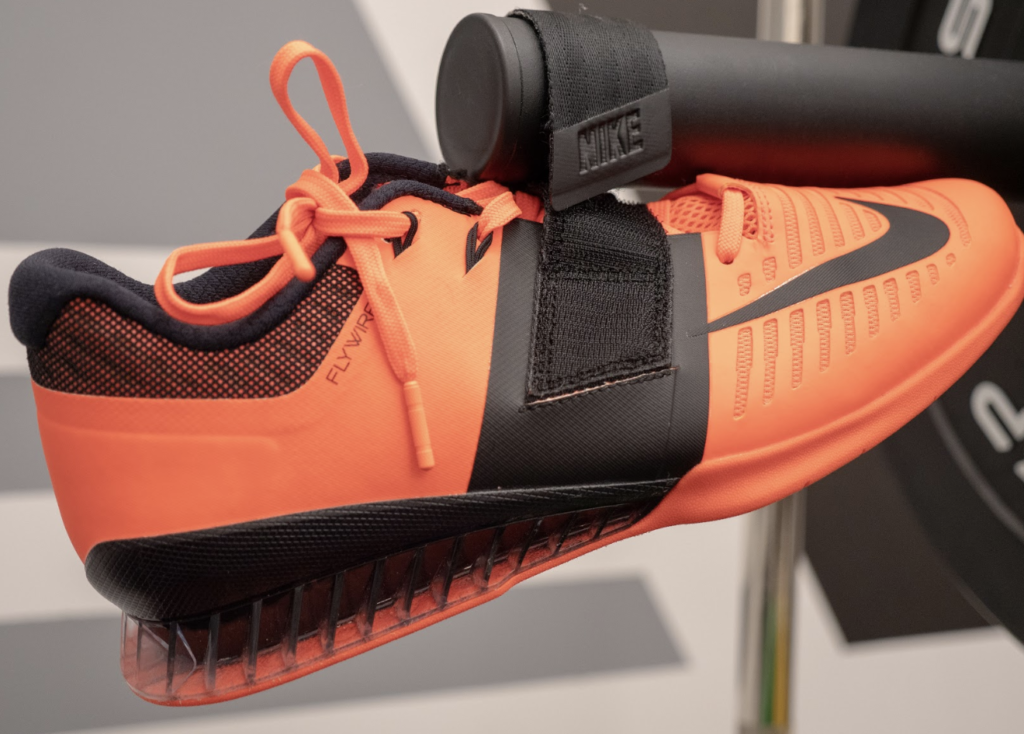 This single strap design has both benefits and drawbacks. A few benefits the Romaleos 3 strap has are its thickness and length. It's thicker and shorter than the Romaleos 2s straps, so there's no chance of this strap having excessive slack like the 2s sometimes did. A potential issues is full foot security, as some lifters prefer having two straps to pull the shoe maximally tight.
Nike Romaleos 3 Price
The Nike Romaleos 3s are priced at $199.95 on Rogue Fitness and $200.00 on Nike.com. This price point is in line with most newer model shoes from other major manufacturers, such as the Reebok Legacy Lifter, but cheaper than the Adidas Leistung IIs. If you're looking for a cheaper shoe, then older models might be a better choice.
An Athlete's Take
Multiple athletes have moved from the Nike Romaleos 2s and other lifting shoe models to the newly updated 3s, and have shared their thoughts on social media pages. Below are a few athlete's takes on the 3s and what you can expect when looking into possibly purchasing your own pair. Keep in mind, several of the athletes below work with Nike, or have a formal relationship with the company. Their opinions may not be unbiased.
Jordan Weichers – 63kg Weightlifter at Cal Strength
We asked Weichers about her thoughts on Nike's new model, and she provided us with multiple pros and cons. First, she likes how they feel on her foot stating, "They fit around my foot better. The 2s were too wide for me even when I had them tied at their tightest and then the velcro would drag on the ground. On the 3s the velcro is the perfect length so it doesn't touch the ground.
https://www.instagram.com/p/BREUvSWB-13/
Weichers also pointed out that she likes the lightweight flexible nature of the shoe and said, "They feel lighter on my foot compared to the 2s. The toe box is more flexible. The 2s would bend weird in the toe box sometimes."
In terms of the shoe's shortcomings, she did point out a few cons that relate to shoe's durability and said, "The sole of the shoe on the heel is starting to peel off a tiny bit. There is a small tear in the tongue, so I have to make sure when I put them on that I grab in the center of the shoe's tongue instead of on the side."
Another con Weichers mentioned was that she isn't a fan of their aesthetics, "I don't like how they look, but I like how they feel."
When buying a new pair of Nike Romaleos 3s, Weichers suggested asking your self four questions before investing. These include, "What do you dislike about your current pair? Would the pros outweigh the cons of the Romaleos 3s? Is a new pair within your budget?"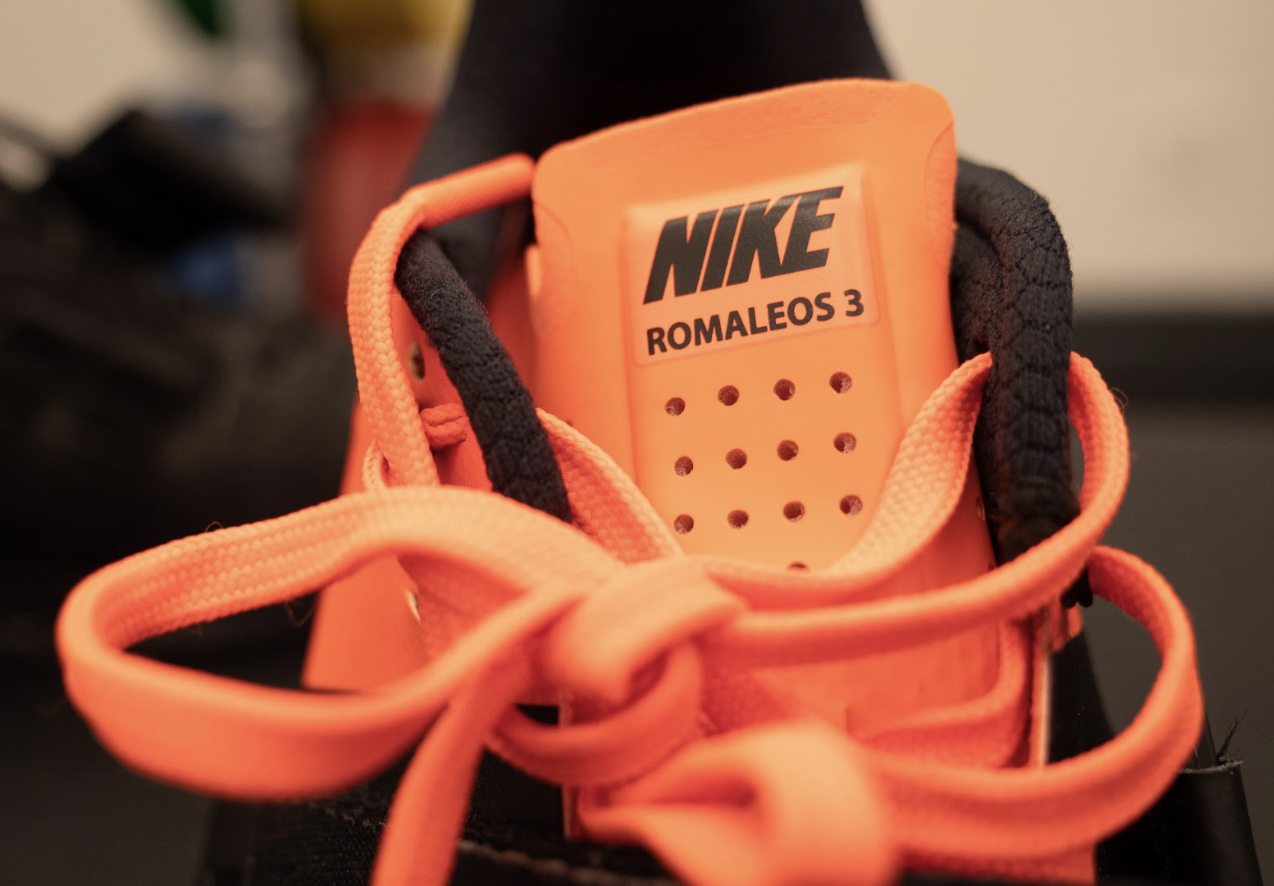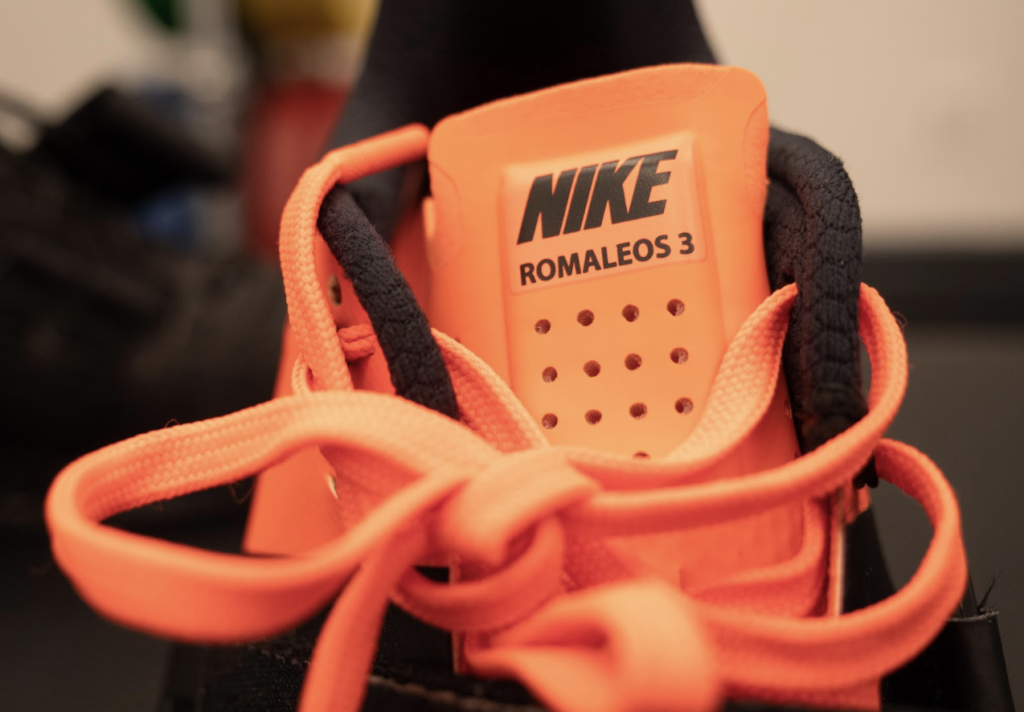 Colin Burns – American Weightlifter (American 94kg Snatch Record Holder)
Burns wrote an article reviewing the Romaleos 3s (which he helped design and test) on his Facebook Athlete page and made a few critical points in regards to the 3s new design. He starts out by stating that new 3s are much lighter than the 2s, which has grown on him as a positive.
In regards to the 3s security and strapping, Burns writes, "They also dropped the excessively long double strap design for a much more precise single strap. This is one thing I wish they hadn't done. I really enjoyed the double strap and the placement of the single strap isn't great for me, but I was obviously in the minority of the testers on this one."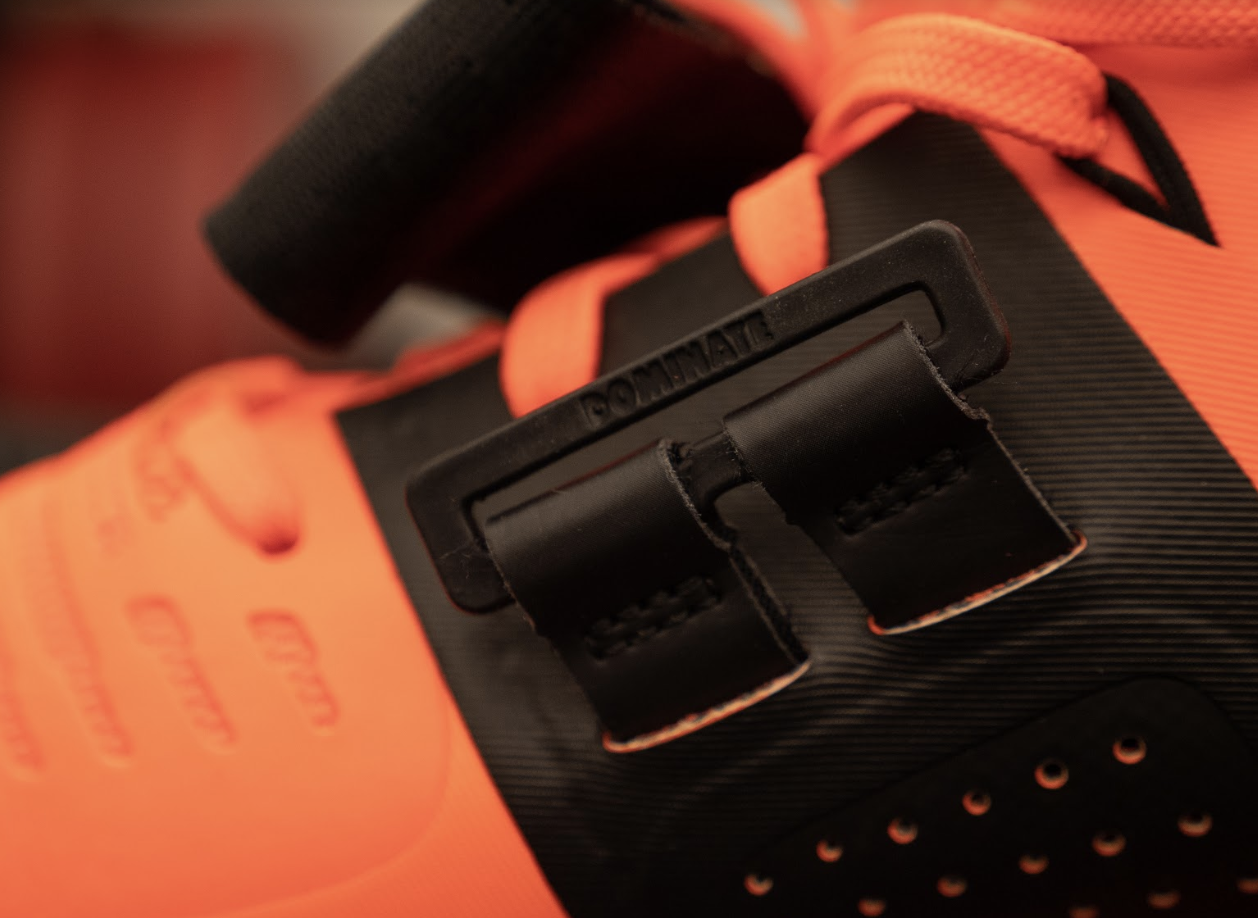 To counter the lack of double straps, Burns points out that the shoe is much more flexible and is easier to securely fit with just the laces. Yet, he says there is a downside with the laces and states, "Another down side for me is the lace hole placement. If you look at the side view picture, you can see that these aren't laced all the way to the top. I don't really have crazy ankle mobility, but if I try to use the top hole, the laces cross far too high on my angle and dig into the front at the bottom of a squat."
Burns points out that he likes the dual soles in the 3s better than the 2s, as they're cut identically, but made firmer and softer. One potential concern Burns mentions is the durability of the 3s, "With the increased flexibility, I am curious to see how long they last. But, like I said, I have beat the shit out of my prototypes for 8 months and they are still working."
To conclude Burns writes, "I'm impressed with the shoe. It's a much more athletic shoe without compromising the support." He also points out that these were the shoes he wore in the American Open when he set his 173kg American snatch record.
Final Word
The Nike Romaleos 3s were created with hybrid style workouts in mind, but are still designed for use in for single sports such as Olympic weightlifting (as seen in Webster's case). This model is lighter than the previous Romaleos 2s and features a single strap for producing shoe security. The new mid-foot single straps can be a benefit for a lot of lifters, but may not provide the double strap shoe tightness some desire.
Another aspect that makes the Nike Romaleos 3s different is the Flywire material used to compose the upper shoe construction. This material creates increased shoe flexibility, which will take less time to break in, and can be a major plus for a lot of athletes. In terms of durability, the lightweight, flexible nature may be a problem with prolonged use, which Burns pointed out as well.
All in all, the Nike Romaleos 3 are an aesthetic, flexible, lightweight update from the previous Romaleos 2 model.