We receive free products and receive commissions through our links. See
disclosures page
.
The Reebok Legacy Lifters were constructed and designed with pure Olympic weightlifting in mind, making these shoes Reebok's first true weightlifting shoe in some time.
The Reebok Legacy Lifters were inspired by and created with the help of USA Weightlifting's very own CJ Cummings, who won gold at the 2016 Youth World Weightlifting Championships (317kg total) and 2016 Junior World Championships, setting a Youth World Record clean & jerk of 182kg in the 69kg weight class.
But how do they compare to other top models in the dedicated weightlifting shoe space?
How Much Do the Reebok Legacy Lifters Weigh?
The Reebok Legacy Lifters shoe weight registers at 20.6 ounces, making them a few ounces heavier than Nike Romaleos and Adidas Leistungs.
While shoe weight may not be something many lifters have thought about before, lifters who have slower feet in the turnover of the snatch, clean, and jerk footwork may need to take some time to get used to the few extra ounces. The added weight may also be beneficial when squatting moderate to heavier loads, where a firm connection to the floor is critical to a solid squat performance. That said, the added weight of these lifters could also pose some potential problems with lifters who transition between strength and power sets and plyometrics jump training, as the added heel and weight can make them quite clunky.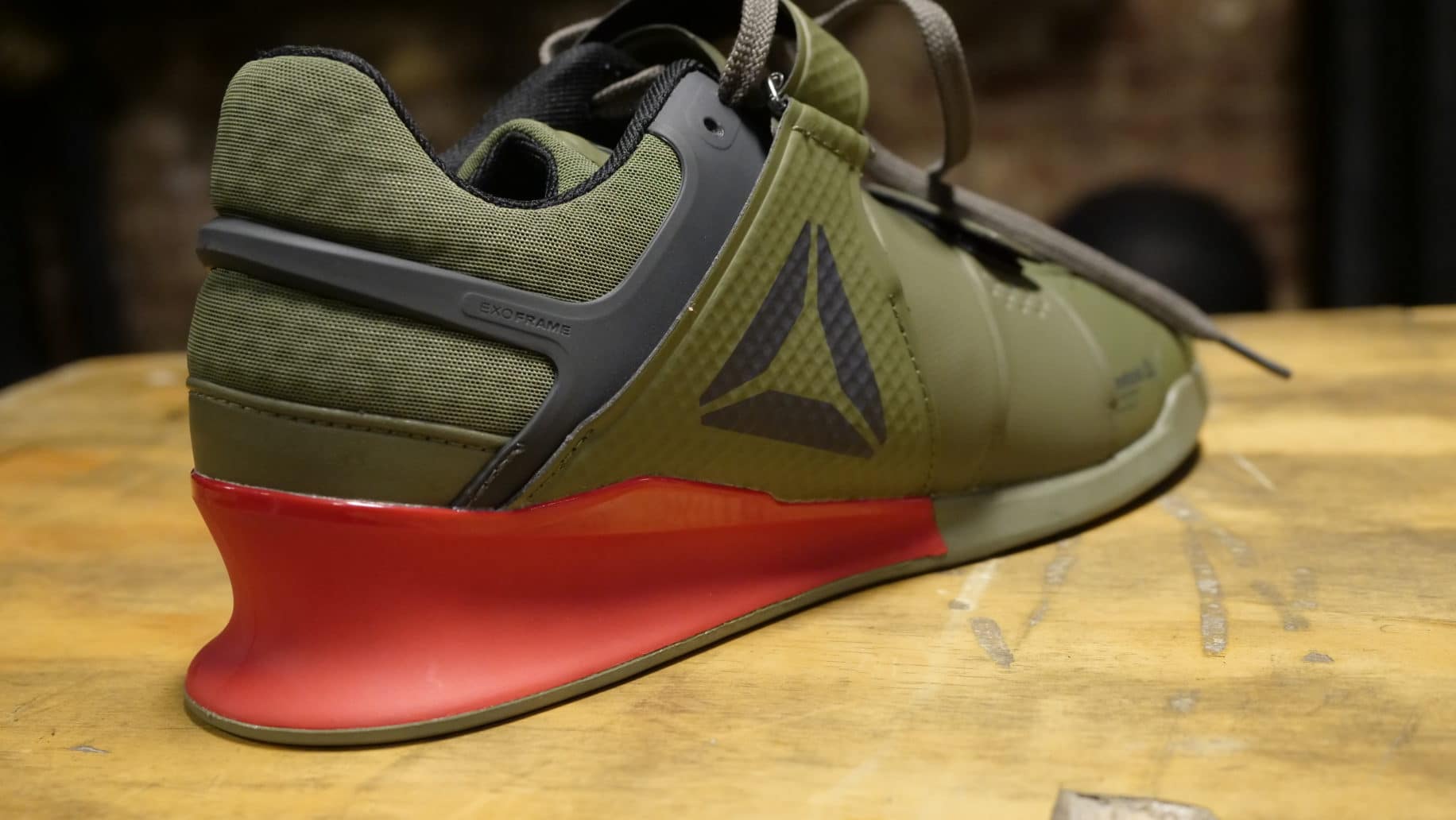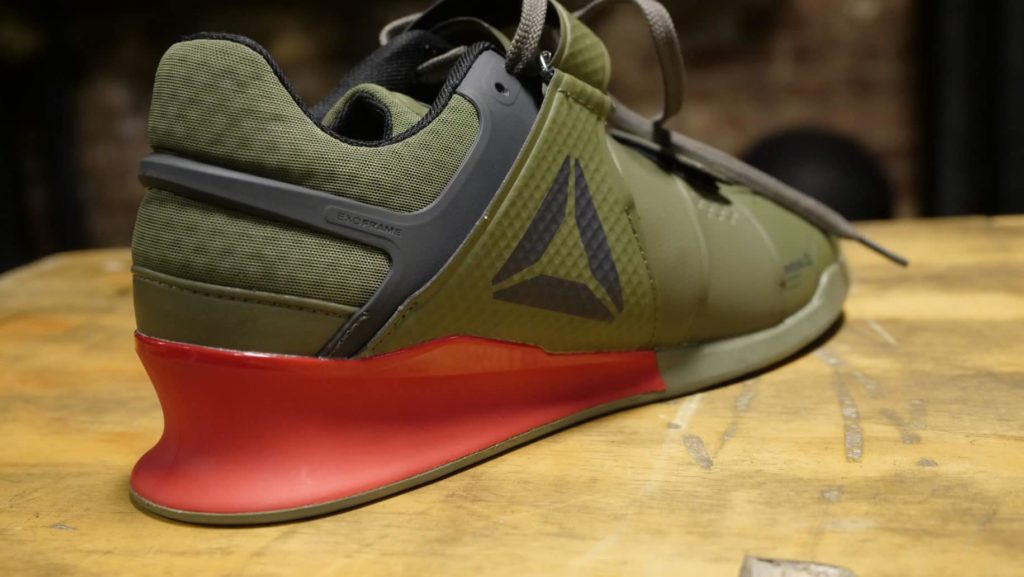 Reebok Legacy Lifters Effective Heel Height
The effective heel height of the Reebok Legacy Lifters is .86 inches or 22 millimeters, which can be seen on the soles of the shoe.
While these have a near identical effective heel height when compared to Romaleos and Adipowers, this is an upgraded height from previous Reebok lifters (Reebok Lifter TR has an effective heel height of .61 inches or 15.5 millimeters). The elevated heel on the Legacy Lifters comes with the benefits of a higher heel for squatting, snatching, and the clean and jerk.
Heel Construction
The Reebok Legacy Lifters have a hard thermoplastic polyurethane (TPU) heel, which is a lightweight non-compressible material often used for it's sturdiness and resilience to abrasions.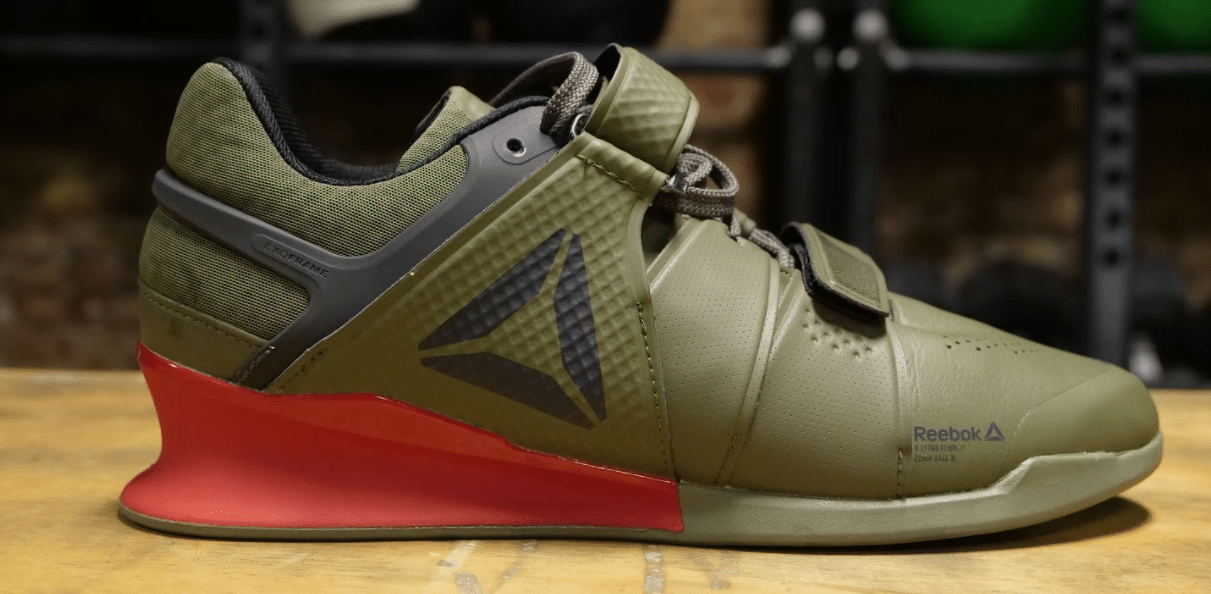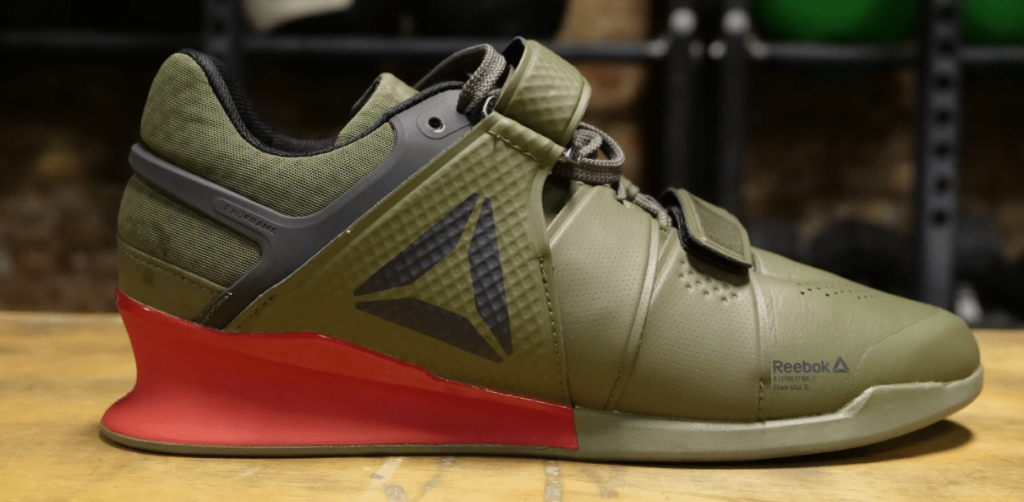 TPU has been used as the standard for weightlifting shoes that are not constructed with wooden heels, such as the Nike Romaleos 3, Adidas Boost Technology, and these Reebok Legacy Lifters.
The width of the heel is 82 millimeters, offering a relatively wide platform for the foot that can be helpful when squatting, pulling and performing heavier weightlifting complexes. The Legacy Lifters have a wide base with a heel cup, helping the ankle and foot stay in place during maximal power and strength lifts.
Updated 6/18/18 – I have come to find that the soles of my Reebok Lifters are becoming undone, and are starting to separate from the bottom of the shoe, primarily under the heel.
It is important to note that I do put my lifters through a lot of wear and tear.
I have trained in them for the past 1.5 years, doing formal weightlifting 5-6 days per week and competing in local and national meets at least 4 times in them. I am a competitive lifter and train consistently (260 total at 88kg), and have even used them extensively while traveling to Asia, around the USA, and Europe (so they are subject to a lot of wear and tear during travel).
While this doesn't make for any noticeable changes in my lifts, it is something that I have noticed. That said, simply using glueing them would most likely be a fast and easy solution.
Upper Shoe Material
The Reebok Legacy Lifters are constructed with a perforated leather upper sole towards the toe box and mesh towards the ankle for added comfort and breath-ability. These shoes have a bit of stiffness in the toe box and mid-foot (leather) with some added comfort and padded mesh around the ankles and heel. Lifters who may be transitioning from all leather construction may find the added padding and breath-ability beneficial during longer training sessions. The snug fit around the heel and ankle came from the flexibility of the mesh around the ankles, making them firm while training both heavy and explosive lifts.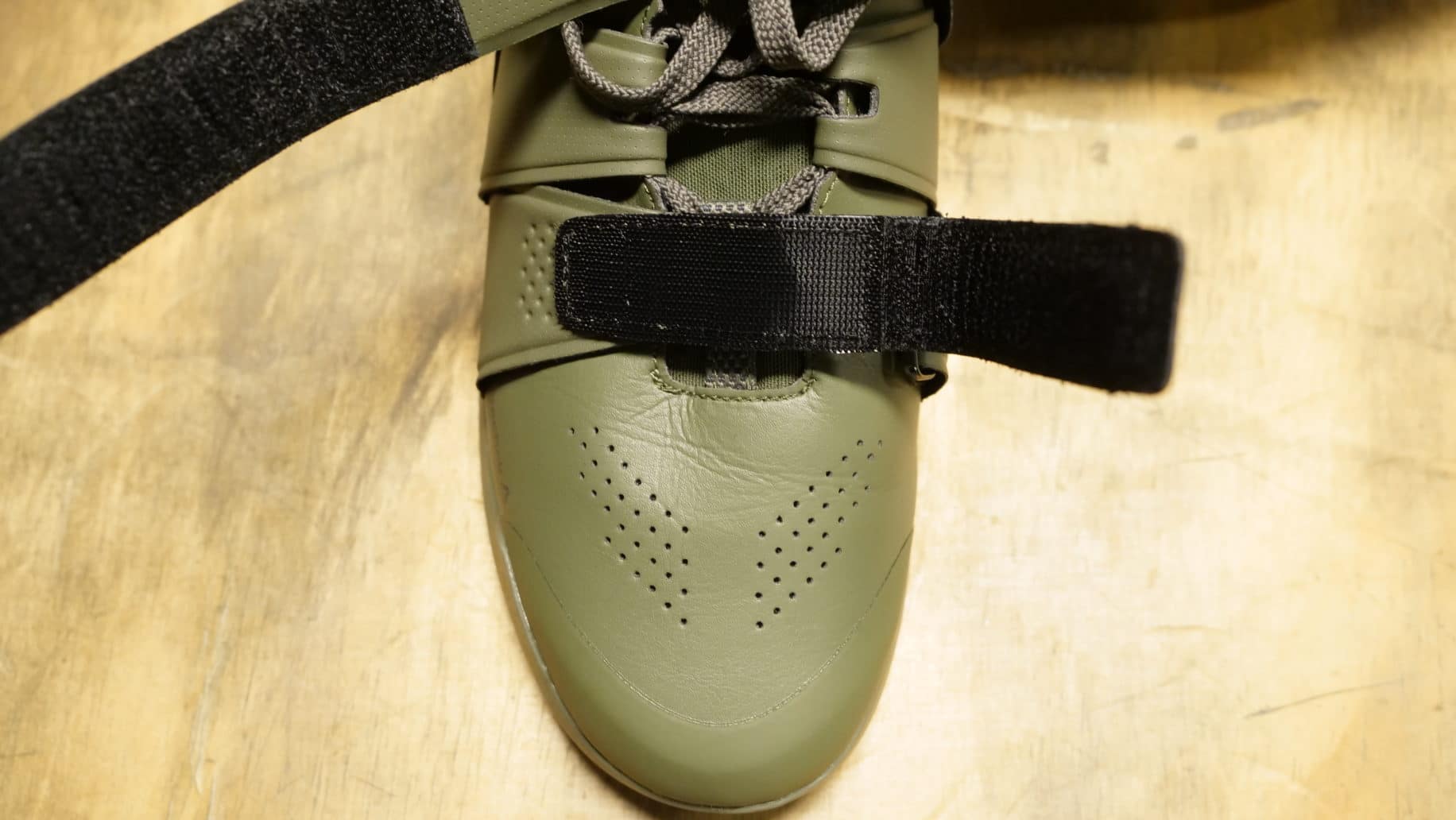 Foot Straps
The Reebok Legacy Lifters has two foot straps for maximal lateral support. The first strap goes across the mid foot, while the second is placed over the balls of the feet, while still allowing for maximal toe-off during the Olympic lifts. The added strap can really help when planting the mid-foot into the floor while slightly opening the hips (knees out and over toes), which could can result in some sliding in single strap shoes. Additionally, lifters who transition from the single strap shoes may find the shoe fits more snug and stays in place during more explosive lifts.
Additionally, the straps have a non-Velcro gap that, in my opinion, is better for the shoelaces to rest upon so that they are not destroyed throughout training.
Updated 6/18/18 – After a year or so of hard training in these shoes, I found that the Velcro on the top foot straps became more and more difficult to get the same snug fit I was accustomed too, as it would not hold any longer. Now, this very well could be just something that has happened to my pair as I often am training and traveling 5-6 days per week with them, but this is something to note.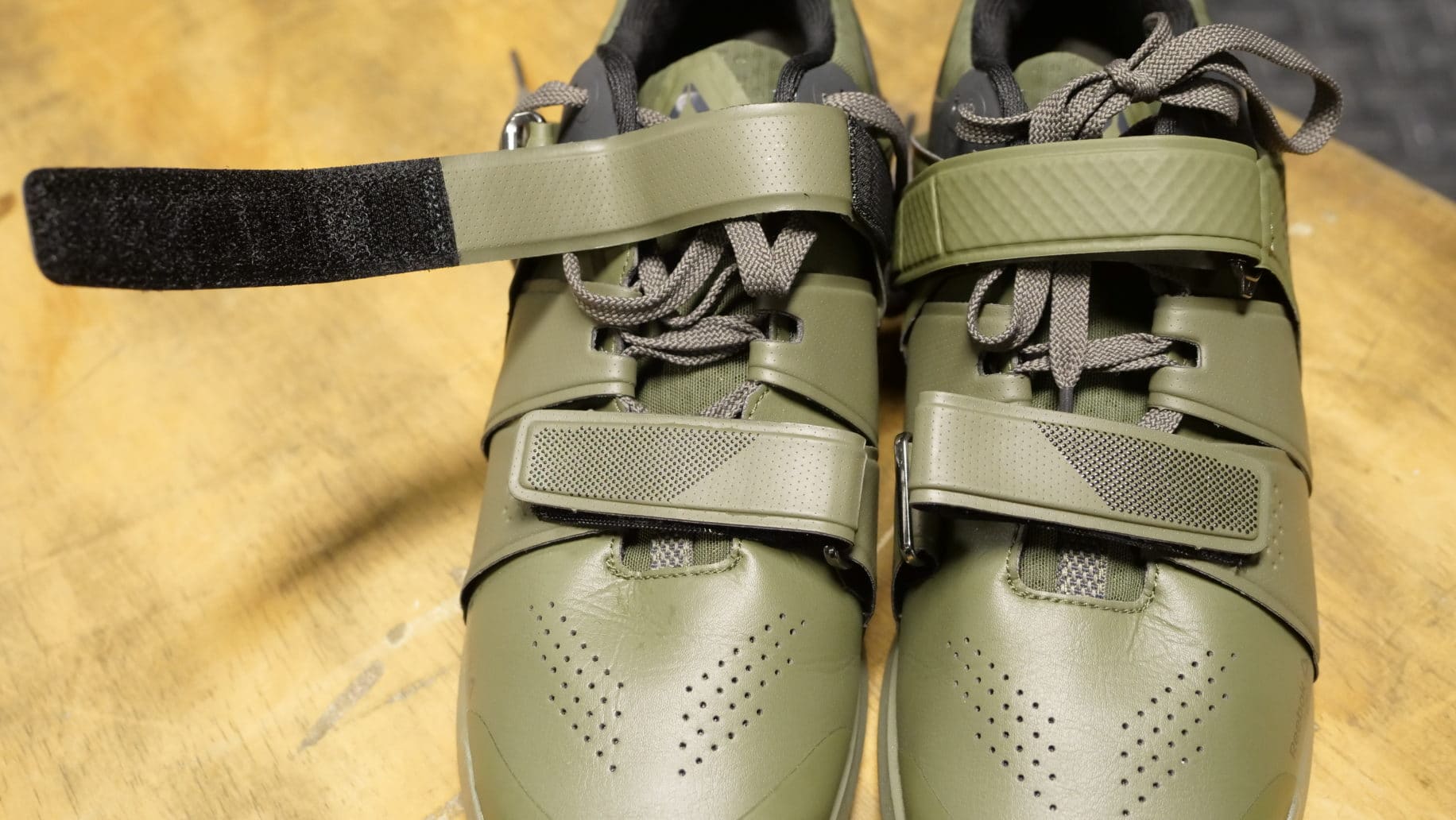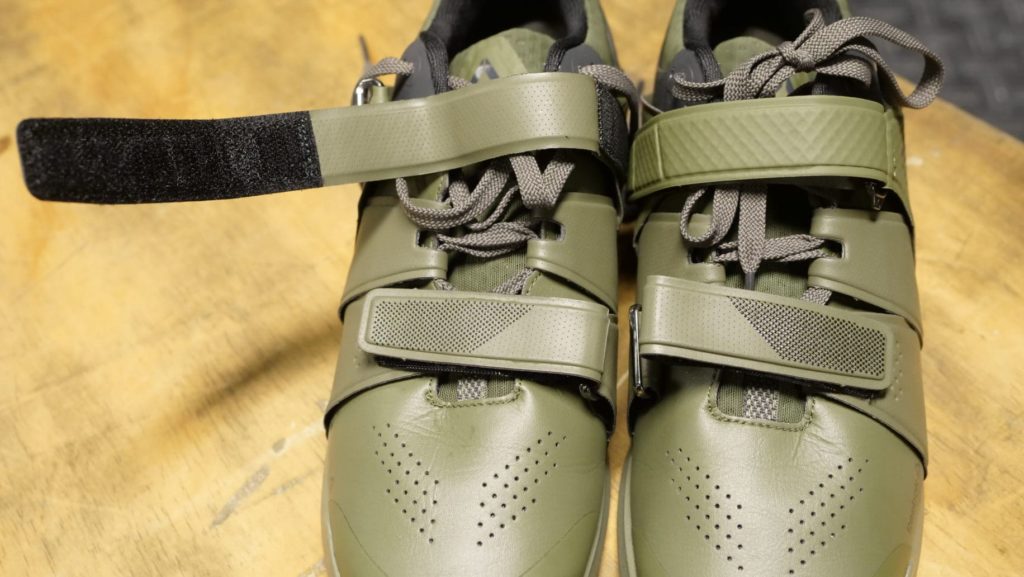 An Athlete's Take
The below performance specs are based upon the shoe construction and my personal experiences (training and competing) while wearing these shoes.
I have been training in wood-heeled, all leather Risto Sports shoes, however previously I was training in the Reebok Lifter Plus (12 months) and have worn trained on and off in Romaleos and Adipowers. For the sake of determining how these shoes stack up for intermediate and advanced weightlifters, at the time of this review my snatch best was 116kg and clean and jerk best was 137kg at 87kg body-weight.
For beginners and/or lifters transitioning from non-weightlifting shoes, these shoes will be a drastic upgrade from your previous cross-training footwear.
Very Solid Base for Lifting
The Reebok Legacy Lifters offered superior support from any of my previous shoes in the past three years (both pairs of my Risto Tiburons, Reebok Lifter Plus, and Nike Romaleos).
First, the shoe weight was noticeable as I began to transition from my lighters shoes, however I preferred the added weight and sturdiness as I planted into the ground during squats, pulls, and receiving snatches, cleans, and jerks.
While some lifters may find the extra shoe weight to be a negative, I urge them to become faster with their feet, and then determine if they truly do not want the extra weight.
More Upright in Squats and Snatches
The heel was noticeable as I transitioned from the Risto Tiburons and Reebok Lifter Plus. While the Reebok Legacy Lifters have the same effective heel as the Romaleos, I had spent the past 16 months in much less of a heel (Ristos and Reebok Lifter Plus). Almost instantly I was able to hit more upright squats and snatch positioning, which took some time to get used to. After a few weeks in these .75 inch heels, I felt more stable and upright in nearly all of the weightlifting movements.
Minimal Sliding of the Foot in Shoe
Coming from a single strap weightlifting shoe, I really liked transitioning back to the double strap. First, I haven't felt this "buckled down in my Ristos and/or Reebok Lifter Plus shoes since I started wearing them. Secondly, knowing that my foot has zero ability to slide forward and/or laterally during heavy and explosive lifts makes all of the difference, both mentally and physically.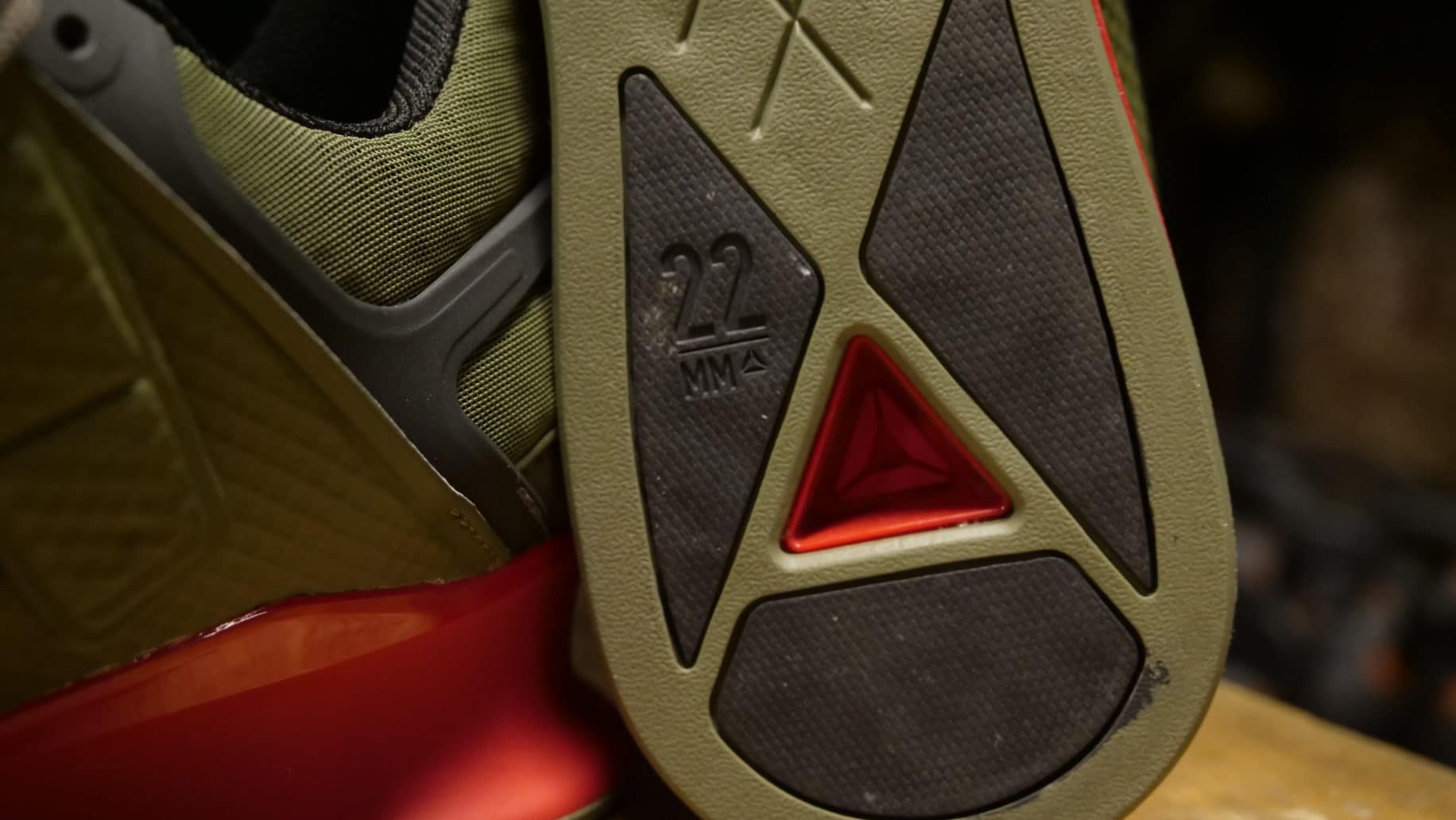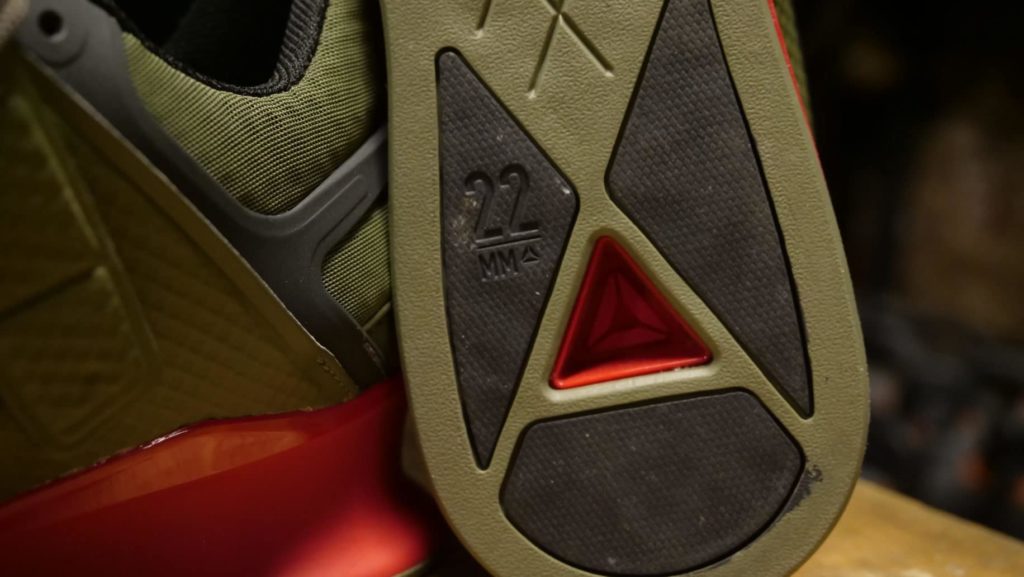 Offered Needed Stiffness for Heavier Lifts
While some have been saying that the toe box is stiff (due to the leather), I have found the extra stiffness to keep my foot stable during explosive movements. Most noticeable is the stiffness during jerks, as I have come to really like having less flexibility in the toes, as I feel that my previous wood-heeled all leather shoes (Ristos) and the Reebok hybrid weightlifter (Lifter Plus) both allowed for too much foot wiggle during jerks and heavy squats.
Modern Design and Color Schemes
When I first opened my pair of black and gold Reebok Legacy Lifters, the sunlight hit the heels and cast a gold-light upon my squinted eyes. I have received countless comments (mostly positive, I think) regarding the superior design upgrades that Reebok has made with the Legacy Lifters, but also how these shoes have become part of the movement for modernized, well-designed weightlifting shoes.
The Nike Romaleos 3 and Reebok Legacy Lifters have really caught my eye as some of the most beautiful works of craftsmanship and performance, however the NOBULL Midnight Blue Lifters are making a strong case as well!
Truly an Olympic Weightlifting Shoe
For all the reasons above, I really do feel Reebok has made a statement with these shoes. The construction is solid, the added stability and sturdiness is highly beneficial for heavy squats and cleans, and the heel construction (height, width, and heel cup support system) is a great upgrade from my other previous lifters (Ristos, Lifter Plus, and even older versions of Nike Romaleos). The Reebok Legacy Lifters are truly an Olympic weightlifter's shoe.
Reebok Legacy Lifter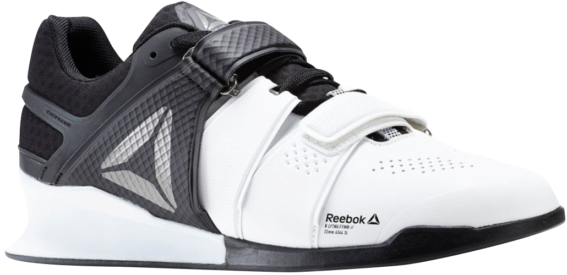 Reebok's signature weightlifting shoe that provides a strong TPU heel and double mid-foot straps for security.
Not the Best for Hybrid Workouts
While the above benefits can result in some great advancements in one's strength and power, the Legacy Lifters can potentially find its limitations in regards to the versatility of non-weightlifting training. The added weight and support systems make the shoe inflexible and heavy, which can be detrimental during jumping and other multi-modal fitness WODs (box jumps, jump ropes, rowing, running, toes to bar, etc.) Therefore, if you are a functional fitness athlete who is potentially looking to grab a pair of Legacy Lifters to use during class WODs, I recommend bringing another pair of cross-training shoes to swap into after main strength and power segments (the Legacy Lifters will be better for squatting, pulling, and heavier barbell complexes).
Could Alter Pulling and Squatting Mechanics
While I found the heel height to be beneficial for my lifts, I did notice it took a few weeks to learn how to receive snatches and cleans in a more upright position, as I often would have to sit down and readjust in the bottom of the snatch/clean.
Final Word
Overall, the Reebok Legacy Lifter IS a "true" weightlifting shoe for the strength athlete. It's as heavy — actually slightly heavier — than other dedicated models from Nike and Adidas, and the size, heel height, and construction give it a very solid feel that keeps you feeling connected to the ground. While I found it good for the Olympic lifts and squatting, lifters who don't like a heavy shoe or want something with more versatility for conditioning workouts may prefer a lighter model.
Lifters switching to the Reebok Legacy Lifter from a lower-heeled shoe need to be prepared to take a few weeks to adjust to the added heel height; the added range of motion could lead to some weakness and loss of control at the end ranges.
Additionally, some lifters may find that they need to adjust their setup somewhat to adjust for more vertical positioning due to the added ankle range of motion.
Editors note: This article is an op-ed. The views expressed herein are the authors and don't necessarily reflect the views of BarBend. Claims, assertions, opinions, and quotes have been sourced exclusively by the author.