Of all the whey protein powders on the market, Optimum Nutrition's Gold Standard whey protein may be the best-known and most widely consumed. It's the number one seller on Bodybuilding.com and Amazon, but we were curious — is this really a great product, or is it just the most popular? Does it deserve its spot as the default whey protein powder used by millions?
We decided to take a harder look at the crowd favorite and found that it's well priced, has great macronutrients, and scores highly for label accuracy — three qualities that rarely intersect in the whey protein industry.
Optimum Nutrition Gold Standard Whey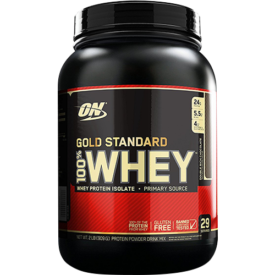 Optimum Nutrition Gold Standard Whey
The market's most popular whey lives up to its reputation as a solid all-rounder with a huge variety of flavors to choose from. It includes 24 grams of protein in each round scoop and mixes well with milk or water.
Editor's note: The content on BarBend is meant to be informative in nature, but it should not be taken as medical advice. The opinions and articles on this site are not intended to diagnose, prevent, and/or treat health problems. It's always a good idea to talk to your doctor before beginning a new fitness, nutritional, and/or supplement routine. Individual needs for vitamins and minerals will vary.
[Related: Nutrition for Bulking: 10 Tips for Intelligent Muscle Gain]
Optimum Nutrition Whey Protein Nutrition Facts
Let's start with the basics. One rounded scoop delivers 24 grams of protein, three grams of carbohydrates, one gram of sugar, and one gram of fat. Various independent tests have shown that it may be closer to 21 or 22 grams of protein per serving, a difference that's actually pretty negligible in the supplement world — Optimum Nutrition (ON) has a good track record with third-party testers.
ON Gold Standard Whey Ingredients
For something so popular and so inexpensive, the ingredients list is surprisingly short. Here is the Double Rich Chocolate flavor's ingredients list:
Protein blend — whey protein isolates, concentrates, and peptides
Cocoa
Lecithin
Natural and artificial flavors
Acesulfame potassium
Aminogen
Lactase
So what does all that mean? Of these three kinds of whey, whey protein isolate has the highest percentage of protein, though the process to make it reduces a lot of its other ingredients that can promote overall health and immunity, like peptides.
The concentrate is the cheapest form of whey. While it has less protein and more fat per gram than isolate and peptides, it contains more ingredients with potential health benefits like conjugated linoleic acid (CLA) — a potential weight loss aid — and phospholipids. Whey peptides are pricier but also more broken down — some call it "pre-digested" — so they absorb quickly. Each form of whey has its own benefits and drawbacks, so combining them all is a smart tactic.
Regarding the other ingredients, lecithin is used to improve mixability. Aminogen is a blend of enzymes that help digest the protein and reduce gas, and Lactase should make lactose easier to digest. The acesulfame potassium is a sweetener — about 200 times sweeter than sugar — that's controversial in some circles but appears to have no negative effects at low levels.
[Related: Could Baking Soda Be The Best Workout Supplement You've Never Tried?]
Gold Standard Whey Benefits and Effectiveness
As mentioned above, the blend of three kinds of whey helps make this a very well-rounded product. Contrary to popular belief, there's no one "best " kind of whey. They each come with their own benefits, and mixing them all was a smart move by ON. Many of the benefits of this product come from the fact that it contains whey, a high-quality protein containing Branch Chain Amino Acids (BCAAs), and other non-essential amino acid glutamine.
The macros make this a solid choice for folks on low-carb diets or low-fat diets. Aminogen and Lactase should improve digestion, but besides that, there's not a lot else in this product. It's several kinds of whey and some enzymes to help you make the most of it.
[Related: Intermittent Fasting 101: A Guide To Benefits, Muscle Gain, And More]
Optimum Nutrition Whey Protein Price
In an average supplement store, ON whey protein tubs vary from two to five pounds. The latter offers 73 servings for $58. That's 79 cents per serving or ¢3.31 per gram of protein. If you buy a standard two-pound tub, it's $30 for 29 servings. That's $1.03 per serving or ¢4.31 per gram of protein.
That's pretty inexpensive for whey. Here are some comparisons to other whey proteins on the market:
[Related: The Lifter's Guide To Magnesium: What This Nutrient Does For Strength]
Mixability
ON's Gold Standard mixes well with both water and milk, likely due to the lecithin, which helps improve mixability. It shakes well in a shaker or just stirring with a spoon — make sure you're stirring fast — and dissolves nicely into the fluid.
[Related: The Best Foods And Supplements For Fighting Inflammation]
Optimum Nutrition Whey Taste
Optimum Nutrition sells some twenty different flavors, and they know their chocolate. The line includes Double Rich Chocolate, Extreme Milk Chocolate, Chocolate Malt, Chocolate Peanut Butter, Chocolate Coconut, White Chocolate, and Rocky Road (that's their chocolate and marshmallow flavor).
We purchased the most normal-sounding chocolate: Double Rich Chocolate. Despite the "double" in the title, it's tasty without being overwhelmingly sweet or intensely flavored. It's closer to a dark chocolate taste than milk chocolate. If you're after a sweeter, creamier, more intense chocolate, you might prefer the equally popular Extreme Milk Chocolate flavor.
Some flavors from ON are nice as a one-off but easy to get sick of after a few shakes (e.g., Cake Donut). Double Rich Chocolate is ON's standard, basic chocolate. It's reliable and mild enough that it won't overwhelm the palate, and consumers probably won't get tired of it. Note that the flipside of this "low intensity" chocolate is that it's very, very bland when mixed with water.
[Related: Check out our picks for the best tasting Optimum Nutrition Gold Standard flavors!]
The Takeaway
ON gives you what it promises: a no-frills, dependable whey protein powder. It's not just reliable; it's inexpensive and tasty, too. It's hard to find fault with Optimum Nutrition's product; if there's an industry gold standard, this may deserve the title.
Optimum Nutrition Gold Standard
Per Serving: $0.79