We receive free products and receive commissions through our links. See
disclosures page
.
A solid whey protein is a great way to increase your lean protein intake, and it's convenient for athletes on-the-go. And Optimum Nutrition's Gold Standard Whey is among the most popular protein powders on the market. And for good reason: It's inexpensive, it combines three kinds of whey — concentrate, isolate, and hydrolysate — and it gets great ratings for purity and label-accuracy from third-party testing companies. But that begs the question: Which are the best Optimum Nutrition flavors?
While this protein isn't overly expensive ($33.99 per container), you probably don't want to buy each and every flavor to find your favorite. Our team of Barbend experts is here to help solve that issue. We've tried every single Gold Standard Whey flavor (that's 18 total products tested) and narrowed down the absolute best-tasting protein powders.
Best Optimum Nutrition Flavors
Editor's note: The content on BarBend is meant to be informative in nature, but it should not be taken as medical advice. The opinions and articles on this site are not intended for use as diagnosis, prevention, and/or treatment of health problems. It's always a good idea to talk to your doctor before beginning a new fitness, nutritional, and/or supplement routine. Individual needs for vitamins and minerals will vary.
Video Review
While we still want you to read our more in-depth written review of the best Optimum Nutrition whey flavors, we get that some people prefer visuals. Check out our thorough video on our favorite Gold Standard Whey flavors, including their benefits and drawbacks.
[Related: The 7 Best Types of Protein Powders Explained — Which Is the Best For You?]
How We Tested and Chose Our Picks
When it comes to flavor profiling, we tried our best to stay as unbiased as possible, putting our personal preferences aside. We considered what an athlete who likes a particular flavor would want to get from their whey. For instance, does the peanut butter taste like a spoonful of Skippy or does it taste artificial? Here are all the factors that we took into account.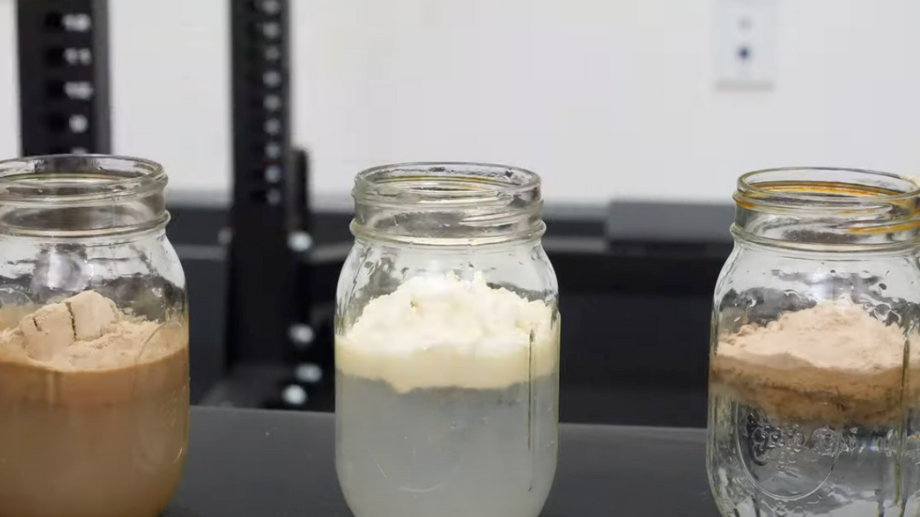 Water vs. Milk
Not all athletes are fans of mixing their milk with whey. Plus, in our experience, milk (especially two percent or whole milk) can add a lot of richness to a protein powder, elevating the overall flavor. So, to get an objective taste, we ranked our flavors based on how they tasted only with water.
Aftertaste
No one wants a delicious flavor at the start of a sip only to be left with a weird flavor lingering afterward. And considering whey protein is derived from dairy, the aftertaste can be pretty gnarly with some products. We chose powders that delivered a delightful first sip, all the way to the bottoms-up finish.
Solubility
Not everyone has enough time to blend their protein powder into a shake. For most, throwing a scoop into a shaker bottle is the typical go-to. So, we wanted to prioritize flavors that mixed well in water without a whole blender doing the work. We kept an eye out for floaties or separation as we sipped one flavor to the next.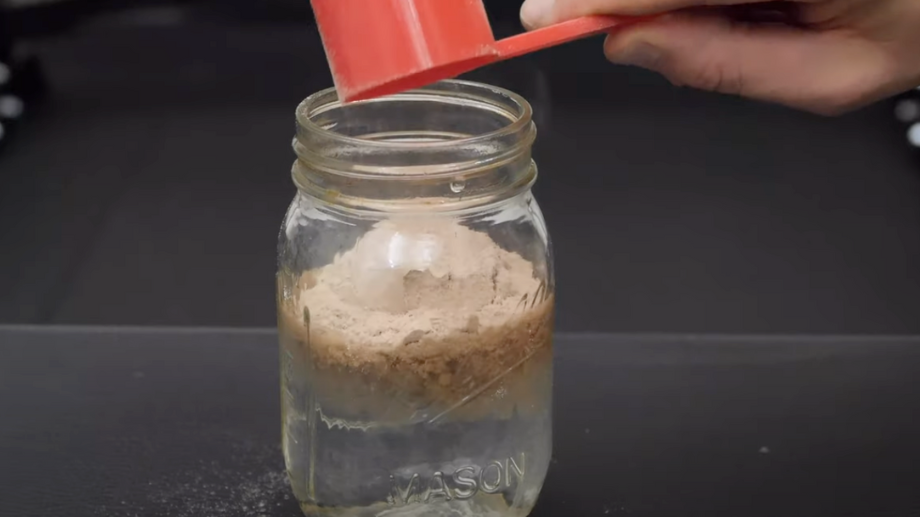 Best Overall Optimum Nutrition Flavor: Extreme Milk Chocolate
Optimum Nutrition Extreme Milk Chocolate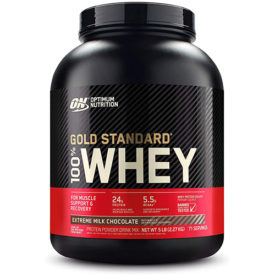 Optimum Nutrition Extreme Milk Chocolate
This smooth milk chocolate flavor can make shakes with milk or water taste great. It packs a good 24 grams of protein and 120 calories per single-scoop serving.
Pros
This flavor mixed well in water and maintained its rich flavor.
For those who like chocolate, this one is like taking a bite into a chocolate bar.
We loved the sweeter taste to this one — perfect for dessert after a meal.
Cons
Not all athletes love chocolate flavors.
This one didn't have a deep cocoa taste, it was more like candy.
When comparing all the Optimum Nutrition, Extreme Milk Chocolate was our number one.
We compared this flavor to Double Rich Chocolate, which tastes like a spoonful of plain cocoa — some may like that, though. Extreme Milk Chocolate tasted sweeter and richer.
After mixing the flavor with both milk and water, we were happy to find that they both tasted delicious. No matter the base, Extreme Milk Chocolate maintained its decadent flavor, unlike some of the other flavor options. We also didn't notice any separation, which is a huge plus.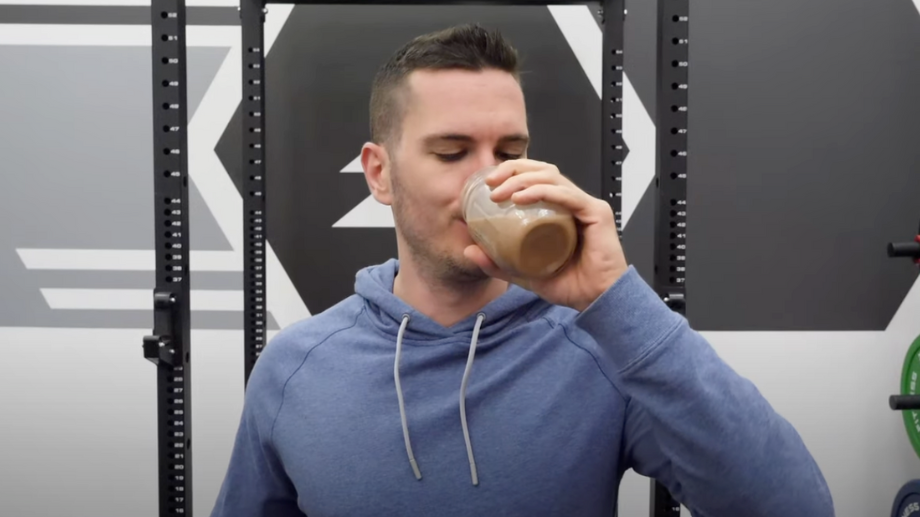 If you are in a bulking phase and intend to throw back your protein shakes with whole milk, similar to the diet strongman Hafthor Björnsson followed in his prime, then by all means hit up the Double Rich Chocolate. Otherwise, do your taste buds a favor with Extreme Milk Chocolate.
Read our full Optimum Nutrition Gold Standard Isolate Review
Best Vanilla Optimum Nutrition Flavor: Vanilla Ice Cream
Optimum Nutrition Vanilla Ice Cream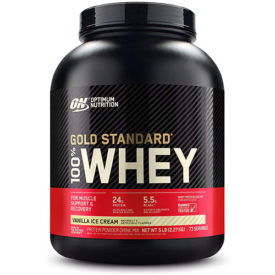 Optimum Nutrition Vanilla Ice Cream
This whey flavor can make protein shakes taste like melted ice cream that is still cold. With 24 grams of protein and 120 calories per scoop, it is likely a safe but solid choice.
Pros
This vanilla is sweet and fully-flavored — it doesn't go thin when mixed with liquid.
Vanilla Ice Cream maintained its richness even when mixed with water.
This one really tasted like ice cream, not artificial vanilla flavoring.
Cons
As with vanilla-flavored anything, this option isn't as rich as chocolate.
There are more unique flavors to choose from.
Vanilla is a staple flavor — it mixes well with other ingredients in a smoothie and can even add some sweetness to plain Greek Yogurt or oatmeal. But considering Optimum Nutrition makes several vanilla flavors (French Vanilla Creme and Vanilla Ice Cream), we had to give both a try.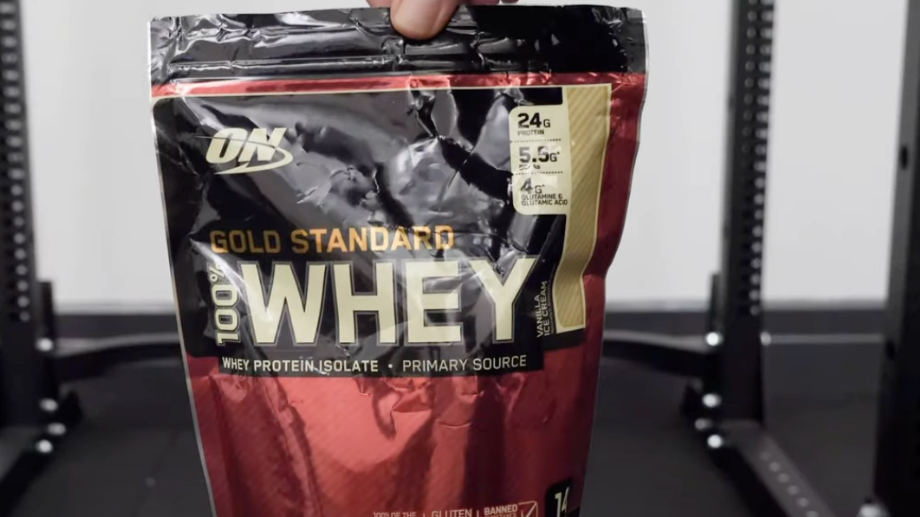 After a few sips, we thought French Vanilla Crème was fine. We worked our way through a tub of it and while we didn't hate it, once again, we found it too mild. It does a decent job of flavoring your milk but in water, it doesn't exactly stand out.
On the other hand, the Vanilla Ice Cream has a richer, more robust, and sweeter flavor that does indeed taste like melted-down vanilla ice cream. Customers loved the richness, too. "I got the vanilla ice cream one and it is delicious," one five-star reviewer writes. "[It] blends well — I usually use my immersion blender, but it does ok just being shaken!"
There's zero artificial-tasting ingredients, which is a must-have with vanilla. Chances are we can all agree that's the best way to eat vanilla.
[Related: The Best Whey Protein Powders For Vegans, Weight Loss, and More]
Best Peanut Butter Optimum Nutrition Flavor: Chocolate Peanut Butter
Best Peanut Butter Optimum Nutrition Flavor
Best Peanut Butter Optimum Nutrition Flavor
A flavor fit for those with a decadent, rich pallet. This flavor is likely to satisfy dessert cravings as it delivers 24 grams of protein alongside 130 calories.
Pros
The Chocolate Peanut Butter elevates the simple PB flavor, for a richer shake.
This one mixed well with both milk and water without separating.
The chocolate saves the flavor from tasting a little bland.
Cons
This one tasted a little denser/heavier than other flavors.
Those allergic to nuts should steer clear.
There's a reason why peanut butter cups are the superior chocolate (at least in our opinion) — It's hard to go wrong with Chocolate Peanut Butter flavors. Chocolate and peanut butter are just a wonderful pairing and whey protein powder is no exception. Peanut butter alone is delicious, don't get us wrong, but the spread isn't exactly sweet. And when a savory whey protein powder doesn't sound ideal.
Optimum Nutrition's CPB flavor hits the perfect balance between the two flavors. And customers definitely seem to think so. "The chocolate peanut butter is my favorite," one five-star reviewer writes. "It's like indulging in a tasty snack while my body is using it to support muscle recovery."
In our experience, if the chocolate part is too bland, the peanuts come to the rescue, and that's why we loved Gold Standard Whey's CPB flavor — nice and creamy in milk, and roasted peanutty in water.
Best Underrated Optimum Nutrition Flavor: White Chocolate
Optimum Nutrition White Chocolate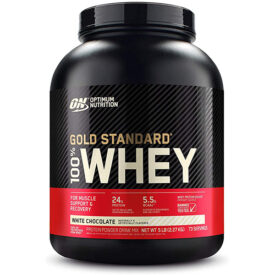 Optimum Nutrition White Chocolate
This white chocolate whey is likely to please any lifter aiming to satisfy a sweet tooth. One scoop of this whey provides 24 grams of protein and 120 calories.
Pros
Although it's not as popular, White Chocolate is perfect for those with a sweet tooth.
This one can mix well with either water or milk.
You can blend this powder with vegetables or fruit for a low-key added sweetness.
Cons
White chocolate isn't for everyone — it doesn't taste like cocoa-flavored chocolate.
This only comes in a five-pound tub.
The thing with White Chocolate is that this flavor is a bit more expensive to produce, so it's only available in the larger five-pound tubs. That means a lot of people overlook it, but we consider it the most underrated flavor.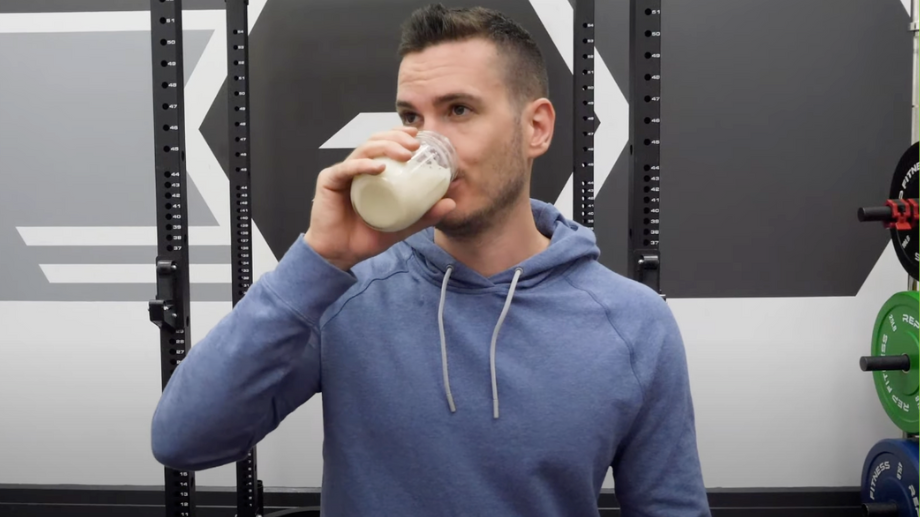 Clearly, we have sweet teeth, so if you don't like sweeter snacks — or white chocolate in real life — then you won't be so crazy about this flavor. But we loved the flavor and versatility. White chocolate is sweet but doesn't have a super distinct flavor like, say, peanut butter. So, it can add some sweet flavor to foods or shakes that include savory vegetables.
[Related: Optimum Nutrition Gold Standard Plant-Based Protein Review — Do Gums Matter?]
Best Dark Horse Optimum Nutrition Flavor: Optimum Nutrition Rocky Road
Optimum Nutrition Rocky Road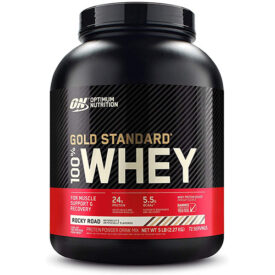 Optimum Nutrition Rocky Road
A solid choice for anyone who has an affinity for chocolate-cherry slanted flavors as the pink marshmallows are akin to a maraschino cherry. One scoop delivers 24 grams of protein and 120 calories.
Pros
This unique flavor combines chocolate and cherry, which isn't too common.
Compared to other chocolate varieties, this one has a richer, less sweet flavor.
The flavor is rich enough to stand alone — you don't need milk or other ingredients.
Cons
Those with a sweet tooth may want a more sugary flavor.
The cherry is pretty distinct, which isn't for everyone.
This is the dark horse: The unexpected front runner, the one nobody saw coming. Rocky Road, of course, is chocolate and marshmallows combined. Optimum Nutrition combines the flavor of chocolate with pink marshmallows for their own, unique Rocky Road product. For those not in the know, pink marshmallows taste a bit like maraschino cherries.
The outcome is a delightful chocolate-cherry flavor that manages to be compelling without being too strong or too sweet. While we were pretty fascinated with this unique option, it's definitely not for everyone. So, if you don't enjoy the taste of cherry, it's best that you try another product.
Most Controversial Optimum Nutrition Flavor: Cookies & Cream
Optimum Nutrition Cookies & Cream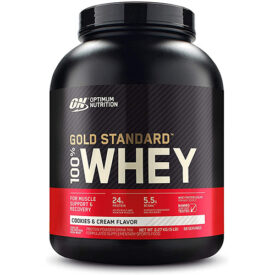 Optimum Nutrition Cookies & Cream
This cookies and cream flavored whey has a slightly saltier taste compared to other Optimum Nutrition flavors. It packs 120 calories and 24 grams of protein per single-scoop serving.
Pros
This one definitely tastes like Cookies & Cream, which some will love.
It has a bit of a salty aftertaste, which some of our testers enjoyed.
It's one of the better Cookies & Cream options, compared to other supplement companies.
Cons
This flavor has pretty mixed reviews, which is a risk.
Although it's better than competitors, it still doesn't quite nail the Cookies & Cream flavor.
No matter where you look for advice about protein powder flavors, you'll likely hear a myriad of opinions about Cookies & Cream. Practically every company tries their hand at it and a lot of them fail, producing bizarrely salty, chocolate-vanilla combinations that just don't really hit the mark.
Optimum Nutrition's Gold Standard Casein is guilty of this with their attempt, but the Gold Standard Whey retooled their formulation a couple of years back to make a pretty good pick. We tried this one, and the result has been pretty evenly split — about 50 percent loving it and 50 percent hating it. Try it if you like to gamble.
[Related: Optimum Nutrition Gold Standard Casein Review — Most Popular Brand?]
What To Consider Before Buying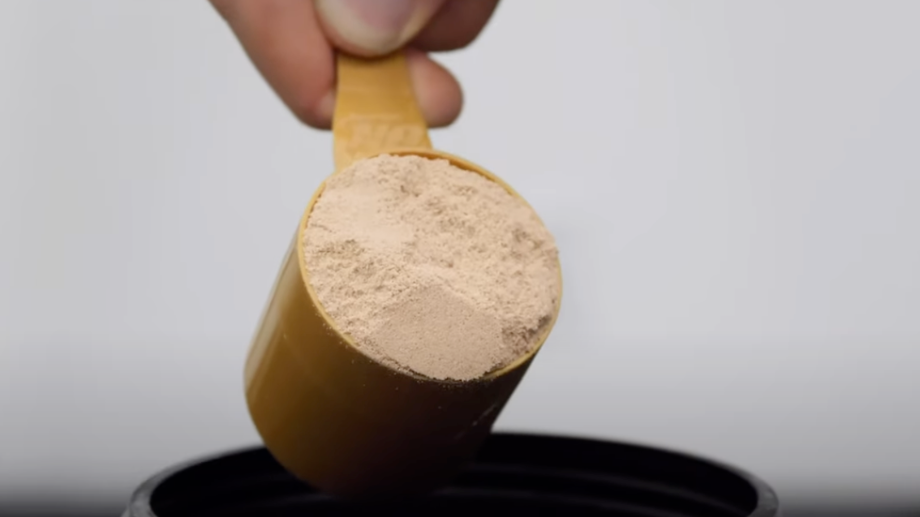 This took a whole lot of time and testing and tasting and anabolism to get right, but we're confident in this list of the best and most underrated Gold Standard flavors. With that said, there are a few factors you may want to consider before you buy.
Your Daily Diet
While your personal flavor preference is the most important factor in choosing your ideal Optimum Nutrition Flavor, don't neglect your day-to-day eating habits. Do you like mixing your protein powder into yogurt or breakfast shakes? If that's the case, the more unique flavors (like Rocky Road) may not be ideal.
Protein Timing
Also, think about when you like sipping your protein. If you like a shake in the morning but don't want to overload your taste buds with sweetness, the White Chocolate may be overdoing it. Instead, opt for a more mild Vanilla flavor.
How Much Do Optimum Nutrition Flavors Cost?
While all of these flavors cost the same amount (some maybe a different by a dollar or two, at most), you can choose from different size options, which can increase the cost pretty significantly. A two-pound tub costs about $44.99, the five-pound container is $78.46, and the 10-pound pack is $148.17.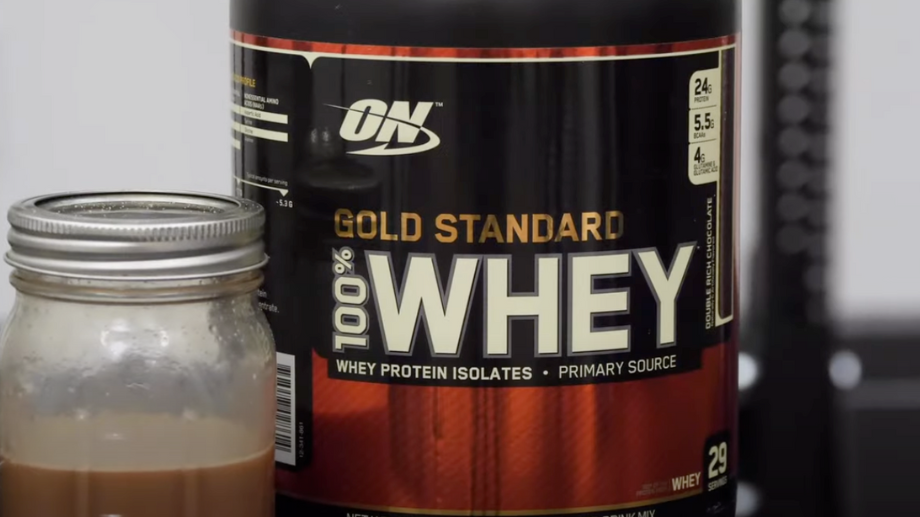 Different flavors can go on sale at different times, too, so keep an eye out for discounted prices when you shop.
Frequently Asked Questions
Which is the best Optimum Nutrition Flavor?
We tried them all and decided that Extreme Milk Chocolate is the best flavor. It's a crowd pleaser, it's robust, and it tastes great with water. For those more inclined toward vanilla, Vanilla Ice Cream is the best option. It actually tastes a lot like melted ice cream, and again, tastes great with water.
What is Gold Standard whey?
It's the most popular whey protein on the market. Made by Optimum Nutrition, it comes in dozens of flavors and is primarily a blend of three types of whey, with some artificial flavors and sweeteners plus some digestive enzymes, which may help to improve absorption.
Does Gold Standard Whey have artificial ingredients?
Yes, it contains artificial flavors and sweeteners. The sweeteners are sucralose (a.k.a. Splenda®) and/or acesulfame potassium (a.k.a. Ace K), depending on the flavor. However, the company has a line of "natural whey" in Chocolate, Strawberry, and Vanilla flavors.
Is Gold Standard Whey good for weight loss?
If weight loss is your goal, you need to stay in a calorie deficit. While Gold Standard Whey does have calories, protein is much more filling than processed grains and sugary candy. If your choice is something like 100 calories of a protein bar or 100 calories of Gold Standard Whey, the whey will do a better job of sating your appetite. In this regard, it may be a useful product for weight loss — increasing protein intake is usually recommended for those looking to eat less overall.