If you know protein supplements, you probably know Optimum Nutrition. This company sells the most popular protein powder on the market — Gold Standard Whey — which has won countless awards and is considered by many to be not only the most popular but also the best whey you can buy.
So of course, "ON" expanded into other supplements. We've reviewed their BCAAs, their creatine pills, their preworkout, and plenty of other offerings from them. But let's be honest: the people want protein. And since milk is about 80 percent casein and just 20 percent whey, it makes sense that the company would expand into casein protein powder.
So how does the biggest protein company approach casein? Here's our take.
Shop Optimum Nutrition Casein Flavors on Amazon.
How We Rate Protein
So what's our methodology for deciding the pros and cons of protein powder? We take this stuff very seriously.
Nutrition
Calories per gram of protein is a standard that a lot of people like for protein powder. The most protein-dense you can get is 4, as pure protein has 4 calories per gram.
We also look at other nutrients like sodium, saturated fat, cholesterol, and other vitamins and minerals. We're not about to say that you should avoid, say, saturated fat, but given that there are plenty of people who do, we'll point it out in case you fall into that category.
Ingredients
A lot of casein protein powders don't have all the protein coming from casein; instead it'll come from milk protein isolate (which is mostly casein) or it'll be a blend of casein and another protein.
Some ingredients are controversial: we'll mention soy, artificial sweeteners, gums, lactose, and any other ingredients that some consumers may avoid because of digestive issues, sensitivities, or dietary restrictions. Again, this isn't to say that soy is bad for you, just that some consumers may want its presence highlighted.
Occasionally, ingredients in these supplements may also make it more effective. Digestive enzymes, for example, could potentially increase your absorption of nutrients and mitigate lactose sensitivities among some users.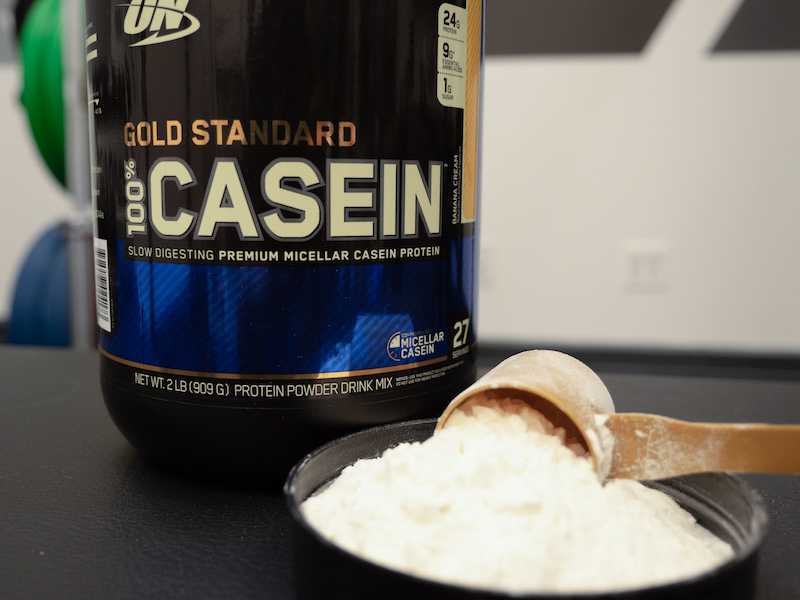 Cost
We know protein powder and we compare with all the most popular and highest quality brands on the market. With casein in particular, we need to compare with other products with similar protein sources — if a product gets 100% of its protein from micellar casein, it's OK for it to be a little pricier than a product that uses milk protein.
Taste
Let's be honest, this is the most important aspect for a lot of customers. As longtime consumers of supplements we have a knack for recognizing when a company has put a lot of work into their flavoring and when it's just been an afterthought.
Whey Vs Casein
What's the difference between casein and whey? In addition to the video above we also wrote this very awesome article all about those differences, but here are the Cliffnotes: they both come from milk, and whey has traditionally been thought of as a waste byproduct of making cheese. (Optimum Nutrition, like Isopure, is owned by the multinational cheese company Glanbia.)
That's one reason whey is a little cheaper than casein but more importantly, casein easily forms clumps. That means it digests more slowly and according to a 1997 study in the Proceedings of the National Academy of Sciences of the United States of America, it results in amino acids being released into the bloodstream over a longer period of time.(1)
This is why a lot of people like to take casein before bed, so you can stay anabolic while you sleep. That clumpiness is also why a lot of people like to make protein puddings with casein: unlike whey, you can mix two scoops of casein with three scoops of fluid and it makes a mousse-like snack that can be a welcome change from protein shakes.
Optimum Nutrition Gold Standard Casein Nutrition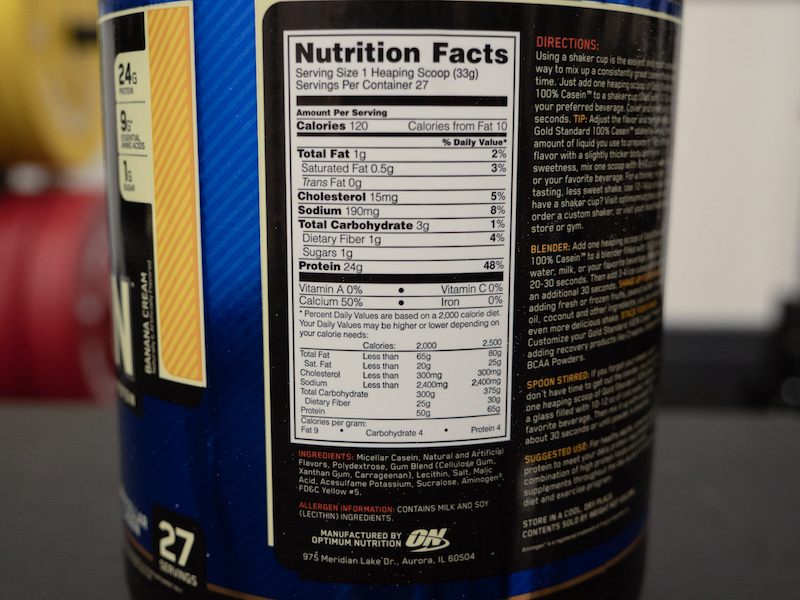 One scoop of the Banana Cream flavor we tried contains 120 calories: 24 grams of protein, 3 grams of carbohydrates (1 gram of fiber, 1 gram of sugar), and 1 gram of fat (0.5 grams saturated fat). That's 5 calories per gram of protein, a little higher than a standard whey protein.
There's also 5 percent of your daily cholesterol, 8 percent of your sodium, and 50 percent of your daily calcium. That's plenty of calcium but it's pretty par for the course with casein; I'd actually consider this a little less nutritious than some competitors, which often contain 60 percent of your calcium and a little iron as well.
Optimum Nutrition Gold Standard Casein Ingredients
Micellar casein, natural and artificial flavors, polydextrose (which the FDA considers a kind of soluble fiber), a blend of three kinds of gum (cellulose, xanthan, and carrageenan), soy lecithin, salt, malic acid (a natural sweetener that usually comes from apples), the artificial sweeteners sucralose and acesulfame potassium, artificial coloring, and finally Aminogen®.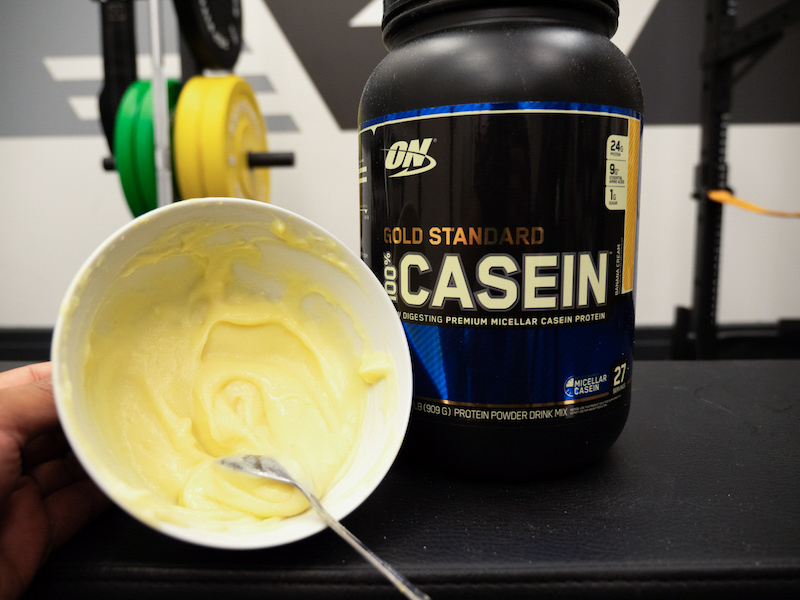 Optimum Nutrition Gold Standard Casein Benefits and Effectiveness
Aminogen is a blend of enzymes that may improve nutrient absorption; a 2008 study in the Journal of the International Society of Sports Nutrition found that men who took Aminogen with whey concentrate had an increased absorption rate, as measured by the amino acids in their blood and urine.(2)
So a lot of people like it when protein powder contains Aminogen or other digestive enzymes. (Onnit's Grass-Fed Whey Isolate has seven different kinds of them, for example.)
There are some ingredients that could cause issues for certain users: there's soy, there are artificial sweeteners, and there are three kinds of gums, which can cause digestive issues. If they don't for you, it's likely not worth worrying about.
Otherwise, as noted above, the benefits of casein are that it digests more slowly and it's more filling. One thing that's really important to note here is that the first ingredient in Gold Standard Casein is micellar casein, which is when the protein is encased in a globular structure called a micelle.
That means it's a little more bioactive, but it's extra noteworthy because not all casein protein powders have micellar casein as the sole source of protein. This, coupled with the enzymes, could be why Gold Standard is worth the slightly higher price.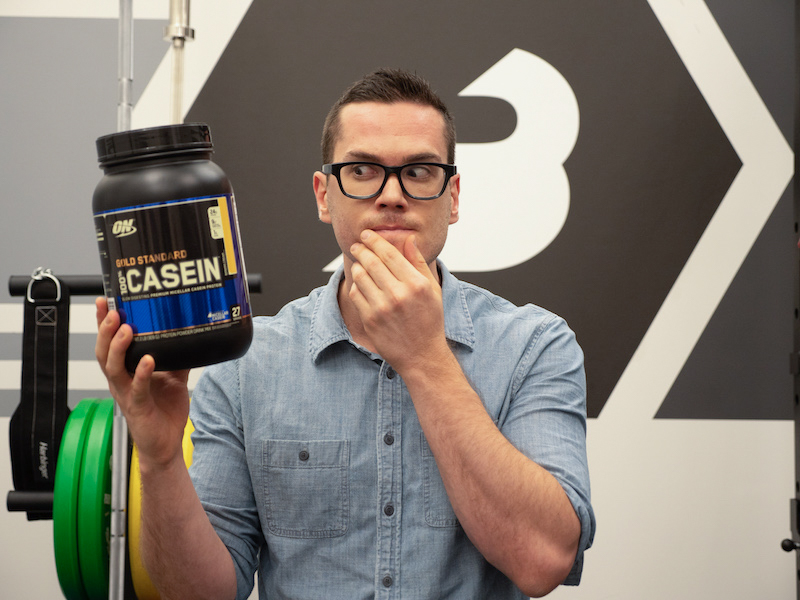 Optimum Nutrition Gold Standard Casein Price
The price can always change, but you're looking at between $28 and $35 for a 2-pound tub of 27 servings. So that's roughly $1.20 per scoop or 5 cents per gram of protein.
Yes, that's pricier than ON's whey but as mentioned earlier, casein is more valuable than whey in that it can be used for making cheese. But even compared to other big supplement companies it's a little bit on the pricy side. Larger companies typically offer casein at between 4 and 5 cents per gram of protein.
But again, the fact that it's all micellar casein and it has enzymes may make that price worth it.
Optimum Nutrition Gold Standard Casein Taste
The Banana Cream flavor tastes more like banana candy than actual bananas, which is fair — it's notoriously difficult to make an artificial banana flavor that tastes good. So this product tastes a little like an extra sweet kind of cereal
We also tried Cookies n Cream, which we weren't fans of because it tasted more like coffee. (That's another flavor that's known for being tough to put into protein powder.) But the Vanilla and Chocolate flavors are perfectly enjoyable, though we would point out that all of these flavors are definitely on the sweeter side. If you don't have a sweet tooth, you might not be so wild about ON's flavors.
The Takeaway
Optimum Nutrition Gold Standard Casein Pros
Protein comes wholly from casein
Has digestive enzymes
Lower in cholesterol than some competitors
Optimum Nutrition Gold Standard Casein Cons
A little pricier than competitors
Contains soy and artificial sweeteners
Not particularly nutritious
As caseins go, this isn't the cheapest on the market but we're big fans of the fact that all the protein is micellar casein and the fact hat it has Aminogen for extra absorption. If you can't stomach soy, gums, artificial flavors, or artificial sweeteners, this might not be for you. Otherwise, we enjoy mixing up casein puddings with Optimum Nutrition — and we prefer the vanilla flavor.
References
1. Boirie Y, et al. Slow and fast dietary proteins differently modulate postprandial protein accretion. Proc Natl Acad Sci U S A. 1997 Dec 23;94(26):14930-5.
2. Oben J, et al. An open label study to determine the effects of an oral proteolytic enzyme system on whey protein concentrate metabolism in healthy males. J Int Soc Sports Nutr. 2008 Jul 24;5:10.