Onnit is one of the fitness industry's biggest giants even though their approach to wellness is somewhat unconventional. On the equipment side they're perhaps best known for focusing on kettlebells, clubs, and maces, and on the nutrition side their most famous products are nootropics like Alpha Brain and the stimulant-free, plant-based pre-workout Total Strength + Performance.
Until recently, their best known protein was probably their hempseed powder and while they have sold a goat whey-based recovery drink for some time, their product line has been missing regular whey protein powder.
Until now. We tried out their whey isolate and found that it's a tasty product that has a huge emphasis on improving digestive health. Here's what we thought of the Mexican Chocolate flavor.
Onnit's Grass-Fed Whey Isolate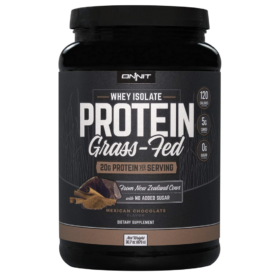 Onnit's Grass-Fed Whey Isolate
A grass-fed whey isolate includes added ingredients for digestion like seven digestive enzymes and a probiotic (lactobacillus acidophilus). It's also gluten-free, sugar-free, and soy-free.
Onnit Grass-Fed Whey Isolate Nutrition Info
One scoop contains
120 calories
Protein: 20 grams
Carbs: 5 grams of carbs (2 grams of fiber, no sugar)
Fat: 2 grams of fat (0.5 grams saturated)
There's no information about cholesterol content.
That's more carbs and fat than you might expect for a whey isolate, which often contain under a gram each of carbs and fat.
The only other things that are notable on the nutrition side is that it's a little higher in sodium than some protein powders (157mg, or 7 percent of the recommended daily intake) and it's pretty low in calcium with 2 percent of the RDI — most wheys fall between 5 and 15 percent.
Onnit Grass-Fed Whey Isolate Ingredients
The whey is sourced from free-roaming, grass-fed New Zealand dairy cows and it's processed into whey isolate, which is lower in fat and carbs than the cheaper whey concentrate.
The other ingredients are cocoa, sunflower oil, maltodextrin (or tapioca), dried cream extract, medium chain triglyceride oil, natural flavors, sunflower lecithin, cinnamon, organic rice hull concentrate — that's a natural anti-caking agent — and a remarkable blend of seven digestive enzymes (amylase, protease, lipase, cellulase, lactase, papain, and bromelain).
For flavoring, there's also some salt, stevia leaf, and monk fruit extract.
The last ingredient on the list is one I've never seen in a whey protein before: lactobacillus acidophilus, a probiotic bacteria that's often found in yogurt.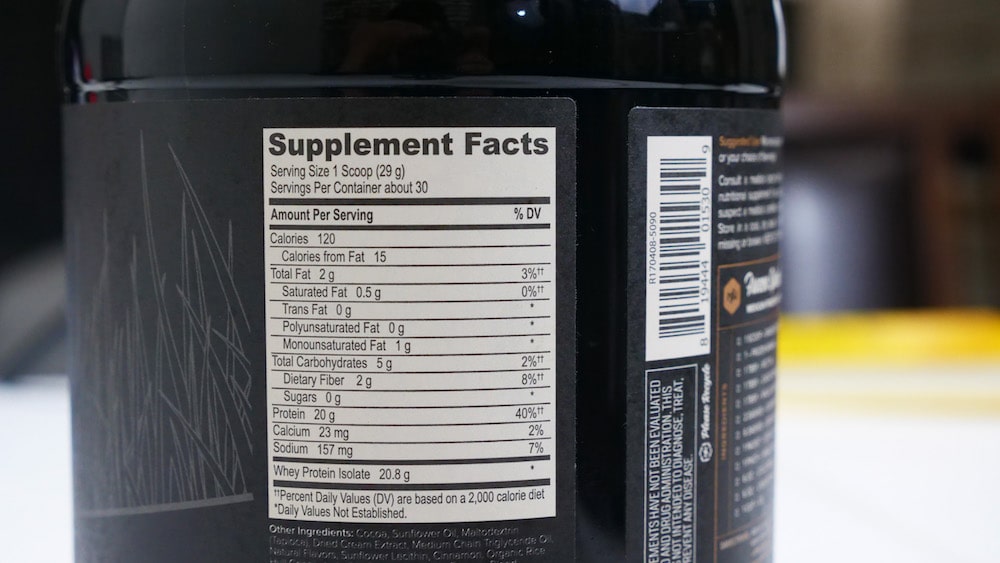 Onnit Grass-Fed Whey Isolate Benefits & Effectiveness
Onnit's brand tends to focus on natural ingredients, and their whey is no different: it has no artificial flavors or sweeteners (so it's Paleo-friendly if you're comfortable with dairy) and it's made from free-roaming dairy cows. Since most of the beneficial fats are removed, the additional health benefits of grass-fed dairy are likely negligible, but some users might be glad to know that the dairy they're consuming comes from cows that weren't confined to feedlots.
I'm also not sure why it contains medium-chain triglyceride oil, a product that Onnit sells for its purported cognitive benefits — there's so little fat in this product that there's likely only small nutrition benefit. The reason it's included could be for flavor, like the dried cream extract.
The most remarkable ingredients are the seven digestive enzymes and the probiotic bacteria. The idea is that these ingredients may help improve absorption of the protein, helping you get more nutrition and muscle out from each scoop. In a 2008 paper in the Journal of the International Society of Sports Nutrition, for example, men who consumed whey with digestive enzymes had an increased absorption rate, plus they may help facilitate muscle healing post workout.(1)(2)  They may also help reduce digestive discomfort if protein powders tend to cause stomach troubles, and while the product is meant to be lactose- and sugar-free, the enzyme lactase may make things better for folks who tend to have issues digesting dairy.
We named Onnit's the best all natural whey protein on the market. Click the link to see our full list!
Onnit Grass-Fed Whey Isolate Taste
The Mexican Chocolate flavor is great. Don't expect a traditional chocolate flavor, though — this tastes like cocoa mixed with chai tea and it has a warming cinnamon flavor. With milk it was delicious and I was surprised to find that even with water it was pretty enjoyable, largely due to the cinnamon. With one cup of hot water, I'd venture that it would even make a good hot chocolate.
We also tried the Vanilla flavor (which has ten fewer calories per scoop) and it was fantastic: it's more ice creamy than velvety, bordering on birthday cake flavor.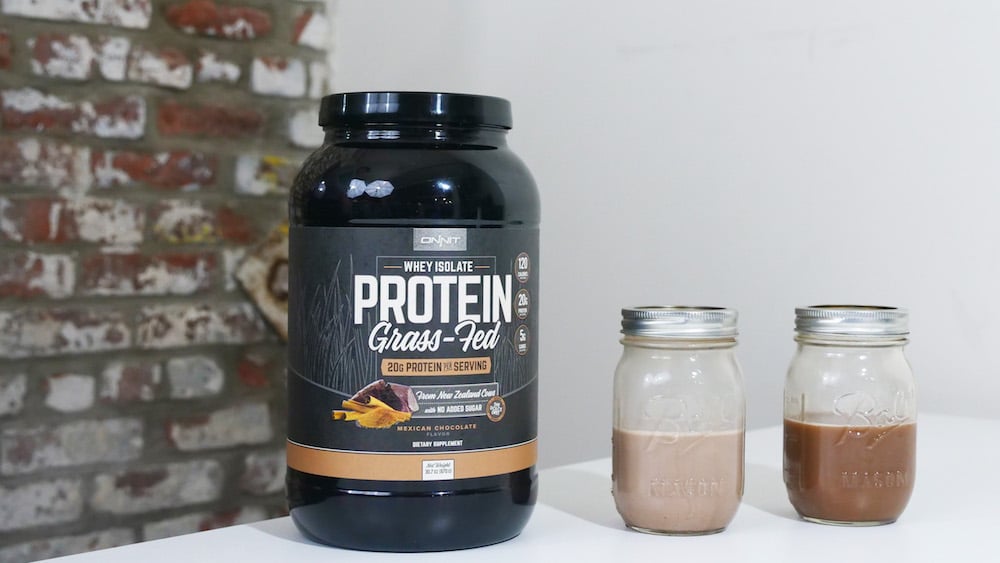 Mixability
For a product with no soy lecithin, I was surprised by how well this product mixed. It didn't take much shaking for the protein to completely disperse in milk and in water; there was no difference in mixability.
The Takeaway
If you like Onnit's products, you will probably like their new whey isolate. If you're comfortable with paying an above-average price and you don't mind that it's a little higher in carbs and fat than other isolates, this is a very impressive protein powder. That's not just because it pulls off the feat of tasting delicious and creamy without artificial ingredients, but because of the unmatched commitment to improving digestion and absorption.
Other Great Protein Powders Reviews
Related Best Protein Powders Content
References
1. Oben J, et al. An open label study to determine the effects of an oral proteolytic enzyme system on whey protein concentrate metabolism in healthy males. J Int Soc Sports Nutr. 2008 Jul 24;5:10.
2. Miller PC, et al. The effects of protease supplementation on skeletal muscle function and DOMS following downhill running. J Sports Sci. 2004 Apr;22(4):365-72.
Onnit Grass-Fed Whey Isolate
Per Serving: $2.00