Onnit is a unique fitness company. On the equipment side, they focus less on barbells and more on off-balanced workout equipment like kettlebells, maces, and clubs. Their supplements are known for eschewing artificial ingredients, the most popular of which are likely their nootropics Alpha Brain and Shroom Tech. But their pre-workout is particularly unusual: it has no caffeine or stimulants of any kind. Yet a Florida State University study found that after 4 weeks of training, it improved strength in a group of powerlifters better than a placebo.
So what's in it?
Shop Onnit HERE.
Onnit Total Strength + Performance Nutrition & Ingredients
In two scoops there are 15 calories and 4 grams of carbs.
The ingredients are broken up into three main proprietary blends — that means we don't know how much of each ingredient is present. I'll discuss the effects of the ingredients in the next section.
First there's the Onnit Performo Blend, which has branched chain amino acids, glutamine, and beta alanine.
The Onnit Power Blend has d-aspartic acid, mucuna pruriens extract (also called velvet bean), eurycoma longifolia root extract (also called longjack), and stinging nettle extract.
Then there's the Onnit Support Blend, which has red clover extract, luteolin, amd resveratrol (from Japanese knotweed).
The other ingredients include five milligrams of black pepper extract and some natural flavors, stevia, organic arabic gum, organic rice hull concentrate, and sodium citrate.
There's also some added micronutrients: well over a day's worth of Vitamins B5 and B6, 10 percent of your daily magnesium, and a small amount of calcium and sodium.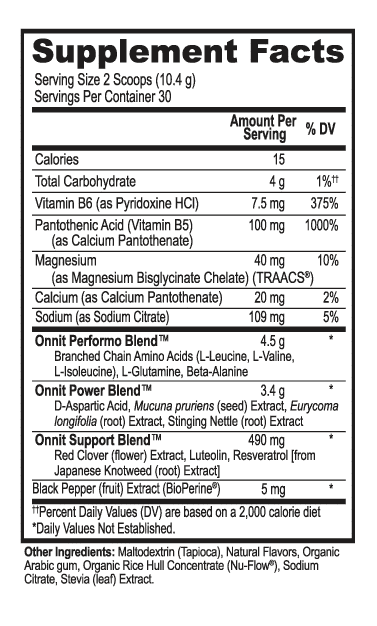 Image via Onnit
Onnit Total Strength + Performance Benefits & Effectiveness
So what do all these ingredients do? Those with the most clear cut benefits for a workout are the branched chain amino acids and the beta alanine, both of which have been linked to improved endurance. The BCAAs are also associated with muscle protein synthesis and focus.
Glutamine is a popular addition to pre-workouts, but there's no real evidence that it helps with muscle growth in healthy adults.
The ingredients in the Power Blend are mostly linked to hormone health, particularly the d-aspartic acid, which may briefly increase testosterone. The velvet bean extract is associated with better production of adrenaline and testosterone, but studies have mostly made this connection for people with hormonal disorders or illnesses that affect normal hormonal function. The longjack is usually used as a fertility supplement, but it might be anti-estrogenic — thereby helping maintain an appropriate balance of testosterone and estrogen — and it could reduce cortisol and improve mood. The stinging nettle could help with inflammation.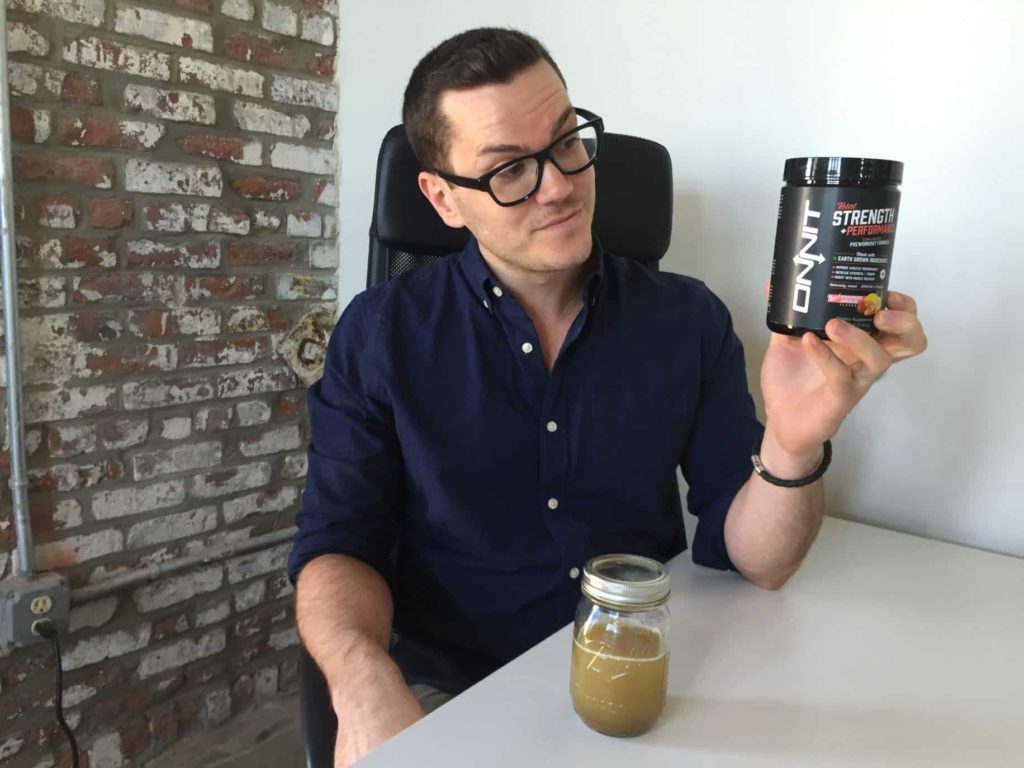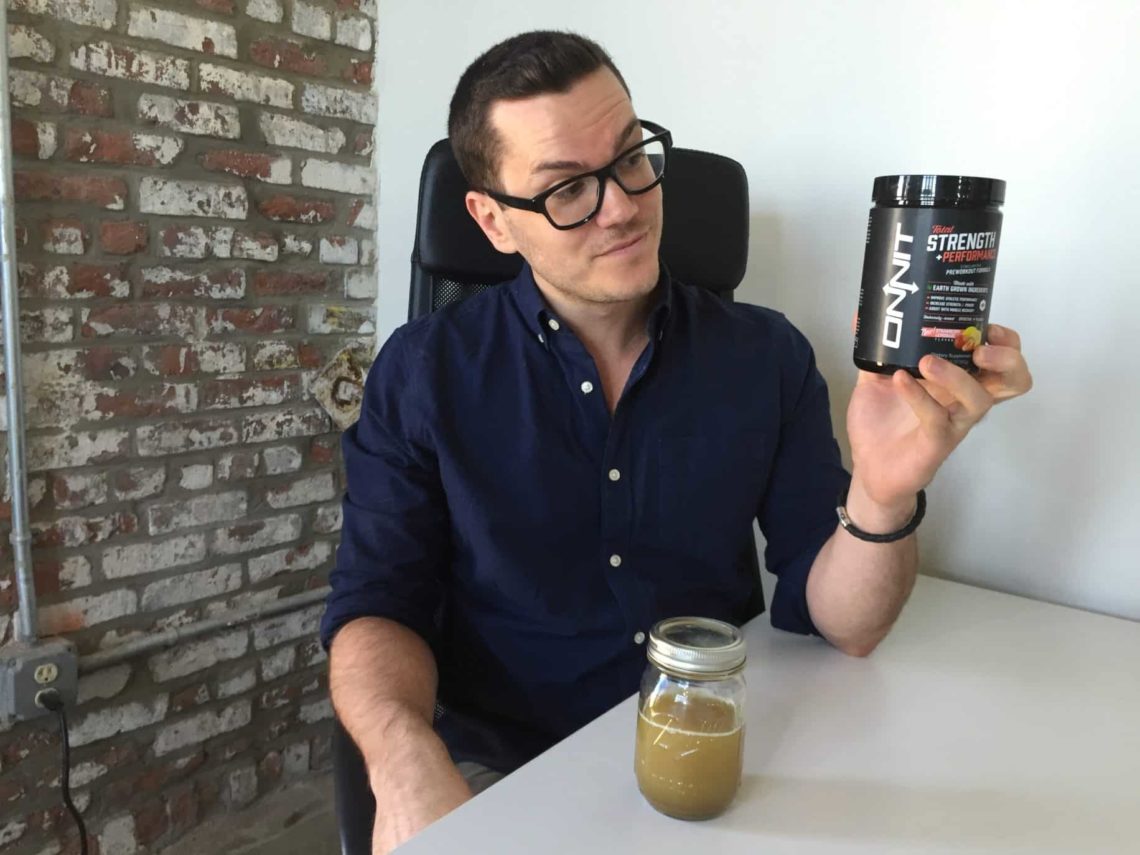 The Onnit Support Blend's ingredients are varied: the red clover extract could help with anxiety, though studies have only found this effect in menopausal women. The resveratrol might improve blood flow and heart health, and the luteolin is anti inflammatory and could be anti estrogenic. The black pepper extract is there to help the ingredients absorb effectively.
Onnit seems to be aiming for better testosterone and estrogen levels here, though it's worth pointing out that some of these ingredients don't have a ton of evidence supporting their effects. The main players, and those with the most evidence behind them, are the BCAAs, beta alanine, longjack, and luteolin.
Onnit Total Strength + Performance Price
At $51 for 30 servings, it's $1.70 per two-scoop serving. That's on the expensive side for a "preworkout"; most pre-workouts are between 80 cents and $1 per serving.
Onnit Total Strength + Performance Taste
This is the new and improved Strawberry Lemonade flavor, and Onnit founder Aubrey Marcus himself said that he did not like the old flavor, but he loves this one. I'll say it's pleasant: it tastes like strawberry and lemon, but it's also quite earthy, almost like a sweetened greens powder. For a naturally sweetened supplement, it could be a lot worse. I was happy to drink it slowly instead of chugging it, which is pretty remarkable.
The Takeaway
There's a decent amount of evidence to suggest that the BCAAs and beta alanine will positively affect your endurance levels, and the longjack and luteolin could help keep your estrogen in check. That's a decent cocktail.
A lot of the ingredients, like the resveratrol and the stinging nettle, are more closely linked to improving overall health than to boosting your workout, but that might appeal to you. Some, like the red clover extract, have very little evidence supporting them.
For a stimulant-free pre-workout, I would have liked more BCAAs (there are under 4 grams in this product) and perhaps some citrulline to add to the endurance effects. Otherwise Onnit Total Strength + Performance a fine supplement that should help you work out harder.