Your new tub of protein powder may be very eager to advertise something like: "Now with four grams of glutamine per serving!" You might think to yourself, "Great! Now I don't need an extra glutamine supplement. Or do I? Hey, what does it do, anyway?"
So what does glutamine do? You may expect (or hope) that it helps with performance, muscle building, or both. Unfortunately, it may be neither — for strength athletes, research suggests that glutamine is a non-starter for promoting muscle growth.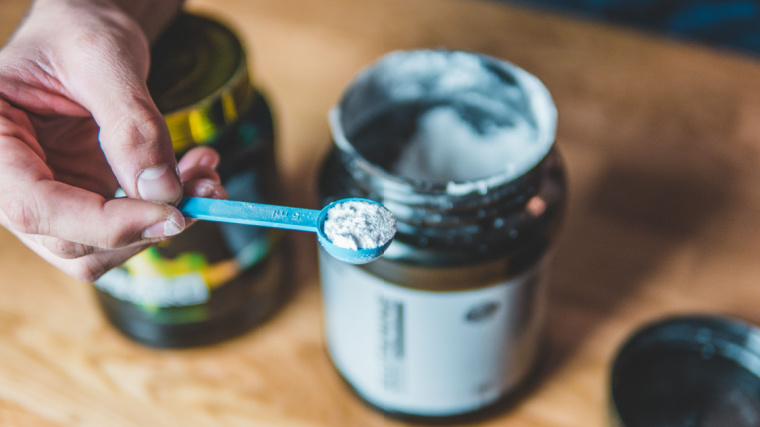 But that doesn't mean it's all a wash. Glutamine plays a role in your immune system and gut health, which can ultimately leave you in better shape to recover and stay healthy for the gym. Here, we'll explain what glutamine is, its benefits, and why it may (or may not) be worth purchasing a separate supplement.
What Is Glutamine?
Glutamine is a conditionally essential amino acid. This means that it is essential during certain periods, like disease or muscle wasting, meaning your body cannot make it on its own. When you're generally healthy, it's non-essential; your body produces it.
Glutamine is the most abundant amino acid in the body. Animal-based protein sources, leafy greens, whey protein, and casein protein are all naturally high in glutamine, so you get plenty of it in your diet when you consume these foods.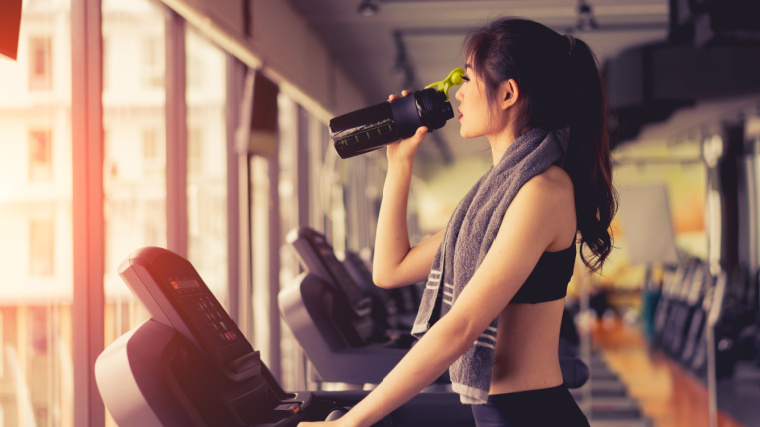 [Read More: Everything You Need to Know About BCAAs]
Since glutamine helps fight muscle catabolism or muscle breakdown, supplement companies market it as helpful for building muscle and recovering from workouts.
"Glutamine is just an amino acid really," Frank says. "There's nothing special about it structurally aside from the fact that it is pretty simple and is sometimes used as an energy source — rapidly dividing cells to use it as a fuel source compared to other amino acids. But this may just be because the body has so much of it."
The Benefits of Glutamine
When you're generally healthy, your body produces glutamine, which you get whenever you consume protein. It hasn't been shown to benefit strength athletes aiming to build muscle or improve athletic performance. Glutamine helps preserve muscle in people with illnesses and wounds, improve their gut health, and strengthen their immune system.
Helps Fight Muscle Wasting in People With Illnesses and Wounds
Under normal circumstances, your body produces glutamine (and you get it in your diet). But when your body tissue is in grave jeopardy, you may need to supplement glutamine.
Studies have found it to be useful among victims of burns, stomach ulcers, or muscular wounds (like knife attacks) and among people with muscle-wasting diseases (like AIDS) who have a critical need to build more muscle. (1)(2)
[Read More: The Best Foods and Supplements for Fighting Inflammation]
Studies also show that reduced glutamine in skeletal muscles was associated with a reduced survival rate in people with sepsis. (3)
May Improve Gut Health
Glutamine is an important amino acid not just to muscle cells, but to the gut, the liver, and the immune system. The gut acts as a storage center and holds onto the excess glutamine you consume.
Glutamine plays a role in intestinal health. It helps keep the cells in your intestines healthy and prevents bacteria from moving from your intestines to the rest of your body, protecting you from a leaky gut. A glutamine deficiency could break down the barrier between your intestines and blood circulation, allowing toxins to go where they're not supposed to. (4)(5)
May Boost Immune System
Your gut health impacts your immune system, especially for people with health conditions. Some evidence shows that people on low-protein diets experience illnesses because the immune system is weakened when the gut gets low on glutamine. (6)
[Read More: Study: A Healthier Gut Could Mean More Muscular Strength]
Glutamine also directly affects the function of your immune cells and their ability to protect the body against illness. People with illnesses or wounds that cause muscle wasting need more glutamine. Being in a state of glutamine deprivation can severely impair their immune systems. (3)
How Effective Is Glutamine?
Glutamine supplementation is effective in clinical settings — but that's about it.
"The first studies on glutamine showed that the more glutamine you put in a muscle cell, the more it grows," says Frank. "But it's an amino acid and it's easily used as fuel; of course, if you fill an isolated muscle cell with energy and nitrogen it's going to grow."
Not Effective for Strength Athletes
Research shows glutamine supplements may be ineffective for strength athletes, bodybuilders, and gymgoers — the main groups they're marketed to.
A 2007 study notes that glutamine is advertised to increase strength and improve muscle recovery. Although glutamine plays a role in processes related to these functions, the study notes that there is a lack of evidence for glutamine being beneficial to athletes. (7)
[Read More: 10 Benefits of Strength Training for Bodybuilders That You Need to Know Before Your Next Workout]
A 2018 meta-analysis investigated the role of glutamine supplements for athletes. The meta-analysis found that glutamine supplementation did not improve performance, build muscle, or boost the athlete's immune system. In terms of body composition, it was associated with weight loss. (8)
Of course, just because glutamine supplements won't help you build muscle doesn't mean they can't be valuable for strength athletes aiming to bolster their immune system and gut health. The healthier you are overall, the better you can perform in the gym over time.
Why It Doesn't Work For Building Muscle
One reason glutamine doesn't help build muscle in healthy athletes is that many studies and therapies inject it into cells. When it's ingested, very little of it makes it to the muscles. Since it's a very abundant amino acid in the body, it's not just used by the muscle tissue.
"Later studies on humans eating glutamine showed no effect because even if muscle cells like it, the liver and intestines love it," says Frank. "The surplus of glutamine doesn't reach the muscles and, as such, you don't get a large spike of glutamine content in your muscles like you do in your liver."
It Stays in the Gut
If you consume a lot of extra glutamine, most of it never makes it to the muscles; it gets held by your gut. A rapid influx of orally ingested glutamine won't translate to your muscles getting a big boost; it'll probably hang out in your intestines.
[Read More: Can Your Gut Health Impact Weight Loss?]
"The intestines are really greedy when it comes to this," says Frank. "The only way to get a large bonus of glutamine to your periphery is to have the periphery be in a state of trauma, as is the case with burn victims and other critical states, or simply eat so many amino acids overall that your gut is beyond satisfied."
How to Take Glutamine
It's difficult to know how many grams of glutamine you consume are stored by your gut and muscles and what their threshold is, so it's difficult to know how much glutamine to take.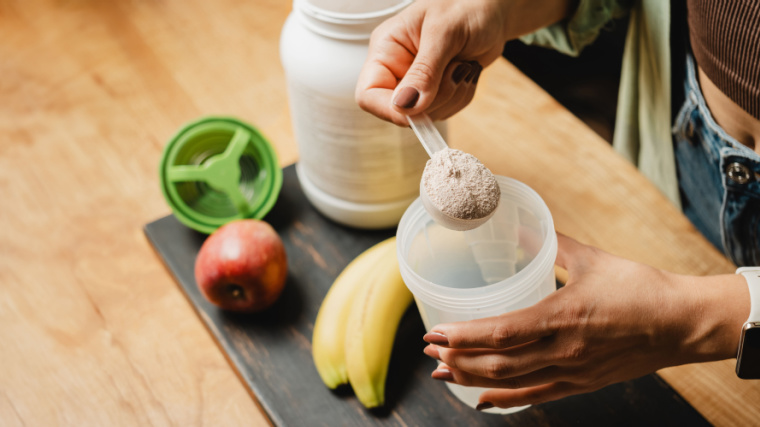 [Read More: The 15 Best BCAA Supplements of RDN-Approved]
"All the body's cells sit at maybe 50-percent glutamine capacity because all cells want some of it," says Frank. "If you force the liver and gut to be at 100-percent stores, and then still eat more protein, then it would increase glutamine stores in the muscle. But the whole 'increasing it really fast' part that is vital to cause the muscles to grow still doesn't happen. It's a slow and controlled process that's regulated by the gut."
Consult a Doctor
You'll likely be under a doctor's care if you're experiencing an illness or wound that causes muscle wasting. They may prescribe glutamine therapy if necessary.
If you're healthy but still interested in supplements, consulting a doctor for their medical opinion can't hurt.
Eat Enough Protein
Complete protein sources contain all amino acids, so you'll get glutamine when you eat them. Focus on reaching your protein intake goal through high-quality protein sources, and you'll be good to go.
To figure out how much protein you may need per day, refer to BarBend's protein intake calculator.
Protein Intake Calculator
Age
Sex
Height
Weight
Goal
Activity Level
Do you know your body fat percentage?
Protein Sources High in Glutamine
Any food high in protein will likely contain glutamine, but the following foods have been found to have the highest percentage of it. (9)
Eggs
Beef
Skim Milk
Tofu
White Rice
Corn
Whey protein powder and casein protein powder are also high in glutamine.
Get Your Glutamine Through Protein
If you're in the market for a supplement for muscle growth, it may not be worth worrying about glutamine supplements specifically. Eat enough protein, and you'll have all the glutamine you really need. One to two grams per kilogram of body weight will suffice.
[Read More: 7 Benefits of Protein for Health and Performance]
But if you're healthy and adding spoonfuls of the stuff to your shakes, there's likely no need. Between food sources like animal-based protein and leafy greens to whey and casein protein supplements, your body and muscles probably have all the glutamine they need.
FAQs
If you have more questions about glutamine, we've got answers.
What are the benefits of taking glutamine? 
Glutamine is beneficial for people experiencing muscle wasting due to illness or wounds. It helps preserve skeletal muscle, boosts immune health, and protects gut health.
Is it safe to take glutamine every day?
It should be safe but may not make much difference in people without severe illnesses. It's best to check with a doctor before trying any new supplement.
When should you take glutamine? 
It should be okay to take at any time since it is just an amino acid.
What is the best way to take glutamine?
Focus on getting glutamine by eating enough protein to support your goals. Leafy greens, animal-based protein, and whey and casein protein powders are particularly high in glutamine.
References
Parry-Billings M, Evans J, Calder PC, Newsholme EA. Does glutamine contribute to immunosuppression after major burns? Lancet. 1990 Sep 1;336(8714):523-5.
Prescott, B. (2009, May 15). Glutamine supplements show promise in treating stomach ulcers. The Harvard Gazette.
Cruzat V, Macedo Rogero M, Noel Keane K, Curi R, Newsholme P. Glutamine: Metabolism and Immune Function, Supplementation and Clinical Translation. Nutrients. 2018 Oct 23;10(11):1564.
Wang B, Wu G, Zhou Z, Dai Z, Sun Y, Ji Y, Li W, Wang W, Liu C, Han F, Wu Z. Glutamine and intestinal barrier function. Amino Acids. 2015 Oct;47(10):2143-54.
van der Hulst RR, von Meyenfeldt MF, Soeters PB. Glutamine: an essential amino acid for the gut. Nutrition. 1996 Nov-Dec;12(11-12 Suppl):S78-81.
Perna S, Alalwan TA, Alaali Z, Alnashaba T, Gasparri C, Infantino V, Hammad L, Riva A, Petrangolini G, Allegrini P, Rondanelli M. The Role of Glutamine in the Complex Interaction between Gut Microbiota and Health: A Narrative Review. Int J Mol Sci. 2019 Oct 22;20(20):5232. doi: 10.3390/ijms20205232.
Phillips GC. Glutamine: the nonessential amino acid for performance enhancement. Curr Sports Med Rep. 2007 Jul;6(4):265-8.
Ramezani Ahmadi A, Rayyani E, Bahreini M, Mansoori A. The effect of glutamine supplementation on athletic performance, body composition, and immune function: A systematic review and a meta-analysis of clinical trials. Clin Nutr. 2019 Jun;38(3):1076-1091.
Lenders CM, Liu S, Wilmore DW, Sampson L, Dougherty LW, Spiegelman D, Willett WC. Evaluation of a novel food composition database that includes glutamine and other amino acids derived from gene sequencing data. Eur J Clin Nutr. 2009 Dec;63(12):1433-
Featured Image: Jan Maly / Shutterstock