Reaching the pinnacle of one strength sport — powerlifting, Olympic weightlifting, CrossFit, strongman, bodybuilding — is a monumental feat. Becoming the top dog in more than one strength sport is a legendary display of strength, discipline, and ability to push the human body to limits only a few handfuls of people can relate to.
Best Multi-Sport Strength Athletes
To recognize and pay homage to the athletes who have climbed to the top of now one but two (or even three) strength sports, BarBend has compiled a list of the athletes that have claimed the most hardware across the elite competitive landscape of multiple strength sports. Every athlete listed below has competed in at least two strength sports and achieved top honors in both.
[Related: The 7 Fittest Presidents of All Time]
Below is a breakdown of each athlete's historic career highlights, some of whom are still active.
View this post on Instagram
[Related: 5 of the Greatest Weightlifting Battles of All Time]
Tia-Clair Toomey-Orr
Australian-born Tia-Clair Toomey-Orr is undoubtedly best known for her unrivaled dominance in CrossFit since her debut on the competitive scene in 2013. Her first appearance at the CrossFit Games was in 2015, when she finished as the runner-up.
She repeated that result in 2016 before embarking on her dynasty as the Fittest Woman on Earth® in 2017. Four years later, she has four CrossFit Games golds and is still improving — she finished first worldwide in the 2021 CrossFit Open.
In addition to her seemingly endless triumphs in CrossFit, Toomey-Orr is an Olympic weightlifter who won gold at the 2018 Commonwealth Games in the 58-kilogram weight class and competed in the 2016 Rio Olympic Games. She has also competed on the Australian National Bobsled Team, and has hopes of making the winter Olympic team.
Currently, she is a part of PRVN Fitness, programmed by her husband, Shane Orr. She trains alongside other CrossFit greats Brooke Wells, Alec Smith, Will Moorad, and James Newbury.
Stan Efferding
Stan Efferding is an elite powerlifter, bodybuilder, and nutrition coach whose professional career in each is worth a double-take. According to Open Powerlifting, his record is nearly flawless, with eight wins in nine sanctioned events since 1995. Included in his list of wins is an event that would give him the nickname he still touts today — "World's Strongest Bodybuilder."
In 2013, Efferding scored an all-time world record total of 1,044.9 kilograms (2,303.8 pounds) with wraps in the 125-kilogram class at the 2013 Southern Powerlifting Federation (SPF) March Madness Powerlifting Meet with the following lifts:
Squat — 392.5 kilograms (865.3 pounds)
Bench Press — 272.5 kilograms (600.7 pounds)
Deadlift — 380 kilograms (837.7 pounds)
Only two men have been able to surpass the above total: Eric Lilliebridge (1,080-kilogram total in 2014) and current world record holder Zahir Khudayarov (1112.5-kilogram total in 2015).
Efferding earned his IFBB Pro Card with his win at the 2009 Masters Nationals Bodybuilding Championships as a superheavyweight (259 pounds). He would go on to win four bodybuilding shows from 2010-2012.
Currently, Efferding works as a nutrition and strength coach. He has worked with elite athletes such as four-time World's Strongest Man (WSM) champion Brian Shaw, 2018 WSM champion Hafthor Björnsson, and two-time UFC champion Jon Jones. He is the founder of the vertical diet that focuses on aiding digestion and fixing micronutrient deficiencies.
[Related: The 10 Best CrossFit Games Battles of All Time]
Mark Henry
Before Mark Henry became a two-time World Wrestling Entertainment (WWE) champion and competed in bench press contests against gigantic wrestlers, he was a renowned powerlifter, Olympic weightlifter, and strongman.
His success in Olympic weightlifting includes gold, silver, and bronze medals at the 1995 Pan American Games held in Mar Plata, Argentina (ranking second overall), three US National Weightlifting Championships (1993-94, 1996), and a Junior National title in 1991, all in the superheavyweight division. Additionally, he represented the USA at the 1992 and 1996 Olympic Games (finishing 10th and 14th place overall, respectively).
While excelling as a weightlifter, Henry dominated the powerlifting ranks. To this day, he holds the second heaviest ever deadlift in the Wraps category — a 410-kilogram (903.9-pound) pull bested only by Benedikt Magnússon's 442.5-kilogram (975.5-pound) lift. Henry won gold in all but one of the sanctioned powerlifting meets he appeared in from 1988-1997. He's a two-time National Champion (1995, 97) and won the 1995 World Drug-Free Powerlifting Federation (WDFPF) Championships.
Henry's impact on the sport of strongman is nothing short of legendary status. He was the inaugural winner of the Arnold Strongman Classic in 2002, where he notably overhead pressed the 365-pound Apollon's Axle three times. For context as to how monumental that was, only three men had ever lifted Apollon's Axle before Henry for a single rep.
[Related: The Heaviest Log Presses of All Time (Men's and Women's Strongman)]
Chen Wei-ling
With a barbell in hand, Chen Wei-ling of Chinese Taipei has been a dominant force as a lightweight in powerlifting and weightlifting her entire competitive career. Her first sanctioned powerlifting meet was the 2001 Asian Powerlifting Championships, where she won gold at the age of 19. She continued her status as the pinnacle of the lighter categories (ranging from 44 kilograms to 52 kilograms) for a decade and a half. Across 23 competitive appearances, Chen earned 14 gold medals and only missed the podium a single time — sixth place at the 2001 IPF World Games. Here are some of her most notable powerlifting accomplishments:
Competitive Powerlifting Highlights
Eight-time IPF World Powerlifting Championships Winner (2007-08, 2011-16)
Three-time Asian Powerlifting Championships Winner (2001-02, 2007)
2012 IPF World Classic Powerlifting Cup Champion
2009 IPF World Games Champion
Four Women's World Powerlifting Championships Podium Finishes
Along the way, she set a plethora of world records. Here are the current ones she holds:
Powerlifting Records
44KG
Squat — 171.5 kilograms (378.1 pounds), single-ply
Deadlift — 175 kilograms (385.8 pounds), single-ply
48KG
Squat — 152.5 kilograms (336.2 pounds), raw
Total — 407.5 kilograms (898.4 pounds), raw
Squat — 210 kilograms (463 pounds), single-ply
Deadlift — 195 kilograms (430 pounds), single-ply
Total — 500 kilograms (1,102.3 pounds), single-ply
Chen's accolades as a weightlifter are also impressive. She competed in the 2004 and 2008 Olympic Games, both in the 48-kilogram class, and ranked 11th and first, respectively. Initially, she was awarded the bronze medal at the 2008 Beijing Olympic Games for her 196-kilogram (432.1-pound) total. However, she was awarded the gold in 2016 after 2008 doping samples of original gold-medalist Chen Xiexia of China and original silver-medalist Sibel Özkan of Turkey both resulted positive.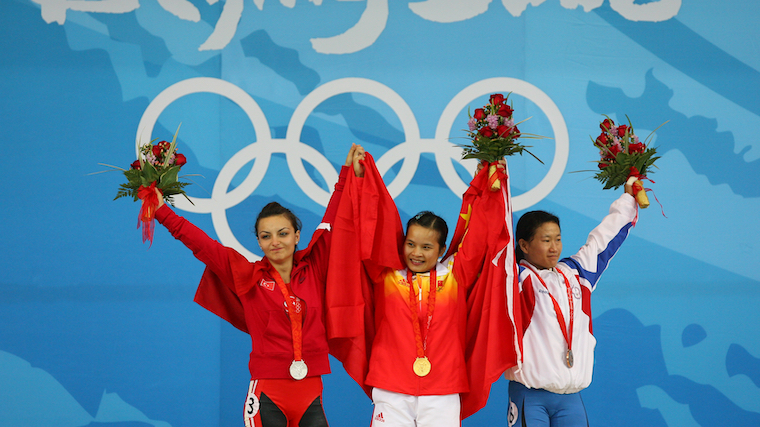 [Related: The Greatest Strongman of All-Time Vs. The Strongest Man Ever]
Becca Swanson
According to Open Powerlifting, Becca Swanson is the only female powerlifter ever to eclipse a 2,000-pound total. She scored a 930-kilogram (2050.3-pound) equipped (multi-ply) all-time world record total in the +90-kilogram weight class at the 2005 World Powerlifting Congress (WPC) Semifinals. Here are the world records Swanson currently holds (excluding single-lift only events):
90KG World Records, Multi-Ply
Squat — 365 kilograms (804.7 pounds)
Deadlift — 272.5 kilograms (600.8 pounds)
Total — 855 kilograms (1,885 pounds)
+90KG World Records, Multi-Ply
Deadlift — 315 kilograms (694.5 pounds)
Total — 930-kilogram (2050.3-pound)
Swanson held the squat world record in this weight class for nearly 16 years. It was bested when Leah Reichman lifted 399.1 kilograms (880 pounds) at the American Powerlifting Federation (APF) Cincinnati Women's Pro/Am on April 11, 2021. Between 1996 and 2008, Swanson competed in 26 sanctioned events. She won all but three of them. She is a two-time WPC World Champion (2001, 2003).
As a bodybuilder, she's won the Ms. Midwest, the Ms. Nebraska, and the Ms. Rocky Mountain titles. She was also a prolific professional wrestler who studied under the tutelage of pro wrestling legend Harley Race. She won the World League Wrestling (WLW) Women's Championship in 2009.
[Related: The Heaviest Deadlifts Ever Pulled]
Bill Kazmaier
William "Bill" Kazmaier a three-time WSM champion (1980-82) and a two-time IPF Powerlifting World Champion superheavyweight class. Of his six WSM Finals appearances, he stood on the podium five times (silver in 1988 and bronze in 1979). His only miss was in 1989 when he finished in fourth after sustaining an ankle injury. However, he did manage to become the first man ever to press the Thomas Inch dumbbell.
After his three-peat in the early 80s, Kazmaier did not compete in the WSM contest again until 1988. That decision was not, however, by choice. WSM organizers did not invite Kazaier back to the competition to defend his title for four years. In an October 1997 interview with Bill Henderson, Kazmaier said he "was so dominant" that they didn't invite him back out of "a need for fresh faces." That did not stop him from competing in other strongman competitions such as the World Muscle Power Championships, where he won bronze in 1985 and gold in 1988.
Outside of strongman competition, Kazmaier also worked as a commentator for ESPN. He was part of the commentary team for WSM broadcasts during the 90s alongside 2006 WSM Phil Pfister and Todd Harris.
Beyond his two world titles as a powerlifter, he is also the first man ever to bench press 300 kilograms (661.4 pounds) raw in sanctioned IPF competition (1981 USPF West Georgia Open Powerlifting Championships). At that same event, he scored a 1,100-kilogram (2,425-pound) world record total that held for over a decade. Here were his stats from that event:
Squat — 420 kilograms (925.9 pounds)
Bench Press — 300 kilograms (661.4 pounds)
Deadlift — 380 kilograms (837.8 pounds)
Total — 1,100-kilogram (2,425-pound)
Kazmaier also made had a career as a professional wrestler. He appeared in the World Wrestling Federation (now WWE), World Championship Wrestling (WCW, now owned by WWE), and New Japan Pro Wrestling (NJPW).
[Related: World's Strongest Man Athletes Reveal Their Strongman GOAT Picks]
Tommy Kono
Tommy Kono is undoubtedly one of the greatest weightlifters in the history of the sport. The man earned gold medals at the 1952 and 1956 Olympic Games and followed them up with a silver medal in 1960. The American won the IWF World Weightlifting Championships a remarkable six times (1953-59)* across the light heavyweight ('54-55) and middleweight ('52, '57-59) divisions. To date, Kono is the most decorated male weightlifter ever — racking up 26 world records and seven Olympic records.
According to USA Weightlifting, Kono "developed the joint bands that competitive international weightlifters wear on their knees and elbows." Following his career on the lifting platform, he became a coach. He coached the Mexican 1968 Olympic team, the West German 1972 Olympic team, and the USA's 1976 Olympic team.
Outside of weightlifting, Kono was an elite bodybuilder. He won the Fédération Internationale Haltérophile et Culturiste (FIHC) Mr. Universe contest four times (1954-55, 1957, 1961).
* The 1956 Weightlifting World Championships were held at the Olympic Games.
[Related: The Untold History of the First Mr. Olympia Contest]
Mikhail Koklyaev
Mikhail Koklyaev is a Russian powerlifter, weightlifter, and strongman. He is a six-time Russian national weightlifting champion and achieved the following personal bests at the 2003 Russian Championship:
Snatch — 210 kilograms (463 pounds)
Clean & Jerk — 250 kilograms (551.2 pounds)
Total — 460 kilograms (1,014.13 pounds)
He made three WSM appearances highlighted by his bronze finish in 2010 — the year Žydrūnas Savickas won his second title. He appeared in the Arnold Strongman Classic eight times and stood on the podium in half of them. He was the 2005 International Federation of Strength Sports (IFSA) World Open champion and finished on the podium at the IFSA Strongman World Championships three times: bronze in 2005, silver in 2006 and 2007.
In 2012, Koklyaev won the WPC Raw European Championships in the superheavyweight division with the following stats:
Squat — 340 kilograms (749.6 pounds)
Bench Press — 225 kilograms (496 pounds)
Deadlift — 400 kilograms (881.9 pounds)
Total — 965 kilograms (2,127.5 pounds)
Per Open Powerlifting, Koklyaev competed in 12 sanctioned powerlifting meets between 2010 and 2017 and won half of them. He was the runner-up at the 2014 Global Powerlifting Alliance (GPA) World Championships and the 2017 WPC Eurasian Cup champion at the age of 38.
Outside of competitive strength sports, Koklyaev sings and makes music videos like this cover of "Stolen Dance" by Milky Chance:
[Related: Meet the Man Who Just Made the Heaviest Bench Press of All Time]
Gary Taylor
Gary Taylor is one of only four men from Great Britain to win the WSM contest. Prior to Taylor's win in 1993, Geoff Capes won twice in 1983 and 1985, and Jamie Reeves won in 1989. (The only British strongman since Taylor to win the title is Eddie Hall, who won in 2017. Tom Stoltman came close in 2020 with a runner-up finish.) Taylor competed in four other WSM contests in the two before and after his win. His other trip to the podium was his WSM debut in 1991 when he won bronze (Magnus ver Magnusson won his first of four titles that year).
Taylor was the 1991 Europe's Strongest Man champion (a title shared with Forbes Cowan), won Wales Strongest Man nine consecutive times (1989-97), and was Britain's Strongest Man twice (1991, 1996).
Taylor's strength also extended to Olympic weightlifting. He secured a silver medal for his 170-kilogram (374.8-pound) snatch at the 1984 IWF World Weightlifting Championships in the 110-kilogram class.
[Related: The Thrilling History of the First 1,000-Pound Squat]
Don Reinhoudt
Don Reinhoudt's strength sports career started in powerlifting, where he was absolutely prolific. With over forty world records to his name, his career is highlighted by his four titles at the IPF World Powerlifting Championships (1973-76) in the superheavyweight division. Additionally, he won a bronze medal at the 1972 IPF World Powerlifting Championships. His all-time world record raw total of 1,084.5 kilograms (2,392 pounds) hit in 1975 held for nearly four decades.
After retiring from competitive powerlifting in 1976, Reinhoudt ventured into the strongman space and competed in the WSM contest three times. He was the runner-up in his debut in 1978 and returned in 1979 to claim the title. He retired after an injury in 1980, where he placed ninth.
Bruce Wilhelm
The sheer fact that Bruce Wilhelm won the inaugural WSM contest in 1977 means his place in the pantheon of strength sports history is cemented forever. He then ran it back in 1978 to be the first-ever two-time WSM champ. Those were the only two WSM contests he competed in.
Wilhelm was lifting heavy weights before the biggest show in strongman was founded. In 1975, he went to Mexico City to win a silver medal at the Pan American Games in the +110-kilogram weight class. He stood between two Cuban weightlifters on the podium — Gerardo Fernández (gold) and Fernando Bernal (bronze). A year later, he placed fifth at the Olympic Games with a 387.5-kilogram (854.3-pound) total.
[Related: Powerlifter Dan Bell Becomes the First Man to Total Over 1,179 Kilograms (2,600 Pounds) Raw With Wraps]
Jón Páll Sigmarsson
Before Oleksii Novikov matched the feat at the 2020 WSM, Iceland's Jón Páll Sigmarsson was the youngest ever WSM champion. He won his first title in 1984 at the age of 24. His debut a year prior saw him barely miss the title with a runner-up finish (which he would secure again in 1985). Sigmarsson was the first man ever to win four WSM titles — he stood atop the podium in 1986, 1988, and 1990 as well. Only three other men have ever matched that feat — Žydrūnas Savickas and Brian Shaw also have four titles, and Mariusz Pudzianowski is the lone man with five.
Sigmarsson also has six podium finishes in Europe's Strongest Man with two wins (1985-86). Before his death in 1993 at the young age of 32, Sigmarsson also won five Iceland's Strongest Man competitions (1985-87, 1990, 1992). It is left to the imagination if he would have been able to win that title 10 times like his countryman, 2018 WSM champion Hafthor Björnsson.
During his prime as a strongman, Sigmarsson was simultaneously a force in powerlifting. Competing in the 125-kilogram class, he won bronze at the 1981 IPF World Powerlifting Championships, won two silvers and a gold, respectively, at 1980, 1981, and 1983 EPF European Powerlifting Championships. In addition, as a weightlifter, Sigmarsson won the 1980 Icelandic Olympic Weightlifting Championships.
[Related: The History of Strength Competitions — From 6000 B.C. to 2020]
Svend Karlsen
"Viking power!" You would hear roaring from Norwegian strongman and powerlifter Svend Karlsen. He started his strength sports career competing in the Junior powerlifting division at 125 kilograms. He scored bronze medals at 1986 and 1989 EPF Junior European Championships (1986, 1989) and the 1989 IPF Junior World Championships.
Karlsen shifted away from powerlifting to earn his IFBB Pro Card following his win at the Mr. Norway contest in 1990. He also earned a silver medal in bodybuilding at the World Games in 1993.
He made eight WSM appearances and finished on the podium three times with a win in 2001. He was the runner-up at the Arnold Strongman Classic three years in a row (2002-04). In 2018, he told Bodybuilding.com that his personal best lifts were:
Squat — 400 kilograms (881.9 pounds)
Bench Press — 260 kilograms (573.2 pounds)
Deadlift — 410 kilograms (903.9 pounds)
[Related: Weightlifter Lasha Talakhadze Sets New World Record for Heaviest Total of All Time]
Gillian Ward
An accomplished powerlifter, bodybuilder, and CrossFit athlete, Gillian Ward is one of the most versatile strength athletes on the planet. In 2008, after training CrossFit® for just three months, Ward won bronze at the CrossFit Games.
Ward won gold in five of the six sanctioned powerlifting competitions she has appeared in at 75 kilograms and 67.5 kilograms, according to Open Powerlifting. The highlight of those wins was the 2013 SPF National Powerlifting and Bench Press Championship in the Wraps division.
In 2014, she claimed gold at the North Carolina Body Building‬‬ Championships, earning an invite to that year's North American Body Building‬‬ Championships, where she won her IFBB Pro Card. Her most notable finishes in the sport were a runner-up finish at the 2017 IFBB New York Pro and a sixth-place finish at the 2016 Arnold Sports Festival. That same year she set a Guinness Book of World Records world record for most push-ups in one hour: 1,190.
If all that wasn't impressive enough, Ward also competed as a strongwoman at the 2017 USS Southern States Women's Cup Strongman Competition. A month and a half later, she won the Super League World Championships.
[Related: The History of the Ms. Olympia Contest]
O.D. Wilson
O.D. "Nightmare" Wilson was an elite powerlifter and strongman in the late '80s and early '90s. While serving a dozen years of military service, he became a five-time U.S. Services champion and a three-time USPF Armed Forces Championships winner (1987-89). He earned a bronze medal at the 1987 USPF National Powerlifting Championships in the superheavyweight division. He returned the following year to win that event and paired it with a gold medal at the IPF World Powerlifting Championships earned with the following stats (equipped):
Squat — 422.5 kilograms (931.5 pounds)
Bench Press — 217.5 kilograms (479.5 pounds)
Deadlift — 372.5 kilograms (821.2 pounds)
Total — 1,012.5 kilograms (2,232.2 pounds)
In 1990, he made his WSM debut with a runner-up finish. He returned the following year and finished fifth.
[Related: Why Jack LaLanne Is One of the Most Influential Athletes of All Time]
Wrapping Up
There you have it! Fifteen of the greatest multi-sport strength athletes of all time. From the functional fitness of CrossFit to the astounding feats of strength in strongman, the wealth of history and talent across the strength space is vast and only the cream of the crop has risen to the highest levels of multiple sports. We look forward to seeing which strength sports athletes are able to earn their spot on this list in the future.
Feature image: CrossFit