Louis Uni is a name that probably means nothing to even the most ardent of strongman history buffs, and while his birth name might of fallen into obscurity, his legacy is still going strong.
The Frenchman was quick to ditch his given name for the far more dramatic moniker of Apollon the Mighty. Apollon was renowned all over the world for his incredible strength, in particular his ability to clean & press an implement that bore his namesake. The Apollon's Axle, made up of a humongous pair of train wheels attached to a two inch diameter axle, is an incredible implement weighing in at a hundred and sixty six kilos. Uni challenged anyone who was anyone in the strength world at the time to come and match him on the Axle none succeed.
With the monsters who walk among us today, a 166kg axle isn't as noteworthy as it used to be and probably wouldn't even get you a spot on the podium at most national levels competitions. But the spirit of the Apollon Axle still lives in on the axles you see in most strength gyms; the bar is rarely unknurled and fixed (unrotating) anymore, but there are still competitions all over the world challenging athletes to hoist two giant train wheels above their heads.
On the 1st of April, we will see this historic event come back to the big stage as the Strongest Men from Across Europe attempt to smash the World Record.
The current World record stands at an impressive 215kgs set by the king of the overhead — Zydrunas Savickas — in 2010. Sadly, Big Z is still out injured and won't be competing in Leeds this year. This leaves the field open for someone else to try and steal his crown, here are the main contenders hoping to do just that.
Eddie Hall – England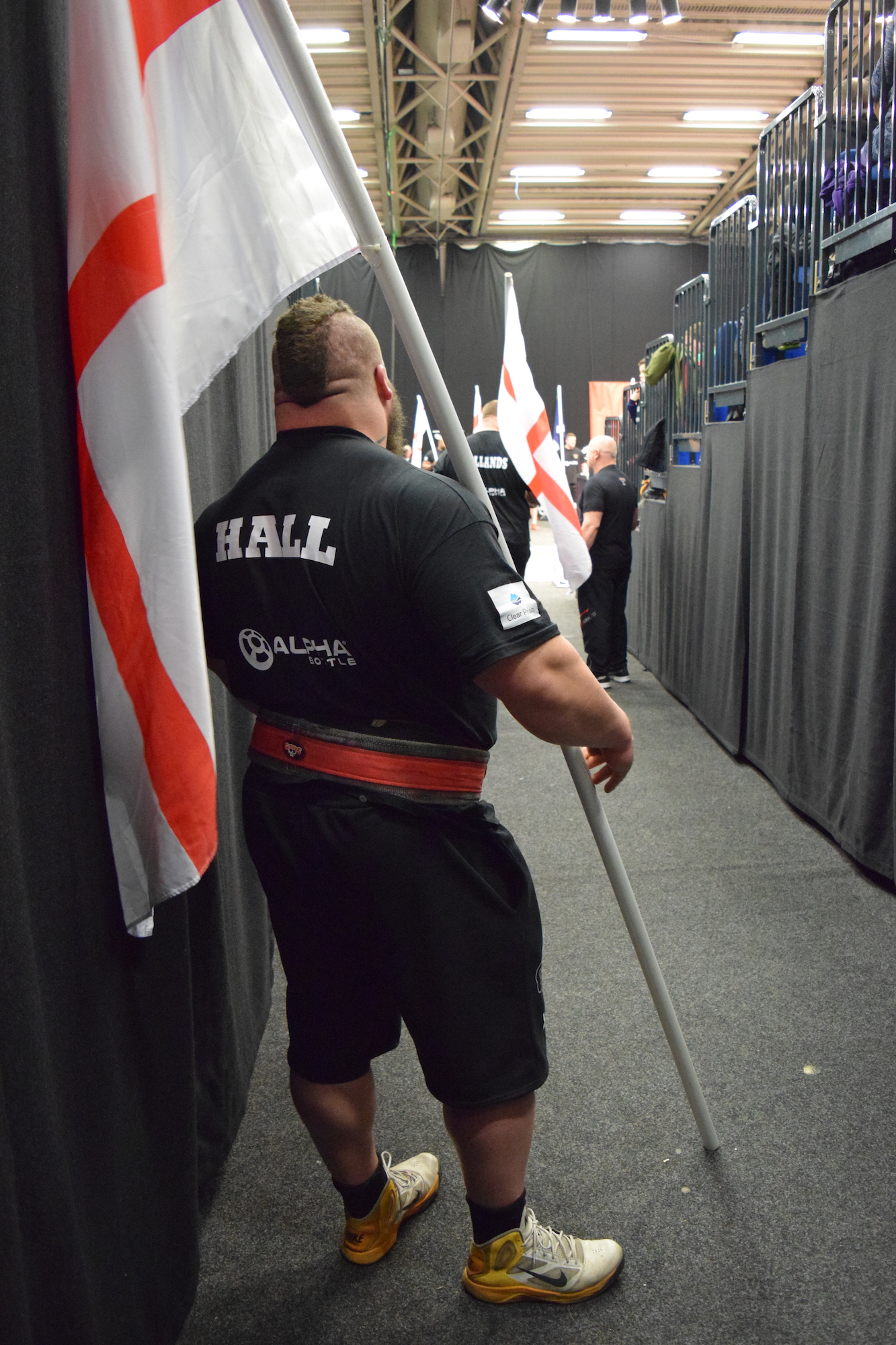 Not including Eddie Hall on any list of static world record breakers is nothing short of heresy these days. Frankly the man is an anomaly, and you discount him entirely your own risk because he might very well be a miracle worker. No one should of been able to pull 500kg, let alone make it look as comfortable as Eddie did last year.
Even if pressing wasn't a strength of his, I'd still be tempted to gamble a few pennies that he'll walk away the winner on this event. As it stands Eddie is a phenomenal presser and can go head to head with pretty much anyone in the world.
There is a large caveat to all of this, though; unlike last year Eddie is focused on winning the title of Europe's Strongest Man, not necessarily on breaking the world record. As such, he's unlikely to be willing to risk an injury pushing the envelope, if he could just walk away with the points at a lighter weight. As always his training has been looking very impressive with a 200kg axle going up not long ago, he has though mentioned a few times that his shoulder is still injured, and this could see him erring on the side of caution.
Graham Hicks – England
Graham Hicks is something of a cult hero in Strongman, especially here in the UK. Standing at 5ft 9, the former u105kg athlete has bulked up a lot since his weight category days, and he still is far from the largest athlete. Yet when it comes to the overhead he is a giant slayer, and were this a log press, he'd be my forerunner. As it is we are here to see an axle and it's not Hicks best overhead event. Add to that an illness that's kept him out of training for a few weeks and it makes predicting his performance a little harder. Hopefully he'll of been working on his mobility on the clean, because anything that he can get to his shoulders he can press.
Hafthor Bjornsson – Iceland
I've said it on here before and I no doubt will repeat myself again before the competition is through, but I expect Thor to come into Europe's Strongest Man like a wild animal, aiming to destroy everything in his path. I believe the big Icelander was devastated to have lost his title last year, and he'll be wanting to win everything he can including the axle. He looks in great form to do just that too, weighing in at 205kg just before the Arnold's he's as big as we've ever seen him and arguably stronger, too.
His overhead has grown and grown in recent years, just take his log performance at the Arnold Classic, three reps at 195kgs. He's not a one trick pony either; we saw him tear up the circus barbell at World's Strongest Man, clean & pressing 160kgs for 9 reps, and his recent training on the axle is looking just as impressive. His only real hindrance will be if he's left himself enough time after the Arnold's to train the movement and recover.
Mateusz Kieliszkowski – Poland
Mateusz is somewhat of an enigma. What first caught the strength world's attention was his ability to sprint with even the heaviest of weights, although the praise was often followed by a remark about his lack of static strength. Slowly, however, he seems to be dispelling that myth that he can't move the big numbers, and he's still lacking on certain stationary lifts like the deadlift and log, but that's no reason to discount him on the axle. Anyone who saw him demolish the Circus Dumbbell world record at the Arnold's can testify that he has the strength overhead, and recent training footage of him repping a 160kg axle is just further proof, although the clean was a little ropey. The real question will be whether he can get the bar to his shoulders in front of all those people and after competing in a truck pull the day before.
Featured image: @thorbjornsson on Instagram