The final day of the 2020 World's Strongest Man competition is done. Oleksii Novikov has won. Tom Stoltman got second place and JF Caron placed third. At the time this article was updated, WSM has yet to officially announce the Atlas Stone results. Also, Mark Felix attempted to set a new WSM world record in the Hercules Hold but did not succeed. Here are the final standings as we know them.
2020 World's Strongest Man Final Standings
Oleksii Novikov — 47 points
Tom Stoltman — 43.5 points
JF Caron — 42 points
Jerry Pritchett — 40 points
Brian Shaw — 35.5 points
Adam Bishop — 34 points
Kevin Faires — 31 points
Aivars Smaukstellis — 28.5 points
Luke Richardson — 22.5 points
Withdrew: Graham Hicks* — 1 point
*Out due to biceps tear.
In the U.S., the 2020 World's Strongest Man Championship coverage will premiere on CBS Sports Network in December and the two-hour finale is slated to air on CBS on Dec. 26, 2020. In the UK, coverage will air on Channel 5, starting on Dec. 26, 2020.
[Related: 2020 World's Strongest Man Official Roster]
2020 WSM Finals Day Two Results
Live footage of the competition isn't available, but WSM releases daily recaps on a Facebook Live stream (which costs $1.99 for the full week of coverage). Here's a break down of each event that competitors completed today.
Hercules Hold
Athletes fought to hang on to 158.8-kilogram (350-pound) pillars for as long as possible. Mark Felix was allowed to attempt a WSM Hercules Hold world record, despite not qualifying for the Finals. Unfortunately, he could not hold the pillars long enough for a new world record (71 seconds) on the apparatus used, but his previous record remains.
Here are the Hercules Hold results:
JF Caron — 0:52.67
Kevin Faires — 0:49.22
Jerry Pritchett — 0:42.99
Oleksii Novikov — 0:41.63
Luke Richardson — 0:35.12
Brian Shaw — 0:34.79
Adam Bishop — 0:28.40
Aivars Smaukstelis — 0:28.17
Tom Stoltman — 0:21.23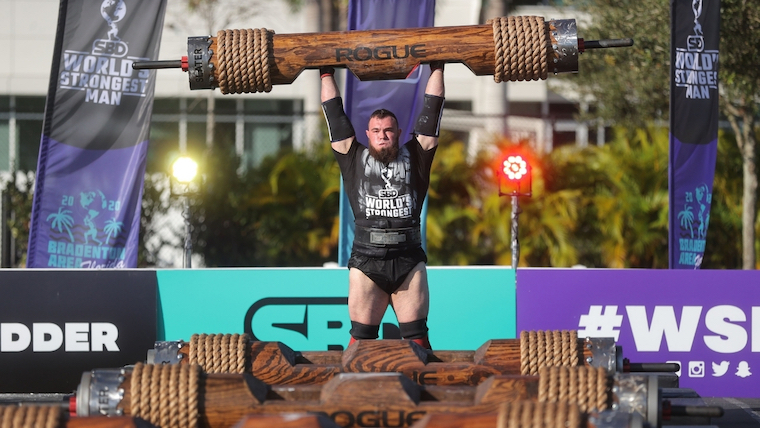 Overhead Log Ladder
Competitors raced to clean and press a series of five logs that scaled from 130 kilograms (290 pounds) up to 180 kilograms (400 pounds). There were two other pressing events in the 2020 WSM. During the qualifier stage, groups two, three, and five completed the Dumbbell Clean and Press medley. Athletes had to press four pairs of increasingly heavy dumbbells overhead and then clean and press a single "monster dumbbell" for as many reps as possible in 75 seconds. The other two groups saw who could press a 150-kilogram (330.7-pound) log for the most reps.
Here are the Log Ladder results:
Tom Stoltman — five Logs, 0:49.45
Jerry Pritchett — five Logs, 0:51.18
Oleksii Novikov — four Logs, 0:32.68
Aivars Smaukstelis — four Logs, 0:41.24
Kevin Faires — four Logs, 0:46.67
Luke Richardson — four Logs, 1:02.12
Brian Shaw — three Logs, 0:27.91
Adam Bishop — three Logs, 0:37.02
JF Caron — three Logs, 0:47.05
Atlas Stone Series
The second Atlas Stone event at the 2020 WSM had athletes load five stones ranging from 150 kilograms (330.7 pounds) to 210 kilograms (463 pounds). This event was a highlight for Stoltman, who has loaded a world record 286-kilogram (630-pound) stone and dominated the head-to-head eight-stone load earlier in the competition. Here were the results of this event according to the strongman subreddit (WSM has not yet announced them officially):
Tom Stoltman — five stones, 19.89 seconds
Brian Shaw — five stones, 28.55 seconds
JF Caron — five stones, 34.03 seconds
Oleksii Novikov — four stones, 19.47 seconds
Aivars Smaukstelis — four stones, 20.63 seconds
Adam Bishop — four stones, 24.30 seconds
Jerry Pritchett — four stones, 24.53 seconds
Kevin Faires — four stones, 24.73 seconds
Luke Richardson — three stones, 18.02 seconds
Stoltman guaranteed himself a second-place finish with this event win — his third event win of the Finals. Caron secured his first-ever WSM podium finish after narrowly missing in fourth place in 2019. 2020 marked his ninth appearance at WSM.
Novikov only won one event in the Finals (partial deadlift) but never finished worse than fifth across the six events in the Finals. Consistency was the winning formula for Novikov who becomes only the second man to ever win the WSM at the age of 24; the other was Iceland's Jón Páll Sigmarsson in 1984.
Featured image courtesy of World's Strongest Man.