The first day of the 2020 World's Strongest Man (WSM) Finals, Nov. 14, 2020, is over. After a grueling day one and two — which included a delay and saw two more athletes withdraw — Oleskii Novikov leads the pack with 25 total points after three events. The athletes' points reset in the Finals, and they will complete the last three events on Nov. 15, 2020.
More news: Graham Hicks withdrew on day one of the Finals after suffering a torn biceps. And Mark Felix will attempt the Hercules Hold world record on Sunday, Nov. 15, 2020, despite not qualifying for the finals. Here are the overall standings:
2020 World's Strongest Man Standings After Day One Finals
Oleksii Novikov — 25 points
Adam Bishop — 22 points
JF Caron — 22 points
Tom Stoltman — 21.5 points
Jerry Pritchett — 19 points
Brian Shaw — 17.5 points
Kevin Faires — 13 points
Aivars Smaukstelis — 12.5 points
Luke Richardson — 9.5 points
Withdrew: Graham Hicks* — 1 point
*Out due to biceps tear. No other competitors are taking his place, WSM told BarBend.
[Related: 2020 World's Strongest Man Official Roster]
2020 WSM Finals Day One Results
Live footage of the competition isn't available, but WSM releases daily recaps on a Facebook Live stream (which costs $1.99 for the full week of coverage). Here's a break down of each event that competitors completed today.
Giant Medley
Athletes had to walk 10 meters with a 275-pound anvil, load it onto a tire, and then carry a 1,000-pound yoke, weighed down with motorcycles, for 15 meters. The time cap for the event was 75 seconds. The fastest time overall won.
Adam Bishop — 22.55 seconds
Oleksii Novikov — 23. 79 seconds
Jerry Pritchett — 24.71 seconds
Kevin Faires — 26.22 seconds
Tom Stoltman — 26.61 seconds
JF Caron — 26.92 seconds
Brian Shaw — 27.03 seconds
Luke Richardson — 36.70 seconds
Aivars Smaukstelis — 34.97 seconds
Graham Hicks* — 16.19 seconds (did not finish the medley)
*Hicks did not finish this event as it was during the yoke walk that he suffered his biceps injury.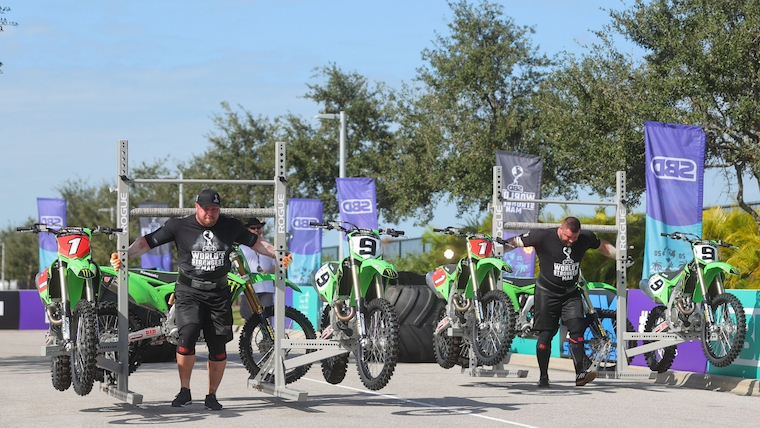 Partial Deadlift
This is the first time the Partial Deadlift has appeared at WSM since 1983 when Tom Magee pulled 535 kilograms (1,179.5 pounds). According to WSM, Novikov set a new world record with a 537.5-kilogram (1,185-pound) partial deadlift. However, Anthony Pernice pulled 550 kilograms (1,212.5 pounds) in the Partial Deadlift (aka the 18-inch or Silver Dollar Deadlift) on July 25, 2020, at the United States Strongman (USS) Farm Strong Record Breaker event. At the time this article was written, the state of the Partial Deadlift world record is unclear.
Here were the results from the event:
Oleksii Novikov — 537.5 kilograms (1,185 pounds)
JF Caron — 509 kilograms (1,122 pounds)
Jerry Pritchett — 509 kilograms (1,122 pounds)
Adam Bishop — 509 kilograms (1,122 pounds)
Brian Shaw — 478.5 kilograms (1,055 pounds)
Tom Stoltman — 478.5 kilograms (1,055 pounds)
Kevin Faires — 437.7 kilograms (965 pounds)
Luke Richardson — 397 kilograms (875 pounds)
Aivars Smaukstelis — 397 kilograms (875 pounds)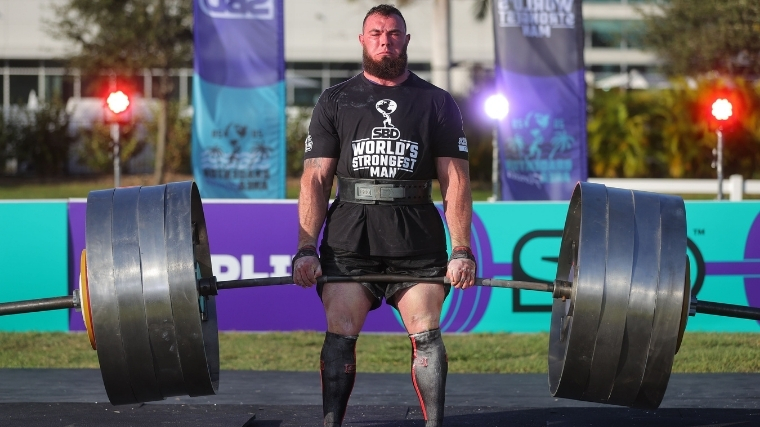 Keg Toss
A series of eight kegs were lined up, weight increased in pairs — two kegs at 40 pounds, 45 pounds, 50 pounds, and 55 pounds. Athletes rushed to the kegs and tossed each one up and over a 16-foot bar. The fastest time won.
Tom Stoltman – 8 kegs, 0:20.05
JF Caron – 8 kegs, 0:20.31
Brian Shaw – 8 kegs, 0:21.75
Aivars Smaukstelis – 8 kegs, 0:24.88
Oleksii Novikov – 8 kegs, 0:26.96
Luke Richardson – 8 kegs, 0:27.82
Adam Bishop – 8 kegs, 0:39.90
Jerry Pritchett – 7 kegs, 0:39.14
Kevin Faires – 6 kegs, 0:19.04
The final day of the competition will include the Overhead Log Ladder, the Hercules Hold, and the Atlas Stones to determine the 2020 WSM champion.
Featured image courtesy of World's Strongest Man