Arguably the greatest strongman competitor of all time, Mariusz Pudzianowski retired in 2009 with a record five World's Strongest Man championships. He's one of only four strongmen in the WSM Hall of Fame and retired not due to fatigue or failure, but rather to focus his efforts in another sport: Mixed Martial Arts (MMA).
To the delight of MMA fans, the strongest man in the world was set to put his talent on display against obviously weaker opponents. It's easy to excuse Pudzianowski had he assumed a small amount of technical training would suffice; presumably his unimaginable strength advantage would carry him to victory. Unfortunately, it didn't quite end up that way.
Pudzianowski signed on with Konfrontacja Sztuk Walki (KSW), a Polish MMA organization which attracts fighters from around the world (though not necessarily the very best). After defeating a fellow Pole in an easy fight, he was assigned a more challenging match against a 10-and-1 Japanese prospect, Yusuke Kawaguchi. He won that, too. But as the level of competition progressed, his disadvantage in skill began to show, losing his third match to former UFC Champion Tim Sylvia (outside of KSW) and later to a 15-and-14 Josh Thompson, who had notably been knocked out by Kimbo Slice.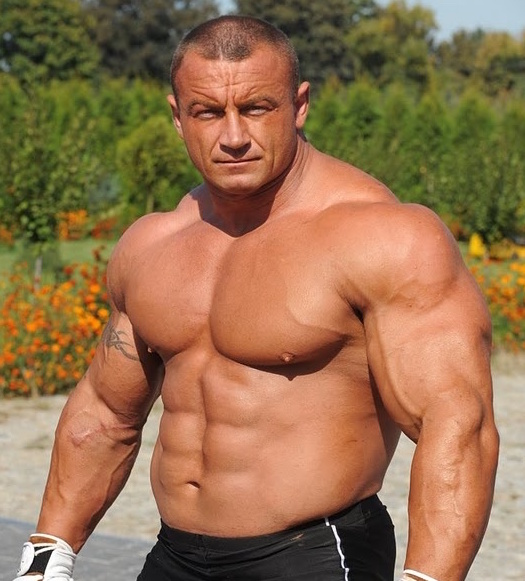 Mariusz Pudzianowski
Flash-forward to Pudzianowski's current record (9-5-0-1), and it's no surprise to learn he's been relegated to fighting in Europe, usually Poland. It leaves his fans from strongman or otherwise wondering why he continues to fight. And yet, determined to prove his latest back-to-back losses are not the start of an ugly trend, he's scheduled to fight again in Krakow, December 3rd, against the less experienced Pawel Mikolajuw (2-1).
When he first left strongman, it was rather abrupt, finishing second to "Big Z" Zydrunas Savickas in 2009, his final year in the sport. Pudzianowski's performance there proved a calf injury he sustained in 2008 would not keep him off future podiums. Perhaps then, one might speculate, he saw the writing on the wall; Zydrunas Savickas was back with a vengeance, and just behind Pudzian' in third-place was a very young, hungry, and intelligent Brian Shaw. But this argument may pay too little respect to the Hall of Famer in question.
In fact, the global popularity of Mixed Martial Arts (MMA) had steadily trended up since its dawn as a pay-per-view oddity. Over the last decade, the UFC, the world's most valuable MMA-entertainment organization, acquired and absorbed most of its main competitors. Athletes from many sports began retraining when they saw the pay-rates available to them. Perhaps un-ironically, WME-IMG, owner of The World's Strongest Man, acquired the UFC from Zuffa for $4 billion in July of this year.
Sadly, strongmen, even those at the very top (who compete in The World's Strongest Man), are not paid on the scale that (popular) MMA fighters are. The sport simply isn't as universally attractive, today, and there are only so many big events in a year which must be navigated under constant threat of injury. There is no doubt Mariusz Pudzianowski's earning potential climbed due to his shift in focus. And that shift in focus would have required a training regimen wholly inapplicable to any continuation of his success at strongman.
Should he lose a third time in a row, it's likely the great Pudzian' will (or perhaps should) consider retirement, despite the countless Polish fans who pack arenas to see him fight. Nevertheless, we're forced to recognize that MMA offers higher income than strongman, especially to its most popular athletes. In Poland, Mariusz Pudzianowski is the most popular athlete. Should he claim victory in December, the 39-year-old is expected to keep on fighting, even if a championship is permanently out of sight.
Editors note: This article is an op-ed. The views expressed herein are the authors and don't necessarily reflect the views of BarBend. Claims, assertions, opinions, and quotes have been sourced exclusively by the author.