Ask any competitive weightlifter in the world and they'll tell you that their main opponent when they're at a meet is the barbell they have to lift. Weightlifting as a sport isn't necessarily structured to pit athletes directly against one another — the real challenge is the weight itself.
That said, there will always be conflict and moments where two (or more) athletes come face to face in the heat of competition. After all, there's only one gold medal, and career weightlifters have always been prepared to shed blood, sweat, and tears fighting for it.
While it would be near impossible to rank all of the best moments in a sport as old as weightlifting, we think there are some that shine a little brighter than the rest. Here are our picks for some of the greatest weightlifting battles of all time.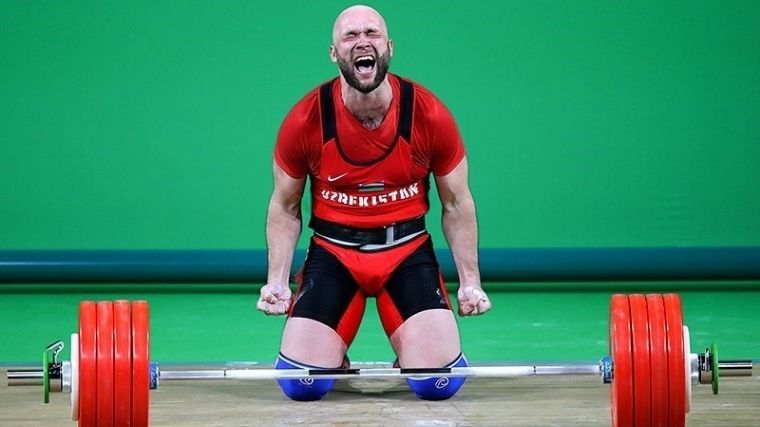 [Related: Why You (Yes, You) Should Be Doing Olympic Weightlifting]
1996 Olympic Games: Suleymanoglu vs. Leonidis
For many weightlifting fans, the clash at the 1996 Olympic Games in Atlanta, GA in the Men's 64-kg division between Naim Suleymanoglu of Turkey and Valerios Leonidis of Greece represents the single most impressive event in the history of the sport. Recent political upheavals between Greece and Turkey heightened tensions at the event, with their respective lifters being so far ahead of the rest of the field that it was considered a two-man race from the beginning.
"It is not a contest of countries, it is a contest of pride," Leonidis would say in a future interview, referencing his desperation for the gold medal. He had placed fifth at the prior Olympics in Barcelona, where Suleymanoglu won handily. However, the Greek had tied Suleymanoglu at the recent World Championships, making the stakes higher than ever before in Atlanta.
In the snatch, Suleymanoglu set the tone early by opening with 145-kilograms, five kilograms above Leonidis' initial effort and well above double his bodyweight. The Greek would go on to match it, spurring Suleymanoglu to increase yet again to 147.5kgs, a weight he failed on his second attempt but narrowly achieved on his third. Leonidis, the lighter man, attempted the same but lost control of the barbel
With the field cleared in the clean & jerk after China's Xiao Jiangang made his final attempt with 177.5kgs, the stadium — packed to the brim with enthusiastic Greek and Turkish fans — awaited the two men. In a competition like the Olympic Games where rankings can be determined by as little as half a kilogram, Leonidis' 2.5-kg deficit was massive, adding to the pressure of beating the as-of-yet undefeated Suleymanoglu. Both men opened with 180kgs, and Suleymanoglu followed with 185kgs to widen his lead. Leonidis then hit 187.5kgs, the third world record of the session, and two kilograms more than he had ever done, placing him in the lead. Suleymanoglu matched the effort with his third attempt — a fourth world record total established in the span of 10 minutes, leaving Leonidis with the final lift of the competition.
He loaded 190kgs, nearly triple his body weight, and almost finished the clean before failing. Naim Suleymanoglu won because of his 2.5-kg lead established during the snatch and became the first triple successive gold medalist in the history of the sport. Though his dream of Olympic gold had slipped away, Leonidis embraced Suleymanoglu in congratulations before the medals were awarded. Following Naim's death in November of 2017, Leonidis would attend his funeral, honoring his old friend and rival one final time.
[Related: Five Common Clean & Jerk Mistakes and How to Fix Them]
2000 Olympic Games: Dimas vs. Huster vs. Asanidze
Even the most casual weightlifting fan has probably heard of Pyrros Dimas, and for good reason — the Greek athlete is one of the most decorated weightlifters of all time. A lesser-known fact, however, is just how close some of his victories were. At the 2000 Olympic Games in Sydney, Australia, Dimas faced off against his toughest competition yet in the cutthroat 85-kg class. The men Dimas would contend with were vicious competitors in their own right. Georgian athlete Giorgi Asanidze recently set the world record in the snatch with 181kgs, and Marc Huster of Germany had been named European Champion in the three years prior to Sydney. Though Dimas already won two Olympic gold medals, he finished second in the 1999 World Championships. There would be no easy climb to the top of the podium in Australia.
Matters worsened for him in the snatch portion of the event. A disrespectful crowd — who jeered him during his attempts — and tight clock caused him to miss both of his first two attempts at 175kgs, allowing his peers to gain an early lead. Though Dimas successfully lifted 175kgs on his third attempt, Huster edged him out shortly after with 177.5kgs and Asanidze would conclude the session with 180kgs.
During the clean & jerk, the Georgian athlete would strike first with a 210-kg lift, guaranteeing a medal with a 390-kg total. Dimas found redemption for his rocky start earlier in the day by making 210kgs as well with his iconic power jerk. Huster, having already opened, struggled massively on the clean but secured the bar overhead on his second attempt. He would come out again before the other two to lift 212.5kgs for his final effort, also totaling 390kgs. Asanidze missed his attempt at 215kgs, forfeiting the ground he had gained in the snatch.
Dimas had an opening to advance past him by completing the same weight and posting a third 390-kg total. Asandize, unable to reduce his weight, failed again on his third attempt. With all three men having lifted the same total, Dimas clinched gold by being the lightest of the three and was crowned Olympic champion for the third time in possibly the closest Olympic session ever.
[Related: Tara Nott-Cunningham: Sydney Olympics and Historic Weightlifting Gold]
2008 Olympic Games: Steiner vs. Chigishev
As we mentioned at the beginning, the real battle in weightlifting is sometimes between the athlete and themselves. At the 2008 Beijing Olympics in the Men's +105-kg class, German lifter Matthias Steiner faced off against the Russian behemoth Evgeny Chigishev, which would result in one of the most famous and inspiring stories ever told at the Olympics.
The competition in the Men's super heavyweight division was thought to be a three-man race, with Latvia's Viktors Scerbatihs gunning for gold as well. But at the conclusion of the snatch, Chigishev was in a commanding lead with a 210-kg lift, four kilograms ahead of Scerbatihs and a whopping seven kilograms ahead of Steiner, who missed his final attempt. Even in the class where the heaviest weights are lifted, a seven-kilogram deficit can seem impossible to overcome, and Steiner's nerves began to get the better of him.
"In my head I was still in the snatch mindset, which can be fatal," Steiner would say in a future interview, describing his anxiety as the competition proceeded to the clean & jerk, where he missed his opening attempt at 246-kgs. Scerbatihs would go on to fail both his second and third attempts, but Chigishev had come to play, displaying the famous Russian precision to hoist 250kgs in his third attempt.

Steiner managed 248kgs on his second attempt, securing a medal, but was still down by nine kilograms in the total, which is what determines medal position at the Olympics. To overcome the Russian, he would have to lift 258kgs — a full 10 kilograms above his best effort. For Steiner, this moment was about more than just a gold medal. His wife tragically passed away the previous summer, and he promised her that he would win it all in Beijing. Despite his grief and the pressures of his rocky performance, Steiner somehow successfully clean & jerked 258kgs to overcome Chigishev by a single kilogram at the final attempt of the event. He collapsed to the floor in tears as the stadium exploded in cheer, and later posed atop the podium with a photo of his wife Susann in hand.
[Related: I Won an Olympic Weightlifting Medal at 17. Here's What the Games Mean to Me]
2014 World Weightlifting Championships: Ilyin vs. Nurudinov vs. Bedzhanyan
Though many of the great battles in weightlifting involve two athletes going head to head for glory and the gold medal, a three-athlete race is more common than one might think. During the Men's 105-kg event at the 2014 World Championships in Almaty, Kazakhstan, a third player emerged to throw the whole session into chaos. Ilya Ilyin, now a household name and another debatable contender for the greatest weightlifter of all time, threw a big wrench into the clean & jerk battle between Uzbekistan's Ruslan Nurudinov and Russia's David Bedzhanyan.
After placing third in the snatch, the London 2012 gold medalist had a lot of ground to make up to maintain his impeccable record — up to this point, Ilyin had never been defeated in international competition. All three athletes were taking massive jumps in their attempts to guarantee themselves the gold. With the Uzbek lifter posting a new world record of 239kgs, a weight Ilyin failed to match, even the commentators were unsure of his prospects. Russian athlete Bedzhanyan rewrote history not five minutes later with a 240-kg clean and power jerk, cutting Nurudinov's celebration short. With Ilyin having the final attempt of the session, commentator Michaela Breeze hit the nail on the head: "There's only one man that can spoil the party."
Ilyin emerged before a stadium of his countrymen, approached a barbell loaded with 242kgs, and hurled it overhead with his famously kinetic speed. The crowd erupted as Ilyin let out a triumphant roar before accepting yet another gold medal against possibly his stiffest competition yet. Similar to Pyrros Dimas in Sydney, Ilyin won by the tightest margin possible — Nurudinov had matched him in the total, but Ilyin had weighed in barely half a pound lighter, which ultimately secured him the title.
[Related: Injuries in Training: How to Manage Risk]
2015 World Weightlifting Championships: Kang Yue vs. Rim Jong Sim vs. Olga Zubova
The competitive history of women's weightlifting is much shorter than that of men's division (the first womens' world tournament took place in 1987). Still, there have been more than a few fiery battles on the world stage, but perhaps none more so than the 75-kg session at the 2015 World Weightlifting Championships in Houston, TX. During a contentious snatch event, Rim Jong Sim of North Korea suffered a debilitating hip injury while attempting a 128-kg lift that would have likely secured her the gold medal. What followed in the clean & jerk would astonish the commentators and bring the entire stadium to their feet.
With a visible limp and spurred on by a roar of applause, Sim emerged onstage to post a 150-kg result and deny Kazakhstan's Svetlana Podobedova a likely silver medal. China's Kang Yue would come out after to post a ludicrous 155-kg on her first attempt, spurring Sim to return yet again. Against all odds and in visible agony, the North Korean athlete somehow successfully hurled 155kgs overhead before collapsing and being escorted off the stage by medical staff. The commentators would remark, "I think it's safe to say that she will not be coming out for a third attempt," convinced that Sim was in too much pain to continue.
[Related: What You Need to Know About How to Increase Strength]
After some backstage jockeying between China and Russia and a dubiously successful 156-kg lift from Olga Zubova, the DPRK athlete appeared for the final time, against the wishes of the duty doctor. After managing to clean 157kgs, which would have achieved a gold medal, Sim stumbled on the jerk and failed the lift. However, her valiance had secured silver in the total, which she accepted while being helped onto the podium by her competitors Kang Yue (gold) and Olga Zubova (bronze) to a standing ovation and a chorus of cheers from the audience. Veteran Eurosport commentator David Goldstrom would assert that, "…if there was an award for guts and bravery, this is the woman who would deserve it."
Featured image: Javid Nikpoer/Tasnimnews under Creative Commons Attribution 4.0