Matthias Steiner's retirement from weightlifting has been anything but boring.
The world-renowned, Olympic gold medal-winning weightlifter will go down in history for his extraordinary win at the 2008 Beijing Olympics, where he won gold with a tremendous clean & jerk of 258 kilograms (568.8 pounds) and a combined total of 461kg (1,020lb) in the +105kg category. These remain his all-time personal records.
The win was all the more emotional given that Steiner had lost his late wife Susann Steiner a year earlier in a tragic car accident. In his grief he almost quit the sport altogether, but continued training and brought home the medal he had promised Susann he would one day win. You can watch his win, and Steiner sharing the winner's podium with a photo of Susann, in the video below.
After sustaining an injury during a snatch at the 2012 Olympics, he retired, lost a hundred pounds, wrote a weight loss book (The Steiner Principles), became a motivational speaker and TV host, and last week he launched a career as a pop singer.
BarBend caught up with Steiner to talk training PRs, workout music, lifting with diabetes, and the real reasons behind his decision to retire.
BarBend: You've competed across a wide variety of weight classes. Can you tell me how your training methodology and recovery changed based on your weight?
Matthias Steiner: I changed my training methodology not based on weight class, but based on my age.
In my youth, I moved through many weight classes simply because I was growing up. Up until I reached 19 years of age, I only changed the way I trained and increased my weights very slowly, because I didn't want to burn out my body too early.
In order to build a good foundation of strength for later in life, I trained a lot. I especially trained a lot at the beginning of my competitive career, until I moved to the Super Heavyweight class. Then, as I was training for the Olympics, I trained a little less and instead focused on the quality of my movement. What was most important was to perfect the technique, because at some point everyone's strength maxes out and the best technique wins.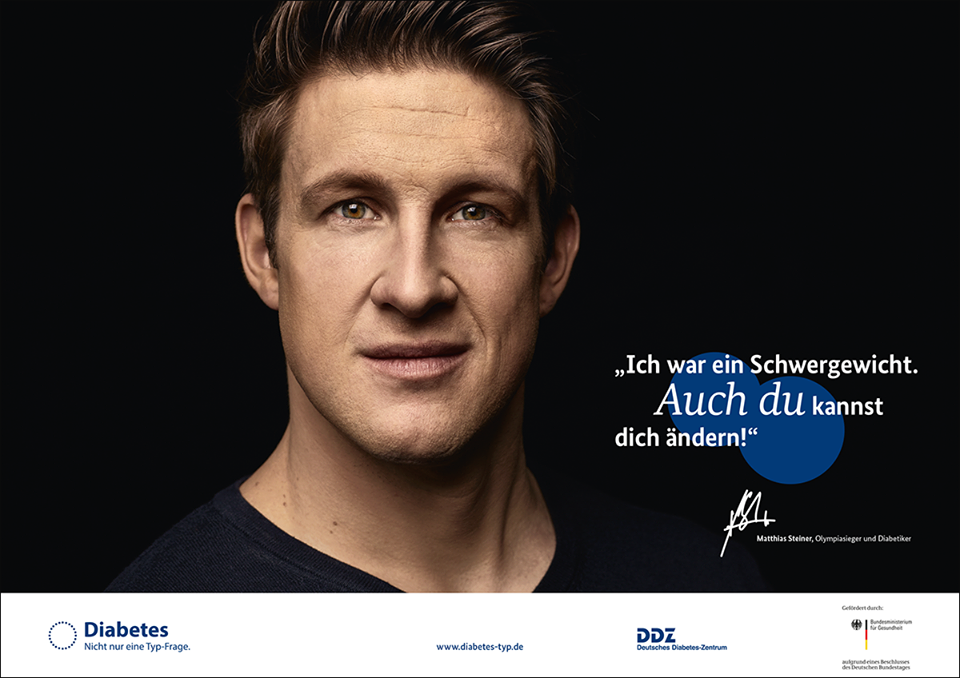 Matthias Steiner promoting diabetes awareness as an ambassador for Germany's Federal Ministry of Health. The quote reads, "I was a heavyweight. You, too, can change!" Image via STEINERtainment on Facebook.
BB: You continued lifting despite a diabetes diagnosis at age 18, when you were advised to quit weightlifting. What advice would you offer Olympic weightlifters with diabetes who want to become as strong as possible?
MS: First, I want to clarify that it was Type 1 Diabetes and an autoimmune disease in which the insulin-producing cells are destroyed. My body does not produce any insulin anymore, because I overlooked a common cold and didn't let it get better. That's why I really want to warn athletes to always rest during a cold or flu.
The doctors advised me to stop weightlifting. But they couldn't stop me! However, it took two or three years for me to figure out how to make my illness work with the competition of my sport, because the metabolism changes and the body reacts differently to training sessions and everything can get messed up. It's important to understand what happens when we eat foods in various forms, but also how the body reacts to training.
Activity is important with diabetes, but competitive sport can really stress the body. An advantage was I could see when my body was reaching its limits and when I had to take a break. Sometimes, healthy competitors don't notice when their bodies needs to take a break, and they can pay the price down the road. My advice to all people with diabetes is, if you get the diagnosis you should definitely find an experienced diabetes specialist who is well-versed in both diabetes and competitive sports.
BB: Did you find that Olympic weightlifting improved your diabetes? Did it become more difficult to manage as you gained weight?
MS: Activity improves diabetes, and weightlifting is good because your body needs less insulin when it's building muscle. Nevertheless, competitive sports are always an extreme strain on the body, even for a healthy person. Through weightlifting I learned how to precisely listen to my body.
It was easier when I was gaining weight than when I was having to starve myself into the 105kg category. That was the reason I moved into the Super Heavyweight Class: it was easier, because then I could still eat something when I had low levels of glucose. It didn't matter I gained weight. Still, that was only useful when I was competing and my body was mostly comprised of muscle. After I retired, I had to lose weight again, because 150kg of body weight is not healthy for everyday life.
Image via Dacoucou, licensed under CC BY-SA 3.0  and @brandalarm34 on Instagram.
BB: What were your heaviest training lifts – those that weren't officially recorded?
MS: We never hit our max weight during training. Only during competition do we lift max. That's the first time we can, because, after slowly and naturally building our bodies, we really need our recovery dialed in before the competition!
My heaviest snatch in training was 190kg (418.9lb) and clean & jerk 240kg (529.1lb). So pretty far off from my best competition performance, due to the factors mentioned above.
For back squat I've lifted 3 reps with 310kg (703.3lb). The training is coordinated together so that at the end of a cycle, a personal best should happen in the competition.
BB: I understand that the snatch injury from the 2012 Olympics (Editor's note: A 196kg snatch landed on his neck) wasn't the main reason you retired in 2013. What were the main factors that influenced your decision to retire?
MS: It took 5 months for me to fully recover from that accident. After that, I jumped back into training 100 percent and started preparing for the European Championship. Then, early that year, we had our second son and at the same time, I started the business STEINERtainment with my wife, the journalist Inge Steiner.
As all of that was coming together and I had the chance to follow a new path, I decided to hang up my weightlifting shoes. Besides, I was already declared "The World's Strongest Man" and I had nothing more to prove. Looking back, that was the right decision.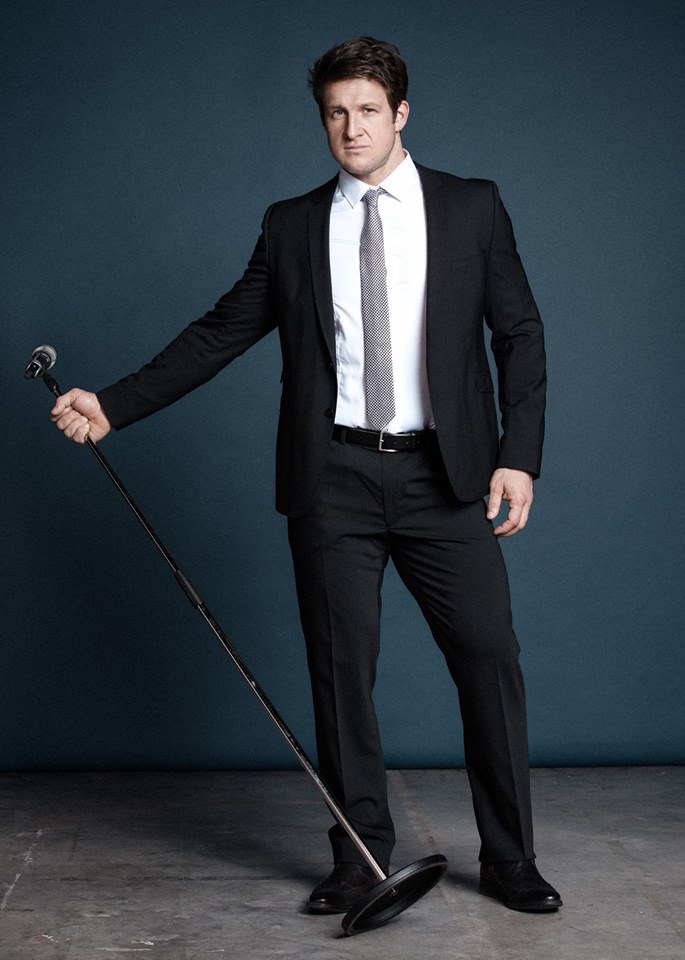 Image via STEINERtainment on Facebook.
BB: Tell us about your life after retirement, what projects are you working on now? 
MS: Since I retired we've published two books on nutrition and exercise that can help anyone reach their ideal personal weight and feel fit again. We just finished the follow-up to my weight loss book The Steiner Principles, which will soon be on sale at major German book stores. Also, to accompany The Steiner Principles we developed a 12-week online training program that's been available since January this year. The program allows you to train with Inge and I in real time. It also contains valuable nutrition tips and we cook together with the user.
And yes, I just released my first single "Loved Back". An album of the same name will be released on April 14th. It's extraordinary that I've gotten the opportunity to publish my passion onto a CD, and I'm anxious to see how it's received. There is a song on the record that is about weightlifting and it would be great if it became a sort of anthem.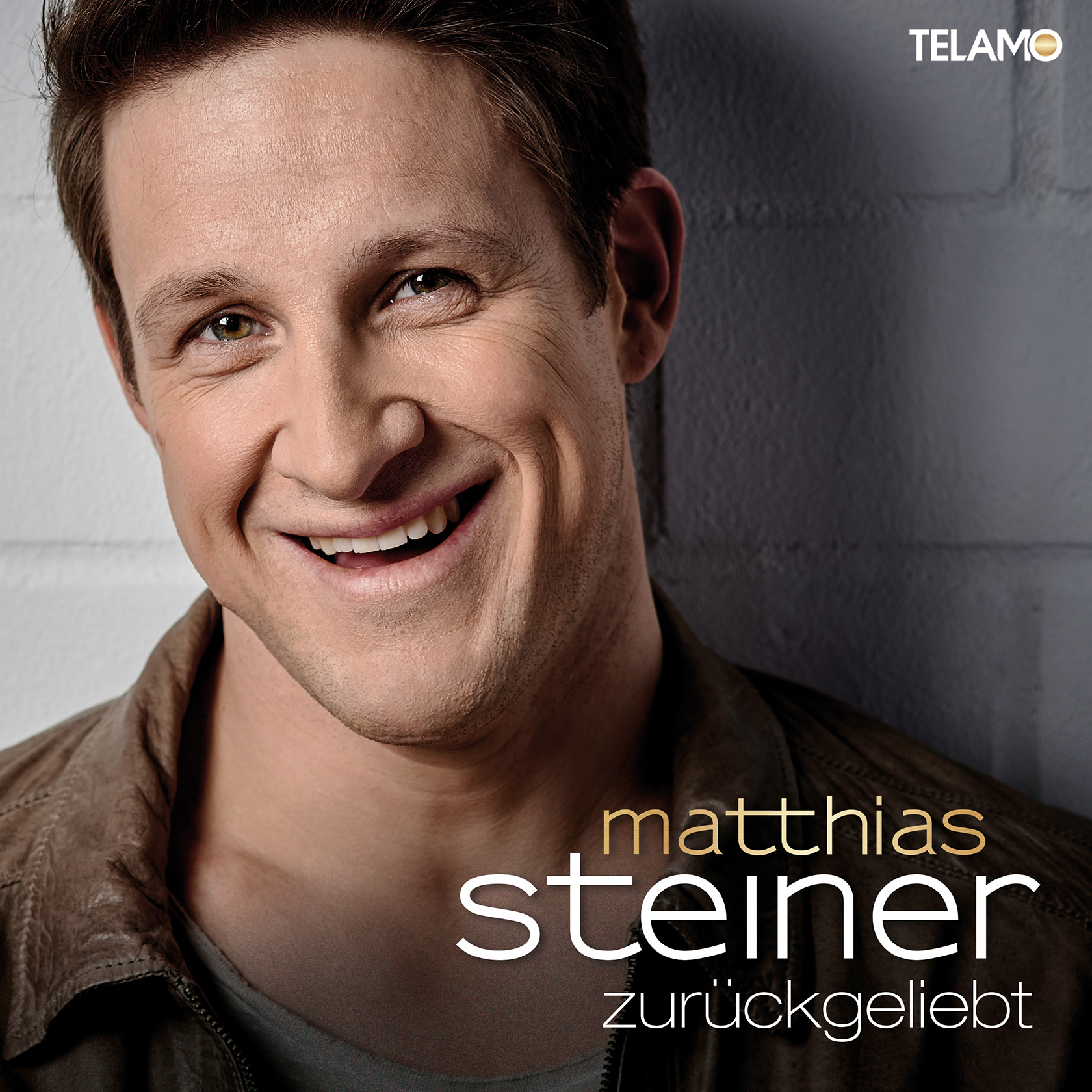 Image courtesy of Inge Steiner.
BB: We were hoping there would be a workout song!
MS: Yes, it's about my Olympic moment but we hope that many people use the song in order to get motivated for a competition.
BB: You've been doing a lot of TV work as well, haven't you?
MS: All of the TV shows have been very nice, because if you're sitting next to super stars like Pink! or Kid Rock or chatting with Keanu Reeves, it's pretty great. But the most exciting experience till now has been "Let's Dance," where I had to learn how to dance and convince the jury to get to the next round. In the end I got to the finale and 3rd place. Not bad for a weightlifter who's pretty stiff in the hips. (Editor's note: You can watch one of Steiner's performances on the show here.)
BB: Will your book ever be released in English?
MS: Right now that's not planned, but we're getting more requests. And who knows what we will do in the future. I can just ask your readers: Does someone want to translate the book and bring it to the American market?!
BB: Our readers are very interested in improving mobility for Olympic lifting. What mobility exercises did you perform the most often when you were training? Like, were there any exercises you would do every day?
MS: Actually, the warm up always started with some ping-pong. Then quickly some rowing on the ergometer and then we'd move onto the empty bar, with which I'd work with ten minutes. Stretching and mobilizing can always happen after the training and then in the form of moderate stretching, not too much, and then massage. The extra bodyweight exercises I do now would have no place in the competitive sport. It would only make us more tired.
BB: Is there anything else you'd like to tell your English-speaking fans?
MS: I've overcome a lot of obstacles, and for that I am grateful. I would like to take this opportunity to thank you very much, and I'm grateful for the people who've followed me online and were an inspiration to me. You are all an inspiration. That's why do it all. Because it is fun to be able to motivate people.
BB: Thanks for taking the time to chat! We'll keep an eye out for your album's release.
This interview has been translated from German by BarBend contributor and native German speaker, Nicole Hansalik. It has been edited for clarity and length. 
Featured image via STEINERtainment on Facebook.