You're less likely to find Ultimate Nutrition in the local supplement store than bigger name brands, but they've got a loyal following online, particularly among bodybuilders — they currently sponsor Mr. Olympia, Phil Heath.
I've tried a couple of their products before — the whey isolate IsoCool and the insulinogenic Whey Gold — but Prostar 100% Whey looks to be their attempt at an all-rounder low carb whey blend to compete with the likes of Optimum Nutrition Gold Standard and Cellucor Cor-Performance. I decided to try out their Chocolate Crème flavor.
I was blown away by how creamy it was, especially for something with so much protein per calorie and for a product that's so inexpensive.
Ultimate Nutrition Prostar 100% Whey Nutrition Info
One serving delivers 120 calories, 25 grams of protein, 2 grams of carbs (1 gram of sugar and no fiber) and 1 gram of fat. So, it's definitely on par with the competitors mentioned above in that it's low calorie, low carb, and low fat — in fact, it has more protein and fewer carbs than Gold Standard.
Ultimate Nutrition Prostar Whey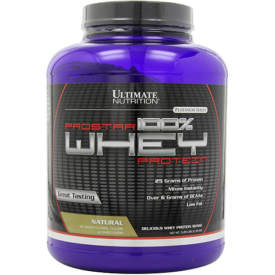 Ultimate Nutrition Prostar Whey
A blend of three kinds of whey that's extraordinarily creamy and surprisingly inexpensive.
As far as micronutrients go, there's 20 percent of your daily calcium intake (which is above average), 7 percent of your daily cholesterol intake, and just 1 percent of your daily sodium, which is very rare for a protein powder.
[Related: Best Protein Powders]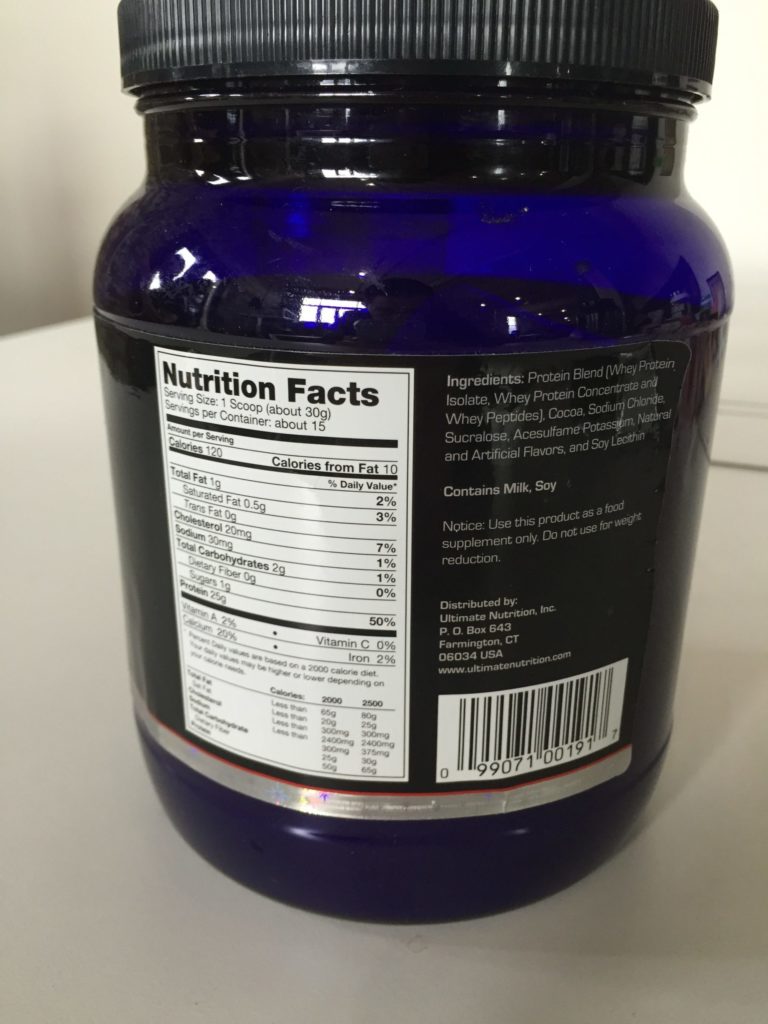 Ultimate Nutrition Prostar 100% Whey Ingredients
This is a whey blend, so the first ingredients are whey isolate, whey concentrate, and whey peptides, also known as hydrolyzed whey. This is a relatively common split for proteins like Gold Standard, Ghost, and MyProtein's The Whey. Each kind of whey — isolate, concentrate, and peptides — has its own benefits, but a lot of people prefer the more expensive whey isolate as it's the lowest in calories, carbs, and fat. So it's nice to see that it's the first kind of protein in Prostar.
Then there's cocoa, sodium chloride (that's just salt), the artificial sweeteners sucralose and acesulfame potassium, natural and artificial flavors, and soy lecithin to improve mixability.
Ultimate Nutrition Prostar 100% Whey Benefits and Effectiveness
This is a very versatile protein powder — the macro split is good, particularly for the low price, and it's a possible "any time" shake, provided you don't mind that there's no fiber and little fat to slow digestion.
The ingredients list is simple and there's not a lot to take issue with, but it does contain soy in the form of lecithin and the sweeteners sucralose (also called Splenda®) and acesulfame potassium. These three ingredients are generally recognized as safe and practically all of Prostar's competitors in this price bracket contain them. That said, they're controversial in some circles, so if you're looking for a product without them you might prefer a higher end isolate like Xwerks or PrettyFit.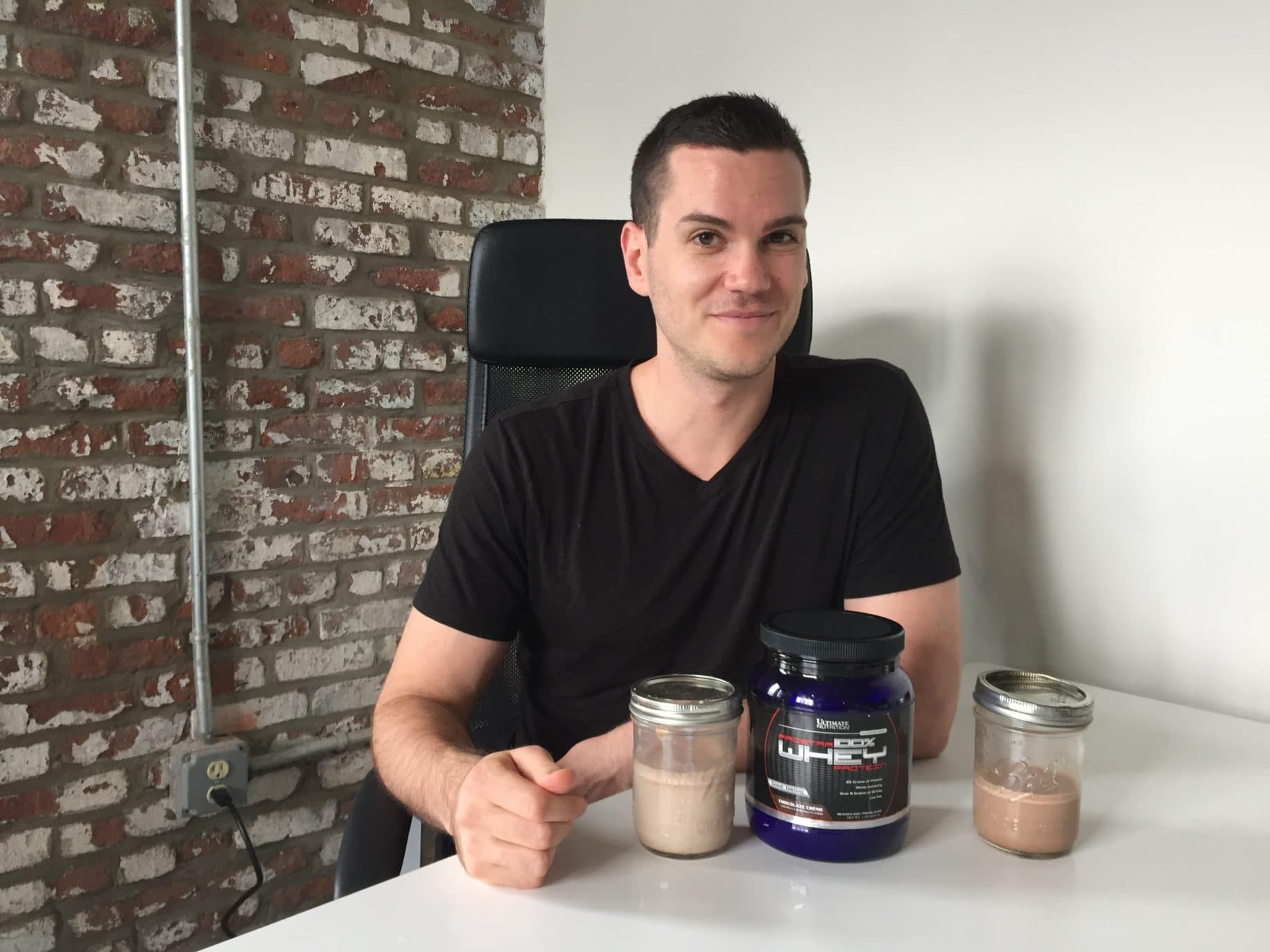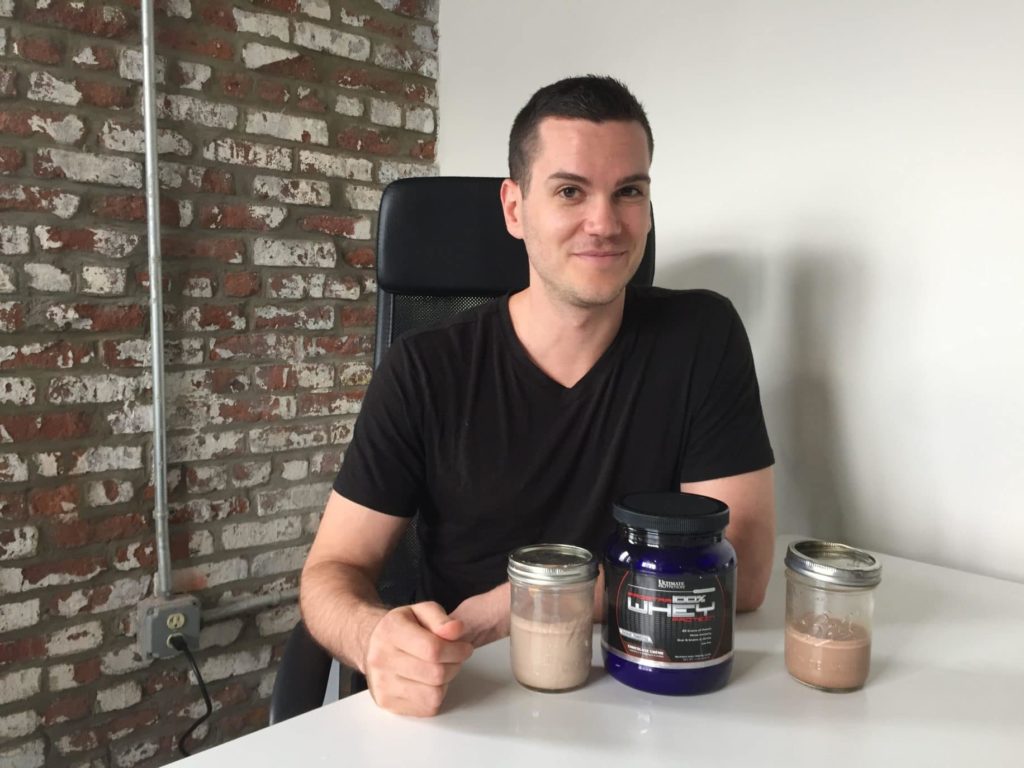 Finally, there are no digestive enzymes in this product, even though it appears to contain lactose. That means that if you have issues with lactose or if protein powders tend to disagree with your stomach, you should stick with a protein like ON's Gold Standard or Cellucor Cor-Performance, which are similarly priced.
Ultimate Nutrition Prostar 100% Whey Price
You can pick up a standard 2-pound tub on Amazon for around $29, which provides 30 servings. That comes to 96 cents a serving or 3.9 cents per gram of protein.
That's really cheap, and when comparing it to 2-pound tubs from other brands, it's actually cheaper than ON's Gold Standard and Cellucor Cor-Performance and about the same cost as MusclePharm's Combat Whey, which is very inexpensive. MuscleTech's Pro Series Premium Gold Whey is a tiny bit cheaper but otherwise, Prostar is one of the cheapest whey protein blends on the market.
Mixability
No complaints at all with the mixability — it dissolves quickly and easily, which is probably because of the soy lecithin in the ingredients list.
Ultimate Nutrition Prostar 100% Whey Taste
I tried the Chocolate Crème flavor, and wow. It was really, really creamy, much more creamy than chocolatey — it made my milk taste like cream with a dash of cocoa. I love cream, so I was very pleasantly surprised, but it's not at all an earthy, dark chocolate flavor that some people prefer. It's first and foremost a cream flavor with chocolate undertones. It's very decadent with milk and quite tasty with water, though it feels a little strange to have such a fatty flavor with a watery texture.
The Takeaway
I was really impressed by Prostar. It's has a great macronutrient balance, it tastes amazing, and it's insanely cheap. If you have a sensitive stomach, have difficulties with lactose, or you avoid soy or artificial sweeteners, this isn't the protein powder for you. But if you digest anything and want a great-tasting, low-carb, low-fat protein that's easy on the wallet, this is a good pick.
Other Great Protein Powders Reviews
Related Best Protein Powders Content