We receive free products and receive commissions through our links. See
disclosures page
.
Ascent's Native Fuel Whey Protein Powder Blend is advertised as the new "benchmark in protein purity." What's all the hype about? The company sent us the Chocolate and Lemon Sorbet flavors of their famous, unconventional whey protein so we could try it out and take a close look at the brand, the nutrition, the ingredients, and the price, and work out if it's right for your needs.
The brand itself has a big focus on athletics and performance (as opposed to, say, lifestyle and weight loss) and to that end it uses a lot of big name CrossFit® athletes in their marketing and all their products are third party tested by Informed Choice, which screens for banned substances. Entrepreneur and productivity maven Tim Ferriss has called it "cleaner, purer, and less processed."
Why? These labels appear to stem from the fact that there are no artificial flavors or sweeteners and from the fact that Ascent uses an unusual filtration process to attain their Native Whey Protein Isolate, which is mixed in with conventional whey concentrate and isolate. Let's take a closer look.
Ascent Native Fuel Whey Protein Powder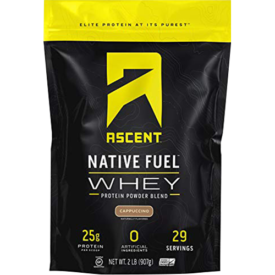 Ascent Native Fuel Whey Protein Powder
A naturally sweetened whey blend that tastes remarkably good with water, it contains an unusual "Native Whey Isolate" that's much less processed than most other isolates. 
[Looking for the best protein powder for your needs? Check out our roundup of the best whey proteins.]
How We Decide the Best
Figuring out if you've got the right protein for you goes beyond a simple taste test. Here's what we assess with every sip.
Nutrition
We're going to say this a lot, but what matters the most will depend on you — maybe your priority is to get as much protein as possible per calorie, which would mean no fat or carbs per serving. Typically, that results in a pretty so-so taste, so plenty of people prefer wheys with some carbs.
Then there's cholesterol, saturated fat, sodium, and other vitamins and minerals. We dive in to all of 'em.
Ingredients
Different types of whey have their own pros and cons (whey concentrate is cheaper, whey hydrolysate might absorb faster, etc.) but very few whey proteins are just whey protein. Soy lecithin helps mixability, but maybe you don't like soy. Gum works as a thickener and stabilizer, but maybe it causes indigestion. Then there are artificial sweeteners, lactose content, and other factors.
Price
You buy protein powder for the protein, so we judge a whey's cost on the amount you pay per gram of protein. The bigger brands typically wind up at between 4 and 5 cents per gram of protein, but there are reasons you may want to pay more.
Taste
Creamy? Sweet? Artificial tasting? Bland as heck? We've tried enough whey to know where it falls and what you can reasonably expect based on the ingredients.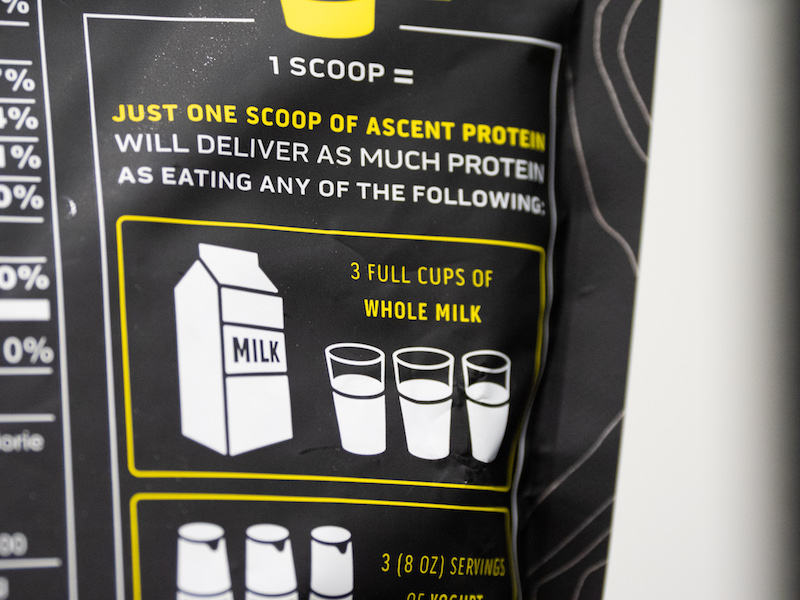 Ascent Protein Nutrition
One scoop contains 120 calories: 25 grams of protein, 3 grams of carbohydrates (1 gram sugar, under a gram of fiber), and 1 gram of fat (none saturated). There's also 7 percent of the recommended daily intake of cholesterol, 4 percent of your sodium.
There's not a lot else to talk about as far as vitamins and minerals go: there's 15 percent of your daily calcium and 4 percent of your iron.
This results in 4.8 calories per gram of protein, which is a pretty solid protein-to-calorie ratio. (Pure protein, with no fat or carbs, is 4 calories per gram.) It's pretty rare to find a protein powder that has no saturated fat at all and Ascent is quite low in cholesterol for something that contains whey concentrate, so this may be a pro or a con based on your goals.
It's a tad higher in calcium than your average whey but otherwise this is a pretty standard nutrition label for a whey blend.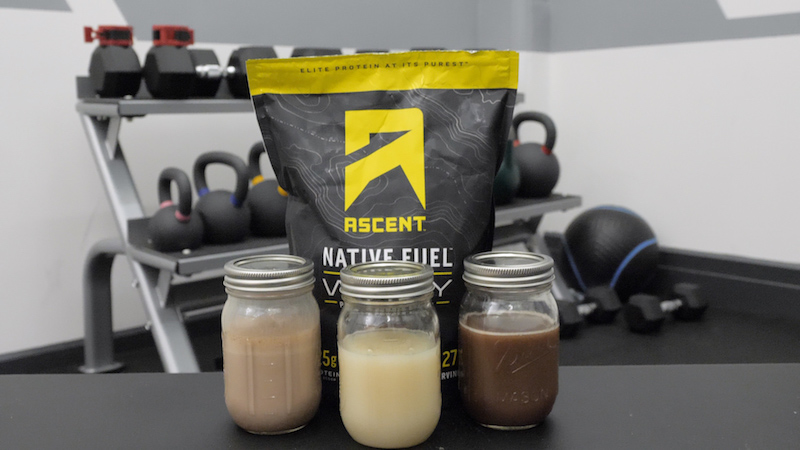 Ingredients
The first ingredient is a blend of whey protein isolate and Native Whey protein isolate, followed by whey concentrate. I'll discuss the pros and cons of Native Whey in the next section.
After the whey there's natural flavors, soy lecithin for mixability, and sea salt. The natural sweeteners used in the Chocolate flavor are monk fruit extract and stevia leaf extract, though the Lemon Sorbet, Vanilla Bean, and Cappuccino flavors don't have any stevia. There's also an Unflavored variety without any sweeteners or flavors at all.
As mentioned, a big appeal to the brand for some users is the lack of artificial flavors and sweeteners, though it's possible that the soy lecithin — which is meant to improve mixability — may give some users pause. There are also no digestive enzymes added, which some users prefer because they may minimize digestive discomfort and enhance absorption.(1)(2)(3)
But a huge emphasis for this product is the Native Whey Isolate. So what does that really mean?
[Does soy lecithin matter for testosterone? Read our complete guide to the pros and cons of soy!]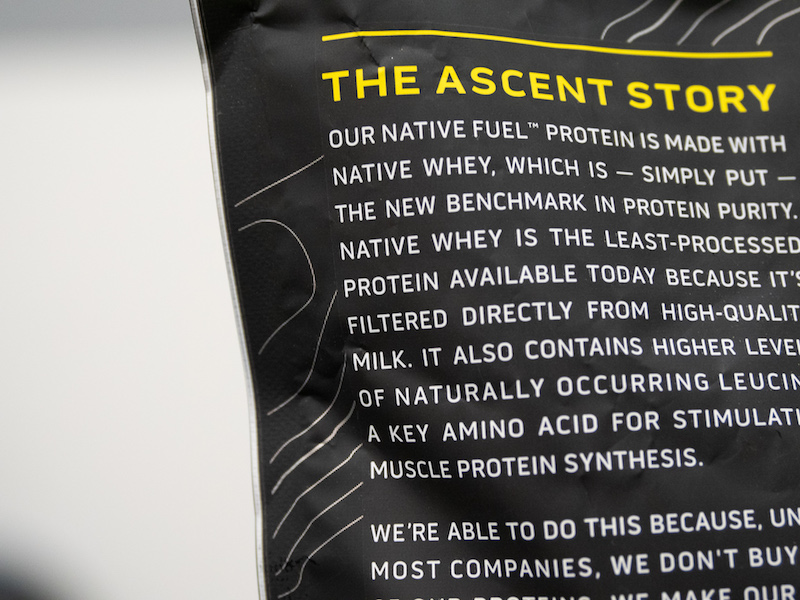 What Is Native Whey?
So is Ascent "cleaner, purer, and less processed"? In addition these claims, Ascent also has a big emphasis on the amino acid leucine. The bag notes that it has "higher levels of naturally occurring leucine."
There are a few reasons that extra leucine might be important. According to a variety of studies, like one published in Journal of Nutrition in 2006, leucine is the amino acid that's most closely associated with muscle protein synthesis, a process that switches on genes responsible for muscle gain.(4)(5) There's a lot more to muscle gain than leucine, of course — your workouts, your sleep, your overall intake of calories, macronutrients, and micronutrients — but muscle protein synthesis is still an important part of the puzzle.
Ascent Native Fuel Whey delivers 2.7 grams of leucine per scoop of 25 grams of protein.Their website states that it actually has "17 percent more leucine" and when we got in touch with Ascent they confirmed that they mean they offer 17 percent more leucine than your average whey, stating their competitors typically have between 2 and 2.5 grams per scoop.
Truthfully, though, 2.7 grams of leucine isn't crazy high; not every brand divulges its leucine content (they're more likely to tell you how many branched chain amino acids they deliver) but 2.7 grams is the same amount you'll find in 25 grams of protein from Dymatize Iso 100 or Ultimate Nutrition Iso Cool, and it's 3 percent higher than you'll get in a scoop of the industry leading Optimum Nutrition Gold Standard. Leucine content of 2.7 grams is definitely on the high side, though.
So why is Native Whey Isolate worth your money? Well, whey is usually a result of the cheese making process: you add acid or enzymes to milk which separates the two proteins it contains, whey and casein. This will give you whey concentrate, which you can further process into whey isolate, which strips out most (if not all) of the carbs and fat.
[Is whey better than casein for building muscle? Check out our video guide to the differences between whey and casein.]
Native whey isolate isn't sourced from the cheesemaking process, it just lifts the isolate right out of the milk through an unusual type of filtration process. That's why people say that Native Whey is less processed: instead of resulting from separating whey and casein and then putting it through another step of processing, there's just one step.
Ascent emphasizes that they also "avoid harmful processing steps like bleaching." Most studies we found on bleaching whey were on how it can alter the flavor, but it's possible that it causes some fats to oxidize, and consuming oxidized fats is linked to some negative health outcomes.(6)(7) Now, we should emphasize that whey is super low in fat anyway, but there's an argument to be made that unbleached whey is a better pick.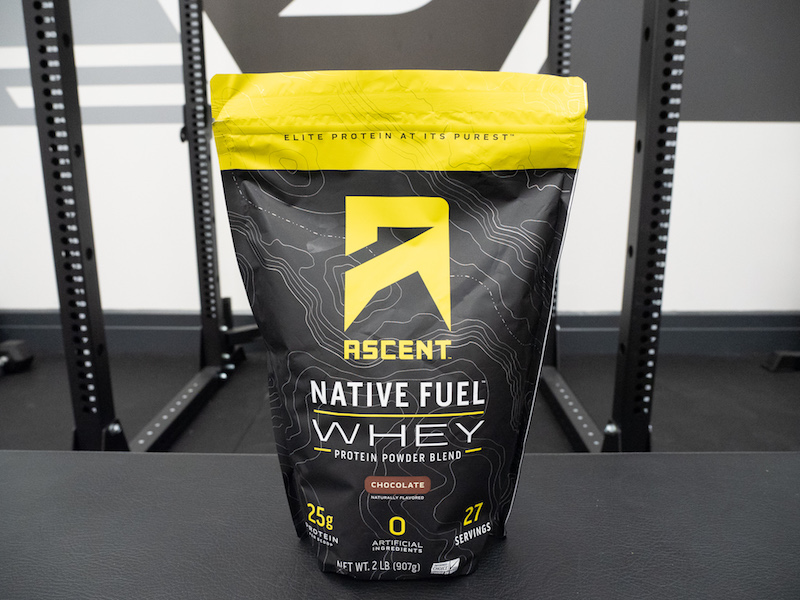 Ascent Protein Price
You can get these in single serve pouches or in 4-pound bags but the 2-pound bag is the standard size and costs between $40 and $45. That provides 27 scoops of 25 grams of protein, so it comes to about $1.45 to $1.65 per scoop or 6 to 6.5 cents per gram of protein.
That is relatively pricy, as the most popular brands average 4 to 5 cents per gram of protein. Six to 6.5 cents per gram is about what I'd expect for a pure whey isolate, especially a grass-fed one. But Ascent does have that Native Whey Isolate, which I imagine is more expensive to produce, plus it's tested by Informed Choice, so you may find that price worth it.
[Is grass fed whey healthier than the conventional stuff? Learn the facts in our guide to grass fed vs regular whey.]
Ascent Protein Taste
Chocolate
I tried chocolate with 2 percent milk and with water, and it didn't surprise me that it was tasty with milk — it's pretty hard for any whey to taste bad when mixed with cream and sugar. What really impressed me was that it tasted delicious with water, which is practically unheard of for a naturally sweetened protein powder.
I wouldn't say it tastes like a chocolate bar, rather it tastes like chocolate-flavored candy. It's sweet without being overwhelming and it even manages to confer an ever so slightly creamy taste despite having just 1 gram of fat per serving. This may be my new go-to whey when I'm trying to minimize extra calories and when I don't feel like consuming artificial sweeteners.
Lemon Sorbet
I had to try Ascent's signature Lemon Sorbet flavor and I'll confess I was a little concerned with the idea of mixing a citrus flavor with the dairy base of whey. I tried it with water and not milk to minimize any potential issues.
But again, I was pleasantly surprised. The flavor wasn't sour, rather it tasted a lot like the milk left over from a bowl of Froot Loops. (When you think about it, Froot Loops taste more like lemon candy than anything else.) It was sweet and mild and totally unique among any other whey flavors I've tried.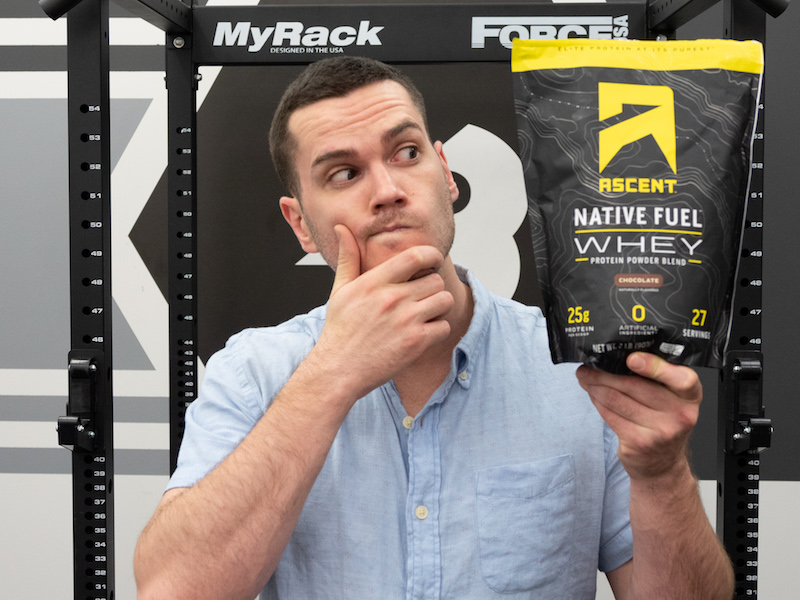 The Verdict
Pros
No artificial ingredients
Lots of protein per calorie
Tested by Informed Choice
Contains no gum
Less processed than most whey
Cons
A little pricy
Contains soy
Made in a facility that processes egg, fish, tree nuts, wheat, and peanuts
No enzymes
I was a little surprised to learn that there's Native Whey has a relatively standard 2.7 grams of leucine per scoop, though it's definitely true that this is an excellent source of leucine and it is indeed much higher than most protein sources. If the fact that it's less processed and unbleached is appealing to you then I can see this a worthy buy, though it's worth emphasizing that this product still contains regular whey isolate and whey concentrate, so it's not like this is totally free of regularly processed whey.
However, I was blown away by the taste and impressed with the nutrition and protein per calorie, especially given there are no artificial ingredients. If you're after a naturally flavored whey that tastes great with water — and I consider that an extremely valuable aspect in a protein powder — then Ascent is an absolutely terrific pick, so long as you're OK with paying a little extra.
Other Great Protein Powders Reviews
Related Best Protein Powders Content
References
1. Oben J, et al. An open label study to determine the effects of an oral proteolytic enzyme system on whey protein concentrate metabolism in healthy males. J Int Soc Sports Nutr. 2008 Jul 24;5:10.
2. Muss C, et al. Papaya preparation (Caricol®) in digestive disorders. Neuro Endocrinol Lett. 2013;34(1):38-46.
3. Zhou Z, et al. Inhibition of Epithelial TNF-α Receptors by Purified Fruit Bromelain Ameliorates Intestinal Inflammation and Barrier Dysfunction in Colitis. Front Immunol. 2017 Nov 10;8:1468.
4. Norton LE, et al. Leucine regulates translation initiation of protein synthesis in skeletal muscle after exercise. J Nutr. 2006 Feb;136(2):533S-537S.
5. Breen L, et al. Leucine: a nutrient 'trigger' for muscle anabolism, but what more? J Physiol. 2012 May 1;590(9):2065-6.
6. Jervis S, et al. Effect of bleaching whey on sensory and functional properties of 80% whey protein concentrate. J Dairy Sci. 2012 Jun;95(6):2848-62.
7. Eder K. The effects of a dietary oxidized oil on lipid metabolism in rats. Lipids. 1999 Jul;34(7):717-25.
Ascent Native Fuel Whey Protein Powder
Per serving: ~$1.55