There's an excellent chance that the first thing you think of when you hear "Quest" is the word "bar," and with good reason: Quest Bars are some of the most popular protein bars in the market. But Quest also sells salty protein chips, low-carb pasta, protein flour for baking, and underrated cereal bars as well.
And then there's the protein powder. It's unusual for a supplement company to be better known for their bars than their actual protein powder. Is that because Quest's protein powder is bad, or could it be as well liked as their bars?
Click HERE to shop Quest Protein.
Quest Protein Powder Nutrition Facts
One scoop is 110 calories with 23 grams of protein, 4 grams of carbohydrates (2 of which are fiber and less than 1 gram of sugar) and zero fat.
As far as micronutrients go, it's slightly above average for sodium — one scoop has 170 milligrams, or 8 percent of your daily intake — and it contains 6 percent of your daily cholesterol, which is pretty low.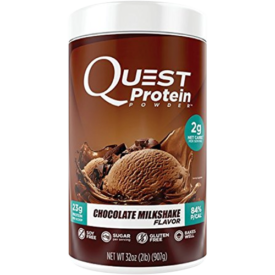 Ultra low in carbs, Quest's protein is unusual in that it can be used in baking as well as in protein shakes.
There's also a remarkably high 35 percent of your daily intake of calcium as well as 4 percent of your iron and 6 percent of your magnesium, a mineral you don't often find in protein powders.
[See our top picks for best whey protein]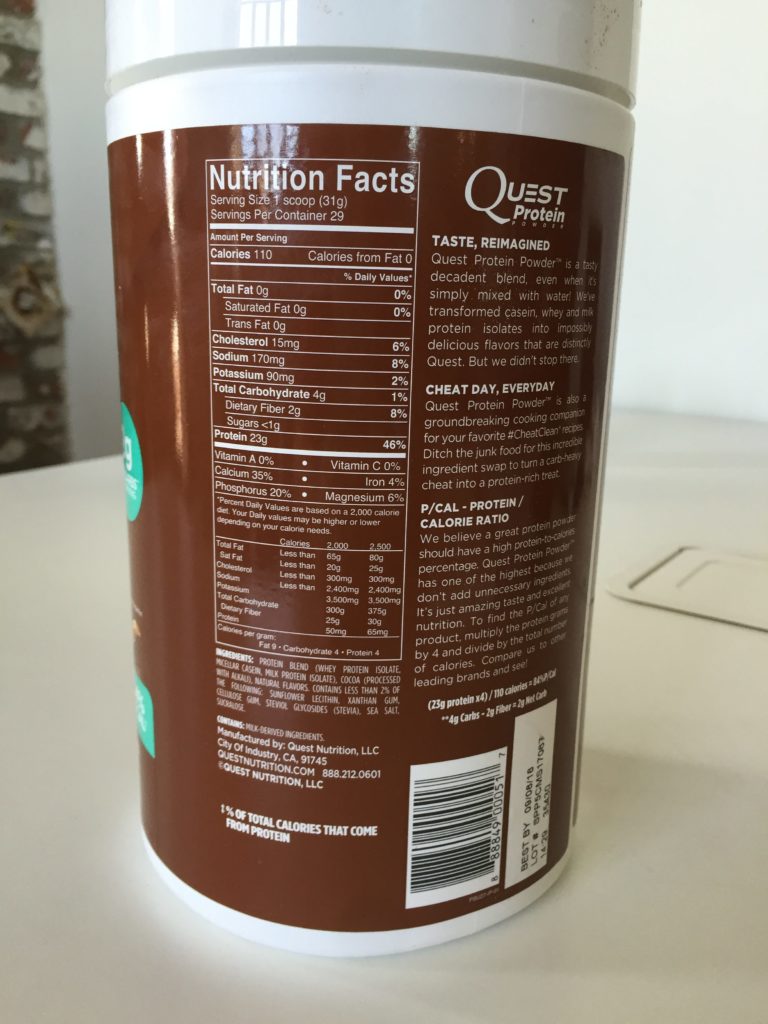 Quest Protein Powder Ingredients
This isn't a whey protein, it's a blend of whey protein isolate (50 percent), micellar casein (40 percent) and milk protein isolate (10 percent). This is a little unusual, as you seldom see "milk protein isolate" in a protein powder, and milk protein isolate is just 80 percent casein and 20 percent whey, like the protein in milk itself. So, the protein content in Quest is about 52 percent whey isolate and 48 percent casein.
After that there's cocoa, natural flavors, and less than two percent of the ingredients are sunflower lecithin (for mixability), xanthan gum and cellulose gum (stabilizers and thickeners), stevia, sea salt, and sucralose (also known as Splenda).
So there are no artificial flavors, but there is an artificial sweetener, Splenda. There's no soy or gluten and there's very little sugar, but it's not lactose-free. Notably, there are no digestive enzymes like lactase or amylase. A lot of protein powders include these to make it easier for folks with lactose problems or sensitive stomachs. If that sounds like you, you might want to give Quest's protein powder a miss.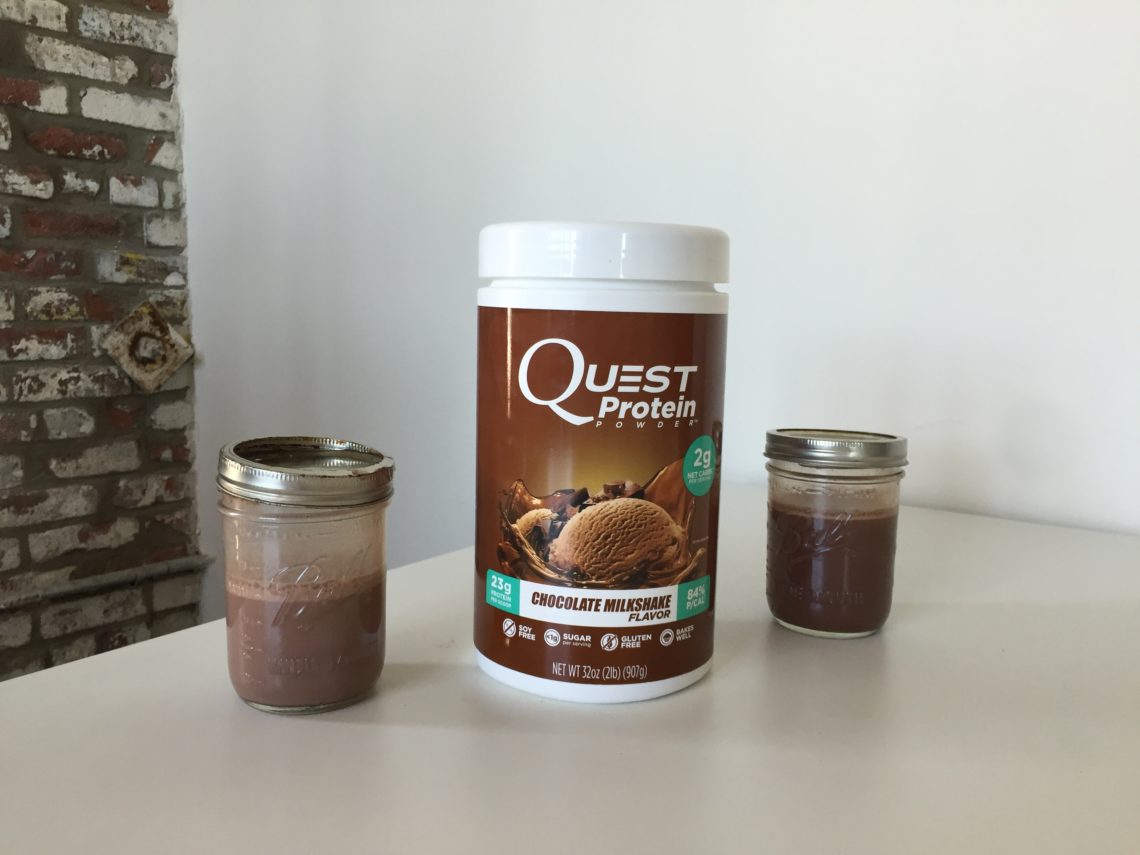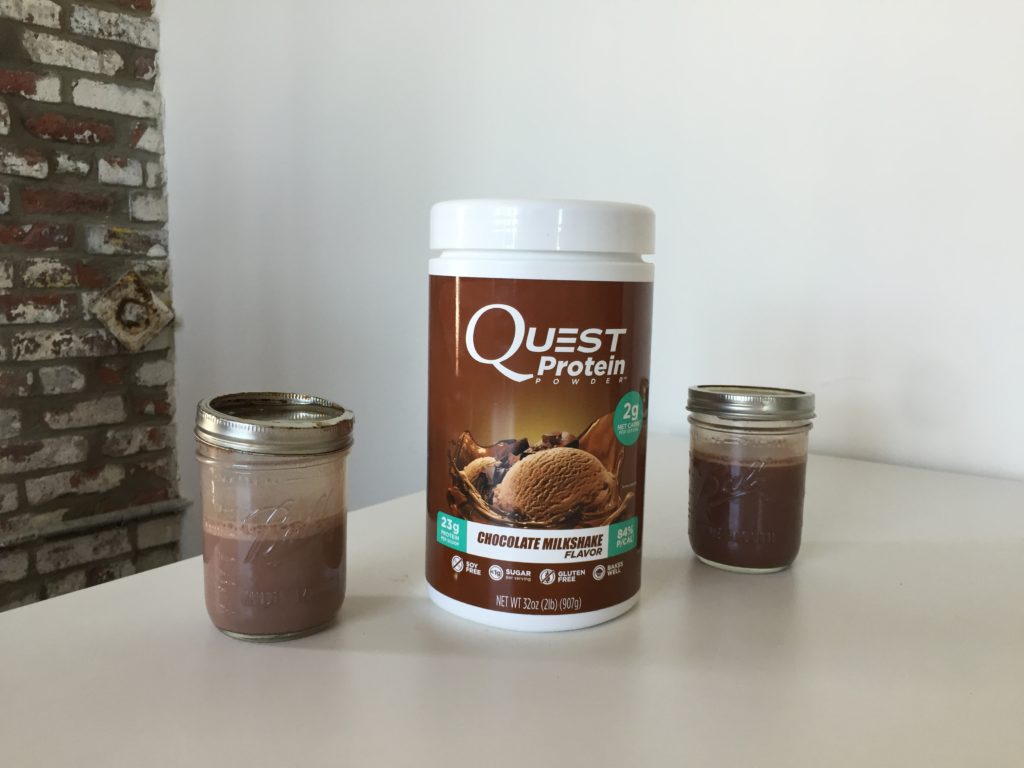 Quest Protein Powder Benefits and Effectiveness
The protein content in Quest is about 52 percent whey and 48 percent casein. The casein means it should digest relatively slowly, which makes it good for satiety, and it thickens well, which means you can experiment with making protein desserts like pudding and ice cream.
To be honest, Quest seems more interested in everything you can make with the protein powder except protein shakes. If you visit their website, it's full of recipes you can make with the protein powders and the bars, and even the tub of protein powder you buy comes with a recipe booklet attached for foods like protein brownies, cake, and even savory chicken mole.
The most interesting thing about Quest is that they've purposely designed a low-carb, low-fat protein powder that you can bake with. I think that's why they included so much casein, because it helps to thicken a batter. If what you want is a protein powder you can experiment with in the kitchen, this is a good pick. If you're just looking for a base for protein shakes and you like the bars, there are tastier and cheaper options you can buy.
Quest Protein Powder Price
It costs $40 for 2 pounds, which is the largest size available. That provides 29 servings for $1.38 each, or 6 cents per gram of protein.
That's somewhat pricy — most whey powders, even isolates, are between 4 and 5 cents per gram of protein. Quest's protein powder is cheaper than some of the isolates from boutique brands like Xwerks and PrettyFit, but more expensive than the isolates from other big companies like Optimum Nutrition, BPI Sports, Dymatize, AllMax, and IsoPure. None of those blends contain casein or quite as many carbs either; it's up to you as to whether or not that 's a dealbreaker.
Quest Protein Powder Taste
Again, I think it's clear Quest tried to make a protein powder with a flavor that would work well in baking. That's the only explanation I can come up with for the taste of their Chocolate Milkshake flavor, which is surprisingly unpleasant.
You can tell there's cocoa, but mostly it tastes like artificial sweetener. I'd stick to blending it with milk (or a similar non-dairy beverage like almond milk) as it's pretty undrinkable with water.
Mixability
I threw my scoop of powder in a mason jar and shook it for at least twenty seconds and I still had a sizable clump. The rest of it mixed fine, and I think if you were to use a blender or a shaker cup with a blender ball, you might be able to avoid my problem.
The Takeaway
The good news is that it's low on artificial flavors, it has no soy, gluten, or corn, it's high in calcium and low in calories and fat. The bad news is that it's expensive and it doesn't taste good. If you want to experiment with the tasty-looking recipes splashed all over Quest Nutrition's website, then by all means, by a tub of their protein powder and get cooking!
But if you're looking for a low-calorie protein powder there are cheaper, better tasting, and more effective options on the market.
Other Great Protein Powders Reviews
Related Best Protein Powders Content