We all know protein is the priciest macronutrient and it's usually the toughest to prepare. (Raw carbs and fat can be found anywhere. Raw meat, not such a great idea.)
Time and again, the strength athlete's grace has been the almighty crockpot. "Set it and forget it" is the mantra of slow cooker devotees, and with the right seasonings, you can have extraordinarily flavorful protein with next to no prep time.
We scoured the web for the tastiest ways to prepare low-calorie protein, and here are our favorites. The best part? They're freezable, so you can make 'em in bulk and have a different lunch for weeks.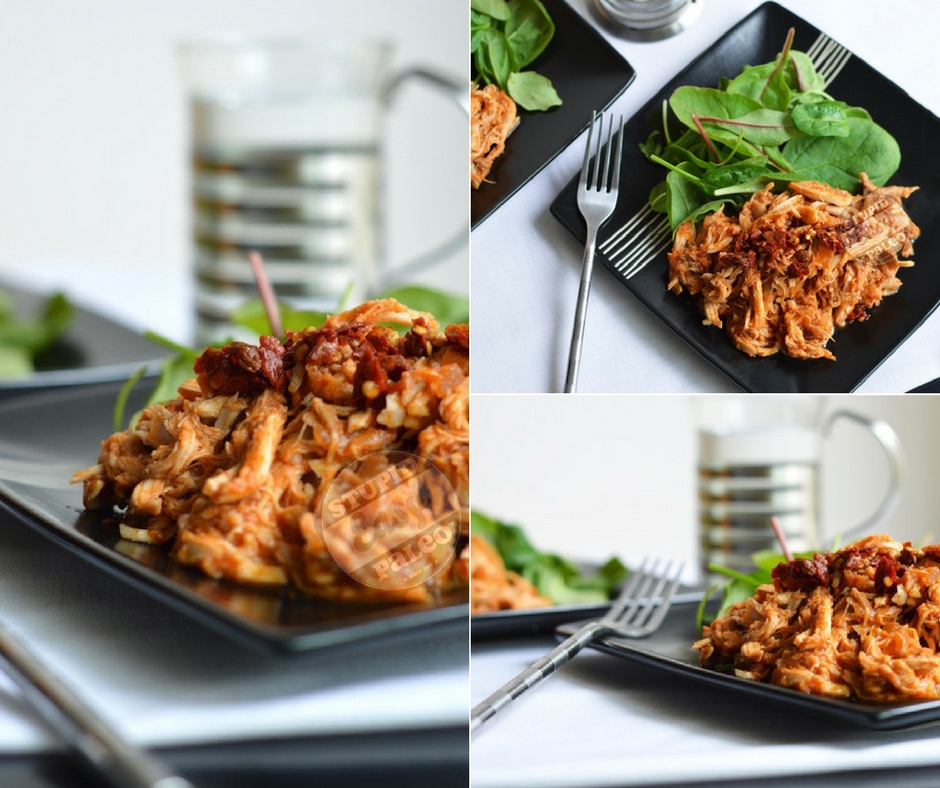 1. Kickin' BBQ Shredded Chicken
While this recipe is reminiscent of sweet 'n' salty BBQ chicken, there are just three tablespoons of honey for a whole, large chicken. The rest of the ingredients are vinegar, garlic, half a can of tomatoes, two tablespoons of fat, and some spices. Shred everything together and you've got a lot of tasty protein for very few calories.
The full recipe is here on NomNomPaleo and with a 4-pound chicken this makes four servings of about 400 calories, 43 grams of protein, 17 grams of fat, and 17 grams of carbs.
2. Slow Cooker Teriyaki Chicken
This is a little higher in carbs than the other recipes here but besides the honey, most of the ingredients — low-sodium soy sauce, rice vinegar, garlic, ginger — have next to no calories. Dump everything in the pot, walk away, and come back five hours later to tasty, Japanese-inspired chicken.
The full recipe is here on Crunchy Creamy Sweet and makes six servings of 279 calories, 33 grams of protein, 22 grams of carbs and 5 grams of fat.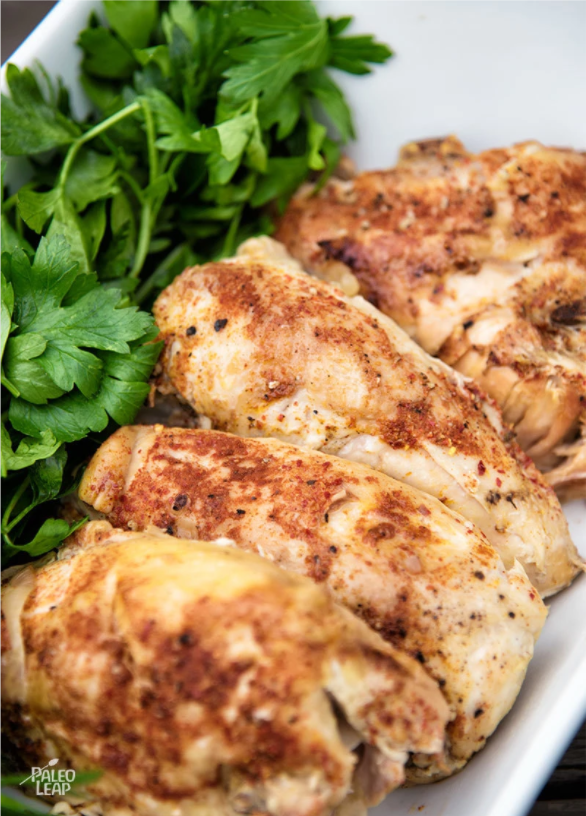 3. Simple Slow Cooker Chicken
Here's the simplest, lowest calorie, lowest sodium option you're likely to find, and it's stupid easy. All you need is chicken breasts, some powdered chili, paprika, and garlic, and a couple onions to cook everything on top of — dropping meat on onions is a brilliant tip for extra flavorful slow cooking.
Click through to Paleoleap for the recipe, which makes four servings that provide 60 grams of protein, 8 grams of carbs, and 16 grams of fat each.
4. Lemon Garlic Pulled Chicken
Garlic, lemon pepper seasoning, lemon zest, parsley, and chicken broth get thrown over chicken breasts in this super simple recipe that knows how to use low-calorie seasonings to their full effect. Pro tip: Cook it on high for three hours or on low for five.
Take a look over on Laa Loosh. This makes eight servings and with 5-oz chicken breasts, you're looking at a serving of 192 calories, 45 grams protein, 4 grams of carbs and 2 grams of fat.
5. Slow Cooker Honey Garlic and Sesame Chicken
A healthier version of the classic Chinese takeout, the main ingredients are garlic, ginger, honey, soy sauce, and sesame oil. With a quarter cup of honey for one chicken breast, it's not the cheapest or lowest calorie option, but it's great for when you need some post-workout carbs and protein.
Check it out on Closet Cooking. We recommend doubling the chicken to two breasts, which makes for four servings of 200 calories, 13 grams of protein, 25 grams of carbs, and 6 grams of fat.
6. Slow Cooker Greek Gyros
Easy to make and it only takes a few minutes to prepare, this recipe is pretty just lemon juice, red wine vinegar, garlic, oregano, onion, and some olive oil on top of chicken. Cook it for five hours and stuff it into pitas (or nix 'em) for a healthier take on Greek street food. Bonus: this includes a recipe for home-made tzatziki, though it's a little complicated. (We usually just mix random amounts of yogurt, shredded cucumber, lemon and garlic.)
Take a look on The Recipe Critic. Before adding pita bread and tzatziki (which is essentially two cups of yogurt and a tablespoon of olive oil), you're looking at four servings of 343 calories, 52 grams of protein, 3 grams of carbs, and 14.5 grams of fat.
7. Crockpot Buffalo Chicken
YES. We're not kidding, someone managed to make this low calorie dish taste like buffalo wings. The ingredients are just chicken breasts, Buffalo wing sauce, some dry ranch mix, some crushed garlic, and some optional butter. (Wing's sauce, like Frank's, usually has butter flavoring anyway.) Everything gets cooked together for five hours, shredded, then devoured. While the final product is low-calorie, you may have an overwhelming desire to drown it in ranch. (We won't blame you.)
The recipe's at Wanna Bite and produces 4 servings of about 311 calories, 48 grams of protein, 1 gram of carbs and 11.4 grams of fat — that's before you drown it in ranch!
Those are all our favorite ways to save time and hit our protein goals on a budget. Let us know your own favorite methods in the comments below.
Featured image via @alyssa_therecipecritic on Instagram, Stupid Easy Paleo, and Paleo Leap.