There's no denying that protein is a fundamental component of any diet and for people whose priorities include building muscle, losing fat, or managing hunger, increasing protein intake can be important. But protein is a tricky nutrient. Out of the three macronutrients (protein, carbohydrate, and fat), protein is typically the most expensive and the most difficult to consume when on the go. That's why ready to drink protein shakes are becoming increasingly popular, but with that popularity comes dozens of different options that can make it tough to find the shake that fits an individual's needs. That's why we looked at the available options to land on these picks for the best of the best protein shakes.
Best Protein Shake Overall: Iconic Protein Drink
To land on the best protein shake overall, we assessed the protein-per-calorie, the sweeteners used, the added sugar, the available flavors, and the additives. Here's what made the top of the list.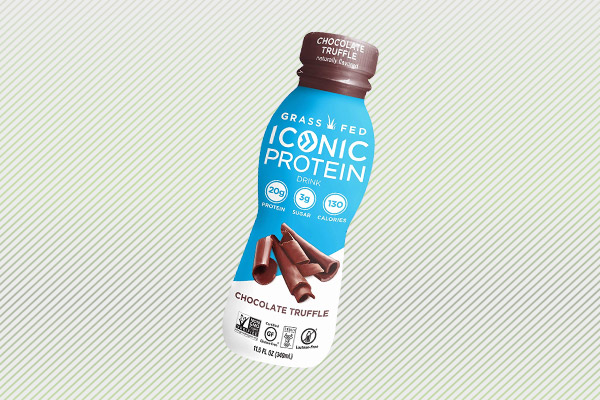 Iconic Protein Drink Highlights
A terrific all rounder that ticks just about every box, Iconic's pre made protein shakes provide 20 grams of protein, 8 grams of carbohydrates — with an impressive 4 grams of fiber — and 2 grams of fat. So it's low carb, low fat, high fiber, it contains no soy or gluten or artificial sweeteners, the protein's sourced from grass fed cows, It's low carb, free of soy and gluten, and it comes in six flavors.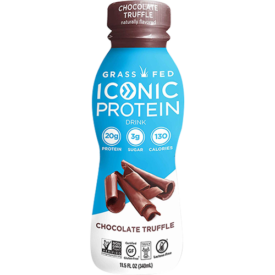 Free from artificial sweeteners, full of protein, pretty low carb, and available in six different flavors, Iconic is a solid option for a variety of different diets.
Who Should Buy Iconic Protein Drink
Those who prefer their dairy from grass fed cows.
People limiting artificial sweeteners and flavors.
Looking to combat inflammation? Talk to a doctor, but some of the six flavors available include powdered greens and turmeric, which may help in this regard.
Anyone looking to limit fat or carbs will be happy with the macros.
Who Shouldn't Buy Iconic Protein Drink
Those who like a rich, thick shake — some find the consistency to be quite watery.
The lack of artificial sweeteners means some consumers may find the taste a little underwhelming.
From Chocolate Truffle to Turmeric Ginger, there's something for everyone with these versatile, nutritious shakes.
Also Consider: Labrada Lean Body Ready to Drink Shake
Labrada has whipped up a mighty 40-gram dose of protein in their ready to drink shake, making it a terrific option for those who want a big hit of protein without sugar.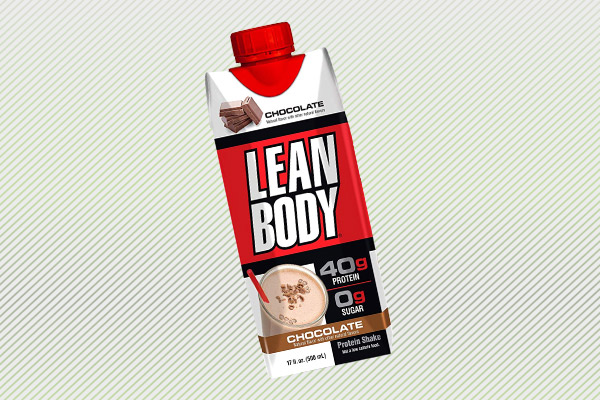 Labrada Lean Body Ready to Drink Shake Highlights
An ideal product for those looking to gain muscle, Labrada has a whopping 40 grams of protein per bottle with no sugar whatsoever. It also delivers a considerable five grams of fiber and a twenty-two of vitamins and minerals. It's anabolic, it's nutritious, it's sugar free, and there are eight available flavors to choose from. It's easy to see how this made the "recommended" list.
Labrada Lean Body Ready to Drink Shake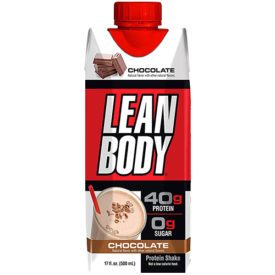 Labrada Lean Body Ready to Drink Shake
A high protein drink with no sugar or lactose, Labrada's protein shake is packed with 40 grams of protein, a good dose of fiber, and it's available in eight different flavors.
Who Should Buy Labrada Lean Body Ready to Drink Shake
Those who want a lot of protein: The Lean Body Ready to Drink Shake delivers a considerable 40 grams per serving.
Those who avoid sugar or lactose, as the product is free from both.
People who want some micronutrients with their shakes: this has a range of vitamins and minerals to boost its nutrition profile.
Who Shouldn't Buy Labrada Lean Body Ready to Drink Shake
Some consumers may object to the artificial flavors and sweeteners.
Those looking to minimize calories: with 280 per serve, this isn't the lowest calorie option on the market.
Labrada delivers a considerable dose of complete protein, a ton of vitamins and minerals, and no sugar or lactose. It deserves the accolades.
Best Low Carb Protein Shake: Isopure Zero Carb
If you're looking for something with the most protein per calorie possible, then you'd technically be looking for something as close to pure protein as possible. But a pure protein beverage doesn't exist, right?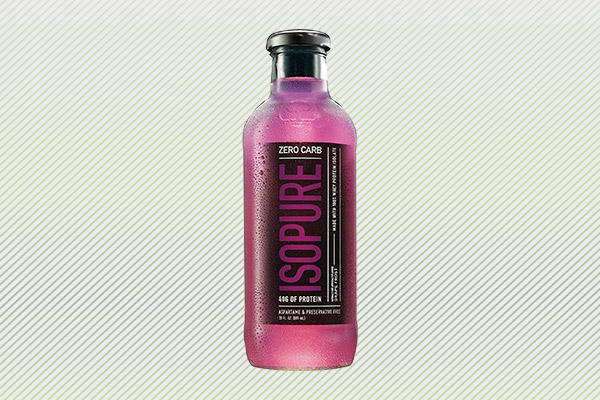 Isopure Zero Carb Drink Highlights
No carbs, no fat, 20 grams of protein. This is one of the most unusual products in protein, produced with a microfiltration process that creates a protein-packed drink that's completely clear. It used to be that protein drinks had to be creamy, but Isopure has made a range of fruity flavors like Alpine Punch, Apple Melon, Blue Raspberry, Mango Peach, and more. With these macronutrients, the product can fit into a wide variety of diets.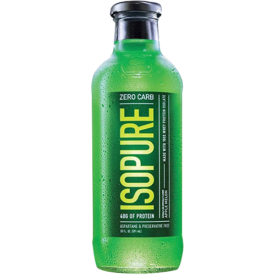 There are very few products that provide a big hit of protein with no carbs or fat whatsoever, but Isopure has managed to achieve this feat with an unusual microfiltration process that produces a totally clear drink that's full of whey isolate.
Who Should Buy Isopure Zero Carb
Low carb dieters, there are no carbs here.
Low fat dieters, there is no fat here.
Those with certain dietary restrictions: there is no gluten, lactose, or aspartame in these drinks.
People looking for a fruity protein popsicle could easily freeze this in molds!
Who Shouldn't Buy Isopure Zero Carb
Those who limit artificial ingredients: the product contains artificial sweeteners.
People who don't have a sweet tooth: some find these drinks to be too sweet.
We were blown away the first time we tried these drinks and while some find them a little too sweet, they've got about the most versatile macros on Earth.
Best Keto Protein Shake: ZonePerfect
If you're looking for a keto protein shake, you want a lot of fat, a moderate amount of protein, and as few carbs as possible. We liked the way ZonePerfect approached their well known shake.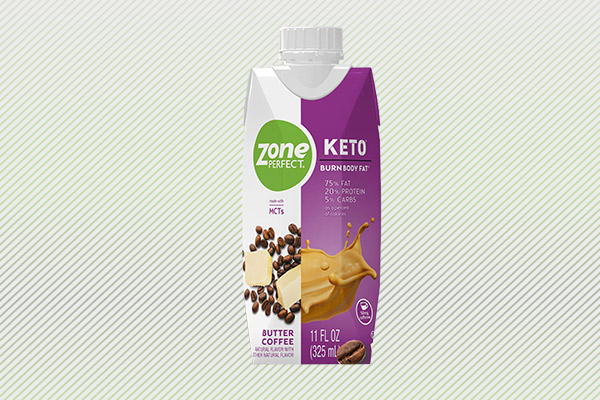 ZonePerfect Keto Protein Shake Highlights
ZonePerfect has produced a variety of high fat, naturally flavored shakes made with coconut cream and dairy, and they come in three flavors: butter coffee, pineapple coconut, and white chocolate coconut. With that kind of variety there's a flavor for anyone, but there's a special addition that elevates the product above the usual keto diet products: it contains added exogenous ketones, which may help to provide energy for those on low carb diets.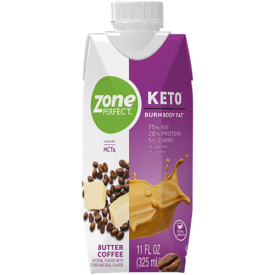 An all natural shake that's full of fat from coconut and dairy, plus there are added ketones, which many keto dieters value in their supplements.
Who Should Buy ZonePerfect Keto Protein Shake Highlights
Anyone who wants to minimize artificial ingredients or sweeteners.
Folks who like exogenous ketones added to their diets.
People who covet high in medium-chain triglycerides (MCTs), which are high in this product.
Who Shouldn't Buy ZonePerfect Keto Protein Shake Highlights
Penny pinchers: these are relatively expensive for protein shakes.
Those who confuse "keto" with "high protein, low carb." With 10 grams of protein per serving, it's not as high protein as many non-keto shakes, so they may not be useful to the average, non-keto dieter.
With three flavors on offer and exogenous ketones in the mix, ZonePerfect is definitely the best pick for ready-to-drink keto shakes.
Best Vegan Protein Shake: Vega Protein Nutrition Shake
A lot of vegan protein shakes wind up really high in carbs — and high in unwelcome "nutty" flavors. Vega has been in the game for years and has come closer than anyone to perfecting the formula.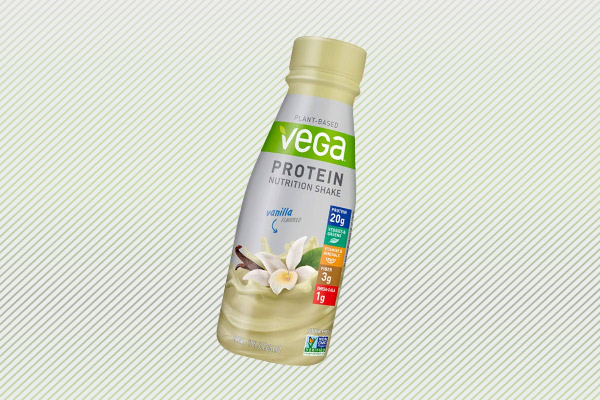 Vega Protein Nutrition Shake Highlights
Vega's protein supplements have stormed the market for good reason. Not only are they free from soy, which some consumers try to limit, but the protein comes from four different plant-based sources: pea protein, flaxseed, sunflower seed protein, and pumpkin seed protein. But there's more than protein, here: there are 2 billion probiotic bacteria per bottle, one gram of Omega-3s, and over 20% of the RDI of over a dozen vitamins and minerals.
Vega Protein Nutrition Shake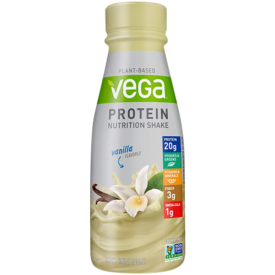 Vega Protein Nutrition Shake
Packed with 20 grams of protein from pea, sunflower seed, pumpkin seed, and hemp, Vega's protein shake is available in a variety of flavors and it includes a wide range of vitamins and minerals.
Who Should Buy Vega Protein Nutrition Shake
Anyone looking to reduce their intake of animal proteins.
Those wary of soy — there's none here.
Those who want more than protein from a shake: Vega's drink provides about 25 percent of the recommended daily intake of a suite of micronutrients including Vitamins B12, D, and K.
People who prefer "natural" products — there are no artificial flavors or sweeteners.
Who Shouldn't Buy Vega Protein Nutrition Shake
With 13 grams of carbs for 20 grams of protein, it may not be ideal for low carb diets.
The product isn't 100% organic, which is a priority for some consumers.
Vega has done a solid job of delivering a complete, soy-free protein shake that doubles as a multivitamin — and there's even a gram of Omega-3s.
How We Decide the Best
When perusing the huge variety of protein drinks on the market, it can be hard to know what to look for when picking the best for you. Here are the criteria we looked at.
Protein Content
This one's obvious, but a lot of people don't know what a standard serving of protein looks like. The answer is at least 20 grams, and all of the products we chose — except the keto shake, for the reasons listed above — had at least this much. This is because, particularly with regard to dairy based shakes, 20 grams is a good minimum to reach in order to ingest enough of the amino acid leucine to trigger muscle protein synthesis.
Calories Per Gram of Protein
It's good to get 20 grams of protein, but if you need to drink a thousand calories to get those 20 grams, then it's not an effective means to get your protein. The best possible amount of calories per gram of calorie you can get is 4 – that's pure protein, which you'll get in the Isopure Zero Carb product — and we preferred products that kept the calorie count on the lower side. (Again, except for the keto drink.)
Sweeteners
There are three artificial sweeteners you're most likely to find: aspartame, sucralose, and acesulfame potassium. There's probably nothing wrong with artificial sweeteners, but given there's no shortage of people who try to limit them we made sure to note if they were present in the products.
How Much Protein Do I Need?
There's a difference between the amount of protein that the FDA recommends to avoid winding up with a deficiency, and the amount of protein that is ideal to manage hunger and maintain a beach ready physique.
The FDA has a blanket recommendation of 50 grams per day for everybody. But for folks who work out regularly and want to look like it, it's a different story. There's a lot of debate, but the most influential paper here was published by the American Dietetic Association, Dietitians of Canada, and the American College of Sports Medicine in 2009, and ten years later the International Association of Athletic Federations published the exact same recommendations: 1.2 to 1.7 grams of protein per kilogram of bodyweight every day, or 0.54 to 0.77 grams per pound of bodyweight.(1)
Some athletes consume more, even exceeding 1 gram per pound of bodyweight, and while it doesn't appear that this has a negative effect, it's not necessary to eat this much. But if one simply enjoys eating that much protein, eating 1 gram or more per pound of bodyweight doesn't appear to have a negative effect. There's some evidence that for advanced bodybuilders with significant muscle mass who are also trying to lose fat — that is, are maintaining a big calorie deficit — a higher intake of 2 to 3 grams per kilogram of bodyweight (1 to 1.3 grams per pound) might be useful for retaining muscle.(2)(3) But this isn't necessary for the average person who works out a few times a week.
Remember that losing fat and gaining muscle has a lot more to it than just protein intake. Your overall calories are absolutely critical, as are your workouts, micronutrient intake, sleep quality, and more. But protein is an important piece of the puzzle so once you know your calories, these guidelines can be useful to working out how many of those calories should be made up of protein.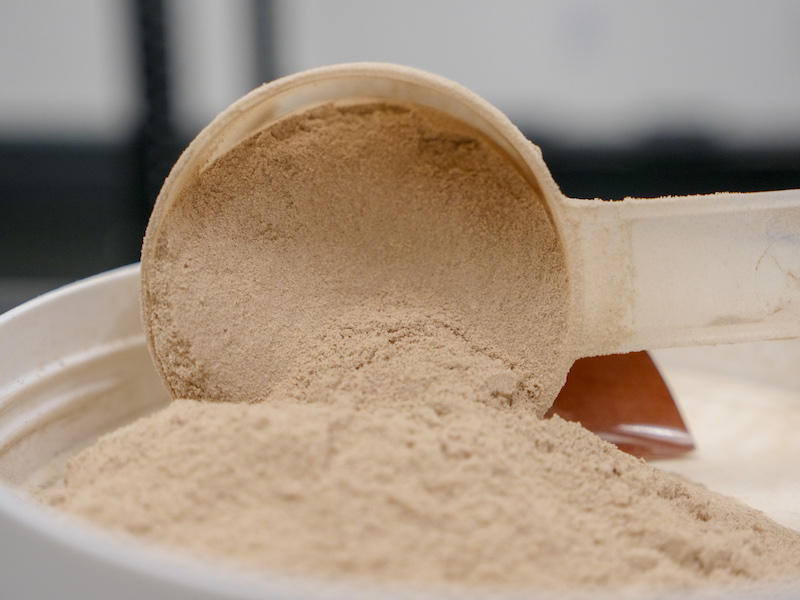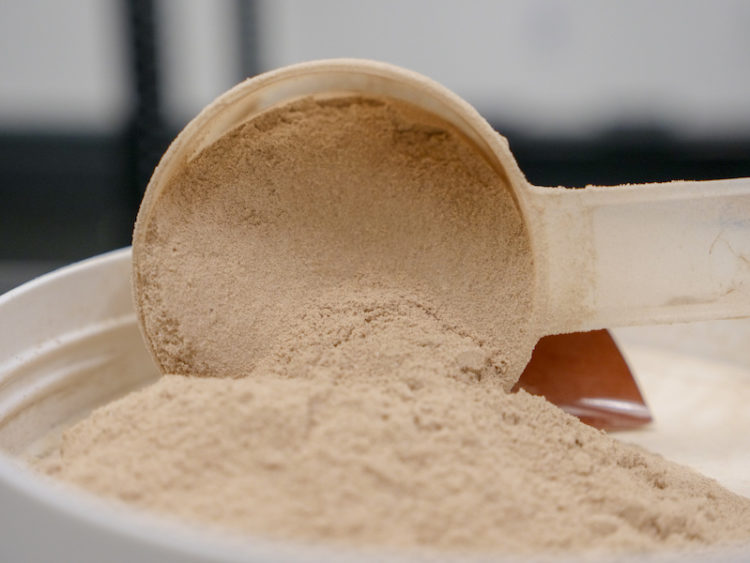 Before Buying a Protein Shake
So you want to try a ready to drink protein shake? Here are a few tips to keep in mind so that you know what to expect.
Know Your Serving Size
To maintain muscle, there's some evidence that it's best to consume at least 20 to 30 grams of protein at a time. This should provide enough of the right amino acids (the building blocks of protein) to promote muscle protein synthesis.(4)
Dosage May Depend on Your Age
Because of a phenomenon called "anabolic resistance," it's harder to gain and maintain muscle as you age. Some research suggests that to trigger muscle protein synthesis, it's best for adults over 50 to consume at least 40 grams of protein at a time.(5)(6)
Understand Protein Quality
There's a lot of debate about the importance of a protein's "quality," a term that refers to the balance of amino acids in the protein. Animal based proteins are of the highest quality (that includes whey, casein, and egg) but provided you're consuming a good amount (20 or more grams) at a time then plant-based sources like soy, pea, hemp, oats, legumes, and most other vegan proteins deliver enough of the amino acids associated with muscle growth.(3)
Get the Full Picture
It bears repeating that gaining or maintaining muscle requires more than protein: it's important to work out how many calories you need for your goal (eg. weight loss or weight gain) and to have a dedicated exercise regimen, plus it's important to get plenty of sleep and a lot of fruits and vegetables for important micronutrients.

Wrapping Up
For many people, diet can be the hardest component of gaining muscle or losing fat, and keeping protein intake relatively high is often the biggest challenge. Some of these products contain 40 grams of protein while others are as low as 10 grams, what's important is finding the best protein shake that fits your goals and lifestyle so that achieving your goals can be as easy as possible. Bottoms up!
Frequently Asked Questions
How much protein should I consume at once?
It depends on the source, but a minimum of 20 to 30 grams of protein at a time is preferable in order to provide you with enough of the amino acid leucine to stimulate muscle protein synthesis.
Is whey the best protein?
Whey is a hugely popular supplement because it's tasty, inexpensive, and high quality. It's extremely high in leucine, an amino acid that stimulates muscle protein synthesis, and easily absorbed. However, so long as you're getting at least 20 grams of protein, most protein sources — with the exception of nuts, rice, and seeds — will have enough leucine to help with muscle.
Are ready to drink protein shakes healthy?
"Healthy" means a lot of things, but there's nothing wrong with buying pre-made protein shakes. The only exception is if, for whatever reason, you want to limit your consumption of soy, artificial sweeteners, artificial flavors, gums, or lactose, which they often include.
References
Rodriguez NR, et al. Position of the American Dietetic Association, Dietitians of Canada, and the American College of Sports Medicine: Nutrition and athletic performance. J Am Diet Assoc. 2009 Mar;109(3):509-27.
Helms ER, et al. Evidence-based recommendations for natural bodybuilding contest preparation: nutrition and supplementation. J Int Soc Sports Nutr. 2014 May 12;11:20.
Breen L, et al. Leucine: a nutrient 'trigger' for muscle anabolism, but what more? J Physiol. 2012 May 1;590(9):2065-6.
Yang Y, et al. Myofibrillar protein synthesis following ingestion of soy protein isolate at rest and after resistance exercise in elderly men. Nutr Metab (Lond). 2012 Jun 14;9(1):57.
Yang Y, et al. Myofibrillar protein synthesis following ingestion of soy protein isolate at rest and after resistance exercise in elderly men. Nutr Metab (Lond). 2012 Jun 14;9(1):57.
Phillips SM, et al. The role of milk- and soy-based protein in support of muscle protein synthesis and muscle protein accretion in young and elderly persons. J Am Coll Nutr. 2009 Aug;28(4):343-54.