While they do sell a protein bar, Orgain is a company that focuses heavily on its shakes — kids' shakes, whey shakes, ready-to-drink shakes. It's probably safe to say that their flagship product is the vegan one, Organic Plant Based Protein Powder. I decided to take Vanilla Bean for a spin and found it's an all natural protein powder that's much creamier than its competitors.
Orgain Organic Protein Plant Based Powder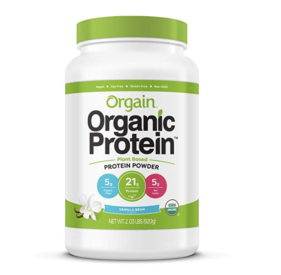 Orgain Organic Protein Plant Based Powder
Orgain Organic Protein Plant Based Powder offers 21 grams of protein per serving, along with 5 grams of fiber and net carbs!
Orgain Organic Protein Plant Based Powder Ingredients
Everything here is organic. The first ingredient is the protein blend itself, which is comprised of pea, brown rice, chia seed, and hemp.
Then there's an interesting "Creamer Base™" of acacia gum, inulin (a type of fiber), rice dextrins, rice bran extract, and rosemary extract.
The rest are mostly sweeteners, thickeners, and stabilizers: erythritol, natural flavors, sea salt, guar gum, xanthan gum, acacia gum, stevia, and monkfruit extract.
Orgain Organic Protein Plant Based Powder Nutrition Info
One serving is two scoops and contains 150 calories: 21 grams of protein, 3.5 grams of fat (no saturated fat) and 15 grams of carbs (5g fiber, 5g sugar alcohol, 1 gram sugar).
It's noteworthy that there are no vitamins listed on the nutrition label at all, though one scoop does contain 4 percent of your daily calcium and 15 percent of your daily iron. It's a little bit high in sodium at 8 percent of your daily intake or 180 milligrams.
Orgain Organic Protein Plant Based Powder Benefits and Effectiveness
I'll discuss all the flavorings in the "Taste" section below, so let's focus on the rest of the ingredients here. Firstly, this product does a good job of being soy-free while still offering complete proteins. I would have preferred it to list how much of each amino acid is contained in one scoop, but I'm nonetheless confident that pea, brown rice, chia, and hemp provide all the essential amino acids.
There's nothing to write home about in regards to the vitamin content, since there aren't any listed. But a definite bonus of this product is the 4 percent of your daily calcium and 15 percent of your iron, two minerals that can sometimes be a little tough to get on a plant based diet. That said, I would have liked at least some Vitamin C in this product, which helps plant based iron to absorb.
This isn't a particularly low carb protein powder: 15 grams of carbs for 21 grams of protein. The carb count is a little controversial because some folks feel that carbs from fiber and carbs from sugar alcohol (the erythritol) don't "count," or don't absorb the same way regular carbs do like starches and sugars. It's hard to make a statement either way on this one, but I will point out that among some people, sugar alcohol can cause digestive problems like gas and cramping. Extra sensitive stomachs may be wary.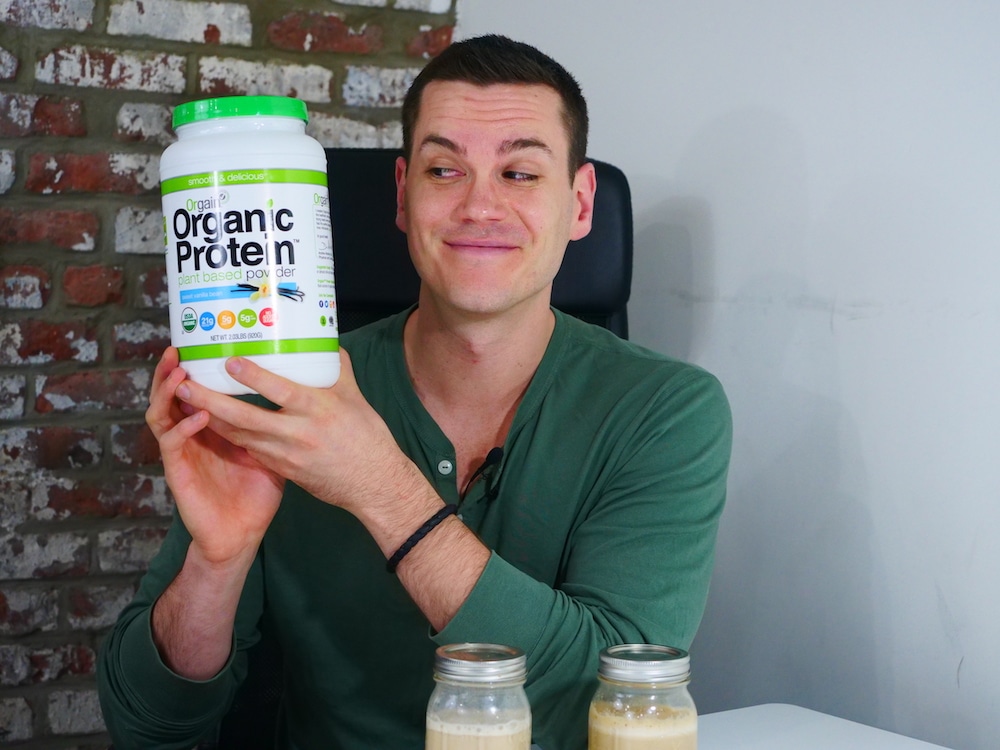 Orgain Organic Protein Plant Based Powder Price
You can pick up 2.03 pounds, or twenty servings of two scoops a piece, for $26. That's $1.30 per scoop or 6.2 cents per gram of protein. That's a pretty middle-of-the-line price for an organic, soy-free vegan protein powder, though I will point out that most organic vegan protein powders I've tried at this price were lower in carbohydrates.
Orgain Organic Protein Plant Based Powder Taste
I quite liked the taste, perhaps because this has three different sweeteners: stevia, monkfruit, and erythritol. A lot of similar products I've tried have been overwhelmingly nutty and while Orgain is nutty — it tastes a little like defatted peanut butter with vanilla mixed in — thanks to the unusual "Creamer Base" this also tasted relatively creamy even with water.
I want to emphasize that even when it was just mixed with water, it still tasted pretty creamy. So if you'd rather keep your calories to a minimum or if you often find yourself without anything else to mix it with, you're in luck: this tastes pretty good with water.
Mixability
There's no lecithin in this product so I was expecting to find big clumps of powder in my mouth. Surprisingly, I found it mixed pretty well with almond milk. Mixability wasn't a 10 out of 10 — there were still a few small clumps — but it was definitely above average. As I expected, it mixed even better with water.
The Takeaway
I quite liked Orgain, mostly because it's creamier, it mixes better, and it has more iron than some other vegan protein powders I've tried. I thought it was a tiny bit expensive for the carb count and I'm never crazy about protein powders that have two scoops per serving, but this is among the better organic vegan protein powders.
Related Best Protein Powders Content
Other Great Protein Powders Reviews