We receive free products and receive commissions through our links. See
disclosures page
.
Pro Jym is the brainchild of Dr. Jim Stoppani, a man with a Ph.D. in exercise physiology and a long tenure in fitness media. He was the senior science editor at Muscle & Fitness and Flex for over 10 years, and he co-wrote the New York Times bestseller LL Cool J's Platinum 360 Diet and Lifestyle.
In 2013, he launched a supplement line called Jym, well-known for its pre-workouts, which includes multivitamins, fat loss pills, and testosterone support. Below is a review of their flagship protein powder — Pro Jym. This protein powder is touted for being a great "anytime" shake with its unique blend of whey isolate, casein, and egg white proteins. We took a deep dive into Pro Jym's nutrition, ingredients, benefits, taste, and more.
Main Takeaways
At 24 grams of protein per 150-calorie serving, this is a well-balanced powder for macro-conscious athletes.
It is priced slightly higher than several larger brands, but is more affordable than many comparable small-brand options.
The Chocolate Mousse flavor, in particular, is excellent. Other flavors have hints of artificial sweeteners come through.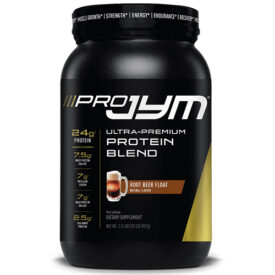 Pro Jym offers a blend of fast, moderate, and slow-digesting proteins for a versatile shake that can be taken at any time. Each two-pound tub provides 23 servings loaded with 24 grams of protein each.
Pro Jym Video Review
Check out our video review of Pro Jym Protein Powder, where we check out how it tastes shaken with 2 percent milk or water, and break down its nutrition info.
Editor's note: The content on BarBend is meant to be informative in nature, but it should not be taken as medical advice. The opinions and articles on this site are not intended to diagnose, prevent, and/or treat health problems. It's always a good idea to talk to your doctor before beginning a new fitness, nutritional, and/or supplement routine. Individual needs for vitamins and minerals will vary.
[Related: The Best Whey Protein Powders For Vegans, Weight Loss, And More]
Pro Jym Protein Powder Highlights
Flavor and texture are the two standouts for this product. It has good mixability in water and milk to deliver a rich flavor (assuming its artificially sweetened taste isn't a turn-off). Each serving contains 150 calories, which is slightly higher than many competitors on the market, but the 24 grams of protein loaded into each scoop is a solid trade-off.
The price range varies between $33 and $35, which means it's more expensive than the bigger brands like Optimum Nutrition, but still more affordable than most of its similar-sized counterparts. With so many protein powder options available, let's see if this one best fits your needs.
Who Should Buy Pro Jym Protein Powder
Athletes looking for a protein drink that delivers decent calories and protein between training sessions.
Those who prefer a creamier texture — this product's Clean Cream™ formula provides this.
People who like to shake their protein powder with just water, and need a product that mixes well.
Who Shouldn't Buy Pro Jym Protein Powder
Anyone who dislikes the taste of artificial sweeteners. You can taste that this product has been artificially sweetened.
People who are lactose intolerant — this product does contain less than half a gram of lactose.
Pro Jym Protein Powder Overall
Pro Jym offers a reasonably balanced protein powder that delivers a creamy-textured drink and a macronutrient breakdown sufficient for most athletes post-workout. It does use artificial sweeteners to achieve a taste reminiscent of a decadent dessert, but it mixes well and displays good transparency on its nutrition label.
Pricing and Buying Options
Two pounds of Pro Jym can be yours for approximately $34 on Amazon, or $1.41 per serving. Four-pound tubs are roughly $60 for 46 servings ($1.30 per serving). With a four-pound tub, the cost of each gram of protein is 5.4¢.
Jym's reputation is that it's expensive, but it's honestly not. Sure, most common protein powders are between 3.5 and 4.5¢ per gram of protein, but 5.4¢ isn't that large of a jump. It may not be as cheap as Optimum Nutrition and Musclepharm, but it's more affordable than Dymatize, Prettyfit, Quest, Ghost, and more boutique brands like Xwerks. Pro Jym is pricier than alternatives, but it's far from outrageous.
Formulation​
Pro Jym Protein Powder provides a pretty solid bang for your buck in the protein content department. Though its balance of macros make it a great supplement at any time of the day, it is prime following a training session. However, if you're not into artificial sweeteners, this product's flavor could certainly catch some off guard, as could its lack of digestive enzymes.
Macro Breakdown
One scoop of Pro Jym provides:
All of that taken into account, this product is not super low in calories, fat, or carbs. Dr. Stoppani said this is because it's intended to be a versatile, slow-digesting "anytime shake" rather than a strict, fast-digesting, nothing-but-protein shake.
Protein
At 24 grams of protein per serving — nearly half of the recommended daily intake (RDI) — Pro Jym Protein Powder is no slouch delivering on its namesake. Compared to other protein options on the market, Pro Jym Protein Powder falls in the middle, as some may be as low as 20 grams of protein per serving, or as high as 30 grams per serving.
Fat
Four grams of fat per serving is more than many comparable protein powders on the market. However, with that comes the additional creaminess to the texture that can be the difference between it feeling like a treat or a chore to drink. With only half a gram of saturated fat, this may be worth the trade-off for those who prioritize flavor.
Carbs
Not everyone is going to be okay with more than one carb in their protein powder. However, carbs paired with protein may help replenish muscles post-workout by boosting glycogen storage and muscle protein synthesis. People trying to keep sugar at bay are in good hands as there is only one gram per serving in this powder. Plus, its two grams of fiber may be welcome for those who are trying to sneak a little more fiber into their diets.
Micronutrients
As far as micronutrients go, Pro Jym is high in calcium at 32 percent of the recommended daily intake per serving — most protein powders are closer to 15 percent. It's about average for sodium with eight percent of the RDI (200 milligrams), and pretty low in cholesterol with five percent of the RDI (15 milligrams).
Protein Blend
There's a lot to talk about with these ingredients since Pro Jym doesn't just use one type of protein in its powder. First of all, this is a protein blend made from micellar casein, milk protein isolate, whey protein isolate, and egg white. Milk protein is an 80/20 mix of casein and whey, and the final breakdown of protein is 50 percent whey isolate, 40 percent casein, and 10 percent egg white — the breakdown is provided on the tub itself in a nice display of transparency. Since whey isolate absorbs fast while casein and egg absorb over the course of a few hours, this blend is great for any time of the day, as it's less likely to lead to digestive distress than a single type of protein.
Clean Cream™
Pro Jym also contains Clean Cream™, a vegan blend of powdered fats intended to give a creamy taste and texture without any, well, cream. It's made mostly from sunflower oil, acacia gum, brown rice syrup, natural flavors, silicon dioxide, sunflower lecithin, and D alpha tocopherols — that's just a fancy word for Vitamin E. The Chocolate Mousse, Tahitian Vanilla, and Banana Cream flavors all contain Clean Cream™.
Artificial Flavors
There are both natural and artificial flavors in this product. These include a gum blend of cellulose, xanthan, and carrageenan (those are thickeners and stabilizers); salt; sunflower lecithin for mixability; the artificial sweeteners sucralose and acesulfame potassium; and silicon dioxide, which is usually used as an anti-caking agent, but it can also help to carry flavor. It's worth noting that the artificial sweeteners lead to a very sweet taste that may be a turn off for those who typically prefer natural sweeteners.
What To Consider Before Buying Pro Jym Protein Powder
As this is a blend of whey, casein, and egg, the whey isolate absorbs quickly, while the egg and casein absorb slowly over a few hours. This makes it a good "anytime" shake and unlikely to lead to an upset stomach.
Digestive Enzymes
That said, Pro Jym doesn't contain any digestive enzymes, which is rare. Dr. Stoppani addresses this directly on his site, basically saying he thinks studies on supplementary enzymes are flawed, and it's not worth including them. He also says that digestion issues are less likely with a blend.
Lactose
Additionally, Jym protein contains less than a gram of lactose, which shouldn't cause issues for most. However, Jym does contain lactose, so be cautious if you're extremely sensitive to it.
Mixability and Taste
The Chocolate Mousse flavor mixed great. That's particularly notable since this product uses sunflower lecithin instead of soy lecithin, which usually affects mixability.
When trying Pro Jym, their reputation for having great taste was not unknown. The real piece of intrigue was the Clean Cream™ in the ingredients list. While it was tasty, it was a bit reminiscent of space food in that the artificial sweetener flavor came through. It's better than some of its competitors, like Quest protein powder, which also contains a lot of casein and tastes dreadful. Still, Pro Jym wasn't as tasty and milkshake-y as the chocolate flavors from Optimum Nutrition.
Final Word
Pro Jym Protein Powder is slightly pricier than average but is offset by the very high-quality protein that can be consumed any time of day. It should affect satiety (and prolong muscle protein synthesis) better than a protein powder made from just one type of protein. Although the taste did leave something to be desired, the texture was excellent, and the science behind it is quite impressive.
FAQs
Is the Pro Jym Protein Powder worth the money?
Although Pro Jym Protein Powder is not as affordable as the larger protein brands like Optimum Nutrition, it's not that much more expensive. The mixability and rich, creamy texture Pro Jym provides are likely worth the extra cents per serving for those who value that.
Will I see results from Pro Jym Protein Powder even if I'm a beginner?
Supplements are not the same as good nutrition and a consistent training routine. Assuming that diet and training are on point for your goals, this protein powder can be a good addition if you're looking to get a certain amount of protein in your diet.
Should I use Pro Jym Protein Powder daily?
Pro Jym Protein Powder is touted as a good drink any time of day. That being said, it is likely good if your diet needs the additional boost of protein — meaning you aren't getting a sufficient amount of protein via whole foods in your diet. It's unlikely any protein powder should replace whole foods as the main protein source, but it can supplement your protein needs, particularly post-workout.
Pro Jym Protein Powder Blend
Per Seving: $1.22