When it comes to picking the right supplements to improve your performance or recovery, a protein powder is usually a good place to start. With hundreds of options on the market today, the prospect of picking the right powder can be daunting, but have no fear, we've done the in-depth research to help you get your footing.
The Illinois-based BSN (that stands for Bio-engineered Supplements & Nutrition) sells six kinds of protein powder, protein bars, creatine, pre-workout and a lot more, but their best-known supplement is Syntha-6, which is labeled "an ultra premium lean muscle protein powder." While this protein has been around long enough to make a name for itself, we think it's worth diving in and taking a revised look at this popular protein.
Main Takeaways
BSN is a household name in the supplement industry, lending credibility to their Syntha-6 Protein Powder, which has been on the market for many years. 

A

unique macronutrient profile

sets this powder apart from other protein supplements. 

Many of the secondary ingredients, while potentially helpful, may not add to the efficacy of the supplement overall.
BSN Syntha-6 Protein Powder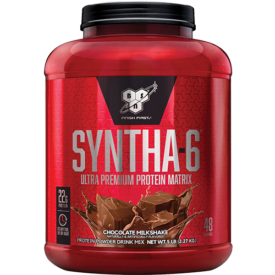 BSN Syntha-6 Protein Powder
This protein is great for an all-around snack with 22 grams of protein, 15 grams of carbs, and 6 grams of fat. The long ingredients list can be a pro or con depending on if you're a protein purest, or someone looking to cover a lot of needs in one shake. 
Who Should Buy the BSN Syntha-6 Protein Powder
Those looking for a protein supplement that offers more than just the bare essentials.

Anyone wanting a powder that is well-suited to being taken in the evening or before bed.

Athletes who are specifically interested in

getting their protein from varied sources

.
Who Shouldn't Buy the BSN Syntha-6 Protein Powder
Customers that prefer a more natural product with few additives.

Anyone who specifically wants the highest amount of protein per serving.

Buyers on a budget or those who want to get the absolute most value for their dollar.
BSN Syntha-6 Protein Video Review
We like video reviews, and we think you do too. If you'd like a helpful visual on BSN's Syntha-6 protein, as well as a few additional thoughts we have about the product, be sure to have a look.
BSN Syntha-6 Protein Powder By the Numbers
​
Servings: Available in tubs of 28, 48, or 97 servings.
Pricing: The 28-serving tub cost can vary by flavor, but lands roughly around 30$.
Flavors: Comes in a wide swath of flavors, though some are often unavailable.
Protein: Each serving contains 22g of protein from multiple sources.
The nutrition is pretty much the same across all flavors. One scoop contains:
200 calories
22 grams of protein
15 grams of carbohydrates (5 grams fiber)
6 grams of fat (2 grams saturated fat)
BSN Syntha-6 Protein Powder Overall
BSN presents something relatively unique with their Syntha-6 Protein Powder. Having been on the market for almost twenty years, it sets itself apart with bold packaging and a nutrient label that may seem strange at a glance. A staggeringly long list of ingredients and additives comes alongside an uncommon macronutrient breakdown that may look more like a meal replacement shake than a standard whey.
Price and Buying Options
​
The BSN Syntha-6 Protein Powder can be found on Amazon as well as BSN's website, with the latter having a more exhaustive flavor selection. The pricing comes in a tad higher than other recognizable names in the industry when considering the quality of the protein; other brands like Transparent Labs and Isopure are available at competitive prices while also being predominantly composed of higher-quality whey isolate than BSN's multi-blend design.
Formulation
​
BSN Syntha-6 isn't just a whey protein powder. It contains whey (two kinds: concentrate and isolate) but the "Protein Matrix" also has calcium caseinate, micellar casein, milk protein isolate, egg albumen (that's egg white), and glutamine peptides.
The rest of the ingredients include: thickeners and stabilizers like disodium phosphate, artificial sweeteners like sucralose (Splenda®) and acesulfame potassium, artificial colors, and ingredients to help mixability like soy lecithin.
There are also ingredients that are probably included for their healthful properties, like tricalcium phosphate (a kind of calcium), bromelain (an enzyme linked to decreased muscle soreness and inflammation), papain (an enzyme to improve digestion), and medium-chain triglyceride fats, as well as ingredients that are kind of in-between, like polydextrose. That's a type of synthetic fiber, but the jury is out as to whether it has the same benefits as the stuff you'll find in oats and beans.
As far as allergens go, this contains dairy, soy, wheat, egg, and corn (from corn syrup solids).
Ultimately, there's a long list of ingredients in the formulation. While this may be a red flag for some buyers, a long list of additives isn't strictly a bad thing, and may actually be advantageous depending on your needs. It would be irresponsible to say that just because an ingredient is synthetic, it's bad for you. That said, a lot of these additives are controversial among health-conscious folks, so depending on your dietary restrictions (self-imposed or otherwise), the ingredients label may give you pause.
Macronutrient Profile
​
Syntha-6 comes with a macronutrient breakdown that you will likely not find elsewhere on the market today, for better or worse. Its 200-calorie serving is composed of 22g of protein, an inordinately high 15g of carbohydrate, and 6g of dietary fat to boot.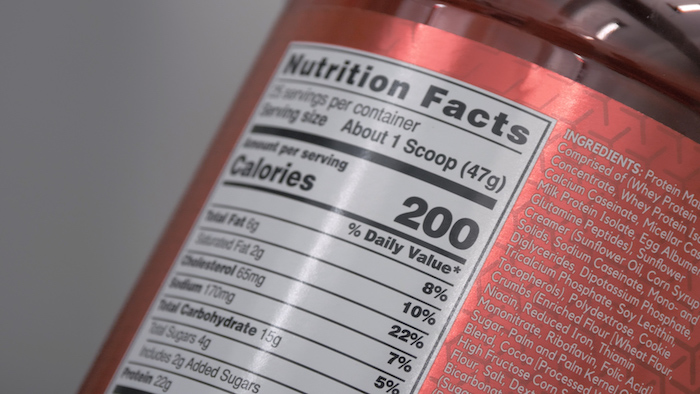 With only 44% of its calories coming directly from protein — compared to other big names such as Optimum Nutrition Gold Standard (80%) or Transparent Labs Grass-Fed Isolate (93%) — it is almost disingenuous to call Syntha-6 a protein powder.
Protein Blends
While some brands opt to build their protein content from a single source, BSN Syntha-6 goes in the opposite direction, filling its protein out with a blend that includes Whey Isolate, slow-digesting Micellar Casein, and more. This makes it well suited for ingestion any time of day, particularly in the evening due to the casein and egg.
Related: 5 Steps for Restful Sleep After Late-Night Workouts
Amino Acids
A tangential benefit of the varied protein sources is the guarantee of a comprehensive amino acid profile. The BSN Syntha-6 Protein Powder comes with 10g of essential amino acids that are critical for rebuilding damaged muscle tissue from strenuous training.
Sugar and Sweeteners
​
Part of the Syntha-6 calorie content includes 15g of carbohydrate, which comes with several grams of added sugars. While some level of added sugars are common in protein powders, it is worth mentioning specifically. There is also a notable presence of sucralose and acesulfame potassium, two common artificial sweeteners, as well as soy lecithin for taste and mixability.
Vitamins and Minerals
While the BSN Syntha-6 Protein Powder does contain a hefty dose of your daily calcium requirements (15% per serving), it also comes with some other potentially less attractive micronutrient dosages. 55mg (or 18% RDI) dietary Cholesterol and 180mg of sodium stick out alongside the presence of soy, egg, and wheat, which may irritate those with certain allergies or medical conditions.
Related: The Surprising Benefit of Salt for Strength Athletes
Mixability
Owing to all the synthetic thickeners, stabilizers, and mixability-enhancers (like soy lecithin), this mixes exceedingly well. Shake it for ten seconds and enjoy.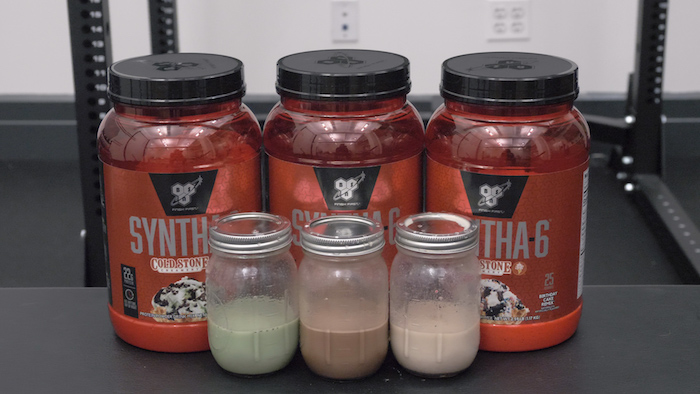 BSN Syntha-6 Taste
Chocolate Milkshake: A phenomenlly rich, creamy chocolate that tastes like a milkshake even when mixed with water.
Germanchökolätekäke: A richer, darker flavor than the milkshake, this is a lot closer to a super dark chocolate cake than a milkshake.
Banana: Banana is a tough flavor to get right with protein shakes, and this is the best one I've tried. It's a tad closer to Tutti Frutti but it goes down like a banana milkshake.
Mint Mint Chocolate Chocolate Chip: My least favorite flavor that reminded me a bit too much of toothpaste. The artificial flavors come on a little too strong.
Birthday Cake Remix: Less a substitute for vanilla and more akin to a spoonful of frosting, this does taste like you're licking the top of a cupcake.
It's no small feat for a protein powder to taste great with water, and it's a big upside to all of the additives that made it happen.
Factors to Consider Before Buying
If you still aren't sure about whether BSN Syntha-6 Protein Powder is the right product for you, here's a rundown of some important aspects to consider in greater detail.
Brand Recognition
BSN's name recognition should make this a safe purchase if you have quality concerns. Syntha-6 has been available for many years, speaking to its popularity among consumers and reliability of the brand itself.
Formulation and Composition
The macronutrient breakdown of Syntha-6 may be a deterrent for some buyers and a perk for others. It is extremely common for protein supplements to be, unsurprisingly, high in protein content and low in carbs and fat. BSN goes in the opposite direction, with Syntha-6 offering nutrition that resembles a meal replacement shake more than a lean protein source.
Related: Are Meal Replacements Actually Healthy?
Functionality and Applicability
The unusual nutritional content of Syntha-6 makes it potentially suboptimal for those looking to get as much extra protein as possible, however it does gain some ground among buyers needing a supplement that covers multiple dietary weak points all at once.
Taste
For a supplement that can duo as both a protein powder and meal replacement, BSN Syntha-6 delivers in spades regarding taste and mixability. The added sweeteners and emulsifiers make for a convenient and delicious experience according to many reviews and our own extensive taste testing — hey, there are certain perks to this job we highly enjoy.
Value
Like any product, it is important to understand in plain terms what you are getting for your dollar. As already stated, the pricing of BSN Syntha-6 could be considered high when looked at through the lens of protein content and quality alone, and if that is your number one concern, there are likely better options out there.
Related: Five Uncommon Supplements to Boost Your Power
Wrapping Up
The bold and bright packaging of BSN Syntha-6 Protein Powder is appropriate given the claims it makes and the content of the supplement itself, but we think it is justified in wanting to stand out. It loses some points for marketing itself as a protein supplement that is markedly lower in protein content and quality than some of its peers, but the unique formulation carves out a niche that its competitors can't fill.

If you're in the market for a powder that is workable as a protein source but also serves as an any-time-of-day meal replacement, Syntha-6 is right up your alley. The balanced macronutrient spread and wide selection of well-reviewed flavors make it more than suitable for both purposes.
FAQs
Is BSN Syntha-6 Protein Powder worth the money?
If you know what you're buying, we think so. The price stands out a bit, but it is not an overpriced supplement by any means. The composition of the protein content leaves something to be desired for anyone concerned with absolute purity, but the extra bells and whistles make up for it.
Is BSN Syntha-6 Protein Powder good for beginners?
Though the long ingredient list may give off the impression that Syntha-6 is more aimed at veteran gymgoers, we think it works just fine for anyone getting started in the gym. The high calorie content and added carbs and fat may actually make it better for those still getting in their groove with a structured diet, making it easier to hit macronutrient targets.
Does BSN Syntha-6 Protein taste good?
Honestly, this is one of our favorite protein powders when it comes to flavors. There's a lot in the formulation that makes this product extremely tasty, so if flavor, taste and mixability are high are your list, then this is a stellar product to consider.
References
1. Muss C, et al. Papaya preparation (Caricol®) in digestive disorders. Neuro Endocrinol Lett. 2013;34(1):38-46.
2. Zhou Z, et al. Inhibition of Epithelial TNF-α Receptors by Purified Fruit Bromelain Ameliorates Intestinal Inflammation and Barrier Dysfunction in Colitis. Front Immunol. 2017 Nov 10;8:1468.
3. Pandey S, et al. Anti-inflammatory and immunomodulatory properties of Carica papaya. J Immunotoxicol. 2016 Jul;13(4):590-602.
4. Pavan R, et al. Properties and therapeutic application of bromelain: a review. Biotechnol Res Int. 2012;2012:976203.