We receive free products and receive commissions through our links. See
disclosures page
.
There are hundreds of different protein powders available on the market today, and they all boast of their unique properties and optimized blends designed to make you a better athlete. While whey products are undoubtedly a staple in any supplement cabinet, seeing past the marketing hype is the challenge posed to anyone looking at picking up a new tub.
Body Fortress Super Advanced Whey is a popular, inexpensive protein powder that has been on the market for many years. That being said, we took a deeper look into what it really has to offer to help you decide if it's the right whey protein for you.
Main Takeaways
At 30g protein and 200 calories per serving, this product is well suited for those looking to

bulk up

. 

The low price point makes this an attractive option for those on a budget. 

Mixed customer reviews and limited flavor selection are potential deterrents for those in search of the highest quality.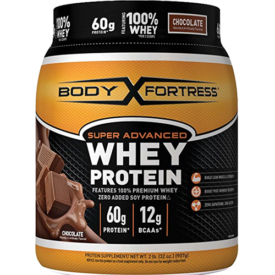 Body Fortress Super Advanced Whey is a decent protein powder at a nearly unbelievable price. It comes with a hearty 30g of protein per scoop, a moderate amount of calories, and an impressive BCAA profile.
Body Fortress Video Review
Check out our video review of Body Fortress' Super Advanced Whey Protein, where we test its mixability with water and 2% milk while we break down the formulation.
Body Fortress Super Advanced Whey Highlights
​
At a glance, the Body Fortress Super Advanced Whey checks all the main boxes required of a reliable protein supplement. It contains a decent amount of protein, calories, and a small amount of creatine in each serving.
The modest price is also an attractive feature — at only $33.88 for a five-pound tub on Amazon, Body Fortress offers a nearly unmatched price-per-scoop of whey. Before you commit, let's have a look at who this product might be best for.
Who Should Buy the Body Fortress Super Advanced Whey
Athletes looking for a healthy portion of calories without all the added sugar and fat commonly found in mass gainers.

Those with budgetary restrictions or anyone needing a cheap source of protein.
Who Shouldn't Buy the Body Fortress Super Advanced Whey
Customers who are looking for a protein source that streamlines calories.

Those looking for a wide variety of unique flavors.

People practicing a

strict keto diet

or otherwise avoiding carbs when possible.

Athletes who depend on label accuracy.
Body Fortress Super Advanced Whey Overall
Body Fortress offers a workable protein supplement especially suited to those looking to get the most for their dollar. The macronutrient content is sufficient and flexible, and a short list of ingredients is a plus for those wary of excessive additives. Potential drawbacks include a high sodium content, a small but mentionable amount of soy, and potentially inaccurate amounts of protein.
Price and Buying Options
​
The Body Fortress Super Advanced Whey is available on Amazon in six flavors for about seventeen dollars for a 2lb jug. This works out to a mere .53c per ounce, notably cheaper than other industry mainstays such as Optimum Nutrition Gold Standard (.73c/oz) or MusclePharm Combat (.62c/oz).

Related: The 9 Best Whey Protein Powders for Vegans, Weight Loss and More
Formulation
​
You'll find all the protein powder classics present in Body Fortress Super Advanced Whey; whey isolate, creatine monohydrate, BCAA's etc. However, this protein may also contain unwelcome amounts of sugar, sodium, and soy, depending on your dietary preferences.
Protein
​
At 30g per single-scoop serving, the Body Fortress blend is a healthy chunk of protein, a whopping 60% of Recommended Daily Intake (RDI). As we know, though, a higher than average protein intake is essential for strength athletes to make gains in the gym.
Fat
Body Fortress Super Advanced Whey also comes with 3g of fat per scoop, 1.5g of which is marked as saturated. While the research remains conflicted regarding fat intake post-workout, a small amount of dietary fat is found in most common protein supplements and isn't necessarily a bad thing.
Carbohydrates
​
Carbs and fat work synergistically when ingested post-workout and should be taken together when possible. However, the Body Fortress whey comes with a relatively quaint 8g of carbohydrate (including a paltry 1g of dietary fiber). The sugar-avoidant will be pleased to know that includes 0g of added sugars, but the overall low dosage of carbs isn't stellar if you're looking to optimize your post-workout nutrition with a single supplement.
Vitamins and Minerals
No supplement can replace authentic micronutrients from real fruits and vegetables, and the Body Fortress whey is no different; it does provide 12% of Calcium and 7% of Potassium RDI, but that's hardly enough to consider this product — or any whey powder — when examining your micronutrient needs.

Related: Macronutrients vs Micronutrients: Which Matters Most?
Cholesterol
Some may look at the amount of cholesterol on the label – a whopping 30% RDI per scoop – and worry about the potential adverse effects and increased risk of cardiovascular disease. It is worth pointing out that while each serving of Body Fortress Super Advanced Whey does contain a notably high amount of cholesterol.
BCAA Profile
The Body Fortress Super Advanced Whey boasts its BCAA profile as a main selling point, and it does deliver in that area. BCAA's are critical for both glycogen sparing and protein synthesis, and Body Fortress provides adequate dosages, especially for Leucine, Isoleucine, and Valine.
Soy Content
While this product does contain small amounts of soy, it is worth distinguishing that none of it is soy protein, which does have a somewhat negative reputation for its effects on testosterone levels. The soy present in the Body Fortress Super Advanced Whey acts as an emulsifier and is relevant to the consistency of the blend only. The soy content isn't worth worrying about unless you're especially diligent about your intake.
What To Consider Before Buying Body Fortress Super Advanced Whey
Before pulling the trigger on the Body Fortress Super Advanced Whey, it is worth noting that some reviewers mention poor mixability and lackluster taste from some of the available flavors. There have also been claims of inaccurate labeling compared to its actual nutritional content, though in recent years these seem to have dissipated.
Label Accuracy
For anyone that highly prioritizes purity, they may be wary of the Body Fortress Super Advanced Whey. A notable amount of sodium, saturated fat, and soy are present.
The Bargain
The low price makes this one of the cheapest protein powders on the market, a practical benefit that may outweigh minor nutritional shortcomings.
Creatine Content
​
While Body Fortress boasts of its added Creatine content as a perk, the meager ~2g dosage falls well short of the widely-accepted benchmark of 5g per day.
Wrapping Up
No protein powder is meant to replace a whole-food centric diet, and this product is no different. But for those who want to shore up some weaknesses in their supplement cabinet, the Body Fortress Super Advanced Whey is an acceptable choice, particularly for anyone short on cash who simply wants something that can deliver the nutrients they need at the right time. Protein powder is not a make-or-break supplement, and a lot of them can have more similarities than differences. Body Fortress isn't delivering top-notch quality in every area, but it remains a standout in dollar value savings.
FAQs
Is the Body Fortress Super Advanced Whey worth the money?
We think affordability is the main highlight of Body Fortress' whey protein. This product is one of the better bang-for-your-buck options when it comes to protein available right now.
Will I see results from Body Fortress Super Advanced Whey even if I'm a beginner?
Supplements are not gatekept by experience level and benefit everyone (for the most part) equally provided they are dosed responsibly and used to supplement a well-rounded diet and training regimen.
Should I use Body Fortress Super Advanced Whey daily?
While there aren't necessarily drawbacks to taking a whey shake on a daily basis, it is widely recommended to get the vast majority of your protein intake from whole food sources. That said, a daily shake can help you hit your macro targets if you fall a little short, and are especially convenient around the time that you train.