We receive free products and receive commissions through our links. See
disclosures page
.
Bodybuilders are known to train hard and diet intensely. To gain a lot of muscle mass, they lift weights often. Then, to reveal a chiseled, ripped physique, bodybuilders usually count their macros to a T and/or eat a low-carb diet. With the intense training splits and rigorous dieting comes the need for next-level supplementation.
To support their in-gym performance and recovery, bodybuilders can most likely benefit from an array of different supplements. For example, a joint support supplement may help to keep bodybuilders safe while lifting heavy weights often. And to recover, a sleep aid can help them get the seven to nine hours of Z's they need while pre-workout fuels their workouts, and whey protein feeds growing muscles. Not sure where to start? No worries — we rounded up the best supplements for bodybuilding to help you on your journey.
Best Bodybuilding Supplements
Editor's note: The content on BarBend is meant to be informative in nature, but it should not be taken as medical advice. The opinions and articles on this site are not intended for use as diagnosis, prevention, and/or treatment of health problems. It's always a good idea to talk to your doctor before beginning a new fitness, nutritional, and/or supplement routine. None of these supplements are meant to treat or cure any disease. If you feel you may be deficient in a particular nutrient or nutrients, please seek out a medical professional.
Best Bodybuilding Supplements Video Review
We still recommend you read the rest of this detailed article, but in addition, you can take a peek at this video review by BarBend's own Nick English as he breaks down all of our top picks for 2023.
Best Pre-Workout for Bodybuilders: Transparent Labs BULK Black
Transparent Labs BULK Black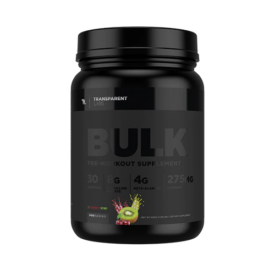 Transparent Labs BULK Black
Transparent Labs BULK Black is one of the strongest pre-workout supplements on the market. This product comes in five delicious flavors and has high levels of must-have pre-workout ingredients, like caffeine, citrulline, and beta-alanine.
Pros
Bodybuilders will appreciate the addition of l-citrulline here, which may have an impact on better blood flow for pumps, and could help you build mass.
You get 275mg of caffeine to help boost your energy before your training session.
This pre-workout formula also has BCAAs, which can help your body build muscle.
Cons
At $1.83 per serving, this product is a little bit pricey (you can find other pre-workouts for cheaper).
There's no creatine in this formula, which some bodybuilders may want in their pre-workout formula.
A good pre-workout powder can facilitate better pumps and provide you with the energy you need to kick butt in the gym.
This product contains the usual pre-workout players — caffeine, beta-alanine, and l-citrulline, which may help with better blood flow and performance. (1) The addition of l-theanine may also help improve your focus for a distraction-free workout, according to the Cleveland Clinic.
That said, those who are sensitive to caffeine should be warned: This supplement contains 275 milligrams of caffeine per serving, which isn't as much as other pre-workouts but more than a cup of coffee. This formula comes in four flavors, including Cherry Kiwi, Blue Raspberry, Peach Mango, Sour Gummy, and Black Cherry.
Bodybuilders know all too well that finding the energy to make your way to the gym during a long contest prep can be difficult, especially when your muscles are feeling flat from a lack of carbs. This potent pre-workout may help give you the energy and pump you remember from the off-season.
Best Pre-Workout for Bodybuilders Without Caffeine: Swolverine PRE Pre-Workout
Swolverine PRE Pre-Workout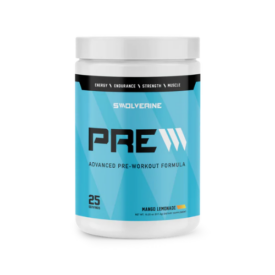 Swolverine PRE Pre-Workout
Caffeine: 0mg
Key Ingredients: Citrulline malate (5g), beta-alanine carnosyn (3.2g), L-carnitine (2g), L-taurine (1.2mg), pomegranate (500mg)
Flavors: Mango Lemonade, Strawberry Dragonfruit
Price Per Serving: $2.11
Pros
Bodybuilders who are looking to retain muscle mass during their cutting phase will appreciate the addition of l-citrulline in this blend.
This pre-workout blend comes caffeine-free, but also contains ginseng for a potential energy boost.
This formula has less than 1g of sugar.
Cons
If you're looking for a lineup of unique flavors or an unflavored option, this may not be the best choice for you, as it is only offered in a Mango Lemonade flavor — it's delicious, but nonetheless singular.
You can find cheaper formulas on the market, though you'll be trading quality for price.
If you train late or can't tolerate stimulants like caffeine, there are still pre-workout options for you. Some formulas — like this one — lean on focus-enhancing and pump-inducing ingredients instead of stimulants.
To make up for the lack of stimulant-induced energy, Swolverine PRE pre-workout contains 1,000mg of ginseng extract, which may help those who struggle with fatigue push through their strenuous workouts. (2) It also includes ingredients that may promote blood flow for pumps, like beta-alanine and citrulline — the latter of which might also help with muscle retention. (3) If you're an early bird and want the caffeine energy boost, this non-stim formula is likely not for you though.
However, if you're looking for a blend of citrulline, beta-alanine, and betaine that can help keep you focused and build muscle throughout your workout, Swolverine's pre-workout may be a good choice for you. The formula contains less than one gram of sugar, but the taste isn't compromised in their only flavor option, Mango Lemonade. It's one of the higher-priced pre-workouts on this list, coming in at $2.11 per serving — but we think this ingredient lineup is worth the price tag if you can swing it.
Bodybuilders have lives too and even the GOAT Ronnie Coleman had a day job when he was training to become Mr. Olympia. If you train at night or are sensitive to caffeine, but still want other hallmark pre-workout ingredients, we think this stimulant-free pre-workout from Swolverine is the best option out there.
Best Fat Burner for Bodybuilders: Jacked Factory Burn XT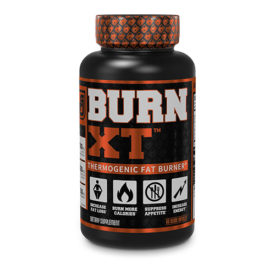 This fat burner combines ingredients to help potentially suppress appetite, boost energy, and increase your total calorie burn. Plus, these capsules are vegetarian-friendly. 
Pros
This product contains l-carnitine, which may help you cut weight. (14)
This formula packs caffeine from multiple sources, including caffeine anhydrous and green tea extract.
Burn XT contains black pepper extract, which may help facilitate better absorption of other ingredients.
Cons
For those on a tight budget, a fat burner isn't necessary for fat-loss goals.
If you're already taking a pre-workout, a fat burner may add too many stimulants.
Fat burners aren't miracle pills, but they may be helpful in gaining you an extra edge over the competition when it counts the most on stage. If you're a competitive bodybuilder, then any extra potential benefit shouldn't be ignored.
If your goal is to burn fat, and you're already training hard and zeroed in on your nutrition, a fat burner may be a good tool to help speed up your process. This pick has classics like green tea extract and some bonus ingredients, like grains of paradise, which may help you burn fat.
This product contains the usual fat-burning players like green tea extract, green coffee bean extract, Capsimax, and caffeine anhydrous. One of the ingredients included in this formula is 75mg of grains of paradise, which one study suggests may increase energy expenditure and result in decreased visceral fat. (4)
It also contains 5mg of black pepper extract, which may help you absorb the other ingredients better. This supplement has a four-pill serving size and contains 30 servings per bottle at $1.66 per serving. It's important to remember that a fat burner isn't necessary to reach your fat loss goal, so there's no need to force it into your budget. However, if you can afford it, and your diet and fitness plan are already in check, this product may be able to help you a little bit further on your fat loss journey.
Best Whey Isolate for Bodybuilders: Swolverine Whey Protein Isolate
Swolverine Whey Protein Isolate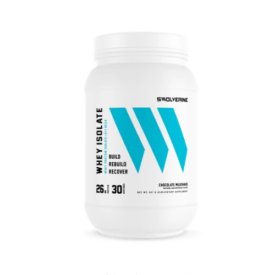 Swolverine Whey Protein Isolate
This whey protein formula delivers 26 grams of protein with just 0.5 grams of fat, and one gram of carbs. You'll also find 10mg of digestive enzymes, and a decent number of micronutrients.
Pros
This formula has 26g of protein per serving, which is on the higher end, and little other macros.
This formula is high-quality, containing protein from grass-fed American cows.
You get digestive enzymes to help promote digestion and fight bloating.
Cons
Those who are in a bulking phase and want protein with higher carbs and fats to help hit their macros.
There is sucralose in this supp, which can cause digestive unrest.
At $2.09 per serving, this is a more pricey product.
A whey isolate protein may be better for bodybuilders because it's filtered more thoroughly and contains fewer grams of carbs and fat than whey concentrate. You're getting all of the protein with next to none of the extra fats and carbohydrates with this pick.
Bodybuilders know that protein supplementation is their best friend when it comes to making gains, hitting macros, and staying full when their other macronutrients are cut. Swolverine's Whey Isolate protein comes with 26 grams of protein per scoop, a half gram of fat, one gram of carbohydrates, and 110 calories per serving.
This protein comes in Vanilla, Chocolate, Mint Chocolate Chip, and Honey Cinnamon Peanut Butter flavors. We should mention that these flavors are sweetened with sucralose, so if you're trying to avoid that ingredient, this protein may not be the best option. Otherwise, the whey is sourced from grass-fed cows, so this is a high-quality product. It also contains two digestive enzymes — protease and papain — which may help with digestion. At $2.09 per serving, it is on the higher end of the price range, but for the high-quality ingredients, we think it's worth choosing if you can swing it in your budget.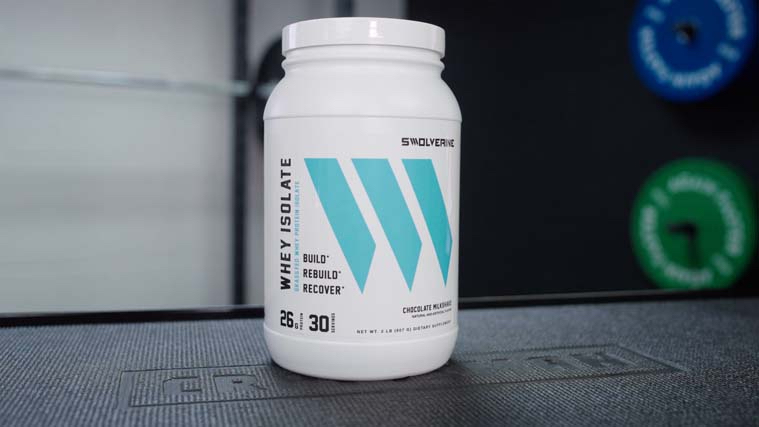 If you're looking for a lean and clean protein, this product is your answer. It may not be the most cost-effective whey isolate on the market, but it offers high protein content, minimal fats and carbs, and digestive enzymes to potentially help reduce bloating and improve digestion. This grass-fed protein is the whey to go for bodybuilders.
Read our full Swolverine Whey Protein Isolate Review.
Best Recovery Supplement for Bodybuilders: Kaged Re-Kaged
Kaged Re-Kaged Post-Workout Formula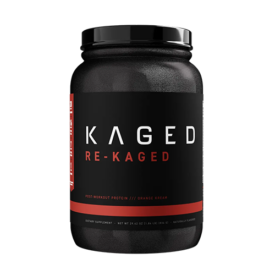 Kaged Re-Kaged Post-Workout Formula
Kaged Re-Kaged Post-Workout Formula contains a heavy hitting dose of 28 grams of protein per serving to assist you in recovery and potential muscle growth. It also contains some post-workout staples like glutamine and creatine. 
Pros
With protein and glutamine, this supp can help kickstart muscle recovery after a tough lift.
This supplement is only 140 calories per serving compared to some with 400 or more calories per serving.
This formula contains digestive enzymes and electrolytes.
Cons
There are no carbs in this recovery supplement, so you'll need to eat some.
People who don't necessarily train at a high intensity often or for long periods of time may not need a specific recovery drink. Regular food and protein powder may suffice.
There's only 180mg of sodium in here but that may not be ideal a week or two out from your show.
Long, rigorous training sessions can deplete your body of energy. That's why lifters who work out intensely for over an hour may benefit from drinking a recovery supplement. Intra-workout and recovery nutrition has actually been shown to make a workout feel easier to lifters. (5)
Re-Kaged's formula offers blends of ingredients that focus on muscle building and recovery. That's apparent from the start with 28 grams of high-quality whey protein isolate for quick digestion. It contains three grams of glutamine, which can potentially boost recovery. Re-Kaged also has one and a half grams of betaine anhydrous, which may help with blood flow and pumps during your workout. You'll find one and a half grams of creatine hydrochloride, as well.
On top of all of that, there's a digestive enzyme blend to potentially aid in digesting and breaking down foods. Because you're likely sweating a good bit during your workout Re-Kaged includes electrolytes, like calcium, sodium, and potassium, to help replenish those lost through sweat. In total, Re-Kaged provides 140 calories per serving.
This supplement is; however, low in carbs — providing only two grams. As you exercise your carbohydrates and glycogen in the muscles are depleted, which is why some recovery supplements will provide a dose of carbs for replenishment — Re-Kaged only contains two grams of carbs, which is not very significant. If this isn't an ingredient you're keen on though, Re-Kaged comes in three delicious flavors — Orange Kream, Iced Lemon Cake, and Strawberry Lemonade — all of which contain no artificial colors or flavors. You can pick up a 20-serving container for around $44.99 for a one-time purchase or $40.49 for regular shipments. With that pricing, each serving will cost you about $2.25 or $2.02, respectively.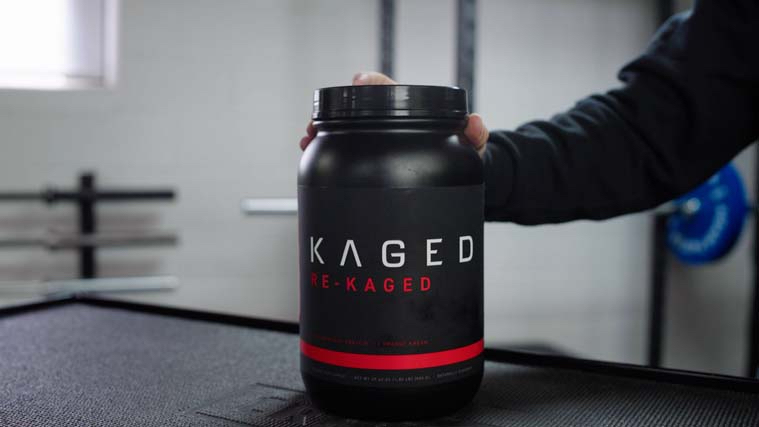 Recovery and post-workout nutrition are important factors in making gains and require just as much attention as your workout plan. With Re-Kaged you have an all-in-one intra and post-workout supplement to potentially aid in recovery and help make the work you put in at the gym pay off.
Best Multivitamin for Bodybuilders: Transparent Labs Multivitamin
Transparent Labs Multivitamin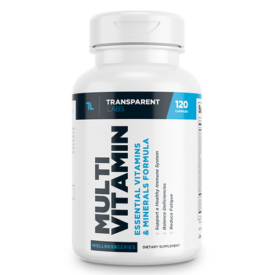 Transparent Labs Multivitamin
Transparent Labs Multivitamin is an advanced micronutrient complex that includes 23 minerals, vitamins, and adaptogens to bring you a full spectrum of micronutrients. This contains 100% or more of your daily needs for 11 of the established daily values, while four supplements are extra and don't have a basic daily value requirement. 
Pros
This multi has more than 20 vitamins and nutrients, perfect to fill gaps in just about any bodybuilding diet.
Folks looking for ingredients that can help fight inflammation may appreciate the zinc, vitamin D, and vitamin C in this supplement.
This supp has Coenzyme Q10, which can help boost immunity, according to Mount Sinai Medicine.
Cons
You have to take four capsules per dose.
Some folks like ingesting their vitamins from a greens powder instead of pills — we have an option for that too on this list.
If you are looking for a supplement that may help fill in the gaps in your diet, a multivitamin can help. While it's important to eat a diet of whole foods first and foremost, a multivitamin may be able to fill in a few nutritional gaps while also supporting a lifter's body for rigorous workouts.
Let's get the con out of the way first: A serving of this supplement is four capsules. That's a lot compared to some multivitamins that only require one or two capsules for a full dose. But if you can deal, we like this multi because it provides one of the most robust ingredient lists we've seen.
It contains over 20 vitamins and minerals, including zinc, vitamin D, and vitamin C, all of which can be helpful in reducing inflammation after tough bodybuilding workouts. Transparent Labs also provides calcium for joint health and B vitamins, which can help with energy. If you're looking for a multivitamin that can pair particularly well with your training, we think you've found one of the best options.
Whether you're bulking or cutting, covering your bases for vitamins and minerals is important to ensure you're not becoming deficient in any micronutrients. Multivitamins, especially robust ones like Transparent Labs Multivitamin, can be a convenient way to give yourself peace of mind.
Best Sleep Aid for Bodybuilders: Nested Naturals Luna Melatonin-Free Sleep Aid
Nested Naturals Luna Melatonin-Free Sleep Aid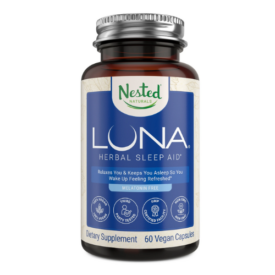 Nested Naturals Luna Melatonin-Free Sleep Aid
Nested Naturals uses herbs to lull you to sleep without the use of melatonin, which some people may find addictive or have a poor reaction to.
Pros
This product has no added melatonin, which can affect your sleep cycle.
This is a non-habit-forming formula, so you don't have to worry about growing dependent on this supplement.
The other ingredients included here (like l-theanine) may help reduce stress.
Cons
This formula doesn't contain any other recovery-promoting ingredients, like magnesium.
Some athletes may prefer melatonin to help them fall asleep.
Sleep is vital — to your performance, your mental health, and your survival. It's been referred to as a magic pill for athletes, and a study on Stanford Basketball players proved that more sleep undoubtedly improved their performance. (6) If you have trouble falling asleep, that's a problem, but there are supplements designed to lure you into a slumber.
A main ingredient in this formula, the 200mg of l-theanine may help improve your sleep quality and minimize stress levels, according to the Cleveland Clinic. More specifically, this ingredient may help increase your sleep duration and your time spent in REM sleep.
Thai formula also has sleep-promoting herbs, including 150mg of chamomile extract. Although more research is still needed, chamomile may help reduce inflammation and may even relieve insomnia, according to Mount Sinai Medicine.
Nested Naturals Luna is extremely important for recovery and maximizing gains. (6) If you're not sleeping well or not sleeping long enough, you may be leaving hard-earned gains on the table — and nobody wants to do that. Get your sleep right and reap all the rewards you've worked for in the gym.
Best Beta-Alanine for Bodybuilders: Swolverine Carnosyn Beta-Alanine
10% Off
Swolverine Carnosyn Beta-Alanine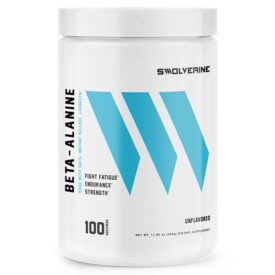 Swolverine Carnosyn Beta-Alanine
When you need pure beta-alanine and nothing else, Swolverine Carnosyn Beta-Alanine provides five solid grams per serving. Plus, it offers up 100 servings per container.
Pros
Lifters who want to work harder for longer may appreciate this research-backed performance supplement.
This is a single-ingredient supplement, so you can stack it with others in your daily shake.
If you're looking for a high dose of beta-alanine, this product provides five grams.
Cons
Some novice lifters may not need a helping hand in the strength and performance department — yet.
Beta-alanine can cause a tingling sensation.
If you're looking for beta-alanine within a blend (like pre-workout), you can find supplements with a more robust ingredient list that includes beta-alanine.
Supplementing with beta-alanine has been linked to a significant uptick in training performance for lifters compared to those who didn't take it, potentially allowing athletes to work harder for longer. (9) If you're a seasoned gym-goer who needs to push past plateaus, beta-alanine may be able to help you do just that.
This is a single-ingredient supplement, so there's not a whole lot to look for other than dosage. That said, typically beta-alanine doses across the market range from 1.6g to 5g, and Swolverine provides a 5g dose, putting it on the higher end of the market. In addition to that, this product comes with 60 servings per container, making the cost around $0.80 per serving, which is a great deal.
This is also a Lemon Lime powder, which may be a winner if you enjoy refreshing citrus flavors. And if you want to save 15 percent per container, you can subscribe to have your product delivered before you run out next. It's worth noting that beta-alanine can cause a tingling sensation in your skin, which isn't inherently dangerous, but some people may not like the feeling.

Swolverine Carnosyn Beta-AlanineHarder, better, faster, stronger isn't just a catchy Daft Punk line. It's what we intend to make our muscles into with every workout. If you're looking for a push to work harder for longer, then adding a beta-alanine supplement to your regimen is a great place to start. (9)
Best Creatine for Bodybuilders: Kaged Creatine-HCl
Kaged Muscle C-HCl Creatine Hydrochloride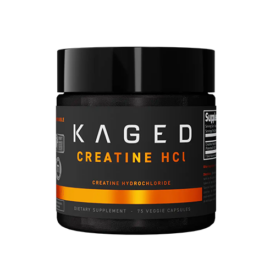 Kaged Muscle C-HCl Creatine Hydrochloride
This is a tasty option for folks who are looking for creatine hydrochloride in either pill or powder form. It's third-party tested for banned substances and competitively priced.
Pros
Each serving packs a dose of 750mg of creatine hcl per serving to help maximize your performance in the gym.
You can choose between a veggie capsule or powder form.
The pills are only one capsule per serving, so you don't have to worry about swallowing a ton of pills.
Cons
The powder is sweetened with sucralose, which may not be ideal for all bodybuilders.
People who want their creatine formulated with other supplements, such as protein or pre-workout, may want a formula that's more stacked — this is just creatine with no extra frills.
Creatine can cause extra water retention, so be careful around show day.
Research shows that creatine can help make you stronger and more powerful. (10) Consistently taking creatine supplements may be just the thing bodybuilders need to hit new PRs in the gym.
Bodybuilders who are sick of adding more powder supplements to their stack, rejoice. This creatine from Kaged comes in pill form, and it's only one pill per serving. With the ability to have your creatine in pill form, this is the perfect choice for on-the-go situations, like throwing it in your gym bag or taking it on airplanes with you to your next competition. But you can also opt for the powder if you want a flavored option.
Creatine can be an important tool in a bodybuilder's supplement arsenal. One study on creatine found that muscle strength and lifting performance were improved more through the supplementation of creatine than without. (11) Kaged makes this an affordable option to add to your stack of supplements.
With their recommended serving size of one pill (750mg), this creatine comes in at a pretty low rate of $0.30 per serving. Unlike other creatine supplements, this formula is pure with no added ingredients, so you can take it solo or stack it with other products.
Creatine is one of the oldest tried and true supplements on the market, and it's generally pretty cheap too. The potential strength and power benefits of creatine make it seem almost silly for a competitive athlete not to have it as part of their supplement regimen. (10)
Best Non-Melatonin Sleep Aid for Bodybuilders: Nested Naturals Luna Melatonin-Free Sleep Aid
Nested Naturals Luna Melatonin-Free Sleep Aid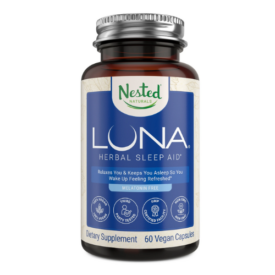 Nested Naturals Luna Melatonin-Free Sleep Aid
Nested Naturals uses herbs to lull you to sleep without the use of melatonin, which some people may find addictive or have a poor reaction to.
Pros
People who don't want to take melatonin will like the l-theanine, valerian, and chamomile here.
This product is vegan-friendly.
At less than $1 per serving, those on a budget will like this price point.
Cons
This product doesn't have a ton of research behind it and is mainly herbal.
Those who don't like taking pills will want to try a different supplement, like liquid ashwagandha.
Some folks don't react well to melatonin. Either they find it addictive, or it causes unwanted side effects such as dizziness, nausea, and daytime sleepiness. You can, however, take a sleep aid that doesn't contain melatonin — and this is our favorite product for that.
This blend of herbs — which includes 200mg of l-theanine, 200mg of valerian extract, and 150mg of chamomile extract — is meant to put you in a state of relaxation. While this formula isn't as powerful as one with melatonin, this is a solid option for those who want to steer clear of the stuff.
And we like that this product is vegan-friendly, non-GMO, gluten-free, and third-party tested. You'll take two pills per serving to induce your best potential sleep. It also sports a pretty reasonable price tag of about $0.65 per serving.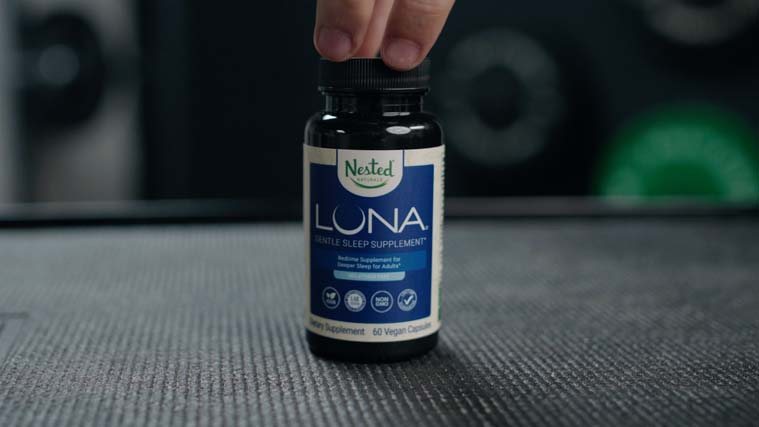 If you're not on a solid sleep schedule and melatonin doesn't seem to do the trick, then this sleep aid from Nested Naturals may be the answer. The blend of herbs, like valerian and chamomile can help you relax and reset your sleep routine.
Best BCAAs for Bodybuilders: Transparent Labs BCAA Glutamine
10% Off
Transparent Labs BCAA Glutamine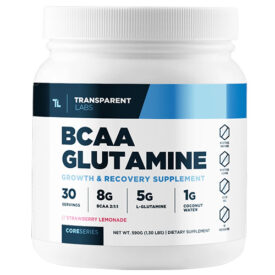 Transparent Labs BCAA Glutamine
This glutamine supplement is gluten-free, non-GMO, and free of artificial preservatives. Each container provides 30 servings that contain 5000 milligrams of L-Glutamine and 1,535 milligrams of Vitamin C.
Pros
The 8g of BCAAs help to preserve as much muscle mass as possible during a cut.
People who want to spice up their hydration game will appreciate having five flavors here to choose from, so things don't get boring.
The added glutamine,helps both during and after your workouts for an added recovery boost. (12)
Cons
You may not need to purchase a separate BCAA supplement — many other products contain BCAAs and glutamine already.
Anyone who's allergic to coconuts or tree nuts may want to steer clear of this product.
Amino acids are the building blocks of muscle, so taking them may help prevent muscle breakdown. That said, you may want a formula that has both branch-chain amino acids and essential amino acids, which is where this pick comes into play.
Transparent Labs BCAA Glutamine covers all your bases for muscle nourishment with an 8,000mg, 2:1:1 ratio of BCAAs providing 4,000mg of leucine, 2,000mg of isoleucine, and 2,000mg of valine. A solid 5,000mg serving of glutamine is in the formula to potentially help promote protein synthesis and aid in recovery. The formula is rounded out by 1,000mg of coconut water powder, which may help with hydration, as well as 1,500mg of vitamin C. Vegans out there will be happy to know that Transparent Labs uses fermented vegan BCAAs, so this is a vegan-friendly product.
In terms of flavors, there are five to choose from — Sour Green Apple, Tropical Punch, Strawberry Lemonade, Blue Raspberry, and Orange. Each 30-serving container will cost you around $39.99 for a one-time purchase or $1.33 per serving. If you decide this is the product for you and you subscribe to regular shipments, the price drops to about $33.99 or $1.13 per serving — a solid price. It's worth noting that Transparent Labs BCAA Glutamine is free of artificial sweeteners, coloring, and preservatives for those who want to avoid them.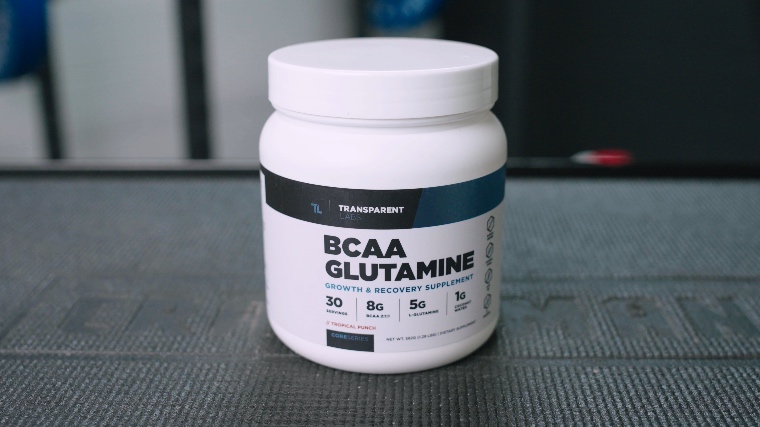 Many bodybuilders like to reach for BCAAs and glutamine to help bridge the amino acids gap between high-protein meals, so their muscles, in theory, always have their building blocks (amino acids) at the ready. Transparent Labs BCAA Glutamine provides the potential to ensure that you're maxing out your recovery. (12)
Benefits of Bodybuilding Supplements
Bodybuilding supplements can be really beneficial as you prepare to hit the stage. Bodybuilding is a nuanced sport that requires you to go through bulking and cutting phases throughout your prep, and these supplements can be a factor in your success. Since the supplements on this list range in their purposes, they can potentially improve your lifts, recovery, shreds, sleep, and even fill nutritional gaps. If you have a specific goal in mind with supplementation, you'll want to pick the supp that may best benefit your needs.
The pre-workouts, beta-alanine, creatine, and essential amino acids may be helpful to get you through grueling workouts, keep you focused, improve your pump, and help you push past plateaus. The whey isolate, recovery supplement, and sleep aids may be the key to your best recovery. As our bodies recover during rest, having a solid sleep supplement may be the ticket to a fruitful rebuilding process. And the whey isolate may help repair muscles and promote muscular gains after your muscles have been broken down by resistance training.
How We Chose the Best Bodybuilding Supplements
Bodybuilders have unique supplementation needs, and those were taken into consideration when putting together this list of the best bodybuilding supplements.
Sport-Specific Needs
As we've said, bodybuilders are typically working out more often with more intensity. And that intense training is usually coupled with a restrictive diet to support muscle gain while simultaneously losing fat. For that reason, certain supps — like beta-alanine, creatine, and a sleep aid — were considered. That's not to say non-bodybuilders can't benefit from these products, but more intensive goals typically require a more intensive supplement regimen.
Quality
We opted for companies we trust for their transparent dosing and thoughtfully curated ingredients for brand selection. Sometimes, companies will hide lackluster doses behind blends. Instead, you want to look for products that list each ingredient and its exact dose.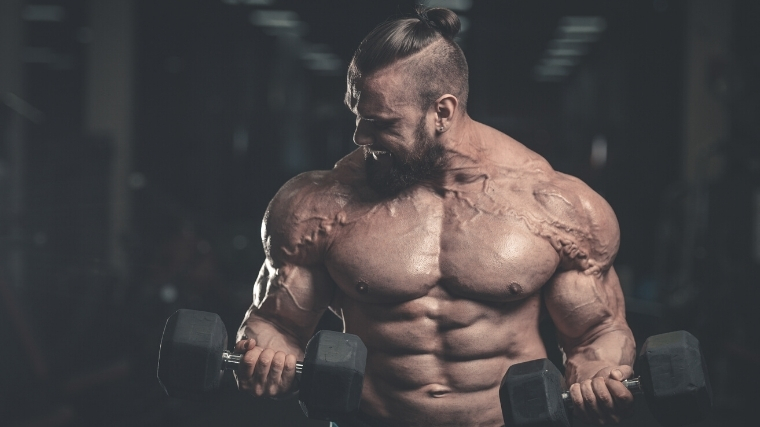 After all, a supplement is only as good as the ingredients that it's made of. Blends are usually more of an issue with pre-workout supps and multis, not so much single-ingredient supplements like beta-alanine and creatine.
Supplement Interaction
All of the supplements on this list play a unique role in supporting bodybuilding goals. For example, protein helps you meet your protein macro needs, while amino acids help stop muscle protein breakdown. Both creatine and beta-alanine support strength, but they also work better together. (13) None of these supps will negatively interact with one another, though we don't suggest taking a non-stim and standard pre-workout as it's a bit redundant.
How Much do Bodybuilding Supplements Cost?
Because the supplements bodybuilders use are so diverse, the prices will be substantially different from supplement to supplement. Products like creatine, beta-alanine, and sleep aids come at lower prices per serving while some of the more robust supplements, such as the pre-workouts or whey protein, will be a bit more expensive per serving.
Best Pre-Workout for Bodybuilders
Transparent Labs BULK Black
$54.99

$1.83 per serving

Best Pre-Workout for Bodybuilders Without Caffeine
Swolverine PRE Pre-Workout
$52.99

$2.11 per serving

Best Fat Burner for Bodybuilders
Jacked Factory Burn XT
$34.99

$1.16 per serving

Best Whey Isolate for Bodybuilders
Swolverine Whey Protein Isolate
$62.99

$2.11 per serving

Best Recovery Supplement for Bodybuilders
Kaged Re-Kaged
$44.99

$2.25 per serving

Best Multivitamin for Bodybuilders
Transparent Labs Multivitamin
$29.99

$1 per serving

Best Sleep Aid for Bodybuilders
Nested Naturals Luna Melatonin-Free Sleep Aid
$19.95

$0.66 per serving

Best Beta-Alanine for Bodybuilders
Swolverine CarnoSyn Beta-Alanine
$54.99

$0.91 per serving

Best Creatine for Bodybuilders
Kaged Creatine-HCl
$24.99

$0.33 per serving

Best Non-Melatonin Sleep Aid for Bodybuilders
Nested Naturals Luna Melatonin-Free Sleep Aid
$19.95

$0.66 per serving

Best Essential Amino for Bodybuilders
Transparent Labs BCAA Glutamine
$39.99

$1.33 per serving
The quality, ingredient list, servings per container, and whether or not a formula has proprietary blends will make a difference in the price you pay. Proprietary blends are a collection of ingredients that are listed with their total amount rather than a disclosed individual amount for each particular ingredient. We always disclose which supplements contain proprietary blends. If you have a strict budget and the product you need isn't on this list, you can also check out our focused articles — such as Best Meal Replacement Shakes — to find more options that may fit your budget and needs better.
What to Consider Before Buying Bodybuilding Supplements
Bodybuilders have different needs than your average lifter and should take different factors into consideration before purchasing their supplements. If you're a competitive bodybuilder, you'll need to weigh how close to a competition you are, what weak points you're attempting to address during your prep, and your daily calorie goals in order to make the most informed decision.
How Close to Competition You Are
Keeping in mind how close you are to stepping on stage is important when gauging the supplements you need at that exact moment, and which ones can wait until after the show. A lot of bodybuilders have coaches that guide them through which supplements to take and when, but coaches are expensive and if you don't have one, things can get confusing.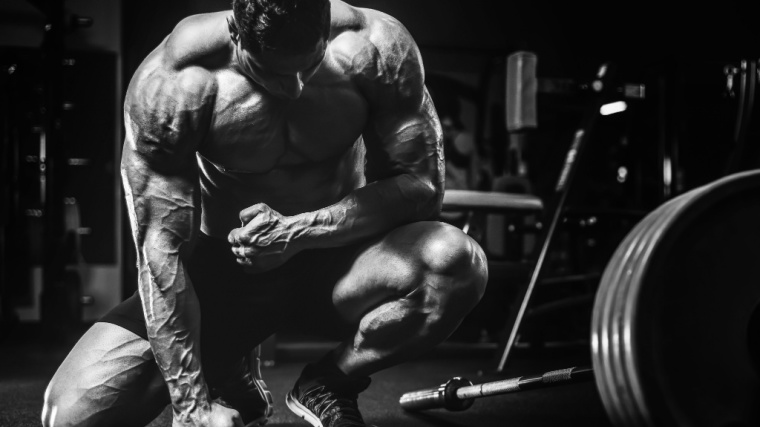 If you're a few weeks out from a show and deep into your prep, a fat burner will be a more appropriate choice than a mass gainer. Similarly, if you're that deep into prep, you'll be counting every single calorie exactly but will still need to keep your muscles fed. A BCAA supplement that is low in added calories and discloses the exact calorie amount is likely what you're looking for. Something that you'll likely want regardless of where you're at in your prep is a high-quality whey isolate to help hit your protein goals. Keeping where you're at in your prep in mind can help guide your choices in supplements.
Your Weak Points
This point is a bit more nuanced on the surface, but in reality, it may be the most important. Supplements, at their core, are meant to supplement your training and diet. They can help potentially provide an edge in areas that need special care, which is why it would benefit you to identify your weak points and select your supplements accordingly. If you've got no problem staying lean year-round, but you can't seem to break over 200 pounds and put on muscle mass, then a mass gainer may be a solid idea.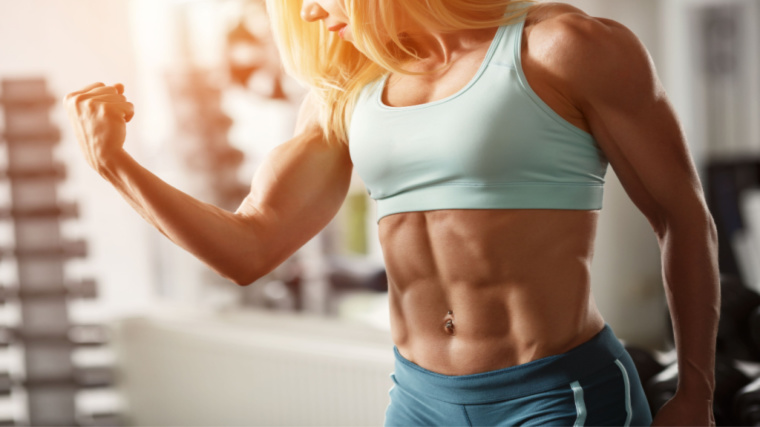 If you've been hitting it hard in the gym but your pumps seem lackluster or you burn out halfway through your training session, maybe an intra-workout or nitric oxide booster is what you need. It's great to notice what's working well, but equally important to know what needs more attention, so you can supplement accordingly.
Your Daily Calorie Goals
You've just received the dreaded email or update that your carbs got cut again as you're coming ever closer to being stage-ready. It's only by 20g per day, but those 20g will be sorely missed. No problem, you've got this. You can just sip on some BCAA-flavored water to curb the hunger — until you realize that BCAA powder has five grams of carbs per serving. This is where it pays to keep your calorie goals in mind when selecting a supplement.
That BCAA powder may be fine for the off-season, but deep into prep, you'll want one that doesn't have any extra carbs, so you can actually eat and enjoy those precious carbs. Ensure you're selecting the right supplements to match your calorie needs during prep to save yourself the headache from the scenario mentioned above.
Final Word
Bodybuilders are a unique breed of folks who require special consideration and care when selecting supplements. The off-season is one thing, but prep (and especially the final few weeks before stepping on stage) is a different animal entirely. You have to ensure that everything is exact, from your fluid and protein intake to your sodium levels. That's why we carefully curated this list to meet the demands of a competitive bodybuilder.
Sure, there are tons of supplements out there, and we offer only one per category here, but rest assured we've done the testing and research on these to make sure you feel confident when you click purchase. If you're taking care of your diet and training, these supplements may be able to help give you the extra edge that you've been looking for.
FAQs
Do I really need all of these supplements?
No. At least not right away. If you're new to bodybuilding or lifting weights in general, then you'll most likely see good progress from a solid diet and training plan alone. That said, as you progress in training your body will require you to push harder and harder for more gains. Once your progress starts to stall, you can begin adding in certain supplements to your nutrition regimen.
Should I add all of these supplements to my diet at once?
Not necessarily. This is a case by case scenario. For example, if you're having trouble lifting more weight or more reps, then beta-alanine and creatine may be all you need to keep on progressing. Or, if you just increased your calories and are having trouble hitting your protein goals, then a whey protein may be required to boost your intake. And if you're in a cutting phase and started fasted cardio, then amino acids may be a worthwhile supplement to add. Your supplement choices can be cyclical and goal-based.
Are supplements safe?
Yeah. But you should always — always — consult with your doctor before taking any new supplement. Especially if you have a pre-existing condition. In fact, if you're serious about living the bodybuilding lifestyle, you should consult with your doctor anyway as it's most likely a drastic change from how you've been eating and lifting anyways.
Can of these supplements replace real foods?
Definitely not — they're called supplements for a reason. Even f you're dieting down or eating low carb, you can still get a diverse array of fruits, veggies, and meats to ensure all of your nutrient needs are being met. Whey protein should be used to help you reach a large protein intake. Some bodybuilders eat 1.5 grams of protein per pound of bodyweight. For a 200-pound man that's equal to 300 grams of protein or three pounds of chicken breast, which is a lot of chicken.
Are bodybuilding supplements expensive?
Depending on what supplement you're in need of, you'll find a wide variety of prices for bodybuilding supplements. The simpler the supplement and the ingredient list, the less you'll likely pay per serving. The more robust supplements, like pre-workout, will cost more. Similarly, the supplements that are more expensive to source or process, such as a whey protein isolate, will sport a higher price tag per serving.
Ultimately, there are ways to make sure your budget, desire for quality, and needs in a supplement will all agree with each other. You may have to look at our more specialized best lists (such as the Best Beta-Alanine) if you want to find a better fit outside of what we suggested here.
What is the best bodybuilding supplement?
Although this will depend on what your needs are for bodybuilding (burning fat, muscle recovery, sleep, etc.), we believe that Huge Supplements Wrecked pre-workout is a top choice for any bodybuilder. The potent and robust ingredient list makes it a top-tier pre-workout choice, and it comes in four flavors that are pretty unique, including Rainbow Burst, Raspberry Mojito, Bomb Popsicle, and Peach Rings.
References
Villareal MO, Matsukawa T, Isoda H. L-Citrulline Supplementation-Increased Skeletal Muscle PGC-1α Expression is Associated With Exercise Performance and Increased Skeletal Muscle Weight. Mol Nutr Food Res. 2018 May 24;62(14):e1701043. doi: 10.1002/mnfr.201701043. Epub ahead of print. PMID: 29797700; PMCID: PMC6099278.
Arring NM, Millstine D, Marks LA, Nail LM. Ginseng as a Treatment for Fatigue: A Systematic Review. J Altern Complement Med. 2018 Jul;24(7):624-633. doi: 10.1089/acm.2017.0361. Epub 2018 Apr 6. PMID: 29624410.
Sugita J, Yoneshiro T, Sugishima Y, Ikemoto T, Uchiwa H, Suzuki I, Saito M. Daily ingestion of grains of paradise (Aframomum melegueta) extract increases whole-body energy expenditure and decreases visceral fat in humans. J Nutr Sci Vitaminol (Tokyo). 2014;60(1):22-7. doi: 10.3177/jnsv.60.22. PMID: 24759256.
Ham DJ, Gleeson BG, Chee A, et al. L-Citrulline Protects Skeletal Muscle Cells from Cachectic Stimuli through an iNOS-Dependent Mechanism. PLoS One. 2015;10(10):e0141572. Published 2015 Oct 29. doi:10.1371/journal.pone.0141572
Takashi Furuyashiki, Hidenori Tanimoto, Yasuhiro Yokoyama, Yasuyuki Kitaura, Takashi Kuriki & Yoshiharu Shimomura (2014) Effects of ingesting highly branched cyclic dextrin during endurance exercise on rating of perceived exertion and blood components associated with energy metabolism, Bioscience, Biotechnology, and Biochemistry, 78:12, 2117-2119, DOI: 10.1080/09168451.2014.943654
Mah CD, Mah KE, Kezirian EJ, Dement WC. The effects of sleep extension on the athletic performance of collegiate basketball players. Sleep. 2011;34(7):943-950. Published 2011 Jul 1. doi:10.5665/SLEEP.1132
Auld F, Maschauer EL, Morrison I, Skene DJ, Riha RL. Evidence for the efficacy of melatonin in the treatment of primary adult sleep disorders. Sleep Med Rev. 2017 Aug;34:10-22. doi: 10.1016/j.smrv.2016.06.005. Epub 2016 Jul 20. PMID: 28648359.
Rondanelli M, Opizzi A, Monteferrario F, Antoniello N, Manni R, Klersy C. The effect of melatonin, magnesium, and zinc on primary insomnia in long-term care facility residents in Italy: a double-blind, placebo-controlled clinical trial. J Am Geriatr Soc. 2011 Jan;59(1):82-90. doi: 10.1111/j.1532-5415.2010.03232.x. PMID: 21226679.
Maté-Muñoz JL, Lougedo JH, Garnacho-Castaño MV, et al. Effects of β-alanine supplementation during a 5-week strength training program: a randomized, controlled study. J Int Soc Sports Nutr. 2018;15:19. Published 2018 Apr 25. doi:10.1186/s12970-018-0224-0
Hoffman J, Ratamess N, Kang J, Mangine G, Faigenbaum A, Stout J. Effect of creatine and beta-alanine supplementation on performance and endocrine responses in strength/power athletes. Int J Sport Nutr Exerc Metab. 2006 Aug;16(4):430-46. doi: 10.1123/ijsnem.16.4.430. PMID: 17136944.
Rawson ES, Volek JS. Effects of creatine supplementation and resistance training on muscle strength and weightlifting performance. J Strength Cond Res. 2003 Nov;17(4):822-31. doi: 10.1519/1533-4287(2003)017<0822:eocsar>2.0.co;2. PMID: 14636102.

Koo, G. H., Woo, J., Kang, S., & Shin, K. O. (2014). Effects of Supplementation with BCAA and L-glutamine on Blood Fatigue Factors and Cytokines in Juvenile Athletes Submitted to Maximal Intensity Rowing Performance.

Journal of physical therapy science

,

26

(8), 1241–1246. https://doi.org/10.1589/jpts.26.1241

Trushina EN, Vybornov VD, Riger NA, Mustafina OK, Solntsevа TN, Timonin AN, Zilova IS, Radzhabkadiev RM. [The efficiency of branched chain aminoacids (BCAA) in the nutrition of combat sport athletes]. Vopr Pitan. 2019;88(4):48-56. Russian. doi: 10.24411/0042-8833-2019-10041. Epub 2019 Jul 15. PMID: 31722141.