Bodybuilders are known to train hard and diet intensely. To gain a lot of muscle mass, they lift weights often. Then, to reveal a chiseled, ripped physique, bodybuilders usually count their macros to a T and/or eat a low-carb diet. With the intense training splits and rigorous dieting comes the need for next-level supplementation.
To support their in-gym performance and recover, bodybuilders most likely need an array of different supplements. For example, a joint support supplement may help to keep bodybuilders safe while lifting heavy weights often. And to recover, a sleep aid can help them get the seven to nine hours of Z's they need while whey protein feeds growing muscles. Not sure where to start? No worries — we rounded up the best supplements for bodybuilding to help you on your journey.
Best Bodybuilding Supplements
Editor's note: The content on BarBend is meant to be informative in nature, but it should not be taken as medical advice. The opinions and articles on this site are not intended for use as diagnosis, prevention, and/or treatment of health problems. It's always a good idea to talk to your doctor before beginning a new fitness, nutritional, and/or supplement routine. None of these supplements are meant to treat or cure any disease. If you feel you may be deficient in a particular nutrient or nutrients, please seek out a medical professional.
Best Pre-Workout
A good pre-workout powder can facilitate better pumps and provide you with the energy you need to kick butt in the gym.
Jacked Factory Nitrosurge
This product contains the usual pre-workout players — caffeine, energy, L-citrulline for better blood flow and therefore pumps, and beta-alanine for improved strength and endurance. We like that you can see the dosing for each ingredient, so you know what you're getting, and that Nitrosurge contains AstraGin, a formula that enhances the absorption of each ingredient. That said, those who are sensitive to caffeine should be warned: there are 180 milligrams of the stuff per serving.
Who Should Buy Jacked Factory Nitrosurge
People who need an occasional energy boost before hitting the gym.
Those who want a quick-absorbing, fast-working pre-workout.
Folks who value transparent dosing in their supplements.
Who Shouldn't Buy Jacked Factory Nitrosurge
People who can't take or don't want caffeine.
Best Pre-Workout Without Caffeine
If you train late or can't tolerate stimulants, like caffeine, there are still pre-workout options for you. Some formulas — like this one — lean on focus-enhancing and pump-inducing ingredients instead of stimulants.
Kaged Pre-Kaged Stim Free
To make up for the lack of stimulant-induced energy, Kaged relies on ingredients like tyrosine and taurine that can help improve your ability to focus on the task at hand. Pre-Kaged Stim Free still contains ingredients that promote blood flow for pumps, like citrulline, and ingredients that can help with muscle retention, like BCAAs.
If you're an early bird and want the caffeine energy boost, this is likely not the formula for you. However, if you're looking for a blend of citrulline, BCAAs, and tyrosine that can help keep you focused and building muscle throughout your workout, Pre-Kaged Stim Free may be a great pick. Plus, it comes in two tasty flavors — Fruit Punch and Cherry Bomb.
Who Should Buy Kaged Pre-Kaged Stim Free
People who don't want stimulants in their pre-workout will like that this blend is caffeine-free.
Folks who want to improve their focus while training will appreciate the taurine and tyrosine here.
Anyone who wants BCAAs in their pre-workout, so they don't have to have a separate dedicated BCAA supplement.
Who Shouldn't Buy Kaged Pre-Kaged Stim Free
People who train early in the morning and may want a pre-workout with a caffeine-based formula.
If you're looking for more than two flavors to choose from, you can find pre-workouts that offer a wider variety of flavors.
Best Whey Isolate
A whey isolate protein is better for bodybuilders because it's filtered more thoroughly and contains fewer grams of carbs and fat. So you get all of the protein with none of the extra macronutrients.
Transparent Labs Whey Isolate
One 32-gram scoop yields you only two grams of carbs and 28 grams of protein. There's no fat, either. The whey is sourced from naturally-fed hormone-free cows, so the product quality is high if that matters to you. But at $60 for 30 servings (or $2 per serving), you're definitely paying a pretty penny for the macro-profile and quality whey.
Who Should Buy Transparent Labs Whey Isolate
Lifters who want just protein and little to no carbs or fat.
Folks who care about where their protein powder is sourced from.
Who Shouldn't Buy Transparent Labs Whey Isolate
Penny pinchers; this protein costs $2 per scoop.
Best Intra-Workout
Long, rigorous training sessions can deplete your body of energy. That's why lifters who work out intensely for over an hour may benefit from drinking an intra-workout supplement. Intra-workout nutrition has actually been shown to make a workout seem easier to lifters. (1)
Kaged In-Kaged Intra-Workout
In-Kaged's formula offers blends of ingredients that focus on muscle building, pump, and energy. It contains five grams of BCAAs, which can help with muscle retention. It also has three grams of citrulline, which may help with pumps during your workout. And it also provides one gram of tyrosine, which can help with focus. On top of all of that, you'll find caffeine, beta-alanine, taurine, and even coconut water powder, which may help with intra-workout hydration.
However, this supplement is low in carbs. As you exercise your carbohydrates are depleted, which is why some intra-workout supplements will provide a dose of carbs for replenishment — this intra-workout only contains two grams of carbs, which is nothing significant. If this isn't an ingredient you're keen on though, In-Kaged comes in three delicious flavors — Blue Raspberry, Cherry Lemonade, and Watermelon — all of which contain no artificial colors or flavors.
Who Should Buy Kaged In-Kaged Intra-Workout
Lifters who train intensely for long periods of time and need an energy boost in the middle of their workout will like that this supplement is best sipped mid training session.
Folks who want a low calorie intra-workout. This supplement is only 10 calories per serving.
Anyone who wants potential help with focus, muscle retention, and pumps will like the formula here.
Who Shouldn't Buy Kaged In-Kaged Intra-Workout
Lifters who are looking for a carb supplement in their intra-workout will need to look elsewhere.
People who don't necessarily train at a high intensity often or for long periods of time may not need an intra-workout.
If you're trying to avoid caffeine, you can find intra-workout supps without this ingredient.
Best Sleep Aid
Sleep is vital — to your performance, your mental health, and your survival. It's been referred to as a magic pill for athletes, and a study on Stanford Basketball players proved that more sleep undoubtedly improved their performance. (2) If you have trouble falling asleep, that's a problem, but there are supplements designed to lure into a slumber.
Transparent Labs Sleep Aid
One three-pill serving offers up 3 milligrams of melatonin, a hormone your body produces that regulates your sleep cycle. Taking extra melatonin has been shown to help those with sleep difficulties. (3) This sleep aid also comes with tart cherry, which contains melatonin and tryptophan, another sleep-helper. Also, zinc and magnesium, two ingredients in Transparent Labs formula, have been shown to improve sleep when paired with melatonin considerably. (4) Though, for some, melatonin can cause headaches and daytime sleepiness.
Who Should Buy Transparent Labs Sleep Aid
People who have trouble getting to sleep regularly.
Those who want a multi-ingredient sleep aid.
Who Shouldn't Buy Transparent Labs Sleep Aid
Folks who aren't comfortable or don't like swallowing multiple pills.
People who many no handle melatonin well.
Best Beta-Alanine
Supplementing with beta-alanine has been linked to a significant uptick in training performance compared to lifters who didn't take it, potentially allowing athletes to work harder for longer. (5) If you're a seasoned gym-goer who needs to push past plateaus, beta-alanine may be able to help you do just that.
Swolverine Carnosyn Beta-Alanine
This is a single-ingredient supplement, so there's not a whole lot to look for other than dosage. That said, typically beta-alanine doses across the market range from 1.6g to 5g, and Swolverine provides a 5g dose, putting it on the higher end of the market. In addition to that, this product comes with 100 servings per container, making the cost around $0.60 per serving, which is a great deal. This is also an unflavored powder, so it's easy to add to another flavored beverage or smoothie without altering the taste.
And if you want to save 15 percent per container, you can subscribe to have your product delivered before you run out next. It's worth noting that beta-alanine can cause a tingling sensation in your skin, which isn't inherently dangerous, but some people may not like the feeling.
Who Should Buy Swolverine Carnosyn Beta-Alanine
Lifters who want to work harder for longer may appreciate this research-backed performance supplement.
Those who want to take a single ingredient supplement versus consuming beta-alanine in a pre-workout blend.
If you're looking for a high dose of beta-alanine, this product provides five grams.
Who Should Buy Swolverine Carnosyn Beta-Alanine
Novice lifters who don't necessarily need a helping hand in the strength and performance department — yet.
Those who aren't comfortable with the tingling sensation that beta-alanine can cause will want to steer clear.
If you're looking for beta-alanine within a blend (like pre-workout), you can find supplements with a more robust ingredients list that includes beta-alanine.
Best Multivitamin
If you are looking for a supplement that may help fill in the gaps in your diet, a multivitamin can help. While it's important to eat a diet of whole foods first and foremost, a multivitamin may be able to fill in a few nutritional gaps while also supporting a lifter's body for rigorous workouts.
Huge Supplements Huge Multivitamin
Let's get the con out of the way first: A serving of this supplement is four capsules. That's a lot compared to some multivitamins that only require one or two capsules for a full dose. But if you can deal, we like this multi because it provides one of the most robust ingredients lists we've seen.
It contains over 30 vitamins and minerals, including zinc, vitamin D, and vitamin C, all of which can be helpful in reducing inflammation after tough bodybuilding workouts. Huge Supplements also provides calcium for joint health and B vitamins, which can help with energy. If you're looking for a multivitamin that can pair particularly well with your training, we think you've found one of the best options.
Who Should Buy Huge Supplements Huge Multivitamin
Bodybuilders who train hard and heavy and would benefit from a joint supplement — you'll like the calcium here.
Folks looking for ingredients that can help fight inflammation may appreciate the zinc, vitamin D, and vitamin C in this supplement.
Anyone who wants a robust ingredients list. This multivitamin contains over 30 vitamins and minerals, which is higher than the market average.
Who Shouldn't Buy Huge Supplements Huge Multivitamin
People who don't want to take a large four-pill dose should look elsewhere.
Non-bodybuilders who may not need such a comprehensive multivitamin formula.
Best Creatine
Creatine is scientifically proven to make you stronger and more powerful. (6) Some creatine supplements are paired with other ingredients to increase their absorption and efficacy rate.
Transparent Labs Creatine HMB
Transparent Labs makes one of those products. The added black pepper extract helps the creatine absorb more effectively. And according to Transparent Labs, when combined with HMB (hydroxymethylbutyrate), the creatine's strength-boosting benefits are enhanced. This supplement comes in three flavors, which isn't ideal for those who like to mix their creatine with other supplements like protein or beta-alanine. Also, those extras cost you: Compared to other creatine products, this one is pricey.
Who Should Buy Transparent Labs Creatine HMB
Bodybuilders who to want to maximize their creatine supplementation with beneficial extras.
Those who like drinking creatine on its own and may enjoy the flavors (tropical punch, blue raspberry, strawberry lemonade).
Who Shouldn't Buy Transparent Labs Creatine HMB
Folks who are used to mixing creatine with protein powder or other supps.
People who don't desire extra ingredients would rather save a little money by choosing a basic creatine monohydrate.
Best Non-Melatonin Sleep Aid
Some folks don't react well to melatonin. Either they find it addictive, or it causes unwanted side effects such as dizziness, nausea, and daytime sleepiness. You can, however, take a sleep aid that doesn't contain melatonin.
Nested Naturals Luna Melatonin-Free Sleep Aid
This blend of herbs — which includes L-theanine, valerian extract, chamomile extract — is meant to put you in a state of relaxation. While this formula isn't as powerful as one with melatonin, this is a solid option for those who want to steer clear of the stuff. And we like that this product is vegan-friendly.
Who Should Buy Nested Naturals Luna Melatonin-Free Sleep Aid
People who don't want to take melatonin.
Vegans, as this product is vegan-friendly
Who Shouldn't Buy Nested Naturals Luna Melatonin-Free Sleep Aid
Folks who want a product that's backed by a little more science.
Best Essential Amino
Amino acids are the building blocks of muscle, so taking them may help prevent muscle breakdown. That said, you want a formula that has both branch chain amino acids and essential amino acids.
GHOST AMINO
BCAAs, (leucine, isoleucine, and valine) were thought to be the amino acids needed to support muscle growth for a while. In recent years, more supplement manufacturers have been adding EAAs, of which there are nine (including the three BCAAs). Ghost Amino delivers 5.5 grams of EEAs and 4.5 grams of BCAAs for a complete muscle-preservation formula. GHOST is also known for its delicious flavors, and its product is vegan-friendly. That said, the science on the efficacy of BCAAs and EEAs is mostly inconclusive, and the product is a tad pricey.
Who Should Buy GHOST AMINO
Bodybuilders who want to try and preserve muscle mass, especially during a cut.
People who may want to spice up their water with a low-calorie, tasty powder.
Folks who want to get both EEAs and BCAAs instead of just the latter.
Who Shouldn't Buy GHOST AMINO
Those who aren't sold on the product's effectiveness.
People who don't want to shell out for a relatively pricey amino powder.
How We Decided on the Best Supplements for Bodybuilding
Bodybuilders have unique supplementation needs, and those were taken into consideration when putting together this list of the best bodybuilding supplements.
Sport-Specific Needs
As we've said, bodybuilders are typically working out more often with more intensity. And that intense training is usually coupled with a restrictive diet to support muscle gain while simultaneously losing fat. For that reason, certain supps — like beta-alanine, creatine, and a sleep aid — were considered. That's not to say non-bodybuilders can't benefit from these products, but more intensive goals typically require a more intensive supplement regimen.
Quality
We opted for companies we trust for their transparent dosing and thoughtfully curated ingredients for brand selection. Sometimes, companies will hide lackluster doses behind blends. Instead, you want to look for products that list each ingredient and its exact dose. After all, a supplement is only as good as the ingredients that it's made of. Blends are usually more of an issue with pre-workout supps and multis, not so much single-ingredient supplements like beta-alanine and creatine.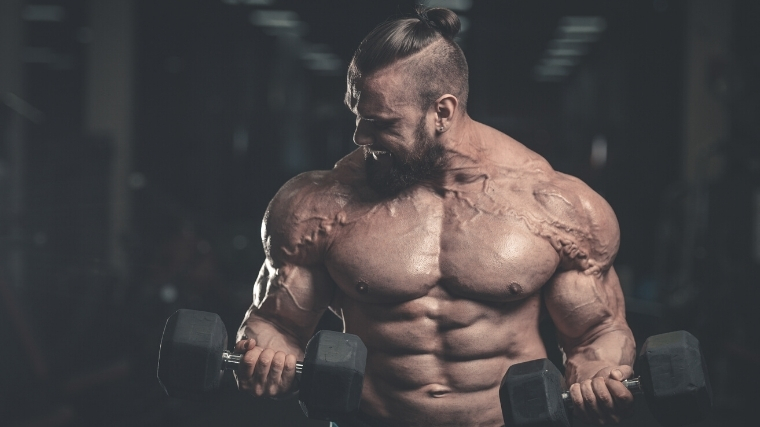 Supplement Interaction
All of the supplements on this list play a unique role in supporting bodybuilding goals. For example, protein helps you meet your protein macro needs, while amino acids help stop muscle protein breakdown. Both creatine and beta-alanine support strength, but they also work better together. (6) None of these supps will negatively interact with one another, though we don't suggest taking a non-stim and standard pre-workout as it's a bit redundant.
Frequently Asked Questions
References
Thomas R. Wood, Christopher Kelly. (2017) Insulin, glucose and beta-hydroxybutyrate responses to a medium-chain triglyceride-based sports supplement: A pilot study.

Journal of Insulin Resistance

2:1, pages 9.

Mah CD, Mah KE, Kezirian EJ, Dement WC. The effects of sleep extension on the athletic performance of collegiate basketball players. Sleep. 2011;34(7):943-950. Published 2011 Jul 1. doi:10.5665/SLEEP.1132
Auld F, Maschauer EL, Morrison I, Skene DJ, Riha RL. Evidence for the efficacy of melatonin in the treatment of primary adult sleep disorders. Sleep Med Rev. 2017 Aug;34:10-22. doi: 10.1016/j.smrv.2016.06.005. Epub 2016 Jul 20. PMID: 28648359.

Rondanelli M, Opizzi A, Monteferrario F, Antoniello N, Manni R, Klersy C. The effect of melatonin, magnesium, and zinc on primary insomnia in long-term care facility residents in Italy: a double-blind, placebo-controlled clinical trial. J Am Geriatr Soc. 2011 Jan;59(1):82-90. doi: 10.1111/j.1532-5415.2010.03232.x. PMID: 21226679.

Maté-Muñoz JL, Lougedo JH, Garnacho-Castaño MV, et al. Effects of β-alanine supplementation during a 5-week strength training program: a randomized, controlled study. J Int Soc Sports Nutr. 2018;15:19. Published 2018 Apr 25. doi:10.1186/s12970-018-0224-0

Hoffman J, Ratamess N, Kang J, Mangine G, Faigenbaum A, Stout J. Effect of creatine and beta-alanine supplementation on performance and endocrine responses in strength/power athletes. Int J Sport Nutr Exerc Metab. 2006 Aug;16(4):430-46. doi: 10.1123/ijsnem.16.4.430. PMID: 17136944.
Feature image courtesy of All best fitness is HERE/Shutterstock.