Made in a Good Manufacturing Practices-certified facility in Idaho, the supplements from KAGED MUSCLE include citrulline, carnitine, creatine, and a wide variety of other powders. When we eyed their product line, our attention was immediately drawn to their branched chain amino acids. Why? They're fermented, which means they're not derived from animal sources like most BCAAs.(1)
We ordered IN-KAGED, their intra-workout blend, which has a lot more than just fermented BCAAs: it's got added ingredients for blood flow, endurance, and focus to boot. Here's what we learned when we uncaged the Watermelon flavor.
Get 10% Off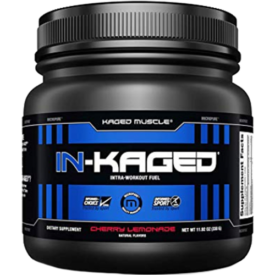 A BCAA product that is well dosed in ingredients linked to blood flow and focus, making it a great pick to drink during your workout. Use code BARBEND10 for 10% off your purchase. 
IN-KAGED Nutrition and Ingredients
One scoop has 10 calories (two grams of carbs) and 5 grams of fermented leucine, isoleucine, and valine in a 2:1:1 ratio.
Then there's the "Endura-Pump Matrix" with 3 grams of fermented citrulline, 1.6 grams of beta alanine (as CarnoSyn), and half a gram of coconut water powder.
After that there's the "Neuro-Energy Matrix," made of 1 gram of taurine, half a gram of l-tyrosine, and 124 milligrams of caffeine from green coffee beans. I'll discuss the effects of all these ingredients in the next section.
Finally, there's the miscellaneous ingredients: citric acid for flavoring, natural flavors, beet root extract for color, sea salt, silicon dioxide and calcium silicate (anti-caking agents), stevia (a natural sweetener), sucralose (an artificial sweetener), and sunflower lecithin (for mixability).
It's definitely worth pointing out that there's no soy and no artificial flavors or colors, though it does contain the artificial sweetener sucralose.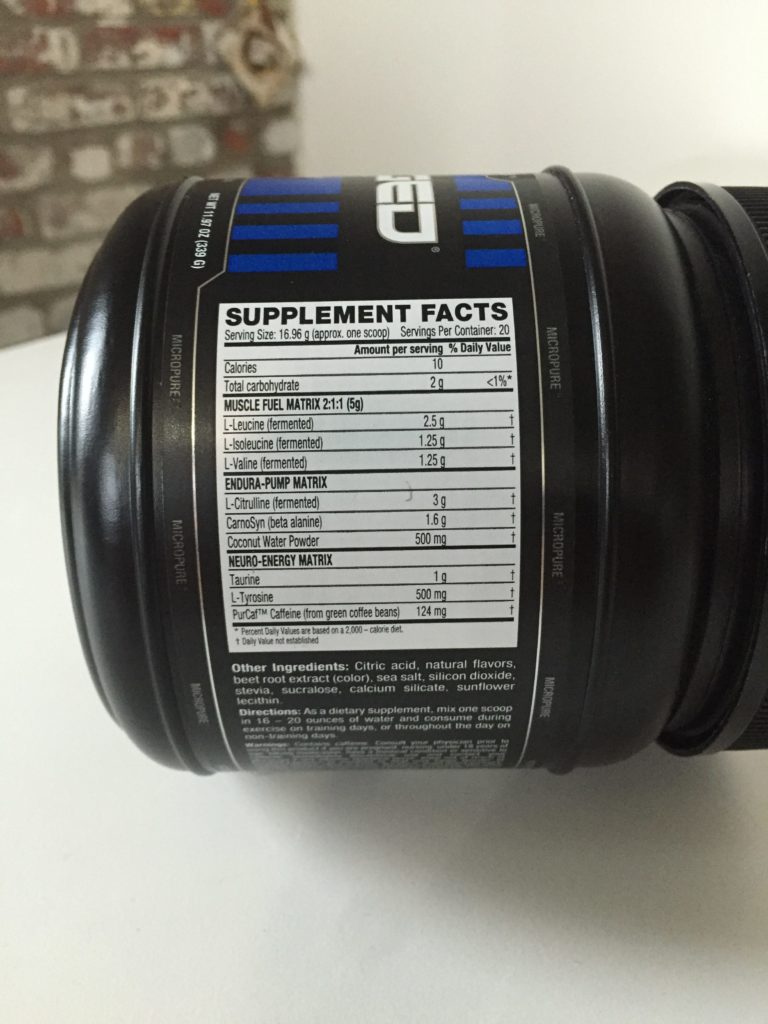 IN-KAGED Benefits and Effectiveness
The BCAAs themselves are linked to improved muscle retention, focus, and endurance during a workout and it's possible that they help to spike muscle protein synthesis, which means they may be useful for preserving muscle during long breaks between meals.(2)(3)
The citrulline is also significant, and not just because it's also fermented. Citrulline is linked to circulatory health and perhaps increased power and endurance, although the most effective dose is usually 6 grams rather than the three found in this product.(4) Nonetheless, this is one of the most effective doses of citrulline I've seen in a BCAA.
The beta-alanine may improve endurance too, and some link it to hypertrophy, though this may just be because people who take it tend to grind out more reps than they would otherwise.
The coconut water powder is a source of potassium and magnesium, and while 500mg provides less than 1 percent of the RDI of either mineral, it's still about half the amount you'll find in a bottle of Gatorade.
[See our best BCAA picks]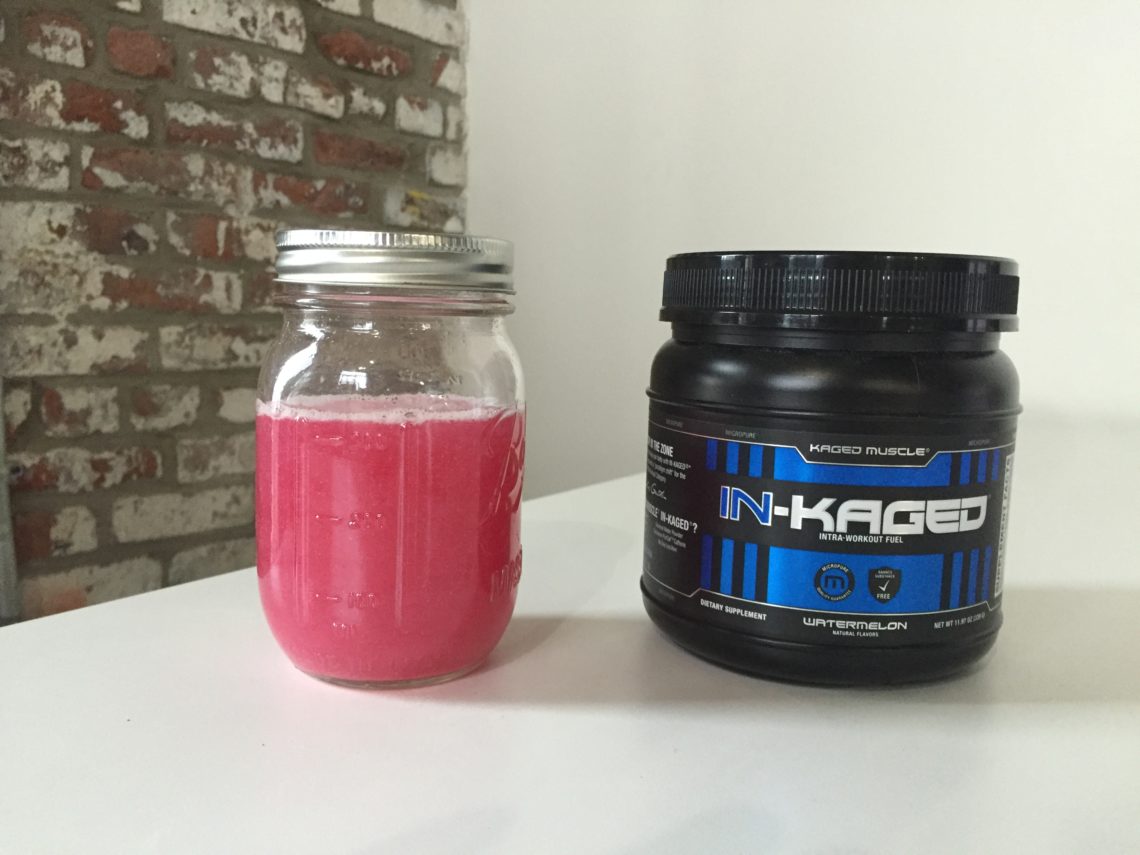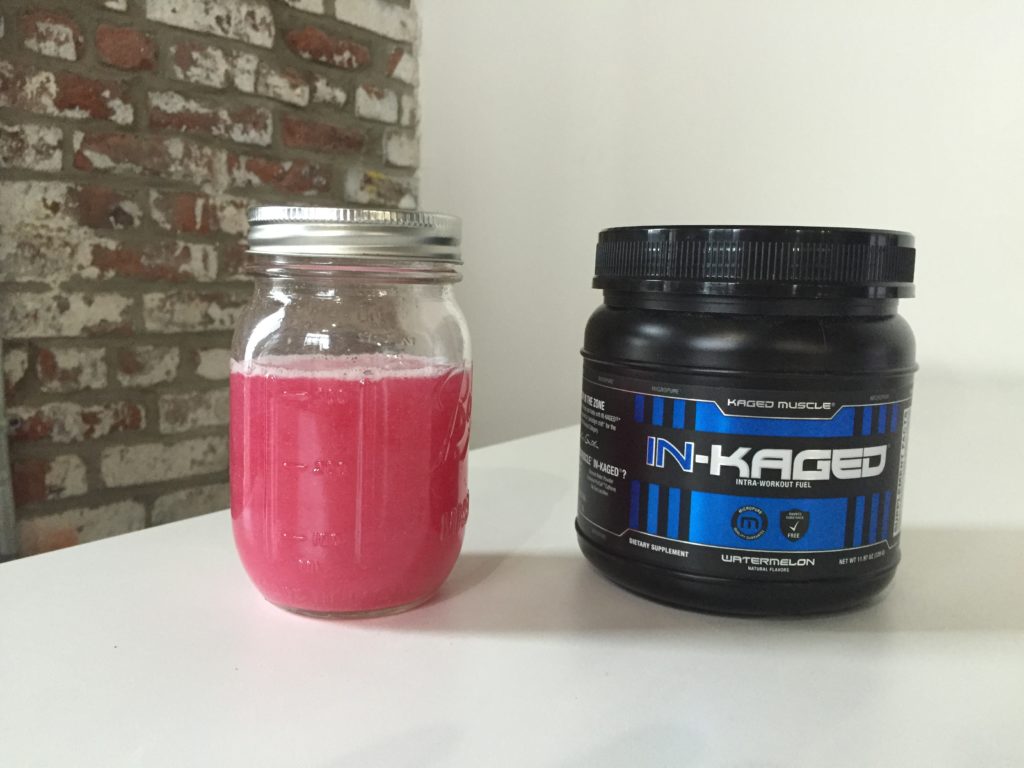 Then there's the "Neuro-Energy Matrix." The caffeine, of course, provides energy — there's as much caffeine here as you'll find in 1.5 cups of coffee. What's cool is that it also contains a gram of taurine, which may help reduce the jitteriness and lack of focus that can come with a hit of caffeine. Taurine may also improve blood flow and exercise capacity.
Finally, the l-tyrosine is also a stimulant. Studies suggest it may help the body handle stress and improve cognition and focus, and there's 500mg of the stuff, which research shows is probably an effective dose.
IN-Kaged Price
It costs $26 for 20 servings, which comes to $1.30 per serving or 26 cents per gram of BCAAs.
That's pricy, as the average competitor is closer to 11 cents per gram of BCAAs, but then again the average BCAA doesn't contain all these extra ingredients or caffeine, plus the fermentation presumably adds to the labor involved. All in all, I didn't consider this to be unreasonably overpriced.
IN-KAGED Taste
I tried the Watermelon flavor, which unsurprisingly tasted like watermelon-flavored candy, but it also tasted like a strawberry Starburst. Not as "pure" a watermelon flavor as most BCAAs but it was definitely pleasant.
Note that the tub recommends you mix it with 2 to 4 cups of water (500ml to 1 liter) and I think that's a good idea. When mixed with just 1.5 cups of water as I did, it was a little strong.
The Takeaway
There's a lot to like here. KAGED MUSCLE picked ingredients with a good reputation — there's none of the iffy supplements like glutamine that don't have much evidence behind them.
The BCAAs and the compounds that accompany them have a lot of interesting research supporting them and they're present in what appear to be pretty effective dosages, too. I'd have liked a little more citrulline and it's true that not everyone wants caffeine in their BCAAs. But the combination of fermented BCAAs and additional ingredients make this one of my favorite BCAAs.
References
1. Huang J, et al. Authentication of pure L-leucine products manufactured in China by discriminating between plant and animal sources using nitrogen stable isotope technique. J Food Sci. 2013 Mar;78(3):H490-4.
2. Jackman, SR et al. Branched-Chain Amino Acid Ingestion Stimulates Muscle Myofibrillar Protein Synthesis following Resistance Exercise in Humans. Front Physiol. 2017 Jun 7;8:390.
3. Fouré A, et al. Is Branched-Chain Amino Acids Supplementation an Efficient Nutritional Strategy to Alleviate Skeletal Muscle Damage? A Systematic Review. Nutrients. 2017 Sep 21;9(10).
4. Suzuki, T. et al. (2016) Oral L-citrulline supplementation enhances cycling time trial performance in healthy trained men: Double-blind randomized placebo-controlled 2-way crossover study. J Int Soc Sports Nutr. 2016 Feb 19;13:6.
KAGED MUSCLE IN-KAGED Intra-Workout Fuel
Per Serving: $1.30