EAS is part of Abbott Nutrition, an Ohio-based supplement company that shies away from images of giant, screaming bodybuilders in favor of a more welcoming vibe. Their branding involves more approachable athletes and is notably more inclusive of women than some mainstream supplement brands. And EAS sells a ton of supplements, including  pre-workouts, creatine, BCAAs, premade shakes and a few different kinds of protein powders, including some casein.
I decided to try their regular, chocolate-flavored, EAS 100% Whey to find out if it offers anything different — and why it's so inexpensive.
EAS 100% Whey Nutrition Info
One serving size is surprisingly large at 43 grams, or two full scoops. It's also pretty high in calories at 170 per serving. A serving also contains 30 grams of protein, 6 grams of carbs (2 grams of sugar, no fiber) and 2.5 grams of fat (1.5 grams of saturated fat).
Regarding micronutrients, there's quite a lot of cholesterol: 33 percent of your recommended daily intake, or 100 milligrams. There are also 160mg of sodium (7 percent of the RDI), 15 percent of your daily calcium, and 4 percent of your daily iron. So it contains a decent amount of calcium and iron, but the cholesterol and sodium may be a concern, depending on your dietary restrictions.
EAS Whey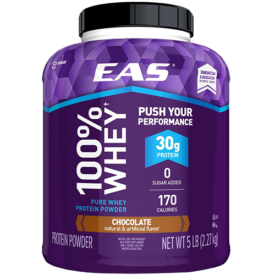 This protein powder delivers over 30 grams of protein per serving and over 7 grams of BCAAs.
Related: Best Whey Protein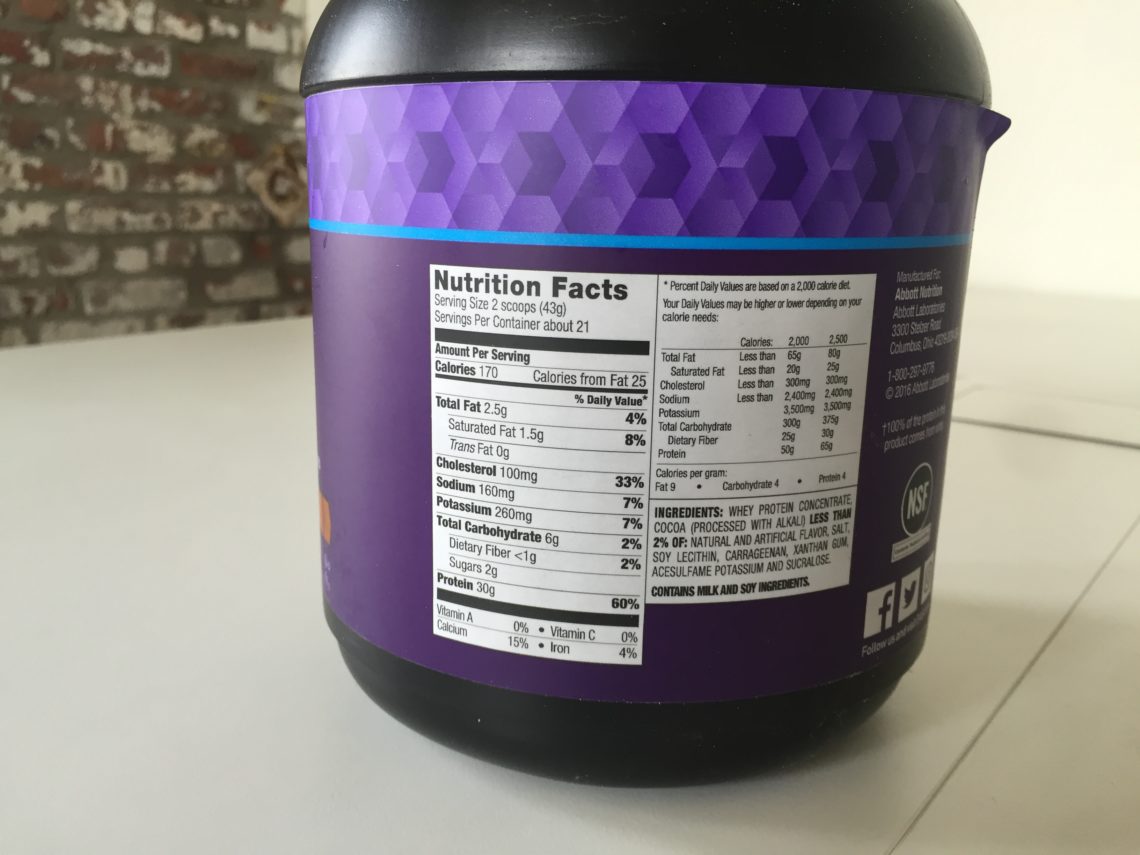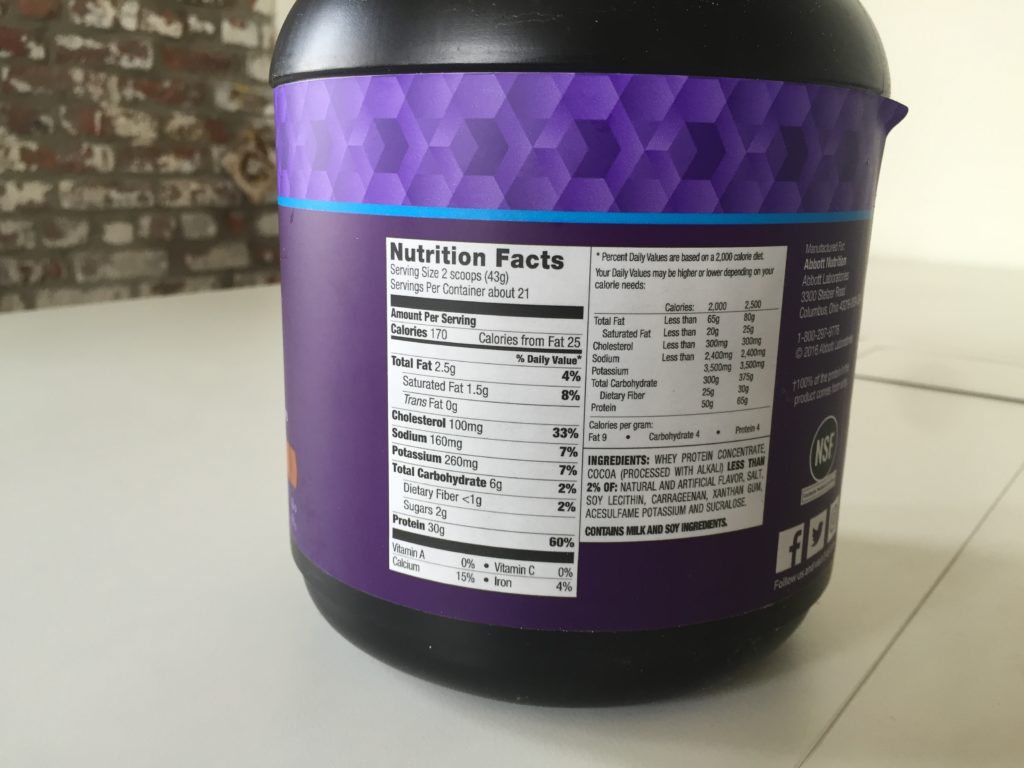 EAS 100% Whey Ingredients
There's only one kind of whey, and it's the first ingredient: whey concentrate. That's the cheapest form of whey and pure whey concentrate is controversial in some circles as it contains the most fat and carbs and is most likely to cause digestive problems.
After whey, the ingredients are cocoa, natural and artificial flavor, salt, soy lecithin (for mixability), the stabilizers carrageenan and xanthan gum, and the artificial sweeteners acesulfame potassium and sucralose.
EAS 100% Whey Benefits and Effectiveness
This isn't a particularly low-carb or low-fat protein powder, so it's not as versatile as an isolate or a blend of other kinds of whey. It's also important to point out that as a whey concentrate, this product contains plenty of lactose and there are no digestive enzymes in the ingredients list.
This means that if you have a sensitive stomach, even if you're not lactose-intolerant, there's a good chance this product will cause some digestive issues.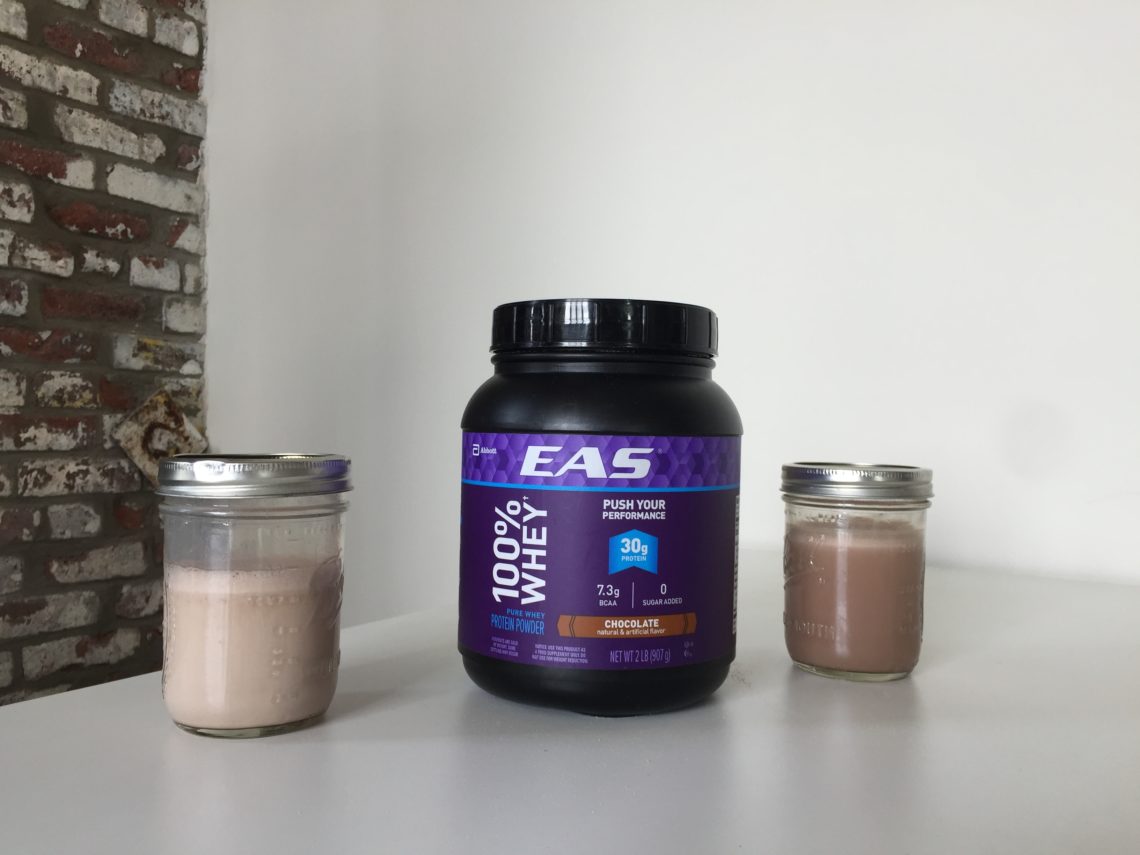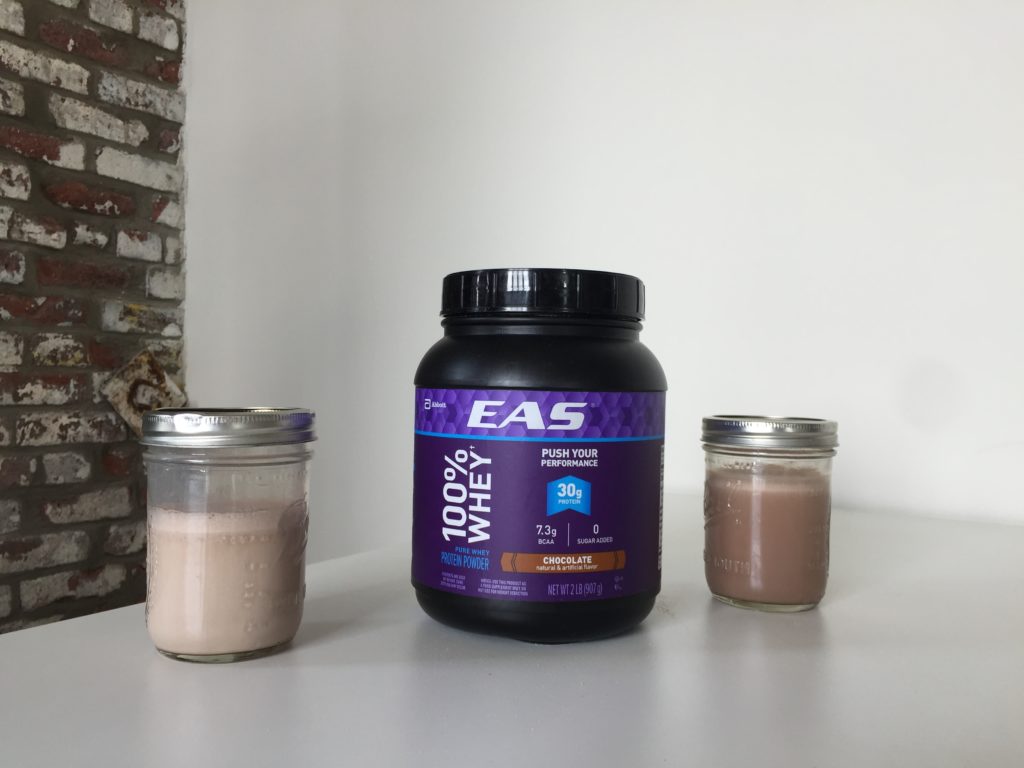 In addition to that, it contains soy and acesulfame potassium, two ingredients that — while generally recognized as safe — are frowned upon in some bodybuilding circles.
But if you can digest anything and you don't have any dietary restrictions, you might benefit from taking EAS. I do think, however, that this would be a better product with some added digestive enzymes, since whey concentrate isn't known for absorbing particularly well.
EAS 100% Whey Price
The price varies a bit online, but it's around $20 for a 2-pound tub that provides 21 servings. That's 95 cents per serving or 3.17 cents per gram of protein.
If you get the bigger, 5-pound tub, it's 45 dollars for 54 servings, which is 83 cents per serving or 2.7 cents per gram of protein.
That's very inexpensive. I usually measure protein powder price by the 5-pound tub and while EAS is 2.7 cents per gram, most protein powders are between 3 and 4 cents — even Optimum Nutrition's Gold Standard is more expensive at 3.31 cents, while MusclePharm Combat is 2.2 cents for the 5-pound tub. So it's very cheap, and for that you can thank the fact that it's a whey concentrate that's artificially sweetened and free of digestive enzymes.
Mixability
It mixes fast and shockingly well — you'll never have to deal with wet clumps of whey ever again.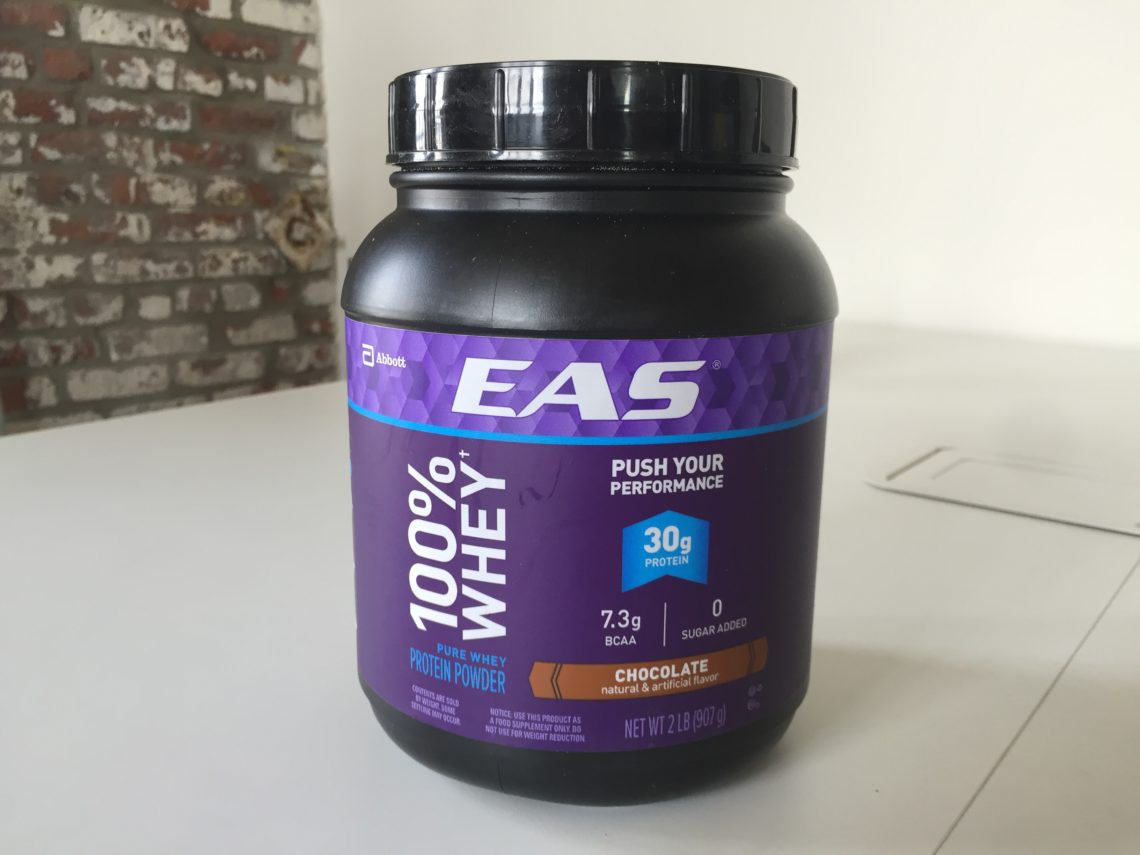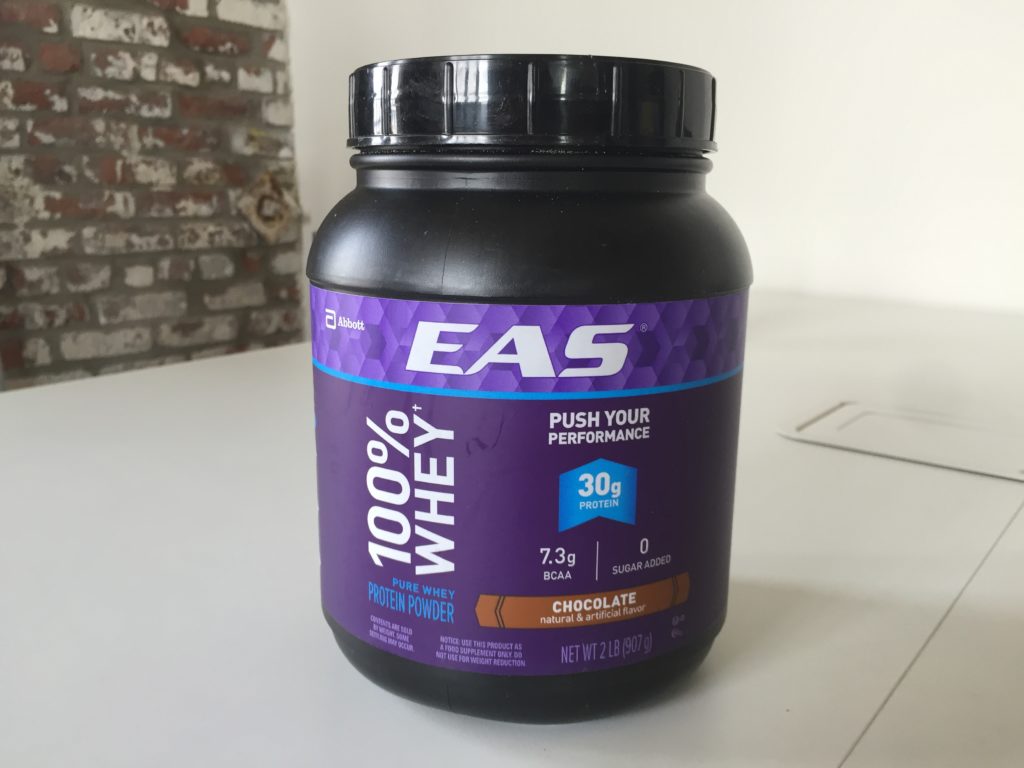 EAS 100% Whey Taste
With such a big serving size, I was expecting a very strong flavor when I mixed it with a cup of milk, but it's actually pleasantly mild. It's not overwhelmingly sweet or rich, so while it worked great with milk, it wasn't enjoyable with water. I recommend sticking to milk.
The Takeaway
EAS Whey Protein is a little high in carbs, a little high in calories,  a little high in artificial ingredients, and it might cause digestive problems, but if you feel can digest anything and you want to save money on protein, this could be a good pick for you. That said, if your main motivating factor is price, I'd rather buy an isolate-concentrate mix like MusclePharm's Combat Whey.
Other Great Protein Powders Reviews
Related Best Protein Powders Content