There are two types of protein in milk, whey and casein, and many prefer casein protein powder because it digests more slowly, it's more filling, and because of its molecular structure it's really easy to make puddings and ice cream out of it.
But given the raging popularity of protein powders and the potential advantages of picking casein, the market is awash with options. It's a good thing for the casein consumer, sure, but how do you decide which of the myriad options is best for you?
Easy, just take a look at our list of the greatest casein proteins! Maybe you're after the best tasting, the best all natural, or the best value — you'll find what you're looking for here.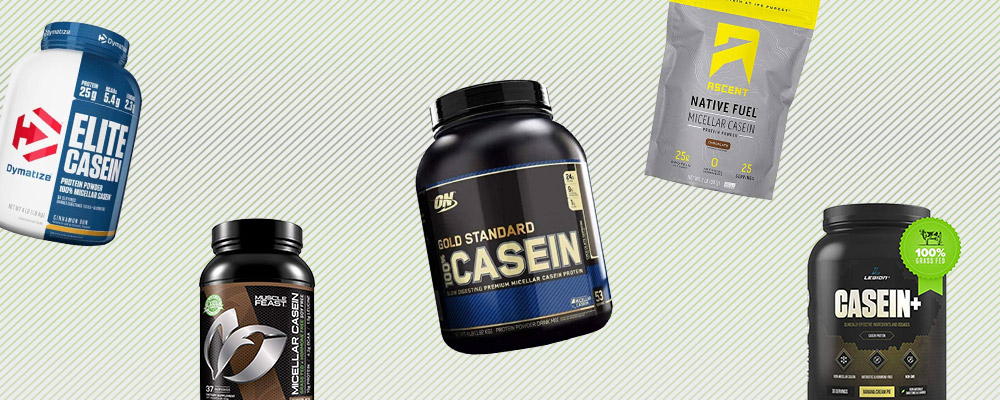 Best Overall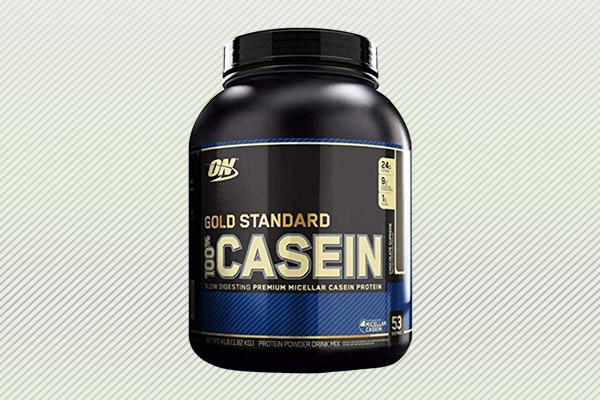 Optimum Nutrition Gold Standard Casein
Optimum Nutrition's casein is a top rated casein for many reasons. A big draw is the fact that it has a wider range of flavors available than any other casein we've seen on the market. It's also very high in calcium — 50 percent of the recommended intake per scoop — but what really elevates it is the inclusion of digestive enzymes, which may improve the speed at which the protein is absorbed.
Pros
Gold Standard Casein contains Aminogen®, a blend of digestive enzymes that some research suggests may improve the absorption rate of the protein.
Optimum Nutrition provides more flavors for their casein than any of their competitors we've seen.
This product is lower in cholesterol than most and it's very high in calcium as well.
Cons
The ingredients include artificial flavors and artificial sweeteners, which some try to avoid.
Soy lecithin is on the ingredients list, which improves mixability and texture, but some customers prefer to avoid soy.
Best All Natural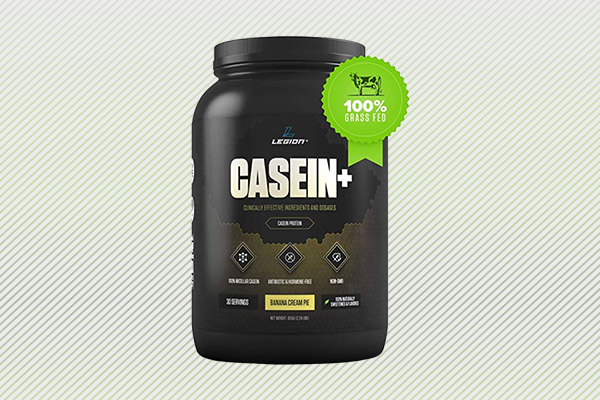 Legion Casein+
Legion Athletics is a newer supplement company but it's become well known for producing a range of high quality, all natural products. The casein is sourced from free roaming Irish dairy cows, and while it's not technically 100 percent grass-fed (they have to come inside in the winter), it's still a great quality product and the cows aren't treated with bovine growth hormone.
It's also completely free from artificial flavors and sweeteners, it's totally fat free, and higher in protein than any other casein we've seen.
Pros
The dairy is sourced from cows that free roam in small, Irish dairy farms.
With 30 grams of protein per 110 calories, it's the most protein-dense caseins we've seen — which is helped by the fact that it's fat free.
There are no artificial flavors or sweeteners in the product.
Cons
Given all the quality controls, it may not be surprising that this is one of the pricier casein products.
The ingredients include soy lecithin, which helps with mixability but isn't great for folks with soy allergies. (Or folks who just try to limit soy.)
Best Tasting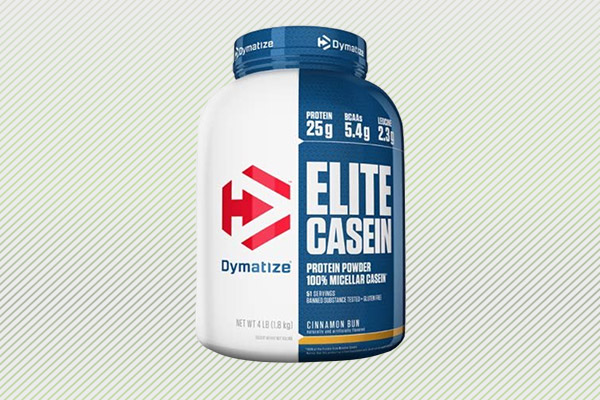 Dymatize Elite Casein
Taste, of course, is subjective, but Dymatize Elite is very well known for its surprisingly tasty casein. If flavor is your priority, the Cinnamon Bun flavor is consistently touted as perhaps the best tasting casein on Earth. This can be attributed in part to an unusual low calorie creamer, made from sunflower oil and maltodextrin.
Pros
There's absolutely no sugar in Dymatize Elite.
The product is certified by Informed Choice. While not quite as rigorous as Informed Sport, Informed Choice tests the production facility for banned substances, which may bring peace of mind to competitive athletes.
With 60 percent of the recommended daily intake per serving, this is higher in calcium than your average casein.
Cons
This protein powder contains two artificial sweeteners (sucralose and acesulfame potassium) as well as artificial flavors, which some consumers prefer to avoid.
The ingredients also include soy lecithin, which helps to improve the texture and mixability, but puts the product off limits for those who avoid soy.
Best Value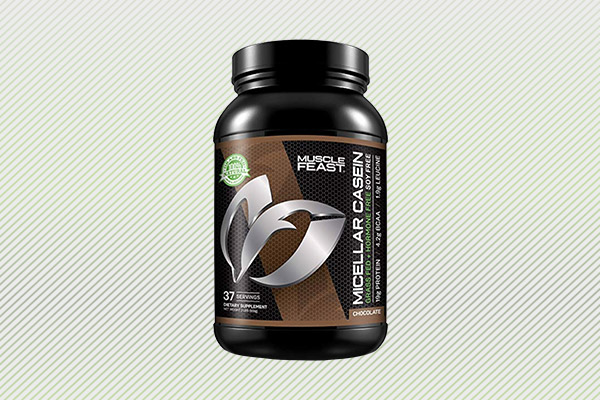 Muscle Feast Grass Fed Micellar Casein
Muscle Feast is a supplement company that produces high quality products that are remarkably inexpensive, and their casein fits the bill. With 37 servings per two-pound tub or, for greater savings, 75 servings in 4 pounds, the cost per gram of protein is lower than the vast majority of casein products.
Add all that to the fact that it's all natural, soy free, and grass fed, and there's a clear case for this being the best value casein on the market.
Pros
On a cost-per-gram basis, this casein delivers the best value on the market.
The product contains no artificial flavors or sweeteners.
Muscle Feast's casein is totally free from soy and it comes from grass fed cows, which tend to produce dairy with more Omega-3 fatty acids.
Cons
Given how low in fat this product is, the fact that it's grass fed doesn't really mean it offers more nutrition. It usually means the cows get plenty of outdoor exercise, though.
Some find the texture unusually grainy.
Best for Athletes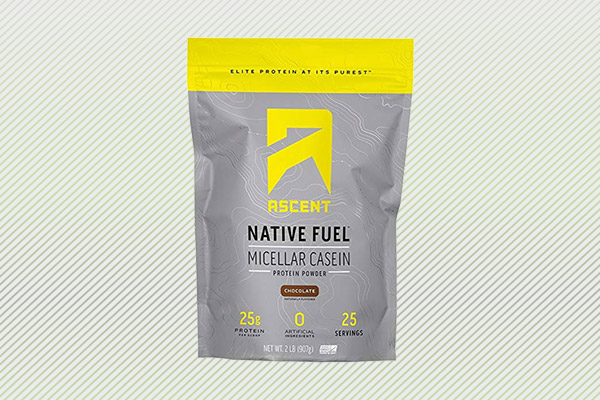 Native Fuel Micellar Casein
Ascent provides all the regular features of casein — quality protein, slow digestion — but with a couple of extra benefits for athletes. The most important is that it's certified by Informed Sport, a third party testing company that batch tests supplements to make sure they're free from banned substances. (Many athletes only consume supplements with this certification.)
Add that to the facts that it's soy free and contains more carbs than usual (6 grams per 25 grams of protein) and you've got a great option for athletes and non-athletes alike.
Pros
Native Fuel is tested by Informed Choice, a company that ensures the product is free from substances banned in athletic competitions.
The product contains no artificial flavors or sweeteners.
The ingredients don't include any gluten or soy, which is rare for a casein.
Cons
With 6 grams per scoop, this is higher in carbs than usual. This is certainly not necessarily a "con" for everyone, but if you're restricting carbs then this isn't the best casein.
This casein is relatively pricey compared to other options.
There are three types of gums here (guar, acacia, and xanthan), which a very small portion of the population may have trouble digesting.
Whey Vs Casein: Is One Better?
They're both sourced from milk (they get separated in the cheesemaking process), and they're both really high quality proteins (meaning they contain all your essential amino acids) but is one superior to the other?
One study was published in 2000 that many consider a definitive answer: 38 police officers on low calorie diets were split into three groups: high protein with whey, high protein with casein, and a group that was just low calorie.(1) After 12 weeks the casein group lost fifty percent more fat and gained thirty percent more strength than the whey group.
But that study was small and is broadly considered a one-off: many others have found no practical difference between whey and casein with regard to muscle gain or athletic performance.(2)(3)(4)
That said, casein is lower in lactose and it digests more slowly than whey, so some find it to be a little more filling, though research isn't unanimous.(5)(6)(7) While both whey and casein are great ways to manage appetite, if hunger is a big obstacle for you, then casein could potentially be a better pick.
It tends to be slightly more expensive, though, because casein can be used to make cheese while whey has historically been considered a waste byproduct of the cheesemaking process.
BarBend Tips
Most casein powders are micellar casein, which is easy to turn into puddings and, if you freeze it for an hour or two, ice cream. Mix a 2:3 ratio of casein to water or whole milk, mix it for a minute, and you're ready to go.
Casein digests more slowly than whey, so some find it more useful for appetite control.
There doesn't seem to be any difference between whey and casein when it comes to muscle gain or athletic performance.
Wrapping Up
There are plenty of good reasons to experiment with casein protein, and given it usually costs just an extra cent or two more than whey per gram of protein, the "more expensive" label shouldn't be too much of a deterrent. Pick the brand that's right for you, and enjoy!
References
1. Demling, RH, et al. Effect of a hypocaloric diet, increased protein intake and resistance training on lean mass gains and fat mass loss in overweight police officers. Ann Nutr Metab. 2000;44(1): 21-9.
2. Messina M, Lynch H, et al. "No Difference Between the Effects of Supplementing With Soy Protein Versus Animal Protein on Gains in Muscle Mass and Strength in Response to Resistance Exercise." Int J Sport Nutr Exerc Metab. 2018 May 3:1-36.
3. Wilborn CD, Taylor LW, et al. The Effects of Pre- and Post-Exercise Whey vs. CaseinProtein Consumption on Body Composition and Performance Measures in Collegiate Female Athletes. J Sports Sci Med. 2013 Mar 1;12(1):74-9.
4. Fabre M, Hausswirth C, et al. Effects of Postexercise Protein Intake on Muscle Mass and Strength During Resistance Training: Is There an Optimal Ratio Between Fast and Slow Proteins? Int J Sport Nutr Exerc Metab. 2017 Oct;27(5):448-457.
5. Boirie Y, et al. Slow and fast dietary proteins differently modulate postprandial protein accretion. Proc Natl Acad Sci U S A. 1997 Dec 23;94(26):14930-5.
6. Abou-Samra R, et al. Effect of different protein sources on satiation and short-term satiety when consumed as a starter. Nutr J. 2011 Dec 23;10:139.
7. Bendtsen LQ, et al. Effect of dairy proteins on appetite, energy expenditure, body weight, and composition: a review of the evidence from controlled clinical trials. Adv Nutr. 2013 Jul 1;4(4):418-38.