There are two types of protein in milk: whey and casein. Many prefer casein protein powder because it digests more slowly and it's more filling. Additionally, due to its molecular structure, it's really easy to make puddings and ice cream out of it. Given the raging popularity of protein powders and the potential advantages of picking casein, how do you decide which is the best casein for you?
We decided to find the best casein proteins on the market and compile them in an easy go-to list. Maybe you're after the best tasting, the best all-natural, or simply the best value. We've tried dozens to land on the following list:
Best Casein
Editor's note: The content on BarBend is meant to be informative in nature, but it should not be taken as medical advice. The opinions and articles on this site are not intended to diagnose, prevent, and/or treat health problems. It's always a good idea to talk to your doctor before beginning a new fitness, nutritional, and/or supplement routine. Individual needs for vitamins and minerals will vary.
Best Casein
Sometimes, a simple and straightforward product gets the job done better than almost anything else. Our top casein pick is a newer entry to the market with everything we want to see from a casein product without a lot of fluff. It's free of artificial flavors and colors. For a low-fat protein product, the grass-fed versus grain-fed debate matters a bit less.
Transparent Labs Grass-Fed Casein
Transparent Labs has opted to source their casein from 100 percent grass-fed cows, and they've managed to stack up well with the broader market. Their casein is incredibly low in fat — just half a gram per serving — and very high in calcium, with 60 percent of the daily recommended value per scoop. It's relatively low in carbohydrates, too. One potential knock is that there aren't a wide variety of flavors yet available.
Transparent Labs Grass-Fed Casein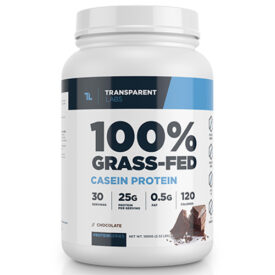 Transparent Labs Grass-Fed Casein
Free of artificial flavors, colors, and sweeteners, Transparent Labs Grass-Fed Casein is an incredibly straightforward supplement without fillers. It's also remarkably low in fat and carbohydrates.
Who Should Buy Transparent Labs Grass-Fed Casein
Anyone who wants a casein supplement free of artificial flavors, colors, and ingredients.
Buyers who prefer grass-fed dairy products.
People looking for casein very low in fat.
Who Shouldn't Buy Transparent Labs Grass-Fed Casein

Customers who want a wide variety of flavors to pick from.
People always drinking casein on the go.
Athletes, generally, at night take casein, but some prefer it mid-day. Unfortunately, this isn't the best-mixing casein we've tried, so it might get a little too thick in some shaker bottles. Nevertheless, Transparent Labs took their time in releasing a casein product, and we're glad they finally did.
[Related: Could Baking Soda Be The Best Workout Supplement You've Never Tried?]
Best Mixing Casein
For all-natural, high-quality supplements, we often look to Legion. Known for their vast array of research-backed products, their casein rates very highly. In addition, Legion Athletics is well known for producing a range of high-quality, all-natural products.
Legion Casein+
The casein is sourced from free-roaming Irish dairy cows, and while it's not technically 100 percent grass-fed (they have to come inside in the winter), it's still a great quality product made from cows that spend a ton of time outside and that aren't treated with bovine growth hormone. They're also big on sourcing casein from sustainable farms. It's also completely free from artificial flavors and sweeteners, low in fat, and higher in protein than most other caseins we've seen.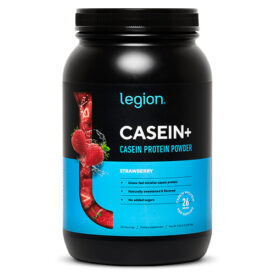 Legion's Casein+ has more protein per calorie than any other casein we've seen, plus it has no artificial ingredients. Each serving provides 5.2 grams of branch chain amino acids.
Who Should Buy Legion Casein+
If you have concerns about conventionally raised dairy, you'll be glad to learn this casein is sourced from cows that free roam in small, Irish dairy farms.
Folks who want as much protein as they can get: it's among the most protein-dense caseins we've seen.
People who prefer all-natural supplements: there are no artificial flavors or sweeteners in the product.
Who Should Buy Legion Casein+
Anyone who wants to save money: given all the quality controls, it may not be surprising that this is one of the pricier casein products.
The ingredients include soy lecithin, which helps with mixability but isn't great for folks with soy allergies. (Or folks who try to limit soy.)
Legion has landed many high-profile athlete sponsorship deals for a good reason: they back up their claims with science and use high-quality ingredients. So if you want down-to-Earth supplements without the razzle-dazzle, this is a solid bet.
[Related: The Best Types Of Supplements For Performance, Weight Loss, And Health]
Best Casein for Digestion
The world's most famous casein, for this category, we needed a supplement that had a lot of protein per calorie, that tasted good, that was reasonably priced, and had specific additions to aid digestion. A big draw is that it has a wider range of flavors available than any other casein we've seen on the market.
Optimum Nutrition Gold Standard
It's also very high in calcium — 50 percent of the recommended intake per scoop. But what really elevates it is the inclusion of digestive enzymes, which may improve the speed at which the protein is absorbed.
Optimum Nutrition Gold Standard Casein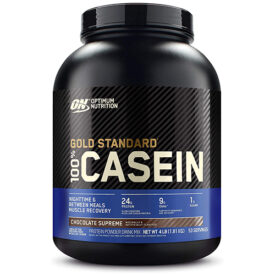 Optimum Nutrition Gold Standard Casein
Well-rounded, well-priced casein that contains enzymes that might improve its digestion. Each single-scoop serving packs 24 grams of protein and just a single gram of sugar.
Who Should Buy Optimum Nutrition Gold Standard Casein
Anyone with interest in maximizing absorption; Gold Standard Casein contains Aminogen®, a blend of digestive enzymes that some research suggests may improve the absorption rate of the protein.
People looking for a wide range of flavors; Optimum Nutrition provides more flavors for their casein than any of their competitors we've seen.
Folks looking for casein that's low in cholesterol and high in calcium.
Who Shouldn't Buy Optimum Nutrition Gold Standard Casein
The ingredients include artificial flavors and artificial sweeteners, which some try to avoid.
Soy lecithin is on the ingredients list, which improves mixability and texture, but some customers eschew soy.
Optimum Nutrition is the most popular company in sports supplementation, which means they can keep prices low and expand their flavors and offerings. All that combined with a good reputation among third-party testers means it's easy to see why the products are so valued.
[Related: Intermittent Fasting 101: A Guide To Benefits, Muscle Gain, And More]
Best Tasting Casein
Taste, of course, is subjective, but the category casein is an unusual one: everybody at BarBend and just about everyone online happens to agree on this flavor taking the cake. (Er, bun.) Dymatize Elite is very well known for its surprisingly tasty casein.
Dymatize Elite Casein
If the flavor is your priority, the Cinnamon Bun flavor is consistently touted as perhaps the best-tasting casein on the market. This can be attributed in part to an unusual low-calorie creamer, made from sunflower oil and maltodextrin, that makes for a creamy, frosting-y flavor despite containing just 1.5 grams of fat per scoop and no sugar.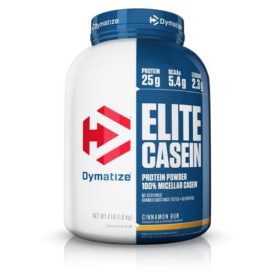 This casein mixes well and has an unusual, low-fat creamer that makes for a great flavor. Each single-scoop serving provides 25 grams of protein and is sugar-free.
Who Should Buy Dymatize Elite Casein
Anyone who wants to reduce their sugar intake: there's no sugar at all here.
Athletes: this product is certified by Informed Choice. While not quite as rigorous as the certification of Informed Sport, Informed Choice tests the production facility for banned substances, which may bring peace of mind to competitive athletes.
People looking to increase their calcium. With 60 percent of the recommended daily intake per serving, this is higher than your average casein.
Who Shouldn't Buy Dymatize Elite Casein
This protein powder contains two artificial sweeteners (sucralose and acesulfame potassium) and artificial flavors, which some consumers prefer to avoid.
The ingredients also include soy lecithin, which helps to improve the texture and mixability but puts the product off-limits for those who avoid soy.
Once again, the taste is subjective, but Dymatize benefits from outstanding word of mouth and a casein line with four different flavors, so you're likely to find something to suit your palate.
[Related: Best Macros Calculator For Tracking Muscle Gain And Fat Loss]
Best Value Casein
It can be hard to find a good combination of quality and value in protein powders. But across all their products and particularly their casein, we've found Muscle Feast to stand out from the pack. Muscle Feast is a supplement company that produces high-quality products that are remarkably inexpensive, and their casein fits the bill.
Muscle Feast Grass Fed Micellar Casein
With 37 servings per two-pound tub or, for greater savings, 75 servings in four pounds, the cost per gram of protein is lower than the vast majority of casein products. Add all that to the fact that it's all-natural, soy-free, and grass-fed, and there's a clear case for this being the best value casein on the market.
Muscle Feast Grass-Fed Micellar Casein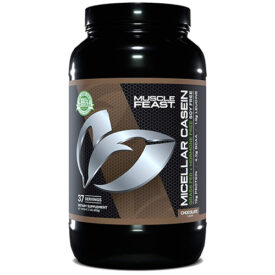 Muscle Feast Grass-Fed Micellar Casein
This inexpensive casein is all-natural and sourced from grass-fed cows. It is available either flavored or unflavored in a two or four-pound tub.
Who Should Buy Muscle Feast Grass Fed Micellar Casein
Penny pinchers: on a cost-per-gram-of-protein basis, this casein delivers the best value on the market.
The all-natural crowd: the product contains no artificial flavors or sweeteners.
Paleo types: while it is dairy, Muscle Feast's casein is totally free from soy, and it comes from grass-fed cows, two factors that are typically important among Paleo adherents.
Who Shouldn't Buy Muscle Feast Grass Fed Micellar Casein
Those buying it because it's grass-fed. It is higher in beneficial fatty acids, but given how low-fat protein powders are, there aren't really any practical health benefits relative to conventional dairy. That said, grass-fed cows spend more time outside, so it could be worth it for those who prefer dairy made from free-roaming cows.
Those who want the best-tasting protein powder. This protein is good, but the fact that it's all-natural means it's not the most scrumptious available.
It's easy to confuse inexpensive with poor quality, but Muscle Feast doesn't fall victim to that trap. For low-cost, effective supplements, we often turn to Muscle Feast.
[Related: Nutrition For Bulking: 10 Tips For Intelligent Muscle Gain]
Best Casein for Athletes
How do you decide on the best protein for athletes? Third-party testing. Companies like Informed Choice, Informed Sport, and NSF test batches and/or facilities for banned substances. Ascent Casein provides all the regular features of casein — quality protein, slow digestion — but with a couple of extra benefits for athletes.
Ascent Native Fuel Micellar Casein
The most important is that it's certified by Informed Sport, a third-party testing company that batch tests supplements to make sure they're free from banned substances. (Many athletes only consume supplements with this certification, and it's considered more rigorous than Informed Choice, which "only" tests the facilities in which they're made.) Add that to the fact that it's soy-free and contains more carbs than usual (six grams per 25 grams of protein), and you've got a great option for athletes and non-athletes alike.
Native Fuel Micellar Casein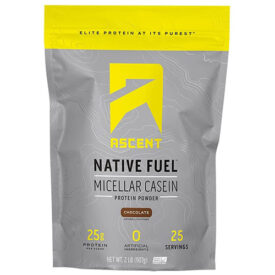 Native Fuel Micellar Casein
This slow-digesting protein powder is all-natural, soy-free, and tested for banned substances by Informed Sport. It's available in three different flavors in either a 32 or 64-ounce pounch.
Who Should Buy Ascent Native Fuel Micellar Casein
Athletes. Native Fuel is tested by Informed Choice, a company that ensures the product is free from substances banned in athletic competitions.
People who avoid artificial flavors and sweeteners — there are none to be found here.
The ingredients don't include any gluten or soy, qualities valued by "all-natural" and paleo folks.
Who Shouldn't Buy Ascent Native Fuel Micellar Casein
People looking to minimize their carb intake. With six grams per scoop, this is higher in carbs than usual. This is certainly not necessarily a "con" for everyone, but this isn't the best casein if you're restricting carbs.
Penny pinchers. This casein is relatively pricey compared to other options.
There are three types of gums here (guar, acacia, and xanthan), which a tiny portion of the population may have trouble digesting.
Ascent has a solid reputation among functional fitness athletes and influencers like Tim Ferriss. It's not the cheapest casein, but it's a standout for athletes — very few caseins are certified by Informed Sport, and it's earned the product endorsements from several athletes.
[Related: The Lifter's Guide To Magnesium: What This Nutrient Does For Strength]
Best Casein for Baking
This casein protein by Jacked Factory is here for all your protein-packed baking needs. Each single-scoop serving provides 25 grams of protein with just three grams of sugar. It is fat-free and made from hormone-free, grass-fed cattle.
Authentic Casein
Each batch of this casein is manufactured in the USA in a cGMP-certified facility. Although it is a stellar option to use in the recipe for baked goods, it also mixes well in a shaker bottle or foods like yogurt or oats. In addition, it uses zero fillers or dyes, and the ingredients are bioavailable.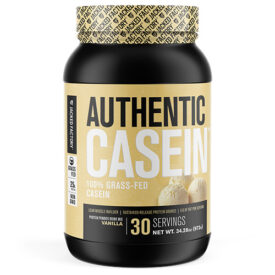 This casein powder offers 25 grams of protein per single-scoop serving alongside 723 milligrams of calcium. It is fat-free and packs only three grams of sugar per serving (none of which is added).
Who Should Buy Authentic Casein
Anyone who is looking to add a protein boost to their baked goods.
Those who want to mix their casein into food.
People who value their casein manufactured in the USA.
Who Shouldn't Buy Authentic Casein
Anyone who wants a flavor other than vanilla.
Folks who are working with a tighter budget.
If you want to cut weight but struggles with cravings for baked goods, then this casein may be a great tool to help you get over that hurdle. Use it in brownies, cookies, cakes, and more. The extra protein replacing the fat or sugar will likely help keep you on course.
[Related: The Actual Pros And Cons Of The Paleo Diet]
How We Decided Our Picks
We looked at several factors — and dozens of products — that helped us develop this list of the best casein protein powders. Here are the criteria we decided were the most important for the average gym-goer.
Calories Per Gram of Protein
We are, after all, talking about protein powder! People buy these products to get as much protein out of a scoop as they can, so we assessed the amount of protein one finds in a serving relative to the carbohydrates and fat — in other words, how much of each calorie you consume. Is protein? 25 grams of protein with four grams of carbs and no fat would be 116 calories overall and 4.64 calories per gram of protein. That's an excellent (low) score; a product with more carbs and fat might have you consuming, say, nine or 10 calories for every gram of protein consumed.
Price
There are calories per gram of protein and cents per gram of protein because, again, the product isn't bought for the number of scoops it provides but the amount of protein it provides. Five or so cents per gram of protein is a solid value, but we'd allow more so long as the product offered something exceptional, like a lot of protein per calorie or…
Enzymes
You might have noticed our first pick contains digestive enzymes, which might help with protein absorption. This is very rare, but other handy additives that are sometimes seen in casein products include lactase, which may lower the odds of indigestion among those with lactose allergies, and vitamins and minerals.
Flavor Range
This is where larger companies tend to gain an edge: the more product a company sells, the more flavors they can play with. So, for example, Optimum Nutrition has a famously wide range of flavors for most of its products, including their casein.
Controversial Ingredients
We would never say that you should avoid soy, assuming your doctor hasn't told you to. There's no good evidence it decreases testosterone, but the fact remains that many people try to avoid it just in case it does. The same goes for gluten, artificial sweeteners, and corn: if you're healthy and you eat a balanced diet, they shouldn't cause health problems, but it's fine if you'd rather avoid them anyway. So we noted their presence on our list.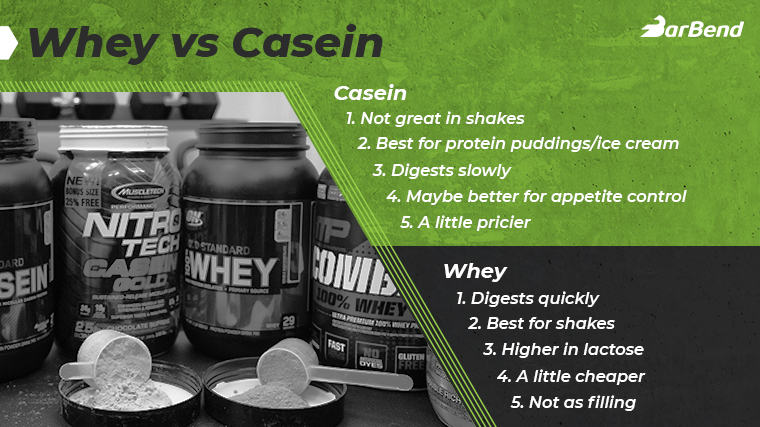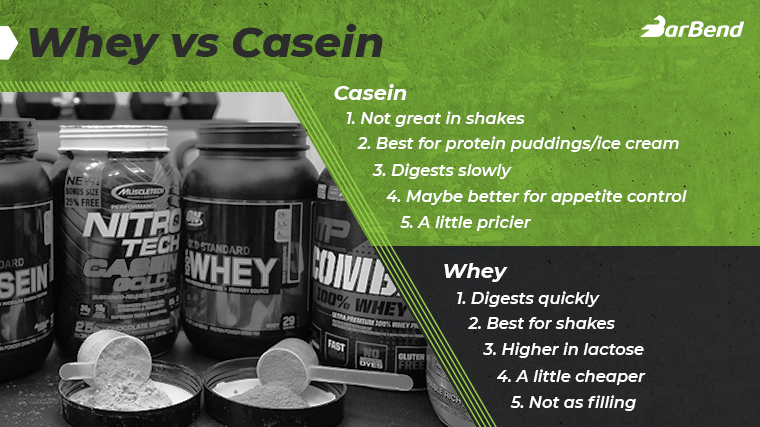 [Related: Should Athletes Try Low-Carb Diets?]
Whey vs. Casein: Is One Better?
They're both sourced from milk (they get separated in the cheesemaking process), and they're both really high-quality proteins (meaning they contain all your essential amino acids) but is one superior to the other?
One study was published in 2000 that many consider a definitive answer: 38 police officers on low-calorie diets were split into three groups: high protein with whey, high protein with casein, and a group that was just low calorie. (1) After 12 weeks, the casein group lost fifty percent more fat and gained thirty percent more strength than the whey group. But that study was small and broadly considered a one-off: many others have found no practical difference between whey and casein regarding muscle gain or athletic performance. (2)(3)(4)
That said, casein is lower in lactose, and it digests more slowly than whey, so some find it to be a little more filling, though research isn't unanimous. (5)(6)(7) While both whey and casein are great ways to manage appetite, if hunger is a big obstacle for you, then casein could potentially be a better pick. It tends to be slightly more expensive, though, because casein can be used to make cheese, while whey has historically been considered a waste byproduct of the cheesemaking process.
[Related: IIFYM (If It Fits Your Macros): Your Ultimate Guide To This Diet]
What To Consider Before Buying
Whether this is a new supplement in your routine or you've been taking it for a while, there are a few things it's worth thinking about before making the buy. To reiterate, there doesn't seem to be any practical difference between these two kinds of protein powders when it comes to muscle gain or athletic performance.
Most Casein Powders are Micellar Casein
Many companies act like it's a huge deal that they only use micellar casein, the kind that's encased in a globular structure called a micelle. But the vast majority of casein powders use micellar casein; this isn't unusual.
You Can Make Pudding With Casein
This is a huge advantage that casein has over whey. If you add water or (even tastier) milk to casein in a 3:2 ratio and stir it up for a few minutes, it becomes a pudding-like substance. Eat it straight away or freeze it for a few hours, and it becomes ice cream!
[Related: Does The Ketogenic Diet Work For Strength Training?]
Wrapping Up
There are plenty of good reasons to experiment with casein protein, and given it usually costs just an extra cent or two more than whey per gram of protein, the "more expensive" label shouldn't be too much of a deterrent. So pick the best casein for you, and enjoy!
Frequently Asked Questions
Is casein or whey better for weight loss?
Neither whey nor casein are superior for weight loss. Neither protein is more anabolic or "fat burning." However, casein does digest more slowly so some find it a more filling snack. If it helps you eat less, it's a good supplement for weight loss.
Does casein protein powder contain lactose?
It has very little lactose, less than whey protein, however it's not always lactose free. If there's no sugar on the label then there's under half a gram of lactose per serving, and probably none. But people with serious allergies should contact the manufacturer to confirm.
Should I have casein protein before bed?
Casein is a slow digesting protein, so it will release amino acids into your bloodstream for a longer period of time than a lot of other proteins, like whey. The slower digestion rate can make it more filling and might prevent midnight snacking, but it doesn't make it more "anabolic" than other protein.
References
Demling, RH, et al. Effect of a hypocaloric diet, increased protein intake and resistance training on lean mass gains and fat mass loss in overweight police officers. Ann Nutr Metab. 2000;44(1): 21-9.
Messina M, Lynch H, et al. "No Difference Between the Effects of Supplementing With Soy Protein Versus Animal Protein on Gains in Muscle Mass and Strength in Response to Resistance Exercise." Int J Sport Nutr Exerc Metab. 2018 May 3:1-36.
Wilborn CD, Taylor LW, et al. The Effects of Pre- and Post-Exercise Whey vs. CaseinProtein Consumption on Body Composition and Performance Measures in Collegiate Female Athletes. J Sports Sci Med. 2013 Mar 1;12(1):74-9.
Fabre M, Hausswirth C, et al. Effects of Postexercise Protein Intake on Muscle Mass and Strength During Resistance Training: Is There an Optimal Ratio Between Fast and Slow Proteins? Int J Sport Nutr Exerc Metab. 2017 Oct;27(5):448-457.
Boirie Y, et al. Slow and fast dietary proteins differently modulate postprandial protein accretion. Proc Natl Acad Sci U S A. 1997 Dec 23;94(26):14930-5.
Abou-Samra R, et al. Effect of different protein sources on satiation and short-term satiety when consumed as a starter. Nutr J. 2011 Dec 23;10:139.
Bendtsen LQ, et al. Effect of dairy proteins on appetite, energy expenditure, body weight, and composition: a review of the evidence from controlled clinical trials. Adv Nutr. 2013 Jul 1;4(4):418-38.