We receive free products and receive commissions through our links. See
disclosures page
.
How do you make an "elite" protein? Ascent is swearing up and down that their casein protein is the benchmark in protein purity, and they manage to support their claims because they make all of their whey and casein themselves, in house. (Most big name protein brands buy their protein from large manufacturers like Glanbia.)
Combine this with their stance on avoiding artificial flavors and sweeteners, and you've got a brand with a dedicated following among athletes who prefer "all natural" diets, with endorsements from several big name CrossFit® athletes.
The product comes in Chocolate, Vanilla Bean, and Chocolate Peanut Butter. We tried Chocolate Peanut Butter and found it to be an effective, all natural way to get some filling, slow digesting protein.
A slow digesting protein powder that's all natural, soy free, and tested for banned substances by Informed Sport.
Ascent Casein Nutrition
One scoop delivers the following:
Calories: 140
Protein: 25g
Carbs: 6g (1g fiber, no sugar)
Fat: 1.5g
Cholesterol: 8% RDI (25mg)
Sodium: 6% RDI (140mg)
Calcium: 45% RDI
Potassium: 6% RDI
Iron: 6% RDI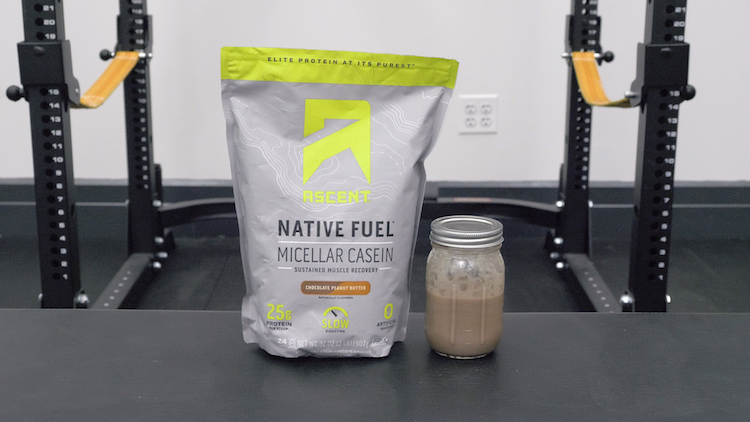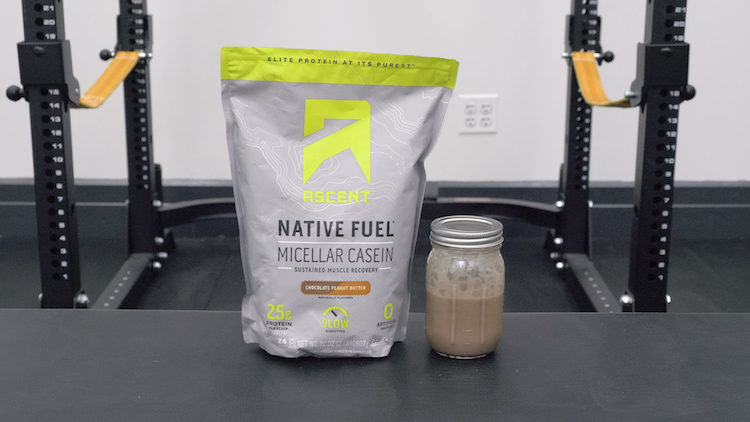 Ascent Casein Ingredients
Micellar casein, peanuts, cocoa, natural flavors, a blend of three types of gum (guar, acacia, and xanthan), sea salt, sunflower lecithin (for mixability), monk fruit extract, and stevia leaf extract.
Ascent Casein Benefits & Effectiveness
So why would you want to pick Ascent Casein?
For starts, let's recap the differences between whey and casein. They're both found in milk, and the long and short of it is that casein digests more slowly. It clumps easily (you can use less fluid and make a protein pudding really easily), and it's generally more filling.
Because it digest more slowly and releases amino acids into the bloodstream over a longer period of time than whey, a lot of people like to take it before bed so that they stay "anabolic" while they're sleeping.(1) Most research shows no practical difference between the two when it comes to actual muscle gained, but casein's pretty filling and it's a very high quality protein nonetheless.(2)(3)(4)
[Learn more about the pros and cons in our comparison of whey vs casein!]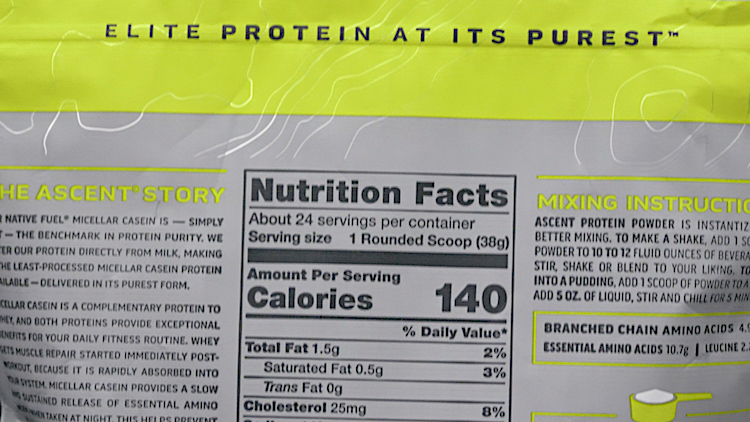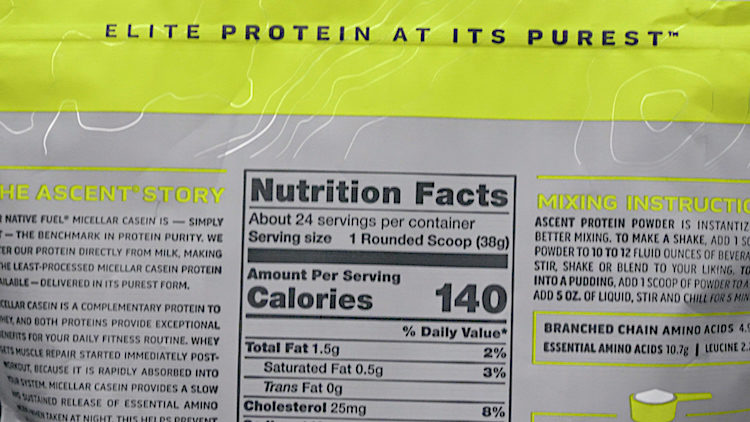 As mentioned, there are no artificial flavors or sweeteners and there's no soy either, ingredients that plenty of people try to avoid. (There's almost certainly no reason to think soy will lower your testosterone, but there's no denying there's a market for people who want no soy or artificial anything in their protein. Ascent caters to them nicely.)
The only allergens listed on the label are milk and peanuts, so it's pretty low in allergens as far as protein powders go. The main potential issues are the gums, which some people avoid for causing digestive issues. If you don't fall into that category, you're unlikely to take issue with Ascent, unless you're on a very low carb diet — with 6 grams of carbs for 25 grams of protein, Ascent's casein has two or three times the amount of carbs you'll typically find.
Finally, the product is tested by Informed Sport for banned substances. This will bring peace of mind to competitive athletes, many of whom endorse the product.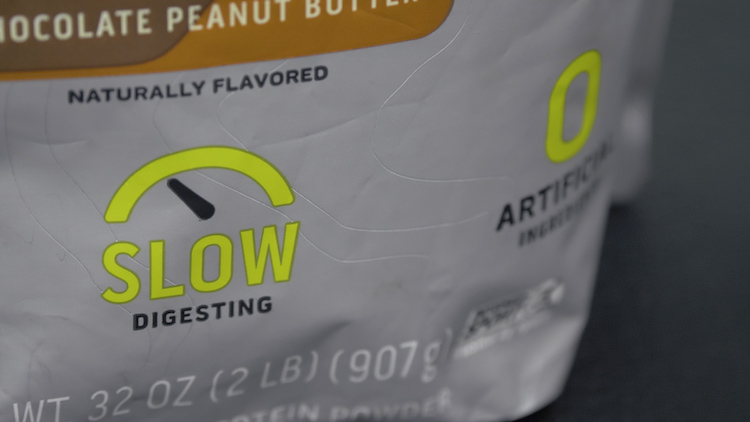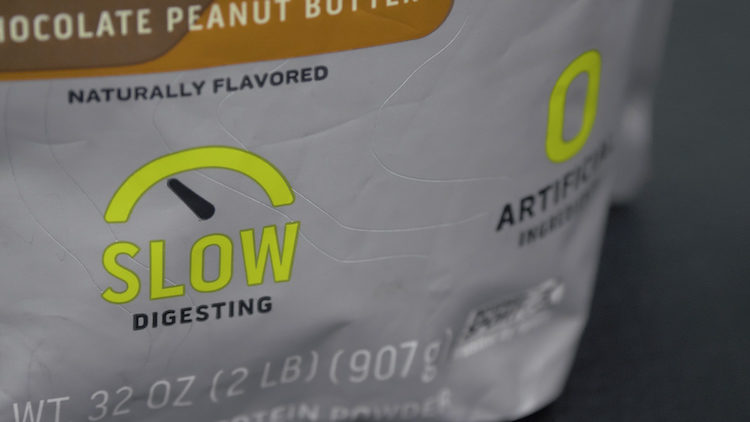 Ascent Casein Price
You can pick up a bag of 24 servings for between $35 and $45. That comes to about $1.65 per scoop or 7 cents per gram of protein.
As a rule, casein is slightly more expensive than whey, which has traditionally been thought of as a waste byproduct of the cheesemaking process. (You use casein to make cheese, so it has a little more value.)
But even for a casein protein powder, this is just a tiny bit on the pricey side. Bigger brands like Optimum Nutrition's Gold Standard, probably the best known and among the cheapest caseins you'll find, it 5 cents per gram of protein. Then again, that product has soy and artificial sweeteners and isn't tested by Informed Sport and so on. So you might find the price of Ascent worth it.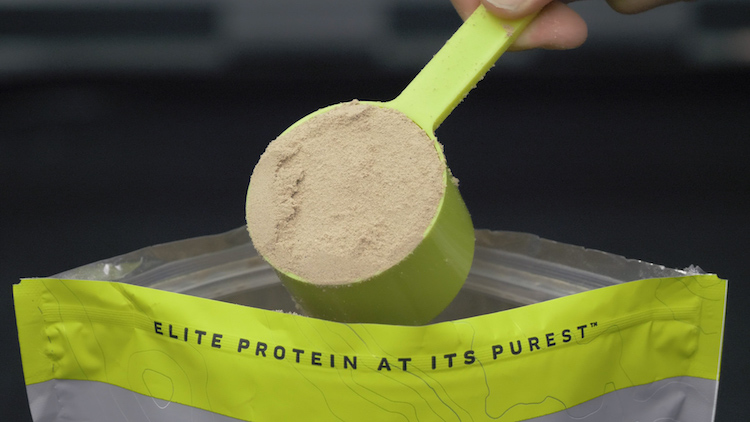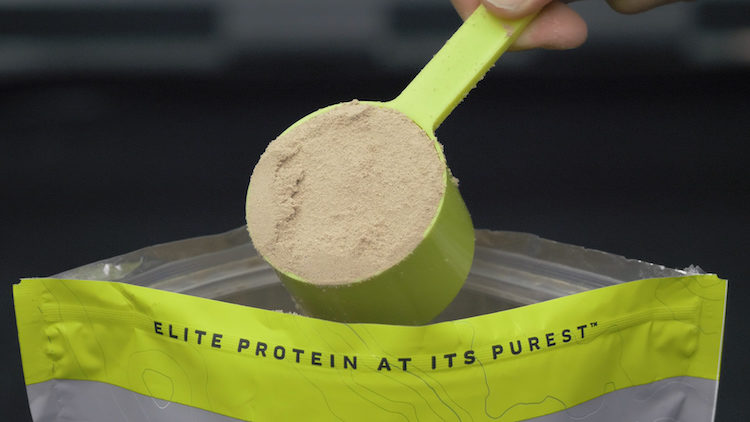 Ascent Casein Taste
It's naturally flavored, so it's not half as delicious as the chocolate peanut butter flavor you might be used to in other protein powders, like Dymatize Iso-100. While there are two types of natural sweeteners in here and it contains natural flavors, I found it to be somewhat bland: the peanut flavor was mild and the cocoa gave it an earthy flavor, almost like coffee. When mixed with water, I'd say that more than anything this tastes like cocoa puffs without the milk. Totally passable, but I'd rather mix the powder with milk than water.
Ascent Casein Pros & Cons
Pros
Tested by informed sport
Free from gluten, soy, rBGH
No artificial ingredients
Cons
Contains milk and peanuts and tree nuts
A tad pricey
A little high in carbs
Gums might be tricky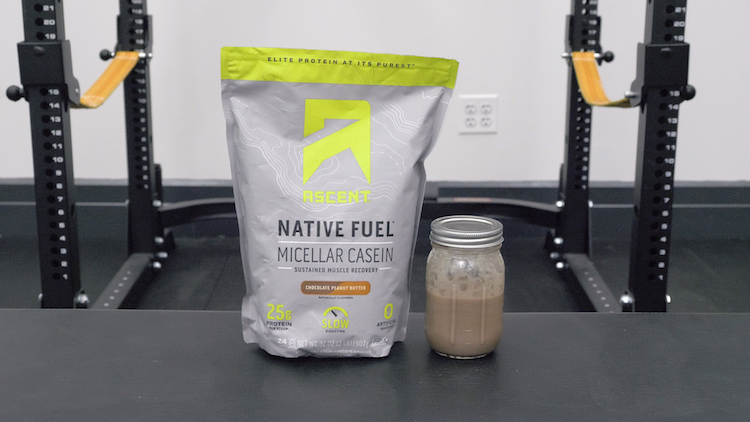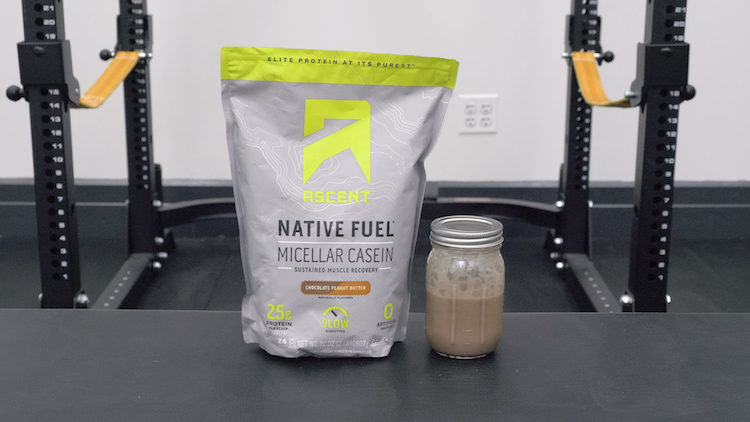 The Takeaway
Sure, this costs one or two cents more per gram of protein than its competitors, but I think you're getting a good deal, here. It's all natural, free from a lot of ingredients that people are most likely to object to in their supplements (artificial sweeteners and soy), plus the Informed Sport testing means it may bring some peace of mind to competitive athletes.
If you have trouble digesting gums or if you're on an extremely low carb diet then it might be off limits, but otherwise I think Ascent has made a good product. I'd recommend mixing it with some creamy milk for a flavor boost, though.
References
1. Boirie Y, et al. Slow and fast dietary proteins differently modulate postprandial protein accretion. Proc Natl Acad Sci U S A. 1997 Dec 23;94(26):14930-5.
2. Messina M, Lynch H, et al. No Difference Between the Effects of Supplementing With Soy Protein Versus Animal Protein on Gains in Muscle Mass and Strength in Response to Resistance Exercise. Int J Sport Nutr Exerc Metab. 2018 May 3:1-36.
3. Wilborn CD, Taylor LW, et al. The Effects of Pre- and Post-Exercise Whey vs. Casein Protein Consumption on Body Composition and Performance Measures in Collegiate Female Athletes. J Sports Sci Med. 2013 Mar 1;12(1):74-9.
4. Fabre M, Hausswirth C, et al. Effects of Postexercise Protein Intake on Muscle Mass and Strength During Resistance Training: Is There an Optimal Ratio Between Fast and Slow Proteins? Int J Sport Nutr Exerc Metab. 2017 Oct;27(5):448-457.